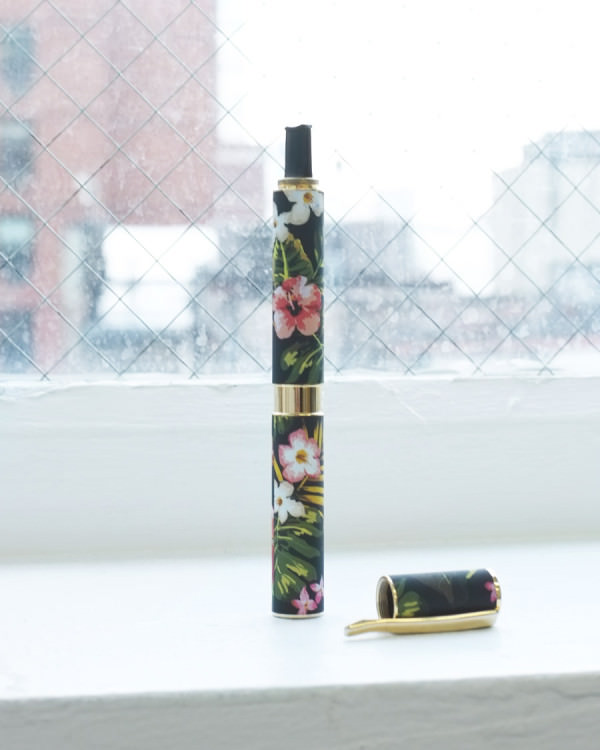 PHOTOGRAPHY BY GAYLETTER
Smoke Florals for Summer
With this stunning vapor device from Dopen
Her name is Floral Twilight and she is my favorite toy. And I don't want to say "new" favorite because this favoritism is timeless. That's how strong an impression she's made on me. I usually lead with functionality and physical effects, but her look has to be first in line. She's a looks queen! But trust me, this device delivers on all points charisma, uniqueness, nerve and talent.
Her look can be described as the expensive contract signing pen of a very successful near-retirement real estate agent in Sarasota with brightly colored Chanel-inspired suiting and an unmoving manicured bob framed in gold statement jewelry. It can also be described as yes. Opening the box was similar to the curtain rising on Violet Chachki's crowning look for the finale of RuPaul's Drag Race Season 8. For both events I let out a gasp with a hand to my chest.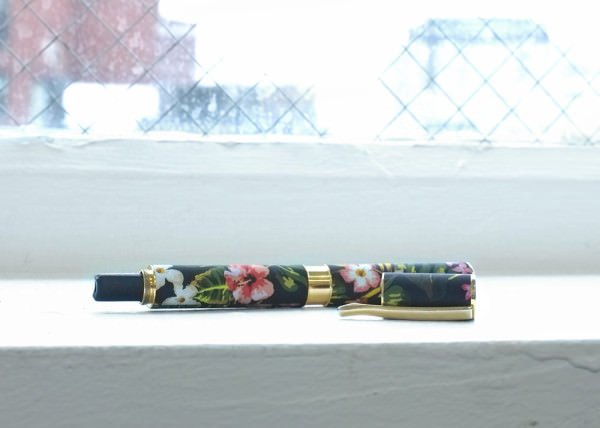 This device from Dopen is used with oil concentrate cartridges. Like many pens on the market, it's built with industry-standard sizing and thread count. The cartridges from my green delivery boys slide in with ease. The pen can also be used with e-cigarette liquids, oils and e-juices—gross—but perfect for vape bros who need to sissy it up. A friend told me that vaping oil burns holes in your brain (something about the chemicals used to stabilize the oil) but I'm not sure and didn't dive into that research. You still get the benefit of inhaling vapor rather than smoke. (Read more about that here). The convenience of not grinding herbs, spilling crumbs, re-rolling joints, finding a lighter, scooping wax, cleaning disgusting glass, nor getting my fingers sticky may be (is) worth it.
To try her out I repeated my favorite field test from the last time we reviewed a pen: Fantasia Barrino in concert. First, I had to go through security, which I completely forgot about. I unscrewed the oil cartridge and slipped it in my pocket. I gently placed the Dopen in the little plastic basket to bypass the metal detector. At that point, she's just a pretty pen without her ink. Easy. The next challenge is maintaining a buzz through three opening acts and an intermission before Fantasia even goes on. I must be able to puff on my pen without side-eyes from my seat mates. I need delivery on size, smell and getting high with a quickness.
She's slim and well-balanced in the palm. The position of the button and mouth piece make sense as the design feels well-considered. Her vapor smells sweet and fruity. While definitely not odorless, she'll blend in when there's already perfume in the air. And to my amazement, there is no waiting time — no heating up, no button combinations, no nothing. One could argue it's faster than lighting up a bowl. Just push the button and inhale. It emits quite a cloud of vapor even with petite lungs, so one puff usually does it. She delivers a buzz that is relaxing and euphoric. It's more like a cava tea smiling muscle relaxer type than a couch-locked mind expansion. My only critique of the night is the button's neon blue light. It's the only remnant of her vape culture cousins and I wish it were more subtle.
She is sturdy, solid, well-built, and the battery lasts for an unbelievable amount of time. We're talking weeks, and certainly through the life of an entire oil cartridge. The Floral Twilight theme is an "extremely limited edition," but there are other beautiful exteriors as well. At $59.99, she's a very, very good deal. Paired with the longevity of oils, it's a generous return on your investment. It's also priced to gift, which many worthwhile devices are not. So get cute and find yourself a Dopen (in Floral Twilight of course).