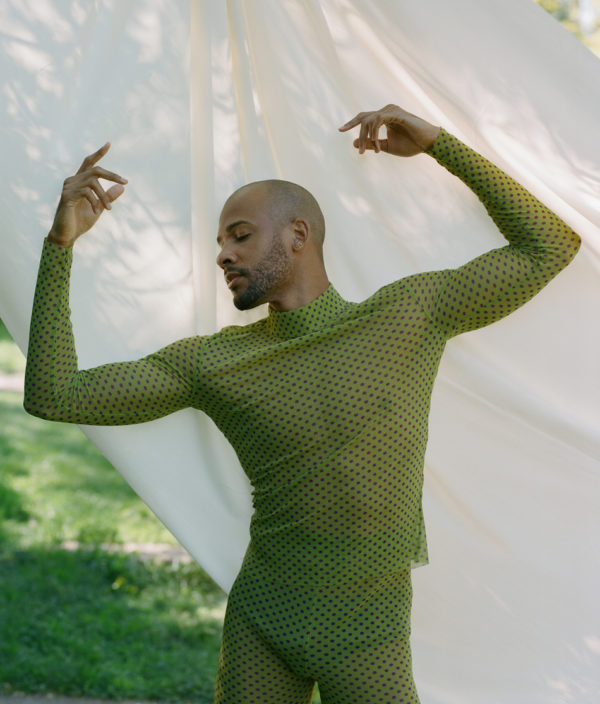 PHOTOGRAPHY BY MALIK DUPREE
YANNICK LEBRUN
Yannick Lebrun is a 34-year-old dancer and a principal at the esteemed Alvin Ailey American Dance Theater. He spoke to us about growing up in French Guiana, moving to New York City, and performing for Beyoncé.
How did you end up in New York? I moved to New York at the age of 17 after I graduated high school. I was born and raised in French Guiana, which is an overseas department of France in South America, between Brazil and Suriname. So my environment was Amazon forests, tropical — a very green territory. I started dancing in French Guiana when I was nine years old. I did a lot of different dance competitions, got a lot of different scholarships, and had opportunities to attend summer programs in New York and France. When I received the scholarship to come study at the Ailey School in 2004, this is when I was like, okay, New York will be the place where I follow my dream and become a professional dancer. I wanted to go dance in a company that would accept my background, my unique cultural identity as a person of color. So, joining Alvin Ailey was my goal. First, I joined the Alvin Ailey School where I trained for two years. Then, I joined Ailey II in 2006, and then I joined Alvin Ailey American Dance Theater officially in 2008. That energy coming to New York City and being surrounded by all these amazing, young and talented Black dancers — I was so inspired.
Did you know you wanted to be a dancer from a young age? My love for dance grew over the years. I thought that maybe I was going to study biology, but then I erased that completely. I always liked the news, so maybe journalism, but that got erased too. I started dancing thanks to my cousin. She was dancing before me and I went to see her performing in a dance competition. Thanks to that show, I fell in love with it. I'm the one actually who kept going in the family.
How did your family take it when you told them that you wanted to be a dancer? They were very encouraging. At first, my dad was asking questions and I could tell that there was a little bit of "Oh, really? Okay." But my mom straightforwardly said "yes" She came all the way to New York with me to find an apartment. My mom has followed my journey and has encouraged me and pushed me. My school was a creative environment, but it was not a performing arts school. My teachers were always supportive when they found out I was dancing seriously. But in French Guiana, we don't have a major performing arts school, I didn't have that. I didn't come from a conservatory like in Paris or in Europe.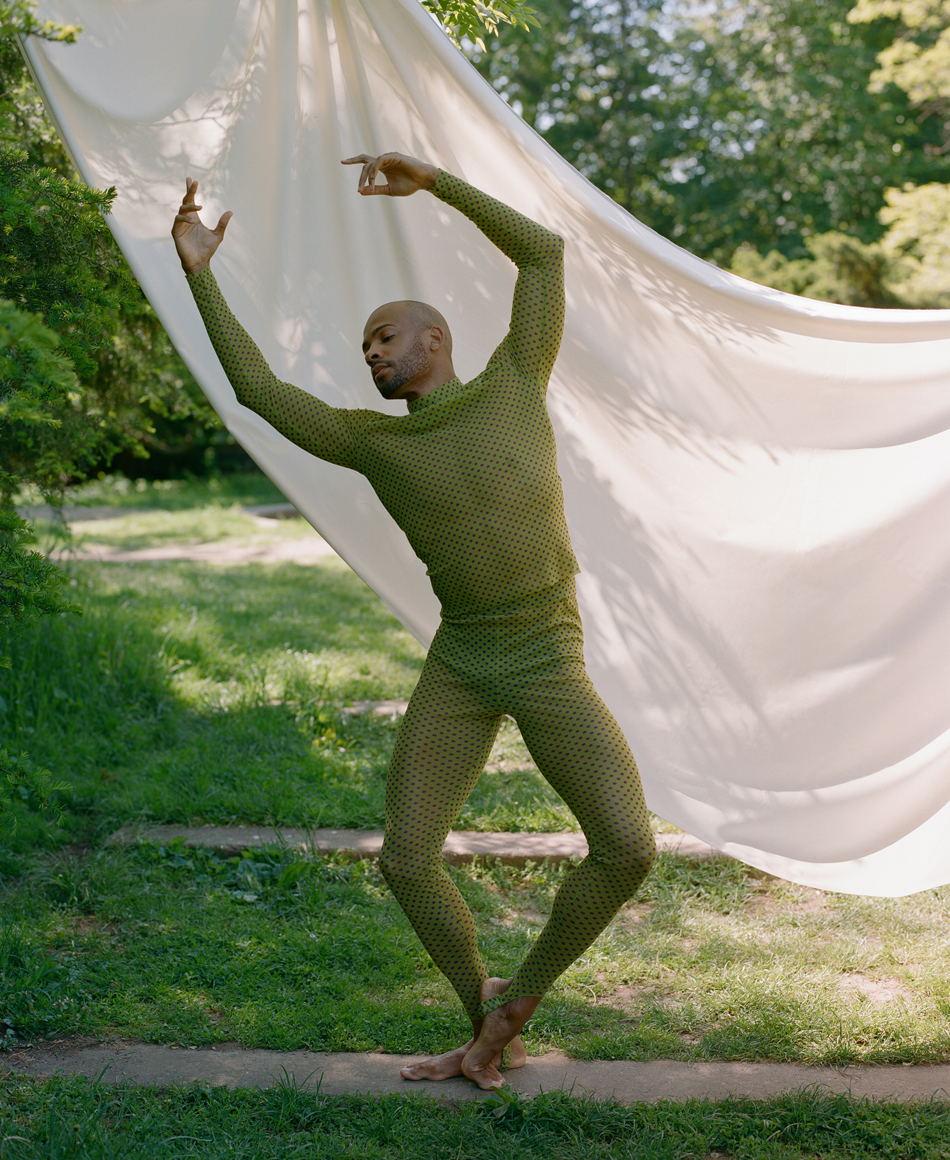 TOP AND PANTS BY PALOMO SPAIN.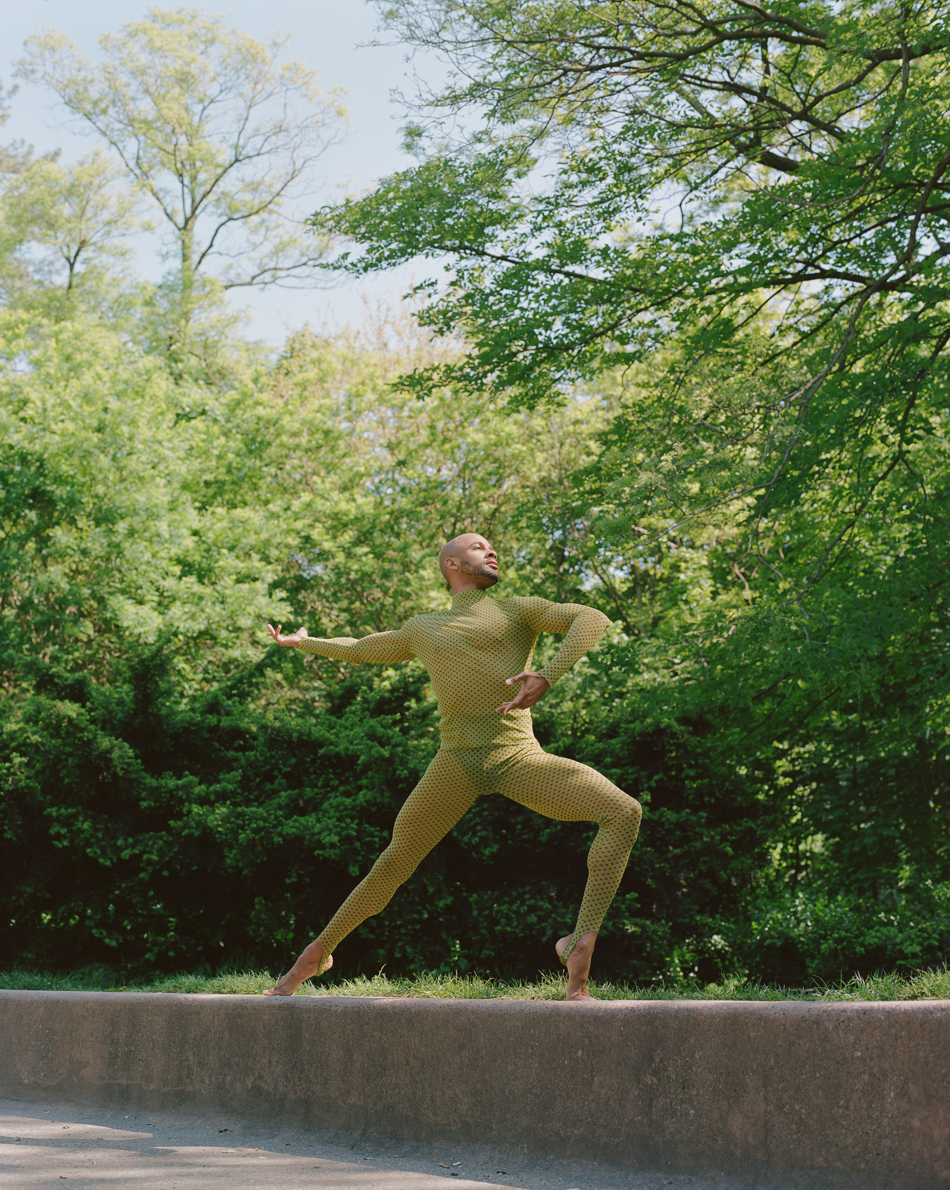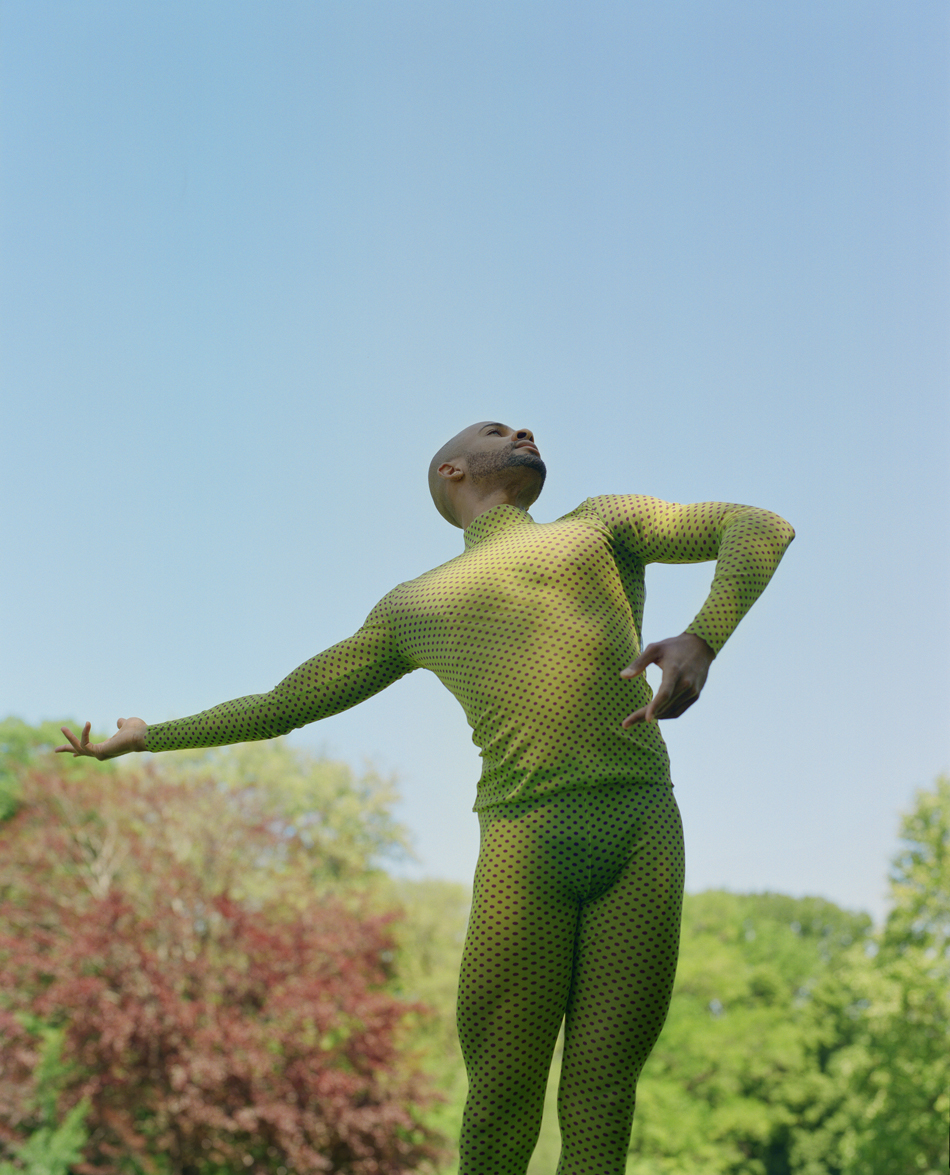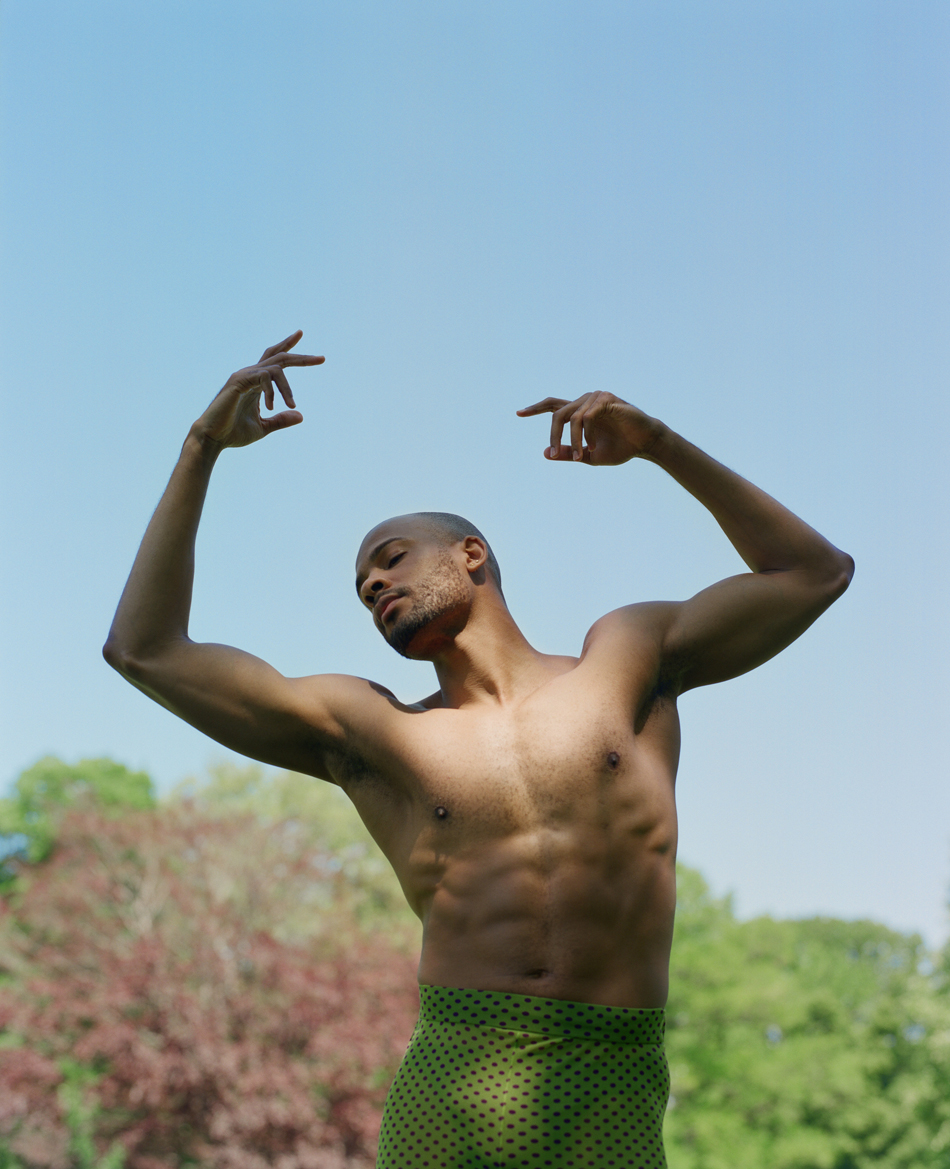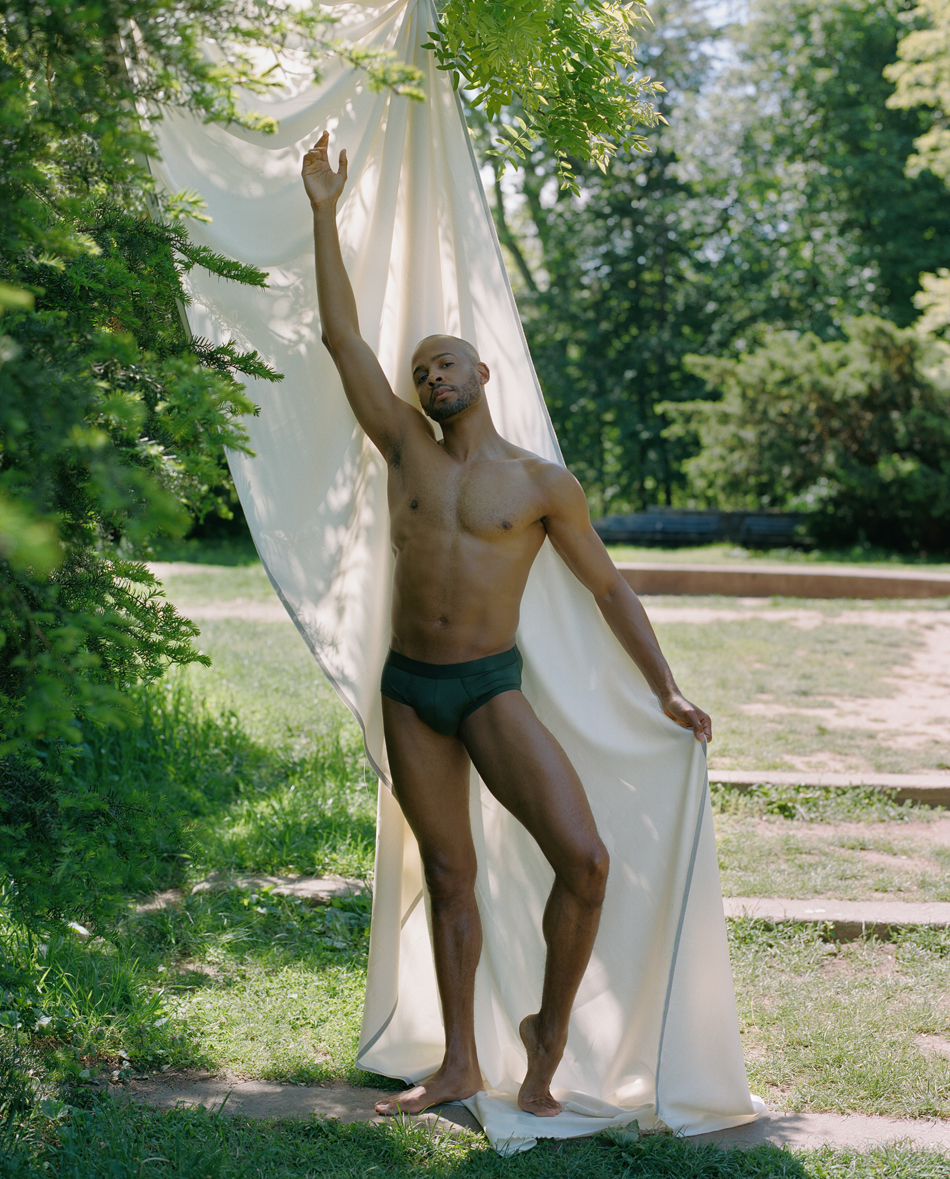 BRIEFS BY CDLP.
Where did you first study ballet? I trained at a very small school, at the Adaclam School under the guidance of Jeanine Verin, my dance teacher, who really gave me a passion and love for dance.
Are you still in touch with her? Yes, I'm in touch with her. I try to go home almost every year when I can and last year during the pandemic was a very difficult time when Alvin Ailey had to stop the tour in March 2020. I remember March 13. I was back in New York like "Whoa, what I love the most is dancing for people, being on tour, traveling around the world, and now traveling in the U.S. has stopped completely." I stayed in New York for a month, then I decided to go home to French Guiana for three months. When I was home, I was in touch virtually with some of the students, creating as much as I could, you know. To stay inspired was difficult to do at this time, but I definitely kept dancing.
Are you a competitive person? I don't think that I am a competitive person in the negative way, it is a positive and healthy competition. I use the word competition as something to propel me forward, to inspire me to work harder. I think that everybody has the potential to succeed. So I don't see people as my main competition.
Did you feel pressure to do well when you first joined the school? I felt that I had to work hard. I felt that I could not give up. I came too far from South America to New York City, you know, all the sacrifices and leaving my family, spending money, getting used to this brutal weather difference. I could not give up, even if it was hard.
In my head, I had to work even harder than the person next to me. I was like, Yannick, keep fighting, do it, play the game, try to get it. You know, you don't have perfect English right now, but it's okay. You're going to be fine.
When did you first get in touch with your queerness? I knew from a young age that this was going to be my sexual orientation and I was fortunate to not feel rejection from my mom. But, I don't think that dancing is necessarily associated with queerness. Still when you're queer, you're connected more to your freedom of expression.
There's this fight to express things that perhaps you wouldn't feel as much if you didn't feel like you were different, or that you didn't belong. What was hard about growing up in French Guiana is that there was some bullying happening, but that never stopped me. At times it was hard because I felt like I could not fully embrace the young boy that I was. You have to find yourself, but also not give up while you're being bullied. The fact that kids have to deal with that, it's just hard.
When are you the happiest? I'm the happiest surrounded by my family. I'm the happiest anywhere tropical that reminds me of home. I'm the happiest onstage as well. And the happiest when the curtain opens. There are moments where I feel nervous. I don't think that being an Alvin Ailey dancer is easy. There's balance required, a lot of focus, and you have to know your body so well — every night is different.
How do you snap out of that feeling when you're not feeling great about performing? Reminding myself to trust that I've done the work and that whatever happens, people will still feel it. So even if I'm nervous when I'm performing, I want to feel a connection with people. You have to stay committed.
What inspires you to dance? I feel inspired to dance because I feel like there's a sense of healing in it. People come to dance because they want to feel uplifted. We inspire people. What inspires me is also what's happening in the world, world events, whether beautiful or tragic. Injustice happening in America or around the world inspires me a lot. But mainly where I'm from, French Guiana, is part of my inspiration. My background, my origin, my culture, my identity, my family, the environment where I grew up, the rivers, the Amazon, the forests, all of that is an ongoing spiritual inspiration. All the drums and the music, all of that still resonates in me.
How often do you dance a week? I pretty much do it everyday. As dancers, we are even more than athletes, because the physical, challenging parts of it are required, but we also have to show grace and vulnerability. I take care of my body, I believe in longevity as an artist. The pandemic has brought me a bit of freedom, I have more free time in New York now that I'm not traveling as much. It has helped me to find more time, to go have drinks with friends, to hang out and work on personal projects. I appreciate this moment of slowness that I have now.
How did it feel being on the poster for the main company? Robert Battle (the artistic director of the company) takes me to his office and shows me the image, and said, "You're on the poster and you will be the main face of the company!" I've seen how important being on the poster is, that it will be in New York City trains and everywhere in different cities. It's historical.
What has been a memorable experience while on tour? In 2017, the same year that I was on the poster for the U.S. tour, we were performing in downtown Los Angeles, at the music center, that big, beautiful Dorothy Chandler Pavilion. 
Beyoncé came to the performance and it was a surprise. I was like, "Beyoncé is watching the show. She's watching the performance. I can't. Oh my god." She arrived and we actually saw her in the wings. She watched the first ballet from the wings. I remember she was stage right with her daughter Blue while I was dancing. She watched me doing this amazing solo to music by Nina Simone. And then, during one of the intermissions, I got the chance to meet Beyoncé. I was able to speak to her and hand her my poster. My heart was beating so fast. She was like, "You were beautiful." And then when she created a video montage of her day, she posted my poster. I think it was a big inspiration for people, for young dancers everywhere in America and all over the world to see that dreams are possible. If you work hard and keep believing.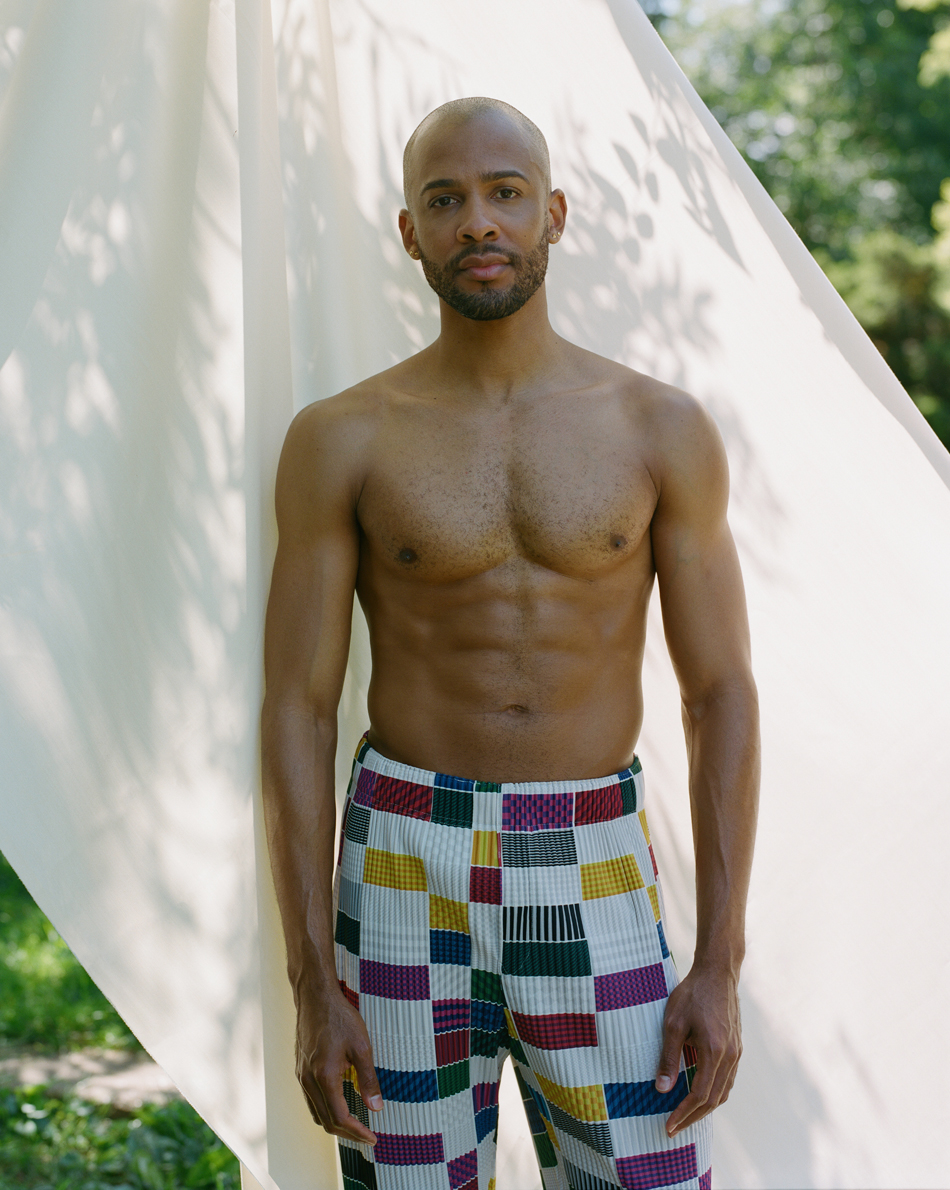 PANTS BY HOMME PLISSÉ ISSEY MIYAKE.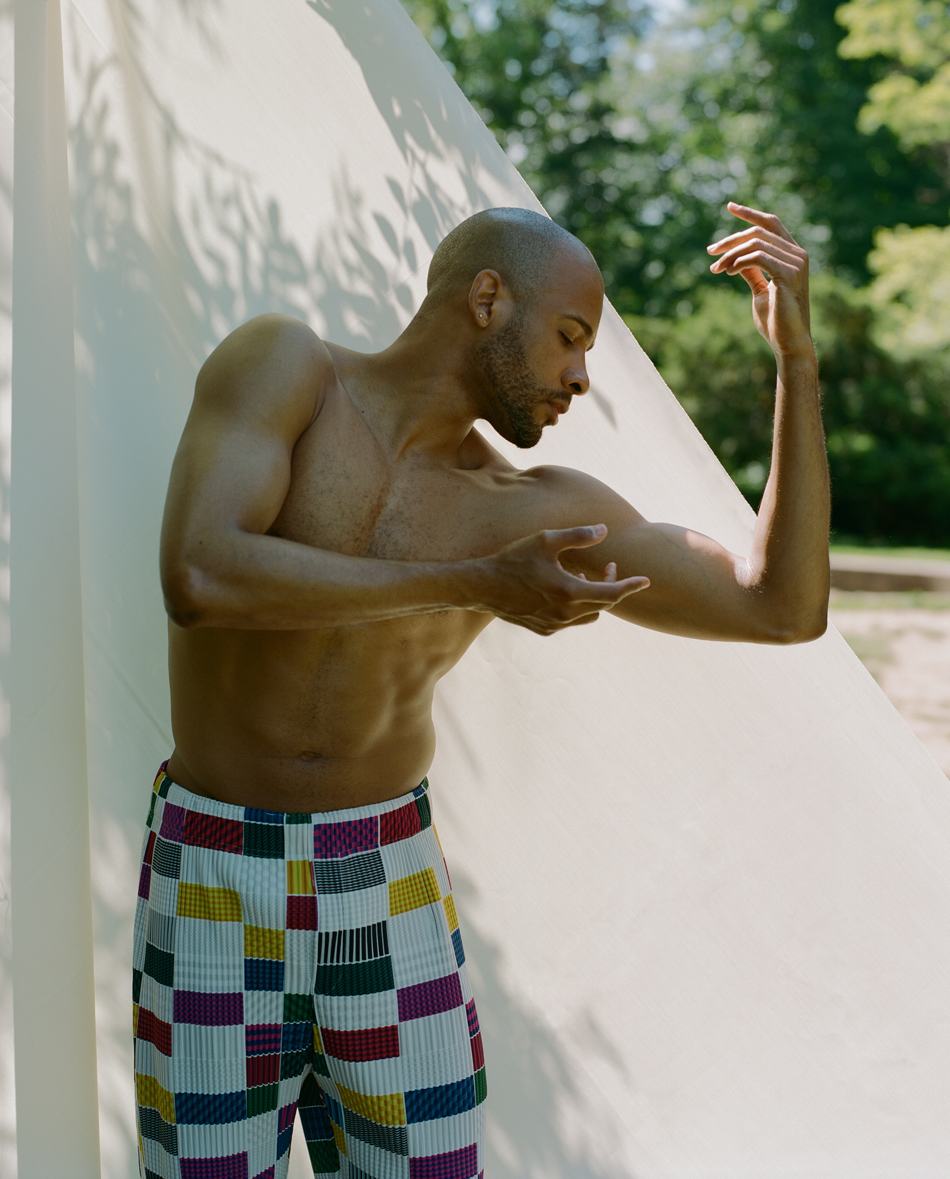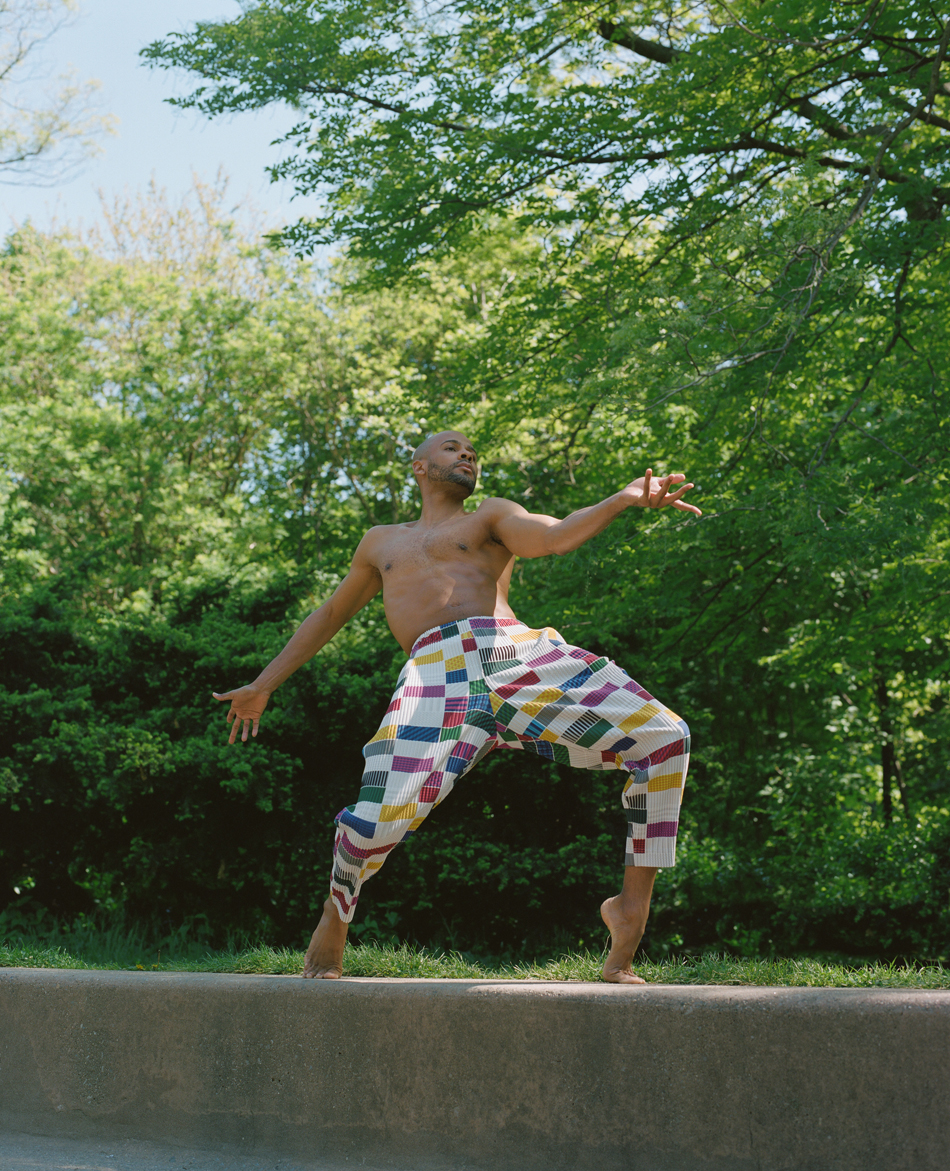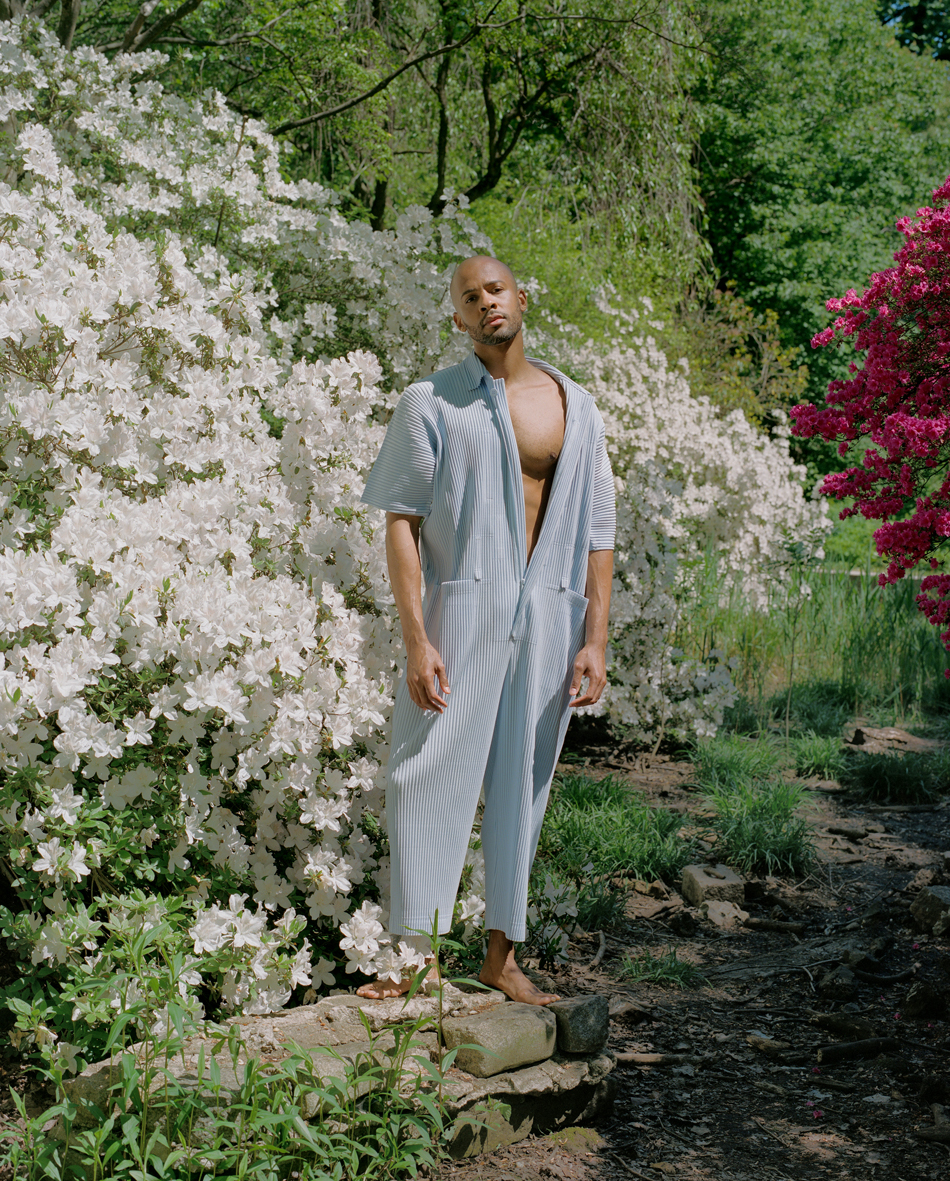 JUMPSUIT BY HOMME PLISSÉ ISSEY MIYAKE.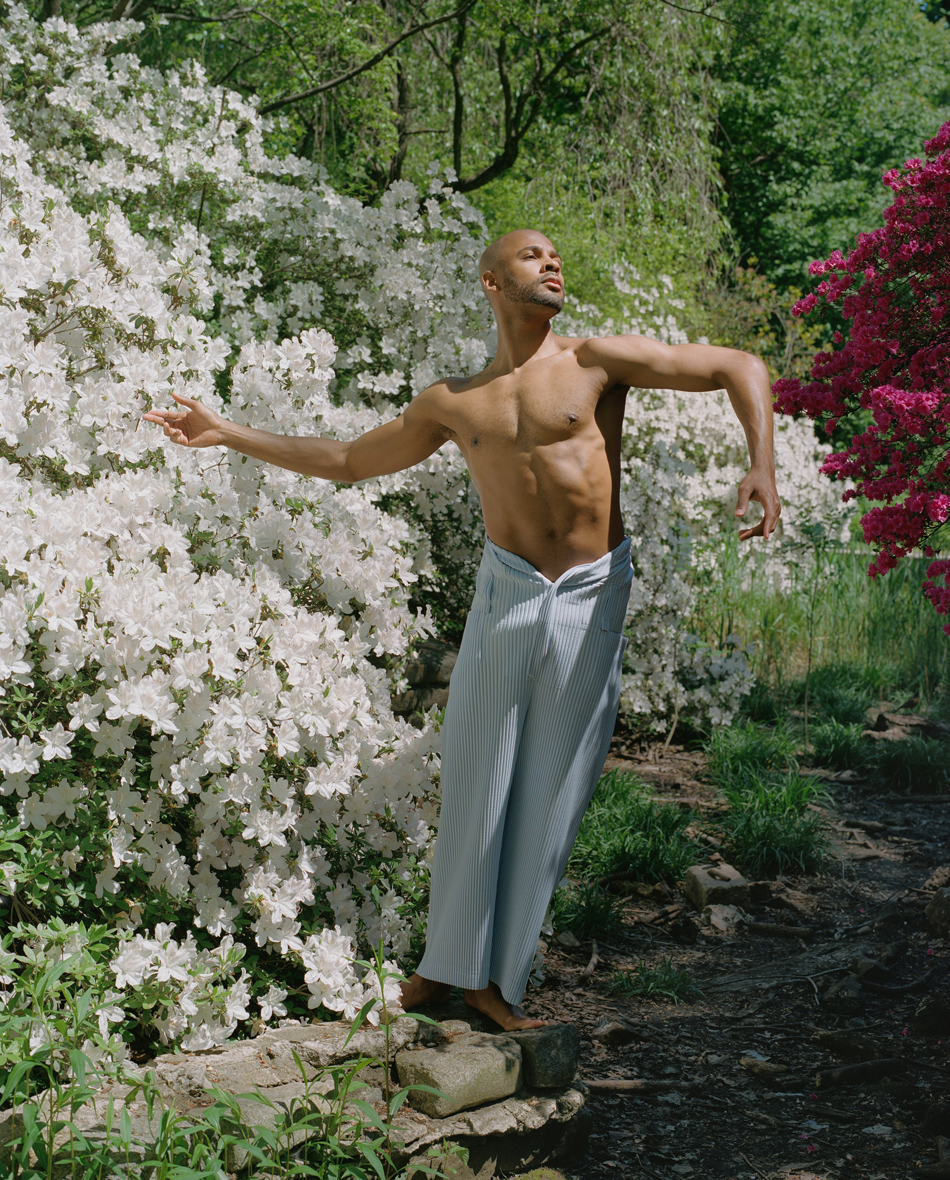 Yannick Lebrun photographed by Malik Dupree at The Vale of Cashmere, Prospect Park, Brooklyn, New York. May 2021.
This story was printed in GAYLETTER Issue 14, get a copy here.