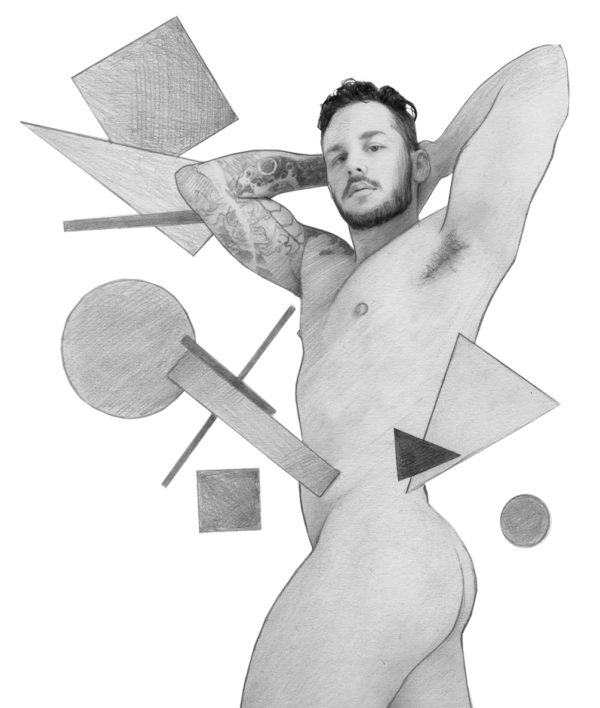 DRAWING BY SILVIA PRADA
MATTHEW CAMP
The GAYLETTER Back Page
Matthew Camp has worn many hats, but rarely a shirt. Originally from the Bay Area, the professional sexpot moved to New York City in his twenties. By Go-go dancing at downtown gay bars and starring in the 2013 pseudo-documentary Getting Go, he was canonized "New York famous" by the early 2010s. Around that time, Matthew also released an eponymous fashion line, as well as a fragrance, cheekily named 8.5, which was sold in poppers bottles. In recent years, Camp's projects with porno juggernaut Men.com and various non-adult film work have won him a national reputation.
While Matthew initially turned down offers to act in porn, he was eventually convinced. Though many of his films are glossy and well-lit, these days Matthew prefers "the documentation of sex as opposed to the dramatization of it." Accordingly, his recent OnlyFans content is markedly lo-fi, mostly recorded on a webcam in his home. Perhaps unsurprisingly, life imitates art. In his own words, "porn has really made me take stock of my priorities. And by priorities I mean sex partners. And by stock I mean cum."
Nowadays, Matthew lives upstate in the relatively secluded Hudson, New York. Despite his retreat from the frenetic pulse of Manhattan, he remains as active as ever. In addition to the content he's constantly releasing on OnlyFans, Matthew recently appeared on Slag Wars, a reality show helmed by the Cock Destroyers, Sophie Anderson and Rebecca More, as well as on Iconic Justice, a reality court show best summed up as a yassification of Judge Judy. With these projects and many more on his docket, Matthew continues to steer his career in new and unexpectedly slaggy directions.
This story was printed in GAYLETTER Issue 15, get a copy here.