An intimate peek into Mickey Aloisio's latest work.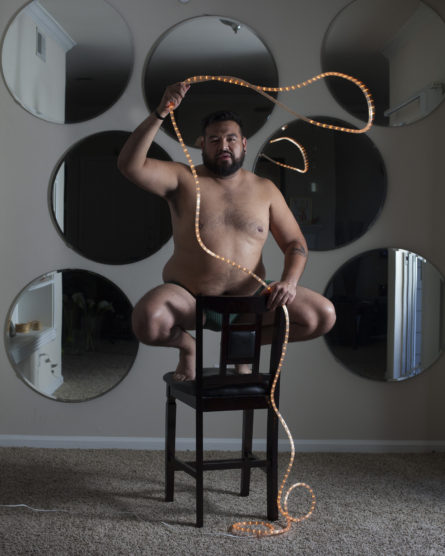 In GAYLETTER Issue 5, photographer Mickey Aloisio told us about his photo project Gay Wildlife. For that project, Mickey photographed men — particularly those belonging to the "bear" community, as Grindr, and the like, label them — in their homes around New York City. Since then, Mickey has traveled across the United States further developing the project into what he now calls American Wildlife.
A lot has changed in this country since Issue 5's launch (just last fall), greatly impacting the LGBTQ+ community (and other minorities) — so I had a conversation with Mickey about American Wildlife; the journey he took, and how this project fits into current affairs.
I see that transitioning from Gay Wildlife to American Wildlife, you've begun to include yourself in your images. For that project, I actually included myself in some of the images too, but they never made it to my final edit. I wasn't sure exactly how to fit them in. However, when I look back, I feel that as the photographer, I was distant from the work, despite feeling very close to it throughout the entire process of creation. With American Wildlife, I wanted the journey to be something more.
There's something to be said for what happens when the photographer and subject are both on the same playing field, when the power is evenly distributed between the two. I think it's about getting close to another person. Some of us need people, or the experience of another — more than we know or would like to let on — that we'll go to what seems like great lengths to get the chance to see or learn just a little more about someone. …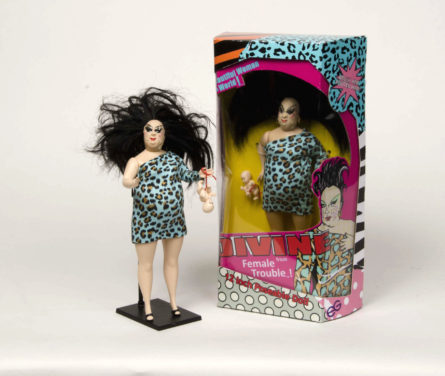 Back in 2015, we attended the opening reception of John Waters' exhibition titled 'John Waters: Beverly Hills John' at Marianne Boesky gallery in Chelsea. Tom and I were hoping to see the show (naturally) and to maybe meet John Waters and give him a copy of GAYLETTER Magazine. We are big fans of John and have been fascinated with everything he does. We got to the gallery and it was difficult to say hello because the gallery was super crowded and we were not the only ones that wanted to chat with John or take a photo with him for their social media. We waited for a while until we finally got close to him and told him we loved the show and wanted to give him a copy of our magazine. He told us to leave the magazine with the receptionist at the gallery, he refused to touch the magazine, I guess he didn't want to carry a mag around at his opening — people probably try to give him things all the time.
This new show, curated by Tyson Tabbert, that's opening this Thursday, May 25th (6:00PM) at La MaMa Galleria is not a John Waters show but the curator gathered a group of artists to create a "showcase of kitschy and ironic retail items based on the early films" of teh Baltimore director. "Discover forgotten toys, home decor, and seasonal artifacts featuring familiar Dreamlander movie personalities. Presented in the spirit of a Sunday morning garage sale, the exhibit revels in the strange, nostalgic appeal of the 70s and 80s." From what I've seen online, I'm very intrigued. …

Art:

POST ANALOG PAINTING II

All of my closest friends are painters, so I've received what I call a second-hand arts education by sitting in on their critiques and conversations. (Maybe I am not so subtly trying to become Frank O'Hara). As I write this, I realize I'm at risk of sounding like an idiot, but as the Latin idiom goes: as in painting so is poetry, and I know poetry, so fuck it! The Hole, which is always doing something interesting, is presenting their second installment of Post-Analog Painting. The exhibition, which includes only digitally-inspired works, features contemporary populars like Trudy Benson, Austin Lee, Maja Djordjevic, Caroline Larsen and Guy Yanai; all whom I've been interacted with via friends or Instagram (seems appropriate for the occasion). The idiosyncratic approach and the physical materiality of painting is perhaps the most mystifying aspect of the medium. So to take on a painting show that sees painting in a post-analog state, is provocative as much as it is relevant. We live in a digital age and so many artists are consuming work via their phones; really, it shouldn't come as a surprise that the hand-made has been refashioned into pixelated textures. I'm sure an art historian could point out someone else who did this years ago, but I'm feeling like a romantic. The show feels totally fresh (though a tad over-crowded). It closes Sunday! Get jiggy with it. —Chris Stewart
Art:

MARCH MADNESS

You are probably thinking why in the hell are we talking about March Madness when it's the first letter of May, but bare with us. This group show at Fort Gansevoort opened on March 17 and has just recently been extended through May 13. "The show features a roster of 31 artists, all women, whose artwork subvert masculine archetypes, and challenge more docile notions of femininity by highlighting the qualities of strength, fitness and agility that are characteristic of physical skill and capability." How I haven't heard about this show in recent weeks is a little beyond me. Some of the artists included are Cindy Sherman, Catherine Opie, Collier Schorr, Miranda July, and GAYLETTER friend and contributor Renée Cox whose triumphant and commandeering piece is featured in the press-email. I was browsing the online gallery and was surprised to see how many works included actual depictions of sports, rather than just pandering. Basketballs seem to be alerting the viewer to feminine body standards, and in another, trophies have never looked so totally worthless. You've got a little over a week left in the extension. Grab an iced coffee with almond milk and non-gmo ice and take a walk to Chelsea — the weather is right for it. —Chris Stewart
Art:

The John Dowd Fan Club

Shannon Michael Cane from Printed Matter is always looking for ways to shine a spotlight on queer artists that never got the acclaim they so rightly deserve. And bless him for that. We do the same in our magazine. It's amazing how many brilliant queer artists have been overlooked by the mainstream art community because it's clearly filled with a bunch of homophobes. This week Shannon is bringing to Printed Matter "an exhibition of self-published serial publications and ephemera by late New Yorker John Dowd, a key if often overlooked figure in the correspondence art movement of the early 1970s." John Dowd is an artist made for GAYLETTER. Like us, John was fascinated with printed materials, popular culture and queer politics. His work was often described as having a "xerox aesthetic" (I love that term), he also had a "perverse sense of humor" which is evident in much of his work, like his pieces featuring Disney cartoon characters. "The John Dowd Fan Club traces Dowd's collaborative output through a near-complete overview of editioned publications and folded broadsheets, accompanied by extensive archival material including unique zines, xerox ephemera, promotional inserts, collages, mail art, correspondence, and original stencils." The opening reception is on Friday, April 21, 6:00-8:00PM. There's always a cute crowd at Printed Matter's openings, and free beer! It's time to join the John Dowd fan club. —tom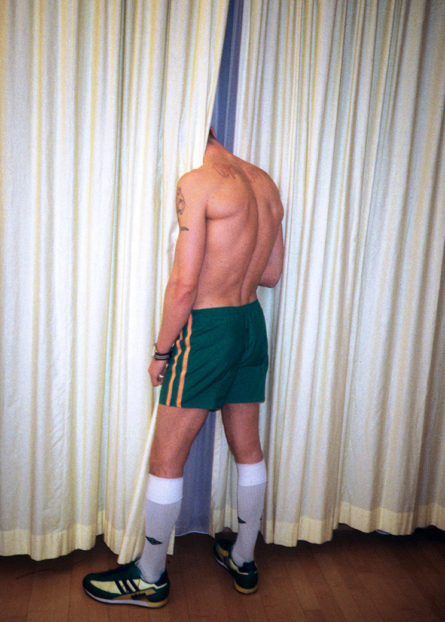 Right before Abi asked me to write this, I was chatting with my friend Chris who had just seen this show up at Bortolami Gallery. Naturally, I asked what was good? Was it cunt? Should I be excited? He told me "Slava Mogutin's pieces stood out against the other works as predominantly gay (see artwork pictured), other work seemed less so," but Slava told us that it wasn't "really a gay show, but the artist lineup is amazing and Stefania Bortolami is a notorious lesbian." 'University of Disasters' is curated by Matthew Grumbach and pulls from the gallery's permanent collection. Work from Jack Pierson (who shot GAYLETTER's first cover), Barbara Kasten, Sara Grace Powell, and many more — which serves as a subtle nod, albeit insult, to Trump and his gratuitous usage of the word "disaster."
I read a bit more on the show and found the philosophical origin engaging. Now if only I could stop calling the gallery Bel Ami… "The philosopher and cultural theorist Paul Virilio describes the University of Disasters as a global convocation to commence a collective reflection on limits.' [Trump's] rhetoric stokes fear, but also implies closure where there remains possibility. To fall for his unfounded claims is to implicate oneself in the destruction of institutions that are only imperfect insofar as their work is always incomplete." For those unsettled by lofty art-speak, the show is a response to our president's well known idiocy and seeks to remind viewers that art's work can never be done. …

Art:

THE LESBIAN AVENGERS – 25th ANNIVERSARY EXHIBITION

Come one come all to this multimedia exhibit that seeks to celebrate one of Lesbian-Rights most notable coalitions. Formed in 1992 during a surge of misogyny, and anti-gay, white nationalist hate, the Lesbian Avengers was created in NYC to focus, and work, on issues that were essential to lesbian visibility and survival. On view at the lovely BGSQD at The Center, Friday's opening will include readings by the uber-cool Eileen Myles and Sassafras Lowrey. Both of these writers have made it a point to celebrate sexuality and challenge gender in their literary works. The first time I read the lines: "I thought / Well I'll be a poet. / What could be more / foolish and obscure. / I became a lesbian" from Myles' "An American Poem," I nearly fell over. I was a junior in college trying to figure out how a queer voice could claim real space in the literature landscape. Myles was already paving the goddamn way. The exhibit will catalog various flyers, photographs, posters, slide shows and more, all from scenes of the Avengers activism. What will begin at BGSQD will travel to various spots around the country, so anyone who was involved at the time can get a chance to commemorate their important work. Stop by and have a look — if you were involved in the past, they're asking for your participation again!
Art:

Raymond Pettibon's A Pen of All Work

I was just saying the other day that the New Museum is on a streak holding exhibitions that have been real hits. The MoMA is probably a little jealous about the Raymond Pettibon exhibition titled 'A Pen of All Work' now on view at the New Museum. Whoever is calling the shots (I assume that's chief curator Richard Flood) is calling them right. Our office is right near the museum and the lines for recent shows have been wrapping around the corner of the block. "For over thirty years, Raymond Pettibon (b. 1957, Tucson, AZ) has been chronicling the history, mythology, and culture of America with a prodigious and distinctive voice. Through his drawings' signature interplay between image and text, he moves between historical reflection, emotional longing, poetic wit, and strident critique." This is the first major museum survey exhibition in New York of Raymond's work. It's a show worth seeing, and one that we're sure will continue the museum's winning streak. It's a great time for this exhibition giving it's political nature, and that it's graphic, engaging and very Instagram friendly. Just don't go at 7:00PM on a Thursday night unless you get turned on by waiting in lines. Lol. —t&a
"Hidden Figures" takes Vizmanos' anonymous subjects into the gallery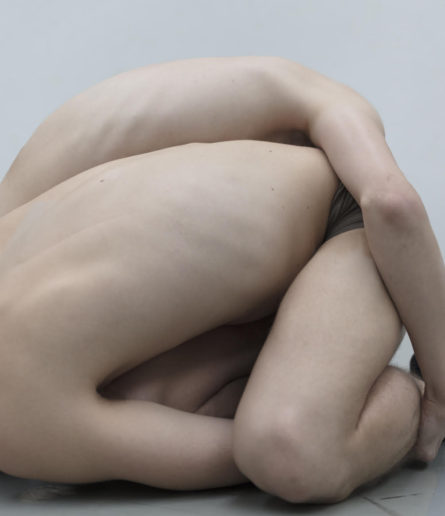 You may have already seen Gerardo Vizmanos work before. Possibly on Instagram. Possibly on Tumblr. His knack for crafting particular views of the male form are myriad in their emotional experience, and the work remains endearing regardless of how often it may be shared across the internet. The anonymity of his subjects keeps his viewer in the grip of a desire to know more about the body's story.
Some of Gerardo's work seems foreboding, like the ones where a protruding spine is focalized, but some of it is wild with tenderness. When we asked Gerardo to shoot our Tea Party story in Issue 4, we ended up with a cover. Our limited-edition GAYLETTER (which sold out) featuring the United States-of-skin-tone are a result of our day in the studio with him. He played around with body shapes, we brought some pastries and the models got comfortable with each other as well as Gerardo. He is vocal behind the camera, knowing which parts of the body are meant to go where in his frame.
We couldn't be more thrilled to hear his work will now take to exhibit at Prince Street Project Space (of Leslie Lohman), "Hidden Subjects" — "is about the subject and particularly this is an investigation of the substance of the subject through the form," he said.
Over email, Gerardo let us know that "Hidden Subjects is the result of my own experience. There is something present and something hidden. …

The Dauphine of Bushwick X Wise Men blowout "CONTEMPORARY DRAG" with NADA X Print All Over Me, PERADAM & EAI, Curated by Gordon Robichaux. Theda Hammel and The Dauphine in Conversation, with performances by Matt Savitsky, Merrie Cherry, Patti Spliff, and The Dauphine!