Art:

Tales of Our Time

I had the pleasure of wandering around the Guggenheim earlier this week to enjoy this new show featuring art by Chinese modern artists. Called Tales of Our Time — it features many video pieces that are meant to challenge the conventional idea of "place." The show includes artists' Chia-En Jao, Kan Xuan, Sun Xun, Sun Yuan & Peng Yu, Tsang Kin-Wah, Yangjiang Group and Zhou Tao. While the often dreamy video pieces are well worth seeing the real winner of this show is the giant robotic sculpture that takes up a whole room for itself. It's basically a massive industrial robot arm equipped with a squeegee. "Programmed by the Beijing artists Sun Yuan and Peng Yu, a husband-and-wife duo with a reputation as Chinese enfants terribles, the robot mops up liquid, with the viscosity of molasses and the color of blood, according to a set of rules: When a sensor detects that the liquid has flowed past a certain boundary, the robotic arm swoops down and cleans it up off the floor, and splashes the white gallery walls with the red fluid, like in a slasher film." It's an amazing sight to see. It's both mesmerizing and menacing. It contrasts dramatically to the rest of the art in the museum's collection. If you find yourself on the upper east side, check out Tales of Our Time before it closes. —tom
Art:

Visionaire Presents Toiletpaper's Paradise

This sounds like a fascinating exhibition. "Maurizio Cattelan and Pierpaolo Ferrari's 'more is more' installation is an interactive immersion into Toiletpaper magazine's wild aesthetic. Through psychedelic reimagined domestic settings, the exhibition reveals vibrant vignettes featuring Toiletpaper's art and product collaborations all stacked, layered, and pastiched. Attendees are invited to touch, play, move, sit, recline, and position themselves in the physical manifestation of the minds of the artists. Some areas, best described as Mad Men on acid, includes a mock headstone that reads 'The End'. Lounge and bedroom are subverted living areas full of absurd possibilities and combinations. Interspersed among all the high-impact accessories are a few standout pieces imagined by Toiletpaper and produced by Gufram, as well as homeware produced by Seletti customized by TOILETPAPER's founders with their off-beat imagery." Cadillac House is where we saw the Palomo Spain fashion show last week. It's a very clean, new space that has something (I'm not quite sure what) to do with the car company Cadillac. Regardless, for fans of either ToiletPaper or Visionaire, this is a must-do exhibition. It's happening from now until Feb 22nd. —tom
Art:

GAY SECRETS OF THE MET – PRIVATE TOUR

What a great excuse to go to The Metropolitan Museum of Art! It's a gay private tour at the museum with Andrew Lear (who "has taught art history and Classics at Harvard, Columbia and NYU. He is the founder of Oscar Wilde Tours, the first company to offer tours focused on LGBT history.") The tour explores "some of the Met's prized homoerotica, from ancient Greek nudes and erotic vase-painting to works from the Renaissance and the present day, many expressing same-gender desire. Famous artists and subjects appear, but so do lesser-known artists and works whose homoerotic charge is often ignored, including phallic totems from the Met's Oceania collection." Each tour is limited to 20 people, "it departs promptly, and lasts approximately two hours." Sounds like a truly lovely way to spend a Saturday. Gay art at the Met, in a small tour group. What wonderful times we live in. —t&a
Opening reception of 'Divided States of America' at The LGBT Community Center curated by Alison M. Gingeras, Stuart Comer and Robb Leigh Davis — Assisted by Ariella Wolens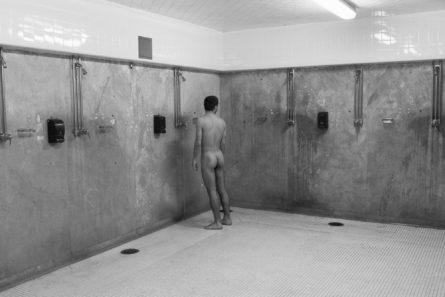 Matthew Leifheit, former photo editor of vice and publisher of the savvy MATTE Magazine, is presenting a new show opening Friday, Jan. 13th at MAW. "Your Giorgio presents 13 translations from the secret scrapbooks of George Platt Lynes made by Leifheit in the past year. These works — comprised of a collaged book, short short film, and original photographs of varying scale — attempt to reanimate the queer archive through various poetic approaches to documentary." We met and worked with Matthew nearly two years ago now when he shot some intimate portraits for GAYLETTER Issue 3. I can remember he spoke in a tender tone toward the craft of photography, and I went to find the latest issue of VICE at Printed Matter after I met him.
The work placed in Your Giorgio "draw upon photographs of the actual materials Lynes left behind, they remain assertively personal and elegiac." Head out to the opening on Friday evening if you can, but if not, be sure to pop over to MAW over the weekend to get a look at his show. Should definitely be a fulfilling experience.
FREE, 12:00PM-6:00PM, MAW, 56 HENRY ST. #SE. NY, NY. …

Art:

JIMMY DESANA'S LATE WORK

Jimmy DeSana's work was featured in the last issue of GAYLETTER Magazine and we fell in love with it. He is an artist whose art has been overlooked for many years, mainly because most people never had the chance to see it. Jimmy died of AIDS in the late '80s and left his work to artist Laurie Simmons (who was his old roommate and close friend.) She has been cataloguing and organizing the work for the last 20 years and is now doing everything she can to exhibit it. This new exhibition at the Steven Kasher Gallery features "30 rare Cibachrome prints from 1985. This set of "lost" prints has never before been on view to the public and is being presented at a time when interest in DeSana is at a renewed high. Art and photography from the early 1980s is being critically revisited in recent exhibitions at major museums and galleries. There is a special interest now in queer artists and the legacy of a generation destroyed by AIDS. Jimmy DeSana is an essential figure in this evolving canon." This is a real treat. Jimmy's work was influential to many of today's contemporary artists. And let's be honest, since when has death ever got in the way of an artist's career? I'm sure we'll continue to hear plenty more about this brilliant young man who was so ahead of his time. —tom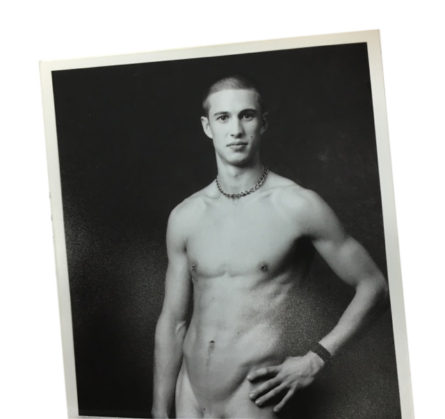 From a young age we learn how much the flow of goods and capital can be livened up with a little mystery. (Think: Happy Meals, holiday grab bags, whether or not your debit card is going to get denied at your bodega on Sunday morning). Surprises rock! It's an obvious, objective truism. You get excited, you beg for clues, you scramble to guess. The excitement is hard to contain.
And Visual AIDS — a contemporary art organization we've definitely told y'all about before — understands this excitement. Specifically, they do with the upcoming 19th annual 'Postcards From the Edge' benefit, scheduled for this weekend. This event provides "an opportunity for the public to purchase original pieces of postcard-sized artwork by both established and emerging artists for only $85 each." And not without some mysterious fun; the individual cards are displayed, sans the artist's names, the identity of whom you find out post-purchase! This is your chance to take home original pieces by favorites like William Wegman, John Arsenault, Loraine O'Grady, Benjamin Fredrickson, Marilyn Minter, Kerry James Marshall, and many more.
Image courtesy of the artist Benjamin Fredrickson
The actual benefit sale will occur all day January 14th and 15th, preceded by a Preview Party on Friday the 13th from 5:00PM-8:00PM where you'll have the chance to win first dibs on your favorite pieces. VIP passes and a silent auction are also in store at the event, so head to the host gallery Metro Pictures for some awesome surprises that benefit an even more awesome cause. …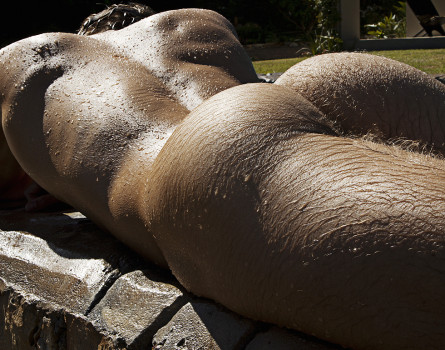 "New York–based fashion photographer Rick Day has a gift of capturing the beauty of the male figure," a gift made increasingly evident in his new book of photos featuring an intimate look into the lives and bodies of Bel Ami's best. After getting an exclusive look at Day's book, we became so…allured we couldn't resist asking him a few questions. Btw: NSFW.
How has fashion influenced your photography style? How does photographing nude models change that approach? As a self-taught photographer… I guess that fashion has sharpened my outlook on many aspects of photography… If definitely taught me to me more conscious of my lighting, along with paying attention to detail in both landscape and content.

What do you enjoy most about the male body? Body hair and hair patterns. I love the lines of a man's body.

How did you approach incorporating the already established Bel Ami brand and aesthetic into these photos? Did you conscientiously want to elevate their known look or take things in a new direction? What is the difference, if any, between pornographic photos and the ones featured in the book?  What influence does pornography have on your work in general?  I think more than incorporating the Bel Ami brand into these photos I was interested in incorporating my aesthetic into the Bel Ami brand.  Also, I wanted to make the Bel Ami boys a bit more masculine, at least in regards to my own idea of masculinity.  There are many, many photographers that have shot these boys… And I think we each want to capture them in our own unique style. …

Photographer Matt Lambert's upcoming book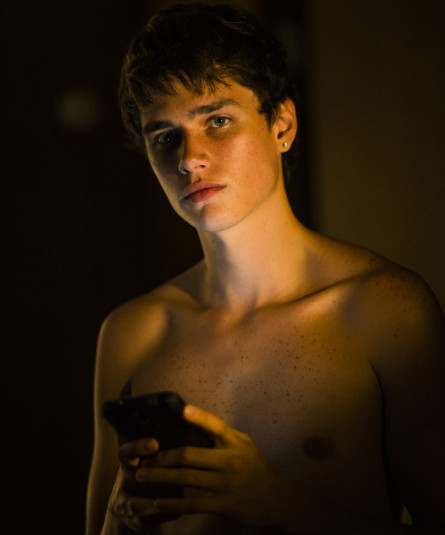 With everyone and their dads releasing original content, we're glad to know the folks at Grindr are starting to do the same. While other platforms have surely dabbled in productions related to gay life and culture, Grindr is guaranteed to bring audiences material created by queers, about queers, for queers. And soon: their first book will launch.
Thankfully it's by L.A.-boy-gone-Berlin Matt Lambert, a photographer whose art we've admired for some time now. Simply called Home, Lambert's work is concerned with space and its meanings, both physical and virtual. As we know queers' conceptions of both these things — home and space — can often be fraught, malleable, and life-affirming, Home features photographs and interviews that are both intimate and poignant, warm yet also chilling. With a foreword penned by critically acclaimed queer filmmaker Bruce LaBruce, Lambert's Home portrays generational and cultural shifts from the bars and bathhouses of the '70s to the virtual cruising grounds of the now.
These are spaces that gays begin interacting with in adolescence and onward, so Lambert's decision to cast through apps like Grindr and Instagram is quite apt. This choice lead him to a group of beautiful boys, and this publication presents them as finding pleasure and intimacy in fucking, along with comfort and kinship in explaining the nuances of cruising and understanding one's sexuality in our digital moment. With a Nan Goldin feel, infused with aesthetics that are particularly contemporary, Lambert's photos express distance and proximity, love and something else. …