On a private tour, Festival of Life took our breath away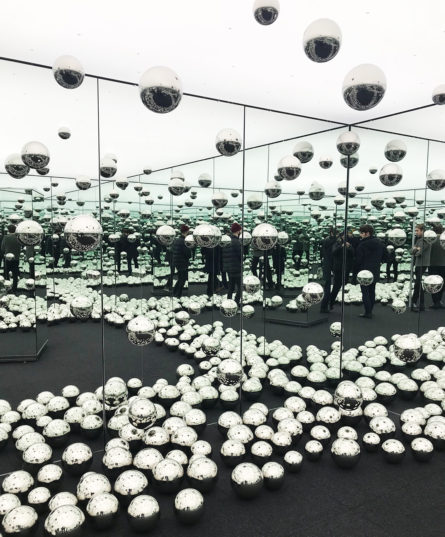 Search "#Kusama" on Instagram and notice how many polka-dotted mirror selfies clog the feed. You've probably seen these playful rooms online before. When seen digitally, the rooms that appear to extend for miles look like elaborate set designs. People's photos are a curiosity all their own, and knowledge of their context or not, Kusama's work looks like art made with the millennial in mind.
Yayoi Kusama's work is worth millions of dollars. That should come as no surprise. Aside from being one of the most widely shared and known working artists today, Kusama has been shocking crowds since the 1960s when Andy Warhol and his factory were camping up the line between the commercial and the gallery. Kusama was right there inside the movement, goofing up the seriousness of art-culture and debuting work in a handful of mediums including painting, performance and sculpture.
In 1965 the then-young artist premiered "Infinity Mirror Room: Phalli's Field." It included hundreds of soft, phallic forms in a room under 300 square-feet that enveloped the viewer in a kind of psychosexual encounter; one that commanded attention due in part to the total copiousness of it. Since then, Kusama has debuted several more of her now world-famous infinity rooms and they have since been exhibited in galleries and museums all over the world, not to mention broadcasted on social media ad nauseam.
Yayoi Kusama: Festival of Life at David Zwirner has been drawing crowds since it opened on November 2nd. Including sixty-six paintings from the iconic My Eternal Soul series, plus the premiere of two new infinity rooms and three new large-scale flower sculptures, the show reconstitutes the artist's prolific nature and invites art-lovers and social media bloggers alike to the gallery where lines to see her incomparable work have extended into several hour wait periods. …

Art:

ART & AIDS: 35 Years of Survival

Each year, the Leslie-Lohman Museum of Gay and Lesbian Art curates an "ART & AIDS" exhibition. This year's show is called 35 Years of Survival and will serve to commemorate the 35th anniversary of GMHC (Gay Men's Health Crisis). "The artworks, created in a variety of media, are the products of GMHC clients and weekly therapeutic art classes run by GMHC's Volunteer, Work & Wellness Center. Art instructors donate their time to teach classes for GMHC's clients (who include both professional and non-professional artists), and teacher David Livingston, along with GMHC board member Osvaldo Perdomo, curate the exhibition." There will also be a panel discussion featuring Sally Fisher, Luna Luis Ortiz, Nelson Santos, and Robert Vázquez-Pacheco. The panel discussion will be moderated by museum cofounder Charles Leslie. All you need to do is register/RSVP, which is free, and show up! That RSVP comes with a guaranteed seat in the panel audience, also — yas! If the event is filled I am sure if you ask them they'll let you stand or sit on the floor. As queer people, it's important for us to interact with queer art, how else are we to understand our collective and not-as-collective struggles? —Connor Atkins
A review of Joseph Rodriguez's recent documentary photo book Spanish Harlem, El Barrio in the '80s.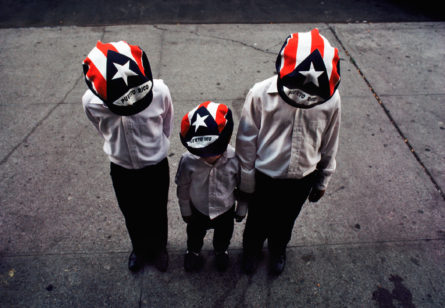 Here at the GAYLETTER office, we're surrounded by photo books. Some are fine art, some documentary. Some portraiture, some erotic. A few of the books are by photographers we're friends with or have worked alongside, while others we've received as gifts or to review. The newest book in the GL library is Spanish Harlem by Brooklyn-raised photographer Joseph Rodriguez.
Before I dive into my glowing review of the book, I'll pass on a few words from the press release to give my thoughts some context.
"Spanish Harlem, New York's oldest barrio, is the U.S. mecca where Puerto Ricans first established themselves in the 1940s. One of America's most vital centers of Latino culture, Spanish Harlem is home to 125,000 people, half of whom are Latino. Shot in the mid-to-late 80s, Joseph Rodriguez's superb photographs bring us into the core of the neighborhood, capturing a spirit of a people that survives despite the ravages of poverty, and more recently, the threat of gentrification and displacement. In a now-distant landscape littered with abandoned buildings, ominous alleyways, and the plague of addiction, the residents of Spanish Harlem persevered with flamboyant style and gritty self-reliance.
"The heart of the work comes from Rodriguez's intimacy and access. The trust and familiarity he built with his subjects — repeated visits with no camera, then no photographing, then little by little, a peek here, a shot there — allowed him to transcend surface level sheen and exploitation to capture images that reveal the essence of the neighborhood and of the era. …

Queer as he was, the painter shocks, educates and quiets in a namesake show.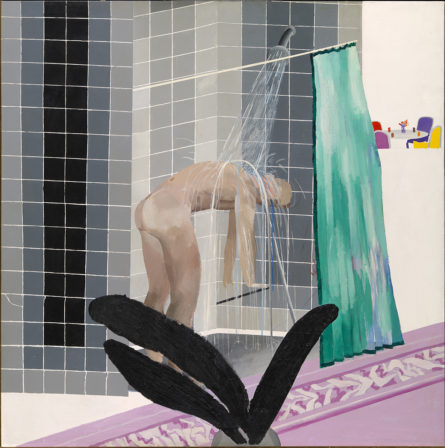 When thinking "gay artist," David Hockney is not the first name that comes to mind. Known for his figurative works and naturalist style, the artist — now 80 years-old — has crisscrossed various mediums in hot pursuit of transposing reality into realism. "David Hockney," now on view at the Metropolitan Museum of Art, is a retrospective look at the artist's career now into its 60th year.
Ian Alteveer, head curator, begins with Hockney's early works made during his homosexual awakening while studying at the Royal College of Art. London, at the time, was about to become a hot bed for mod culture, and with the decriminalization of homosexuality still five years away, Hockney's early works celebrate a latent politicization of his blatant sexuality. "Between 1960 and 1962 Hockney produced a body of work dealing explicitly with his homosexuality. He called these pictures 'propaganda' for gay desire, and they are full of self-referential codes, literary references and stylistic variation." There is a foreboding joy on each of these canvases that include Walt Whitman's poetry and obviously sexual geometry. "Cleaning Teeth, Early Evening (10PM) W11" (1962) illustrates two biomorphic figures (sourced from his discovery of graffiti-like scrawls found in London Underground stations) with Colgate toothpaste for cocks and at the disposal of one another's mouths. One can't help but think that Hockney, queer as he was, got satisfaction out of a particular shock value, not to mention inadvertently scandalizing others by adding the initials of his school crushes beside these queer figures. …

Art:

MICHELANGELO DIVINE DRAFTSMAN & DESIGNER

I had a high school teacher who used to tell us that if he could die anywhere, it would be the Met. Years later, now that I've visited several times, I know what Mr. Motsinger means. (I've spent too much time high as hell staring at the period rooms.) On Monday I was invited to a press preview for David Hockney (opening next week) and after being kicked out of the gallery because Mr. Hockney was there himself, I found myself wading through the rest of the crowd, starstruck and headed into the Michelangelo exhibit. I had to pull off the queue and collect myself for five minutes to text everyone I knew might care. "Jelly!" "Nice!" "OMG," were their replies. When I finally got my head back on straight, I was like "OK, Chris, let's do this!," so I started to read the curator's intro, said "Fuck this," and went straight in. One thing to know about this show: it is massive. How any one plans to see everything in there, I don't know. Maybe cocaine? It will probably be crowded during the entire run, but there are a bajillion priceless things to see here, so fret not if you miss some things, just let this history run its course. Michelangelo was the real Mr. Renaissance. One lady next to me whispered, "I had no idea he was an architect!" Well, nor did I! Included are assorted juvenilia, a large-scale photo-rendering of the Sistine Chapel and a really precarious unfinished portrait Michelangelo had sat for. It serves as one of the few references we have of the painter's actual genetic makeup. During my visit I couldn't help but think this was one of those shows I will be talking about in 35 years, in a "Ah, the Michelangelo exhibit was up at the time," kind of way. The curators truly outdid themselves, and I cannot recommend heading The Met for this enough. —Chris Stewart
Mixing painting with the written word 'We Can't Make You Younger' shines new light on the queer experience.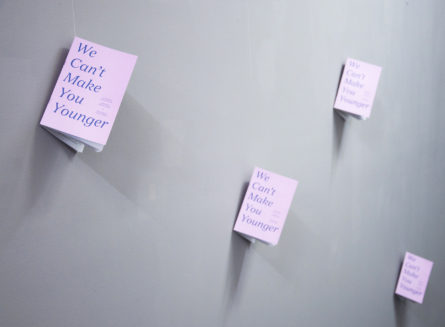 Manuel Solano is a multidisciplinary artist whose first solo show at Museo Carrillo Gil opened last year, in Mexico City. The exhibition consisted of mostly paintings from their series Blind Transgender with AIDS, made shortly after he lost his eyesight in 2014 due to HIV-related complications. (Solano has identified as both transgender and nonbinary, but uses masculine pronouns). "The impression I have is that I was left for dead," he told writer Benoît Loiseau in GAYLETTER Issue 7.
"We Can't Make You Younger" marks the first collaboration between the Mexico City writer and artist. The collection includes three short stories written by Loiseau with accompanying artwork by Solano who was recently selected to show in the New Museum's 2018 Triennial. The stories are simply and directly written, and when matched with Solano's gestural, immediate painting style, create a collection that is stunningly powerful, and quietly haunting.
"The stories deal with fundamental issues, including loss, sexuality, romantic attachment, and so called spirituality," writes Chris Sharp in the foreword. Simply put, this collaboration is beautiful synergy of the queer and the relatable: striking images and poignant stories that both delight and devastate with their quotidian and universally resonant content that ranges from Michael Stipe to a not-so-friendly queer cabaret performer.
Loiseau is a Belgian author, but is currently based between London and Mexico City.  His stories are blunt and are unconcerned with lyricism, but are focused on the complexity of queer desire and existence. …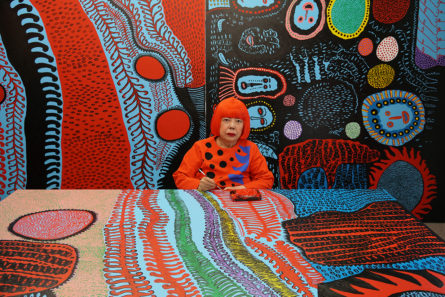 If you haven't heard of Yayoi Kusama you probably live under a rock. She's an artist that I've been dying to see for years now (she's been featured at countless galleries and museums all over the world for years) and she's returned to David Zwirner gallery where her 2013 show made waves with Festival of Life. The show up at Zwirner is catching the eye of nearly every aspiring photographer, artist, gay person, fashion designer, trendsetter and anyone else who thinks they have the most refined taste in the tri-state area. (Trust, just search #infinityroom).
Her work was installed at the Guggenheim for a bit, but much to everyone's greatest fears, really ridiculous people who are more interested in Instagramming (please don't do that) the work rather than looking at it ended up damaging one of the mirrored rooms and caused over $800,000 in damages, so it's no surprise that people are freaking out that the popular artist is back in town — she's both notorious and sublime.
This exhibition will debut two brand new infinity rooms, so whether you've seen the rooms already or not, this is a must-see . Just remember, people from all over the metropolitan area are flocking to see her work, so make sure to be there early so you're not stuck waiting in line down the block. Last week's line was too long, so I'll try again this week.
Yayoi​ ​Kusama,​ ​​Infinity​ ​Mirrored​ ​Room-Love​ ​Forever​,​ ​1966/1994. Installation​ ​view,​ ​YAYOI​ ​KUSAMA,​ ​Le​ ​Consortium,​ ​Dijon,​ ​France, 2000.​ ​Image​ ​©​ ​Yayoi​ ​Kusama.​ ​Courtesy​ ​of​ ​David​ ​Zwirner,​ ​New York;​ ​Ota​ ​Fine​ ​Arts,​ ​Tokyo/Singapore/Shanghai;​ ​Victoria​ ​Miro, London;​ ​YAYOI​ ​KUSAMA​ ​Inc. …

Challenging a new generation of young gay trailblazers to recognize the power of a collective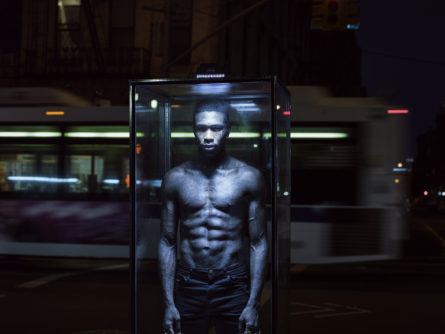 Queer artist Levi Jackman Foster's first solo exhibition, Follow, at Lytehouse Studio directly addresses a new generation of young gay men who have used objectification and validation-seeking practices as a means of gaining a following on social media. Foster's approach was not one of judgment, but instead mirrored the awareness of living in a world where a gay man's relevance is often measured by their likes or followers — beckoning us to examine whether we are fostering positive gay identities or reinforcing negative stereotypes.
The artist's Mormon upbringing, and subsequent rejection of the faith, was evident in the evocative work — bottles of poppers encased in a row, lined the entrance — juxtaposing the forbidden with innate sexual desire. With the hope of reflecting a generation's need to "curate their lives to meet surreal social standards," images of chiseled men in glassed structures were disassociated from their environments as Foster chose to immerse his subjects in rural or urban settings. In a separate room, spectators were invited to step into a glass structure and draw their own conclusions.
A portal-like experience in which spectator and art collide, the exhibition pondered the question, "Where do we go from here?" Foster has admittedly used social media as a powerful tool to evoke his audience with images celebrating sexuality and individuality. Recognizing the obvious advantages of connecting to each other on a social platform, Foster reminded us to maintain a sense of perspective through the often, overwhelming bombardment of information we receive via the internet. …