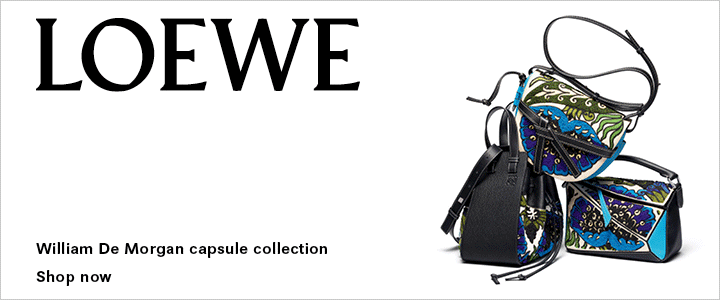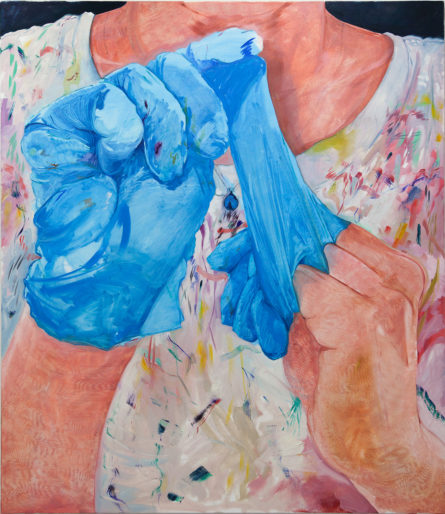 In keeping with the current movement of painters queering the genre of portrait painting, 1969 Gallery in the Lower East Side presents Twice Over, a solo exhibition featuring the work of Rebecca Ness. Having completed a graduate degree in painting and printmaking from Yale of School of Art this year, Ness is adept at both articulating the human body and developing conceptual motifs. While the work has an academic rigor, it also has an effortless quality as it captures scenes of comfortable domesticity. The subjects of her paintings often demonstrate the power of relationships and the dynamic of micro versus macro, the smaller parts constituting the larger whole.
"Closet" (2019) shows a figure standing with their hands on their hips, their head cropped out of the frame. A mirror reflects the colorful interior of the closet, the racks of clothing forming a varicolored rainbow. The figure appears in motion as they try on a leafy green and white bottom to match a red, checkered sweater. The phenomena of mirroring in this work may serve as metaphor for the queer couple, building their own identities loosely and in relationship to each other, one of Ness' overarching themes. Often, lovers wear each other's clothing, borrowing from their companion's wardrobe, adopting and imparting their sense of style. This may be particularly more common in couples that share the same gender. In other paintings, like "Sunday" (2019) and "Kiss" (2019), the artist and her partner are shown anonymously, their heads cropped out in focused compositions of bodies wearing colorful clothing and sneakers. …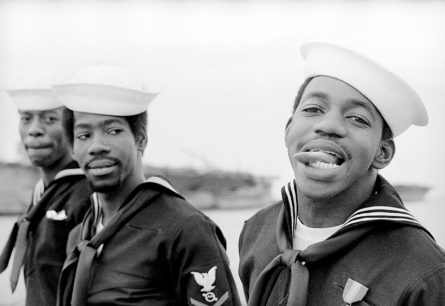 Born in the Bronx, the Black photographer Alvin Baltrop spent the bulk of his life in New York, but from 1969 to 1972, he and a lot of young men were at war in Vietnam. It was there he first picked up a camera, photographing his Navy comrades. His time overseas inspired him to enroll at the School of Visual Arts upon his return home to New York. After finishing his studies, Baltrop turned his lens to the West Side of Manhattan and the decaying piers jutting into the putrid Hudson River, where, camera in hand, he captured men among the heaps of wood and metal. They came for sex, drugs and suicide, many of them knowingly or unknowingly crossing paths with Baltrop. His invasive yet understanding portraits make up Alvin Baltrop: The Piers, a fascinating document of the era between the Stonewall riots and the AIDS crisis.
Though they may have seemed like outsiders to the bigger world, the men who frequented these rundown piers were part of a larger community, one to which Baltrop also subscribed. After all, sodomy laws were still in effect in 1970s New York, which led to the piers turning into a gathering place as well as an escape.
"The waterfront had turned into another kind of cruising area, with men looking for other men, likely strangers, to satisfy their forbidden and illegal desires," Glenn O'Brien writes in the book's foreword. "The men you see in these pictures were outlaws."
Baltrop — who claimed to be attracted to men and women but was regarded as gay by his peers — was friendly with many of his subjects, so it's no surprise the photographs are deeply personal. …

Dancing in the Face of Adversity with Young Boy Dancing Group, Richard Kennedy, SPIT! (Sodomites, Perverts, Inverts Together!), Ryan McNamara, Papi Juice, Bichon, ELSZ, West Dakota, Kia Damon, Sebastian Hernández and many more
There is no need for hiding in the new era of queer painting.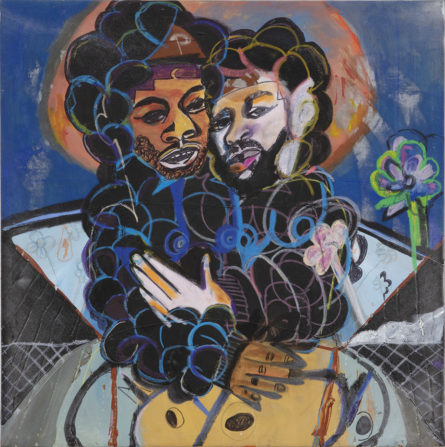 At Perrotin on the Lower East Side, a new survey of contemporary, figurative painting exhibits the many ways queer people address each other and the spaces we inhabit. From the looks of these paintings, queer people are safe to have sex, safe to display their bodies and safe to love openly. We have lives, not just lovers. Aptly titled "Them," the 13 artists represented are from around the globe and speak to different walks of today's queer walks of life. And the scenes in apartments, in bars, getting a haircut, at the beach, or in close embrace, are rather pedestrian. These subjects — equal parts fantastical and romantic — appear to be at peace occupying public space.
While the history of painting has long recognized queer behaviours in codified canvases, "Them" looks to infuse art history with a group of painters and paintings that are uninhibited by their queerness. What was previously a contextual restraint is now an opportunity to aggrandize the subject of queer life.
Before the late 1970s, and then the onslaught of AIDS, gay and lesbian painters were not explicit narrators. Queer culture could be alluded to on a canvas, but not shown. 1934's "Greenwich Village Cafeteria" by Paul Cadmus offers a crowded parlor with all sorts of patrons, including gay men. In the right corner of the canvas, a man with red nails is on his way to the toilets. This styling, only feminine at the time, served as context to the cafeteria, providing familiarity for those that subscribed to such a "delinquent" lifestyle. …

The photographs of the writer-photographer are now on view at the Spanish festival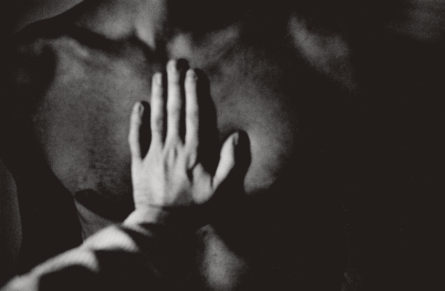 In an essay, the late french writer, photographer, and filmmaker Hervé Guibert described photographs as invitations. A photograph, Guibert believed, compels the viewer to create a unique, intimate version of an image in their mind's eye. This personal replica draws them in- engaging them with the artist's experience and voice. This philosophy is evident in Guibert's work; black and white images of lovers, friends, and family in repose draw the viewer into Guibert's universe, enticing them to experience the moments that he curated.
Though Guibert is largely unknown at the moment, his work was widely celebrated during the time of its production. After a brief career as a filmmaker and actor, Guibert spent most of his career as a writer and photographer, initially gaining recognition through authoring a column for the French newspaper Le Monde from 1978-1985 and going on to publish more than 20 books and numerous essays. Towards the end of his life, however, he returned to filmmaking with the documentary La Pudeur ou l'Impudeur, through which he directed his considerable following to engage with his daily experiences as a man dying of AIDS.
LOEWE is proud to contribute Guibert's works to PHotoESPAÑA 2019, a Madrid-based photography festival that is currently in its ninth year. The festival will span several museums and galleries in an effort to highlight contemporary accomplishments in photography and celebrate significant past works. Through this contribution and in other initiatives, LOEWE aims to raise awareness around instances of suppression and marginalisation. Particularly in the current moment —  in which advanced societies are regressing towards bigotry — their work is sharply relevant. …

Special edition prints exclusively available on the Tom of Finland Store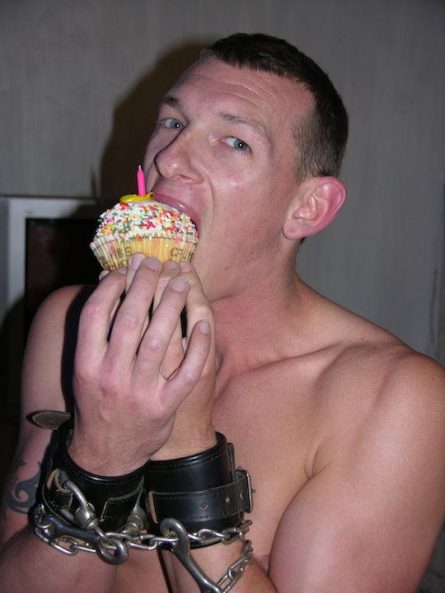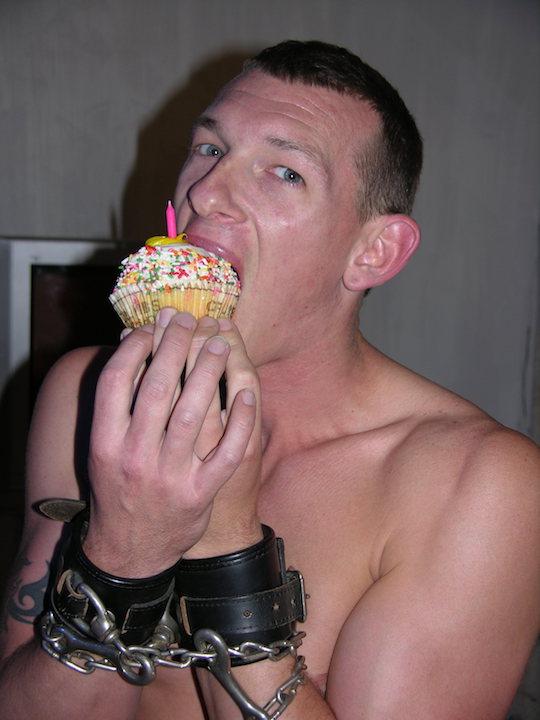 Though his illustrious career has spanned more than 30 years and seen a mastery of multiple disciplines, Rick Castro hasn't become an inch less daring. In discussion of his latest online exhibition for the Tom of Finland Store, RICK CASTRO: GLORY HOLE, Castro exclaimed: "FUCK CENSORSHIP!" This online exhibition features a curated collection of outtakes from Castro's prolific career in kink photography — needless to say, his work is not in Instagram's good graces. Castro correctly understands the term 'fetish' to be broad. More or less consciously, our fetishistic desires extend past ball gags and rope and manifest through fixation on particular objects, clothes, and body parts. That's not to say that Castro's work ignores ball gags and rope; a quick glance at his exhibition will prove the contrary. Subjects in this collection include desert bikers, intimate BDSM scenes, outtakes from commissioned fashion shoots, and more. All photos featured in the exhibition will also be available exclusively through the Tom of Finland Store as signed, limited edition prints through the show's conclusion in September 2019.
In this particular exhibition, the subjects range from crouching, tanned, dirty blonde surfers whose jocks peek from their swim trunks, to ball gagged and hogtied muscle men on nondescript beds. Having famously documented Furry culture for MTV in 2001, it's perhaps unsurprising that animal regalia is a recurring theme throughout the exhibition as well. In one photo, a towering man wearing a gorilla costume fireman-carries a naked, jock-strapped man towards the viewer, ass first. Note: if you're planning on breaking into the Gorilla enclosure, be sure to wear more than just a jock strap — you mustn't tempt them. …

The renowned illustrator on redefining sex and fashion, the Manhattan dreamscape and the end of bitchy.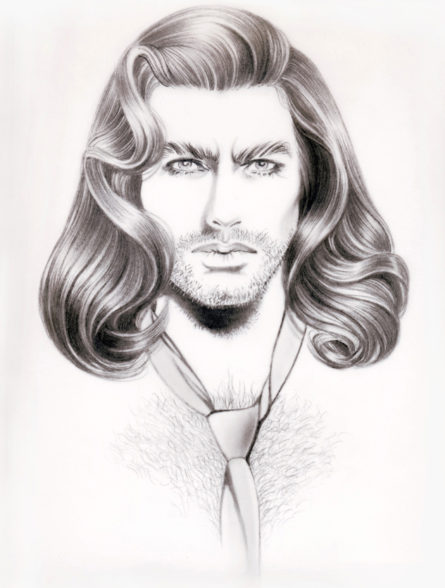 Robert W. Richards began his career as a fashion illustrator, traveling the globe and sketching runway shows, both enamored by and afraid of the clothes he drew. But it was when he returned home to New York for good that he began focusing not on couture clothing but on what lay beneath. Long, lean, sculpted male bodies became the chief characters of Robert's drawings — all isolated images devoid of background and unnecessary detail. "A good drawing should speak for itself," Robert told us. His drawings do.
Plenty of nods to fashion or labels are illustrated with whimsy and lightheartedness, yet the boys Robert depicts are often strong and severe. His most recent work — a series of nude boys with designer shopping bags — encapsulates his perfect intersection of fashion and sexuality. Here they are: simple line drawings, sexy yet soft. We spoke to Robert about his arrival to New York, his imagined-turned-real lover, and how he escaped the fashion world to illustrate a world of his own.
How did you land in New York City? I left home, in Maine, when I was very young. Just a little bit shy of 16 in the late '50s. I went to school in Boston, but always I was conscious I wanted to live in New York. Boston was just a stop along the way for me.
Was it difficult leaving your family and small-town life? My mother didn't want us to dream, because she had had a lot of disappointments in her life. …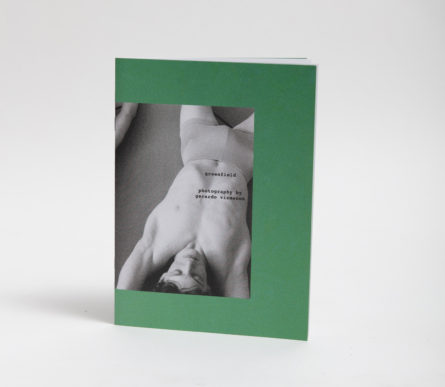 Gerardo Vizmanos believes 18 is a magic number. He's launched a series of photography booklets entitled "18," each $18 and 18 pages long. Vizmanos' photos are all about the male figure. Young models (mostly dancers) are posed beautifully, arms stretched, bodies bent and twisted so muscles and bones can be seen. At 18, children become adults; Gerardo suggests this is what makes the number magical. That idea comes through in his photography, "When I work with some young models, I see an idealization of the memory of my own youth, not what I was, but probably what I'd have wanted to be then."
Gerardo's models hold themselves in what must be awkward and uncomfortable positions, yet the poses always end up looking natural. In one photo, a model rests his shoulders on the ground, but bends backwards so his feet are behind his head. In another, one model bends his knees, positioning himself like a chair, while the other model sits on his legs. Vizmanos is meticulous about getting each pose right. "I guess I direct a lot. Maybe too much, but this is my way of working. This is for me the key aspect of every shoot. To engage with the model to get that natural pose. It's the part I love the most." As to how he finds models willing to bend over backwards for him, Instagram and Facebook are his main sources. They allow him to find models from all parts of the world.
Vizmanos posts a lot of his photography on social media, but has decided that paper is the best format for his work. …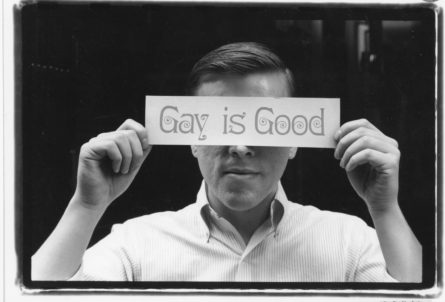 Fred W. McDarrah was the first on-staff photographer for the Village Voice. His prolific photography captured both the pride and the struggles of the gay community toward the end of the 20th century. In 1994 McDarrah published a book of photographs focused on the changing queer community in Greenwich Village from the events of Stonewall up to the mid-1990s. 25 years later, a new, redesigned edition of McDarrah's book has been released by OR Books — Pride: Photographs After Stonewall with a foreword by Hilton Als. It is no coincidence that the book was released this year, exactly 50 years after the Stonewall Riots. The book's cover features several rioters and Stonewall patrons posing for a photograph during the riots. Above them, a message etched in chalk reads, "To fight for our country, they invaded our rights."
Pride is split into two parts: photographs before Stonewall and photographs after Stonewall. The before section paints a vibrant picture of queer 1960s New York. Gay poets and writers like Frank O'Hara, W.H. Auden, and James Baldwin pose for portraits, a powerful photograph of the American transsexual icon Candy Darling, drag queens and transgender women competing in the Miss All-American Camp Beauty Pageant of 1967 are photographed wearing identical outfits and sashes that display their title.  Actor-turned-activist, Jim Fouratt summarizes the decade: "I came to New York in the early '60s to be a bohemian/beatnik artist. I found the Actors Studio, Lee Strasberg, Greenwich Village, jazz, mary jane, gay bars, drag queens, Andy Warhol, the Judson Church performers, the Living Theater, the Caffe Cino and La Mama, civil rights marches and sit-ins, the Open Theater, Communist, poetry, dirty old men, Lenny Bruce, rich people, and my first real boyfriend. …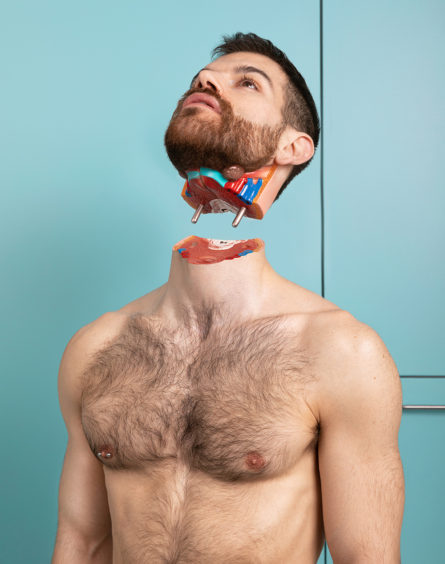 Is beauty only skin deep? In considering how our world of social media and dating apps pushes us to have a certain idea of beauty and desire, Paris-based photographer Jonathan Icher attempts to answer this question. His new series, Send Nudes depicts models with their organs on display. "Models with perfect figures pose naked and offer a new degree of intimacy. Their smooth and perfected organs are offered on display without reserve. Sometimes in excessive proportions, they try to provoke our envy." Icher is responding to how easy it is to present yourself as perfect on social media with filters and editing. In planning this project, Jonathan posed the question, What's the next step? How can we make our bodies even more perfect and attractive? "I imagined that the inside of the body, guts and organs, could be the new way to show our fake perfection in a new media. Organs are presented in this series, perfect, really clean and bright on the bodies."
There's a sexual element to Icher's perfectly proportioned organs. In some photographs, organs like the heart, intestines, and lungs are excessively large and sit outside of the body. Like muscles, butts, and bulges, their large scale attracts sexual attention from the viewer. This was Jonathan's first time using organs in his work, but he's incorporated the human body and body modifications in previous projects. Jonathan loves to mix sexiness with weirdness. "Most of the time we are attracted to certain kinds of bodies (depending on what the fashion or porn industry is showing us) and I like to confront these kinds of bodies with something strange, or….not supposed to be attractive."
…

Featured in his latest book, 63 E 9th Street: NYC Polaroids 1975–1983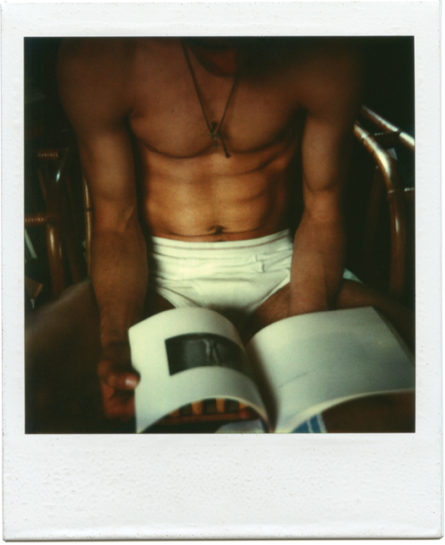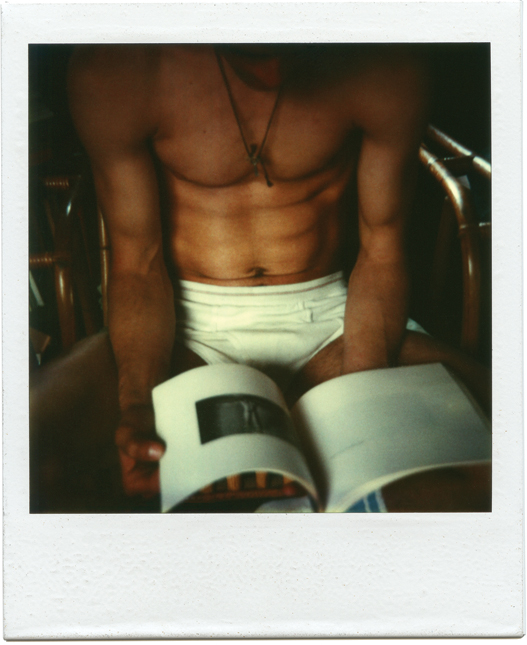 I was about 25 when I discovered that a walk down Christopher Street in Manhattan was as cruisy as a walk down the beach in the Pines. In the early 1970s, as my generation was coming out loud and proud, the cityscape provided a fresh venue for our frequently manic celebration.
Most of us came from a sexually repressed, homophobic place — a place America was and, too often, still is. But New York's streets, bars and clubs provided a safe space for us to connect with like-minded libido-driven souls. Day or night, my Ninth Street apartment existed as a stage designed for play. We created ourselves as one another's fantasies.
Anxious as we were to get into each other's pants, we remained ever vigilant for the guy we hoped might return our gaze. And these were paradoxical years. We were militant young men outside, fragile boys inside. But from time to time — for a while, at least — we found love in each other's arms. That's why I always kept fresh flowers about.
Click here to get the book 63 E 9th Street: NYC Polaroids 1975–1983.
…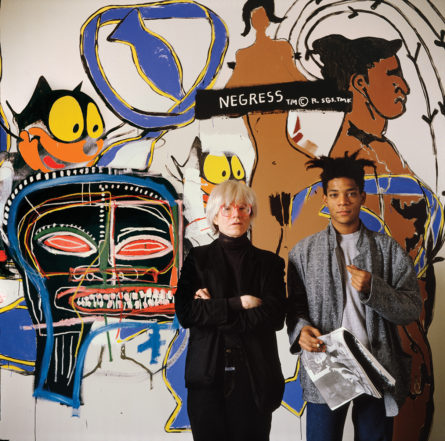 50 years ago this June, the Stonewall Inn was raided by the New York Police Department, triggering one of the largest confrontations in LGBTQ history. Since that night, many battles, like marriage equality and the HIV/AIDs crisis have been fought. We've had big wins and realized some worrying losses. Reflecting on Stonewall allows us, of course, to celebrate our victories, but also inspires us to press on and keep fighting for those in our community that still face intense social and political marginalization. Jonathan Weinberg has published Art After Stonewall, 1969-1989, a book focused on the legacy of Stonewall that highlights more than 200 artworks "spanning the two decades between Stonewall and the AIDS crisis." Among the many featured artists are Alvin Baltrop, Cathy Cade, Gran Fury, Nan Goldin, Harmony Hammond, Lyle Ashton Harris, Tseng Kwong Chi, Peter Hujar, Greer Lankton, Mcdermott & Mcgough, Robert Mapplethorpe, Catherine Opie, Adam Rolston, Shelley Seccombe, Andy Warhol, Jean-Michel Basquiat and many more.
The book is pretty badass. Chapter Two (Sexual Outlaws) opens with Catherine Opie's photograph, Raven (Gun); a woman sits bare-chested on a couch, her nipple piercings connected by a silver chain. Arms stretched out, she aims a gun into the distance. On the adjacent page a quote by Flavia Rando reads, "We knew there were lesbian bars in Greenwich Village, but the mob bouncers could prevent women from entering. You could be judged too black, too brown, too young, too poor, or the police might raid and you could be arrested for wearing the wrong garments." Later in the chapter, Lynda Benglis' Artforum Advertisement from 1974 is shown. …