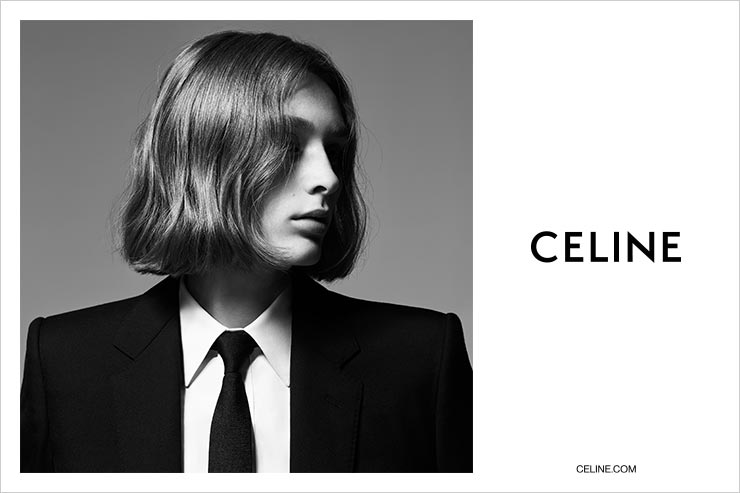 The British artist has long explored the politic and discourse around gender, identity and sexuality.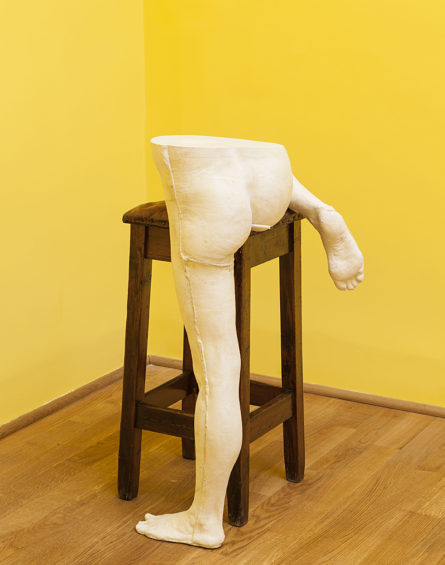 Let's talk about gender. I mean, what else is anyone talking about these days, right? Penises, vaginas, intercourse. The New York Times reports that Bill Cosby's legal team feel he's a victim of "sex wars." Sure, and I'm a victim of straight people's rights. The point is, some people have got it ("it" being gender) totally right, and some have got it all sorts of wrong. Sarah Lucas' now ongoing career has long explored the tumultuous politic and discourse around gender, identity and sexuality, and I feel like she's not far off from what most of the liberal-leaning art-focused society's idea of "right" is.
Naturally, the New Museum's curatorial text denotes her discussion of power as well. It's true, there is something very powerful about a self-portrait blown to mural size and then plastered on the 4th floor gallery's gigantic walls. And not for nothing, but this final gallery in her three floor "Au Naturel" (featuring some of the artist's most important works, and her largest showing in the U.S. to date) is rather anthemic. In the aforementioned mural, Lucas sits with her legs apart, her genital delineated by bunching denim, and two large-scale penis sculptures are positioned in the direction of the artist. It's not a question of suggestion, it's obvious Lucas' phalluses are after her, but the question of power runs amok. In the same gallery is a cigarette Jesus on a cigarette crucifix and a severed Jaguar sedan, which the artist severed herself, that is also accented with her signature cigarettes. …

Advent by Sam Roeck is on view through Oct. 3rd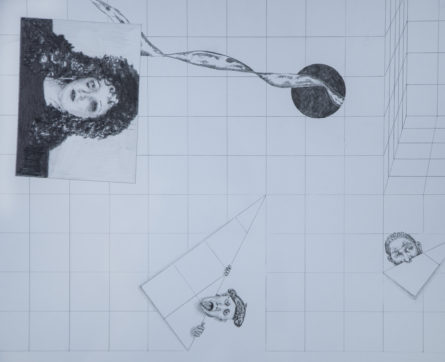 Chinatown is underrated. But there lay energy uncharted. On a damp Monday in September (the humidity was still trying it) I walked over with the rest of the office to check out Sam Roeck's show up at OCDChinatown. The address brought us to an indoor bizarre home to several shops and produce stands. Sure, we thought, it's here?
OCDChinatown promotes itself as a clubhouse for queers, gays and women in performance, sound, word, film, fashion and "most of all kunst." OCDChinatown is a set, a screen, an informal testing ground for new work. So when it came time to exhibit Sam's latest work, the space was a bit of a no-brainer.
Working with pencil, Sam's created six new drawings that operate on the grid, but his lines jettison off for right angles and protrude focus for subsequent eye tricks. Hallucinogenic-trails of liquid also help this visual-shtick, as well as exquisitely shadowed burnt edges. Sam's hand is quite impressive, especially when you consider the total precision of the drawing and his cleanliness on page. The line-work itself takes immense concentration, and I wasn't bothered by any kind of eraser marks. Besides, they make for great texture. But his drawings keep the eye skipping, much like watching pop-rocks, so I wasn't searching for mistake, only the next best moment.
Having had no real context prior to going to the show, "Advent" is a formal presentation in a totally random space. I sent Sam some questions over email (he said he loves nothing more!) to hear more about the work and his approach to commercialism in art. …

65 portraits of downtown New York City's LGBTQ icons.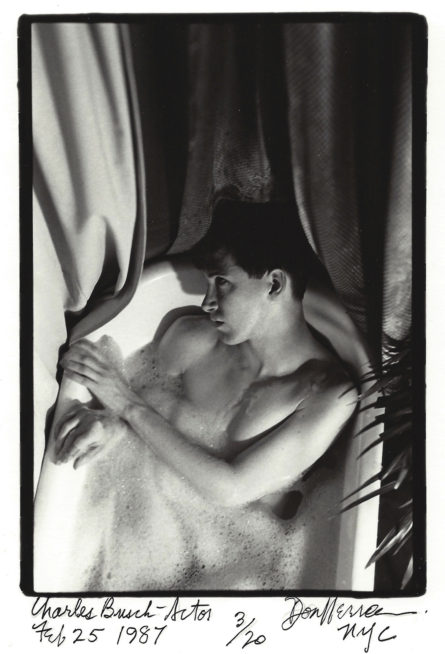 It would seem there is no shortage of photographs to uncover from New York City in the latter half of the 20th Century. Curators and art historians alike have silently begun mounting and uncovering large archives previously unseen for audiences large and small. Unsurprisingly, many of these works are creative-leftovers from LGBTQ artists. Don Herron (1941-2012) among them.
After a stint in San Francisco, Herron moved to New York City in 1978 when the downtown and East Village art scene was beginning to take off. He invited the scene's bigwigs like Keith Haring, Robert Mapplethorpe, Belle Du Jour, Holly Woodlawn and countless others to sit (or sink) in what would become Tub Shots — 65 images of New York City and San Francisco's queer heroes and heroines that detail the landscape of the bohemian creative community at the time. Speaking to the Village Voice in 1980, Herron said, "I decided to do a series of photographs of people in containers. The bathtub was the logical container to use."
The portraits are collaborations between Herron and his subjects. Some brought elaborate outfits, some performed theatrical expressions, and some just sat and relaxed, probably just happy to have a bath. Seen in only black and white, these iconic artists of countless mediums behave in which ever way they please. Freedom, at the time of photographing, was being denied from these artists daily. And many of these subjects would be lost to AIDS in the years to come. …

At Daniel Cooney Fine Art in New York City
Scenes from the opening reception at Toth Gallery during NYFW.
Modern scenes of queer love are given a nostalgic style treatment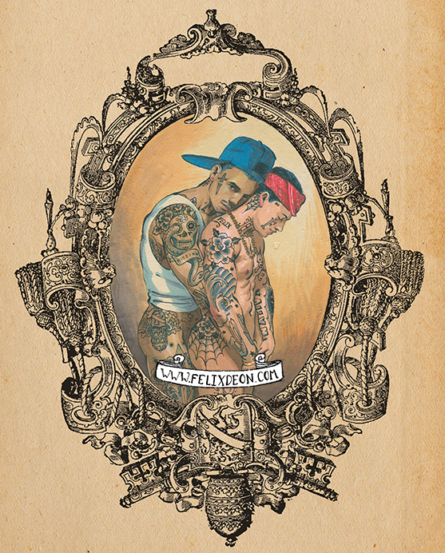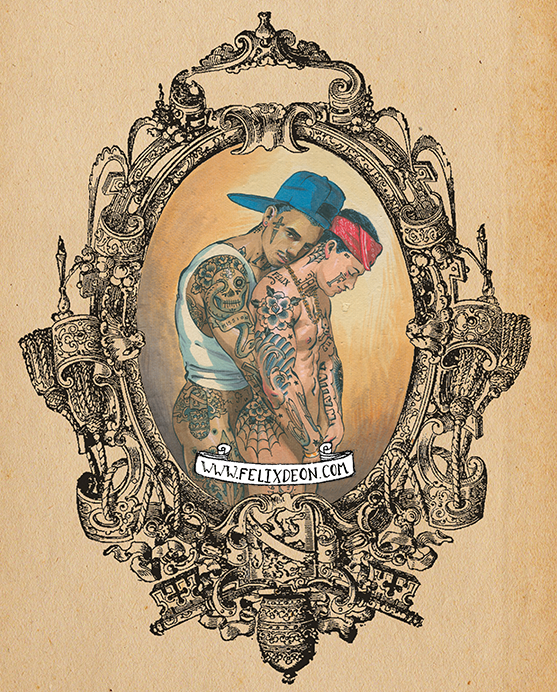 Using politically fueled humor and nostalgia for the Edwardian era's blurred binaries, Mexican-American artist Félix D'eon penetrates the queer landscape, uniting the past with the modern in his unmistakably potent perspective. The artist transposes seemingly chaste scenarios and interweaves sex-positive acts into a titillating statement of LGBTQ visibility. Creating a vernacular that normalizes queer desire and eradicates social stigma, D'eon's work is innately celebratory in ethos and intention.
While in Mexico City I went to visit the ebullient artist in his studio. We spoke on influences, positive states of mind, and the importance of queer representation.
Tell us how your work differs from other queer representations. My work is almost like unsubverting queerness. My paintings have a style of a vintage children's book illustration. There's a wholesome feeling when you're looking at it — whether I'm painting an old queer couple kissing in a vintage setting or a super-erotic kinky sex scene. In either case, there is a sense of wholesomeness. My work is also body-positive and sex-positive. Whereas some queer work depicts homosexuality as outlawed, my work strips sex and queer bodies of that [historical] shame.
How are you hoping to dispel stigmas of sexuality? I like to imagine a painting of mine popping up on a Facebook feed of a conservative grandma in the Mid-West and having her look at a Victorian painting of two lesbians in ball gowns giving each other a chaste kiss in the lips and realizing her homophobia is misplaced. The point is to trick you into thinking that queerness was as acceptable in the past as it is now. …

Tom of Finland Store presents an exploration of Los Angeles with photographs by Daniel Trese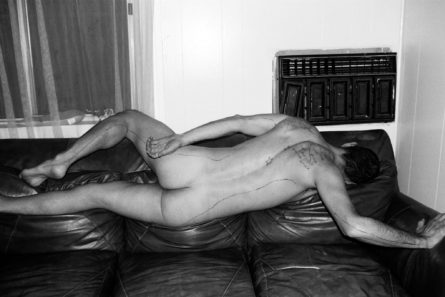 The Tom of Finland Store is equal parts online boutique and gay art gallery. We've seen exhibitions of work by Bruce LaBruce (aptly titled Faggotry) and Jack Pierson (Tomorrow's Man.) Now the ToF Store is presenting Daniel Trese: Surface Streets, a series of prints by photographer Daniel Trese. In over 200 photographs shot almost entirely on film, Trese documents the city of Los Angeles, its people and its ultra-contemporary ethos. From the city's "sprawling strip malls, agave plants and massive boulevards," to its young creative and queer scenes, he captures everything with a uniquely Californian wit. He photographs in both black-and-white and color, the latter showcasing the soft contrast and muted tones emblematic of Southern California.
The series was shot from from 2007 to 2018 as Trese worked for publications like Fantastic Man, Purple, Apartamento and Pin-Up. In addition to the city, he uses portraits to create a community of faces like Peggy Moffitt, Don Bachardy, A.L. Steiner, Ashland Mines, Karis Wilde, Joel Gibb, Sean Delear, and Mariah Garnett, mostly shot in stark black and white. All together the series is both a poignant examination of Los Angeles and a striking document of Trese's own life, like a photographic memoir. It reads like a joint exploration of identity, personal and geographic.

Surface Streets will be up online from August 8th to February 6th, 2019. The prints are available exclusively on the Tom of Finland Store website. …

Scenes from the opening reception party
A group exhibition in New York City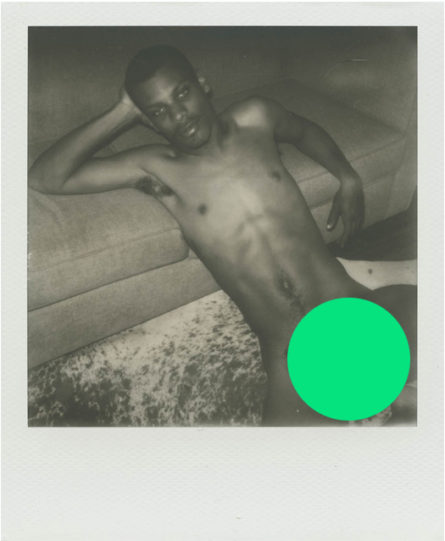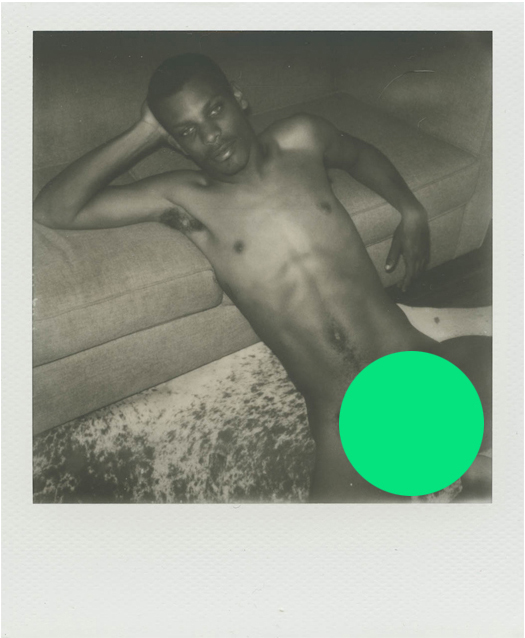 It has been too damn long since I've attended a Gio Black Peter show. The Violators is a group show featuring 15 artists from around the world, and Gio is, of course, one of them. But as I mentioned there is much more besides him. The opening reception, happening on Friday, July 27th, also features a live reading by Slava Mogutin, a performance by El Mira and at 10:00PM a video program featuring Bruce LaBruce's "I know what it's like to be dead," Alex La Cruz's "French Quarter May" and Gio Black Peter's "Sushi."

The show was inspired after a post of Gio's was removed from Instagram (this happens a lot to him) with the familiar explanation: "We removed your post because it doesn't follow our community guidelines. If you violate our guidelines again, your account may be restricted or disabled." Gio says he wanted to "celebrate artists from my community" and give a platform to the images that were an expression of their lives. Images which were deemed "too offensive." Inspired by the guerrilla artists from New York City's 80's downtown scene (David Wojnarowicz, Kenny Scharf, Diane Arbus and Jean-Michel Basquiat to name a few) the exhibition will take place in my show studio. In the words of of Aretha Franklin and Annie Lennox "Sisters are doin it for themselves" Art in the real world might just be the last refuge of free expression.

The internet was meant to be that place, but when content is viewed primarily on the platforms of private companies (Facebook, Instagram) then freedom of expression will always be held hostage to the whims of reactionary CEOs and self-righteous mobs of snowflakes who can't handle ideas that challenge their own narrow world views. …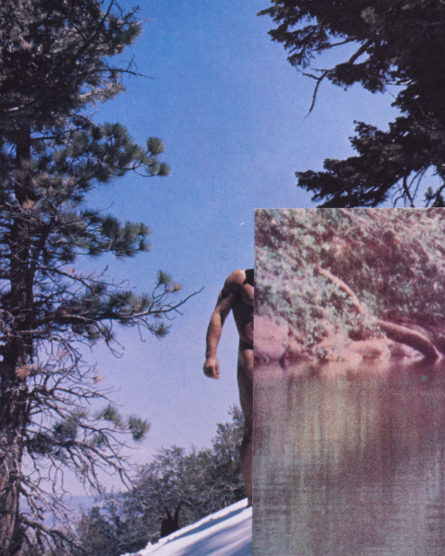 You know how important AIDS art is to the gay community. David Wojnarowicz has finally received his due at a major American museum. Felix Gonzales-Torres was at Zwirner, but they didn't talk about AIDS. There seems to be a constant struggle between AIDS and art. One doesn't know what to do with the other. Art seemed to help convalesce all sorts AIDS patients before their eventual deaths. The plague killed off all sorts of creatives and left mounds of detritus in the arms of lovers, communities… institutions.
Pacifico Silano is a lens-based artist, and for his latest show, he wanted to explore the nostalgia of the 70s. Pre-AIDS, post-war. Through re-photographing, fragmenting, obscuring, re-assembling, and re-contextualizing gay erotica from the time period, the artist set out to revitalize the irreverent innocence and naivety gay men were accustomed to before the plague attacked their livelihood. It is difficult not to place a devastation-lens atop works made during the epidemic, and it's harder to stare into a frame of gay europhia without thinking "oh, they don't know what is coming." We're a community still caught up in post-disaster. 'After Silence' organized by Nathan Storey Freeman at Stellar Projects hopes to consider the complex issues of our community with quiet meditations on various queer ephemera, identity and our evolving relationship to our colorful, taciturn past.
The exhibition is on view until July 27, 2018. Stellar Projects, 1 Rivington Street, NY, NY. …

At Hudson River Park, the memorial honors victims of prejudice.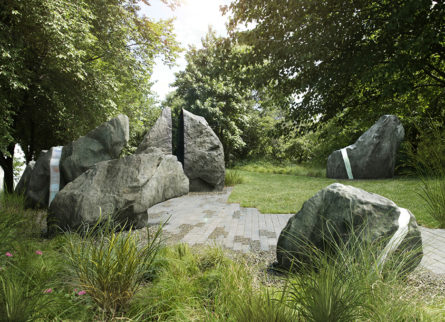 Before President Obama left office, in late 2016, the U.S. National Park Service, under his administrative lead, honored the LGBTQ community by naming the Stonewall Inn a National Monument. This historic designation was a first of its kind. No other LGBTQ identifying space had ever been listed (let alone considered) on the National Monument register. To commemorate the Stonewall Riot's 50th anniversary, and coming just two years after President Obama's announcement, New York is unveiling a new LGBTQ monument. Designed by artist Anthony Goicolea, the memorial, located on Hudson River Park and was commissioned by New York State to honor the LGBTQ community — including those lost in the Pulse nightclub shooting in Orlando — as well as all victims of hate, intolerance and violence.
The public monument encourages visitors to look beyond exteriors. Its large granite stones are constructed from bronze, with fragile glass creating strong unifying bonds. An inward-facing Audre Lorde quote is inscribed between the largest split stone, acting as the memorial's inner voice. The proportion of the rocks and their circular arrangement creates a safe harbor that beckons visitors to rest upon the immovable stones. These markers become pedestals for the true monument: the community of differing people who sit, visit, commune, mourn, love and remember.
To learn more about the monument's creation, I sent Anthony a few questions to hear more about his process in designing and what the historic-future of the space could look like.
You have cited historic structures such as Stonehenge & Easter Island as points of reference for the new monument — what is your hope for your own design and it's own potential history? …

Scenes of the sexual, the social and the historic at this intimate exhibit.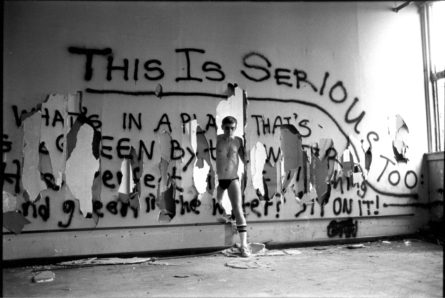 As a newcomer to New York City I made my first trip to the Leslie-Lohman Museum of Gay and Lesbian Art in Soho a couple of weeks ago. I arrived dazed and sticky, not yet used to the stifling midsummer heat or the Canal St. crowds. The museum, on the comparatively quiet corner of Wooster and Grand, felt like a place of refuge. I felt weary and immediately grateful as I walked in. Inside the museum is both stark and warm. With its soft lights and wood floors the gallery space cultivates a comfortable intimacy in its visitors. The same intimacy naturally carries through to the relationship between the visitors and the exhibitions, between the visitor and the art. As I explored OUT FOR THE CAMERA: The Self-Portraits of Leonard Fink, one of the two exhibits currently on view at the museum, the exchange between the space, the visitor and the artwork itself made itself clear.
During the seventies and early eighties Leonard Fink, a gay man, photographed New York City, paying particular attention the social and sexual lives of his fellow LGBTQ people. He captured the bar scene of the West Village and the annual Pride marches and the men cruising for sex on abandoned piers, documenting LGBTQ culture from the interior. During his lifetime Fink's work was never recognized and today it remains mostly in obscurity despite its contemporary relevance. He, like other LGBTQ photographers such as Alvin Baltrop, Peter Hujar or Diana Davies have long been role models for aspiring photographers. …