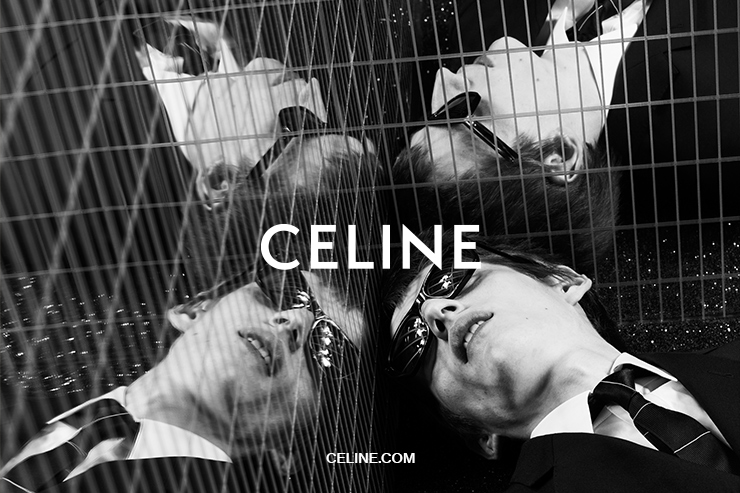 The Whitney's newest retrospective of a pop Art legend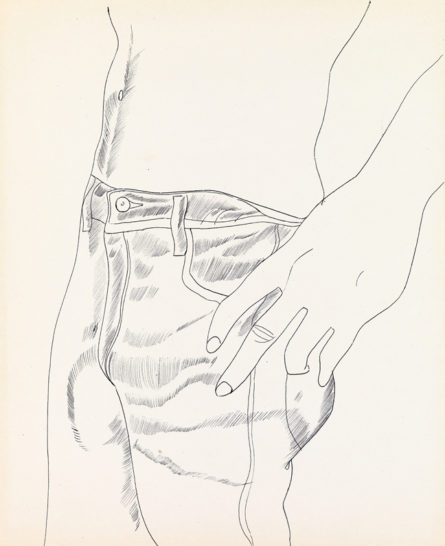 I remember someone on social media saying, "do we really need another Warhol show now?" I thought the same thing for about a minute, but then I remembered — it's Warhol. It's got to be good. And if it isn't, I can't talk shit without seeing it. Warhol made a unique contribution to the art world and even if you are not a fan, you should probably see this one in person, otherwise you'll sound like a hater.
I went to the show Andy Warhol — From A to B and Back Again and I am so glad I did. It's the largest exhibition to date at the Whitney's new location, including over 350 works, many assembled together for the first time. The dazzling show is brilliantly curated by Donna De Salvo, Senior Curator and Deputy Director for International Initiatives, Christie Mitchell, Senior Curatorial Assistant, and Mark Loiacono, Curatorial Research Associate. "The exhibition positions Warhol's career as a continuum, demonstrating that he didn't slow down after surviving the assassination attempt that nearly took his life in 1968, but entered into a period of intense experimentation. The show illuminates the breadth, depth, and interconnectedness of the artist's production."
It's a vast display; from his early commercial shoe illustrations, to the editorial covers under his direction at Interview magazine, through his instantly recognizable celebrity-obsessed pop-art, into his enigmatic later films, and including, of course, the infamous piss paintings — there's something for everyone!
Andy Warhol (1928–1987), Superman, 1961. …

An inside look at the sacred suburbs and theatrical New York City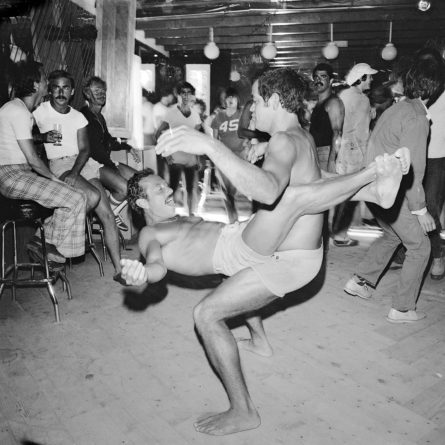 Throughout childhood, photographer Meryl Meisler was told that because she was Jewish, she would never go to heaven. Instead, she would be stuck in purgatory — a spiritual limbo. With a medium format camera in hand, Meryl set out in the 1970s to make sense of a changing world not "meant" for her. Her photographs, collected in her book "Purgatory & Paradise: Sassy '70s Suburbia & the City" (Bizarre) provides an inside look into those sacred suburban spaces many admire from the outskirts, but have hard time truly fitting in.
Meryl's relationship to Long Island and New York City played an active role in both her coming of age and eventual coming out. The theatrics of New York City nightlife are seen a plenty in her photography, and there are handfuls of the suburban mundane too. From prom nights, to family dinners, to dance parties and beach-bods, the subject most present in Meryl's photography is a documentarian's bravery. It took bravery to photograph certain scenes, and it also took bravery for her subjects – many of them queer and people of color – confident enough to be themselves in front of the lens at a time where freedom of expression was heavily suppressed by greater-white society. Many of the images in this book are previously unseen. Printed side by side, the images show how necessary all these different signs of strength can partner with general empathy.
Aside from exploring the characters in the world around her, Meryl explored her identity using self-portraiture as well. …

GingerNutz reminds us fashion is for fun, and any animal can model!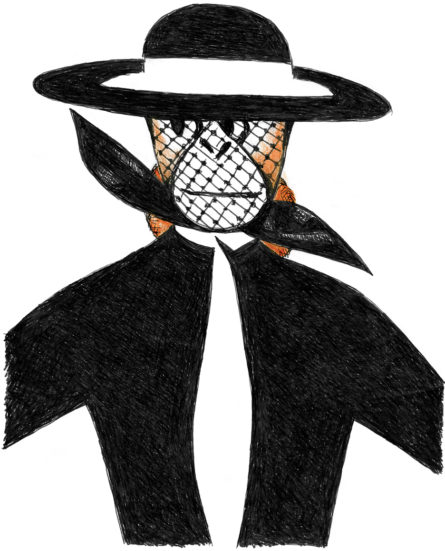 A wearer of many hats, writer Michael Roberts mixes his bounty of interest in his latest book, GingerNutz Takes Paris (MW Editions). Inspired by his close friend, foreword-writer and fashion icon Grace Coddington, we follow GingerNutz, the world's first orangutan supermodel, around Paris. The illustrations, hand-drawn by Michael, feature our heroine at photoshoots, parties, iconic Parisian sites, and fittings at the ateliers of designers from Dior to Comme des Garçons. The outfits featured throughout the story were selected by Grace herself, lending her hand back into styling. A former model herself, Grace long helmed the fashion pages at American Vogue serving as Creative Director for thirty years. Prior to writing and illustrating books, Michael served as Fashion Director of both Vanity Fair and the New Yorker. His former titles explain the palpable love for clothes noticeable on each page.
The drawings – themselves printed on creamy stock paper – harken to classic illustrations from magazines' past, giving the pink fabric-bound book a vintage, elegant feel. Whether it's read by a child or an adult admirer of what is considered to be in vogue, GingerNutz Takes Paris serves not only as a reminder of the fun side of fashion, but also as a tribute to Grace's unwavering influence and the original (and dare we say returning) fashion capital of the world.
You can purchase your copy from MW Editions here: http://www.artbook.com/9780998701837.html
…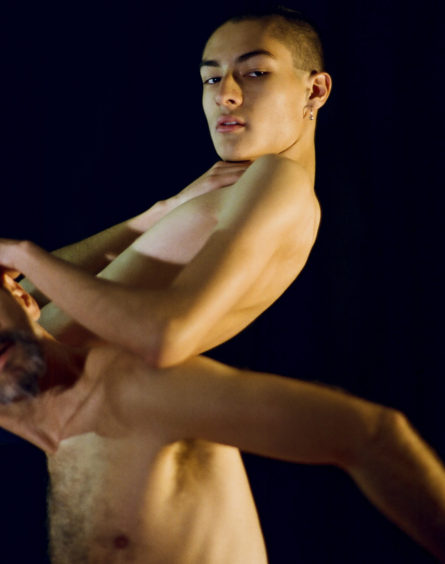 Edmund White wrote that Fire Island "is a place of rituals, where dinners, tea-dances and sex parties rhyme in the 'imagination with the rituals of medieval Japan or Versailles.'" The author is most certainly not alone in attempting to encapsulate the ethos and ennui of Fire Island. It is the setting for several iconic photographs and novels, including the abounding if not most quintessential Dancer from the Dance by Andrew Holleran. This past summer, Brooklyn-based photographer and GAYLETTER contributor Matthew Leifheit spent his days and nights out among the island's most storied locations. Holding residence at Cherry Grove's Belvedere Guest House, Matthew traipsed among Fire Island hot stops to construct and document the "composite sensibility, of the past rhyming with the present, of anarchy blended with grandeur" that delineates the island's lore.
A bit of the island's magic has been corrupted in recent years with the introduction of dating apps, harsher drug culture, and wicked storms, which have severely damaged the famed beaches along Long Island's south shore. Yet while the homosexual histrionics of Fire Island culture may have shifted, Matthew's Fire Island Night, opening October 26th, 2018 at Deli Gallery, suggests the thread of sexuality, intimacy and companionship that has long defined gay male culture may not be lost in the queer (possibly near) future.
Fire Island, for all that it is worth, will continue to benefit from artists creating works focused on the location. Whether they reflect on its past or reimagine it's present, each year we return to the rituals of Fire Island that continue to magnify homosexual taste in the world. …

"My studio is like a stage set of my family's home."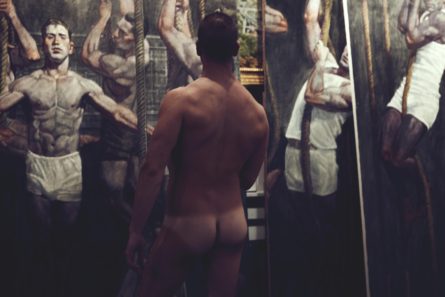 Athleticism, sportsmanship, camaraderie, bromance, love. We show affection and indulge in intimacy in many different ways. Mark Beard, the American artist and noted set designer, has been exploring the myriad dynamics which exist in relationships between men. Most popular are his drafts on paper of the male form and canvases varying in scene, but never without his signature, Adonis-like men.
Mark's work promotes antiquity, employing a saturated palette and details of yesteryear. There are Marines in uniform, wrestlers in singlets, a cohort of guys shirtless and wearing suspenders. Like Thomas Eakins before him, Mark's realism seems to signify that masculinity is inextricably tied to industry. Muscle, grit, competition all are underlying if not major themes. The artist has worked for Abercrombie, American purveyor of hot blondes and juicy pectorals. Mark was fortunate enough to cherry pick his choice of models to draw and paint. The selection of models he uses (most are friends of friends and run in theatre circles) has continued to grow over the years.
With all of the focus around the male form, it was a worth while question to consider how Mark sets about choosing his models, and what is the studio experience like for the artist. "My studio is like a stage set of my family's home," Mark told Elvis Maynard. With photographer Aaron Williams, Elvis attending a private sketching session with model Mic Adilardi to document the artist at work inside of his space. "I used to try and live as a modernist, but it wasn't really me." Mark said. …

The British artist has long explored the politic and discourse around gender, identity and sexuality.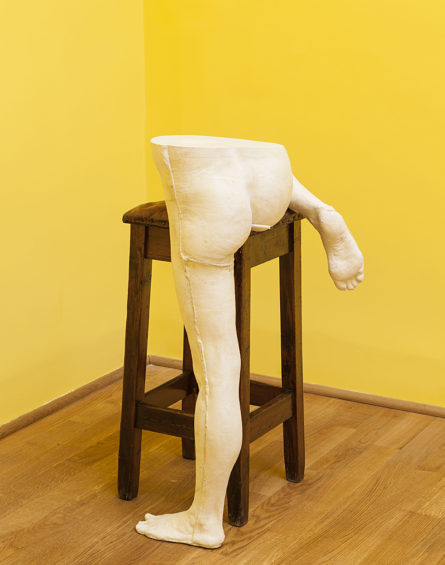 Let's talk about gender. I mean, what else is anyone talking about these days, right? Penises, vaginas, intercourse. The New York Times reports that Bill Cosby's legal team feel he's a victim of "sex wars." Sure, and I'm a victim of straight people's rights. The point is, some people have got it ("it" being gender) totally right, and some have got it all sorts of wrong. Sarah Lucas' now ongoing career has long explored the tumultuous politic and discourse around gender, identity and sexuality, and I feel like she's not far off from what most of the liberal-leaning art-focused society's idea of "right" is.
Naturally, the New Museum's curatorial text denotes her discussion of power as well. It's true, there is something very powerful about a self-portrait blown to mural size and then plastered on the 4th floor gallery's gigantic walls. And not for nothing, but this final gallery in her three floor "Au Naturel" (featuring some of the artist's most important works, and her largest showing in the U.S. to date) is rather anthemic. In the aforementioned mural, Lucas sits with her legs apart, her genital delineated by bunching denim, and two large-scale penis sculptures are positioned in the direction of the artist. It's not a question of suggestion, it's obvious Lucas' phalluses are after her, but the question of power runs amok. In the same gallery is a cigarette Jesus on a cigarette crucifix and a severed Jaguar sedan, which the artist severed herself, that is also accented with her signature cigarettes. …

Advent by Sam Roeck is on view through Oct. 3rd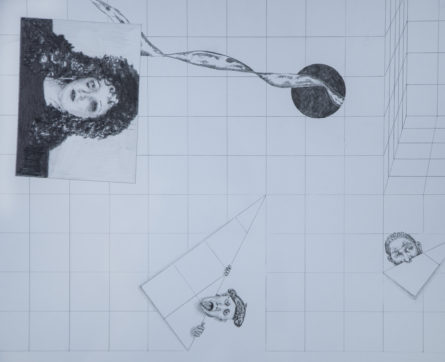 Chinatown is underrated. But there lay energy uncharted. On a damp Monday in September (the humidity was still trying it) I walked over with the rest of the office to check out Sam Roeck's show up at OCDChinatown. The address brought us to an indoor bizarre home to several shops and produce stands. Sure, we thought, it's here?
OCDChinatown promotes itself as a clubhouse for queers, gays and women in performance, sound, word, film, fashion and "most of all kunst." OCDChinatown is a set, a screen, an informal testing ground for new work. So when it came time to exhibit Sam's latest work, the space was a bit of a no-brainer.
Working with pencil, Sam's created six new drawings that operate on the grid, but his lines jettison off for right angles and protrude focus for subsequent eye tricks. Hallucinogenic-trails of liquid also help this visual-shtick, as well as exquisitely shadowed burnt edges. Sam's hand is quite impressive, especially when you consider the total precision of the drawing and his cleanliness on page. The line-work itself takes immense concentration, and I wasn't bothered by any kind of eraser marks. Besides, they make for great texture. But his drawings keep the eye skipping, much like watching pop-rocks, so I wasn't searching for mistake, only the next best moment.
Having had no real context prior to going to the show, "Advent" is a formal presentation in a totally random space. I sent Sam some questions over email (he said he loves nothing more!) to hear more about the work and his approach to commercialism in art. …

65 portraits of downtown New York City's LGBTQ icons.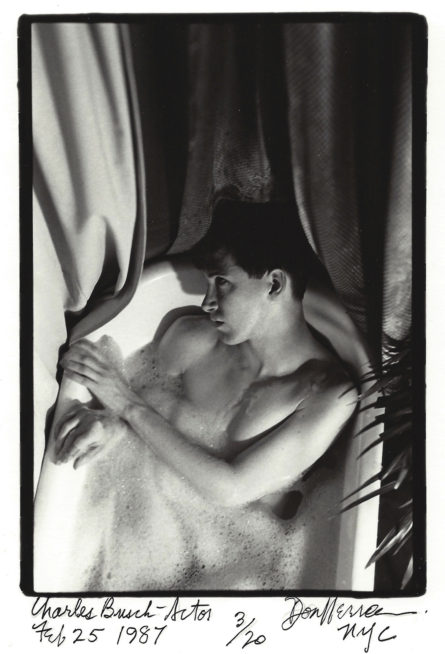 It would seem there is no shortage of photographs to uncover from New York City in the latter half of the 20th Century. Curators and art historians alike have silently begun mounting and uncovering large archives previously unseen for audiences large and small. Unsurprisingly, many of these works are creative-leftovers from LGBTQ artists. Don Herron (1941-2012) among them.
After a stint in San Francisco, Herron moved to New York City in 1978 when the downtown and East Village art scene was beginning to take off. He invited the scene's bigwigs like Keith Haring, Robert Mapplethorpe, Belle Du Jour, Holly Woodlawn and countless others to sit (or sink) in what would become Tub Shots — 65 images of New York City and San Francisco's queer heroes and heroines that detail the landscape of the bohemian creative community at the time. Speaking to the Village Voice in 1980, Herron said, "I decided to do a series of photographs of people in containers. The bathtub was the logical container to use."
The portraits are collaborations between Herron and his subjects. Some brought elaborate outfits, some performed theatrical expressions, and some just sat and relaxed, probably just happy to have a bath. Seen in only black and white, these iconic artists of countless mediums behave in which ever way they please. Freedom, at the time of photographing, was being denied from these artists daily. And many of these subjects would be lost to AIDS in the years to come. …

At Daniel Cooney Fine Art in New York City
Scenes from the opening reception at Toth Gallery during NYFW.
Modern scenes of queer love are given a nostalgic style treatment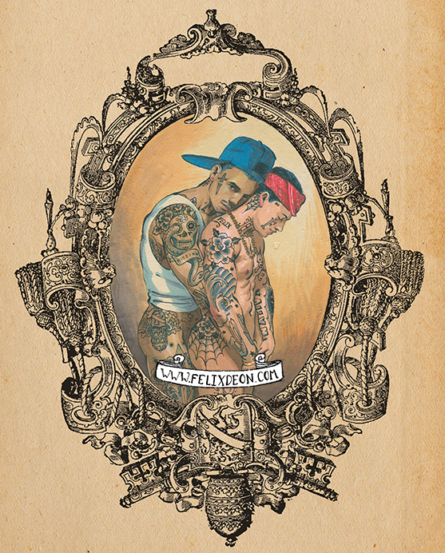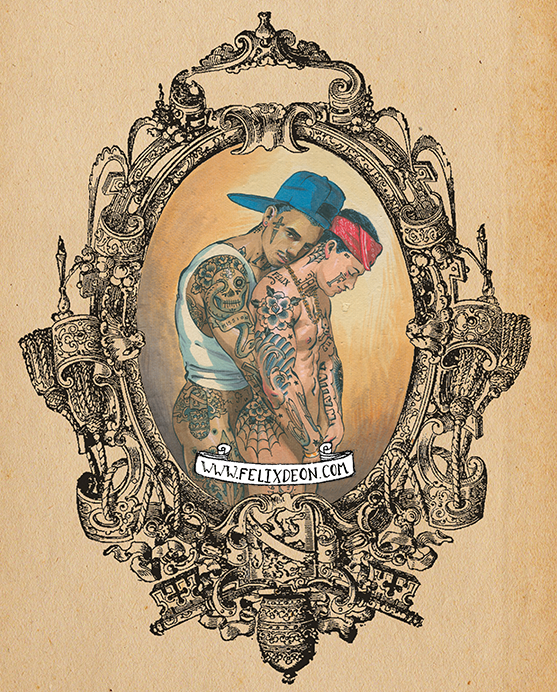 Using politically fueled humor and nostalgia for the Edwardian era's blurred binaries, Mexican-American artist Félix D'eon penetrates the queer landscape, uniting the past with the modern in his unmistakably potent perspective. The artist transposes seemingly chaste scenarios and interweaves sex-positive acts into a titillating statement of LGBTQ visibility. Creating a vernacular that normalizes queer desire and eradicates social stigma, D'eon's work is innately celebratory in ethos and intention.
While in Mexico City I went to visit the ebullient artist in his studio. We spoke on influences, positive states of mind, and the importance of queer representation.
Tell us how your work differs from other queer representations. My work is almost like unsubverting queerness. My paintings have a style of a vintage children's book illustration. There's a wholesome feeling when you're looking at it — whether I'm painting an old queer couple kissing in a vintage setting or a super-erotic kinky sex scene. In either case, there is a sense of wholesomeness. My work is also body-positive and sex-positive. Whereas some queer work depicts homosexuality as outlawed, my work strips sex and queer bodies of that [historical] shame.
How are you hoping to dispel stigmas of sexuality? I like to imagine a painting of mine popping up on a Facebook feed of a conservative grandma in the Mid-West and having her look at a Victorian painting of two lesbians in ball gowns giving each other a chaste kiss in the lips and realizing her homophobia is misplaced. The point is to trick you into thinking that queerness was as acceptable in the past as it is now. …