A tongue and cheek body of work is the latest from the British multimedia artist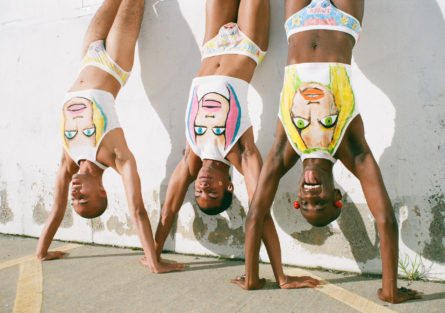 Painted leather, a reinterpreted wedding gown, the graphic-tee, flamboyant and hot pink faux-fur — none of these are new ideas in fashion, but artist Patrick Church, with his youthful take on both ideas of illustrious fashion and garment revitalization, make these ever-present tropes in ready-to-wear feel progressive, not overwatered.
Church is a British multimedia artist whose "bold and playful looks" are a part of a collection that are 130 hand painted pieces, including briefs, blue jeans, leather and a wild pair of original Vetements + Manolo boots. The collection is Church's first total body of work. Launching online last month, the assortment of garments are rich in commercial value but quite frankly just full of joy.
To say a bit more about the collection's bold and playful identity, "bursting with color and character, each piece is entirely unique. Aspects of the human form are heightened with an infectious sense of fun and humor." Modeled by three fresh faces that are also bold, playful and totally yummy, "each piece has its own serendipitous tale to tell." And something tells me these models do too.
Perhaps the briefs are best worn at a summer party, or Sunday in bed with whoever you're fornicating with on the Sabbath. The wedding gown is good for a first date; it doesn't say too much though offers a sense of "I'm down for anything." What would be your best bet is to begin with the t-shirt or leather, they are subtle enough to break necks on the Bowery and every fashionable street in between. …

Bags to reflect on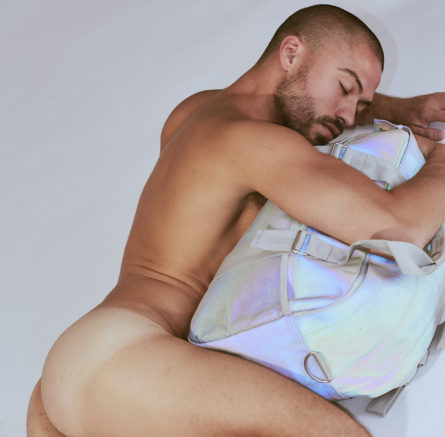 As a millennial, two things are true: I like bright, shiny things and I've been inundated with excess since I could pay for my own things. Through junk jewelry marketed to children, subscriptions to recipe guides, or something as simple as magazines, I've found that my life can be traced as an episodic timeline of different collections I've amassed, intentionally or otherwise. One specific collection of mine operates in the world of bags and backpacks. When I was in my budding youth at the ripe young age of 14, I took a fond liking to the design in drawstring backpacks, and, going forward nothing was the same. Today, I own somewhere from twelve to fourteen backpacks, but trust, not all of them are cute.
Swiss designer Julian Zigerli and design house QWSTION have collaborated on three travel bags suited for needs both mundane and ostentatious. Zigerli is a progressive designer whose collections often mix playful textiles with serious construction. GAYLETTER loves his clothing (which you can be sure to find in our latest issue) and he has a very particular taste for fabrics. The bags make no exception.
QWSTION creates great bags that are simple and refined; a bit northern European, a tad minimalist, but all around chic. (I've made it a point not to buy another bag until there was an actual need to buy one, but if I'm going to break my promise to myself and buy another bag, I'd be glad to pick up one of these.) The collaboration line of bags includes a daypack, a "smaller version of the classic backpack," a weekender, a versatile duffle bag with the capability to transform into a backpack, and a toiletry kit suited to hold the essentials, like poppers and maybe a toothbrush! …

The fans who nearly stole the show at RuPaul's DragCon NYC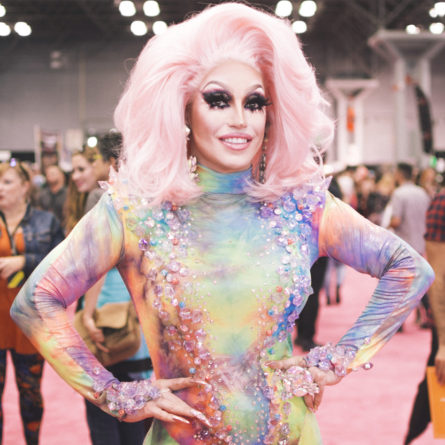 You are probably wondering what queens of the pink carpet are. Well, let us explain this to you right away. For those of you who haven't attended RuPaul's DragCon, upon entering, your day is made all the more fierce by a pink hand-tufted carpet that doubles as both a runway and a stage and is the length of a football field. Yeah, it's gaggy!
While we were excited to see so many familiar Drag Race faces within our midst, the queens of the pink carpet are those who arrived in full looks and wore determined expressions on their painted faces. Traveling from all over the northeast corridor and some from across the globe, these girls nearly stole the show from the queens we've come to love and hate from their time on TV.
Violet Chachki, Miss Fame, Vander Von Odd, the Boulet Brothers, Trixie Mattel, Michelle Visage and T.S. Madison were all in attendance, plus RuPaul Charles himself and reigning Miss Drag Superstar, Sasha Velour. Queens offered photos, merchandise, or limited edition products at their booth, and though we were really impressed by the many talented artists exhibiting and selling at DragCon, we were most impressed by some looks.
New York has a large drag community, with countless hometown girls having walked their tucks onto Ru's runway, so for the convention to finally touch down in the city was — for many attendees – a toot. After taking an hour or two to see who was hot and who was not, plus a brief run in with our favorite punk from season 8, Laila McQueen, we hit the convention grounds with our photographer Connor Atkins to stop a few queens of the pink carpet and pick at their brain beneath the wig to see what was up in their wonderful, international world of drag. …

Event:

ALOTTA STUFF

You never know what you may find in another queen's closet, if you're lucky it could be a cute jacket — if you're not, it could be a body (looking at you, Dorian Corey). I always feel the need to update my own wardrobe as summer winds down, probably a habit developed out of years of back-to-school shopping, and if you're like me you start looking for your staple fall pieces now. Hosted by Acid Betty and Alotta McGriddles (pictured), this live auction event is sure to satisfy all your vintage/thrift/swap needs. Most items have a starting bid price of $1. GAG. Besides the incredible prices and scream-worthy hosts, the auction will be offering "Costumes, Vintage, Men's, Women's, Questioning's, Jewelry, DRAG Fantasies, Spandex, Designer Apparel, Furs, Accessories and MORE!" I've never been to a live auction because the fast talking stresses me out, but this certainly seems to be a night not to miss.