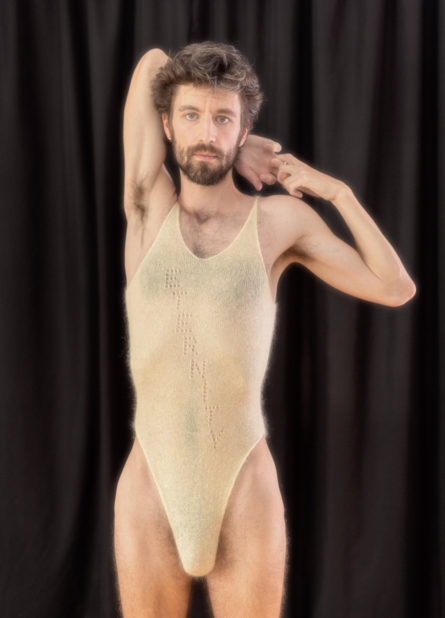 Knit from cashmere, a marigold sweater warns "EVERYTHING WILL BE TAKEN AWAY." From silk, a chocolate brown T-shirt declares "TODAY WE REMEMBER OUR DEAD." And from mohair, a tiny beige thong boldly reads "WRATH OF GOD."
Haunting phrases like these are integral to Summon Elemental, the emerging knitwear project by writer and artist Patrick Carroll. "It's all mourning costume," he says of the project. "It's how to dress for loss across scales, person to world." Inspired by artists, philosophers, and poets, Parick's one-of-a-kind garments range from shirts and dresses to thongs and balaclavas.
Grief served as the catalyst for Summon Elemental, which Patrick began toward the end of his father's life. He's since come to view knitting not only as a hobby but as a source of ongoing solace. Now, with his clothes featuring in fashion editorials and selling out in notable boutiques, Patrick's faced with an existential question: Is he… a fashion designer?
"I call myself a clothesmaker," he tells me, "which feels more accurate than fashion designer." For Patrick, the distinction comes down to labor. While the fashion industry is notorious for its exploitative practices, Summon Elemental is a wildly transparent one-person operation. "I don't design anything to be made by other people," he says. "Ever." The result is an assortment of intricate knitwear styles, each of which require between one and twelve hours to complete.
The garments are documented through a series of self-portraits, highlighting Patrick's lithe frame and his remarkable skill as a knitter. …