Event:

BASED ON A BOOK BY PATRICIA HIGHSMITH

The Metrograph cinema is one of those places that I don't want anyone to know about, but I also want to support just to keep it open. Which is why I want to tell you about their current film series, 'Based on a Book by Patricia Highsmith,' as you may have guessed, pays tribute to the 20th century writer known for her well-drawn portrayals of psychologically damaged characters. You may know some of the films based on her novels. There's Anthony Minghella's The Talented Mr. Ripley, Todd Haynes' Carol, and Hitchcock's Strangers On The Train. These, plus Purple Noon (René Clément), The American Friend (Win Wenders) and The Cry of The Owl (Claude Chabrol) will all be screened as part of the series. Highsmith's "stories are gripped with unspoken desire, lucid about the role of class in international society and helped define the modern suspense-thriller. Although Highsmith was often leery of the films made from her books, they're truly important outgrowths of her lasting influence." I would go for no other reason than to see the theater, it's really beautiful. But these great films are of course soooo worth seeing. —tom
Film:

20TH CENTURY WOMEN

I adored this film. Directed by Mike Mills, (who I just discovered has a baby with Miranda July) 20th Century Women is set in the late '70s in San Diego, California. The main character, played by Annette Bening, is a single mother to a young teen boy played by Lucas Jade Zumann. Trying to raise him right, the intellectually curious mom enlists a free-spirited young woman played by Greta Gerwig, who rents a room in their house, and has recently recovered from cervical cancer, plus one of the boys childhood friends, played by Elle Fanning, to help her raise the teen. Billy Crudup plays another tenant in the house who seems to pay rent by helping renovate the dilapidated old mansion. 20th Century Women is funny, thought-provoking, and my only wish after leaving the theater was that I could go back in and spend more time with these characters. It's the kind of film that would make a great TV series, especially in today's world, where showrunners are given maximum freedom to bring their creative visions to life. During last Sunday's Golden Globes I was hoping that Annette would win the award for best actress in a comedy or musical. Unfortunately she didn't come away with a Globe, but don't be too upset. As I'm sure her character might say about awards, they are nothing more than a scam invented by the bourgeois to reaffirm the notion that their tastes are superior to everyone else's. Resist! And go see this film. —tom
Various times and locations
A Sci-Fi Doc where HIV never existed.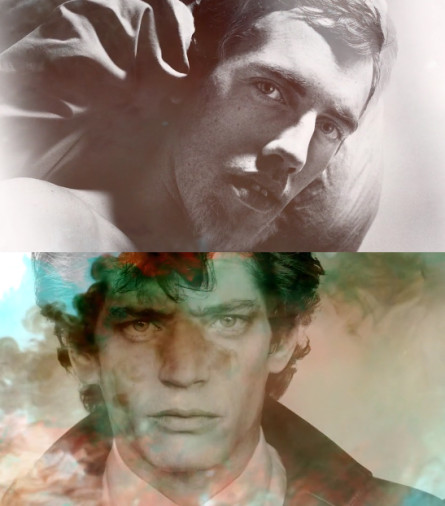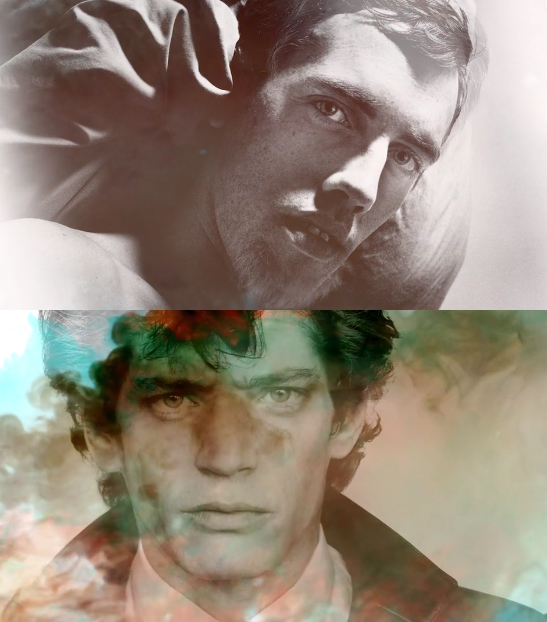 One of my friends sent me the trailer for 'FATHERS: Sex & Politics if AIDS Never Happened' with the caption from the film's Indigogo page: "what if Mapplethorpe got into a Twitter feud with a Kardashian?" I about lost my shit at the thought of all the 'what ifs' that seem to be at the core of this film. Fathers is sci-fi documentary directed by San Fran queen, Leo Harrera, whose 50 years of faggotry in 5 minutes, The Fortune Teller, stunned us back in 2013.
The film is set in an alternate universe where the AIDS crisis never happened. Where would our queer artists and activists be? What if Keith Haring was still around? What if Robert Mapplethrope was still putting on shows downtown? What if Sylvester was still around? What if [Insert Gay Icon Who Died of AIDS] was still on this planet?
Harrera describes the film as "Looking meets Black Mirror meets Beyonce's Lemonade." Y'all, I'm sold. The film will use computer-generated imagery, historical and live-action footage, and staged news reports. It imagines the influence of our lost generation, telling a story about the culture of celebrities, global LGBT injustices, and HIV stigma.
"The tools we have to combat HIV will give us the privilege of keeping our queer artists, but the injustices of AIDS should always live in our collective memory and, more importantly, in our imagination. It's the only way that we can find creative cures to the damage it caused to our culture and harness the power it gave our community to join against political forces that threatened our lives, now more than ever." – Herrera
This is epic. …

Film:

EYES WIDE SHUT AT NITEHAWK

Remember when this film first came out? It was such a carry. Not only was it the last film by the iconic Stanley Kubrick, but it also featured Tom Cruise and Nicole Kidman, who at the time were married, plus there was an orgy scene. There was so much controversy around the film before it was released. When I saw it I remember thinking, that's it? It all seemed pretty tame to me. Like all Kubrick films, it takes multiple viewings to see all the hidden nuance and visual metaphors. This Friday is my chance to give it another go, as it is being played in 35mm at midnight at the Nitehawk cinema in Brooklyn. It's part of their Cinema's Holiday Spectacular series. Bring a date, or go alone. If the macabre masked orgy scene gets you all hot and sweaty then after the film you can head on over to Gio Black Peter's American Whorer Party: Apocalypto. For tickets email here. It's an end of the world, anything goes party in a dungeon. I can't think of anything more fitting to attend after a screening of Eyes Wide Shut. Tom Cruise would approve! —tom
Film:

Almodóvar at The Museum of Modern Art

The Spanish director Pedro Almodóvar, who is now known simply as Almodóvar, is one of the most influential directors of the last three decades, I mean if you haven't seen any Almodóvar films, please stop reading this and go watch one of his films right away. "Almodóvar has constructed a colorful universe inhabited by offbeat characters, fluid sexual and gender identities, and complex and singular women." This new exhibition at MoMA features all his feature films (wow!) and coincides with the release of his latest, and 20th film, Julieta. The whole thing has been organized by Rajendra Roy, The Celeste Bartos Chief Curator of Film, and La Frances Hui, Associate Curator, Department of Film and it is made possible by the Spanish luxury fashion brand Loewe. It's happening all week long so check the website for the full list, but coincidentally this Thursday, December 8th, they are showing two of my favorite films: Tacones Lejanos (High Heels) and La Mala Educación (Bad Education — pictured). They're on at the same time, but you can't lose seeing either. I recommend you go see as many of Almodóvar's films as you can! They're all been shown on the big screen. What a treat! —abi
Film:

Lost in Translation (w/ Suntory Whisky on the rocks)

This is a super cute thing to do the day after Thanksgiving for those of you who are staying in the city. Videology Bar & Cinema is hosting two screenings of the Sofia Coppola film Lost In Translation. Starring a seventeen-year-old Scarlett Johansson (she plays a newlywed a few years older in the film) and a charming as always Bill Murray, Lost in Translation is about strangers who meet in a foreign land. Both characters have jet lag and can't sleep so encounter each in their hotel bar late one night. Through the course of a week they develop a warm bond and help each get out of their respective ruts. For anyone who loves Japan, or melancholic comedies, this is a screening not to be missed. Best of all you can watch the film while sipping on a glass of Suntory Whiskey. For those who haven't seen the film, Bill Murray's character is in Japan to film a commercial for the whiskey brand. Sofia got the idea for this from an actual commercial her father (Francis Ford Coppola) had filmed years ago for Suntory at their home. Be quick to grab a ticket as this will likely sell out in no time. "Lip my stocking! Lip my stocking!" —tom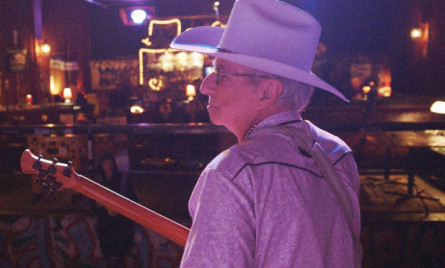 Now that Beyonce has managed to defy all odds and tricked gay people into being interested in country music, it's important that we know our cultural history within the genre. Unfortunately due to the conservative politics of country music's mainstream markets, country singers have only started coming out of the closet as recently as 2010. As slow as the progress might seem, none of it would be possible without Patrick Haggerty, aka Lavender Country, who blazed the trail back in the 1970s. Haggerty recorded Lavender Country's self-titled album in 1973, thereby becoming the first openly gay country star.
Lavender Country sold all one thousand copies of the record that were issued, but then more or less vanished from popular culture. Patrick, a whip-smart Marxist, ran a couple of relatively successful political campaigns, but could never get a career off the ground. He eventually returned to country music and began to make a living off of singing "old songs to old people," namely performing country classics in retirement homes.
Thanks to Youtube, one of Lavender Country's most powerful and lyrically compelling songs, "Cryin' These Cocksucking Tears," has since garnered a resurgence of attention to the band. The record label Paradise of Bachelors reissued the album in 2014 which in turn led to more press coverage, a tour, and now a short documentary about Patrick's life. "These Cocksucking Tears" was part of a short film festival featured at Nitehawk in New York City. …

Debuts at the 30th Anniversary Israel Film Festival in Los Angeles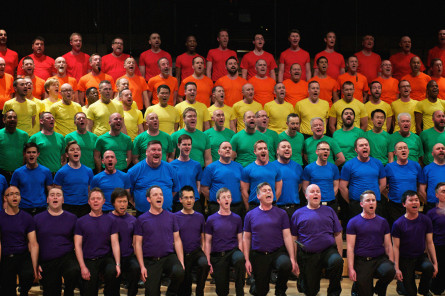 During the most depressing of times, we can always turn to art for inspiration. It's imperative to remind ourselves of the light in other people, and the beauty of seeing human beings for who they really are. Barak and Tomer Heymann's documentary Who's Gonna Love Me Now? does just that. The film follows Saar, a 39-year-old Israeli living with HIV in London, who is beginning to reconcile his sexual identity with his national one. Saar grew up on a religious kibbutz, which is a communal farm, back in Israel, and after avoiding them for years, tries to make amends with his family.
When we first meet Saar, he has already lived in London for over a decade and has worked hard to build a community for himself. His life mainly surrounds the Gay Men's Chorus he participates in. The chorus helped him initially adjust to this foreign country and has since become a second family, caring for him without judgement. Throughout the movie it becomes clear just how central the chorus is to all of the members' lives and scenes of them performing together punctuate the film, often providing much needed comic relief.
Saar explains that after going through a bad breakup, he stopped taking care of himself and consciously started making dangerous decisions. He knew how irresponsible he was being and would later admit that his HIV diagnosis felt like karma for the acts he committed both to others and himself. Although part of him feels like he's being appropriately punished, he manages to handle his positive status with a lightheartedness and dark sense of humor. …


Directed by Barry Jenkins, Moonlight is a beautifully crafted film that traces the treacherous life of Chiron, a young boy growing up gay in a housing project in Miami. The film is divided into three parts. We first meet Chiron as a young, shy boy, then as a still shy, but angry, teen and finally as a lonely, hardened young man. Chiron's mother is an addict and he's constantly picked on by boys at school. The only people who offer him any solace are a local drug dealer named Juan (Mahershala Ali) and his girlfriend (played by Janelle Monae). Each section is powerful enough to live on its own as a short film, but there's a well planned thread running through all three. Chiron is played by three different actors, all wonderful in their own ways. I had heard Moonlight described in glowing terms — A.O. Scott from the NY Times even went as far to ask if it was the year's best film. Of the movies I've seen in 2016, it certainly is. Moonlight doesn't provide obvious resolution to the turmoil in Chiron's life. It's not afraid to leave things open-ended. It's a subtle film, full of loneliness, with brief moments of what looks like transcendence. It is a portrayal of a truly damaged soul, longing for connection. It's a condemnation of toxic masculinity. Chiron does ultimately find connection, and how this plays out (which I won't give away) is what makes this such a brilliant film. I left the cinema with such empathy for the character. I had RuPaul's mantra rolling around in my head: "If you can't love yourself, how the hell you gonna love somebody else." It's not that there's no love in Chiron's world, he just never learned the most important part: how to give it to himself. Moonlight has stayed with me since I saw it. I'm grateful it was made. —tom
In select cinemas now.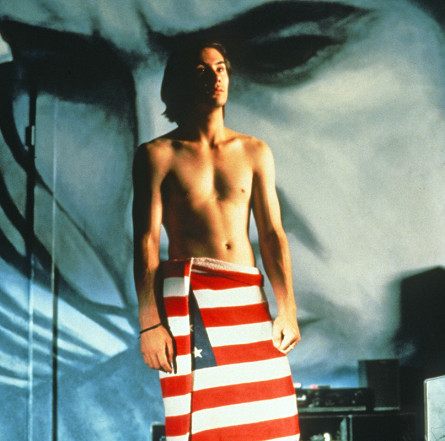 I heard from a few people that I must check out the newish Cinema Metrograph in the Lower East Side. My friend Charlie Kuder is always like "I'm heading to Metrograph, are you coming? It's a great place." Their 'About' page says that "Metrograph is a unique experience of seeing prestigious films; of stepping into a special, curated world of cinema, a world of hospitality harkening back to the great New York movie theaters of the 1920s…" You can have a proper cocktail, have a bite, they even have a bookstore — it's the perfect excuse to wear something cute for the theater.
This week they are opening their 'Queer '90s' series, which features over 30 films that they'll be showing until October 30th. "The 1990s was a watershed decade for the visibility of queer bodies in independent, documentary, experimental, and studio films. The emergence of "New Queer Cinema," a movement of filmmakers reacting to the rightward shift in culture and the specter of the AIDS plague, produced formally radical and political works about and specifically for LGBT audiences…" This sounds absolutely marvelous, I can't think of a better fit for GAYLETTER. We'll be going there a lot for the rest of the month.
Poison (1991).
CLICK HERE FOR MORE INFO, METROGRAPH, 7 LUDLOW ST. NY, NY. …