For decades, extravagant Puerto Rican astrologer, psychic, and gender nonconforming legend Walter Mercado charmed the world with his televised horoscope forecasts. Equal parts Oprah, Liberace, and Mister Rogers, Walter was a celebrated daily part of Latin American culture, who at his peak reached over 120 million viewers. In our Netflix film 'Mucho Mucho Amor,' my co-director Cristina Costantini and I tell the story of Walter's unlikely rise to fame and his unexpected disappearance. The two and half years I spent with Walter were unforgettable, and along the way he taught me several life lessons I hold dear. Here are five of them.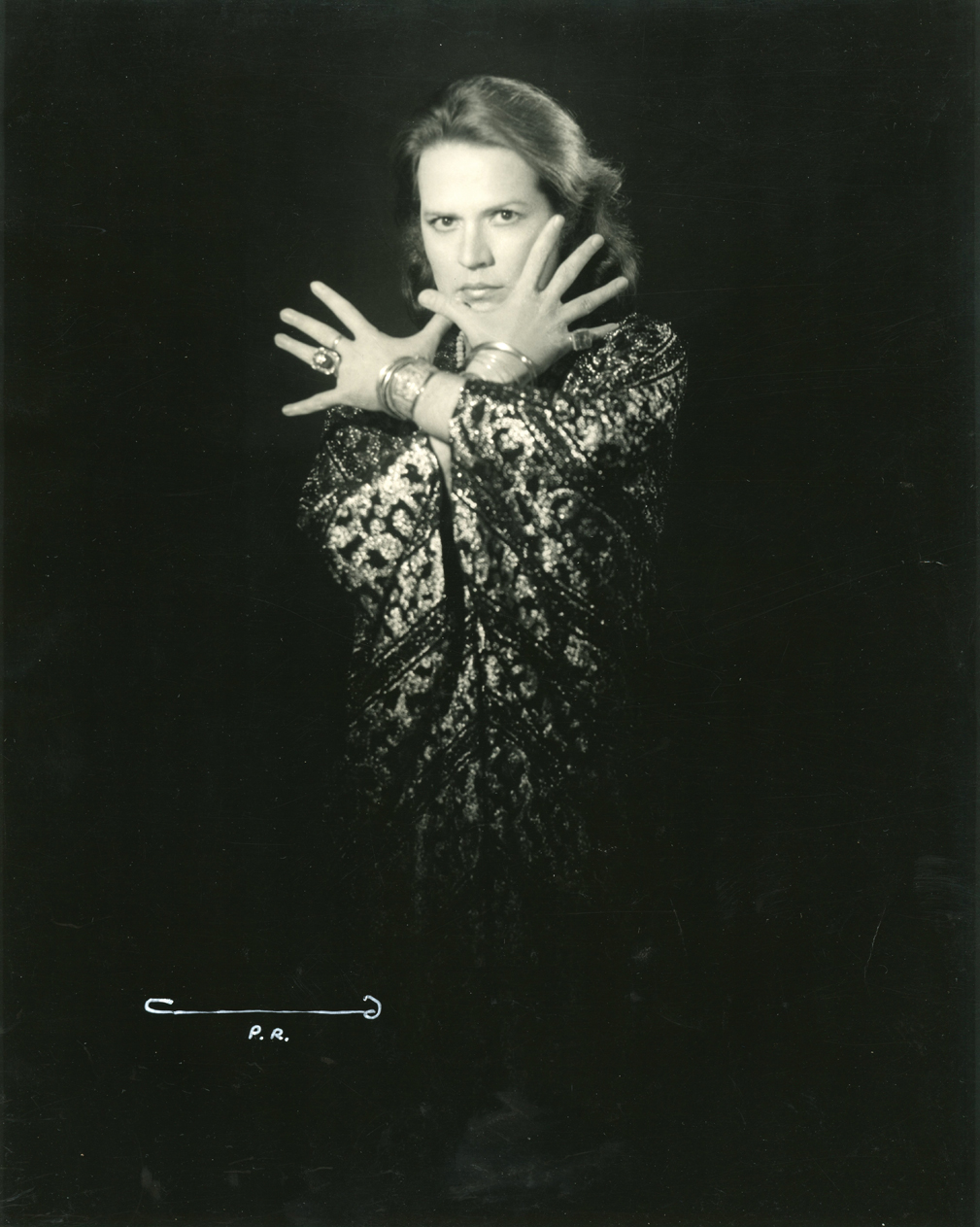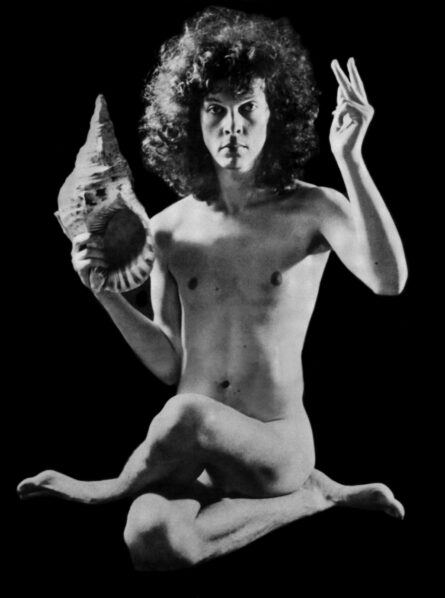 Art has the capacity to balance seemingly incompatible qualities — self-expression and communal tribute, tangible materiality and metaphysical essence, fading ephemerality and boundless eternity. American artist Steven Arnold (1943­-1994) embodied these dualities, proving that the dark shadow of death cannot exist without the shining light of life. His enduring legacy is memorialized in an upcoming exhibit at New York's International Center of Photography and a new documentary Steven Arnold: Heavenly Bodies.
When Arnold died in 1994 amid the AIDS crisis, he left behind a vast body of work. During his life, he fluttered between different modes of art-making —  painting, drawing, sculpture, film, photography, fashion, and set design. A pioneer of cultural revolution, Arnold was at the forefront of counter-culture in the '60s, but meandering through different eras with an indulgent grace, he defied limiting himself to one genre or style. In the '70s, he was a dashing surrealist; in the '80s, a mystical revisionist historian. Today, he's often remembered for his role in launching the gender-bending performance troupe the Cockettes and for studying under Salvador Dalí as his protégé.
This weekend is your chance to watch Steven Arnold: Heavenly Bodies for free. Steven's steadfast commitment to creativity and personal expression in the face of great physical decline, and ostracization from many of his 'friends,' due to his AIDS diagnosis, is truly inspiring. Click here to watch the documentary for FREE, this weekend only
To see the feature printed in GAYLETTER Issue 11, click here.
To get a copy of GAYLETTER Issue 11 – limited edition cover by Steven Arnold, click here. …

The world premiere of the newly restored film about David Hockney and the painting that transformed the art world
The Us Premiere at BAM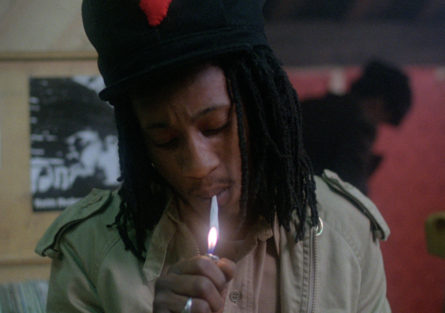 Imagine: the young Jamaican community in England circa 1980, making music, smoking weed, and coming to terms with being black, in a white-dominated country. Babylon, originally released in the UK in 1980, follows the story of performer, Ital Lion, as he competes in a local singing competition. The film is being released in the United States for the first time this Friday, March 8th at BAM Rose Cinemas.
There are suave outfits: black overcoats, afros, turtlenecks, there are laughs, like when Ital tries to buy beats from a producer with a pound of weed. The film lured me in with reggae club scenes and jokes that made me wish I was part of the community, only to gradually turn towards scenes of intense racism and violence. Ital is profiled and beat up by police and his studio is trashed by racist neighbors. Despite having a successful debut at the 1980 Cannes Film Festival, Babylon was considered "too controversial, and likely to incite racial tension" by the New York Film Festival. Bullsh*t, obviously.
I didn't walk away from the film filled with a desire to cause racial tension or division, but with an understanding of how racism breeds frustration and violence in its victims. Babylon is a must-see, if not for its badass music, then for its honest portrayal of race.
Babylon is playing at BAM Rose Cinemas until March 14, 2019. Click here for tickets and showtimes.
…

The queer festival explores art and politics over six days.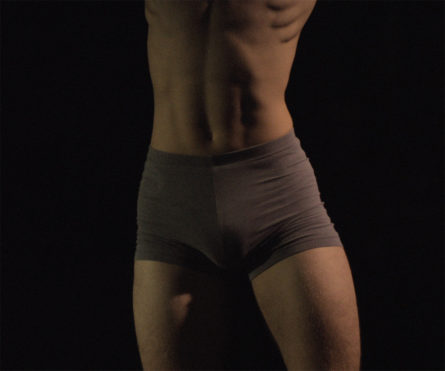 Fringe! returns to London for it's eighth consecutive year and continues to promise an exciting program of LGBTQ+ creatives presenting provocative and political ideas through a variety of different mediums. The volunteer-run organization guarantees representation of diverse experiences, giving a voice to artists worldwide to have their own space to say something loud and queer.
Whilst the weather is grey here in the UK, you can run to venues dotted around East London and enjoy discussion panels, films (both short and long), performances, zine fairs, all discussing sexual freedom and gender expression, or the lack of it, due to systematic oppression. And then after, find shelter at the various parties hosted by the organization and continue to spread your voice into the night.
But first, here is some of the most inspiring work on display this year. With the festival featuring a mix of films, arts and events, these are the ones not to miss.
A still from For Somebody Else (2018).
For Somebody Else (2018) by James Cooper
Nestled in a collection of short films aptly named F.O.C.K (Fabulous Orifices and Consensual Kinks) is James Cooper's recent creation For Somebody Else. Cooper is a young, exciting film-maker and director exploring boundaries of sex and sensuality and is influenced by his in-depth knowledge of gay histories and his own personal queer experience. In For Somebody Else, a young dancer is approached by an older gentleman with a suspicious proposition, in return for money. What follows is a striking dance performance, which is both delicate yet carnal, and voyeuristically viewed through a lustful gaze. …

The short film seeks to tenderize Marsha P. Johnson's biography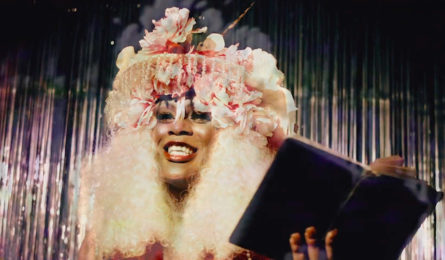 Marsha decides to plan a birthday party for herself, which fails. Instead, she goes to The Stonewall Inn to perform a poem onstage in front of all her friends she's invited. Marsha, on stage, says she is far from the Saint of Christopher Street, she says it hurts to be awake. Punctuated by dream-like sequences and interrupted by all-too-familiar scuffles with police, Happy Birthday, Marsha!, directed by Reina Gossett and Sasha Wortzel, paints a tender portrait of the legendary activist Marsha P. Johnson.
Throughout the short film, Marsha, played by Mya Taylor (from the critically acclaimed Tangerine) meanderings through daily life are laced with small interview clips of the actual  Marsha P. Johnson. In one of these excerpts, she says she's always seen as acting "together" in public because it's "expected." As an audience, we watch to admire her strength and empathize with the reality of Marsha in late 1960's New York City.
Although the infamous Stonewall Riots did not in fact happen on the night of Marsha P. Johnson's birthday, Gosset and Wrotzel chose to fictionalize the timeline, having her birthday and the riot happen in tandem, deepens the emotionality surrounding Marsha's biography. While the LGBTQ+ community holds Marsha's "history" as a fearless activist to high esteem, her actual story is, like countless other queer figures in history, unexplored.
Eventually, Marsha's poem invokes the police raid on Stonewall, led by an officer that has accosted her on the street earlier in the film. …


"No one discovered McQueen. McQueen discovered himself." Such is the story of Lee Alexander McQueen (1969-2010) and his revolutionary namesake label, McQueen. Born and raised in London, when most are off to college, Lee found himself at an apprenticeship on the bespoke capital of the world, Savile Row. This queen worked his way into the legendary fashion program at Central Saint Martins where he was recognized by the late Vogue Fashion Editor Isabella Blow. Blow took Lee under her wing, inspiring many of his designs and also introducing him to the fashion elite. Her presence was a driving force in Lee's life. "I didn't care about Lee," she said. "I just cared about the clothes." Lee was plagued by dark imagery for all of his life. His hellbent spin on all things fashion was quickly commercialized and thus exploited for the very masses, leaving the maker often emotionally drained, despondent and coping with cocaine. The film does not inform necessarily, but only shows you the creative genius and dark spirit behind one of fashion's most significant designers of the past century. His legacy and initial impact on fashion parallels with Dior and Saint Laurent. Using home video and personal interviews with family and associates, McQueen is a bit of a cautionary tale. Talent, when not protected and managed correctly, comes with a large price. Lee's story — as well as his anarchistic approach to fashion — will stick with you. —Chris Stewart
Film:

GRACE JONES: BLOODLIGHT AND BAMI

I watched this Grace Jones documentary last weekend at home with Tyler, a glass of montepu and possibly a joint. A few minutes into the film we decided that the documentary had the right pace. Usually documentaries of pop stars are more hyped, this one wasn't trying to do that, it felt right, it's very well edited, beautifully shot and Grace's music and performances throughout were doing most of the work to keep us engaged. Let me copy and paste this quote to give you a bit more context: "Sophie Fiennes' new documentary offers an electrifying journey through the public and private worlds of this pop culture mega-icon, contrasting musical sequences with intimate personal footage, all the while brimming with Jones' bold aesthetic. Fiennes goes beyond the traditional music biography, offering a portrait as stylish and unconventional as its subject. Taking us home with her to Jamaica, into the studio with longtime collaborators Sly & Robbie, and behind the scenes at gigs around the world..." It was such a treat to see Grace at her home in Jamaica with her family — Grace is so amazing even when she eats fish at the dinner table. She looked chic eating — you know we Caribbeans know not to leave meat on the fish. There's a couple of screenings for this film in NYC, but I think you should go to the one at BAM this Sunday, May 20th. They are gonna be giving away signed posters because it's her birthday! She's gonna be 70! I just can't believe someone can look this good at 70. Congrats Diva! Check your local listings for Showtimes. —Abi
Anahita Ghazvinizeh's film handles the gender binary with deft lightness.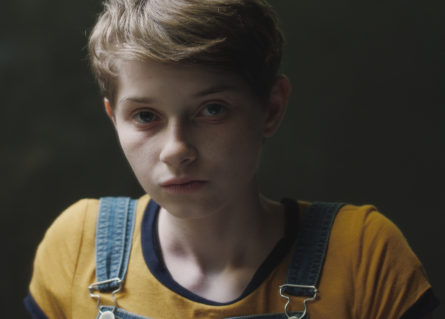 They, by Iranian-born director Anahita Ghazvinizadeh, begins with a voiceover. Fourteen year old J, the film's protagonist, is talking with their doctor. We learn that J (Rhys Fehrenbacher), who uses the gender neutral pronouns they/them/theirs, is taking hormone blockers to "hit a pause button," preventing the onset of a puberty J just doesn't want. Their doctor tells them that the blockers are negatively affecting their bone density, that it's time now to make a decision. It is here that J's doctor mentions exploration, but it's exploration for some sort of end goal. Ultimately, they are talking transition. The doctor asks J, "Are you ready?"  The question hangs like a moment of suspended animation, and carries on through the entirety of Ghazvinizadeh's film.

They takes place over one weekend during which J's sister Lauren (Nicole Coffineau) and her Iranian boyfriend Araz (Koohyar Hosseini) come to stay at the house with J while their parents are away. Lauren is an artist, and she tells J about her various artist residencies and, more potently, the frivolity her and J's parents assume of her profession. There is also Lauren and Araz's impending marriage, complicated by the decision Araz has to make: whether to stay in the U.S. with Lauren or return to Iran to be with his family. Over the weekend J's own internal struggle is a constant hum beneath these intertwined plots, bubbling up from time to time to take priority. In this we see that the film is not merely J's coming-of-age story but a complex web of questions about identity, with J's gender identity panning out alongside Araz's identity as an Iranian in America, and Lauren's forging of an identity as an artist. …

Eat:

Y TU MAMÁ TAMBIÉN Screening + Dinner

Y Tu Mamá También is the first phrase I learnt in Spanish. Growing up in Australia we didn't have much need for the language so it's not really taught in schools. I studied Indonesian in high school which was sooooo useful! lol. I learnt the phrase Y Tu Mamá También because it's the title of the 2001 Alfonso Cuarón film that is screening tonight in Brooklyn at the Alamo Drafthouse. When it was released 17 years ago it not only launched the careers of its director and its stars Diego Luna and Gael Garcia Bernal, but it was also the highest box office opening in Mexican cinema history at the time. And it did that by only making $2.2 million it's opening weekend. "The film tells a coming-of-age story about two teenage boys who take a road trip with a woman in her late twenties. The film is part of the road movie genre, set in 1999 against the backdrop of the political and economic realities of present-day Mexico, specifically at the end of the uninterrupted 71-year line of Mexican presidents from the Institutional Revolutionary Party and the rise of the opposition led by Vicente Fox." It is a very sexy, gritty and engrossing film with a rather queer twist ending. You can see it tonight (May 2) at 6:30pm with a Mexican-inspired menu created by the Drafthouse executive chef Ronnie New, with drink pairings from their beverage director Vincent Favella. This is a much better way to celebrate Mexico than partaking in the upcoming Cinco De Mayo nonsense. A disfrutar! —tom
A new romantic short film about nostalgia and memory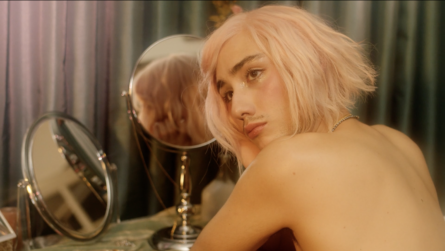 My introduction to NYC-based artist Marcelo Gutierrez was last spring. I had just moved to New York and one of my first GAYLETTER assignments was to chat with him about his previous film, Tender Roses for Tough Climates. Its kaleidoscopic visuals stood out to me as well as the degree to which Marcelo holds his craft, which includes make-up, directing, writing and cinematography. In the year separating then and now, Marcelo has finished his latest project, another short film called Hiraeth.
"Hiraeth; (n.) a homesickness for a home to which you cannot return, a home which maybe never was; the nostalgia, the yearning, the grief for the lost places of your past." So opens Marcelo's latest, two years in the making. After this definition introduces us to the film, we get three things almost immediately. First, a bright but twisted twinkling original score by Brooklyn artist Liam Benzvi. Second, a subtle self-reference to his last film via a Titanic screenplay that, if you blink, you could miss. And lastly, an unpretentious bologna sandwich.
Hiraeth is a film rooted in the artist's obsession with biographies, memories, and how they're retold. Beyond the glitter, satin, warm pink hues, and letters written and recited, those roots are the essence of the film — memories and how they warp over time. It's up to the viewer to decide if the character — played, written, and co-directed by Marcelo — is delusional or imaginative; if the memories are real, fictionalized, escapist, or puerile. …

Free of shame, funny as hell and the first of its kind.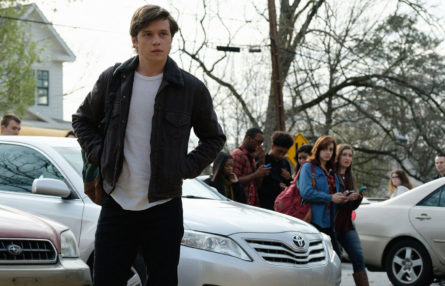 LGBTQ-films are usually produced by indie-studios, and appeal to critics' taste because of directors' choices or actors' portrayals. Because of the marginalized context, LGBTQ-narratives are a great lens for finer aesthetics. There aren't any beautiful landscape shots in Love, Simon, and the camera doesn't really linger in any scene, which makes the $17 million dollar 20th Century Fox production seem more like John Hughes' Sixteen Candles rather than Luca Guadagnino's Call Me By Your Name. Rather unconcerned with aesthetics in general, Love, Simon sets just one goal: Get the title character the love story he deserves.
At its core, the film is another big-budget teenage romance. Directed by Greg Berlanti and adapted from Becky Albertalli's Simon vs. the Homo Sapiens' Agenda, the film follows Simon Spier (the bucolic Nick Robinson) and his group of close friends in an affluent suburb of Atlanta. We begin with Simon discovering a Craigslist-like posting that results in emailing Blue, another closeted-student at Creekwood High School. Most gay men watching will revel in the glory of chasing anonymous men online considering some of us are doing just that every day, but Love, Simon isn't caught up in the throes of subversive desire. It's PG-13 realness. There isn't any back-alley cruising; no quick cuts of naked, damp flesh. Simon only says "Fuck" once, and he's really mad. He's like Sam in A Cinderella Story —  uninterested in eroticism but desperate for companionship. The film is 100 percent family friendly (as are most films that co-star Jennifer Garner) and that's what makes it profound. …