Miyake-Mugler, Balenciaga, LaBeija, Lanvin, Mizrahi, you know these names, but do you know all of these houses? If you have been reading or following GAYLETTER for the better part of the last decade, you know we are big ballroom fans. There is a beautiful history to the scene, and after years of it influencing mainstreamers like Madonna, and fashion house, Viceland has given the dance-form its own show. I got my life within the first four minutes. The voice-overs (from a range of personalities inside of the ballroom scene) are all great for pull-quotes, and having met many of the shows cast members at our Pride Ball, and on set for photoshoots, it was all the more exhilarating to hear what ballroom has done for them on a national cable channel. My House is a documentary style reality show about the stars of the ballroom scene. The show features Tati, who's currently "a child with no home," as she left the House of Mugler for personal reasons, Alex, Legendary-ranked ballroom performer who we featured in Issue 7, and many other fantastic members of New York's ballroom scene, that extends its reach across oceans. Dancers from Asia, Europe and South America often fly in to show their runway chops and impress the always cunty judges panel. "Voguing is a mode of self-expression," Jelani (from the House of Mizrahi) says, "It's way for gay people to overcome the oppression they go through on a daily basis." I am so excited to see more of the show. Episode 1 is a crash-course in all things ballroom, but there is for sure more depth, emotional unearthing and general fabulousness to come! —Chris Stewart
Episode 1 on Viceland.com
TV:

Queer Eye

We know, we know, you've already clocked the tweets, Buzzfeed videos, podcast reviews, online articles about this reboot, but whatever bitch, now it's our turn! Abi and I both grew up watching the original Queer Eye for the Straight Guy which aired from 2003-2007. I remember vividly when Britney kissed Madonna at the MTV Music Awards and they cut to the original "Fab 5" for a reaction shot (cos they're gay, get it?) Back then I was uncomfortable with these five caricatures (at least that's how they felt to me) representing what it meant to be gay. This was mainly because I was just starting to get comfortable with my own sexuality and I resented how one dimensional they all seemed. I listened to hip-hop and swam in dams, and hung out with straight girls — "zhuzhing" was not part of my vocabulary. Needles to say I was skeptical of the Netflix reboot, however after having watched 6 episodes I'm into it. I think the moment that sold me was when one of the straight guys asked style expert Tan France "who is the man and who was is the woman in your marriage?" The queens in the car immediately challenged his offensive question and opened up a discussion about gender roles in both queer and straight relationships. It was refreshing, and a sign that Queer Eye has clearly grown up. While the show is still based around the dubious assumption that gay guys have great taste, dress well and understand culture and food (it's not the worst assumption straight people could make about us), there's a lot more to the series. There's real heart in their interactions with the straight dudes. Masculinity, as we all know, is a prison. Middle aged straight men suffer from mental health issues to a staggering degree. Vulnerability is rarely encouraged in this demographic. The Fab 5 create safe spaces for these guys to bust them out of the prisons' of their own making — it's charity, which I'm not sure they all deserve (that Tr*mp cop for example), but being the bigger people has served us well. —tom
Available on Netflix.
TV:

ASSASSINATION OF GIANNI VERSACE

Gianni Versace was murdered on the 15th of July 1997 at the age of 50. This was one and half months before Princess Diana was also murdered after being chased at high speed by paparazzi on motor bikes in Paris. I mention Diana because she plays a small part in the first episode of FX's new Ryan Murphy series, documenting the murder of Mr. Versace. In the first scene we see Gianni walk to the News Cafe in Miami Beach to buy a copy of Vanity Fair with Diana on the cover. He then walks back to his his mansion, a few blocks away on Ocean Drive and as he opens the gate to walk inside he is shot by spree killer Andrew Cunanan, (who used the same gun to commit suicide on a houseboat eight days later). Diana and Gianni were friends. He had dressed her for many events. She was an advocate for AIDS causes and he was secretly living with HIV. At Gianni's funeral in Milan, Diana sat between Sting and Elton John. In 1997 when they both died, I was 17. I remember their deaths clearly. Their lives seemed so far away from mine, but I was glued to the T.V. trying to understand their deaths. The Assassination of Gianni Versace does a wonderful job (at least in the 2 episodes that have aired) in illuminating the world of both Gianni and his killer. The actors involved are top notch. Gianni is played by Édgar Ramírez and his killer is played by Darren Criss. Ricky Martin plays Gianni's long term boyfriend and Penelope Cruz plays Donatella Versace (she is fucking brilliant). The Versace family has criticised the series as "a work of fiction" which much of it likely is, but it's a very well made, well researched work of fiction. It's a grand tragic story about a talented visionary who overcame obstacles to reach super stardom, only to be murdered at his peak. It's great TV. —tom
Available to watch through fx on demand
TV:

RUPAUL'S DRAG RACE AT THE MUSEUM OF SEX

Yeah… we hear you gagging for the queens in this season of Rupaul's Drag Race All Stars. The wait is almost over, this Thursday, January 25th Drag Race is back! Thank god, this is needed to help alleviate some of these past depressing months. This season as they always say is "full of surprises…" I think it's true, we don't even know who the 10th queen is (I mean I think I do), but we'll find out very soon. I am so gay-excited that I can't even type the next sentence. In terms of the contestants, I am rooting for Kennedy Davenport (did you clock that entrance look?), Chi Chi DeVayne (just love her, she should've been top 3 in her season), Thorgy Thor (she's a trip!), Shangela (love the box), Milk (happy to see her back), Trixxie Mattel (sure, you guys love her, she's a very strong contender). We will see... I am sure I'll change my mind the minute that the season stars, for instance Morgan's entrance line was the best: "I look pretty good for a dead bitch." If you are not viewing the show at a friend's house, head to the Museum of Sex (233 5th Ave.) from 7:00PM. The event will be hosted by Aquaria, Ruby Fox, Justin Angel and a long list of queens. The show has already become so mainstream that even American Vogue reported on it "America's chicest reality show," really? I guess people at Vogue don't really know what chic means, I mean, it shows. I'd say it's safer to say that it's the gayest, campiest show in TV at the moment, Thank you mama Ru!! —Abi
8:00PM & 10:30PM ON VH1.
TV:

The Night Manager

I haven't found a binge worthy show in foooooorever. I'm talking about the kind of show that makes a 16 hour flight bearable because you're so into it. I just so happened to take a 16 flight home from Australia last week where I was visiting my family. For part of the journey I watched the brilliant British series The Night Manager. Starring Tom Hiddleston and Hugh Laurie, the 6 episode series is adapted from the John Le Carre novel of the same name. It's about spies and illegal weapons dealers and is filled with enough action, beautiful people and glamourous international settings to rival any of the best James Bond films. Hugh Laurie plays a truly vile villain who you just can't wait to be taken down, and Tom Hiddleston plays the spy determined to do just that. I finished the last episode last night and was screaming at the screen during many of its intense moments. It was agony-inducing entertainment and I loved every second of it. The show is produced by Le Carre's son, so I am hoping that he can convince his dad to whip up some more material so we can have a second season, 6 episodes was not nearly enough. —Thomas
Available to stream with Amazon Prime Video.
Eat:

THE GREAT BRITISH BAKING SHOW

There's no shortage of upsetting things to watch right now, but sometimes you just want to watch something that feels like a warm hug from your gran. Cue The Great British Baking Show. This wonderful baking "competition" (I put that in quotes because the battle between contestants is purposely tame) is slow and delicious viewing. I am going to skip over the most current season because it no longer features the gem of a human being, and expert baking judge Mrs. Mary Berry, and it's also not available on Netflix just yet. Instead I recommend you start with season 1. Each week a group of home trained bakers compete to create some baking classics like Swedish Princess Cake and Spotted Dick. Set in a giant tent in a picturesque British park, The Great British Baking show is perfect hangover viewing, or even better if you miss your nana and have a craving for Cornish Pastries. There's no manipulative editing and manufactured drama. The biggest issues are icing dripping instead of setting or the inside of a cake collapsing. But you would be shocked how nerve-racking this show can be. But no matter what happens there's never anything but love from the judges, hosts and fellow bakers. This is competition reality TV for people who hate competition reality TV. Dig in. —tom
Available on Netflix.
TV:

Search Party Season 2

If you are not watching Search Party Season 2 then you're really missing out. Season 1 was a bold mixed-genre experiment that followed a character named Dory (Alia Shawkat) as she becomes obsessed with the disappearance of a young woman named Chantal Winterbottom (Clare McNulty). This season 2 picks up with a much, much darker story — It is gripping, darkly funny TV. Dory again involves (implicates?) her friends, Elliott (John Early) and Portia (Meredith Hagner), as well as her boyfriend Drew (John Reynolds) in a mission to cover up a murder that none of them are prepared to handle. John Early (pictured) is a stand out in this season. His character feels much more developed than in season one. He by far has some of the funniest moments in the whole series "that moment your hair falls out!" (you'll understand that once you watch the show.) You can find all episodes online. —tom
Available online from TBS.
The gals are all grown up, and chaos ensues in widescreen format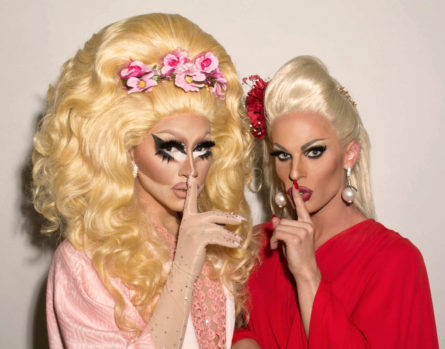 We live in an age where people are obsessed with instant gratification. Viral success propels forward the tastemakers in entertainment; with audience numbers reaching towards the populations of small countries, it's no wonder why more queens than just RuPaul are now queer-household names. Evolving from their cult-followed internet series, UNHhhh, Trixie Mattel and Katya Zamolodchikova have made it (back) to television to teach the children all about… whatever they damn well please because it's their show…and not yours!
Viceland presents The Trixie & Katya Show, which is the glorious extension of the drag duo's regular internet antics: post-verbal, inappropriate, beats for the studio-camera gods, and sweaty in all the right ways. As a fan of UNHhhh, the World of Wonder YouTube series, I was nervous that the show wouldn't survive the transition from computer screen to TV screen (something about watering down or selling out, or whatever) but the content of the show is still so utterly confusing it's like nothing ever changed.
What's marvelous about these two particular queens is that their concurrent personalities bleed through our pages as well as they bleed through the drag medium. In GAYLETTER Issue 6, Katya rolled around a studio backdrop for photographer Slava Mogutin. In Issue 7, we insisted Trixie let us print a makeup swipe of her beat. Whether it's on a page or on a stage, the duo is truly a riot and they excel on screen.
Unlike the Web-show, in the televised series Brian and Brian (Trixie and Katya's birth names) make appearances to do really serious reporting on Hollywood Boulevard. …

TV:

Boulet Brothers DRAGULA Season 2

Wow wow wow, I just had one of the gaggiest Halloween nights watching the first episode of season 2 of Dragula, these bitches are serious. For those of you that don't know about this show, Dragula  is a drag competition hosted and created by the Boulet Brothers — it's the "search for the World's Next Drag Supermonster." Season 1 of Dragula was released on YouTube and I immediately got into it despite the bad sound quality and low production values. This second season got picked up by OUT TV which allowed them to up the production and they also brought on board the winner of season 1, Vander Von Odd (Antonio Yee), as a production designer. The show is terrifying and "disgusting" (both positives for this genre), and is a combination of Fear Factor and Rupaul's Drag Race, but really it's its own scary, filthy wonderful thing. Back to that first episode of season 2, the floor presentation (which is the runway show) was nuts. A lot of the looks could've been in the finale of the last season. They are really stepping it up, the guest judge was Willam, (yeah that's a spoiler, but whatever) she criticized the queens saying things like "Quit Drag," "ugly," just watch her, she was mewd. I am not gonna tell you more, cos I don't wanna ruin it. You may have to turn your head to the other side of the room during the extermination part of the show. I am so glad Dragula exists, don't you agree with me that we need drag queens on TV all year around? Can't wait for episode two, I already have some favorites… —Abi
Search Boulet Brothers on YouTube.
TV:

I LOVE DICK

Thank god for Jill Soloway. For her second Amazon studios project, she's adapted the 90s masterpiece, I Love Dick. Originally a book by the prophetic Chris Kraus, I Love Dick details the intricate and glorious path of the widely undermined female desire. Soloway has tapped female writers, directors, producers, and actors to take Kraus' profound text into the mainstream, and I cannot recommend it enough. The show follows the book's structure: Chris is an amateurish filmmaker who ends up joining her academic husband, Sylvere, on some prestigious fellowship that the titular Dick serves as a figure-head for. After first meeting Dick, Chris is ignited with sexual wanting, something that has completely fled her and Sylvere's marriage. In an interview for the New York Times, Kraus said she only served as the show's consultant (rather than writer) so Soloway could adapt the novel in whatever way she deemed fit, and Soloway fucking nailed it. Soloway uses clips from female filmmakers at the top of each episode which fit quite well tonally with the show's over-arching contemporary art dialogue. A whole episode is dedicated to each woman on the show telling the story of her sexuality. I am enthralled as much as I am refreshed by I Love Dick. Unfortunately, it is only eight episodes. Kathryn Hahn is an absolute sensation in the series. You'll binge and then want to watch again. All I can say is go forth and finish. —Chris Stewart
Logo's latest reality show is a farsighted look at the gay hot-spot.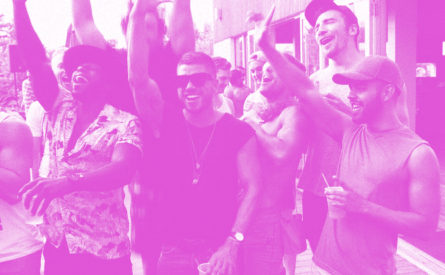 Fire Island — Logo's latest foray into queer-reality television — follows six New York gays as they spend their summer weekends on the notorious Long Island buffer.
On episode one, we meet Khasan (the house's ring-leader), his touchy bff Jorge, and the other roommates: Brandon, Justin, Cheyenne and Patrick. Each guy is looking for different things on the island, but collectively they'd all like to have the time of their lives, or something along those lines. After all, Fire Island is a place of gay community, where gays can rejoice and be happy. The cast affirms this multiple, multiple times over the premiere. So after episode two, the question remaining is: why are they all so unhappy?
Besides Justin — the show's token bear — all of the housemates are very typical of the Fire Island crowd. This is made blatantly clear on the commercials, which show various clips of beefy men doing anything from drinking to shouting. This is worth complaining over. A gay man knows there are several other guys in his area who are 6'3', 174 pounds and looking to top — all he's got to do is go on his phone. To see this kind of hyper-contextualized guy on a large and, for lack of a better word, straight-media outlet's commercial doesn't feel triumphant. It's a little nauseating.
I first had the idea to watch Fire Island after the commercials came on during RuPaul's Drag Race and my entire room of gay friends groaned with pure disdain. …

Event:

GAYLETTER PRESENTS – RUPAUL'S DRAG RACE AT THE LIBERTY HALL AT ACE HOTEL NEW YORK

We are so excited to host the viewing of the premiere of Rupaul's Drag Race at the Liberty Hall at ACE Hotel New York. During past seasons of Drag Race we gathered at Tom's house to watch the show almost every week. It always felt like a big family gathering; drinks, laughs, snacks, gags, yasss, carrys, intis… It's always a blast. So, we thought why don't we share some of that fun with our readers by gathering at a venue with plenty of space so everyone can attend. This Friday, March 24th, we will be at The Liberty Hall, which is in the basement of Ace Hotel NY. It's a cosy but spacious room with a projector, seats and a bar. It fits about 100 people, perfect right? We'll have a drink special — which we're calling The NamaSlay. To help us host the night we invited drag queen Candy Sterling. We recommend you arrive early unless you want to watch the show standing (which might not be so bad as long as you are drinking a NamaSlay.) I am so excited to see some of those new queens in action, I am really into Valentina, Peppermint, Nina Bo'nina Brown, Farrah Moan, Shea Coulee, Alexis Michelle and I am sure lots of you are excited to see Gaga. Who's ready to gag? —Abi