We gathered some friends and contributors for tacos at Tacombi Flatiron in NYC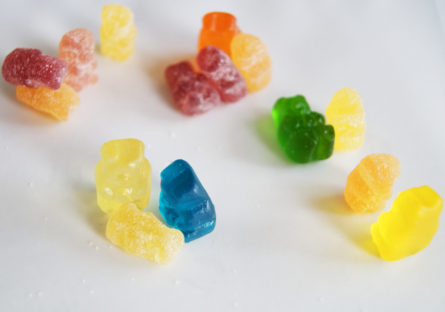 I've tried CBD before. A guy in my neighborhood used to sell CBD lollipops for five bucks. He'd drive around in a green van with marijuana leaves painted on the sides. I'd buy the lollipops for shits and giggles, of course, but I never really felt anything. It's not like I was expecting to get stoned, but I wanted to at least feel a little different. I was always left disappointed, and for a long time I didn't get the CBD hype. This week I discovered Highline Wellness Premium CBD Chews and these gummies have blown my mind. Clearly, buying those five dollar lollipops was amateur hour. This isn't the candy your grandma gives you after digging around in her purse. These gummy bears pack a punch.
30 gummies come in a plastic bottle, and each little bear has 10mg of CBD. I was skeptical at first, but I started eating a few gummies before and after work. I live and breathe anxiety, and working all day can make me a little tense. The gummy bears are the sweetest treat. They're tasty and make me feel like I'm walking on a cloud. I'm not even exaggerating. Walking into work and munching on a CBD chew gives me that same feeling as walking into my room and getting in bed after a long day. I don't feel high, but I become so relaxed that everything seems a bit more manageable. My breathing slows, a gentle sense of calmness washes over me. …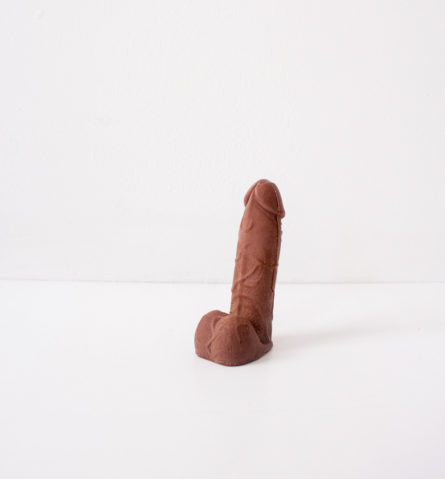 I opened the press email about this item fairly quickly after reading the subject "…Dick at Your Door!" I opened my eyes wide and read the details. For those of you that get easily excited the chocolate dick appears bigger in this photograph than what it is in real life, although it's still an exciting size — something like a good 6-inch rocket. This gives you an idea of how deceiving dick pics can be, photography can do wonders for the appearance of your penis.
The chocolate dick was an item originally developed as a prank, "a way for people to anonymously tell their friends, office colleagues, frenemies… to "eat a dick" without the repercussions" the inventors tell us. I mean sure, but receiving a dick at the door for me sounds funny and perhaps it's more suitable to cause a few giggles, than freak anyone out. The company is pitching this item as a "perfect April Fools and Easter gag gift." I can certainly see it for Easter, if they have chocolate bunnies and eggs, why not a dick? "One dollar from every order is donated to the American Cancer Society to help fund Prostate Cancer Research."

It's a nice gesture to send a chocolate dick to anyone who loves a light joke or maybe someone who's super conservative? The dicks come in different types of chocolate, just in case you are picky about your flavors. Send a friend, a family member or anyone who could appreciate the joke. …

Eat:

Y TU MAMÁ TAMBIÉN Screening + Dinner

Y Tu Mamá También is the first phrase I learnt in Spanish. Growing up in Australia we didn't have much need for the language so it's not really taught in schools. I studied Indonesian in high school which was sooooo useful! lol. I learnt the phrase Y Tu Mamá También because it's the title of the 2001 Alfonso Cuarón film that is screening tonight in Brooklyn at the Alamo Drafthouse. When it was released 17 years ago it not only launched the careers of its director and its stars Diego Luna and Gael Garcia Bernal, but it was also the highest box office opening in Mexican cinema history at the time. And it did that by only making $2.2 million it's opening weekend. "The film tells a coming-of-age story about two teenage boys who take a road trip with a woman in her late twenties. The film is part of the road movie genre, set in 1999 against the backdrop of the political and economic realities of present-day Mexico, specifically at the end of the uninterrupted 71-year line of Mexican presidents from the Institutional Revolutionary Party and the rise of the opposition led by Vicente Fox." It is a very sexy, gritty and engrossing film with a rather queer twist ending. You can see it tonight (May 2) at 6:30pm with a Mexican-inspired menu created by the Drafthouse executive chef Ronnie New, with drink pairings from their beverage director Vincent Favella. This is a much better way to celebrate Mexico than partaking in the upcoming Cinco De Mayo nonsense. A disfrutar! —tom
Eat:

Broccoli Sprouts

Why are we recommending a green vegetable? Why not! We can all use a little help when it comes to our health, especially if we spend a lot of our time partying. You gotta balance out the bad with the good. Broccoli sprouts are part of the cruciferous family of vegetables that includes cabbage, cauliflower, brussels sprouts and kale. They contain an "isothiocyanate, a sulfur-containing organic compound called Sulforaphane." Sulforaphane is like a super-super food. It's basically been proven to prevent/treat all kinds of cancers, diabetes, heart disease, anxiety and depression, fungal infections even S.T.Ds. It's what some doctors call a panacea in that it can "help almost every chronic disease." It's found in massive amounts in broccoli sprouts, and the best part is you can grow these little superfoods at home. I have been doing this for the last few weeks and have been adding them to my smoothies, avocado toast, stir frys, pretty much everything. Harvested at just four to five days old, broccoli sprouts are the baby versions of adult broccoli. All you need are the seeds (which you can get on Amazon) and a mason jar. You soak the seeds for 6 hours then drain them. Every day you rinse them to stop mold, and in few days you'll have a full jar of fresh sprouts. Next time you wake up with a killer hangover, add some sprouts to your fried eggs and bacon. Your body will thank you! —Thomas
Seeds available on Amazon or your health food store.
Eat:

COLD CUTS

The queer food magazine Mouthfeel ("food from a gay point of view") is collaborating with the art/food magazine Counter Service and the food media and event company Yardy to bring you a "salon style winter party." This new series is basically an event to bring queer people and food together. Mac from Mouthfeel told us that they'll be "expecting around 100 guests. Great people. Everyone from Andy Baraghani at Bon Appétit to Roddy Bottum from Faith No More. Should be a cool mixed crowd." Andy also mentioned to me last week that this is gonna be a great event, alright Andy, I trust you — that homo has good taste in food, so I guess I am feeling extra confident recommending this event. I am not sure if food is important to you, but I've always said in the past I could never date someone who doesn't appreciate good food. I mean, I don't mind hooking up with trash eaters, but I guess that's different. Call me a pretentious cunt if you'd like, but I am telling you how I really feel. Expect DJ sets by Anna Dunn (Diner Journal) and one of our faves Anthony DiCap (Holy Mountain, JIZZ). There will be a door girl, her name is Roxy Romero, just in case you wanted to know. —Abi
Eat:

THE GREAT BRITISH BAKING SHOW

There's no shortage of upsetting things to watch right now, but sometimes you just want to watch something that feels like a warm hug from your gran. Cue The Great British Baking Show. This wonderful baking "competition" (I put that in quotes because the battle between contestants is purposely tame) is slow and delicious viewing. I am going to skip over the most current season because it no longer features the gem of a human being, and expert baking judge Mrs. Mary Berry, and it's also not available on Netflix just yet. Instead I recommend you start with season 1. Each week a group of home trained bakers compete to create some baking classics like Swedish Princess Cake and Spotted Dick. Set in a giant tent in a picturesque British park, The Great British Baking show is perfect hangover viewing, or even better if you miss your nana and have a craving for Cornish Pastries. There's no manipulative editing and manufactured drama. The biggest issues are icing dripping instead of setting or the inside of a cake collapsing. But you would be shocked how nerve-racking this show can be. But no matter what happens there's never anything but love from the judges, hosts and fellow bakers. This is competition reality TV for people who hate competition reality TV. Dig in. —tom
Available on Netflix.
Eat:

PILAR CUBAN EATERY

If there's one thing you should know about the GAYLETTER crew it's that we like to eat. And we love to eat even more when we don't have to pay for it. Groundbreaking I know, but we don't turn up our noses at a free lunch, or in the case of this Monday evening, a free dinner. We were invited to try out the new menu, and taste some rums of the world, at a wonderful restaurant in Bed-Stuy, Brooklyn called Pilar Cuban Eatery. The menu was traditional Cuba with a modern twist, and with real musicians playing Cuban music right next to our table the authenticity was coming on strong. We enjoyed duck Cubana sandwiches, sea bass empanadas and tres leches to die for. We also drank more rum than Hemingway on a bender. We tried rum from 6 different countries. My favorite was the Guatemalan; the Jamaican was a little too heavy on the alcohol content, and the Dominican one was lovely, if not a little sweet. We rolled out of there full, drunk and happy. I'm not just saying this because they rumed and dined us, but Pilar is a seriously good restaurant. The decor is casual but thoughtfully designed and the food is comforting and delicious. If you're in the neighborhood check them out! Tell em the gays sent you! —tom
VARIOUS PRICES, PILAR CUBAN EATERY, 397 GREENE AVE., BROOKLYN, NY
Eat:

Vegetarian Food Festival

"Jules: Mm-hmm! You ever had a Big Kahuna burger? [Vincent shakes his head] Jules: Want a bite? They're real tasty. Vincent: Ain't hungry. Well, if you like burgers, give them a try sometime. Me, I can't usually get them 'cause my girlfriend's a vegetarian, which pretty much makes me a vegetarian." That dialogue comes from Pulp Fiction, and I pasted it because it was the first thing that came to my mind when I read about the Vegetarian Food Festival happening this weekend. My guy is a vegetarian, so like Vincent in that scene, I'm also often a vegetarian. Which is OK with me. While I love meat, I have a lot of mixed feelings about eating it. The whole killing of living creatures and factory farming parts are pretty fucked up. And besides veggies are great for you! This Sat and Sun head to the Metropolitan Pavilion "for a day of browsing, tasting, learning and shopping. More than 125 vendors will be on hand with a plethora of produce and products." There's also going to be a bunch of speakers, "including plant-based doctors, authors, chefs, fitness professionals and more." Sounds like a delish way to spend a few hours whether you're a vegetarian or not. Enjoy! —tom
$19-$30, 11:00AM, Metropolitan Pavilion, 125 W 18th St. , New York, NY
Eat:

SAGE TABLE – REMINDER FOR MAY 18

You may have noticed that we have been writing about SAGE Table in previous letters and on our social channels for a while now. We have been doing everything we can to get people to participate because we think it's a great idea. We're joining a pretty cunty table with Whoopi Goldberg and a few other interesting individuals across the age spectrum on Thursday. The concept for SAGE Table is pretty simple. The group is committed to getting people across the country to host, or join, a multi-generational dinner party. Basically they want LGBTQ people from all ages to spend some time together. People of different ages are waaaaaay to separated in the queer community. Like, seriously, when was the last time you had a conversation with someone over the age of 50 who wasn't your mom, day or grandma? So, here's what we suggest you do to fix that, go to SageTable.org and sign up for a dinner. You can host it or join one already happening nearby you on Thursday May 18. It'll be a lot of fun, I promise. If you think about it, it's a pretty easy and enjoyable way to do some good for your community. Eat, talk, learn, let go of your fear of aging. We're all going to get old, some just do it better than others. Be one of them. —tom
Visit SageTable.org
Eat:

Daft Brunch – A French House & Disco Brunch Party

What a cute idea for a boozy Sunday brunch! You get to listen to Daft Punk and French disco, and here's the best part, for the $10 ticket price, you also get two mimosas. That's a pretty good deal. Where else can you get two mimosas for $10? Nowhere, that's where! "DJs Jamie Antonelli (Nurvous Records) Salinger (Medium Rare / The Deep) and guests will be playing French Touch, Disco House and plenty of Daft Punk. Photos by Nicky Digital. Visuals by Funk Taxi. "Food will be available throughout the event. Come eat, drink and dance with us!" They also have some "Bottomless Brunch packages still available" so start that group text ASAP and get your weekend brunch plans in order, K? —tom
Do:

NYC Restaurant Week (Jul 25-Aug 19)

OMG! yaaass cheap(er) food! You know the deal — fixed menus, fixed rates, but of course your bar tab will not be included (but the money you save on food has to go somewhere, so…. NYC Restaurant Week is the best time to try out that restaurant you always walk by near the office, home, or that recurring Grindr date's place; wherever! Chances are there is a probably a restaurant you have been meaning to try but you've let whatever deflective mindset get the best of you. Treat yourself, hunty. 2016 has been a rough year for gays, trans folk, Bernie supporters, blacks, latinos, and literally everybody else who is somewhat sane, if there is anything you deserve, it's a good-ass meal. "Nowhere else will you find a more compelling opportunity to experience a diverse selection of 34 international cuisines, served within 40 neighborhood. With more than 380 restaurants offering great value, you will travel the world," and by world, they mean the subway, or Uber if you've got the coins. Whenever I'm out to eat, I love to pretend I'm Samantha Jones with the rest of the gal-gang, so take whatever excuse you want to eat and drink with your friends and cunt it up. You have to wait for winter for the next opportunity to gorge, and we all know pants aren't as forgiving as your neoprene shorts. Three courses for lunch $29 & dinner $42. —Chris Stewart
Google "NYC Restaurant Week" for a complete list of restaurants.