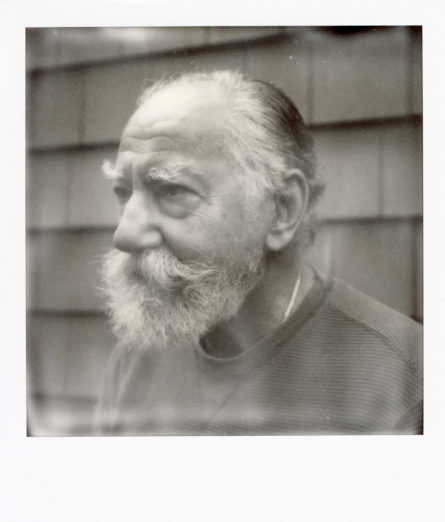 The scene in artist Sal Salandra's Say Your Prayers (2020), one of his distinctive "thread paintings," shows an orgy at the altar. Instead of priests enrobed in their vestments celebrating communion, bare-assed leathermen offer their meaty erections to kneeling submissives. A remarkably hunky Christ, also naked, hangs on the cross above the congregation, perhaps inviting unorthodox forms of worship.
Earlier this year, Say Your Prayers was included alongside 13 of Salandra's other recent needlepoint works in Iron Halo at Club Rhubarb, a by-appointment-only gallery owned and operated by artist Tony Cox in New York's Chinatown. Although Salandra has been stitching figurative works since the 1980s, Iron Halo was the first solo exhibition by the 75-year-old self-taught artist.
In September, Salandra spoke with me over the phone about growing up as a devout Catholic and second-generation Italian American, the liberation he found in the world of BDSM, and how he pushes the traditions and techniques of needlepoint beyond the medium's conventional boundaries.
"Teachings Of The Devil" (2019).
"Say Your Prayers" (2020).
"Ill Beat You Whip You Love You" (2020).
"Rape Of Robin" (2021).
Can you speak a little about your experiences growing up? Were you always interested in art? I grew up in New Jersey and was raised in a very traditional family. My own immediate family was six children, three brothers and three sisters. It was a big family full of fun. There was always someone to talk to — lots of drama in an Italian family. …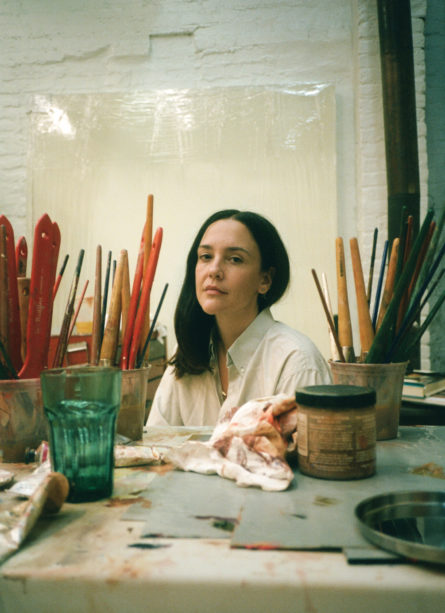 In Jenna Gribbon's paintings, life is about the intimacy of a moment, and art is about the presentation of a memory. Her pseudo-voyeuristic framing is intentional — she invites viewers "to look at their looking," to be self-conscious of their position and feel a mix of intrigue and intrusion. Jenna explains this is what she likes about figuration, "it doesn't just blend in. It doesn't just sit back and behave." Her uncontained subjects — a pair of women wrestling in the forest or a topless artist posing in her studio — are only as sexually-charged as a viewer might experience them. Accessible through layers of meaning, they conspicuously conceal more than they reveal.
Working from photographs and her own imagination, based out of her Brooklyn studio, Jenna makes textural portraits that lushly abstract personal scenes. With variegations of oil, juicy flourishes and thick patches, she renders a moment gesturally, rather than mapping it with drawn lines. She often plays with light in her paintings, manipulating the mood by casting figures in varied brightness. Her sense of color is informed by her surroundings, with perhaps the exception of hot pink nipples — always the same light, bright hue, nearly fluorescent. The pleasure of her process is evident, mirroring the affection she has for her subjects.
Jenna's most recent exhibition Uscapes at Fredericks & Freiser in New York features a series of portraits of her rockstar fiancé Mackenzie Scott, a singer and guitarist who performs as TORRES. An obsessive devotion pervades the show as it feels evident Jenna spent much of her time during the pandemic's lockdown reverently stalking her lover, fondly watching and translating her nuances into oil paint. …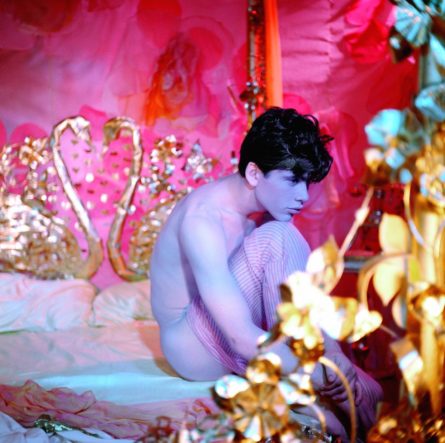 When I first arrived at James Bidgood's West Village apartment, I watched him tear open an envelope and read an eviction notice.
"Oh, fuck!" He told me. "Well, I apologize. I might be a bit distracted today. I'm not really sure what's happening here."
I nodded and told him to take his time and make whatever phone calls he needed while I found a spot for my jacket and backpack. Looking around the tiny apartment, I couldn't imagine how he'd ever move everything out of this cramped space if he were indeed forced to leave. Shelves were packed with boxes, bags lined the walls and reached the ceiling. Glitter covered the floor, and a large plywood table littered with bits of paper and chiffon bisected the room. No idea where he slept.
"It's a mess in here because we were shooting. I can't find my dust pan, so what good would it do to sweep?"
Nearly all the images Bidgood created of beautiful boys swimming in shimmering lagoons, laying in flowers beneath a pink sunrise or standing in front of the Eiffel Tower were photographed in a space similar to the one I had just entered. It was Bidgood's wild imagination and abilities to trick both the camera and the viewer that made these photographs seem so surreal.
I thought about the whimsical, ethereal paradises he created in his past work, most notably in his watercolors and in his 1971 film Pink Narcissus, and how terribly far that world is from his present reality. …

A selection of artworks from Rock of Eye.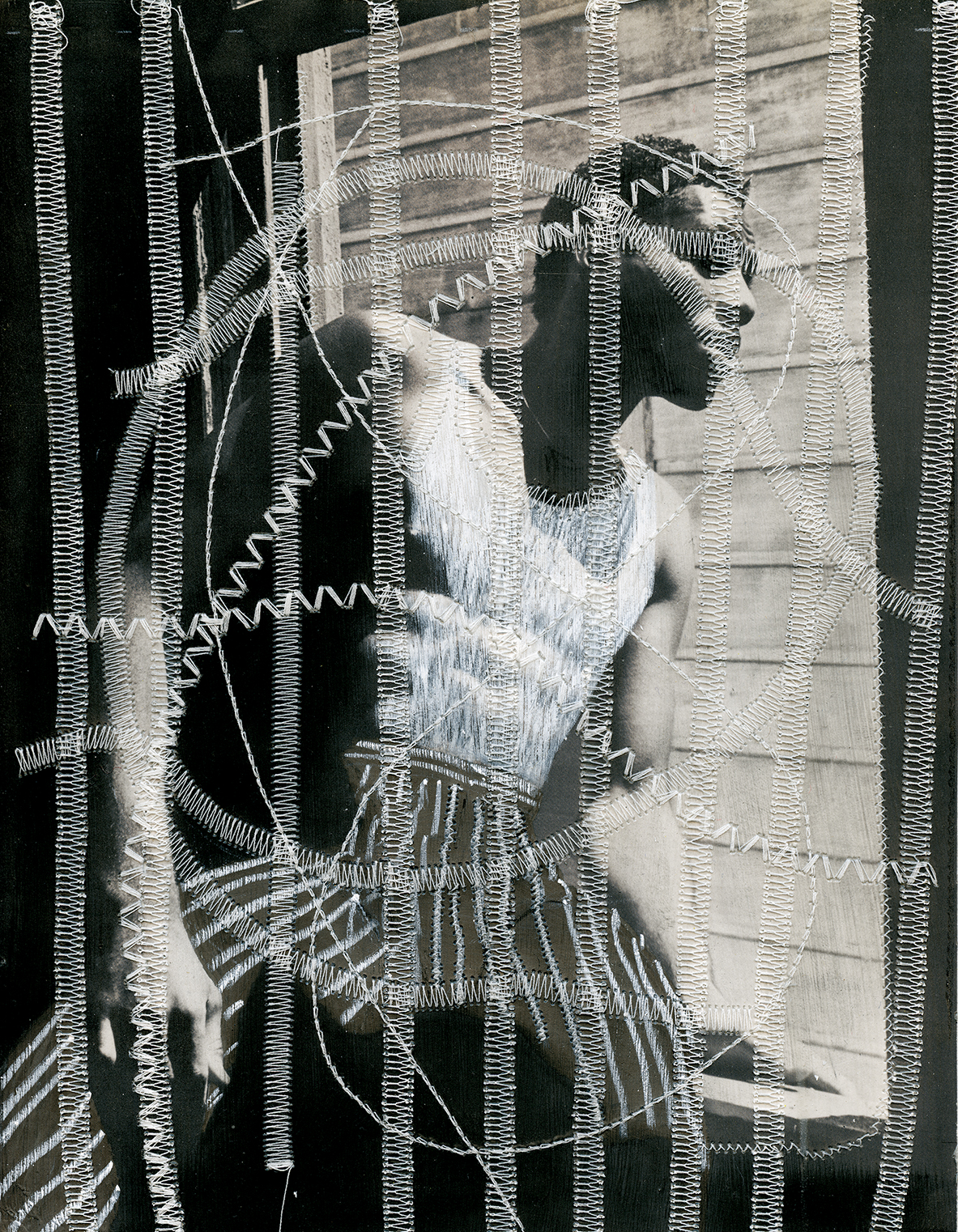 The publication accompanied the LOEWE SS22 Men's presentation.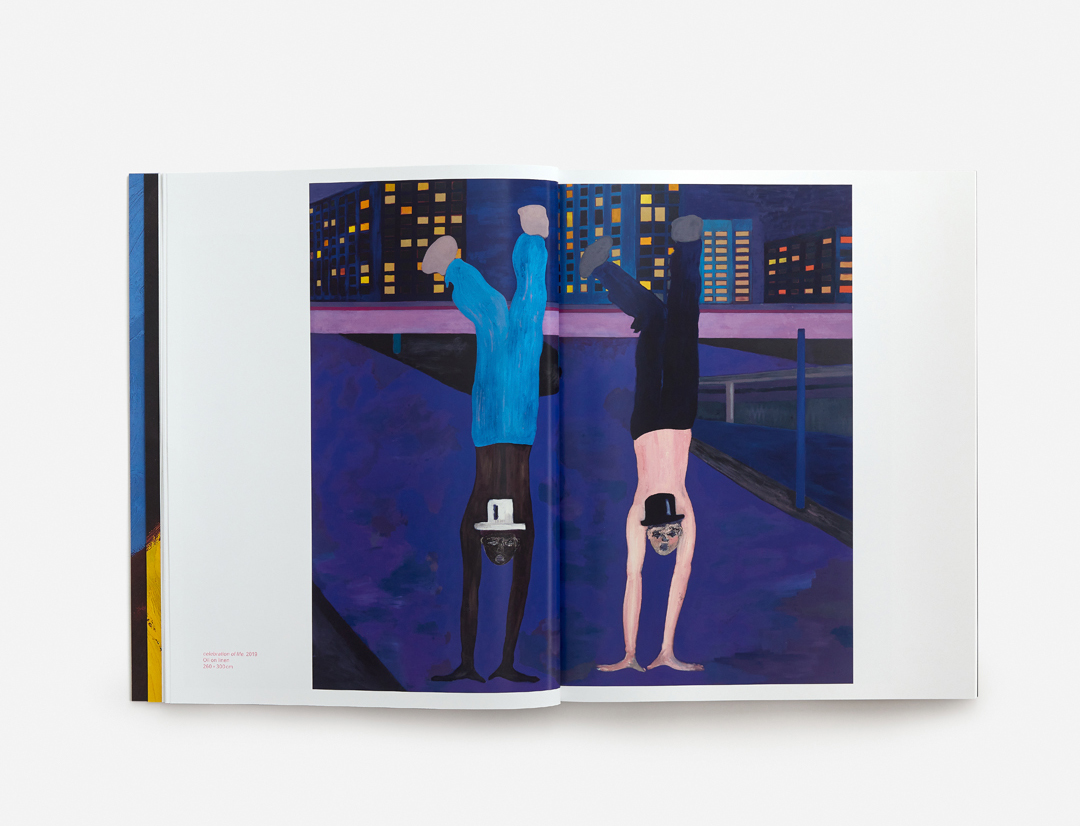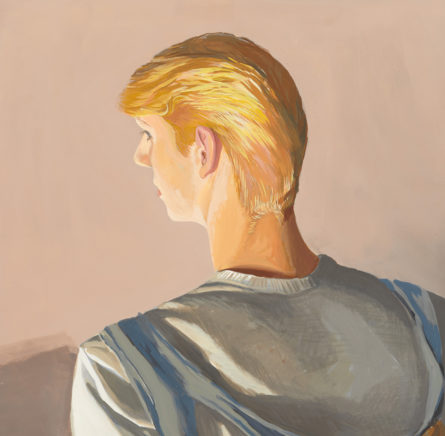 Gilbert Lewis  is a figurative painter focused on documenting the queer male experience. Though much of his career was spent on portraiture of young men in his local Philadelphia, his consistent involvement in Philly's queer scene and his work as an art therapist at a local nursing home also endeared Lewis to his greater community.
Originally from Virginia, Lewis first moved to Philadelphia in 1963 to study at the Pennsylvania Academy of Fine Arts, and later the Philadelphia College of Art. He was also awarded the prestigious William Emlen Cresson Memorial Travel Scholarship in 1967, which he used to travel to Italy and study the works of 14th century Sienese painters and the artists of the Florentine Renaissance. Through this education, Lewis honed his skills as a painter of watercolor and gouache. These earlier years also saw Lewis become a fixture of his Philadelphia community and find his niche painting young queer men and elders.
Lewis, Untitled (Striped Portrait), c.2000.
Untitled (Young Man in Disco Shirt), c. 2000.
Untitled (Young Man with Nose Ring), c. 2000.
Lewis, Portrait, 2000.
Lewis' experience as a mainstay of Philadelphia's queer community was reflected in his portraiture. The network of friends and acquaintances that he built in the city regularly sat for his portraits and were encouraged by Lewis to bring their favorite cassette tapes or CDs to play while he worked. Over the 20 years Lewis spent working as an art therapist in a nursing home, he invited many of the home's geriatric residents to sit for his portraits as well. …

With his body at the center of his durational performances, Martiel pushes his own limits while also calling attention to deplorable histories.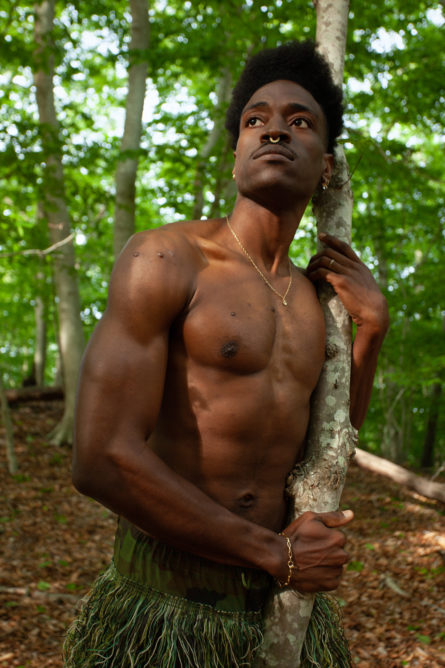 Perhaps we should start at the beginning; could you speak a little bit about what it was like coming up in Cuba? When did you begin performing? I started working in performance in 2007. I remember that back in the day I was studying goldsmithing at the San Alejandro Art Academy, and alongside my jewelry work, I was also making unconventional drawings. I say unconventional because the materials I was using to make them were not traditional, like oil or acrylic paint, or even using a canvas. I was using different pigments, such as iron oxide diluted in vinegar, coal, beeswax, and blood. And it was the use of my own blood, specifically, which catapulted me to working with my own body. To extract my blood and make drawings, I had to go to public clinics and ask the nurses on duty to perform a phlebotomy on me. At first they agreed to do it, but as I started coming to the clinic more often, they began to either decrease the amount of blood extracted or refuse to do it altogether. This caused a great deal of frustration, since I couldn't materialize the type of work I wished to make. That's when I had the idea of using my body as an object and a subject of my conceptual interests, without having to depend on a third party. This is how I came to realize my first performance.
I am blown away at your roster of past performances; you are quite prolific. …

In his new book, the southern writer and artist channels the unknown and documents the intergenerational experience of HIV.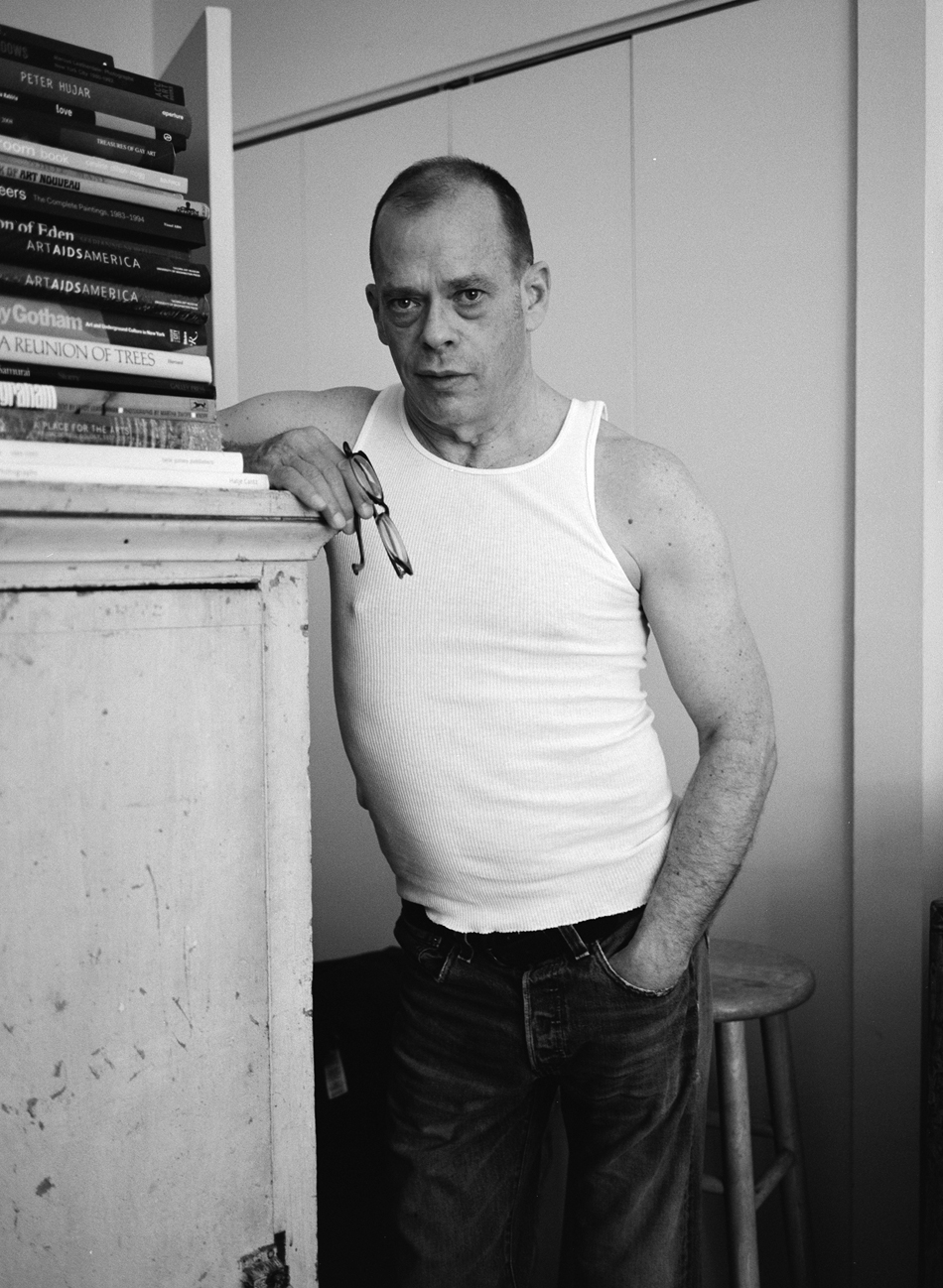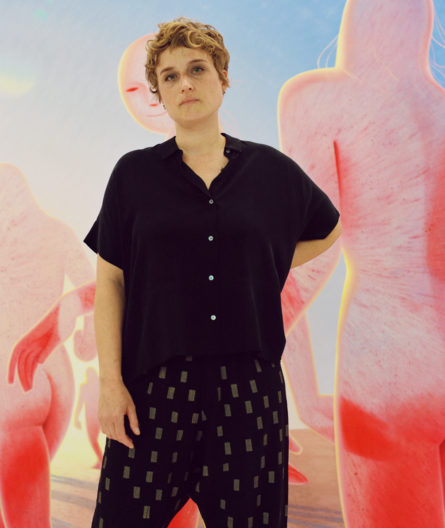 "I want it to feel as though these women are getting the last laugh," artist Robin Francesca Williams explains about the toothy grins in her atmospheric portraits. With much of her work, Williams aims to show how women have been mistrusted, scapegoated, and demonized, but also to expose the expectation of their moral superiority, that they must kindly demonstrate purity and unconditional love on behalf of mankind. Interested in flawed, malicious, menacing, and wild female characters, she has a fascination with B-movies and cult classics, gravitating toward erotic thrillers because they tend to argue that the flaws of women are inherently more dangerous than the flaws of men. "They make tidy stories out of this belief," she asserts. "My paintings are looking to untidy those stories and test these cultural contradictions." She always renders her figures with a twist — a pregnant ghost, a kind troll hanging upside-down, or a dark angel as the embodiment of outer space. "None of my witches have pointy hats," she laughs. "Sometimes I think about that test they did during the Salem witch trials — how they would throw a woman into the water. If she sank, then she wasn't a witch, but she drowned. And if she floated and lived, then she was seen as a witch, and they would burn her. But I always thought if she was a real witch, she would constantly be a few steps ahead of them. She'd dive right in. She would just turn into water. Or turn into stone, sink to the bottom and walk out." …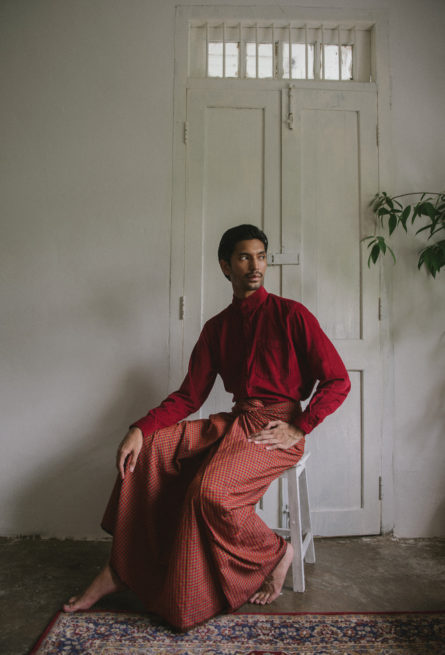 When I spoke to artist Richie Nath via Zoom, he was unsure how long he would have Internet because a bombing had recently happened only blocks from his home in Myanmar (formerly Burma). About the turbulent political climate he explained, "We were looted by the British and were under a dictatorship for 60 years, and we are currently under another dictatorship." His brother had been in prison for over a month because they found protest gear in his car at a roadside checkpoint. Over the past several months, protesters have been subjected to violence and even death. And while clubs and bars frequently had "fab nights" for queer people before the pandemic, afterward they were pushed back onto Grindr, a wasteland of blank and fake profiles. Nath is often overwhelmed by talking about the difficulties of living in Myanmar and also feels conflicted about how much he should let it inform his work. "They want to see the anguish," he sighed. And sometimes he gives it to them. As example, his first show of paintings was titled Chauk — a derogatory term for gay men that means 'dry,' alluding to their inability to have children. But more often, Nath focuses on female empowerment and tender homoerotic scenes rendered in a blend of traditional Burmese and Indian styles.
While Nath's mother is Christian and part Burmese and part Shan, his father is both Hindu and Buddhist with a mostly Indian background. It is not unusual to have mixed lineage in Myanmar. …