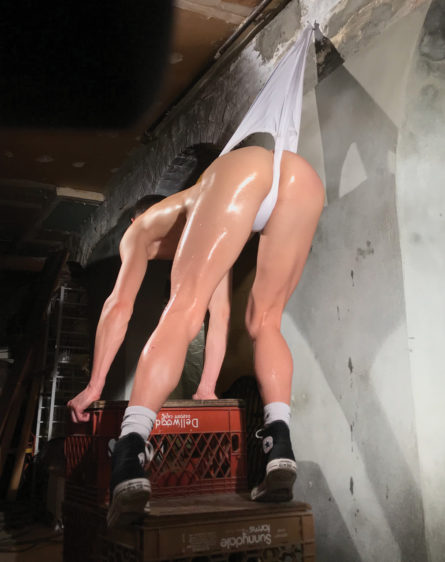 Straddling the line between abstract and erotic, New York City-based photographer Benjamin Fredrickson's wedgie portraits have quickly garnered acclaim, each featuring glistening globes split by taut stretched fabric.
Benjamin, originally from Minnesota, became interested in photography as a teenager, and moved to New York City over a decade ago. His photographs are often very personal, and self-portraiture makes up a large part of his oeuvre. He says that photography has been a way for him to break out of his shell, exploring his own body and sexuality. We spoke about his process, his inspirations, and beautiful butts.
What pulled you to photograph wedgies? I was making work for a different project and while a model was shifting his underwear he accidentally created a wedgie. His skin was already lathered in oil and had a nice glisten to it, and he had the perfect wedgie butt. The tension created by the pull of the underwear caressed and spread his butt cheeks in such a way that really turned me on. I liked the idea of something being so sexual without it being explicitly pornographic. The wedgie leaves something to the imagination. You know that there is a butthole under the fabric just waiting to be pulled aside and exposed, but it's not. It remains covered. Since that day, I've been a wedgie enthusiast.
I'm fascinated by the contraptions that pull the underwear in your photos. Why did you decide to use these instead of hands? I created them as a creative way to make a wedgie pull without having to use hands directly. …