Eat:

Madison Square Eats

Every year during the Spring and Fall, Madison Square Eats pops up in General Worth Square (the public space between Eatly and Madison Square Park.) It's a small triangle filled with stands featuring some of the city's best restaurants. There's some yummy options from places like Roberta's, Mighty Balls, Macaron Parlour, Momofuku Milk Bar, Melt, Asia Dog, Arancini Bros. and more. For foodies this place is a must visit. I mean, what could be better than trying a slice of Roberta's famous pizza, then taking 10 steps to enjoy a Nutella rice ball from Arancini Bros, only to wash it all down with a cold glass of beer from the Cannibal? On a sunny fall day it's just nothing more lovely than a visit to this place (and I don't care that I sound like my mother, I mean it!). It finishes its run for the year on October 25th, after that you'll have to wait until next Spring for it to return. So let loose homos, it's sweater weather, ain't nobodies business if you binge on some Korean tacos and gain a few pounds! —tom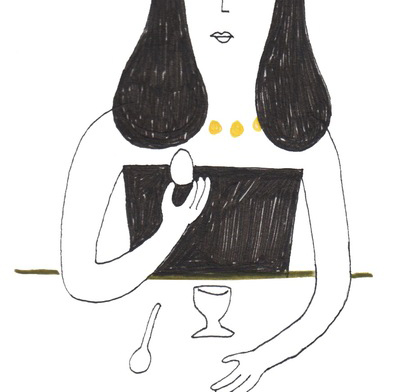 The super cool New York City food literary magazine (printed on green paper) Put A Egg On It is hosting a dinner to raise funds for their printing expenses. Expect "a fantastic 3 course seasonal meal prepared by PAEOI's editors and a special dessert from the Little Cupcake Bakeshop. Cocktails and wine will be served. Also included is a gift basket of limited edition art bits from illustrator Assa Ariyoshi…" 
We loooooove wining and dinning, it's probably one of our favorite social activities, we'd be happy to do it every night of the week. The editor and designer of the publication Ralph Mcginnis told us that the dinner is going to take place somewhere in the East Village, this Friday October 11th at 7:00PM.
But, you must get a ticket to find out the rest of the details…
So do it NOW! …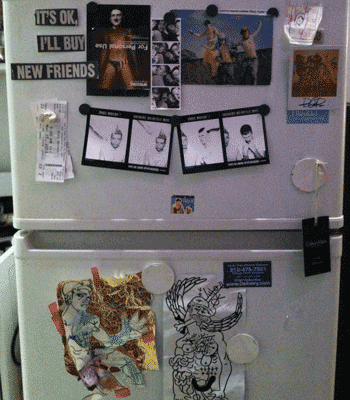 We're asking nightlife personalities and some of our friends to show us what's in their fridges. It's a bit weird we know, but fridges are very revealing— what's inside, and on the outside, says a lot about a person. First up, balls-to-the-wall NYC based artist Gio Black Peter.
"Refrigerators are fun and functional. You can leave yours bare or dress it up and stuff it full of bananas!  My fridge is possessed by the ghost of Nancy Reagan. I know what you're thinking — not so fun. But unlike Nancy, her ghost is a blast!" —Gio Black Peter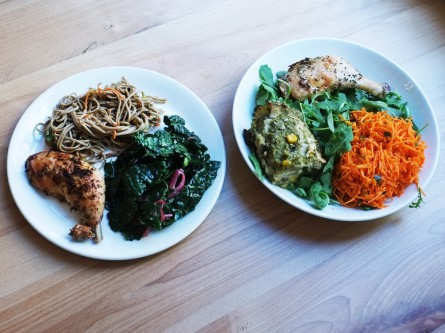 Abi and I had a real 'ladies who lunch' day last Saturday. After doing an aquatic cycling class (yes you heard me right), in TriBeCa we enjoyed a macrobiotic, organic meal at a new restaurant/cafe in the area: Mulberry & Vine. It was rather delicious, and super duper healthy. We snapped some pics and asked the restaurant's executive chef Justin Schwartz a few questions about the new space.   
When did you open? We opened April 25. But have been working together for about a year and a half now.
Are you a part owner? The owners are Michelle Gauthier and Genvieve Lynch, friends who live in the neighborhood.
What's the concept for the restaurant? The inspiration was to bring fun fast casual healthy food to downtown NYC. We felt there were so many options in CA that allowed people to feel good after lunch but not tricked out of a delicious meal!
Why such a fancy neighborhood like TriBeCa? TriBeCa is the location for our flagship because Michelle and Genevieve both live here and have school age children so they wanted to be close to home.
Tell us more about your role? I am the executive chef so together with the owners I created the menu and wrote the recipes. I oversee the kitchen and production of all the food everyday!
What's next? We definitely plan on opening other locations soon, we are eyeing Midtown next!

Eat:

Umami burger

Two recent restaurant openings have really got my taste buds salivating. The first is the taco restaurant that opened across the street from me (seriously it's like 16 steps away from my front door...I could shout out my order from my window). Second is the LA chain Umami Burger. The taco restaurant is really only of interest to me, Umami Burger however is clearly of interest to the whole of NYC. The term "Umami" comes from the Japanese and describes the 5th taste (after sweet, sour, salty and bitter). It's that moorish flavor people associate with food like truffles or cheese or soy sauce. It's also the basis for the burgers at Umami Burger which have gained a cult following for being "infused with secret ingredients with umami properties." The week it opened I went by myself (sitting at the bar is the only way you'll get a seat) to see what all the fuss was about. I tried the truffle burger as well as the original Umami burger. Both were, unsurprisingly, awesome. They're all made with American Wagyu beef and seasoned with plenty of umami goodness. The food at each location (there's many planned) is designed to taste different."We want our customers to have a unique experience. We wanted to be a restaurant group, not a chain" says Umami's owner Adam Fleischman. On the NY menu you'll soon find the French-dip burger, "made with braised beef and served with umamified gravy on the side." There's also plenty of non-meat burgers, which is kind of Adam. —tom
Around $10, 11:00AM-12:00AM, Unami Burger, 432 6th Ave., NY, NY
Eat:

UNCLE BOONS

Here's a fact to throw around at your next dinner party: Australians really love Thai food. Maybe it's because we're the only country (besides Thailand obvs) where you can find all the same herbs and spices needed for traditional Thai cooking (at least that's what I was told in the Thai cooking class I took in Chiang Mai). My point is, I don't phuck wit shitty Thai food. Which is why I was so pleasantly surprised when I visited Uncle Boons on Spring st. last Sunday. The space is kind of weird; it's below street level, a little pokey, but the food, oh the food! The brains behind the biz are two ex Per Se cooks who decided to leave the fine-dining world so they could share their love of home-style Thai cooking with us lucky New Yorkers. Highlights include the salted black crab, ground pork, and coconut cream dip "Lon Pu Kem" and the rotisserie chicken salad with dried onions and all sorts of yummy sauces and spices. Also look out for the "Charcoal Grilled Goodies" section featuring octopus and blowfish tails which are grilled and then served with chile dipping, plus a variety of Thai curries. Go early, they have limited reservations — yes, it's one of those places. A week hasn't gone by where it hasn't received a glowing review from one publication or another, including us. What can I say, I'm a rice queen through and through... —tom
Drink:

BIRRERIA AT EATALY

On Sunday evening Abi and I checked out Birreria, the beer garden atop Mario Batali's Italian superstore Eataly on Madison Square Park. As you might expect it was full of straight people. Of course, like all places where straight people congregate (Italian street festivals, Ikea, everywhere on St Patrick's Day) there was a smattering of homos we were able to sniff out. Why we're writing it up has nothing to do with the crowd, and everything to do with the quality of the food and drink. We shared the chicken thigh cacciatore, which comes in a tomato sauce with zucchini and squash and crimini mushrooms, and the beer-braised pork shoulder with celery, local apples and mustard vinaigrette. Good lord that was some tasty meats. Being a beer garden we also shared a couple of house brewed ales. They serve three kinds of cask-conditioned ale. Not sure what that is? Well, let me help you out: "Cask-conditioned ale is beer that is served from the same cask in which it is conditioned. It is naturally carbonated, unfiltered, and served at a traditional cellar temperature of 50-55° Fahrenheit." Werk. These people aren't messing about, not with the beer or the food. —tom
Average price of mains $20, 11:30am-11pm, Bierreria, 200 5th Ave., NY, NY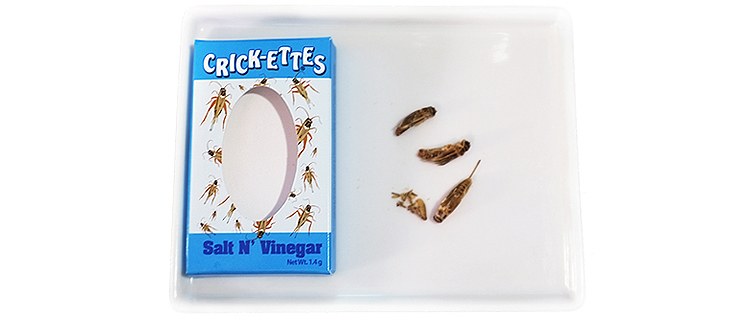 Here's a little tidbit you might not know: at some stage the planet is going to run out of meat. It's not that cows are going to go extinct, but the whole meat industrial complex that's exploded over the last 50 years is just not sustainable. There's just too many people on the planet—7 billion at the moment and possible 10.5 billion by 2050—that's way too many mouths to feed. The fact is our mass farming practices can't keep up with the way we over consume meat without totally fucking the planet. Which is why we should all eat insects. Insects are the most sustainable source of protein on the planet—they breed like…well like insects, and they take up so little space to "farm."
I know it sounds all sorts of crazy, but don't poo-poo the idea until you actually eat one. I mean insects are no weirder than oysters, which I'm sure you thought were gross before you tasted them. And shrimp! And lobster! What do you think they are? Nothing more than insects of the fucking sea!
We recommend you try the Crick-ettes ($3) from Evolution in SOHO. "These crunchy cricket snacks are a smart way to add some protein to your diet. They come in three delicious flavors – Bacon & Cheese, Salt & Vinegar, and Sour Cream & Onion – so you'll never get bored!" Munch, munch. —TOM
Eat:

INSOMNIA COOKIES

I guess we're late to learn about this, but if you hang out with enough young marijuana smokers, there's no end to the things you can discover...So we we're watching Rupaul's Drag Race, you know having some brews and blowing some trees, when all of the sudden our friend Eric goes "should we order some cookies?" It was 12:30 at night, so we weren't sure how that was possible, but since we were already high, we just said "sure."  Turns out there's a late night cookie delivery service in NYC. Moments later we are on the Insomnia Cookie website making our selection from their more than generous menu of "fresh baked" cookies (sorry none have weed in them). 10 minutes later someone called us to tell us that our cookies would be arriving shortly. They came in a pizza box, delivered by a cute, giggly, hipsterish and totally fuckable boy—who was obviously lit. It really felt like a dream—that was until this morning when we saw the pizza box of cookies sitting on the coffee table, daring us to reach in for seconds. Cookies for breakfast...that's how you live the American dream. —t&a
$1.75 each, minimum delivery order $6, insomniacookies.com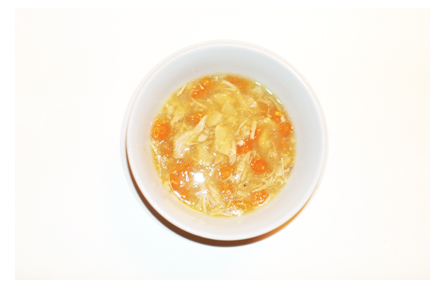 I think I've been making this soup since before I had pubic hair. I promise it's fast, easy, almost fail proof— and a wonderful thing to make with a boyfriend, lover or friend while you enjoy a bottle of red wine, and a piece of cheese, on a Sunday. Here it goes:
Buy a moderate sized fresh split organic chicken breast, on the bone, about 1.5 to 2 lbs. Rinse under cold running water and place in the bottom of a Le Crousset (just kidding, mine is Cuisinart) soup pot and generously salt. Cover the breasts with cold water until there is an inch of water above the skin. Turn the heat up until the water boils. In the interim, peel and thinly slice into wagon wheels 3 medium sized organic parsnips and five organic carrots, place aside. Take one large onion, peel and dice into slivers and place with the other vegetables. Once the pot boils, add the vegetables and turn the stove down to a medium simmer. Take about 10 cloves of garlic, peel and coarsely chop then place in the pot with some coarse pepper and stir. All stove tops are different so monitor the soup closely, you want to maintain a slow boil for about forty five minutes—or until the chicken meat is tender all the way through. I always taste a piece at the 45 minute mark to be sure.


Once your meat is correctly cooked, turn the heat off and let sit for an hour or two. …

Eat:

GRASSHOPPER TACOS

Did you know that insects are one of the most sustainable forms of protein on the planet? It's true. Insects reproduce faster than Mormons. They're everywhere (the insects) and you don't have to destroy incredible masses of land to farm them. Some of them are also quite delicious. Take for instance grasshoppers. I tried these tasty critters for the first time at the recently opened Antojeria La Popular, on Spring St. This Mexican tapas restaurant is the real deal, flying in traditional Mexican produce, including the grasshoppers, daily, from markets south of the border. The yummy little things are served on a crispy tostada with avocado, crema fresca and Mexican spices. They kind of taste like bacon, they're crunchy and salty and pair perfectly with the avocado. Go ahead and give 'em a try; I mean you're gay, you've put stranger things in your mouth. —tom