Eat:

Otto's Tacos

We have been plenty busy at GAYLETTER HQ working on the next issue of our magazine. Normally we order pizza when here late, as it's the easiest way to feed a large crew of people. However pizza can be a little be boring the umpteenth time you eat it (and not so good for the waistline, obvs) which is why we've recently switched it up for tacos! I'm not saying tacos are a health food, but they're smaller bites and more complex in their flavors. If done right. Our new favorite is Otto's Tacos. Not only are the tacos fresh and tasty and made right, but they're also really good value. Everything on the menu is pretty much under $3. The guac is exactly $3 and it's super fresh and you get a generous portion. We can feed 8 people and only spend $60 bucks. And best of all they're on Uber Eats so delivery is fast and equally affordable. I know recommending Mexican food can be controversial in NYC. People get all cunty about what is authentic Mexican and what isn't. I'm Australian so I won't pretend I'm an authority, but I have eaten a lot of it, and for a quick, cheap bite, Otto's comes correct! —tom
3 locations in the East Village, West Village & Hell's Kitchen. GOOGLE IT!
Eat:

Mast Brothers Tasting

Nothing like a little controversy, every now and then, in the letter to keep things interesting. You may have read about what went down with chocolatiers, The Mast Brothers recently, or maybe you didn't. Here's a refresh. Basically they got accused in the media of using someone else's chocolate in their recipes when they first started. The fact is they admitted to this way back when they were doing it, but it stirred up some drama from the chocolate community (who apparently are all a bunch of bitches) about the overall quality of the Mast Brother's chocolate. A lot of experts were saying that the brand's chocolate is not that great and their success is more about style (they have beautiful labels) over substance. On Friday, February 12, we offer you the chance to taste the chocolate for yourself and decide whether you think they're worth $10 a bar. The Strand Bookstore on Broadway are hosting the brothers for a chocolate tasting. "Experts from our friends at Mast Brothers will be on our store's main floor to pass out samples, talk about their different varieties, and answer any questions you may have about the chocolate." Hold your judgement until you try it. But once you have head to our FB page and let us know what you think. Keep it real bitch! —tom
Eat:

The Lucky Bee

Abi and I used to love eating at Jin Sushi, this crazy cheap "Asian" restaurant on Broome St. when we didn't know any better. They had this happy hour where every dish was $3 and drinks were $4. It was heaven for winos like us. Sadly Jin moved down the street (to a smaller space) but what has opened in its place has us just as excited. Called The Lucky Bee, it's a Thai restaurant with a focus on farm to table food. The head chef Matty Bennett was recently at Fat Radish which is known for it's high quality veggie dishes. He's running the restaurant with his husband, Rupert Noffs, who also happens to be Australian (like me!). The space has been transformed from the Jin Sushi days, there's splashes of bright color across the walls, hanging plants everywhere and all kinds of south-east Asian produce piled attractively across the bar. Rupert was kind enough to offer us two of their signature cocktails with our meals. He is not a fan of simple syrup (which is just sugar and water) so instead uses honey in all his drinks. Why other places don't use honey is a mystery — you lose no sweetness but gain so much complexity. The stand out dishes on the menu are the organic chicken in coconut broth with fresh veggies, and also the smashed cucumber salad. The pork dumplings also looked cunt. We can't wait to go back and try the rest of the offerings. It's a wonderful edition to Broome St. even if the cocktails aren't $4. —tom
Eat:

Put A Egg On It No.11 Launch

The independent food publication Put A Egg On It is celebrating the launch of their 11th issue with a post-Thanksgiving themed event. They are gonna have a leftover sandwich competition! That sounds like a great idea because most Thanksgiving turkeys are dry and they work much better in a sandwich. So, head over there with your dry turkey leftovers to make some delicious sandwiches. There will be prizes, so if you're competitive like us you'll have a blast. Don't bring that soft bread, it's usually so nasty and you Americans love it, I can't stand it. The condiments for the sandwich will be provided by "the ridiculously delicious" Sir Kensington — I heard their stuff tastes great, I hope that someone from Sir Kensington reads this and sends us a few things for the holidays. They'll have free beers, drinks and snacks. They encourage you to bring your relatives, but I'd say no. That's not the best way to meet someone new that you could possibly hook up with. Don't pretend that you are not looking for that post Thanksgiving dick reset! —Abi
Eat:

Miscelánea Grocery

I love a Mexican sandwich, otherwise known as a torta (she's foreign!). They're often filled with the flavors and textures that get me excited — avocado, chorizo, hearty black beans, melty thick cotija cheese and some heat. At Miscelánea they do Mexican sandwiches REALLY well. This newish grocery store on 4th street in the East Village only serves their sandwiches between the inconvenient hours of 11:30am to 4:00pm, which means Saturday and Sunday are the only days I can get one, but it's worth waiting a week for these treats. Try the Huevo con Chorizo $9 it includes scrambled eggs, Mexican chorizo, refried beans, lettuce & crema fresca. If you're looking for a vegetarian option get the Queso Oaxaca $8, and if you want to get messy order the Chilaquiles Rojos o Verdes $4.75 which is "tortilla chips soaked in your choice of red or green salsa with avocado, refried beans, cream fresca, queso fresco, red onion & cilantro." "'Miscelánea' means deli in Mexico," owner Guillaume Guevara told New York Magazine recently. This means the store is also stocked with an assortment of Mexican candies, spices, salsas and home goods. They also do Mexican coffee, which is very sweet. Stick to the sandwiches! —tom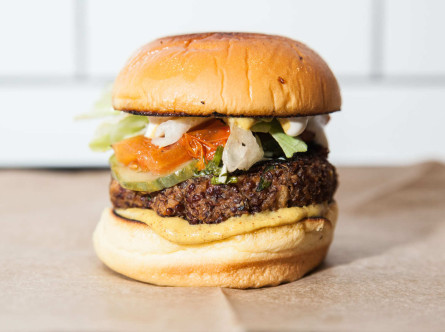 If you read the two star review the New York Times just gave this tiny East Village veggie burger shop, or its glowing review from NY Mag then it may sound like we're jumping on the bandwagon by writing it up. But before you draw such an offensive conclusion (GAYLETTER doesn't jump on bandwagons, we create? Build? Lead? them, god dammit!) The thing is, I live directly across the street from Superiority Burger, and I've become a bit of a regular — the girl at the counter even knows me by name (you knew I was cool, but not THAT cool). My VIP status has given me ample time to form an opinion about the place. So let's get started. The reaction to this place's namesake burger has been mixed. Most people seem to think it's good for a veggie burger but doesn't come close to competing with the real thing. And that is true. But that's OK.
For those of us that prefer to clog our arteries with chickpeas instead of ground beef, this is one hell of a veggie burger, and when paired with one of their amazing sides — obsessed with the swiss chard and halloumi, love the burnt broccoli salad with eggplant red chile coriander vin — it's an even more satisfying meal. Whether the place is worthy of two stars I'll let you decide. But I'm glad it's there.
Superiority Burger, 430 E 9th st. open Wednesday-Monday, 6:00-10:00pm …

Eat:

Sweetgreen + Blue Hill's "wastED" SALAD

I'm sorry guys, but I couldn't resist talking about this brand new salad just added to Sweetgreen's 'Late Summer' menu. I've never talked about Sweetgreen before, but I eat there almost every day, even our GAYLETTER boys (Chris & Jeffrey) eat Sweetgreen for lunch when they are working with us. This is not a paid ad, we are not getting free lunch for this mention, we just think it's worth recommending. So this salad comes from their latest partnership with the "farm-to-table pioneer" Blue Hill Market. On my last trip to Sweetgreen (NoMad location) I bought the salad based on the ingredients: "broccoli leaf, romaine heart, carrot ribbon + arugula mix, roasted kale stems + broccoli stalks (roasted with anchovy oil), shaved parmesan, spicy sunflower seeds, homemade croutons, pesto vinaigrette." It was 490 calories of deliciousness. Also, while I was eating the salad I did some research about Blue Hill and it sounds ridiculously cunty. Just to give you an idea of what I'm talking about here are some quotes from their site: "Cellular telephones and flash photography are not permitted in our main dining rooms." and "Blue Hill is not a restaurant. It's an epic, ten years in the making." Some of you are probably rolling your eyes. But I appreciate how serious they are about this. My last quote from BH's chef, Dan Barber: "If we can utilize some of this 'waste,' we can feed a lot more people — it's the right thing to do, and it can be really delicious." They care about the environment and quality food, so sweet. Enjoy your salad. —Abi
$8.60, Go to Sweetgreen.com for hours and locations in NYC.
Drink:

Tijuana Picnic

Mexican food is one cuisine I never get sick of, which is great because this city never runs out of new Mexican restaurants. One we'd like to recommend this week is Tijuana Picnic. We had the pleasure of dining there last weekend and are ready for more. The menu works best for group dining, while there are bigger plates, there's a lot more small plates. Our favorite of theses were the delicate fluke and snapper ceviches, the duck empanadas and the Korean inspired short rib skewers. You must also try the guacamole... obvs. The drinks are also on point. We recommend you try the tequila flights. You get 3 kinds of tequila grouped by region. Upstairs is the place to eat and downstairs is the place to party. On the weekends a DJ spins tracks while people mingle around the large downstairs bar. Two rather cute, and super curious straight boys stopped by our table to get to know us. They couldn't get enough of us, and we even joined them downstairs for a drink after dinner. I only mention this to illustrate the fact that Tijuana Picnic is designed to encourage interaction (there's one seriously long table in the middle of the main dining room) which is wonderful if you're horny, or just feeling friendly ;) —tom

There's some places that I love so much I want to keep them a secret. El Rey on Stanton St. is one of those. It's hands down my favorite place for breakfast. The thing is, it's really small and already over-crowded, so just promise me this: go, but don't tell anyone else about it. Sound good? The food at El Rey is vegetarian, but that's not something you'll notice right away. Chef Gerardo Gonzalez, who was raised in San Diego, is a fan of bold flavors (lots of sumac and Aleppo pepper), he's also one creative mother fucker. I have never had a grain salad — grain salad! — as sumptuous as the one on his menu. I've also never had a falafel dish so good I didn't even notice it has no actual falafel in it — it's a deconstruction with the "evanescence of falafel" — it's hard to explain, but it all makes sense when you get it in your mouth. Another thing they do well here is coffee — it's of the highest quality and made right. They even have a "flat white" which for an Australian like me, is a reassuring thing to see. Head to El Rey late in the afternoon, or at night (they just started serving dinner) if you want to avoid the crowds. If anyone asks you where you are going, keep your fucking mouth shut. If I see you there with a whole posse I'm going to spill my flat white all over your Patrik Ervell sweater. Don't ruin this for me!. —tom
Eat:

Ivan Ramen

This cold fucking weather is making us want to do only one thing — eat ramen! The soupy, salty Japanese noodle dish is best enjoyed at Ivan Ramen on Clinton Street. Run by Ivan Orkin, a Long Islander obsessed with the dish — so much so that he ran a ramen shop in Tokyo for the last 10 years —Ivan's specialty is Tokyo shio style ramen. We visited the shop on Clinton street for Abi's birthday and had a wonderful time. There's plenty of debate in this city about where to find the best ramen, and while we haven't eaten at every ramen shop, we've certainly tried plenty of those considered the best, and Ivan Ramen beats them all. They also serve plenty of equally exciting appetizers to go along with your noodles. There's delicious pork meatballs, deep-fried chicken hearts with ponzu honey-mustard sauce and 1000 year-old deviled eggs. Book in advance, or better yet, go for lunch, that way you'll be guaranteed a seat. Start slurping sissies! —tom
Eat:

12th Annual Big Apple Barbecue Block Party

Get yourself a hot beef injection (sorry, I had to) this Saturday, June 7th and Sunday, June 8th is the 12th Annual Big Apple Block Party. America's best pit masters will converge on Madison Square Park for this annual event that will leave no man (or woman) hungry. There's going to be live music, seminars, giveaways, all sorts of crap, but it's really all about the meat. And boy oh boy is there going to be plenty of that. Whole roasted pigs, sausages in all shapes and sizes, mouth watering steak. You may be in need of a long nap and a couple of bottles of Pepto-Bismol afterwards, so pace yourself. This year's star pitmasters include "Dinosaur Bar-B-Que's John Stage, Chris Lilly from Big Bob Gibson Bar-B-Q in Decatur, Alabama" and many more. Entry to the event is free and all plates are $9. Nom, nom, nom nom nom nom. —tom
The Food + Growing + Music event featured a performance by Bennett Konesni & Edith Gawler — an interactive installation from artist Leah Gauthier, chef-artist Anne Apparu, plus the Quinciple co-founder Kate Galassi.