Give your guests something to remember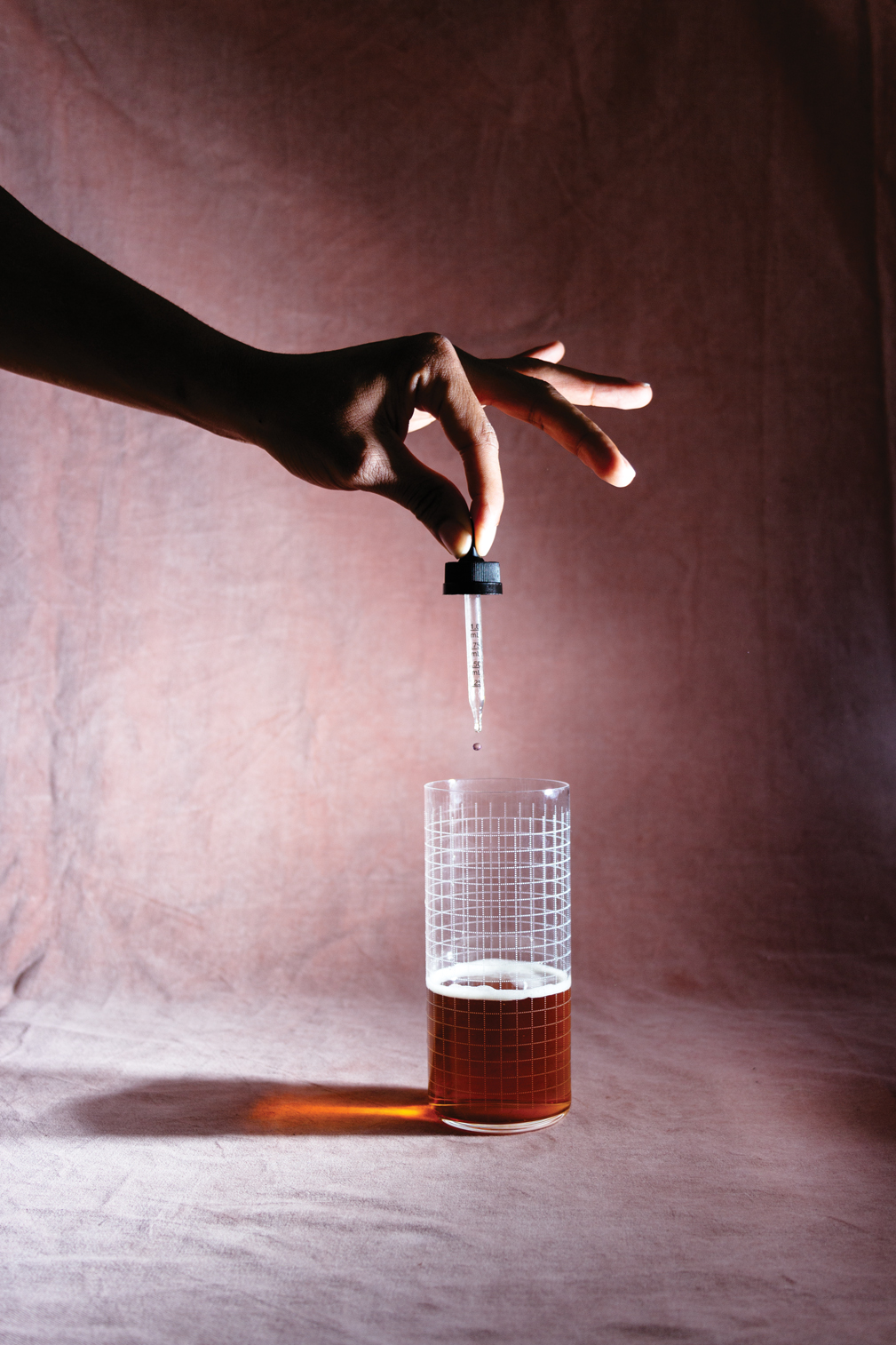 A very intimate cocktail hour hosted by the founders and friends. Visit www.drinksupergay.com
With performances by Milk, West Dakota and Jiggly Caliente at No Bar at The Standard hotel, East Village
A bottle of beer arrived to the office, so we had to taste it.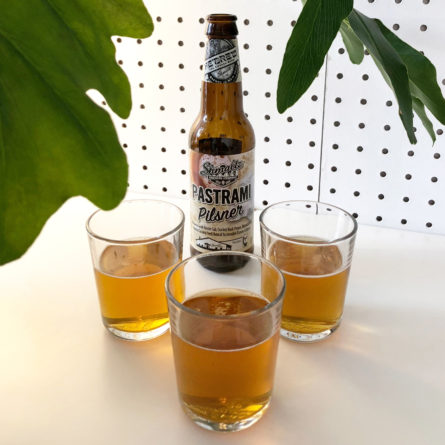 Rare will you find our office working without a fully stocked bar. There is always the occasional beer floating around if you're feeling on edge, and we've got plenty of half-empty bottles just dying to be mixed.
When we get emails about alcohol, we always open and read. If it's new, we always ask to try it, since at the office we work better under the influence. After all, this is a creative environment!
On a relatively slow Friday at the office, three of us took to sampling the latest beverage that delivered to our mailbox.
QUEEN A
The Shmaltz Brewing Company Pastrami Pilsner's label is a little busy. I see that they're trying to get the point across to let you know that they're an artisanal brew, which I think it's fine because beer design bottles are lately more extra. I smelled Pastrami at first, then it went away. An iceberg-lettuce taste came through, and that gave it a touch of freshness. As I'm drinking, it's growing on me. I can see myself on a rooftop drinking this beer; she's starting to taste like a meal: a cheap deli-meat sandwich made with a bit of mustard. She's 5.5% Alc — I am not mad at that. I'll be right back… So, I walked away for a minute, had a puff-puff-pass with Queen B to see how it mixes with it. (Let's be honest, if I am considering this beer for my next Spring/Summer, I need to picture myself in the proper situation.) …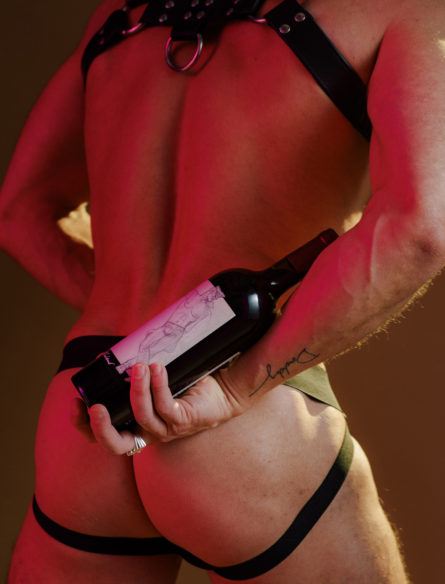 The Tom of Finland Foundation was created in the mid 1980s by its namesake artist Tom of Finland — aka Touko Laaksonen (1920-91) — and his friend Durk Dehner, who we interviewed for GAYLETTER Issue 6. Their goal in founding the foundation was to promote universal human rights and sexual expression. Today, the foundation still accomplishes that, with Tom of Finland now an international brand in and of itself.
It should come as no surprise that at GAYLETTER, we appreciate a drink now and then. Red wine has been the fashionable beverage of choice while we've been wrapping up Issue 8. (We have been calling wine at the office —  'a working wine'). So when Tom of Finland sent us a bottle of their "OUTstanding Red," we gagged twice. First, we gagged for the fact that she exists. Then we gagged for the flavor and quality of the wine herself.
An artful 2015 California blend of Zinfandel, Merlot, Cabernet Sauvignon, and Petite Sirah, this wine is delicious. She's smooth and finds just the right balance between sweet and dry. I'm definitely more of a white wine queen, but I was genuinely into this red. She's also cellared and bottled by Tom of Finland and a portion of the wine's proceeds go back to benefit the Tom of Finland Foundation and its mission.
You can buy a bottle of this gorgeous red here.
Enjoying a bottle of TOF red at our office… Photographed by Connor Atkins. …

Drink:

Fall Cognac Crawl New York

I don't know a lot about cognac, but I do know that it's liquor, which is pretty good place to start with me. I have yet to meet an alcoholic drink I don't like, well besides port, but that's only because I had a bad experience as a 15-year-old getting drunk, home alone on the stuff. I spent the evening watching Bill Hicks' stand up, then I tried to write my own jokes, I thought they were hilarious, but then I was wasted on port. I ended night by vomiting, and was sick for the next 24 hours.... Back to cognac. This Thursday, October 12,  is your chance to get to know cognac, "the spirit that started it all." For $50 you'll get one cocktail at each location, along with a custom tote bag and information on how Cognac came to be the backbone of the classics." The bars you'll visit are "Amor y Amargo, Boilermaker NYC, Mace, Nitecap, and Pouring Ribbons." I can attest that Mace is a great East Village bar, so you'll be in good hands there. It's getting to that time of year where a nice strong drink is exactly what we all need. But who am I kidding, a nice strong drink is needed all year round, especially in these dark times. So drink up, and learn something. It's OK to get sloshed when it's educational. Right? —Thomas
$50, 5:00pm, Amor y Amargo, Boilermaker NYC, Mace, Nitecap, and Pouring Ribbons,
New York, NY
.
Total eclipse of the bar!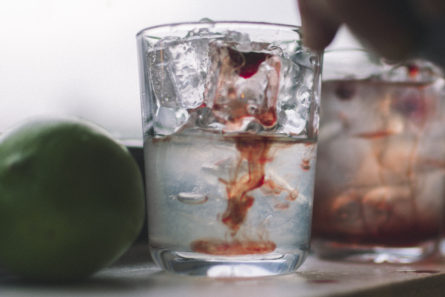 If you haven't heard yet, this coming Monday marks a total solar eclipse: the moon will pass directly in front of the sun, putting anyone in the path of totality in the dark (yes, during the day, it's groundbreaking). I don't know a lot about the stars and space, but I do know that I'm a Leo and that I love a drink — especially if it involves tequila.
To help us celebrate this very special celestial occasion, Jose Cuervo sent over a recipe we thought sounded too delicious, and, with only four ingredients, too easy not to try.
The recipe for "Dark Side of the Sun" is as follows:
2 oz. Jose Cuervo Especial
¾ oz. lime juice
¾ oz. 1:1 simple syrup
½ oz. Crème de Cassis
We substituted agave nectar for the simple syrup because we aren't simple, and we recommend Lejay Crème de Cassis for your black currant liqueur needs. (It's only $16!)
Shake tequila, lime, and sweetening syrup and pour into a rocks glass over ice. Top ice with Crème de Cassis and garnish with mint if you actually remember to buy it on your Whole Foods run and a lime wedge because duh.
My favorite part of this cocktail is that you can make your own twist on it and still be (kinda) sure it'll taste good. The color of our masterpieces turned out on the light ombre pink side, ultimately very gay for our very gay office. …

Drink:

Rosé on the Roof

You know it's summer when people start sipping rosé. Personally I don't do seasons. I'll wear Spring/Summer in Fall/Winter and vice versa, I'll drink rosé in December in the snow. But I'm a rebel like that. Most people reserve this light pink drink for the warmer months. rosé is made when grape juice is exposed to grape skins for a couple of days. Any longer and you get red wine. Rosé is a lighter tasting wine than red, yet in some respects it's more complex than white wine. This Thursday on the roof of Eataly in the Flatiron District (if you haven't been up there you must, the views, the views!) they are hosting a rosé party. There's going to be more than 30 featured rosé wines, plus "an opportunity to meet the producers of everyone's favorite pink drink, the best summer beats with a live DJ, and beachy southern-Italian inspired bites." I know this sounds like a really Caucasian, Waspy event, and in all likelihood it will be, but Eataly comes correct with their food and wine, so I expect this tasting to be cunt. Plus, did I mention the views. They're very pretty. —tom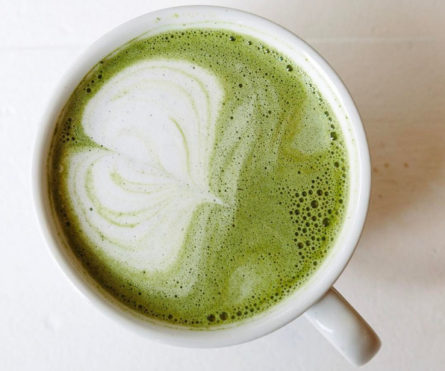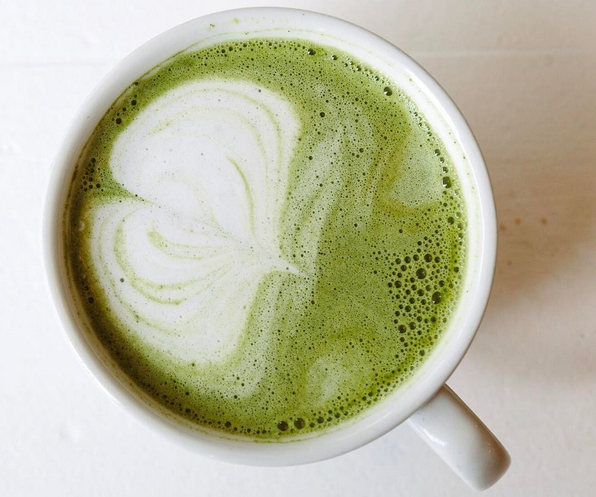 You may have heard that matcha is currently all the rage. I'm not sure how on board I am, but it's very much in fashion. The way these food trends start are so foreign to me. My assumption is that Facebook or Tasty must have played some role in launching the current craze over this southeast Asian specialty. "Matcha madness has officially taken over – it's being experimented with in a variety of delicious culinary applications across the five boroughs and beyond." When I first tried matcha, I was 16 and with my very best friend whose Indian household had, and still does have, the sickest tea collection. She whipped us up some lattés (under her mom's supervision) and we were lit. This was the cusp of Instagram's popularity and we all had DSLR cameras, so we were hyped to be taking really poorly composed photos of this aesthetically pleasing cup of green.
Now you can get it at your local pour-over coffee shop and they'll make sure one of those stylish leaves are milked into it. Ah, sweet commodification. Ceci Cela, which is around the corner from the GAYLETTER office, does a frozen version that will turn you out when you're hungover or just bored. This is about as far as I've ventured into "matcha madness." If you're unfamiliar with the drink or just looking to jump on the band-wagon, Baba Cool is hosting an event that will incorporate a traditional matcha ceremony (not sure what this entails to be honest) with what they call the "modern Brooklyn influences (read: hip hop dancers and other local flourishes)." …

Drink:

Frozen Negronis

Let's be real, let's be realer than real, let's be the realest of the real — spending time with your family can be fucking exhausting. Don't get me wrong, at times it can be fun, but 4 days of sitting around eating and being grilled about your life choices can take a toll. Which is why we suggest you get slushed, on alcoholic slushies! The frozen negroni to the rescue! Family time turns into fun time when everyone's wasted. Yasss granny, dance like it's the 40's! Yasss mommy, read our extended family! Yasss Daddy, spill all the secrets about when you and Mom were young and used to be slutty! Here's the recipe: "Combine 4.5 ounces of gin, 2.5 ounces of Campari, and 2.5 ounces of sweet vermouth in an airtight container. Place in freezer and freeze for at least 8 hours and up to 3 days. When ready to serve, add chilled alcohol and ice to blender. Blend on high speed until uniform and smooth, about 30 seconds. Pour into rocks glasses or small wine glass. Garnish with an orange slice and serve immediately." Happy Drunksgiving! —tom
Have fun, love Gayletter

I was having a real shit day yesterday. I was in a terrible mood, riding my bike through the hellish midtown traffic pissed off at anyone and everything around me. I made it all the way to 15th street when I got stopped by a cop and was given a ticket for going through a red light (I was actually dismounting my bike as I crossed the street to the sidewalk, but the officer wasn't having it.) $25 later I was rolling down 10th street between 1st and Ave A in an even worse mood when I passed a new shop with the stupid name of 'Kavasutra.' I stopped to check it out. I was told that they serve drinks made from the root of the Kava plant. This dreaded hippie with bleary eyes told me that "Polynesians drink it during ceremonies, but we drink it to reduce stress." Considering my current mood, I figured anything could help. I ordered two shots at the happy hour price of $6 (normally $12) and went home to drink it in front of the TV. 30 minutes later I was chill as fuck — I felt like I'd popped a couple Xanax, except my head felt clear, not foggy like can happen with most sedatives. I started researching this wonderful root and discovered that there is indeed a lot of science to back up the claims made by Kava fanatics. The active ingredients of the root inhibits certain receptors while elevating the release of dopamine. All I know is it worked! —tom
Drink:

Tijuana Picnic

Mexican food is one cuisine I never get sick of, which is great because this city never runs out of new Mexican restaurants. One we'd like to recommend this week is Tijuana Picnic. We had the pleasure of dining there last weekend and are ready for more. The menu works best for group dining, while there are bigger plates, there's a lot more small plates. Our favorite of theses were the delicate fluke and snapper ceviches, the duck empanadas and the Korean inspired short rib skewers. You must also try the guacamole... obvs. The drinks are also on point. We recommend you try the tequila flights. You get 3 kinds of tequila grouped by region. Upstairs is the place to eat and downstairs is the place to party. On the weekends a DJ spins tracks while people mingle around the large downstairs bar. Two rather cute, and super curious straight boys stopped by our table to get to know us. They couldn't get enough of us, and we even joined them downstairs for a drink after dinner. I only mention this to illustrate the fact that Tijuana Picnic is designed to encourage interaction (there's one seriously long table in the middle of the main dining room) which is wonderful if you're horny, or just feeling friendly ;) —tom