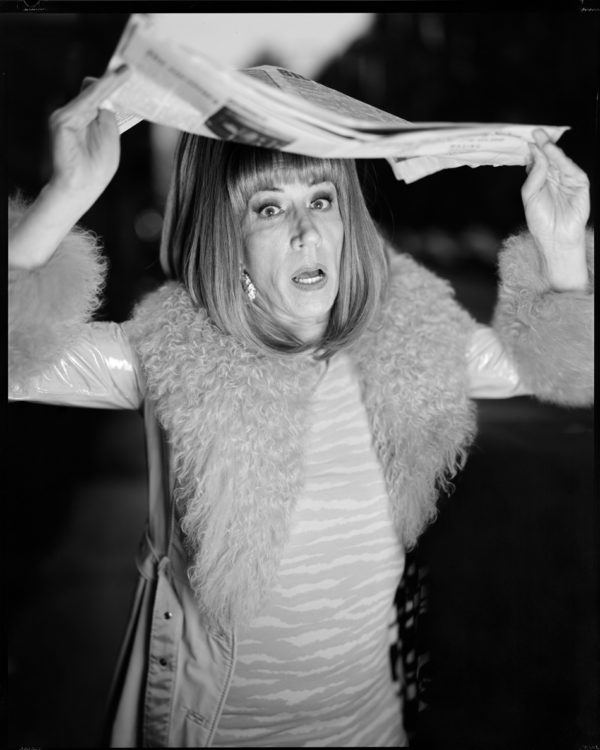 PORTRAITS BY IAN LEWANDOWSKI | STYLING BY GABRIEL HELD
LINDA SIMPSON
Linda Simpson is one of those New Yorkers who makes you remember why you love New York. The downtown drag queen has seen it all, and documented a good chunk of it with her camera. The list of people she's photographed, and befriended, is long and illustrious. Having moved to the city back in the early '80s from Minnesota to study at NYU, Linda quickly became a part of the downtown scene hosting parties and publishing a street zine called My Comrade. Linda was there when RuPaul, Lady Bunny, and Leigh Bowery were making names for themselves in local East Village bars like the Pyramid Club. She got to know Joey Arias, Tabboo!, and Justin Vivian Bond.
This year she released her coffee table book The Drag Explosion, which features candid photos of those I just mentioned, plus many others. The book is a love letter to her community and to New York. Early one April evening we sat down with Linda to discuss the book, her life and her first impressions of some of the people that make this city so special.
We love the book, it's so fun to look through. So much queer New York history and so many interesting people. How did you end up in New York City? I grew up in Minnesota. I originally came to New York for school. I went to NYU for about a year and a half. I actually dropped out and then moved away for a while, but then I came back and went to FIT. School was just the excuse to get here. I knew from a very young age that I wanted to live in New York City and I devoured any magazine article, TV show, or movie that was about New York. I learned about avant-garde or gay New York through magazines, some of the music magazines were quite good back then, there was Rock Scene and Creem, which focused on the alternative music scenes. And then there was Interview and After Dark, which you've probably heard of. Village Voice, which I had to go to a nearby college library to see, because I don't think it was available for sale anywhere in Minnesota. You know what was a big influence too? Mad Magazine, because it had a New York sensibility and a kind of Jewish humor that I thought was very exotic living in Minnesota.
When did you start doing drag? I did drag a few times for Halloween when I was in my twenties, I guess, I really started getting into drag more as a concerted effort in the late eighties. I published an underground magazine myself called My Comrade. So we were having release parties for that and eventually I started dressing up in drag for those parties. And then after that I started dressing up in drag more for going out to clubs.
When you first started doing drag did you find that your personality changed or something came out of you that wasn't there before? Yeah. It just allowed me more room for expression. This has been a common story where, a sort of a shy, retiring gay boy, which I was in some ways, all of a sudden finds it very liberating to put on a wig and dress and be flamboyant maybe, or, sexy, loud, you know what I mean, the hit of the party.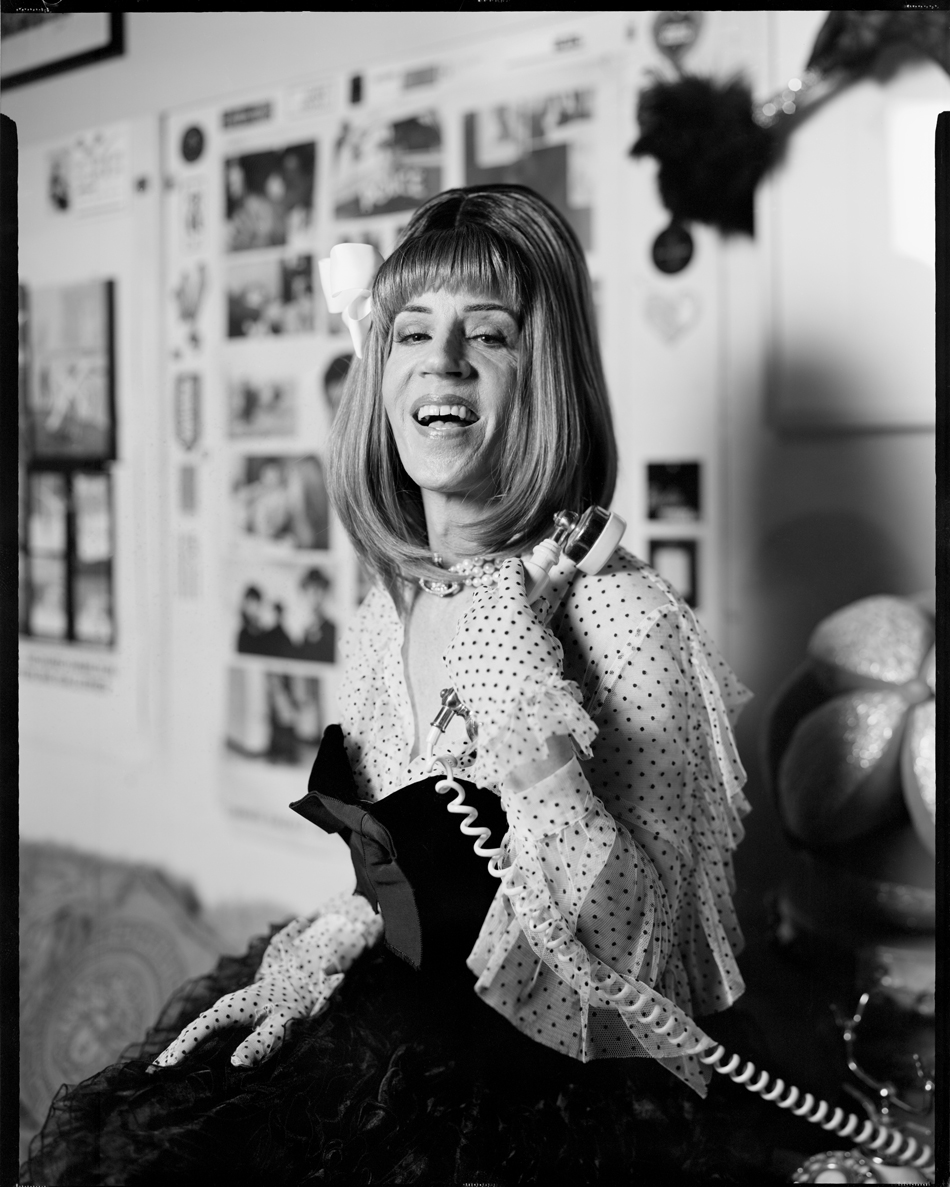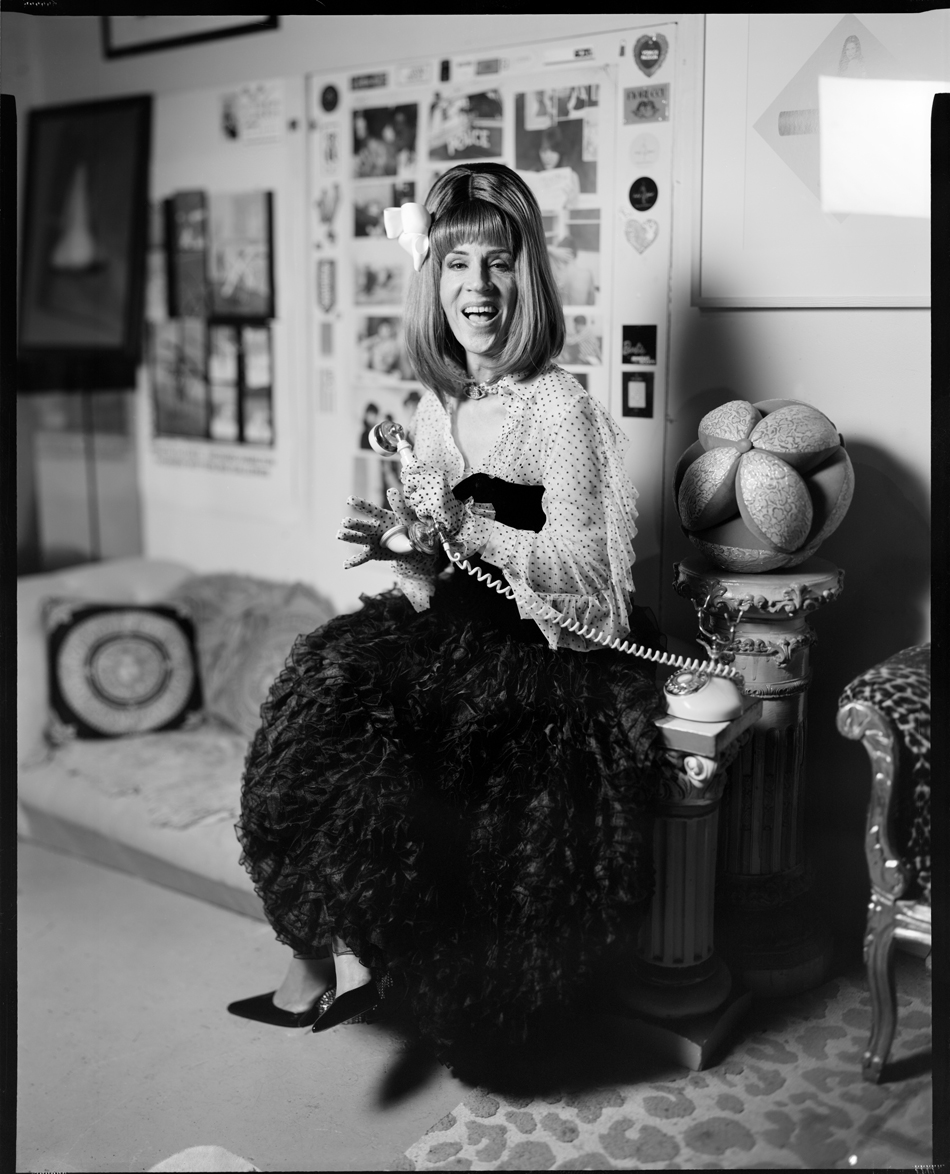 Linda wears a Dress by Nina Ricci, blouse by House of Holland, necklace by Vivienne Westwood, shoes by Area.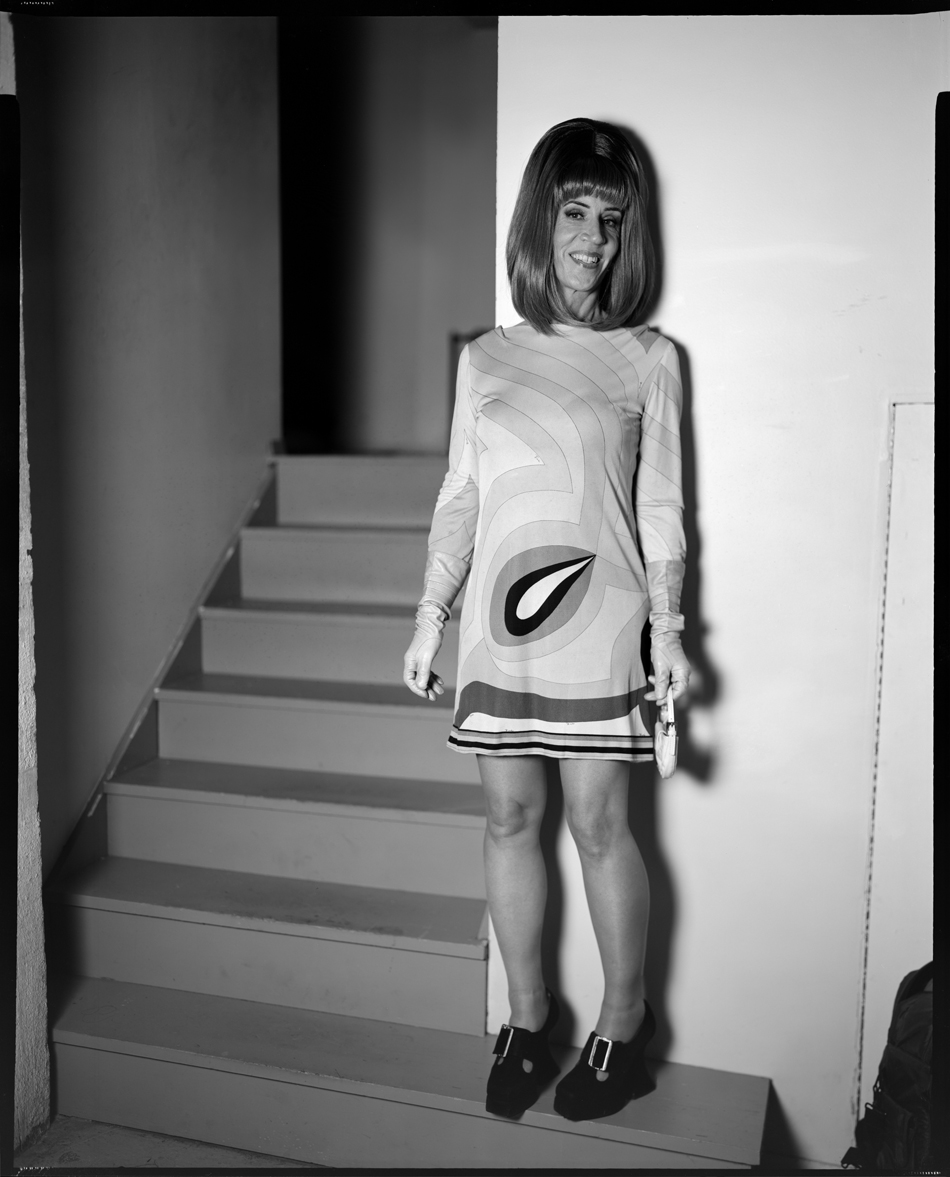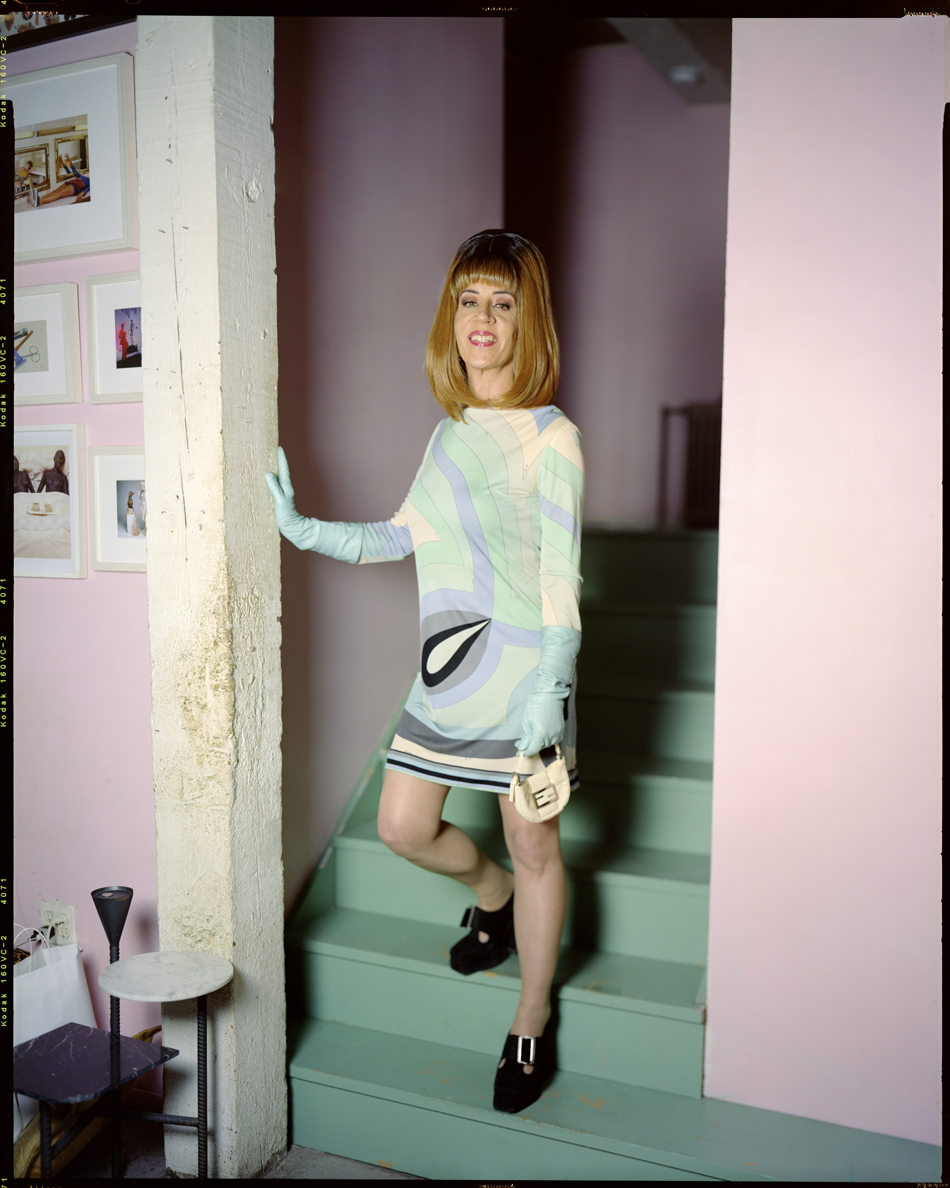 Linda wears dress by Pucci, necklace by Courrèges, purse by Fendi, vintage gloves, shoes by John Fleuvog.
What was it like in New York City in the late eighties before the drag explosion of their early nineties? How were you received by the residents? Well, it depends on where you were. In general, drag was not very popular. This included the gay scene. The gay scene was more about macho energy at that time, and really very rare to find drag shows, except if it was sort of an old-fashioned haunt. Drag was considered kind of square. So that's why I was really entranced by the East Village scene where drag was being reinvented and it was very fun and campy and youthful and silly. It wasn't just about straight-on female impersonation. But if you went out in drag, you did have to watch your back. It was a dangerous time in New York City. It was a dangerous era, but you had to kind of be careful because a lot of straight people reacted poorly. I think they were disturbed by it. They started saying you were perverted or wrong. And you'd think they might've been much more welcoming in the gay bars and clubs, but there were still a lot of people that just didn't get it or didn't appreciate it.
Did you have any dangerous encounters when you were in drag? Yes. There was one in particular where I was with some people at the Pyramid Club go-go dancing — can you imagine — and we were all going back to my house. It was a warm summer night, and we were attacked by — I don't even know what you call them — gutter punks or something, just kind of like down-and-out. They were probably high. I was pushed to the ground and could have hurt myself a lot more, but the situation, thank god, didn't go further violently, but it could have. These kids had sticks and garbage cans. They were ready to beat our asses. One of the people who I was with was a really big guy, the designer David Dalrymple… David was strong looking, and I think he intimidated them a lot. Plus, we were yelling. Well, I was yelling and screaming at that point. I think that showed we weren't going to back down easily, but in reality I was scared to death.
Did you have to learn how to defend yourself? Yeah. It taught me that I was being a little foolhardy walking the streets in drag even though I was with other people. I remember relating this incident to the drag queen Tabboo! afterwards, and she said something funny, like, "Honey, a queen never walks, we take limousines." It's not like I haven't walked stretches of New York streets since then in drag, but I am conscious of my surroundings and that's why I don't really like taking the subway in drag. It just takes one kook, you know what I mean, and all of a sudden you're in a bad situation.
How do you feel now in 2021 walking in drag? Like I said, I'm always a little bit conscious of my surroundings, but New York is a much safer place now in general and people are certainly desensitized to drag, so it's not as freakish as it once was. I feel calm, cool, and collected walking down the streets.
So let's talk about some of the people in the book, I'll say a name and you tell me the first thing that comes to mind. Tabboo!. Well, Tabboo! and I met around 1986, I think. I was intrigued by the East Village scene, but really didn't know much about it. Things were so much different then, you had to really explore. You had to really travel somewhere. You had to get to know people to understand a scene. You couldn't just go on the Internet and get all the info. In '86 I joined the Heritage of Pride, which was the group that puts on the gay pride parade in New York City. I really wanted to jazz it up. Gay life back then was very lugubrious, kind of unimaginative. I needed help to create a float and someone suggested Tabboo!, whose real name is Stephen Tashjian. I managed to convince him to put together this float. He decorated it, he got people from the Pyramid to ride on it, and then we became friends. Eventually along the way I started doing drag and Tabboo! even gave me my drag name.
Tabboo! gave you your drag name? Yeah, she did. I was searching for a name and most of the Queens I knew back then had really outlandish names like Lady Bunny, Happy Face, Sister Dimension, Tabboo!. He suggested why not just go for realness? Why not Linda? My real last name is Simpson. So Linda Simpson made sense and it distinguished me in many ways too.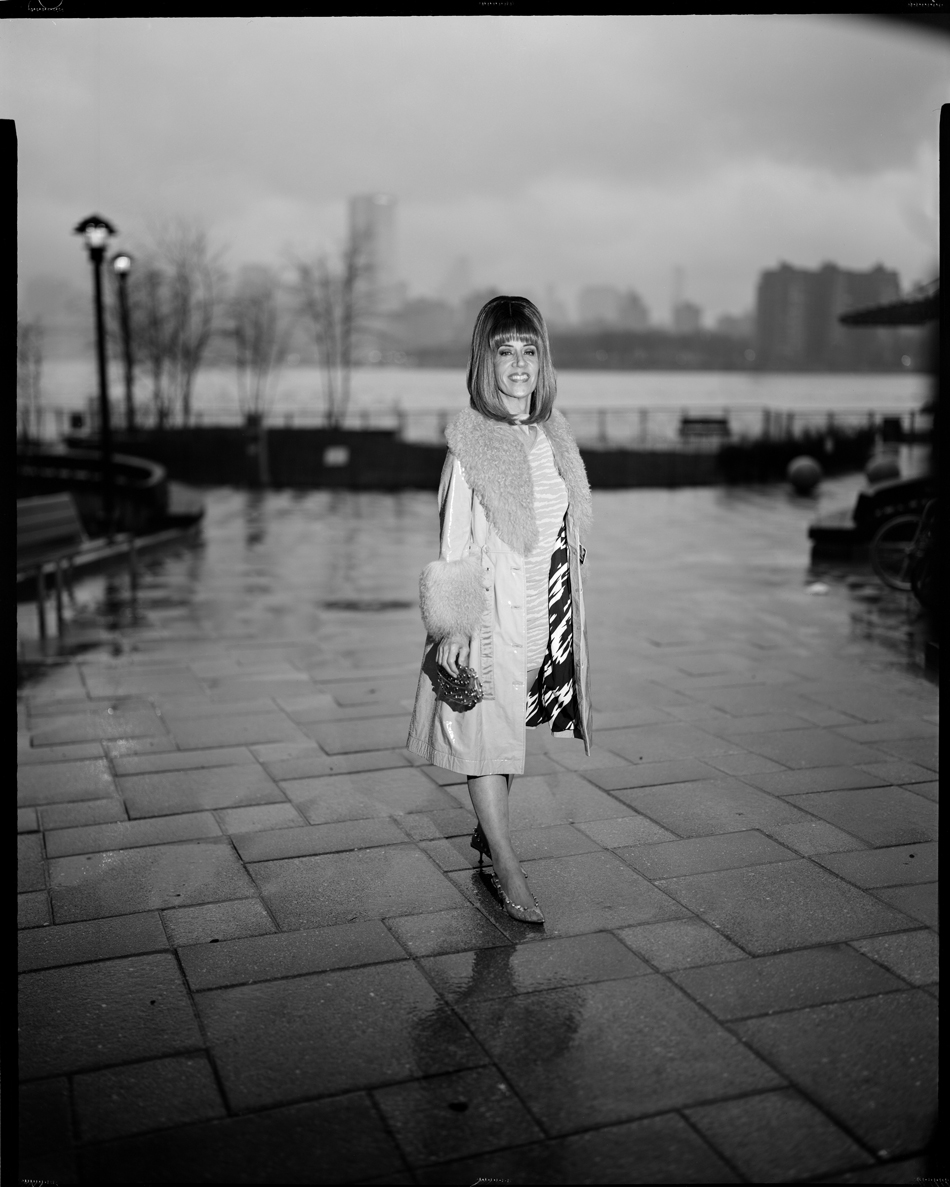 Linda Simpson in Williamsburg, Brooklyn. April 2021.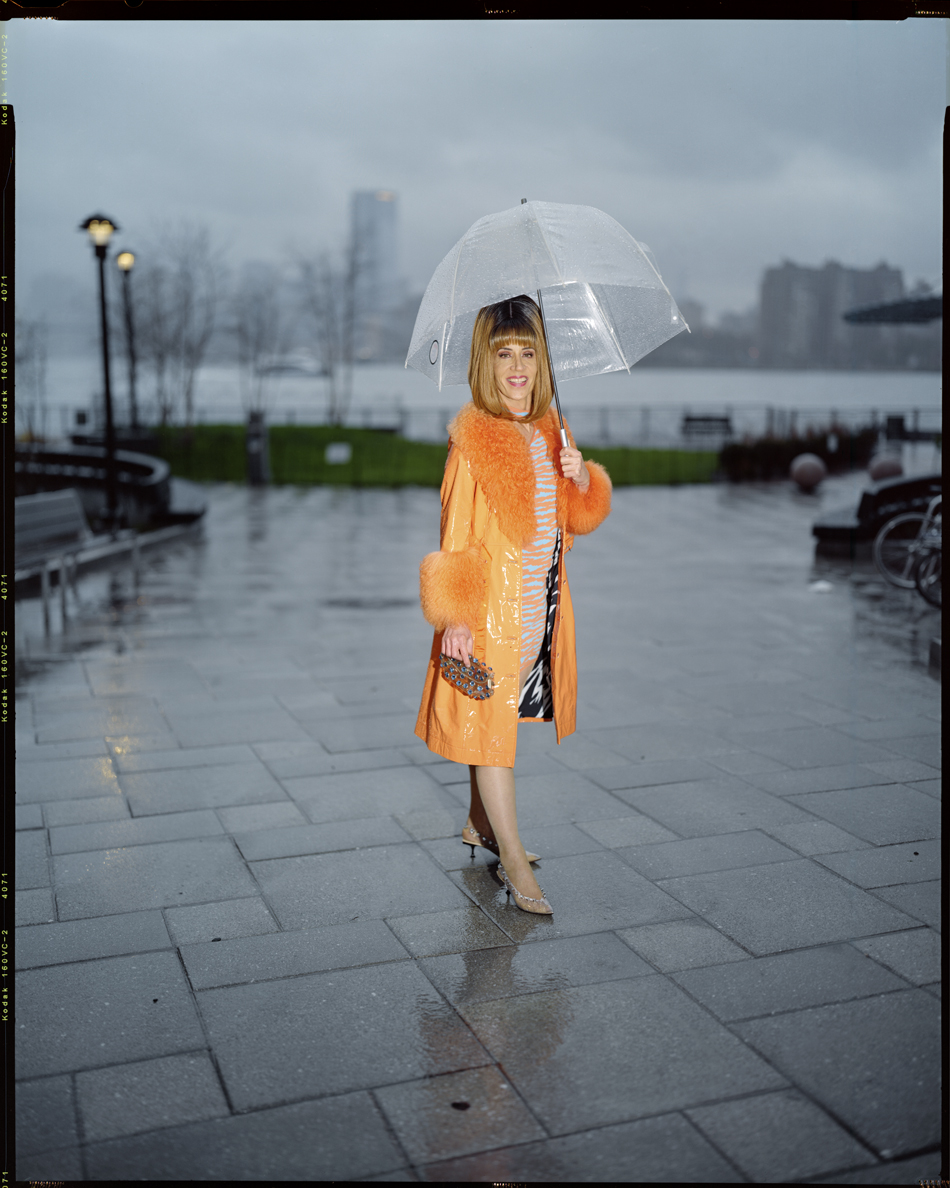 Linda wears coat by Saks Fifth Avenue, dress by Jeremy Scott, bag by Sonia Rykiel, shoes by Sergio Rossi.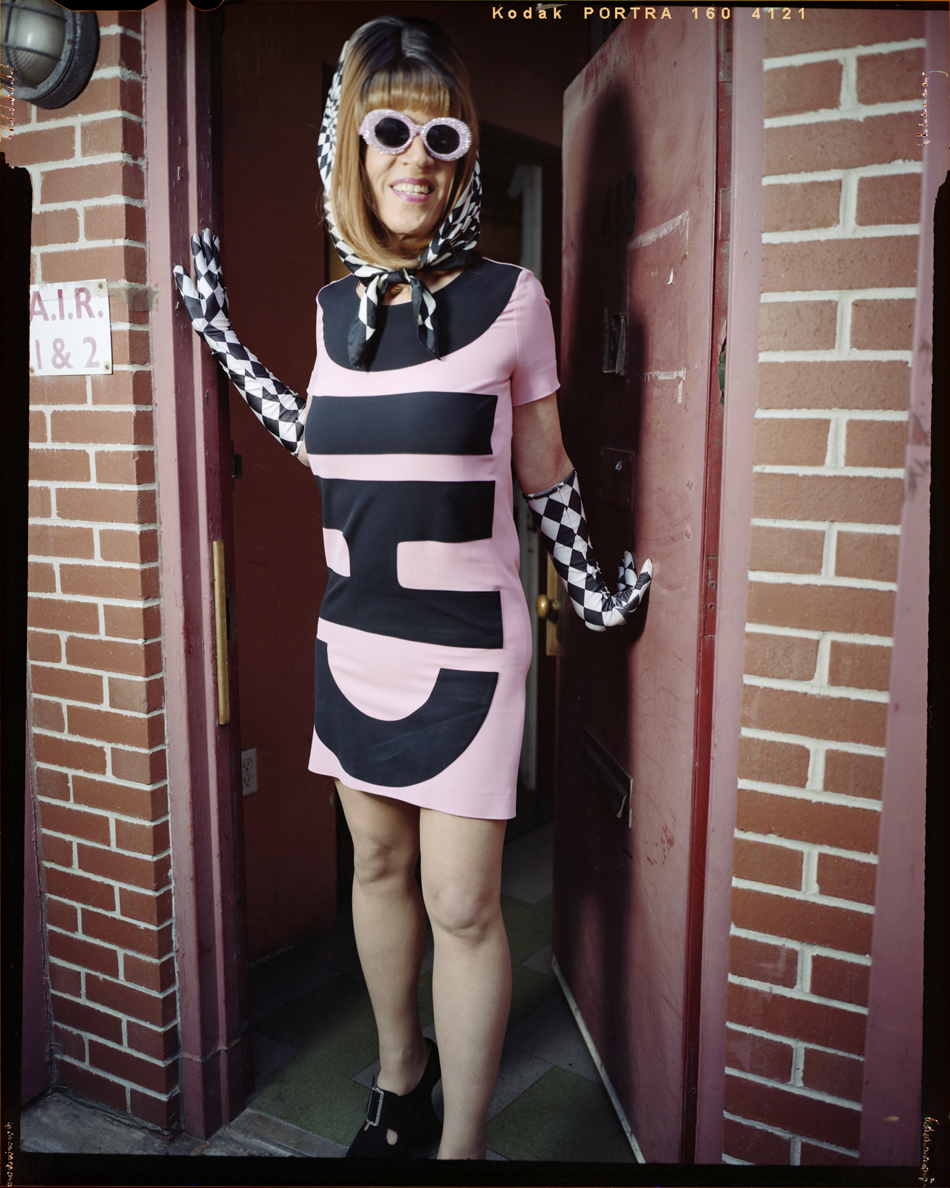 Linda wears dress by Moschino, glasses by A-Morir, shoes by John Fluevog, vintage scarf & gloves.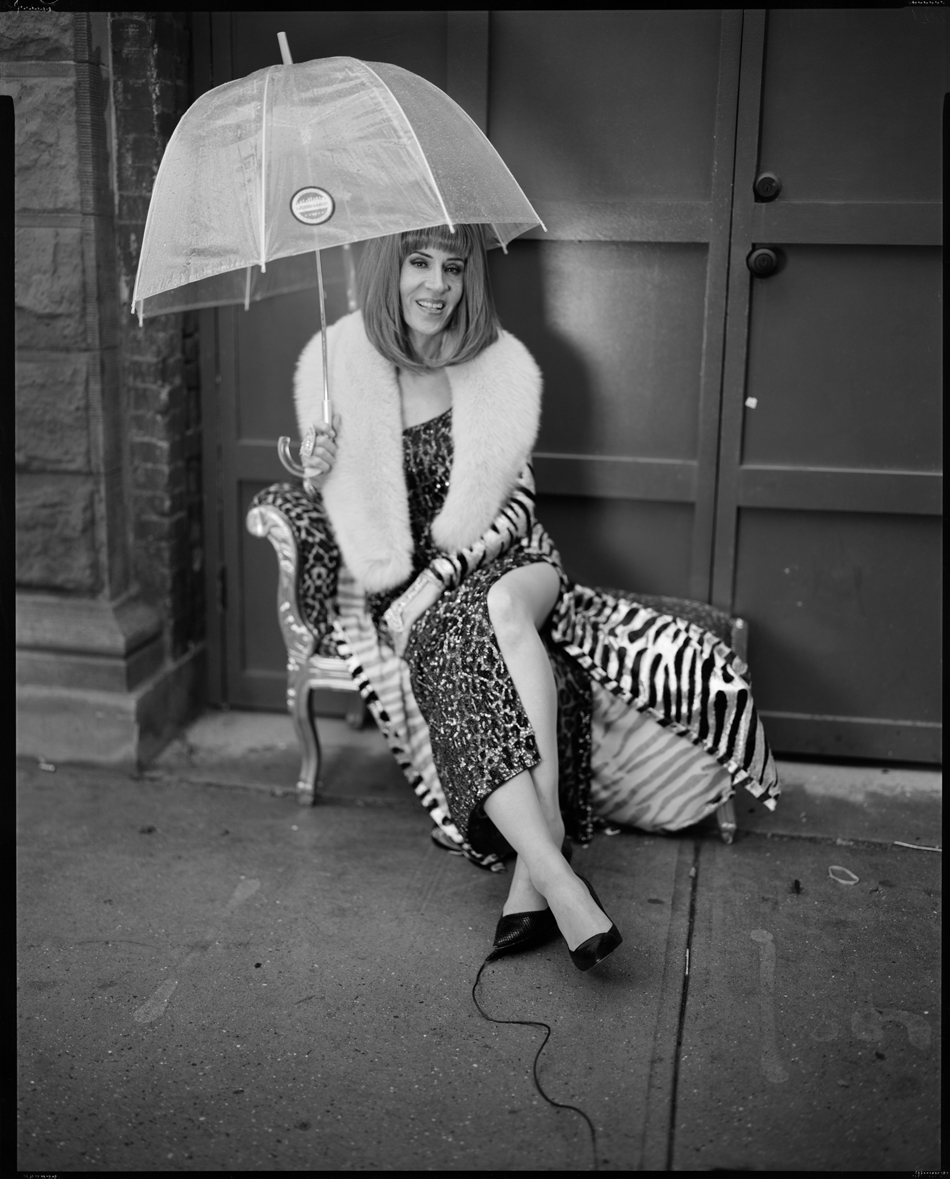 Linda wears dress by Todd Oldham, duster Paco Rabanne, stole Saga Furs. Hair by Chiquitita. All clothing courtesy of Gabriel Held Vintage.
Your party "Channel 69." That was my real first foray into hosting and working at clubs. I'd been guest starring a little bit in the East Village, and I'd thrown these parties for My Comrade, but this was the first time I was doing a regular weekly. It seemed logical to throw a party at the Pyramid. The Pyramid at that time, however, was in decline after having been the real center of kooky drag in the '80s, the old crowd had moved on. New management had come in, but nonetheless me and DJ Dany Johnson decided we should give it a go. And so we started a Wednesday night party that was successful. We didn't make a fortune off it or anything, but it was an artistic success and a great opportunity for me to kind of like prove myself as a producer and a hostess. I was still learning how to do drag, putting on eyelashes and a wig.
Lady Bunny. My first impression of Bunny was as an audience member and, you know, she's a hysterical performer, on stage really funny and energetic and she go-go danced on the Pyramid bar too. Bunny is a white girl with soul. She was a really fascinating dancer in that regard. I was always entertained by her. I think the first time I had a real conversation with her was Halloween. They had created a haunted house down in the Pyramid basement and Bunny was part of it. I remember she was wearing a bunny mask, and I was having a conversation with her at the bar. And then we sort of became friends.
RuPaul Charles. By the time I met RuPaul, Ru had already lived in New York City for a while and then come back for her second try. I met Ru at Tabboo!'s house, and I remember we smoked a joint, and then we went over to the Pyramid. Ru and I were part of the same group, which included Lady Bunny, Lahoma Van Zandt, and David Dalrymple. I didn't hang out with Ru like one-on-one much, but we were in small groups often and she was at my house, I was at hers. Ru was fun, always very entertaining. I wasn't the loudest girl in the room, we left that to Bunny, but she was always a strong presence. Ru was majestic also, cause she was so tall and very pretty. She really did have a star quality.
And seeing how far she's taken the world of drag. It's really interesting too because it's her second act. She already was famous in '92 or whatever when she became a pop singer and really was a very popular household name. But eventually after several years of being hot, her career faded and she went on a big hiatus. There's not a lot of people who are able to revive their careers and especially become much more popular than they were before. So really it is a phenomenon.
Justin Vivian Bond. Justin, I don't remember when I met Justin exactly, but she was coming from San Francisco, and she had her Kiki and Herb act that she wowed everybody with first. I remember seeing some of those early renditions at Flamingo East and other places. That was part of the fun about the scene too, there would always be sort of a new queen who would enter the fray and kind of infuse new energy. It was the same thing with Varla Jean Merman coming from New Orleans. Justin came and then Jackie Beat eventually came from L.A. It kept giving the scene fresh blood and new energy.
Susanne Bartsch. I certainly went to a lot of Susanne's parties. I feel kind of guilty, like I barely have any photos from Susanne's parties. I've got a couple of Susanne herself, but they're not extraordinary photographs. I'll certainly bow down to Susanne too, her most memorable party, at least for me, and I think for many people, was when she was doing monthly parties at the old Copacabana on 60th Street, it was very camp in its decor with lots of palm trees and full length mirrors. It was a fantastic space. She hired drag queens to be go-go dancers, RuPaul was one of the hosts, and Kenny Kenny was the door person. It was kind of a gimmick, it was kind of a drag staff, but it really worked. Susanne would have people coming in from Europe along with voguers, so it was really a mix, and she was one of the first people to use queens from outside of the East Village clubs.
Leigh Bowery. Leigh was fun. I mean, Leigh would come over from London and it was always a big deal when he came. Everybody knew where he was because he would club hop. Leigh was like a banshee, running in and running out, dressed incredibly in eye-catching costumes. I was surprised when I met Leigh. This is a very flattering moment for me, because Leigh knew who I was. I was a drag queen with a bit of repute, but I wasn't famous like Leigh was. Leigh kept close tabs on the New York scene. He knew the players. When I met him the second time out of drag, he was kind of shy, kind of retiring a little. So that was interesting also. His looks were so over the top that of course it would be hard to be that wild, 24/7. You'd be exhausted.
Michael Alig. Michael hired me a few times. I didn't know him well, but we knew who each other were, of course. I think he respected me which was good because Michael was infamous for spitting in people's drinks. Michael was a brat. After Michael went to prison, I was working at Time Out Magazine for a while and I interviewed him. I also sent him some copies of the magazine. So I kept in touch with Michael a little. I felt sorry for him, you know, he obviously made some incredibly bad choices. When Michael got out of prison, he did kind of reach out with a crazed email or something. If I followed through or he didn't respond, I don't remember, but I was a little weary of seeing Michael at that point, because I heard and knew that he was, you know, back to his bad old ways. Even a picture with Michael was a little bit damning. I didn't want to be associated with his unrepentant messiness.
Joey Arias. Well, Joey has been a New Yorker for quite a long time. I remember Joey before meeting him because Joey was a man on the town, you know, always very flamboyant and wild. Before Joey, you know, kind of developed the Joey Arias drag queen character, she did a character called Justine and Justine was this big sex pot with huge boobs. Then Joey fine tuned her act and started channeling Billie Holiday. You know, I'm a great admirer of Joey's talent and her aesthetics. We actually recently got together because I gave Joey a copy of the book, because she's in it, and she said she was intimidated by me back in the day cause I had a sharp tongue. I was kind of embarrassed because I think I was intimidated by Joey. Honestly, I was kind of intimidated by everybody. I think that's part of the reason why I took photos, cause I was like, awestruck by everybody.
Amanda Lepore. I met her at a club called The Building, which no longer exists — great club! I was hired to throw a party and Amanda was go-go dancing. I was intimidated by Amanda actually because even back then, she was so va-va-voom, although this was so many surgeries ago. I eventually became friendly with her, and then of course realized that she's a sweetheart. I think Amanda is a riot. She's very funny. She's very amusing. When her autobiography came out, I got to interview her for her book, a live interview. I mean, she's a comedian in many ways. She has great timing and, you know, she's so dedicated to her beautification, it's amazing.
Ecstasy (the drug). Honestly, get this, I've only done ecstasy a couple of times, however, that is because I did stronger drugs before then that made ecstasy seem a little anticlimactic. I got most of my major drug taking done in my early twenties. I did a drug called MDA and this was kind of the precursor to ecstasy, but it was a stronger drug and it was almost hallucinogenic. Then acid was available too. So those were what I started with.
You know, there were all these clubs like the Palladium, Tunnel, and Webster Hall, etc. They were able to hold so many people, you needed a lot of energy to make those places seem happening. So, you know, being in a room, especially in the Limelight, where drug use was very prevalent, being in big rooms where there were thousands of people on ecstasy was exciting, it was fun. Because ecstasy is a feel-good drug too. So there weren't fights going on, it was mostly a big love fest and it would make people a little frantic too, but kind of in a fun, exciting way. I remember after ecstasy, Special K came in as the big gay drug and the audiences were in a K-hole and could barely blink their eyes let alone clap their hands and yell. Being a performer, that wasn't necessarily ideal.
Wigstock. I think I started performing in 1990. I believe that's when Bunny brought me onto the roster. The first several years of Wigstock were held at Tompkins Square Park — very fun. You know, there were hundreds of people, but there weren't mobs of people. And so it was just fun hanging out, you know, it was a novelty to be having drag in the daylight. That being said, it was a lot of fun too when it moved to the west side and, you know, became much more like a mega concert. It was amazing!
In her book, The Drag Explosion, Linda Simpson shares photographs she took in New York City in the 1980s and '90s. She writes in the introduction, "I was merely a vessel, destined by mystical powers to document a golden age." Here is a selection: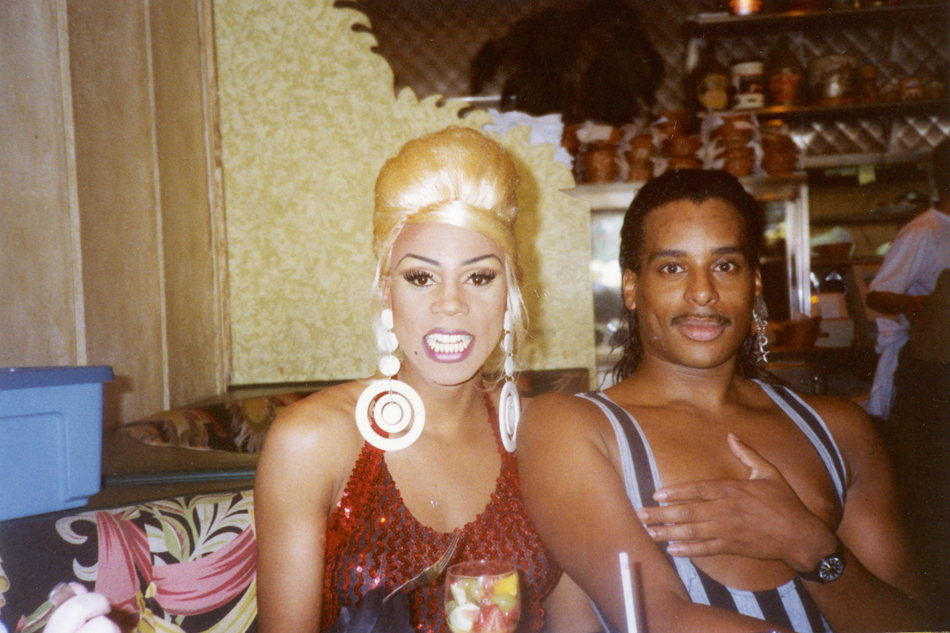 RuPaul and Willi Ninja, 1991.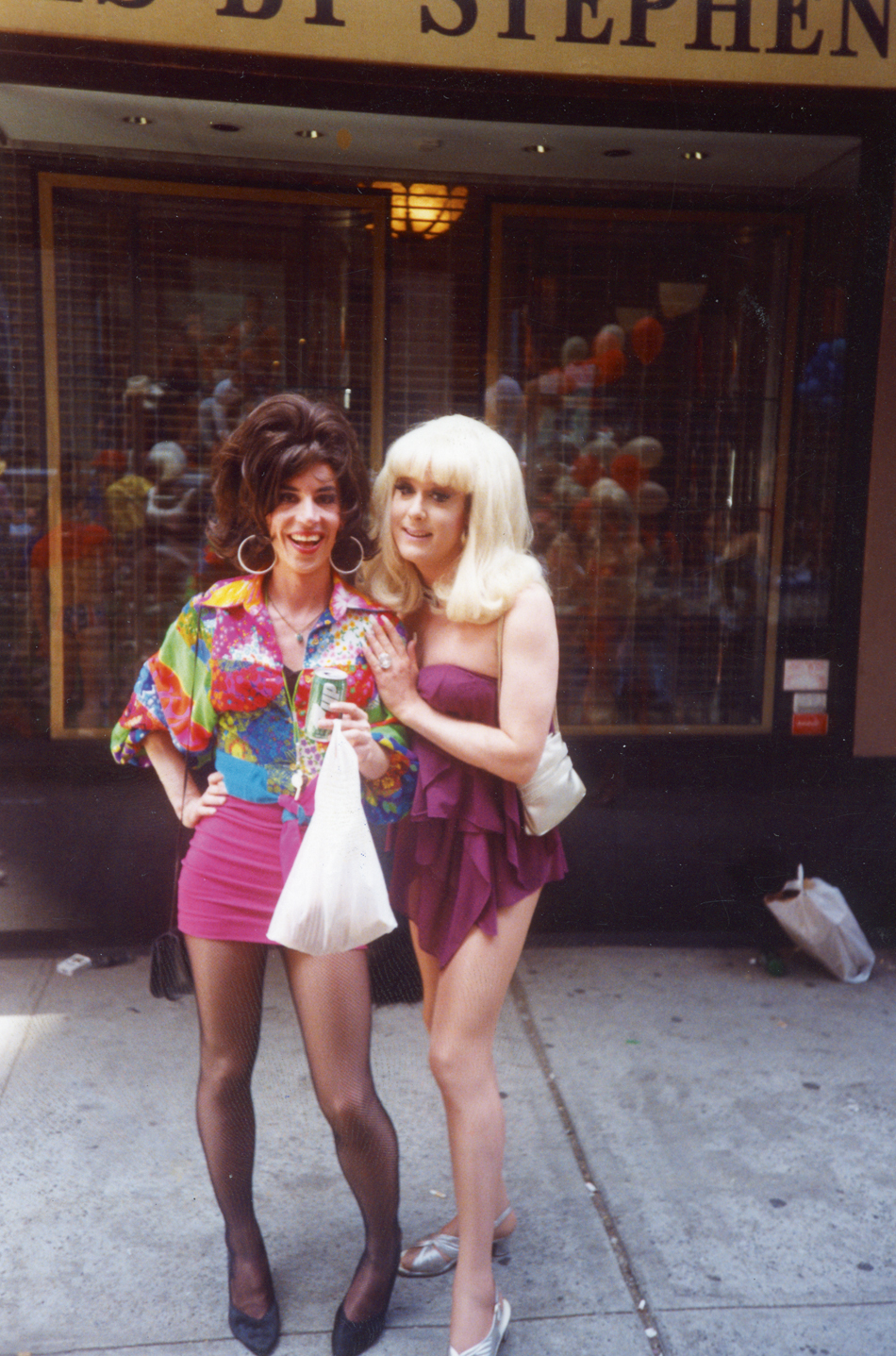 Linda Simpson and Lady Bunny, 1992.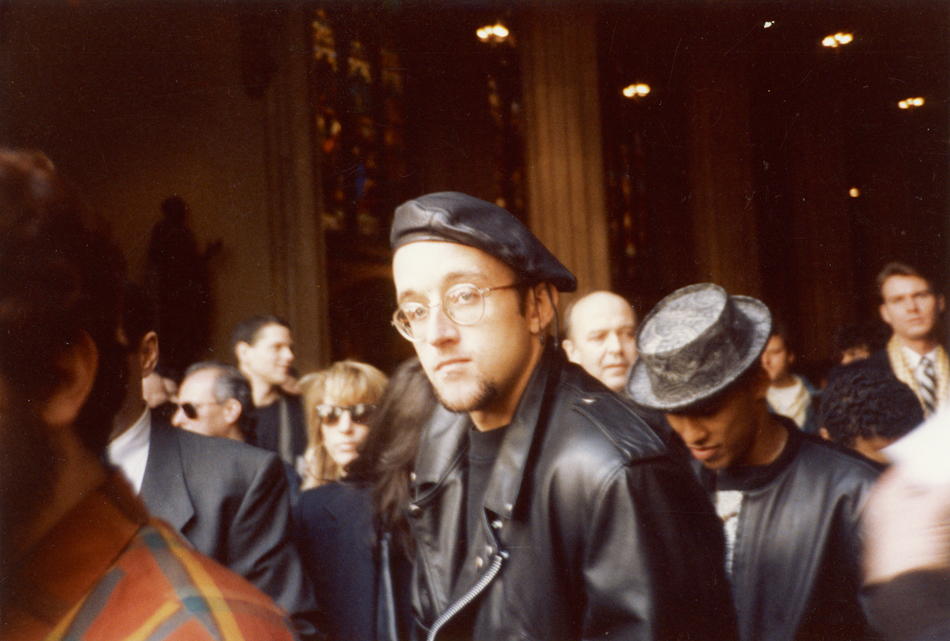 Keith Haring, 1987.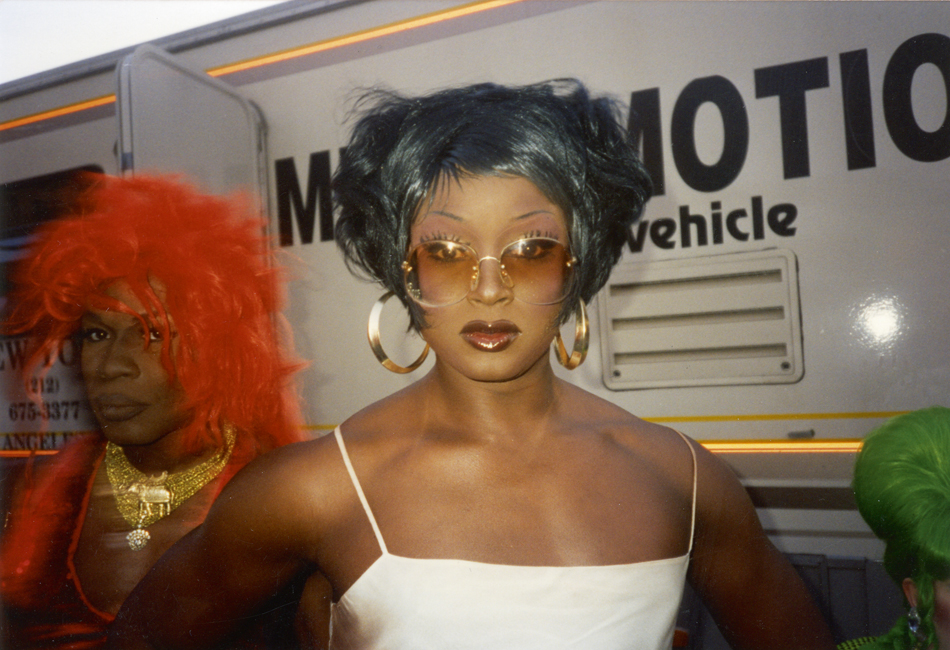 Afrodite, 1994.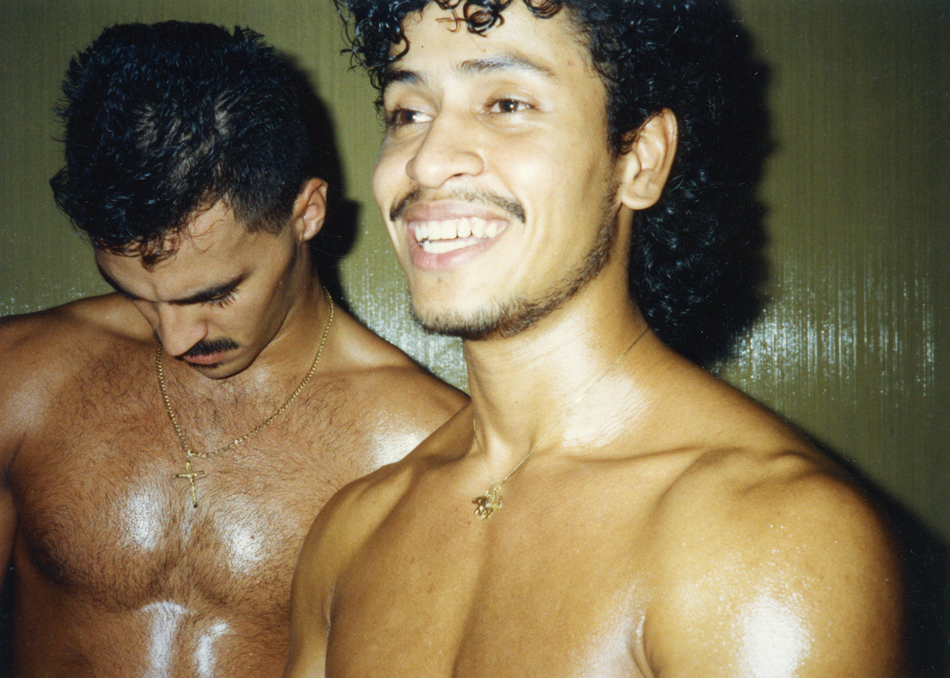 Eddie and Miguel Xtravaganza, 1998.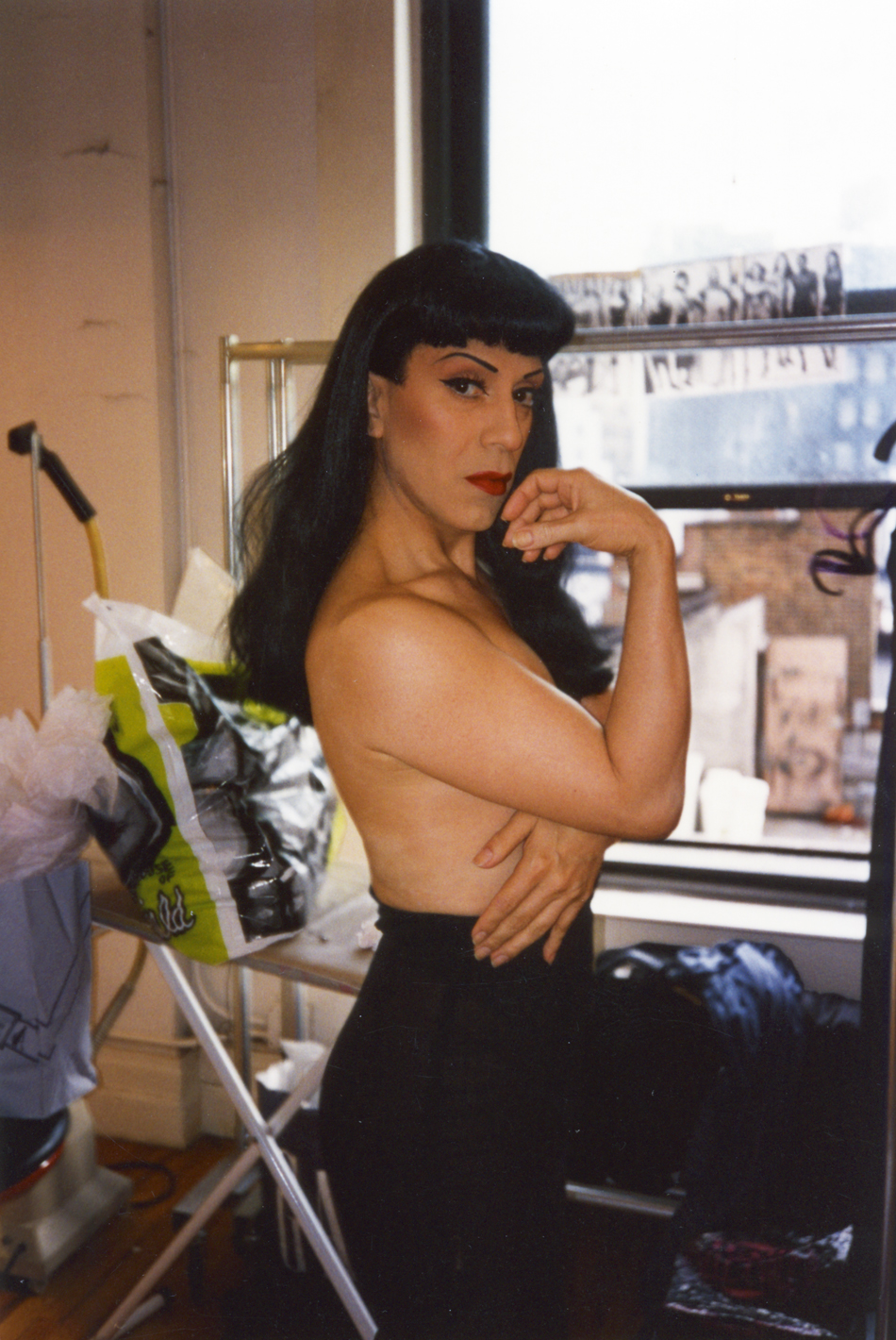 Joey Arias, 1995.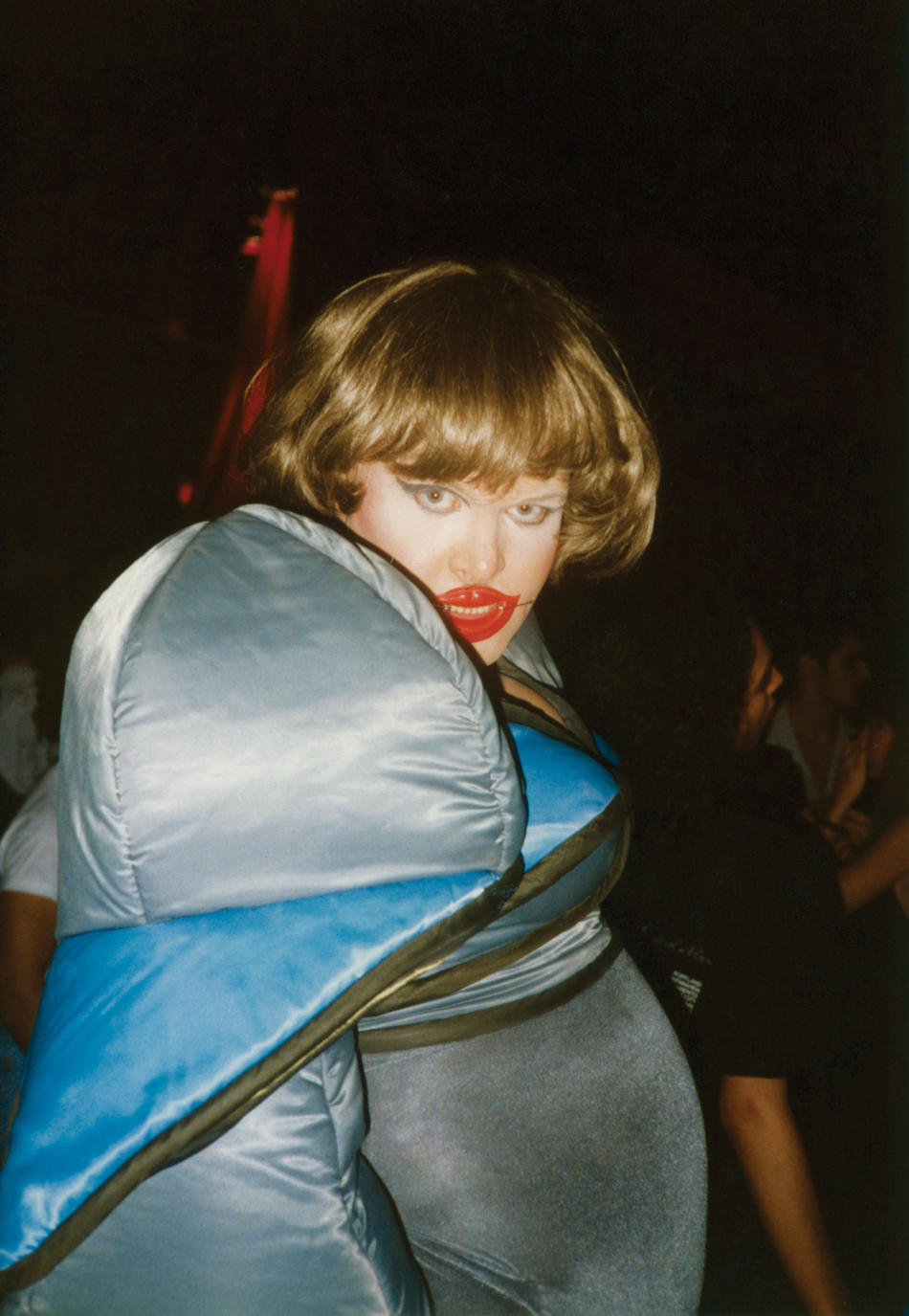 Leigh Bowery, 1991.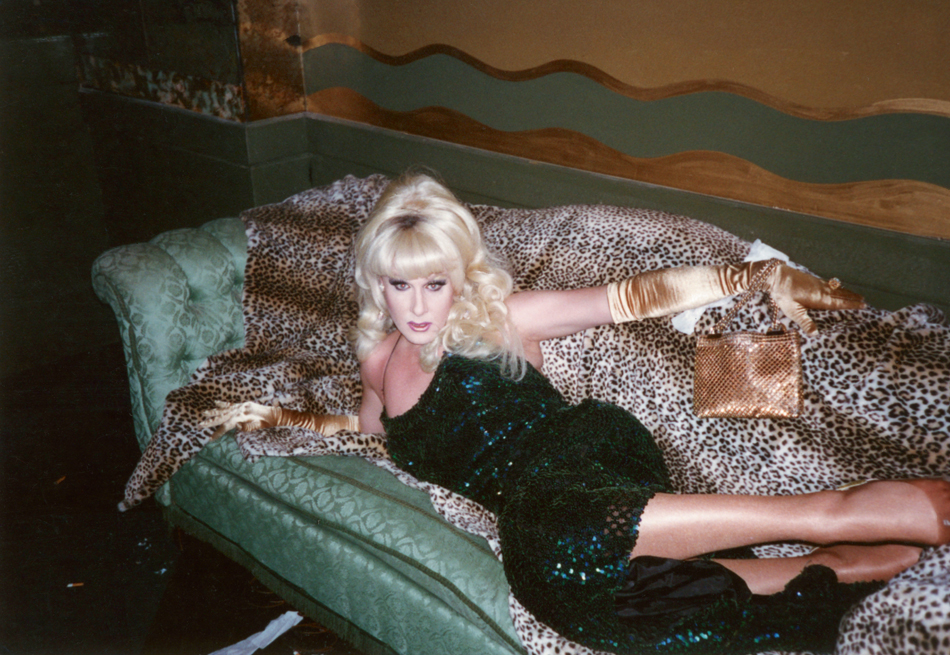 Lady Bunny, 1992.
This story was printed in GAYLETTER Issue 14, for the full story and to get a copy of this issue, click here.