A floral encounter with an up-and-coming model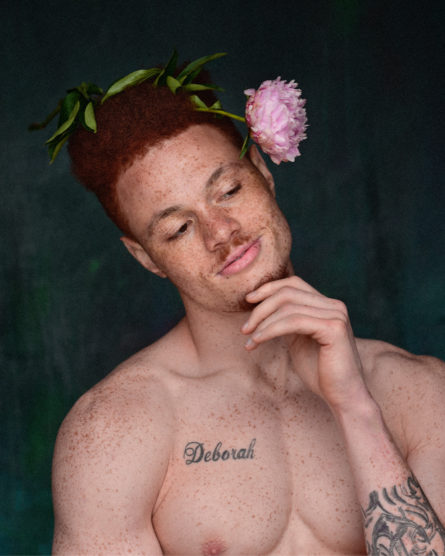 When you're a fresh-off-the-bus young model from Pennsylvania, you've got to be open to anything. We (me and photographer Björn Jonas Larsson) met Stacey on the rooftop of our studio and knew we had to shoot him. It didn't take much convincing to get the young football player to became our adorned Adonis, with hair styled by Niko Weddle.
The concept for the photographs were inspired by the season (it was Spring when we shot him), and all the gorgeous flowers blooming. It seemed that we'd seen plenty of photos of young girls adorned with with flowers, but far fewer men. In the name of gender equality we decided to dress up a hot young man in in Spring's finest.
As an avid football player, Stacey had all the gorgeous musculature that a touchdown-loving man would cheer for, but the striking thing about Stacey, aside from his sweet demeanor, is his tattoo on his right pectoral muscle bearing the name Deborah in proud cursive letters. Yes, gentlemen, Deborah is the name of Stacey's mum.
Stacey was able to both show his tough-guy exterior via that dangerous model scowl that says "I'm pretty but I'll hurt you," and at the same time give us some delicate and unguarded moments. So thank you Deborah, you raised a well rounded young man not afraid to give a middle finger to the patriarchy.

We visited the new babershop in Hells Kitchen to get our hair did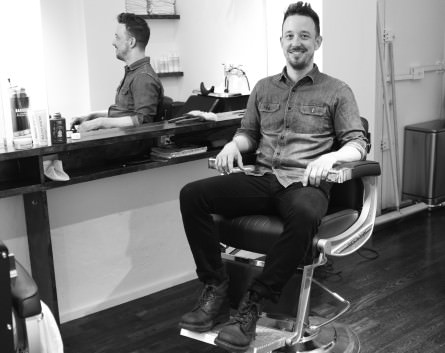 A few weeks ago, we went to visit a new barbershop Best Barber that recently opened on February 3rd in Hells Kitchen, NYC. We didn't go for makeovers or anything like that, we just wanted to refresh our looks (we both needed an update). The mission of this new barbershop is "to elevate the entire barbershop experience to one befitting a modern person."  We are always looking to be elevated and we love being modern, especially when it comes to beauty (we gotta stay fresh.) We didn't know what to expect of the place, but when we arrived we were very impressed. The interior of Best Barber is exactly what we like when it comes to a barbershop, it's clean, modern, minimalist, with lots of white and just the right amount of design details. We met the shop's owner Boswell Scot, who also cuts hair at the salon.
We each sat down with Boswell for a quick consultation before our haircuts. We told him about our major problems with our hair and all the obstacles that we face in our every day lives simply because of our hair. Just kidding! We had very casual conversation about our hair. We were offered champagne, a detail that also confirmed that we were right at home.
Tom got his haircut first, he sat down on the chair chatting away saying how he wanted his hair, while I was peeking around enjoying my drink…
Boswell turned that hair cut out. …

These barbers are taking over!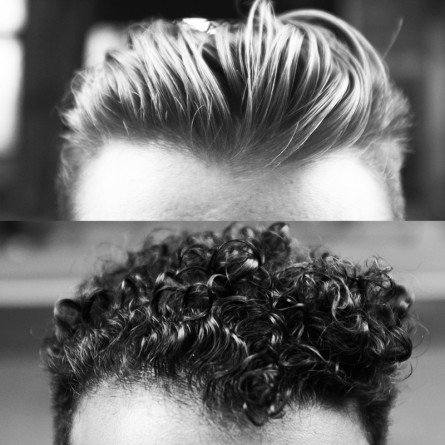 If you've ever been to Freemans, the almost secret dinner spot at the end of Freeman's Alley off Rivington St., then you've probably passed the former Freeman's Sporting Club. And if you're anything like us you might even have had your hair cut there a few hundred times. What you might not have known is that over the last year, in an effort to avoid being moved to a new location across town, the shop's barbers (Joey Tasca, Ruben Aronov and Miles Elliot) hatched a plan to move into the space next door forming their own independent Barbershop. How they kept it secret from their bosses is a mystery, but we're glad they did.
We spoke with Joey, Abi's barber for many years, about the move, he tells us "it was just time to start our own thing, there was a space next door to Freeman's Sporting Club for rent, it was just the right time to move."
Abi and I visited the shop last week to get our hair cut. We took some 'before and after' shots — not that we undertook any dramatic transformations. Joey was also kind enough to continue to answer a few of our pressing questions about the shop.
How long does it take to get a haircut? From 30 to 40 min max for a full haircut, but we also offer trims beard trims etc which range from 15 to 25 minutes.
How much for a cut?  …