Do:

Organize, March, Protest, Get Involved.

We are planning to do a few posts like this in the coming weeks, months (aghh) likely years, so please get used to it. If you have a problem with us encouraging activism and peaceful protest, then you probably should unsubscribe right now. It's only day 4 and we're already being deluged with horrible actions from The White House. If you have even an ounce of compassion, it's time to put it to good use. Donate money and time to supporting Planned Parenthood, join up with local chapters of national organizations and make positive changes to local government, visit the LGBT Center on 13th st. in NYC and ask them what you can do to help, join MPower Change, "an organization dedicated to grassroots organizing to defend Muslim people and advocate against policies that target them." Help the group United We Dream put pressure on more cities to become sanctuaries for undocumented immigrants, keep an eye out for protests, and march whenever you can. Call out the lies being spread by politicians. If we all collectively call bullshit when they try to offer "alternative facts" then they will not be able to get away with their deceptions. And most importantly, help people enroll to vote, and in 2018 make sure everyone votes out the bastards. —t&a
GOOGLE GROUPS MENTIONED
Do:

WHAT A JOKE

Here's an event we should all get behind. "In response to the President-elect's repeated threats on human rights, comedians in over 20 cities are coordinating shows to raise money for the ACLU on Inauguration Day Weekend." Called What A Joke, this national comedy festival takes place this Thursday, Friday, and Saturday (January 19th-21th). The lineup for Thursday night at The Stand is pretty great, featuring Janeane Garofalo, Subhah Agarwal, Kerry Coddett and many others. Clearly The ACLU is going to need all the support it can get over the next four years as the Trump administration rolls its wagon into D.C. The ACLU, for those of you who don't know, is tasked with holding powerful people accountable. "For almost 100 years, the ACLU has worked to defend and preserve the individual rights and liberties guaranteed by the Constitution and laws of the United States." They have promised to "stay vigilant — every single day Trump is in office. If President-elect Trump tries to turn his unlawful and unconstitutional campaign promises into policy, we'll see him in court." And they mean it. Which is why we must support them in any way we can. The ACLU has NEVER been more vital. Have a laugh and protect the rights of all Americans. —tom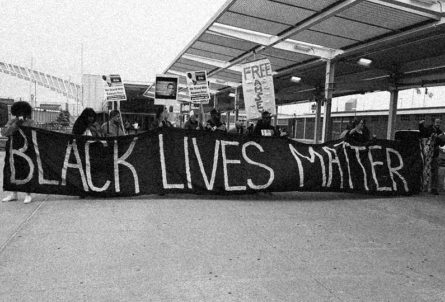 Between queen Meryl Streep's speech at the Globes and the laughable scramble for a performer with any name recognition to perform at the inauguration, there's little mystery as to how our nation's artists feel about Trump. It's still powerful, though, to learn about the #J20 Art Strike, which is an "invitation to cultural institutions" to partake in "An Act of Noncompliance on Inauguration Day." They are calling for "No Work, No School, No Business" so that everyone has the chance to "Hit the streets. Bring your friends. Fight back."
You can check out the huge list of artists and critics in support of this action here, and it all makes perfect sense, as the livelihoods of creatives and creators rarely fare well beneath fascist regimes or a cultural climate saturated with bigotry. These artists consider "Art Strike to be one tactic among others to combat the normalization of Trumpism — a toxic mix of white supremacy, misogyny, xenophobia, militarism, and oligarchic rule." Word. Nothing to add there.
A favorite of ours, Printed Matter, reached out to express their participation in the #J20 Art Strike. They also let us know about the Black, Brown, & Indigenous Mobilize Against White Nationalism #J20 march, which will begin on Jan. 20th at 11:00AM at the Harriet Tubman Memorial, a fitting and chilling location for such an action. More info is on the event page here, where you can check out their plans and demands, along with more details about the Why Accountability campaign and ways to further advocate for Black, Brown, & Indigenous people. …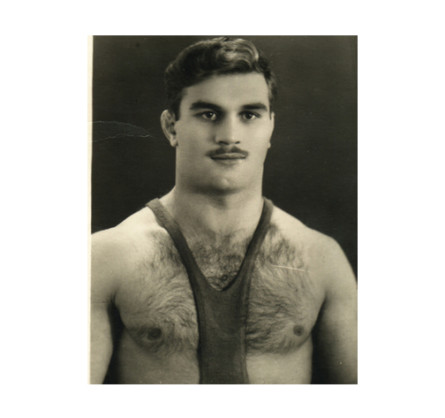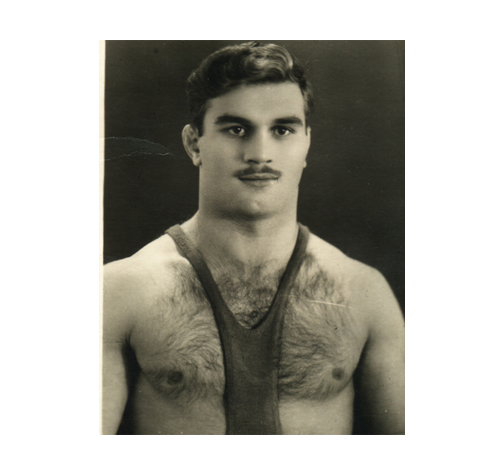 Whether or not you know it, you've probably missed the sight of boys in fleets, wearing spandex singlets, parading around your high-school gym to "warm up." Or, it's possible you're just craving a healthy dose of some good ol' "locker-room talk"? (…Too soon?) Or, maybe you're just trying to have a cocktail amongst a bunch of submissive, sweaty queers rolling around some mats…
Come out Dec. 9th for The Spectrum Wrestling Party presented by no one other than… The Spectrum Queer Wrestling Club! Take the L to Halsey and head over to The Dreamhouse, Spectrum's newest incarnation, to stretch out, sweat, and pin, or get pinned, depending on how things go. There will be 3 mat spaces in rotation, and like all beautiful, fun, and sexy things in life should be: participation is optional.
All wrestling will be under the watch of a ref, and will be "safe, sane, and consensual." Obviously, we're not ruling out sensual, as well. And importantly, any and all skill levels and genders welcome! (Along with checking account balances: contact Spectrum for volunteer opportunities to work the party.) Suggestions for the night include a $10 Admission, a singlet, and your John Hancock… You'll need to sign a liability waiver if you want to wrestle. Check out the Facebook event here if you want to know more!
December 9th: $10, The Dreamhouse, 10-22 Wyckoff Ave. Ridgewood, NY. …

Do:

Bronx Zoo FREE day

The last time I went to the Bronx Zoo I had a shaved head. I know that because we took plenty of photos of the adventure, and I stumbled upon them the other day — fuck that was a long time ago. The Bronx Zoo is one of the best zoos not just in New York, but in the whole country. I have mixed feelings about zoos. On the one hand it is cruel to keep animals in captivity, but on the other hand, they are treated well there (unlike Seaworld), and learning about animals helps many people develop empathy for them which in turn means they are more inclined to be supportive of protecting in the wild. It's a complicated thing, but in the long run I always feel that educating people always has the biggest pay off. Wednesdays are your chance to educate yourself about all the wonderful animals they have housed there (more than 6,000 over 265 acres). Every Wednesday the Zoo is FREE. That's right, free! Hop on that 6 train and head up to the Bronx for a day at the Zoo. Lions and tigers and Madagascar Tree Boas, oh my! —tom
Do:

U-CLIMB NIGHT

The only thing I've ever climbed are trees back in the Dominican Republic. Growing up there, there was not much to do, so that was one of the only fun things I could do to kill time. Tom is obsessed with climbing anything, so he was like you need to write about this. He said that the Brooklyn Boulders Queensbridge "is full of hot climbers" so I was like OK, let me look into it. We sound like teenagers! This is a one-night only event where college students can "climb for free with a valid student ID." This is the sort of event that's best if it's with queer people, so gay it up while you are climbing, yassss show everyone below you that ass. I'm sure there are gonna be lots of "masc" boys, but just show up with your friends and "woof, woof woof" them. I do woofs with my friends sometimes and it's a good carry. Have fun, and don't be afraid to fall. —abi
FREE, 5:00PM-12:00PM, Brooklyn Boulders Queensbridge, 23-10 41st Ave., Long Island City, NY
Do:

TRAPEZE

I recently had the desire to do a 'Carrie Bradshaw' and try a Trapeze class. As you may recall from the episode titled 'The Catch,' "Vogue sends Carrie to report on the latest fitness craze, trapeze 'flying.'" I googled 'trapeze class' and found the website for Trapeze School New York. They offer trapeze classes on the rooftop of Chelsea Pier. "TSNY offers classes in flying trapeze, static trapeze, silks, rope & more." In the episode of SATC Carrie has trouble letting go off the bar. I was determined to not suffer the same fate. The first trick was just hang from the bar using my legs. Easy. The second trick was some next level shit. They wanted us to do a backflip! That one I was sweating, but something took over and I managed to do it twice. The next trick we had to catch the instructor on the other bar and swing off. That one was not as hard as it sounds. The instructors all do amazing jobs guiding you through the tricks. It was definitely scary, but so much fun. If you're looking to have your own SATC experience, or just get in some unusual exercise I would highly recommend trying a trapeze class. This is also a warm weather activity, so I suggest you try it before the weather turns cold. —tom
Do:

NYC Restaurant Week (Jul 25-Aug 19)

OMG! yaaass cheap(er) food! You know the deal — fixed menus, fixed rates, but of course your bar tab will not be included (but the money you save on food has to go somewhere, so…. NYC Restaurant Week is the best time to try out that restaurant you always walk by near the office, home, or that recurring Grindr date's place; wherever! Chances are there is a probably a restaurant you have been meaning to try but you've let whatever deflective mindset get the best of you. Treat yourself, hunty. 2016 has been a rough year for gays, trans folk, Bernie supporters, blacks, latinos, and literally everybody else who is somewhat sane, if there is anything you deserve, it's a good-ass meal. "Nowhere else will you find a more compelling opportunity to experience a diverse selection of 34 international cuisines, served within 40 neighborhood. With more than 380 restaurants offering great value, you will travel the world," and by world, they mean the subway, or Uber if you've got the coins. Whenever I'm out to eat, I love to pretend I'm Samantha Jones with the rest of the gal-gang, so take whatever excuse you want to eat and drink with your friends and cunt it up. You have to wait for winter for the next opportunity to gorge, and we all know pants aren't as forgiving as your neoprene shorts. Three courses for lunch $29 & dinner $42. —Chris Stewart
Google "NYC Restaurant Week" for a complete list of restaurants.
Do:

GAYS AGAINST GUNS MEETING

After the Orlando shooting lots of us in the LGBTQ community have been feeling all sort of things: anger, fear, frustration. We have also been wondering what the hell can we do besides writing angry rants on social media. Recently I ran into journalist Tim Murphy at the gym and I asked him about a photo I saw on his Facebook page of him marching like a fierce queen (pictured) while wearing a t-shirt that read: "Gays Against Guns." He told me he is part of this amazing organization called GAYS AGAINST GUNS (some of you have probably heard of them by now) and that it's "a group of fierce queers who formed after the Orlando massacre and took over the Pride March chanting "Fuck the NRA!" They also lay down in the street, yelling "How many more have to die?" Since then, they've been busy. I was so happy to hear about this, I was like, how do I get involved? Let's be honest, we know that the gun laws in the U.S. are fucked — it's so easy to buy a gun — it's just stupid. The group have been busy making as much noise as they can, and they encourage all of us to join them. We need this. Here's how you can start: join them at their next meeting (Wed Jul 27) at the LGBT Center (208 W. 13th St) at 7:30pm. Tim told me that they are planning lots of things and one of them is a "noisy visit to D.C. and even to the NRA HQ's in Virginia on October 24. "If anyone's going to take down the gun lobby that's killing Americans, it's KWEENZ." You better believe it! —abi
Lil Zee needs your help in making bathrooms accessible for all!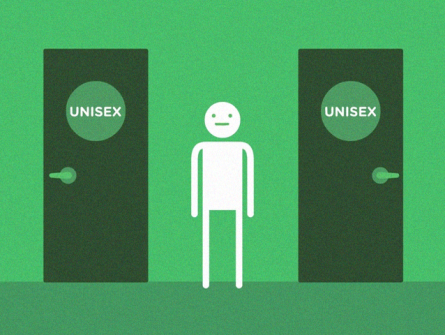 Last night, my date at Rosie's in the East Village shared his appreciation for the restaurant's copious amount of unisex bathrooms. I think he said something like, "it makes sense, especially in New York." He was hinting at downtown's inability to function within the gender binary, but little did we both know that in New York it is required that single stall bathrooms be unisex! Which, if you drink like me, is amazing, because that line always looks daunting… but it hustles!
Kristin Russo at Everyone Is Gay, an LGBTQ youth organization, says, "taking those gender markers off of single-stall restrooms creates more comfortable and safer spaces for transgender and gender nonconforming people, as well as more accessibility for caretakers," which is why her campaign with musician Allison Weiss called OUR Restroom (One Unisex Restroom) is incredibly necessary.
When someone's got to go, they got to go. That's what that old people bladder commercial says. It's not right that some essentially lose that option completely when out in public, when they're probably just trying to have a grand old time with their friends.
OUR Restroom "is working to help educate businesses as to the importance of taking gender markers off  of single-stall restrooms." Of course some people will not have such an easy time completely losing the strict binary society has set up, but campaigns like OUR Restroom are so, so important to support, as they're the ones doing the heavy lifting and educating those who have reserves or false information. …