Here's a list of places where you can donate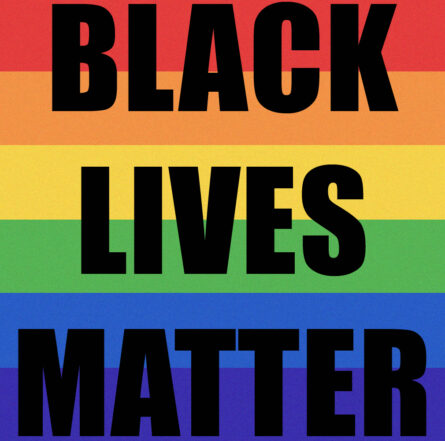 Destroying property has been an essential part of the fight for civil rights of people of color in the US. It is an expression of outrage that cannot be ignored. Black people are incarcerated at more than 5 times the rate of white people. And certainly the history of white supremacists murdering and torturing black people stretches further back than recorded history: George Floyd, Breonna Taylor, Amaud Arbery, Michael Brown, Eric Garner, Freddie Gray, Keith Lamont Scott, Rodney King, Marquette Frye, Emmet Till among so many others.
Remember that everything is connected.
Angela Davis once said, "Certainly the gay, lesbian, bisexual, transgender movement would not have been conceptualized in the same way had it not happened against the backdrop of the Civil Rights Movement… "
In 1969, Stonewall was the site of riots, of destruction, of breaking windows, slashing tires, throwing bricks, and lighting fires. It was a tipping point, a moment that demanded the spotlight of the American media through brute force. And keep in mind—there is only one known photo from the first night of riots. It shows the homeless youth who slept in nearby Christopher Park in a clash with the police.
Accountability and change were won through disturbance and exposure. In 2020, smart phone cameras and viral hashtags have become the tools of public outcry. Let them know we are watching. Get involved and collect evidence of this moment. Demand a better tomorrow.
HERE'S A LIST OF PLACES WHERE YOU CAN DONATE: 
BLACK LIVES MATTER. …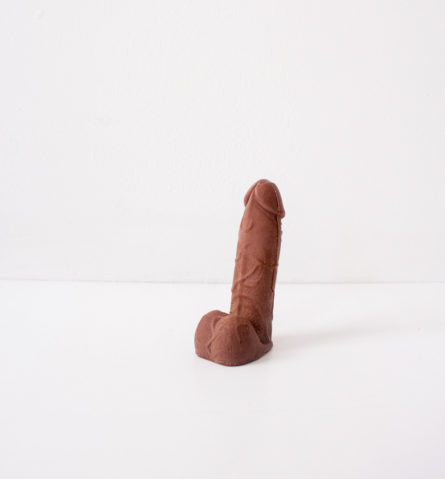 I opened the press email about this item fairly quickly after reading the subject "…Dick at Your Door!" I opened my eyes wide and read the details. For those of you that get easily excited the chocolate dick appears bigger in this photograph than what it is in real life, although it's still an exciting size — something like a good 6-inch rocket. This gives you an idea of how deceiving dick pics can be, photography can do wonders for the appearance of your penis.
The chocolate dick was an item originally developed as a prank, "a way for people to anonymously tell their friends, office colleagues, frenemies… to "eat a dick" without the repercussions" the inventors tell us. I mean sure, but receiving a dick at the door for me sounds funny and perhaps it's more suitable to cause a few giggles, than freak anyone out. The company is pitching this item as a "perfect April Fools and Easter gag gift." I can certainly see it for Easter, if they have chocolate bunnies and eggs, why not a dick? "One dollar from every order is donated to the American Cancer Society to help fund Prostate Cancer Research."

It's a nice gesture to send a chocolate dick to anyone who loves a light joke or maybe someone who's super conservative? The dicks come in different types of chocolate, just in case you are picky about your flavors. Send a friend, a family member or anyone who could appreciate the joke. …

Do:

YOUR PRIDE HOMEWORK

You all know it's Pride month, duh. There are rainbows everywhere; on Facebook, on Starbucks cups, on Broadway in SoHo. Phew! It can be totally exhausting, but hey, it's wonderful to see our symbol shared around the world. It clearly shows that the those in charge are willing to see the beautiful and bold LGBTQ+ community, and damn, we should be happy about that. But, if I may chew your ear off for a moment, I want to offer a small bit of advice as the month closes out next week and capitalism resumes its erect posture within the heterosexual margin. As brands and agencies and pop culture asks more and more of the LGBTQ community, know when and where are the right places to offer your vibrant energies. We are a creative bunch, over-ripe with a need to make artworks. Some of us (as you can see from the history of queer characters on TV) are just brilliant talkers, but we know our humor and ideas aren't strung out of thin air. They're delivered straight from the heart, and maybe we're campy and we can kiki, but that doesn't mean that our self-deprecating jokes and fierce face of makeup are done without the knowledge of our LGBTQ history coiled so tightly in struggle and shame. People may want to use your inherent knowledge for their own good, but to wrap this up, as we go forward into a queer future, always research the projects and creators you agree to work with. Know their styles, gauge their integrity and by all means, question them. We know it can be fun to see our community being vacuumed up through the mainstream (we have billboards and pop stars now!), but don't be quick to "yas" and "gag" for everything. Be smarter and fiercer like hot children we are. We love you all very deeply. Happy Pride! —Chris Stewart
Wherever you get your internet.
Art:

CAST OF CHARACTERS KICKSTARTER

This summer the Bureau at the LGBTQ Center in NYC will host its most ambitious exhibition to date. Liz Collins, whose work plays with weaving and functionality using both synthetic and natural materials, will take her carpet and wallpaper designs to dramatically transform the Bureau in Cast of Characters. The salon-style exhibition will feature portraits of 95 LGBTQ artists, both emerging and established. Collins, working inside of large-scale fiber weaving, takes common structures like chairs, or drywall and transforms them into elaborate, deliberate and beautifully paletted pieces that hold their weight in big museum shows like Trigger: Gender as a Tool and a Weapon, but also in the small gallery setting as well. Cast of Characters "features a remarkable group of artists showing special works in a site-specific context. The show opens during PRIDE month and will be a grounding and celebratory site for folks to see a broad representation of LGBTQ creativity and life today in a context that queers a design strategy originated in traditional and formal domestic spaces." Featuring artists GAYLETTER loves and supports, like Vincent Dilio, Doron Langberg, Zanele Muholi, Mickalene Thomas, Kia LaBeija, Troy Michie and more, the enormous group was cast to set the precedent for how large of a scale there is for queer representation in 2018. It opens to the public on June 15! Make a pledge. —Chris Stewart
image via Kickstarter
Do:

MARCH FOR OUR LIVES WITH GAYS AGAINST GUNS

Back in June, I woke up at 3:30 in the morning to travel via the fabulous 1 train from my then-apartment in Washington Heights downtown to the LGBT Center. I boarded one of 3 Grindr-sponsored coach buses and rode down to DC with a bunch of LGBTQ+ activists to participate in, and document, the National Equality March. The temperature that day was a scorching 90 degrees and the sun was making her power known — but the energy on the Mall and throughout the march route was positively kinetic. And palpably so. But in the months separating then and now, it has become increasingly apparent that our country has a rampant gun violence problem. And this violence isn't limited to those whom the stereotypes may suggest. It's affecting Black and Brown lives. It's affecting Queer lives. It's affecting young lives — children's lives. This weekend, there's another march taking to the streets of our capital, the March for Our Lives. Gays Against Guns, one of the organizations sponsoring the march, will have a plaza in Pershing Park (next to the march route) that "will be open for all to gather in a safe space to take in the day's events, share stories, and get to know other activists participating in March for Our Lives." Gays Against Guns is also "staging voguing performances on the "NRA SASHAY AWAY" runway, a "tell us why you're here" speakers' corner, and a living memorial of gun violence victims through GAG's signature "Human Beings" demonstration at 2pm." There's so much that shouldn't be missed. Now is not the time to be complacent or overwhelmed by our current state. Fight for your — our — existence. —Connor Atkins
FREE, 12:00PM-5:00PM, PERSHING PARK, 15TH ST NW, Washington, DC
Do:

ARIEL FOXMAN'S BIRTHDAY FUNDRAISER FOR GLAAD

News broke in the last week of January that LGBTQ+ acceptance was down in the United States. Part of me thinks: groundbreaking, while another part of me is clearly delusional and feels surprised. (They don't call New York a bubble for nothing!) For his birthday this year, GAYLETTER's old friend Ariel Foxman has opened up a fundraiser for GLAAD in his name. "GLAAD amplifies the voice of the LGBT community by empowering real people to share their stories, holding the media accountable for the words and images they present, and helping grassroots organizations communicate effectively." At GAYLETTER, we prioritize the community over everything. We do our best not to book straight talent, whether it's models, photographers, retouchers, or artists. For us, it's all about  pursuing the creativity and value in producing a product that tells the stories we are attached to, or interested in, within the community. "A majority of Americans now report being uncomfortable around LGBTQ people most notably when they learn a family member, doctor, or their child's teacher is LGBTQ." What does that mean? We need to be more queer and more brilliant than ever so we can continue to secure our necessary place in society. I shouldn't have to tell you how important it is to have our voices and narratives shared, heard, seen, and absorbed by the masses. Ariel's almost reached the $5,000 goal. Let's help him crush it. —Chris Stewart
www.facebook.com/donate/396044377486078/
A judgement free space where sexuality and freedom of expression is encouraged.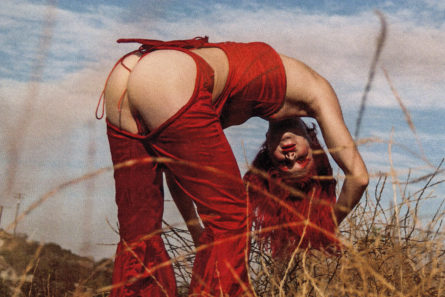 Love Bailey is an artist of many mediums. Her most poignant work seems to be life itself. On Instagram, she markets inclusion to the highest degree, monologuing through her Instagram-stories and offering advice to live a more open, love-filled life. Her bio reads: "I'm not afraid of my Shenis."
Besides styling, creative directing and hosting/throwing a number of lavish cabaret-style parties in Los Angeles and New York, she has recently begun a residency program at her coveted and enigmatic Savage Ranch. Sprawling over 45 acres of land, the Savage Ranch Residency is open to artists of every medium: From painting, to sculpture, to performance, to design. Her very first resident was Sinead O'Dwyer, a fashion design student from London exploring everyday perceptions of the body through one-of-a-kind pieces patterned for individual bodies.
"The Savage Ranch Residency is an opportunity for artists to come explore a ranch outside the concrete jungle and get in touch with nature," Love told me over e-mail. "We offer a judgement free space where sexuality and freedom of expression is encouraged. With 45 acres of land, 7 horses, 4 pigs, chickens, lesbian construction workers, and a weed farm, we offer an experience that is different from anywhere else. We are dedicated to making this ranch a utopian fantasy by giving artists a safe space to create."
Photographed by Max Runko, Sinead and Love modeled the pieces made over the two-week residency. Sinead offered her own words on the experience for those who want to learn more about their experience. …

Do:

EDIBLES

Gummies, Peppermints, Brownies… edibles come in all kinds of form now. They even get delivered to your doorstep or anywhere you are. Point is, we're in the age of eating weed and damn, it's great! Recently our office is super into with edibles. After a friend gifted us a few sour patches, we had two each and our evening was perfect. If you've never watched America's Next Top Model on an edible — we can recommend. You can seriously watch any trash show on an edible and feel totally normal. The edibles transform the ridiculous amount of stupidity you're watching and transform it into hilaaaaarious, glorious TV. It's perfect for watching The Great British Baking Show (which we told you about in a previous newsletter). It's just the right speed. We recommend you start slow with your edibles, eat one and see how it feels. No two edibles are ever created equal. In the winter it can be kind of annoying to go out, especially on Fridays after you've had a grueling ass week. This is another reason why we're recommending edibles, because the high is not like a face-plant, it's more post-coital, like being tucked into bed with a beautiful Matteo blanket. It's even better when you have rice and dumplings from Nom Wah next to your head. Oh, add a beautiful Montepulciano into the mix too. Duh! One thing to note is that the dosage on the edibles you're getting lately aren't like the pot brownies you bought from Josh Wheeler in high school. We've been schooling life on at least two each, FYI. Even a friend's mom got into the mix while she finished her martini at Le Turtle — she giggled all the way back to her hotel. We giggled all the way to our beds and woke up feeling fucking correct! Happy dosing. —Gayletter
Wherever you get your organic free-range greens.
Do:

BUY BRITISH VOGUE

On November 9th Edward Enninful's very first edition of British Vogue will hit newsstands. If you're a fashion queen like me, this is a major moment in print. My first and only copy of British Vogue is from 2013 with Cara Delevingne on the cover. It's special to me because I bought it before my flight to London — a trip that included a stop to Shakespear's birthplace and losing my virginity while listening to Lana Del Rey. Yup, doesn't get much more millennial than that. Anyway, the new cover features model, activist and British Fashion Council ambassador, Adowa Aboah wearing Marc Jacobs' (LUV U MJ!!!), with makeup by Pat McGrath and was shot by the ultimate fashion queen: Steven Meisel. Enninful has long history in fashion, becoming one of the youngest fashion editors in the game at the beginning of his career, and his move into the Editor-in-Chief position rattled fashion for a few reasons. #NewVogue, which the magazine is using to promote the December issue, means a lot of things in 2017. Not only is a black man at the helm of a predominantly white-female-focused magazine, but his tapped team of guest editors includes some of fashion's most wild personalities, including John Galliano, Kate Moss and Naomi Campbell, ensuring that British Vogue will increase its purview way beyond the tiny lens worn by the magazine's previously all white staff. The cover is also a nod to fashion history what with models starring on the cover less and less these days, fashion is more about money and less about vision. Enninful, already has a vision, and he is making waves with cover number 1. He, and British Vogue will help keep fashion progressive. He's long been tapping the best the industry has to offer to tell stories through fashion. I haven't bought a fashion magazine in ages, but trust, this Dec. 2017 issue is going right into my bag and straight into my archives. —Chris Stewart
GET HER AT YOUR LOCAL NEWSSTAND
Do:

MARCH WITH VOICES 4 CHECHNYA

When news first broke of the queer Chechens being rounded up, beaten, imprisoned and murdered, it was honestly hard to believe. When The New Yorker covered it a few weeks later, I admit that my passivity on the topic turned sour, meaning my initial denial became full-blown fear. A lot of you reading are probably thinking, "OK" — well that just makes you an asshole, which is fair! But seriously I read so many things on the internet everyday, when it comes to LGBTQ+ community news, I'm always apprehensive to believe what's being reported. We used to be a community that operated solely by word of mouth, and I think my gay heart still honors that. I first met Adam Eli in the street at Pride, which I note because he's now a go-to voice for contemporary LGBTQ+ activism. He sent me a note about Voices 4 Chechnya which "is a group of New Yorkers who are passionate about using their privilege as out Americans to bring about change around the world." On Saturday, October 14, they will rally at Stonewall and march to Tr*mp Tower to help raise awareness and money for those LGBTQ+ people attempting to flee Chechyna's murderous escapade. V4C hopes to procure humanitarian parole visas and allocate proper funds for so LGBTQ+ Chechen's can resettle. "Every day queer Chechens are rounded up, abducted, tortured and killed. Over twenty Chechens have escaped and are living in safe houses in mainland Russia, with no way out. Head of the Chechen Republic, Ramzan Kadyrov has denied the existence gay people in Chechnya, and refers to them as subhuman, including the approval of familial honor killings." As Marsha P. Johnson and Sylvia Rivera taught us, we have to speak up to bring safety to our global community. —Chris Stewart
Do:

SEE RAINBOW FLAG FLYING PERMANENTLY IN NYC

The rainbow flag, which was designed by Gilbert Baker, whose life and legacy we honor in Issue 7, is going up permanently at the Stonewall National Monument. For those of you who may not know — which is totally okay, you learn something new everyday — Stonewall is the birthplace of the modern LGBTQ+ liberation/rights movement. It's only fitting that queer activists have succeeded in giving our community's symbol of pride a home there. Also significant is that this is the first time that the rainbow flag has flown on federally funded land, "under the permanent stewardship of the National Park Service." Cool, but what a contrast that our flag flies above federal ground for the first time less than a week after the US voted against a UN resolution condemning the death penalty for homosexuality. Michael Petrelis, the AIDS and LGBT activist who spearheaded this initiative, says, "It is a victory for our Community to have these symbolic colors flying majestically over our Stonewall, designated as a National Monument by President Obama, even as our LGBTQ brothers and sisters are under attack by the current regime in power…. As we gather today, we are reminded of another October 11, thirty years ago, when the names of our fallen comrades were symbolically celebrated on another national monument — the AIDS Quilt — during the reign of another President who waged an attack against us." The other October 11 that Petrelis is referring to is that of the 1987 March on Washington for Lesbian Gay Rights. October 11 "also marks the annual National Coming Out Day, a day celebrating the idea that all members of the LGBTQ community should be able to live their lives openly, honestly, and with pride." The flag is to be unveiled at noon via a nice ceremony, but it'll remain flying with unwavering courage, so make that pilgrimage to Greenwich Village and see it when you can. The weather is supposed to remain gorgeous — just like you — throughout the week, so you really have no excuse, love. —Connor Atkins
Do:

PUERTO RICO HURRICANE RELIEF

You probably all heard about the hurricanes that have hit the Caribbean so far this year. Irma and Maria, were probably the meanest ones so far, those bitches have not been very nice to the islands, especially what Maria did to Puerto Rico. The country is not in a good shape and as we all know the Cheeto-faced imbecile in the White House doesn't really care, it seems that he learned that Puerto Rico is part of the United States just last week. Earlier this week he said "I hate to tell you, Puerto Rico but you've thrown our budget a little out of whack..." I mean what a dick? As if Puerto Ricans had any control over this natural disaster. He's the most insensitive, disgusting man alive. I am stating the obvious, but I just had to let it out. Now let's focus on something that we can do something about — here's an event that we should support in any way we can, it's a hurricane relief and fundraiser taking place at MoMa Ps1. "Continuing our efforts to support Puerto Rican relief initiatives and aid communities that have been affected by hurricanes Irma and Maria, MoMA PS1 is hosting a fundraiser organized in collaboration with MoMA PS1 Director Klaus Biesenbach and NYC City Council Majority Leader Jimmy Van Bramer." You must RSVP — click here, there's a minimum donation of $20, you can pay there or in advance via mariafund.org. "All proceeds will benefit the Hurricane Maria Community Relief & Recovery Fund." Let's come together and do what we can to help. If we don't, no one will! —Abi