Event:

Black Lives Occupy Brooklyn

The world is pretty cuckoo for Cocoa Puffs at the moment. She's losing her shit in more ways than I can keep up with. I realized last night that I need to stop reading the Internet constantly and actually do something positive. This Saturday is a chance for us all to do just that. Black Lives Matter are taking a stand this Saturday to let the world know that it's time to end violence. Enough with all the aggression. "We will meet at the front end of Barclays Center directly across the street from Atlantic terminal (shopping mall) at 1:00PM we will make our way to BAM, followed by marching on Fulton st toward Fulton mall proceeding to Brooklyn borough hall and ending at Columbus park. We will be calling out the names of those slain by officers so a list will be started and please add names. In addition we are calling to action a change of the laws that govern the prosecution of officers when it comes to the killing of civilians. PLEASE REMEMBER THIS IS A PEACEFUL MARCH!!!!" Amen to that, a little peace and A LOT of action is what we all need right now. —tom
Event:

BUSHWIG EUROPE FUNDRAISER

"In September of 2012 the first annual Bushwig Festival was mounted and the House of Bushwig was founded."  For those of you that care about drag queens — I mean we really do — here's a fun event for you. Bushwig is a huge drag festival that happens in Bushwick, Brooklyn. There's 100s of drag queens performing and lots of people show up in all sorts of drag or half drag or even quarter drag. These bitches are taking the event international, yassss, they are planning to go to Europe and I am super happy for them. You should attend the fundraiser and help them out. "All the money we make from the Door goes to helping out the girls get to Europe!!! We are performing in Berlin at YO SISSY! festival and East London's THE GLORY!"  This sounds like it's going to be a super fun night, expect "raffles" including prices like wigs — of course, a look made by the drag queen Chris of Hurr, ballet tickets, and "sicknnning art work." There's gonna be a screening at 8pm and expect shows from some of our favorite BK queens, AJA, Patti Spliff, Untitled Queen, Merrie Cherry, Tyler Ashley, Horrorchata, ICKARUS (Giancarlo Corbacho), Hannah Lou and more... —abi
Event:

I'M FROM DRIFTWOOD 6TH ANNUAL SUMMER BBQ

This has become a yearly Summer tradition for GAYLETTER to cover this event, not just because we love an outdoor party, but also because we love what I'm From Driftwood does. For those of you that don't know IFD it's an LGBTQ story archive where lots of people, just like you, from around the world, share their coming out stories. Have a look at their site, the work they do is very sweet and it's a great platform for the LGBTQ community. "The stories on IFD promote understanding, acceptance, empathy, and belonging, and send a simple yet powerful message to LGBTQ youth: You are not alone." It's their 6th annual BBQ fundraiser and it's taking place at The Hartley House Courtyard. The event features food by Andy Baraghani (that guy can really cook a piece of meat, trust me), open bar by Tito's vodka, El Dorado Rum and beers donated by The Brooklyn Brewery. Expect "live jazz music," a silent auction, raffle with lots of prices (I was reading the list of things and it all sounds very exciting), a pop-up shop by Tyler Wallach, Flynn & King and more. Go and mingle, I promise you it's gonna be worth your time and money. Enter the code 'GAYLETTER' for $25 off, there's only a few tickets left. —abi
Event:

HOT! Festival

When a festival's tagline reads "Theatre, music, dance, literature & homoeroticism for the whole family," what more could you ask for? HOT! Festival is "the longest running LGBTQ festival in the world and has been a pioneer of queer arts & culture for 25 years." This year, the festival returns to the intimate Dixon Place (their 2-for-1 shot & beer deal often advertised on the sidewalk always calls me...) This year, "Dixon Place commissioned artist Monstah Black's HYPERBOLIC! The Last Spectacle is the centerpiece" for the festival,  but if you don't know what that is, don't worry, because the festival features new works every night, so enjoy all of the blank slates! There are a lot of things going up and they all sound fresh, queer, funny, resort, fall, winter, men's, agender... you know the deal! HOT! Our friend Thomas Gibbons is premiering new work, 'Every Man's Home (Is His Wife's Castle)' July 7, at 7:30PM. He said: "This is very close to my heart. Lots of surprises that may include mullets, jockstraps, vernacular architecture, tennis, satisfyingly opaque objects and a middle aged woman in a middle aged woman costume." Also to note some other showings: the homo-musical revue, 'Gentleman Prefer Bottoms'; HOT! Festival vet, & sort-of-scary, 'Dandy Darkly', and so much more queer stuff. It's suppose to start getting literally hot(!) outside, so air-conditioning and a show certainly won't be a bad idea. Click here for more info. —Chris Stewart
Celebrating Obama's announcement of the Stonewall Inn becoming a National Monument. With a special performance by Marina and The Diamonds at Samsung 837
Pride, hunty! So many boys to meet, so many parties to see!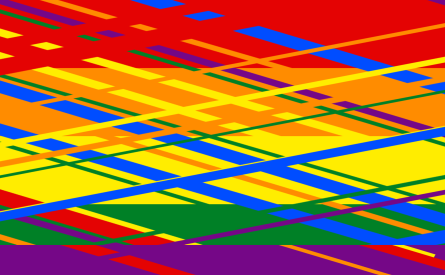 Like everything else in New York, Pride week is packed. This year it is really important to remember that NYC Pride is a direct result of the Stonewall Inn riots of 1969. Following the Pulse Nightclub shooting, many of us LGBTQIA New Yorkers gathered there on Christopher Street to stand in solidarity with our brothers and sisters lost in Orlando. It was powerful and a simple reminder to the world that the LGBTQIA community is here to stay, and that we are larger and stronger than ever.
As you will see below, nearly all of the Pride events detailed have some part, if not all of their proceeds going to the victims in Orlando. If there is one thing the community knows how to do, it's party and provide unwavering support. After every one in the world has tried to kick us down, we have gotten right back up, which is exactly what we'll be doing this week.
NYC Pride is another testament to why our community is the one of (if not THE most) most creative, resourceful, understanding and powerful communities in the world. There is so much shit to do this week and I think if this was a perfect world, each of us would be doing our best to get to every event to show our love and dance the night away. Perhaps the best advice the world could learn from the LGBQTIA community comes from Mama Ru… if you don't love yourself, how in the hell you gonna love somebody else?  …

Event:

SayTheirNames – A Fundraiser for the Victims of Pulse Nightclub

At times like these you can crawl into bed and hide out for a few days, you can go for a long walk, you can watch clips of Beyonce performing live on the Formation Tour, you can eat, cry, drink booze, or you can do something positive. There's plenty of positive things you can do. You can call Republican senators and demand they support gun control, you can donate to the victims and their families, and you can attend an event like this, taking place at C'mon Everybody in Brooklyn. "In a show of solidarity, and to raise funds for the families of the victims - some of New York City's QTPOC deejays who foster queer spaces have organized this event and will deejay sets to honor the Latinx and Black queer family who have passed in Orlando. Please join us at C'mon Everybody THIS SUNDAY 6/19 from 2pm - 8pm to celebrate queer spaces, the joy of the dancefloor, and nightlife as a sanctuary for so many of us." All money raised goes to the victim's families, so dig deep and show the world what us queers can do when we get together! —tom
$5 (but give more), 2PM, C'mon Everybody, 325 Franklin Ave., Brooklyn, NY
Event:

An Evening with Elegance Bratton

We featured filmmaker Elegance Bratton in the third issue of our magazine. His interview was fiery and alive and was a great read. Elegance has been working on a film about the LGBTQ kids who call the piers in West Chelsea home. Elegance spent time on their piers as a homeless kid himself, before entering the Armed Forces and turning his life around. Because of his time at the piers he was able to gain trust from the gay and trans kids he features in his documentary. This Friday is your chance to see excerpts from Elegance's unfinished doco, Pier Kids, as well as clips from a couple of other films about queer, black and Latino youth. There's Anthony + Christopher = Kim (2014) in which "Christopher helps his lover Anthony transform into their drag alter ego Kim Labeija" as well as Walk For Me (2016) in which "Hassan Kendricks is set to make his Femme Queen debut in the shimmering lights of the Ballroom scene voguing as a girl named Hanna. His two worlds collide when his mom shows up and discovers her secret daughter." The screenings and conversation will be followed by a reception sponsored by Harlem Pride. If you're uptown you have no excuse not to attend this event. And if you're downtown, hop on the 6 and get your ass up to Harlem. You won't be disappointed! —tom
Event:

NEWSPAPER RELEASE AND TALK

I have been looking at images of the "revival" version of the famous publication NEWSPAPER, which was originally a 23"x34" newsprint from 1969, created by Steve Lawrence and Peter Hujar. It ran for nine issues until 1971. I got very excited when I saw that someone was bringing it back, I have a few pages of an old copy, that a friend gifted to me awhile back. The 2016 version of NEWSPAPER is created by editor Marcelo Yáñez and he will be celebrating their latest release at Printed Matter on June 16th. He "will give a brief talk on his research into the history of Lawrence's publication and his work to create a contemporary re-iteration in dialog with that lineage." You can get copies of NEWSPAPER at the event and some work from contributing artists — some of them are past GAYLETTER contributors — including Benjamin Fredrickson, Elliott Brown, Bryson Rand, Elle Pérez, Jackson Stack, John Edmonds, Mark Fitton and Robert Flynt. "Over its 48 pages of large-scale black and white images, there is work by students, established artists, found vernacular, and amateurs. The publication is intended to function as an alternative exhibition space in print with shows promoting a certain reformation of queer imagery." Did you get that? It sounds great! —abi