Today, thousands of students around the country rally in solidarity to end gun violence.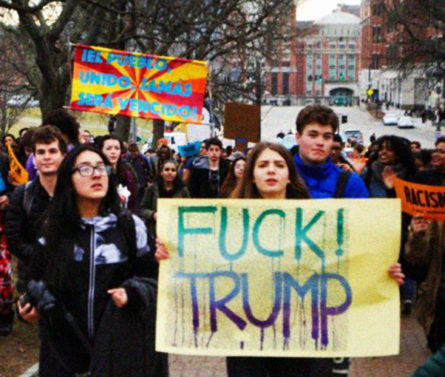 As you know (and I assume our readers are political, hip to the latest news, and support great causes), this Thursday is a nationwide walk out. The students from Florida's Stoneman Douglas have been working their asses off in the past month since they fell victim to the latest school shooting. In what has become a very familiar story in America's gun rights debate, Stoneman Douglas students have started rallies, marched on Washington, got major retailers to pull guns off the shelves and have boycotted companies largely affiliated with the NRA. Now that is cunt. There is a lot of bullshit activism going on today, but these kids are the real damn deal. Emma Gonzales, who kind of launched a movement accidentally now has millions of followers on Twitter, and she uses that damn platform like she damn should: for change.
At 10:00AM, in support of the students' call to action, parents, teachers, students, and schools' staff are encouraged to participate in #ENOUGH. For 17 minutes, campuses will take a moment of pause to remember the kids who were shot and killed at Stoneman and everyone is encouraged to wear orange to show their support. I feel so jazzed for change every time I see these kids in the media (they're so earnest and fucking mad… I wish I weren't so jaded…) and we should be supporting their cause in every way. Pulse happened in our community; I shouldn't have to write It's only a matter of time before we're targeted again. …

Event:

Pussy Faggot: Group Outing to Phoebe Legere's Speed Queen

We haven't been to Pussy Faggot in some time. Started by Earl Dax, P.F. was designed to showcase some of the best performance talents in the world. If you've never attended a night then you are in for a big treat. Earl is an expert in bringing together some of the weirdest and most wonderful artists alive. The last Pussy Faggot was over a year ago because their resident host (and living legend) Ms. Penny Arcade has been touring her amazing new show. This Friday Earl is gathering "a group of folks to join us for the opening night performance of Phoebe Legere's Speed Queen, her world premiere original musical at Dixon Place! After the show there will be a little soiree with Phoebe in the Dixon Place Lounge. Get $10 tickets (regularly $19-$22) to this performance when you use code FEMMETOP for advance purchase. The musical is based on the life of "Joe" Carstairs, the lesbian speed boat racing champion of 1926 whose lovers are rumored to have included Marlene Dietrich and Tallulah Bankhead. Phoebe portrays Carstairs and several of Carstairs' lovers in a musical that blends Legere's penchant for camp with her formidable musical chops and that gorgeous 4-octave voice." I mean, I'm sold on that description alone. If you don't know Phoebe, here's a quick run down from Earl: "Her career spans everything from starring in cult films like Mondo New York to opening for Bowie on his Sound + Vision tour. She was signed to Epic Records at 16, and performed at the opening night of Pyramid Club where she was often the lone female amongst colleagues like Lady Bunny, RuPaul and Ethyl Eichelberger." Ok, work. See you Friday, March 9th Ms. Phoebe, Ms. Arcade and of course Ms. Dax! —gayletter
Event:

FAILURE: MAGIC

The way I see it, there are two types of people: there are the people who believe in only what they can tangibly hold, and then there are the people who are able to see outside of the box of tangibility. This event is for those who fall in the latter category. Failure — a Queer workshop, according to founder and host Ragamuffin (pictured), "is a monthly event celebrating the queer body through performance, conversation, and joyful debauchery. Each month focuses around a specific conversation… so this month we are talking about MAGIC — magic as a concept in literature, popular culture, cultural heritage etc." Magic plays such an important role in many religious, indigenous, and historical contexts, so it's fantastic that Failure is holding a workshop on the topic. Beyond the educational aspect, this event also serves as a valuable venue for experimentation. Ragamuffin said, "I created Failure in 2016 as a weekly happy hour… as a platform to try new work and discuss their processes. It has since expanded beyond drag in an effort to connect artists in Brooklyn who might not share the same circles." MAGIC will feature performers Merlot (who recently released a fabulous single), Scarlet Envy, and lovely gals Thee Suburbia and Tyler Ashley, who always gag us. Resident performers Ms. Ter and La Llorona will also be in attendance. There will be a late-night open stage at 2:30am for any performers looking to explore new work. If for some reason you can't make it (tragic!), rest assured that Failure happens every 1st Thursday of the month. —Connor Atkins
Event:

Phile Magazine Issue No. 2 RELEASE

We heard from Erin Reznick, the Co-Editor in Chief of Phile Magazine — "a biannual publication which investigates sexual subcultures, trends and issues from a sociological point of view to better understand the complexities of human desire...intersecting the styles of an academic journal, art publication and sex magazine." I looked at the first issue of the mag and I'm into it. This Saturday, February 24th, they are bringing us a launch event at The Dreamhouse with a whole bunch of our favorites: CHRISTEENE, Latex Lucifer, Gio Black Peter, La'fem Ladosha, James Cerne, Michael Magnan, Haruka, Kissmedeadlydoll and many more. Also, Phile will be launching a "new online video library," premiering on their site right after the event. "The video library will provide access to a variety of erotic and artfully made videos and short films." Performances are expected to begin at 10:30pm. Don't miss a thing, and congrats to Phile on your new issue! —abi
Event:

Rob Redding on race & losing his boyfriend to gun violence

We love the Bureau of General Services Queer Division, the book store in The LGBT Center. You can find some really great queer literature there, from one-off zines to luxurious art and photography books, to vintage pamphlets, to GAYLETTER and her contemporaries. In fact, this past Christmas, it's where I did all my shopping for the other GL queens. But BGSQD is more than a printed matter purveyor. They host talks, workshops, and events with visiting queer artists, which we often write about in our weekly newsletter. This event is a talk by nationally syndicated talk show and podcast host Rob Redding, and he's discussing his autobiography "Out Loud." In this book — which "ranked No. 2 on Amazon.com" — Redding "recounts how losing his first boyfriend to gun violence forced him out of the closet." It's a story of race and sexuality and it sounds juicy for sure. "Out Loud" is neither his first nor only book; rather, it's his most recent of 9 best-selling books. Yasss prolific writing! Following the talk, there will be a conversation between Redding and Terry Roethlein of Gays Against Guns, which should be just as juicy. —Connor Atkins
They gathered to commemorate Zelim and all LGBTIQ people who have perished in Chechnya.
Art:

POSTCARDS FROM THE EDGE

If you've ever been to Printed Matter's Art Book Fair in New York or Art Basel, you know that these sorts of bazaar-style, art-driven spaces feel like highly competitive arenas. They're driven by art, of course, plus consumerism and all of the trendy-folk who love to go out to see and be seen. If that's totally not your schtick, I get it. It can be exhausting to pretend your fabulous, or even care, but this weekend you're in luck! Back for its 20th edition is Postcards From the Edge. Featuring postcard size works from a handful of celebrated artists like Catherine Opie, Nicole Eisenman, Nayland Blake, Tom Bianchi, Marilyn Minter and many other queer-focused photographers and painters, over 1,500 works displayed will all be on sale from Friday through Sunday for an eye-popping $85 with proceeds going towards the organization celebrating their 30th year! That means even if you're struggling to make rent, you could budget your funds right (say no to brunch this weekend) and end up owning a serious piece of art. Here's the catch: The works are shown anonymously, so you'll have to spend a particular amount of time assessing the works if you're after a particular name. I chatted with Esther McGowan, Executive Director of Visual AIDS and she said, "Saturday is very busy, with collectors vying to grab artwork that they think is by a well known artist. Sunday is more chill, with a great special – BUY 2 GET THE 3RD FREE!" Because I've been to many similar fairs, I wanted to get the inside scoop: Was there any way of spotting the well known artists? How can we beat crowds? She just told me to wear comfortable shoes and be prepared to spend time looking at a lot of art. "It's not always easy to spot works by well-known artists – sometimes they create a work for us that is in a different style than their usual." Good to know! —Chris Stewart
Event:

WOMEN'S MARCH AFTER PARTY

Dear readers, wherever you are... if you are able to attend the Women's March or please do. "Join the world! On January 20th NYC will raise its voice again to demand equality for all humans at the 2018 Women's March on NYC...Over the past year, basic rights for women, immigrants, LGBTQ+, people with disabilities, the religious and nonreligious, people of color and even Mother Earth have struggled to survive under the weight of the current administration." The main entrance point will be between at 72nd & Central Park West. In NYC the rally starts at 11:30AM, meet at Central Park West & 61st/62nd streets. Later, after the Women's March from 3pm-6pm head over to Club Cumming for their Outreach party. Grab many drinks, it's Saturday afternoon and day drinking is smart because if you can control yourself you'll end up in bed earlier and wake up the next day fresh. After the march you know damn well you'll deserve a few drinks. The bar will be giving half of the money to the organization She Should Run, which is "dedicated to dramatically increasing the number of women in public leadership by eliminating barriers to success." Darren will be playing music and you'll be getting wasted or trying to score your next DA, hey it's all for a great cause. —abi
Eat:

COLD CUTS

The queer food magazine Mouthfeel ("food from a gay point of view") is collaborating with the art/food magazine Counter Service and the food media and event company Yardy to bring you a "salon style winter party." This new series is basically an event to bring queer people and food together. Mac from Mouthfeel told us that they'll be "expecting around 100 guests. Great people. Everyone from Andy Baraghani at Bon Appétit to Roddy Bottum from Faith No More. Should be a cool mixed crowd." Andy also mentioned to me last week that this is gonna be a great event, alright Andy, I trust you — that homo has good taste in food, so I guess I am feeling extra confident recommending this event. I am not sure if food is important to you, but I've always said in the past I could never date someone who doesn't appreciate good food. I mean, I don't mind hooking up with trash eaters, but I guess that's different. Call me a pretentious cunt if you'd like, but I am telling you how I really feel. Expect DJ sets by Anna Dunn (Diner Journal) and one of our faves Anthony DiCap (Holy Mountain, JIZZ). There will be a door girl, her name is Roxy Romero, just in case you wanted to know. —abi
Event:

NEW YEAR'S EVE FIREWORKS

Last year, I went with a group of friends to Prospect Park to watch these fireworks. We were very impressed with the experience, I mean they have a good budget (you are gonna get good quality fireworks…) we were yelling, yassing and naming the fireworks with drag queen names. It was one of those gay times. We thought, this park just needed a few more queer people and would've been perfect. Here's my recommendation if you want to watch some amazing fireworks. "Join Brooklyn Borough President Eric L. Adams and Prospect Park Alliance for Brooklyn's most spectacular New Year's Eve Fireworks Celebration at Prospect Park's iconic Grand Army Plaza. This free event includes live entertainment by Brooklyn's own Quintessential Playlist starting at 10:30 pm, followed by fireworks at the stroke of midnight. The event, now in its 38th year, attracts tens of thousands of revelers to Prospect Park…" I'd say you probably shouldn't waste your money going out on this day, is it really worth the trouble? Here's my second suggestion: after the fireworks, get together with some friends and get wasted at yours or someone's home, keep it simple, in great company. I mean whatever go out after if you' want to, but why would you rush it? You'll have plenty of times to go out in the 2018. Say bye to 2017 with a middle finger and smile, now repeat this with me as loud as you can: fuck you 2017! —abi