Book:

Cleve Jones at The Strand

James Baldwin once eloquently said, "Know from whence you came. If you know whence you came, there are absolutely no limitations to where you can go." I would probably just say, "Learn your fucking history homo." But the point still stands. Now more than ever we must understand the history of queer activism in order to successfully continue on the legacy of those who came before us. Cleve Jones, a man integral to the history of queer activism, is coming out with a memoir called When We Rise that we all need to read. Jones worked with Harvey Milk, co-founded the San Francisco AIDS Foundation and came up with the idea for the AIDS Quilt for godsake. This Wednesday at The Strand we all have the amazing opportunity to hear him in conversation with OUT editor-in-chief Aaron Hicklin. They will talk all about Cleve's inspiring work and activism in the age of Trump. Admission is the cost of a signed book or a $15 Strand gift card and you can reserve a seat on strandbooks.com. There will also be an after party at Nowhere Bar because obviously. Now come learn whence you came, you homos. —Jonny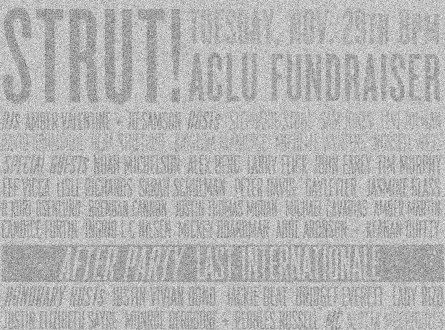 Join us on Nov. 29th at STRUT ACLU Fundraiser! We'll be there along with many other fierce individuals and organizations. If you're not familiar with it, the ACLU (American Civil Liberties Union) works to defend and preserve the Constitution's promise of liberty for all Americans.
The ACLU strives to defend every person, and right now — that's of the utmost importance. So many of our fundamental rights seem to be in jeopardy by our President-Elect and his proposed administration.
The event is produced by Deryck Todd with honorary hosts including: Justin Vivian Bond, Munroe Bergdorf, Jackie Beat, Bridget Everett, Justin Elizabeth Sayre, Pebbles Russell, Lady Rizo. There are lots of other cool people involved, but we can't list all their names because there are just too damn many!
DJ JD Samson and Amber Valentine will be playing until 4:00am. There's no better way to overcome the outcome of the election than dancing, while also donating to an organization that wants to protect YOU. There is a $5 suggested door donation. 100% of the proceeds go to ACLU! Please attend, and give as much as you can!
Can't make it? Click here to donate.
The fundraiser event is from 8:00pm-4:00am on November 29th, Acme, 9 Great Jones St. NY, NY …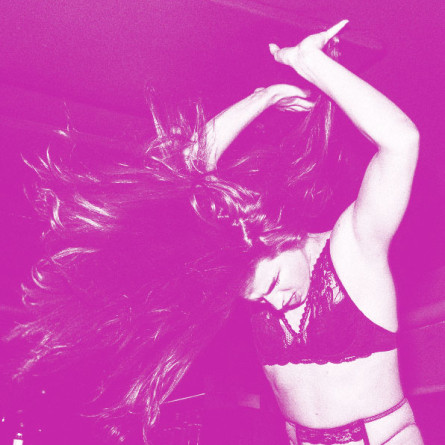 Emotions are high post-election day. I protested for three days straight and still have lots of rage, as I'm sure many of you do too. But we have to stay strong and come together. Warm each other with our love, protection, and light in the midst of all this darkness. This Sunday, November 12th, Tyler Ashley, the Dauphine of Bushwick, is hosting BABY TEA for T 2:0: A Trans Advocacy Fundraiser at Wise Men! A party for social justice — we need this! Fierce trans-model and advocate, Geena Rocero is the Guest of Honor and will be accompanied by a myriad of fierce trans hosts. Yass mama!
All ticket sales, donations, and Material Vodka sales will be donated to Callen-Lorde Community Health Center's HOTT Program (Health Outreach to Teens) and to Trans Lifeline. HOTT is a supportive program designed to meet the medical and mental health needs of LGBTQ adolescents and young adults. They offer sexual health services, primary medical care, transgender health services, crisis intervention, and so much more. In the past year, the program cared for over a thousand homeless or unstably housed LGBTQ youth. Trans Lifeline is a hotline staffed by transgendered people for transgendered people.
Come celebrate this brave community and support those in need! LET LOVE REIGN, HUNTYS!
Buy Tickets, here (or at the door)!
The party is from 8:00pm-12:00am on November 20th, Wise Men, 355 Bowery, NY, NY. …

Event:

Black Radical Imagination

This Sunday Black Radical Imagination is presenting a special screening featuring short films by four promising young, black filmmakers. If you're unfamiliar with Black Radical Imagination, it is a "touring program of visual shorts that delve into the worlds of new media, video art, and experimental narrative, growing out of a series of discussions about the boundaries and limitations that people of color have historically faced in the realm of the cinematic." Basically, they use cinema to explore "the aesthetics of afrofuturism, afrosurrealism, and the magnificent." There has never been a better time for us all to explore and celebrate the artistic output of historically marginalized groups. Talent is abound, if we look for it. After the screening their will also be a conversation with Ephraim Asili, Amir George and Erin Christovale. MoMA PS1 is one of our favorite places to explore. While you're there you can even pick up a copy of GAYLETTER. They sell it at the bookstore near the entrance. Apologies for the shameless self-promotion, but if we can't do it then who can? —tom
Event:

What's Next? LGBT Equality After The 2016 Election

Most of us are at a loss as to where we go from here. Last Tuesday night's election results were beyond unfavorable, they were unthinkable. The fact that this reality TV star with openly hateful views towards women and minorities could win the White House has shaken us to our core. I heard a quote that tried to explain his win. It said that the media never took him seriously, but it always took him literally, whereas his voters took Trump seriously but not literally. Unfortunately for his voters (and everyone else) they are in for a big surprise when they discover that he meant a lot of what he said. It might have to take them losing their Medcaid, and benefits for them to realize that they've made a terrible mistake. We already know that, so let's not what that long to take action. This Wednesday night, Nov. 16th, "join leaders from the LGBTQ community across NYC as we come together to organize after the results of the 2016 election. The discussion is free and open to the public. We will be in Room 101 on the first floor. We also plan to broadcast this meeting live on our Facebook page. To find the livestream please go to fb.com/sdnyc at approx. 8:00pm tomorrow evening." We may have lost this fight, but we haven't lost the war. It's time to organize and get to work supporting and electing Democrats who can stand up for our rights. —tom
Memory Palace commemorates our loved one's lost to AIDS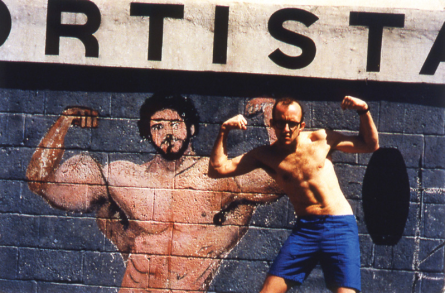 Just last night I was watching the lovely Rachel Maddow relay some horrid facts about Mike Pence to her viewers. She grew quite verklempt as she detailed how in 1997, Pence made it possible for same-sex couples to be fined $10,000 and and given 18 months in prison just for applying for a marriage license. To make matters worse and to pile more grossness on top of his crusade against marriage equality, Pence also felt that the money being funded into HIV and AIDS programs should be redirected into government-funded gay-conversion therapy programs.
Yes. You read that correctly. Pence wanted the money being used to help those in actual need to be redirected into a program that would forever be obsolete, because need we remind you, Mike Pence, gay people can't be "fixed."
The Liberal Internet is a broken record at this point, but I'll join in because it's important to stay mad: the time to come together is now! We must fight to be heard — loud and clear. There are so many ways to get involved. They're not directly affiliated with any political protest groups but Memory Palace "is a vigil and community gathering at St. Mark's Church in the Bowery open for all to remember the loved ones they've lost to AIDS." A Republican agenda did a fine job of forgetting about all of our loved ones dying of AIDS when it was happening on every street corner. November 15th's event at Memory Palace pays homage to those who were lost during the height of the epidemic; "a spirit of lively remembrance," they call it. …

Event:

Hey Lady Issue 6 Launch

Yayoi Kusama might be most famous for having her art printed on Louis Vuitton luggage, but the woman has been making art, and writing, for over 50 years. At 87 she is still going strong. If you had a chance to see her retrospective at the Whitney a couple of years ago, you'll know that the woman is an icon. And she loves a polka dot! Girl can not get enough of them. This Thursday, October 27th at Printed Matter "Feminist collaborative art quarterly Hey Lady launch their sixth issue, featuring work from contributors on and about Japanese artist and writer Yayoi Kusama. Sixty original small-scale works focused on Yayoi will be on display at the event and available for purchase." Hey Lady is a unique publication. Each issue is "comprised of original art portraying one woman. The contributing artists vary in each issue and include people from all over the world. The collection of artworks submitted is handmade into a full-color, pocket-sized book with a button attached. Past issues have featured Yoko Ono, Nichelle Nichols, Candy Darling, Leonor Fini and Sister Rosetta Tharpe." Music for the night is provided by DJ Molly Soda. Sounds like a wonderful event! —tom
Event:

NEW YORK QUEER ZINE FAIR 2016

We know damn well how hard it is to create a printed publication. To get out of bed and try to create something good ain't easy. We don't usually post about our efforts, or complain how hard we have to work — it just sounds sooooooo boring, and why the hell are we doing it unless we want to? No one is putting a gun to our heads saying "Tom, Abi, make a magazine!" It's all hard work and those of us that do it, do it because WE LOVE IT. So, for the love of print, for the love of touching nice printed matter, for the love of owning something that contains a good story, a good image… Let's go and support this event: "New York Queer Zine Fair returns to the Bureau for two days!" You can attend on Saturday, October 22 or Sunday the 23th, where a group of queer people will bring their printed zines or printed objects to sell. They also will be having a series of event that you'll probably want to check out and also there's a nice exhibition by lots of drag queens in the space — it's lovely. Oh and one more thing, Get our publication, they have all the issues there, fresh from the printer! —abi
Art:

Tour + Talk | Antonio Lopez: Future Funk Fashion

Antonio Lopez was a fashion illustrator who died in 1987. He was kind of a big deal in the fashion world of the 80's. Lopez was a "freelance artist for many of the top fashion publications, including Vogue, Harper's Bazaar, Elle and Andy Warhol's Interview. He is known to have "discovered" or formed lasting friendships with women like Pat Cleveland, Tina Chow, Jerry Hall, Grace Jones and Jessica Lange. With his friend and business partner, Juan Ramos, Lopez moved to Paris where they both worked with Karl Lagerfeld and many other designers." Join curator Rocío Aranda Alvarado and the Director of the Estate of Antonio Lopez and Juan Ramos, Paul Caranicas, for a guided tour and talk moderated by GAYLETTER contributor Alex Fialho, the Programs Director at Visual AIDS. The show features sketches and artworks from Antonio Lopez's career. Lopez was notable for his inclusion of ethnic bodies in his work. The fashion world of the 80's was very white. Iman, and Grace Jones stand out in our memories because they were pretty much the only black figures in the fashion world at that time. For those interested in fashion history this show is not to missed. —tom