"NYC Inferno is a new monthly party for friends, fuckbuddies and lovers of all kinds." I'm talking about a sex party! That doesn't mean that if you go you must participate, but if that's your mood, here you have it. I know that before people go to sex parties, they are not walking around saying "Mom, I am heading to a sex party tonight," but come on, don't pretend that it's not a natural thing. We know you whores fuck around, it's cool, it's very popular with gay men. We are not gonna judge you, so go at it! Adam (who's helping promote the party) told me more about what to expect at the party, "people should expect a hot, diverse, attitude-free crowd of people —  the vibe is very open, not-shady, kind and respectful whether you're into someone's scene or not…" Sounds chill. He also told me that they'll have "a Troll Hole Popper Shop open from 10-12AM. Troll Hole, is Bushwick's amazing queer feminist sex shop." So, you don't have to worry about if you forgot to buy poppers. Also, "All proceeds for the evening will be split equally between two amazing charities that work for justice for queer people of color both in NYC and the Deep South: SONG (Southerners on New Ground) and F2L." You can always just go and watch, or simply dance (DJ Will Automagic will provide tunes) don't get too drunk, be safe and be friendly. Aren't you glad I told you about this event, You are so welcome :). —abi
$20, 10:00pm-4:00am
Party:

PUSSY FAGGOT – HOMO FOR THE HOLIDAZE

I can't believe Pussy Faggot is back, it feels like it's been way too looooong. If you are a regular reader of GAYLETTER, you know we used to be obsessed with this event since it started — we love the name. Earl Dax, who created the event told us that it's time for him to come back and work as a "cultural producer" again. "I know the work of many of the artists. They have inspired and challenged me over the years and helped to expand my worldview.  That's part of the power of live, alternative performance. It's urgent and vital and needed now, more than ever. It's also important that we continue to have spaces to gather together to support, educate, entertain and love each other." Homo for the Holidaze is the name of the latest edition of the legendary event Pussy Faggot! The event is taking place at The Delancey and starts at 8:00PM in the basement with a performance by Kevin Aviance "in a special encore performance of his new show 'The Lost Sessions with DJ Uri Dalal.'" I just looked at the list again and there are so many of our favorites involved, it's like taking a trip to 2010. There's Penny Arcade, Gio Black Peter (pictured), Amber Martin as Reba (she is so much fun as Reba!), Gerry Visco, Shane Shane, The reunion of The Lesbian Tendencies, Machine Dazzle, Tigger-James Ferguson and many others. Also, importantly they'll be donating the proceeds from the door to GAG (Gays Against Guns) — "it seems fitting that we should support the work of this queer direct action group at such a dark time for our country and the world." Say it with us: pussy grabs back! Click here for reduced ticket. —abi

I've never tried fisting before, I guess it's not a super casual thing to do, but you'd think that by now I would have encountered a fister — I've been in NYC for over 10 years. I am not necessarily into it, but I feel kind of stupid saying "oh, I've never fisted" lol. In the email we received for this party it makes it pretty clear that we won't have a chance to fist anyone as it is actually "a subversive techno party seeking to extend techno + industrial camp into the gay/ queer/ minority /poc community." Anyways, I do know for sure that this party is going to have great music as it features Michael Magnan, Andi Synthicide, Auspex and Word of Command. I have been carrying about fisting, but it's probably because I have a dirty mind and I'm thinking yeah, gay party, probably the fist in their name stands for fisting. Turns out the name 'Fist' represents taking a political stand, which is more interesting than what I was referring to. As they describe it: "FIST engages the visibility of communities of otherness through techno in NYC." They want us all to "unify to help combat the status quo, fight mediocrity, and strive for new spaces that embrace the movement of a new culture. Annihilate hate. Join the chant. In tribute to radical fun." This is the third installment of FIST and it's the perfect time to let loose — ohhh, remember all the turkey you ate — dance it off! —abi
Party:

Sister Soldier Sledge

DJS Will Automagic and Nita Aviance will liven up Easterbloc this Thanksgiving eve, Nov. 23th, with their party Sister Soldier Sledge. For all of you still in the city, your queer family is waiting for you at this East Village stalwart. I was at Easternbloc last Saturday night after a birthday dinner for a friend. It was pouring with rain outside, but was warm and inviting inside. We danced and did poppers as Darren (pictured at Easternbloc), one of the bar's owners, played the perfect music to keep us moving — plenty of Kylie, Madonna and Rihanna! Darren is calling this party "a family affair for all living in the beautiful bubble of NYC." Their will be no fights over the election or your relationship status at this event. There will be nothing but strong drinks, good music, and if you're lucky some tasty new dick to give you something to be truly grateful for on Thursday! Have some fun, what else are you going to do?! —tom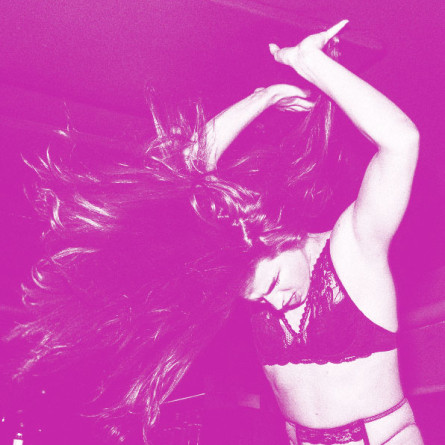 Emotions are high post-election day. I protested for three days straight and still have lots of rage, as I'm sure many of you do too. But we have to stay strong and come together. Warm each other with our love, protection, and light in the midst of all this darkness. This Sunday, November 12th, Tyler Ashley, the Dauphine of Bushwick, is hosting BABY TEA for T 2:0: A Trans Advocacy Fundraiser at Wise Men! A party for social justice — we need this! Fierce trans-model and advocate, Geena Rocero is the Guest of Honor and will be accompanied by a myriad of fierce trans hosts. Yass mama!
All ticket sales, donations, and Material Vodka sales will be donated to Callen-Lorde Community Health Center's HOTT Program (Health Outreach to Teens) and to Trans Lifeline. HOTT is a supportive program designed to meet the medical and mental health needs of LGBTQ adolescents and young adults. They offer sexual health services, primary medical care, transgender health services, crisis intervention, and so much more. In the past year, the program cared for over a thousand homeless or unstably housed LGBTQ youth. Trans Lifeline is a hotline staffed by transgendered people for transgendered people.
Come celebrate this brave community and support those in need! LET LOVE REIGN, HUNTYS!
Buy Tickets, here (or at the door)!
The party is from 8:00pm-12:00am on November 20th, Wise Men, 355 Bowery, NY, NY. …

Party:

HAPPY HOUR BIRTHDAY PARTY FOR LINDA SIMPSON

We love us some Linda Simpson! She's hilarious! And this week we all get to celebrate her birthday. Happy birthday Linda, you don't look a day over 70. Kidding, kidding. Linda has come up with the best way to celebrate her birthday, and that's by having a drink. With her of course. I mean, you can drink alone to celebrate her birthday, but it'll be more fun to do it with her and a few friends. Here's what Linda has to say about the event: "The party is mostly just for mingling and mixing. It's a good chance for people to come together and have some fun after the depressing election results." The party is at the legendary bar The Cock. (This might be the moment when you realize that the word "legendary" is thrown around too freely.) Linda told us to expect "celebrity, mixing and mingling" and "sexy go-go dancers." Ok, cute! Also, music will be provided by DJ Pretend, whose real identity she cannot reveal, but don't stress as "someone will be manning the DJ booth." I mean who cares, it's at The Cock, have any of you ever looked behind the DJ booth there? Have fun! Thanks for staying alive another year Linda! —t&a
Party:

POWERHOUSE – Sean B & Tad Haes

I guess we are back! Back partying that is. We were acting like old boring people for a few months, not hitting the bars as often, but Halloween got us in the mood. All it takes is a cheap wig and some heels to get us going. It's nice to take break though, although I can tell you that we were not taking a break from drinking, we were busy, we were just being antisocial I guess. This Friday, Nov. 4, we (GAYLETTER) are co-hosting Powerhouse at Analog — which is an amazing venue to party at (pictured). It has a great sound system and great design. Last time I closed the place down, leaving at 6AM. This is the second installment of Powerhouse which was created by the guys from Xanadude (Sean B. + Deputy) and also Tad Haes from Occupy the Disco/Paradisco. Other people hosting with us are David John Sokolowski, Jason Roe, Matt Leiker, Samuel Cirenio Rodriguez-Burns, Terence Edgerson and Tanner Shea. Expect "visual stimulants" by Deputy — I love those. It's on a Friday night, so you have no excuse to not come party with us, also it goes until 6:00AM! Thank god, ending a party at 4:00AM is soooo boring! —abi
Party:

Battle Hynm HALLOWEEN EDITION

Here we go again, another Halloween party where we gotta throw a wig on and a pair of high heels. I know Halloween is the most obvious excuse for a cis-gender man to dress up as a girl, or a drag queen, but c'mon, wearing heels is fun. It's definitely more interesting than being a sexy masc superhero. Last year I said I won't wear heels for that many hours again, but I guess as of now, that seems like the only option. I think Tom is trying to be Rihanna, but nothing is clear yet, it's still too early to tell. Battle Hymn is going to be super lit this Sunday night. We are co-hosting, and we are not going to even pretend that we can compete with some of the looks that the queens are going to pull out. I mean, if we name just a few of the hosts in attendance this Sunday you'll get a sense of the carry you can expect. First we must start with the main queen Ladyfag, then there's Aquaria, Amanda Lepore, Desi Santiago, Viva Ruiz, Hector Xtravaganza, Epiphany and soooo many more. The costumes are going to come through. Music is by Eli Escobar, Honey Dijon, and The Carry Nation. Come early, and stay late. It's a school night but you're an adult, so live a little, and embrace "The Gospel according to the dancefloor." says Ladyfag, yas! —t&a