Shop:

Etsy 8th Annual Holiday Handmade Cavalcade

My family all live in Melbourne so I gotta get my Xmas gifts for them waaay in advance if I want them to get there on time. My mum (we spell it with a 'u' in Australia) and my sister (we spell that the same way) also have their birthdays close to xmas so there's a bunch of shit I have to buy. And finding unique gifts can be a pain, which is why I'm recommending the Etsy Holiday Handmade Cavalcade. Basically all the Etsy shops based in NYC come together to sell their wares at the Chelsea Market. There's everything from jewelry, greeting cards, art, beauty products, clothing, gifts for baby and much more. The best part about it being at Chelsea Market is that if you get hungry you can sneak off and grab a bite from the food court. Go to the Los Taco, taco stand. One of my friend's is Mexican and this is the only place in the city he'll eat a taco from. Their secret is they cook their tortillas in lard so they're extra fatty and tasty. But back to the point of this post — homemade gifts,  there's going to be thousands of them, most of them will probably weird, misshapen shit you wouldn't give to your worst enemy, but I'm sure you can find a couple of gems. Enjoy! —tom
Super gay Grandma's vintage china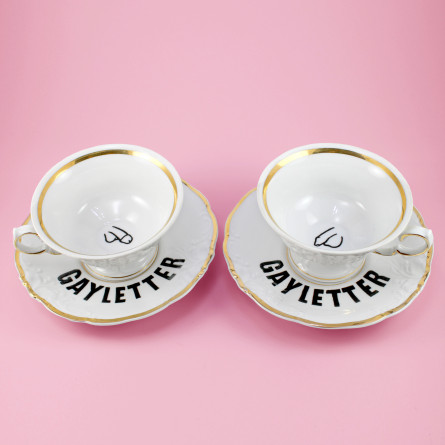 The Toronto based artists Andy Walker and Kris Aaron have an obsession with vintage ceramics and are particularly drawn to the florals and elaborate designs that they found on antique china. While creating one of a kind, hand-painted pieces, they developed a campy, graphic and fun sensibility that got our attention, Pansy Ass Ceramics — paints erotic drawings on traditional china. "We travel around Toronto collecting pieces to paint on that fit within the aesthetic we like, then we do designs based on the shape and decoration of the piece…"
Andy told me more about it during our Facebook chat: "The idea plays with decorative/commemorative plates, and we make them sexy, campy and gay…My partner Kris and I do the drawings and we choose images that turn us on, and try to make interesting contrasts with the original design of the piece." They usually paint on ceramic they find, mostly bone china and 50s-60s Japanese ceramic figurines. However, they are working on producing their own pieces from scratch in the coming months. They also take custom orders as long as it fits with their brand. They are super busy at the moment producing new work for our online store and other collaborations that we will see soon.
Check out our custom GAYLETTER tea set, we are obsessed!
…

Fashion:

ELKEL POP UP SHOP

Elkel is opening another pop-up shop (June 11-21) on Orchard St. in New York City that you should all go check out. It's the only store in the US that stocks one of GAYLETTER's favorite brands, Julian Zigerli, plus they're selling our magazine, so like, hashtag obsessed. Some of the other brands they carry include Dusty, Bleach Project, Ytinifninfinity, IndyAnna, TILLYandWILLIAM and many more. Here's more info about the shop: "Tightly curated by founder Kelvin Goncalves, the selection is a sought after mix of local independent makers from all across the globe; Sweden, Indonesia, Germany, Brazil, Switzerland, Mexico, England and the U.S. From styles such as structured, cut-out, digitally printed tailored shirts, to surreal internet glitch tees, to angular mesh tanks, to tops that turn into chaps, the prices hit a diverse spectrum, much like the shoppers themselves." Weird, hard-to-find, slutty fashion that anyone can afford is what I got from that quote. Basically my dream shop. Melt that bowl in your freezer holding your Discover card and buy some shit! —tom
The limited edition tee is available only for a few more hours!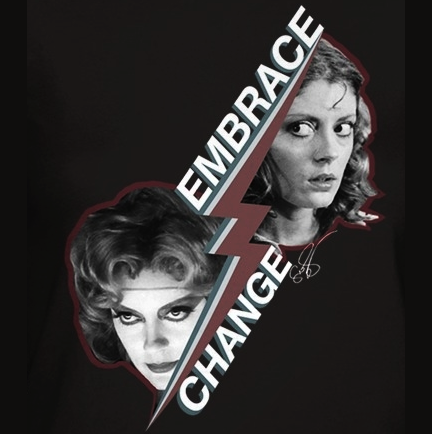 For the longest time when I thought of Susan Sarandon I thought of the haunting beauty she played in Rocky Horror. Years later I still have this reaction, but the woman is so much more than the iconic Janet Weiss. Sarandon is a self-proclaimed feminist, supporter of LGBTQ rights, and everything I wish Hollywood could be. One of Susan's latest projects, for which she serves as executive producer, is Deep Run — it's a documentary that tells the story of Cole Ray Davis, an Evangelical teen undergoing a gender transition in a Bible-ridden North Carolina community. The film delves into the main character's ever-changing family dynamic, his relationship with God, and it could not be more relevant today with trans-visibility in the public eye more than ever.
To help finance the film, Susan has designed a limited edition tee that boldly reads "Embrace Change." Split and appropriately accented by a lightening strike, the shirt also features two photos of her from her notorious Rocky Horror role. The shirt is available on sale for less than 24 hours with 100% of the proceeds going towards financing the film, which is set to premier this Summer. Buy it betch. Caitlyn Jenner's isn't the only trans-tale worth telling!

Watch the UK rowing team Warwick Rowers strip down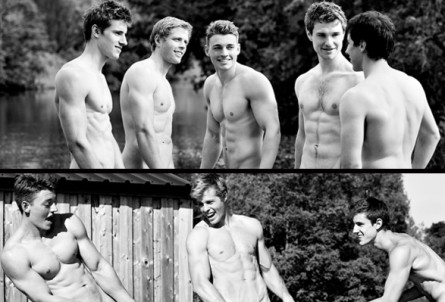 If you've been looking for a good excuse to hop across the pond next year, your search is officially over: the Warwick Rowers are prepping a 2014 edition of their annual nude calendar, shot this time around by photographer Angus Malcolm. And judging by the boys' sunkissed, totally-NSFW sneak peek video, complete with some of the most superbly gratuitous ass shots you're likely to see all year, it's already shaping up to be their best outing yet.
Stripping down for the fifth year in a row, the hot UK rowing team haven't been baring their perfectly sculpted bodies and flouncing around the English countryside with each other for nothing (not that we'd complain if that were the case, either). As if you needed a better reason to grab your own copy of the calendar, the bulk of the proceeds go directly to Sport Allies, a reach-out program that raises awareness about homophobia, bullying, and low self-esteem, as well as providing 24/7 hotlines for at-risk teenagers struggling with their sexual identity.
Gorgeous, naked, and charitable? Please form a line right in front of me. Check out the video below, and be sure to order your copy of the 2014 calendar at the Warwick Rowers online shop to support their cause.
…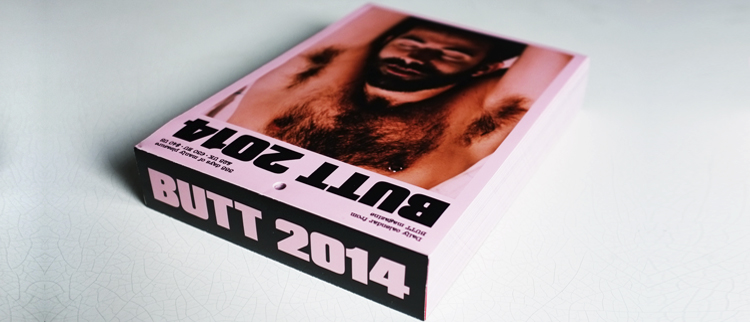 Most calendars are pretty shit. Let's be honest, when was the last time you even thought about buying one? The 2014 BUTT calendar is going to change all that. First off it's 384 pages long and an inch and a half thick. It features 100's of hotties pulled largely from the Men of Club Butt (BUTT's dating and hookup site). Included in that thick slab of man meat is none other than GAYLETTER's very own: Abi Benitez. It's a very modest photo of him cos he's classy like that, but it's on Jan 2nd so you know 2014 will get off to a good start.
Besides the sexy photos the calendar also features 12 "gossipy, ultra-frank Q&A's with some known homosexuals from around the globe." It's on sale now at all your favorite gay friendly bookstores (Printed Matter for example) and of course from the Butt online shop…can 2014 hurry up already!? —TOM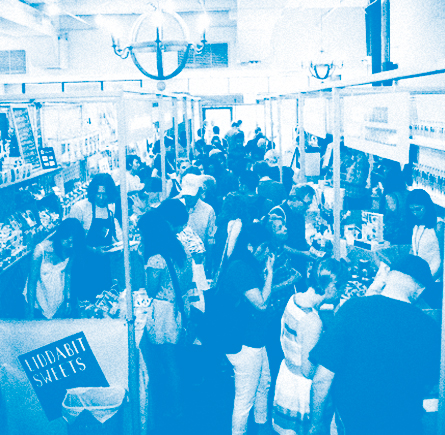 Cupcakes and ice cream and pies — oh my! PAPER is back for round two with its Super(Duper)Market. The pop-up shop showcases over 35 vendors selling goodies and treats ranging from jam and spices to kombucha and green tea confections. And that's not all, there will be ongoing workshops on how to make fanciful food creations like banana dogs and pretzel butterflies. How cute is that?
This fantastical grocery store, curated by PAPER Co-Publisher, Editor, and downtown dynamite Kim Hastreiter, will occupy 4,000 square feet on Mulberry St. The featured markets come from both the west and east coasts, which means you can try yum-yums from California that you've never even heard of, or indulge in signature dishes from local favorites like Momofuku Milk Bar and La Esquina. Whatever you want, baby you got it.
FREE, Friday August 2nd and Sunday August 4th 11AM-4PM. Saturday August 3rd 11AM-6PM. 258 Mulberry St. NY, NY.
  …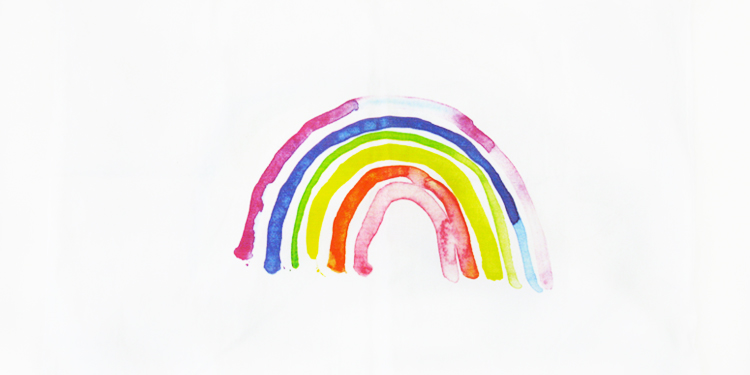 I personally hate Valentine's Day. I find it stupid. I see all these basic people buying ugly flowers at designer prices and I just want to vomit. Here at GAYLETTER we have higher standards, so if you're looking for a gift for someone you love or someone you simply fuck on a regular basis, then this is what we suggest: Battles Pillowcase Set by illustrator and director Mike Mills.
A rainbow may be just a cute cliché for some, but there's a powerful history behind it. In the 70's "the rainbow was becoming the symbol for Gay pride. Gilbert Baker created the first rainbow flag by hand, using fabrics he dyed for the 1977 San Francisco Gay Pride parade." Mills has done Gilbert proud with his updated version. Get this pillow and have a Gay Valentine.  —ABI
$90/$76.50, available at the New Museum Store. Edition of 1000; 2 standard 100% cotton pillowcases

We checked out the opening of the BGSQD (Bureau of General Services Queer Division) pop-up store on the Lower East Side, last Thursday night, and we knew immediately we had to write it up. It struck us as we browsed through the awesome collection of Queer books and zines, that there aren't any gay-themed bookstores left in NYC. I know you can still buy queer lit on the net, but let's be honest there's nothing like browsing touching the real thing in a store filled with all sorts of literature curated just for you. BGSQD was set up to give the fags of New York that exact experience. It's a place to purchase queer books, magazines, art works, and it's also an event space. Over the next few months they'll be hosting a bunch of interesting affairs from readings by Eminent Outlaws author, Christopher Bram to I'm from Driftwood contributors reading stories from the site's recently published book. The store is open everyday except Monday, through Jan 2013. It's the perfect place to pick up some Xmas presents for your fam. Some queer knowledge would do your mother good. —tom