Scenes from the Bruce LaBruce's solo retrospective at the Lethal Amounts Gallery in Los Angeles
Sam Gordon's exhibition offers art sans categorical archiving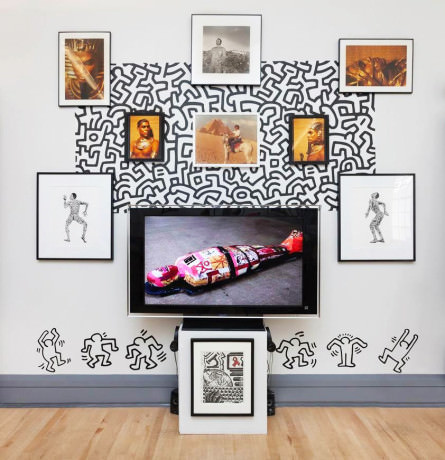 A "person of interest" usually refers to a suspect who has been deemed worthy of further investigation. In Sam Gordon's exhibition 'Persons of Interest,' nineteen artists collectively investigate the queer individual through drawing, video and even a neon glory hole (my personal favorite). Sam refers to the exhibition as a "wunderkammer, a microcosm of books and objects presented without categorical hierarchies." The exhibition itself strives to be as queer as the art it presents. Unlike most art spaces, there is no pecking order. Here all mediums are created equal.
The show is presented by Visual AIDS at the Bureau of General Services — Queer Division, located the second floor of the LGBT Center of New York. The Bureau is a "queer cultural center, bookstore, and event space…that seeks to excite and educate a self-confident, sex-positive, and supportive queer community by offering books, publications, and art and by hosting readings, performances, film screenings, book discussion groups, and workshops." Most importantly, you can find every issue of GAYLETTER there.
Sam explains that the show also explores "the people left behind and the challenges with archives and legacies." After the AIDS epidemic, exhibiting art was no longer a simple matter of organizing and categorizing. Huge gaps were left both in the canon and in the community. 'Persons of Interest' tries to symbolically rectify that loss, while paying homage to those who have passed. Featuring artists such as Raynes Birkbeck, Mark Carter, Chloe Dzubilo and more, the show is on view through September 4th. …

Art:

IN THE BEGINNING – DIANE ARBUS

The story of Diane Arbus is not unheard of. She was a Park Ave. girl who fled to the margins of society because, as Arthur Ludlow details in his latest, best-selling biography of Arbus, she "never felt adversity, the outside world was so far from [her family]." While that quote reeks of privilege, Arbus didn't fuck around. She went after adversity and turned it out with some of the best lighting and portrait work of her time. "Her photographs of children and eccentrics, couples and circus performers, female impersonators and Fifth Avenue pedestrians are among the most intimate and surprising images of the era." Not only did Arbus just photograph interesting people, she obtained query-worthy qualities too. It was rumored she had sexual relations with her brother Howard, that began in adolescence and lasted up until two weeks before she took her own life in 1971. The MET Breuer holds her archive and have just opened a new exhibition titled In the Beginning that runs through November. It features over 100 photographs from the first seven years of Arbus' prolific career. "It was only when the archive came to The Met that this remarkable early work came to be fully explored. Arbus' creative life in photography after 1962 is well documented and already the stuff of legend; now, for the first time, we can properly examine its origins." —Chris Stewart
Susan Kravitz's debut celebrates the home of the brave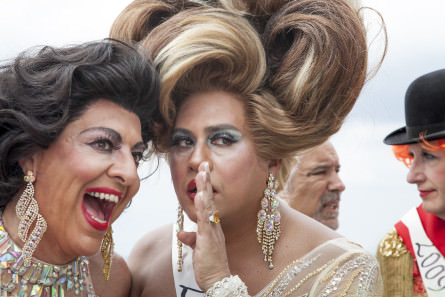 For those who have ever visited the gay mecca known as Fire Island Pines, it may come as a surprise to learn that even after the Stonewall Riots the community was fairly conservative. In 1976, Teri Warren was visiting from the more queer-friendly neighborhood of Cherry Grove and dressed fabulously in drag. He was promptly denied entrance to a restaurant on account of his appearance. In protest, a group of drag queens decided to come back on July 4th and "invade" the town. Thus, the Invasion of the Pines was born.
Every year on July 4th, an ever-larger group of drag queens hop on a water taxi and invade the Pines. Photographer Susan Kravitz has for many years been there to document the event. Kravitz considers herself a "social documentarian of daily life." She first visited Cherry Grove as a straight married woman, and then returned a couple of years later as a lesbian with her camera in tow. Kravitz has worked as a photographer for over thirty years, exhibiting her photos in galleries all around the world. Mascara, Mirth & Mayhem: Independence Day on Fire Island is her first book.
The book spans the course of four decades, intermingling photos of different eras to create the effect that every year's invasion actually took place on the same eternally long day. The political backdrops of the photos change, every decade presenting unique tragedies and triumphs, but the magnificent queens remain the same.
The photos themselves are as majestic as the royalty they capture. …

Art:

Art AIDS America

You can say a lot of rude things about millennials; we're entitled, can't raise our phone off our tits — I've heard them all. Get some new ones, Mom! But if there is one thing millennials have an unappreciated knack for, it's our ability to not forget. You didn't like my Instagram post? Bitch, you better remember that I remember that! Growing up a millennial, the AIDS era lingered behind you. When NY Mag did their feature on Truvada, I remember being appalled that some men from the AIDS era were so disgusted that the drug was available (I was young, they have their reasons.) Not all of them were so conniving, but queens my age felt attacked — we were never blind to the fact that the epidemic shifted gay culture. Artists, including Kia Labeija, David Wojnarowicz, Robert Mapplethorpe, Bill Jacobson and more, "give voice to perspectives that are too often suppressed, and [Art AIDS America] reveals how they have changed both the history of art in America and the response to this disease." Featuring more than 125 works spanning from 1981 to the present, The Bronx Museum of the Arts "will present the first exhibition to examine the deep and ongoing influence of the AIDS crisis on American art and culture." The notorious suppression of the AIDS outbreak had a direct result in major miseducation, so it's important shows like this go up. In doing so, we uncover truths, celebrate lives, and commemorate those gone before us. —Chris Stewart
A conversartion with the artist about his latest exhibition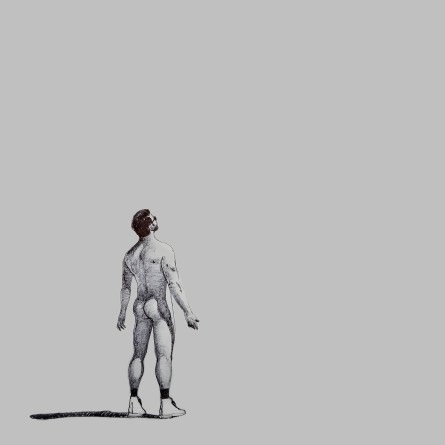 I discovered the 22 year old artist Daniel Marin Medina on Instagram months ago, we chatted online, then he drew me. After that we stayed in touch and I asked him to do a drawing for the last printed issue of GAYLETTER. I am so happy for him that he's having his first solo show in NYC titled 'Journal Entries' which is opening this week, July 8th. "The process of drawing these became similar to writing in a journal. Something would happen and I'd jot down my thoughts in the form of a drawing. They're coded passages in a diary, which is kind of fun to think about. Along with these drawings, I will be showing figure drawings done of some of the most interesting people in my life." We had the chance to chat with Daniel about this show and other fun stuff.
Why is the show called Journal Entries? The process of drawing these became similar to writing in a journal. Something would happen and I'd jot down my thoughts in the form of a drawing. They're coded passages in a diary, which is kind of fun to think about.
How did this show came about? A friend reached out, said she liked what I was doing, and offered me the space. The universe at work!
When did you start drawing? I like to joke that I've been drawing since before I was born, having done Lascaux-style cave paintings in my mother, but no one really finds that as fun as I do. …

Art:

Scarlet Muse: Photography and Prostitution

I'll start with this — if you didn't read that New York Magazine feature detailing every angle of why sex-work should or shouldn't be legal, you need to get to it. It's a hot debate that's slowly but surely gaining traction. I'm still waiting for a politico to even touch the subject. Anyway, the realities of many lives spent in prostitution is making it's way to the mainstream and the art world. Exhibiting works from 1850 through the last few years, Daniel Cooney Fine Art presents Scarlet Muse: Photography and Prostitution. The exhibition includes work from Larry Clark, Philip-Lorca diCorcia, Benjamin Fredrickson, Malerie Marder, Bob Mizer and more, though I have to point out that there's only three women on the program, which looks pretty crappy. Here's what the press release says, "Fredrickson revels in his dual role as artist/hustler with his provocative Polaroid self-portraits made while servicing clients. Punk rock legend Danny Fields shares his intimate living room snapshots of young Greenwich Village "Richies" in action circa mid 70's." 1850 was a long time ago, so check out the opening and see if you can compare what a prostitute looked like then as opposed to now. Then again, prostitutes have always been ordinary people. —Chris Stewart
An insight into South Africa during apartheid.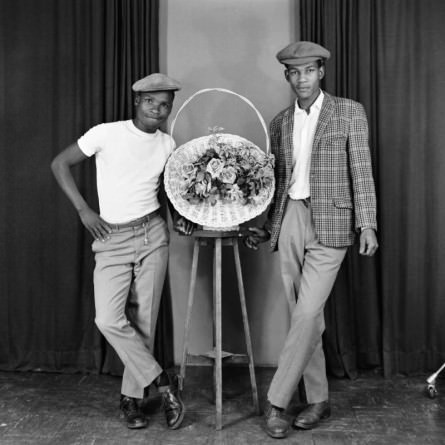 The Walther Collection latest exhibition, Who I Am: Rediscovered Portraits from Apartheid South Africa, is a fresh perspective on life for non-whites during apartheid. The portraits were taken from 1987 to 1984 by photographer Singarum "Kitty" Jeevaruthnam Moodley in ZwaZulu-Natal and give a glimpse into the workings of African society at the time. His studio became a safe space for locals to collaborate with the Indian born photographer. A presentation of self-expression, the subjects wear an array of fashion and accessories, giving a fresh look into the private lives and aspirations of non-white South Africans.
Known for evocative collections, The Walther Collection focuses on curating exhibitions that delve into the history of vernacular photography. Who I Am, follows on from the portraits of Malian photographers Seydou Keïta and Malick Sidibé and will be followed up by future exhibitions exploring urban architecture, criminology and personal identity. Keep track of goings on here.
All images courtesy of The Walther Collection. Photography by S. J. "Kitty" Moodley
The exhibition runs from June 2 — September 3, 2016. The Walter Collection Project Space, 526 West 26th Street, Suite 718. NY, NY. …

Art:

Frieze Art Fair

Art fairs are both exciting and exhausting at the same time. They're a chance to see some of the world's best art, from some of the world's best galleries, in one fell swoop, but it's often a lot to take in. Our advice is to just start walking, and leave when you get tired. Don't beat yourself up if you don't see EVERYTHING. Looking at art should be enjoyable. Once it starts to feel like a chore, just go, or at least take a break. At this year's Frieze Art Fair there's food from some cunty NYC eateries including Frankies Spuntino and Roberta's Pizza, plus new additions including GAYLETTER favorite El Rey and Cosme. Beyond the art there's also talks with important art people and the new Reading Room which "offers visitors the opportunity to browse and buy a curated selection of the world's best arts publications, and attend an exciting daily schedule of events." We think Frieze is one of the best art fairs there is, the art is really well curated and the people that attend are often cute. See you on the boat! —tom
Matt Lambert, and husband Jannis Birsner, create a sexy new picture book (NSFW)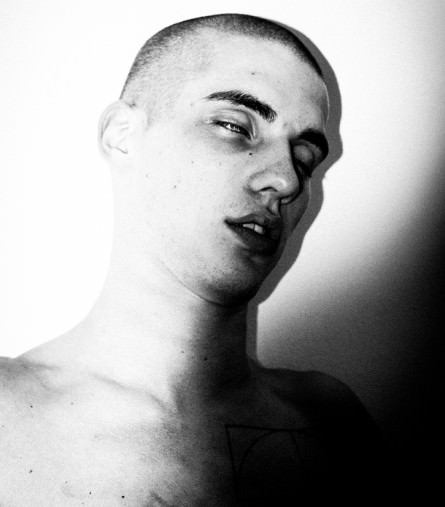 Berlin based filmmaker and photographer, Matt Lambert, follows up his first book, Keim, by working with husband and regular collaborator Jannis Birsner, to create Vitium. It provides quite an experience for the reader; opening the seal to the plastic outer casing, pulling out the light, B&W book, finding the glossy poster inside, and then absorbing the photography. It draws you into its world. A world that celebrates the carnal energy of Berlin's youth.
Here's what they had to say about the project: "The boys in VITIUM aren't overly big or small, they have normal bodies. They are in the zine because of their attitude. All the attributes these boys have you would use to describe femininity. Then we are back at their physicality: these boys are attractive and masculine because they are confident in their sexual expression. Masculine men are men confident with their selves without being abrasive."
The book is split into three parts, each with a distinct vibe. The first, "Sacrifice: Matured in Fire," expresses raw sexual charge; there is an innocence to the models captured. "Unity: Man is Wolf to Man" shows confidence and growth. "Love: Every Soldier is First a Lover," the final section, is the most explicit; A heavy climax depicting sexual ownership. Lambert and Birsner experiment with texture and lighting to create a rich, sensory experience for the reader. They have created a sexual (penis), fun (penis) and provocative (penis) time capsule, something you'll want to revisit. Honest, playful and HOT, Lambert and Birsner have created something real. …