Art:

CAST OF CHARACTERS KICKSTARTER

This summer the Bureau at the LGBTQ Center in NYC will host its most ambitious exhibition to date. Liz Collins, whose work plays with weaving and functionality using both synthetic and natural materials, will take her carpet and wallpaper designs to dramatically transform the Bureau in Cast of Characters. The salon-style exhibition will feature portraits of 95 LGBTQ artists, both emerging and established. Collins, working inside of large-scale fiber weaving, takes common structures like chairs, or drywall and transforms them into elaborate, deliberate and beautifully paletted pieces that hold their weight in big museum shows like Trigger: Gender as a Tool and a Weapon, but also in the small gallery setting as well. Cast of Characters "features a remarkable group of artists showing special works in a site-specific context. The show opens during PRIDE month and will be a grounding and celebratory site for folks to see a broad representation of LGBTQ creativity and life today in a context that queers a design strategy originated in traditional and formal domestic spaces." Featuring artists GAYLETTER loves and supports, like Vincent Dilio, Doron Langberg, Zanele Muholi, Mickalene Thomas, Kia LaBeija, Troy Michie and more, the enormous group was cast to set the precedent for how large of a scale there is for queer representation in 2018. It opens to the public on June 15! Make a pledge. —Chris Stewart
image via Kickstarter
A sexy, shocking and endearing new zine edited by A.A. Bronson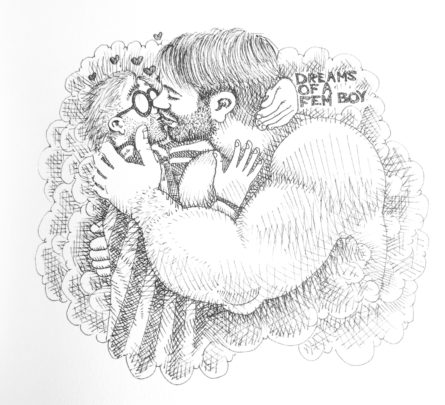 Doug Melnyk's new 'zine, Pyjamas, has been on my desk when it's not on my dining table and when it's not in bed with me. Needless to say, I love it!
In his signature playful, process-driven and unabashed style, Melnyk's high quality scans detail original drawings that show the artist's decision to move the angle of an ankle in one sketch and the subtle but declared use of color in another, highlighting erogenous zones or the environs in which his characters come to life. The passing of time in a single black and white image lets us watch as the smaller-guy (the protagonist) first clues into his curiosity and then let's wander get the best of him, only to have the hand that leads him to pleasure become trapped by some midday dalliance — the pay-off being not just the reclined hardening hunk on the couch, but rather the reveal of the small guy's hairy cheeks just above the lowered pyjama bottoms as he tumbles over and onto a big fellow.
And what to say about those offerings of glorious groups of athletes and college roommates? They're simultaneously stimulating and cringe-worthy in the visual exploits of sexual fantasies turned everyday nightmare in our world of power imbalance. Like the hotel art included in a two-page spread of hijinks. It features some implausible meeting between a stag and a lion act as precursor to the single black guy, naked and in the mix of five other white guys, pouncing on the immature redhead and pinning him to the floor face-down as his cock is about to breach the exposed ass. …

The Factory's hedonistic hit comes to print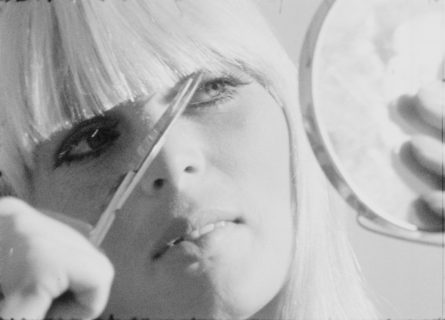 In 1966 Andy Warhol released The Chelsea Girls, a three and a half hour experimental film which would become his greatest commercial success. Part documentation, part experiment in hyperreality, the film is a series of vignettes in which Warhol's superstars play altered versions of themselves. Everything is shown in split-screen and the audio alternates between the two videos. In one sequence German singer Nico cuts her own bangs. In another the artist Brigid Berlin plays herself (nicknamed "the Duchess") wearing gold chains and shooting up amphetamines. In one of many scenes shot at the Chelsea Hotel, Mary Woronov, playing Vietnam War-era radio host Hanoi Hannah, barks at Warhol's Ingrid Superstar, Angelina "Pepper" Davis and Susan Bottomly, also known as International Velvet. The Chelsea Girls is dark and glamorous and mundane, and above all, voyeuristic. Upon its release audiences were captivated, critics were polarized but ever opinionated, and the film would go on to be played internationally for two years.

Since then, apart from occasional museum screenings, The Chelsea Girls has been nearly impossible to see. However in honor of their 24th anniversary, the Andy Warhol Museum is undertaking the major project of digitizing hundreds of Warhol's films— including The Chelsea Girls. Coinciding with the museum's project  is the release of Andy Warhol's The Chelsea Girls, a "deluxe treatment of the 12-reel, split-screen film, featuring stills from the newly digitized film, previously unpublished transcripts and archival materials, and expanded texts about each of the individual films that comprise The Chelsea Girls." Including an essay by Gus Van Sant, the book — out with D.A.P. …

Art:

Laurie Simmons at Mary Boone Gallery

We met the artist Laurie Simmons at her apartment in Brooklyn a few years back when we interviewed her for GAYLETTER magazine about her dear friend Jimmy DeSana. The apartment was very comfortable, bright light streamed in from giant windows that overlooked not one, but two bridges. It was a pretty gaggy afternoon. I remember when we left she embraced us and said "When I met Michelle Obama she told me she was a hugger, so now I'm a hugger." I was like, OK werk, if you have to name drop, it might as well be Michelle Obama! But seriously, she was incredibly warm and had great stories to tell us about the art world in the 1970s, and the history of her and Jimmy's friendship. So we were thrilled to hear that Laurie has a new show opening April 27th at the wonderful Mary Boone Gallery in Chelsea. Here's what we know about it: "Mary Boone Gallery will open at its Chelsea location for 'Clothes Make the Man: Works from 1990-1994', a solo exhibition featuring the work of Laurie Simmons, curated by Piper Marshall. The exhibition, in collaboration with Salon 94, opens concurrently with Simmons's show of new work at Salon 94, titled '2017: The Mess and Some New.'" This is an extensive show featuring a large body of Laurie's work, but you should also check out the Salon 94 show to see what she's recently been up to...besides hugging Michelle Obama. The show is up through July 27th. —tom
Escapism and autobiography meet in Jacolby Satterwhite's new show.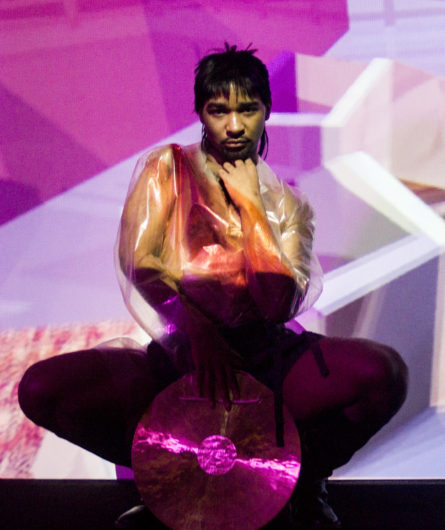 In his latest exhibition at Gavin Brown's Enterprises, artist Jacolby Satterwhite takes everything to the next level, literally. Entitled Blessed Avenue, the visually stunning three-piece installation reflects his trademark use of 3D animation and themes of gestation, sexuality, and identity. Satterwhite renders an intoxicating vernacular of realism and fantasy starting with a 30-minute animé that takes us on a virtual journey through scenes of BDSM, avatar-inspired domination, and even a cameo by Lola Ciccone.
But Blessed Avenue is as much commemorative as it is affirmative. The exhibit pays homage to Satterwhite's late mother — Patricia — who suffered from schizophrenia, and uses her stirring vocal compositions as well as a sample of the vast collection of her drawings. You bear witness firsthand to Patricia's complex mind at work. This all while simultaneously delving deeper into his own wells of experience and Satterwhite re-imagines a fantastical alternate universe to state, rather convincingly, his status as an artistic provocateur.
Designed with stylist David Casavant, the exhibit's accompanying merchandise store is as much a cheeky statement on consumerism as it is the artist's manifestation of his mother's dream realized. Sending illustrations of inventions to the QVC in hopes of monetary prizes, Satterwhite channels his mother's aspirations of wealth into a boutique brimming with everyday objects for sale — cooking aprons and calendars baring Patricia's likeness, impeccably dressed miniature Jacolby dolls, lotion, fans, and even lunch boxes grace the shelves of "Pat's" 21st century boutique.
I sat down with Satterwhite to discuss his artistic process, how escapism informs his work, and what advice he gives to aspiring young gay artists. …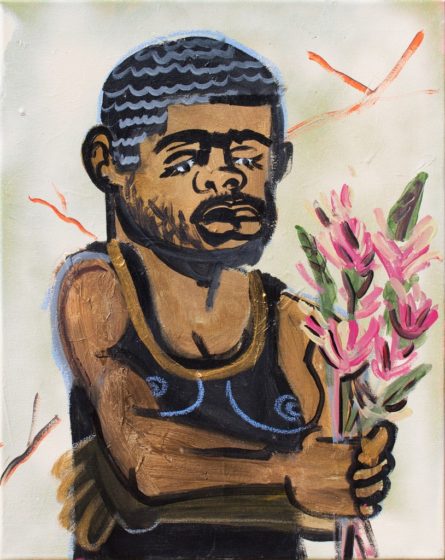 I was introduced to Company Gallery through Troy Michie — the brilliant collagist featured in GAYLETTER Issue 8. His very first solo show — Fat Cat Came To Play — was picked up by the gallery soon after some of his collages found themselves on exhibition in the New Museum's well-received Trigger: Gender As a Tool and a Weapon.
I've since been kept in the loop with the gallery and was stoked to see they're keeping it progressive and exhibiting works by younger artists making strides within their medium. Jonathan Lyndon Chase uses paintings and drawings as a means to explore black homosexuality and queerness, and the many illustrious formations bodies take when placed together in space. His works include point-blank homo-erotics, and various states of sensuality, however I want to point out that intercourse is never completely at play. While the bodies Lyndon Chase works with are sexualized, he delves into the poetry of conversation surrounding what a black queer body can do by placing them into scenes typically unseen: black men with flowers or black men kissing each other.
Chase focuses on the intimacy and the visceral qualities found within the everyday and as a result creates dialogues about the complexities surrounding gender, sexuality and race. In the show's foreword by filmmaker Tiona Nekkia McClodden, she writes "[Chase's] figures mirror each other, touch each other… and reach through each other… Lovemaking, or rather loving oneself is like this."
12:00PM-6:00PM, Wed-Sun, 88 Eldridge St. …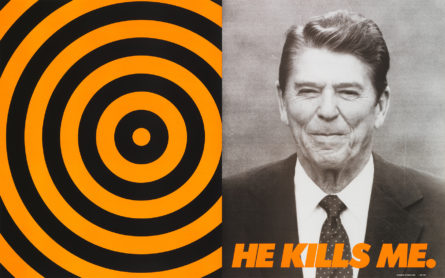 I received a lovely text the other night from Chris Stewart (our managing editor) saying that he had arranged for a press visit to the Whitney Museum of American Art. We went for the Grant Wood and Zoe Leonard exhibitions, but one does not simply go to the Whitney and not check out every floor. We started at the top and worked our way down. The Wood show was a funhouse experience, and the Leonard was one of detailed thoughts.
But what stood out to me was the 6th floor, "An Incomplete History of Protest." This show "looks at how artists from the 1940s to the present have confronted the political and social issues of their day. Whether making art as a form of activism, criticism, instruction, or inspiration, the featured artists see their work as essential to challenging established thought and creating a more equitable culture." Of course there's no way a museum can provide a whole account of the history of protest — it goes back forever and it will go forward forever, but the show is viable proof that artists "play a profound role in transforming their time and shaping the future."
In various forms, there is art protesting the AIDS crisis, the war in Vietnam, racism, abuses of power, sexism, and the Whitney itself. In several rooms full of affecting work, it becomes clear that the show is much more than the sum of its parts. It's a profoundly moving experience that needs to be felt in person. …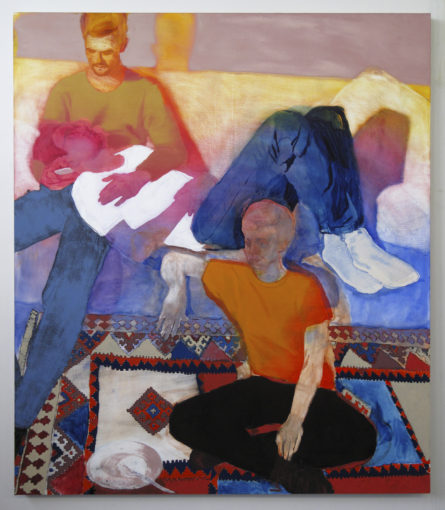 I found out about this painting show because a friend DM'd me on Instagram sharing Doron Langberg's work, which she prefaced with: "Some gay art." Sometimes simplicity is best. Named after James Baldwin's 1964 essay Nothing Personal, Langberg's first solo show in New York (though he has been exhibited widely) is a observational amphitheatre, showing off the Brooklyn-based painters talent for material, color, the situational and a clear joy of painting. I say situational because only on very particular occasions will an anus dilate, and that's usually after penetration. In "Josh," the canvas I'm talking about, Langberg uses peachy-cream colors and other caucasian tones to deepen the context of the post-coital fetish. He clearly cares deeply about this used hole. The power of this particular canvas — and the rest of the show — is that what is clearly homoerotic (to the umpteenth degree) reconstitutes itself within the figurative conversation.
Langberg, who uses his friends and family for models, doesn't dwell inside what is clearly his blatant homosexuality. Sure, these are classic poses of ejaculation or the post-coital, and I'm definitely gay because I love them, but I didn't once think I had to take this dick, or that hole into any grand context. I know I just spent this whole article talking about the phallus, and that says a lot in itself, but Langberg is a really fucking good painter, he just happened to use everyone's favorite art history symbol to show that off. The show runs through April 22nd. …

A timely show at the Morgan marks the late photographer's raw talent.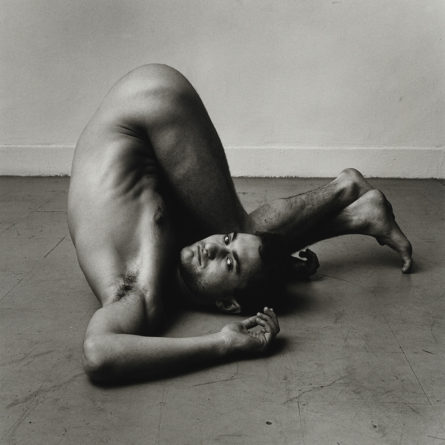 Peter Hujar: Speed of Life, now on view at the Morgan Library and Museum, confirmed what I already knew about the late photographer Peter Hujar and taught me a lot more. In 2013, the Morgan became a repository of Hujar's collection, including 100 photographs, his correspondence, other ephemera, and over 5,700 contact sheets from publications. 160 photographs are exhibited in Speed of Life — curated by Joel Smith — from private collections and the Morgan's recent acquisition.
The opening text explains Hujar was nearly penniless when he was photographing, that he died of AIDS related pneumonia on Thanksgiving Day 1987, and was famously intertwined with the East Village luminary David Wojnarowicz. (Wojnarowicz created now iconic photographs of Hujar immediately following his death, but as my friend noted, "Isn't it a little sad their names might never be found without the other?") It's good that this canonized information gets out of the way early because Hujar's work doesn't appear to be hung up on anything autobiographical. Speed of Life is a competent introduction to the artist and his many approaches to making images.
It's very easy to step into Hujar's eye. He doesn't introduce any profound themes in his photographs; Hujar was an artist not in search of any great answer but perhaps just was prone to feeding that capricious thing called inspiration. Though his style and subjects are not necessarily the most discerned (save his uniform, square compositions), I admired his amalgam of interests — it seemed genuine, like photography was obviously something he was born to pursue. …

A new monograph reveals Bourdin's precocious vision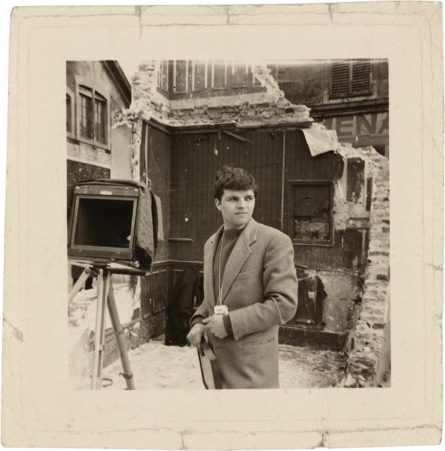 "Better 5 minutes of happiness than a lifetime of conformity." So opens Guy Bourdin: Untouched, a recently-released monograph uncovering work from Bourdin's formative years. Each photograph in the book was created during the crucial period between 1950, the year of his first exhibition, and 1955 — the year that marked his entrée into fashion photography. (He was published simultaneously in Vogue Paris and Nouveau Femina.) Bourdin is perhaps best known for his surrealist-inspired, ultra-stylized, highly saturated narrative fashion editorial work that peaked in popularity during the 1970s.
During his fashion years, Bourdin didn't conform to the style of the magazines he was commissioned for. His unique perspective as both an artist and a working photographer led to collaborating with and shooting for Harper's Bazaar, Chanel, Issey Miyake, Versace, and Charles Jourdan, among others. Bourdin's vision and execution alone set him apart from his working contemporaries.
This unique perspective of Bourdin's — the push and pull of emotion and precision, the tension of artful documentary versus documentary art, an avant-garde tinge to layered imagery — didn't come out of nowhere. It was an inherent trait, but wasn't always apparent inside of his photography. With Untouched, his perspective becomes much more clear, transitioning from often-casual, sometimes-serendipitous photographic observations to precise, controlled studio portraiture. Untouched catalogs a young photographer — just out of the Air Force — beginning to find himself.
One of the first things I learned in my first photojournalism class in college was the idea of a "moment" —referring to the decisive moment, a concept popularized by Henri Cartier-Bresson — and how to capture that. …