Scenes of the sexual, the social and the historic at this intimate exhibit.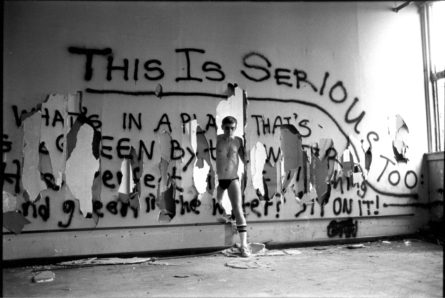 As a newcomer to New York City I made my first trip to the Leslie-Lohman Museum of Gay and Lesbian Art in Soho a couple of weeks ago. I arrived dazed and sticky, not yet used to the stifling midsummer heat or the Canal St. crowds. The museum, on the comparatively quiet corner of Wooster and Grand, felt like a place of refuge. I felt weary and immediately grateful as I walked in. Inside the museum is both stark and warm. With its soft lights and wood floors the gallery space cultivates a comfortable intimacy in its visitors. The same intimacy naturally carries through to the relationship between the visitors and the exhibitions, between the visitor and the art. As I explored OUT FOR THE CAMERA: The Self-Portraits of Leonard Fink, one of the two exhibits currently on view at the museum, the exchange between the space, the visitor and the artwork itself made itself clear.
During the seventies and early eighties Leonard Fink, a gay man, photographed New York City, paying particular attention the social and sexual lives of his fellow LGBTQ people. He captured the bar scene of the West Village and the annual Pride marches and the men cruising for sex on abandoned piers, documenting LGBTQ culture from the interior. During his lifetime Fink's work was never recognized and today it remains mostly in obscurity despite its contemporary relevance. He, like other LGBTQ photographers such as Alvin Baltrop, Peter Hujar or Diana Davies have long been role models for aspiring photographers. …

João Gabriel's paintings deal with queer desire, loss and nostalgia.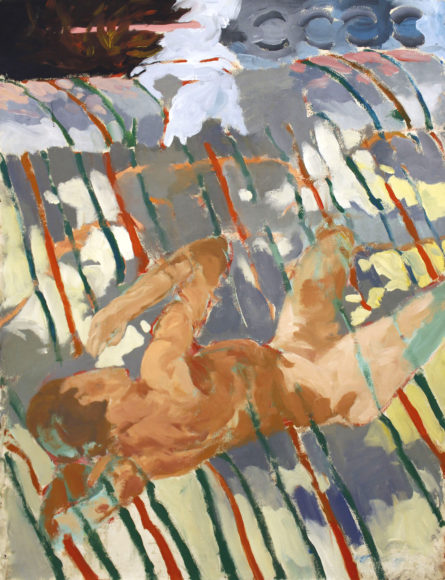 If you're in Mexico City, don't miss the solo exhibition of queer Portuguese artist João Gabriel, A Permit For That Fire, curated by myself at Galeria Mascota, on view through July 21st.
Often departing from pre-AIDS, 1970s gay pornographic imagery, João's paintings deal with desire, loss and nostalgia. Disinterested in the contemporary ideals of masculinity and their portrayals, João turned to vintage gay pornography as a source material to address the male form. His near-obsessive revisiting of the pre-AIDS era speaks to a notion of inherited trauma, and a desire to question the boundaries of joy, fear and sexuality in contemporary queer culture.
The paintings, erotic in nature, carry a certain understatement, a suggestive quality that goes beyond the act of representation. Eerie and faceless protagonists merge poetically with nature in João's built environment, projecting cryptic though timeless scenes of fantasy and longing that may speak to a large subset of the queer experience.
A Permit For That Fire features a series of recent paintings on paper and large canvases, which shows different facets of the artist's work. At once seedy and lyrical, the title — a reference to the opening line of vintage porn film Sailor In The Wild — is an ode to the unsteady potential of homoerotic narratives in painting today.
…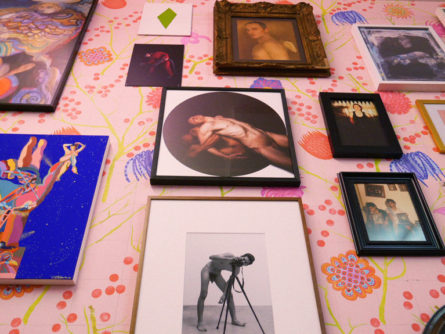 We wrote about this a few weeks ago because they had began a Kickstarter to get the proper funding in check. Well, I am happy to report they did and this week Liz Collin's salon-style exhibition of over 95 queer artists will be on view at BGQSD. "Cast of Characters features a remarkable group of artists showing special works in a site-specific context. The show opens during PRIDE month and will be a grounding and celebratory site for folks to see a broad representation of LGBTQ creativity and life today in a context that queers a design strategy originated in traditional and formal domestic spaces." The opening reception for the public is June 15, from 6:00PM-9:00PM.
Featuring artists GAYLETTER loves and supports, like Vincent Dilio, Doron Langberg, Zanele Muholi, Mickalene Thomas, Kia LaBeija, Troy Michie and more, the enormous group was cast to set the precedent for how large of a scale there is for queer representation in 2018. RSVP is required for the public opening — search on Facebook for event.
Below are a few images from the preview of the show:
Liz Collins (center), curator of the exhibition. 
Free W/RSVP, 6:00PM-9:00PM, BGSQD at the Center, 208 W 13 St. NY, NY. …

A limited edition t-shirt by Jonathan Anderson benefiting Visual AIDS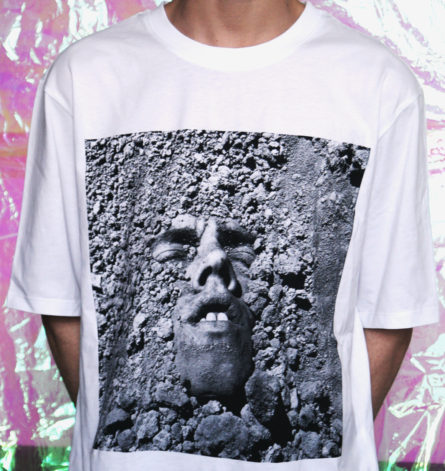 Loewe just launched a limited edition series of t-shirts featuring works by the American artist and activist, David Wojnarowicz (1954-1992). All of the proceeds from the series are going to Visual AIDS, an organization which "preserves and promotes the work of HIV positive artists and assists artists living with HIV/AIDS." Visual AIDS also works to raise awareness about AIDS and create a dialogue through visual art exhibitions and publications. Designed by Loewe Creative Director Jonathan Anderson, the project serves to "foster awareness and honor Wojnarowicz as a courageous creator and activist." The series features four of Wojnarowicz's pieces printed on high-grade cotton crew necks.

Wojnarowicz became a protagonist of the local art scene in Manhattan's East Village in 1978. Many of his works, both visual and literary, center on themes of ostracism  and isolation drawn from his experience as a gay man. After being diagnosed with AIDS, Wojnarowicz' art took on a vocal political stance and he produced some of the most important and challenging work around the AIDS crisis throughout the 1980s. His scathing honesty earned the ire of federal authorities, and his work continues to spark controversy and inspire in our own time of growing cultural divisions around critical social issues concerning freedom, justice and equality. In creating this series Jonathan Anderson seeks to honor Wojnarowicz's legacy and, in keeping with the mission of Visual AIDS, maintain a dialogue about AIDS through art. The T-shirt project coincides with the Loewe Foundation's  exhibition of works by Wojnarowicz and Peter Hujar, on view at the label's Gran Via store in Madrid from June through late August. …

The first in a series showcasing the artist's multifaceted practice.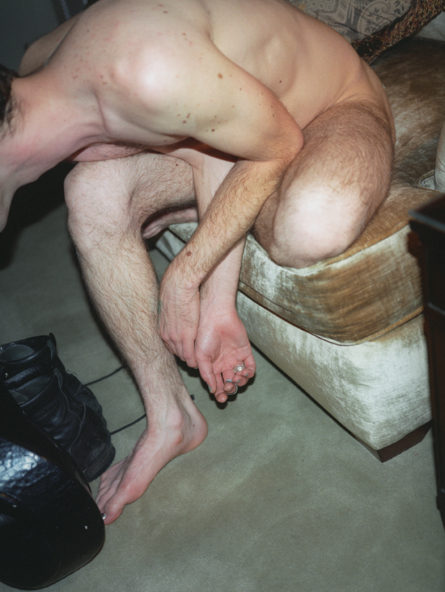 Best known as the frontman of alt-rock band R.E.M., Michael Stipe is an artist in the most far-reaching sense of the word. His distinct vocals are hard not to recognize thanks to the popularity of tracks like "Losing My Religion" and "Shiny Happy People". Stipe has also worked extensively in film, founding two production companies and acting as the executive producer behind well-known independent hits like like Being John Malkovich and Velvet Goldmine. His circle of friends — musicians Natalie Merchant, Tori Amos, Thom Yorke, Courtney Love, and the late Kurt Cobain,  just to name a few — reads like a who's who of the 90's alternative rock scene. It should comes as no surprise that Stipe would extend his practice into the realm of the visual for his latest project — a photo book.

Volume I is the first in the series "presenting different aspects of Michael Stipe's multifaceted artistic practice." Here Stipe and co-collaborator Jonathan Berger work with photographs; there are thirty-five in total and through them Stipe plays an array of roles. He moves fluidly between subject, photographer, and curator, putting together his own photographs with found pieces from his collection. Present in condensed form are 37-years of Stipe's artistic practice of creating and collecting materials, and he involves the two practices in Volume 1 as he conflates "figures in his own life with those in American history and popular culture," focusing specifically within his experience as a queer man.

The book features many of his friends, lovers and fellow artists. …

Art:

CELL COUNT

Cell Count, is a new exhibition opening at La MaMa Galleria this Thursday, May 31st curated by Kyle Croft and Asher Mones. When I first heard about the name of the show I knew it was going to be HIV related, but wasn't sure the potency of the content in this exhibition. "In the last ten years, HIV-specific criminal statutes have been used in over 300 prosecutions in the United States, resulting in prison sentences of up to thirty years. The nature of these laws varies across the thirty-four states where they are currently in effect, but the majority criminalize the act of HIV non-disclosure, placing people living with HIV at risk of prosecution and incarceration for consensual sexual activity if they do not notify their partner of their HIV status, regardless of condom use, viral load, or the actual risk of transmission." The show brings together artists who unpack the metaphors and assumptions that enable the punishment and incarceration of people living with HIV. It's multi-medium group of artists including Jordan Arseneault, Barton Lidicé Beneš (1942–2012), Brian Carmichael, Chad Clarke, Chloe Dzubilo (1960–2011), Doreen Garner, Camilo Godoy, Frank Green (1957–2013), Shan Kelley, M. Lamar, Charles Long with Christopher Paul Jordan, Alexander McClelland, Laurie Jo Reynolds, Muhjah Shakir and Chris E. Vargas. Performances by Jordan Arseneault with Mikiki and Timothy DuWhite. Can't wait to experience this show and honor those who have been so unfortunate as to deal with HIV issues, yet still take a stand to fight for people's rights. —gayletter
Art:

THIS IS NOT HERE: RE 21

By 5:00AM on Saturday, May 26 the cruise ship I'd been aboard for the past week had neared itself close enough to shore, so I had cell service. I practically leaped out of my twin bed as my younger brother snored next to me and got to scrolling on Insta. By 6:00PM that very same day I was at the opening reception for This Is Not Here: RE 21. I saw the flyer on my feed, got my roommates together and said "Girls, I need culture!" and luckily they happily agreed to walk over to the Pfizer Building for the monthly show. Re: Art Show is an ever-evolving, recurrent curatorial project spearheaded by Erin Davis and Max C. Lee. For the show's 21st installment multi-medium artist and curator Efrem Zelony-Mindell collected a huge group of artists exercising in every medium, though there seemed to be a focus on interactive installation/sculpture, especially those of the larger scale, and a performance went on as well. Among the favorites from my friends and myself were the motorized styrofoam and rock sculptures that hump, accelerate, wedge and die inside a metal ring shape, maybe picked from an old bumper-car (by Leander Knust), a curious albeit simple perception room (by Adam Liam Rose) new work from photographer (and GAYLETTER Issue 4 contributor) Daniel Rampulla and a chair held up by a very brave leaf (by Raul De Lara). I couldn't have asked for a better evening back in New York. I was pleasantly surprised, had Pabst for old times sake and proceeded to get drunk at a local bar. Pop your head into this one, it's got over 20 artists, so there's something for everyone. The exhibition is up until June 17, 2018. —Chris Stewart
Art:

CAST OF CHARACTERS KICKSTARTER

This summer the Bureau at the LGBTQ Center in NYC will host its most ambitious exhibition to date. Liz Collins, whose work plays with weaving and functionality using both synthetic and natural materials, will take her carpet and wallpaper designs to dramatically transform the Bureau in Cast of Characters. The salon-style exhibition will feature portraits of 95 LGBTQ artists, both emerging and established. Collins, working inside of large-scale fiber weaving, takes common structures like chairs, or drywall and transforms them into elaborate, deliberate and beautifully paletted pieces that hold their weight in big museum shows like Trigger: Gender as a Tool and a Weapon, but also in the small gallery setting as well. Cast of Characters "features a remarkable group of artists showing special works in a site-specific context. The show opens during PRIDE month and will be a grounding and celebratory site for folks to see a broad representation of LGBTQ creativity and life today in a context that queers a design strategy originated in traditional and formal domestic spaces." Featuring artists GAYLETTER loves and supports, like Vincent Dilio, Doron Langberg, Zanele Muholi, Mickalene Thomas, Kia LaBeija, Troy Michie and more, the enormous group was cast to set the precedent for how large of a scale there is for queer representation in 2018. It opens to the public on June 15! Make a pledge. —Chris Stewart
image via Kickstarter