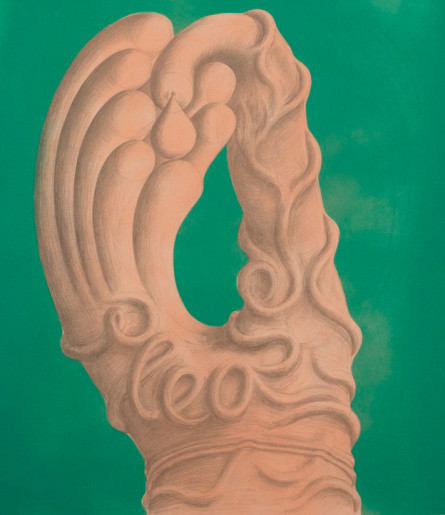 "With my head still under the covers, my fingers digging into my eyes, and my mind off somewhere, there remain only the lower parts of my body, detached, by my digging fingers, from my rotting head." So proclaims Jean Genet in his opus to onanism, Our Lady of the Flowers, the principal themes of which (masturbation, loneliness, disfiguration, homosexuality) are echoed in the drawings and sculptures of Mike Goodlett, now showing at Christian Berst Art Brut in New York City. Goodlett works in relative isolation, choosing to live in semi-rural Kentucky in a house nearly invisible from the slender, overgrown road that leads to it. This kind of quasi hermetic existence leads naturally to the meditations of self and sexuality that play out in his work.
Depicted in many of the drawings are hands, with fingers transformed into veinous and throbbing phalluses, simultaneously caressing and penetrating multiple nondescript orifices. Others show abstracted faces made out of more holes and things with which to fill them. Tear shaped drops of suggestive fluid flow onto delicately rendered, raw pink surfaces. The sculptures are more subtly erotic, their undulating curves cast from stitched spandex, calling to mind garments that hug the body tight — jockstraps, leather, and latex — displaying it's voluptuous, barely contained creases, folds, and bulges.
Like Genet, Goodlett's work is created, at least initially, for his own benefit. Goodlett's objects serve as the means to realize his own desires and lonesome meanderings out of graphite, paint, and hydrostone plaster. …

Art:

IMPOSSIBLE BODIES

Before I got an email about this show I didn't know much about the artist Cupid Ojala. I spent some time doing research on him and I thought, oh our readers will really enjoy his work. Ojala was born in 1977 and he grew up in a conservative Mormon family in Virginia. He transitioned from female to male in 2003 and now lives in Brooklyn. "Through lines, Cupid Ojala's work, conjures new ways of seeing the masculine body through the lens of a trans man. Ojala draws bodies that go beyond the questions of what it is to be a man. Instead, he re-embodies cultural signs of gender, and either strips away the flesh altogether leaving traces of hair, or produces new body formations. In Hair Patterns, the body is outlined only by hair navigating the construction of male virility where some of the patterns overlap to create abstract, yet corporeal shapes." I like that his images are simple, subtlety erotic and playful at the same time. This Friday, October 2nd you can attend his opening at Leslie Lohman Museum and see for yourself what makes him so special. The show is only open until the 4th of October. Don't miss it. —abi
A short film by Slava Mogutin featuring Bruce LaBruce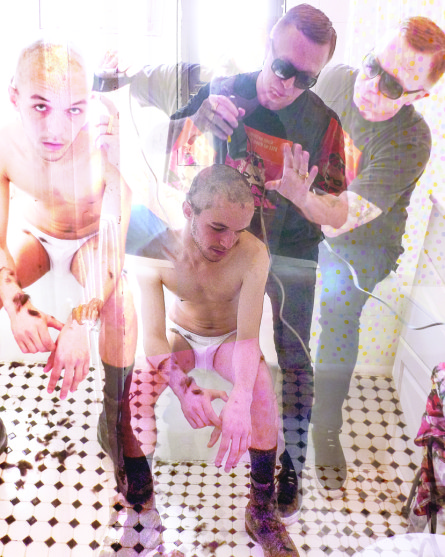 Bruce LaBruce is many things, but shy is not one of them. The incendiary filmmaker — and GAYLETTER Issue 3 subject — has made a career out of putting all of himself out there, from his unwavering politics to the skin of his own ass. It's the reason why his career has endured for over twenty years, starting out in the queercore scene in Toronto and stretching all the way to his film retrospective at MoMA earlier this year. He is queer transgression personified, a critical lightning rod known just as much for his exceptional arthouse cinema as for his exceptional hardcore porn.
This past spring, we caught up with LaBruce following his MoMA retrospective for a chat about his life and career, as well as a photoshoot with Slava Mogutin and a squad of boys. One thing led to another (par for the course when you put two queer legends, handsome boys, and a few bottles of rosé in the same room), and the pair of artists decided to make a music video in Slava's bathroom. It's a quaint short film of LaBruce, really, set to an outré cover of "Moon River" performed by the man of the hour himself. It is also one that may appeal to that watersports fetish you don't tell anyone about. Who knows!
Check out the full, uncut NSFW film below:
…

Art:

Peter Berlin

Last week I went to the opening of Peter Berlin's latest exhibition at ClampArt 'Wanted' with my friend Chris, and we were impressed. It's "an exhibition of self portraits from the 1970s and early 1980s." Peter Berlin is based in San Francisco, was raised in Germany and born in Poland in 1942 as Baron Armin Hagen von Hoyningen-Huene, (that's a long name). He established himself as an international sensation after creating some of the most identifiable male erotica of the time. It's important to mention that this exhibition contains lots of images of Peter's erected penis, ha! (just in case you were expecting something more vanilla.) It's co-curated by Eric Smith and Mark Garrett. "In 2005 Jim Tushinski directed and co-produced That Man: Peter Berlin, which helped spawn a resurgence of interest in and appreciation for Berlin's work. 'WANTED: Peter Berlin,' the exhibition at ClampArt, is mounted with the motivation to further support that comeback." I saw Peter at the exhibition, but too many people were trying to talk to him, so I didn't bother. Instead, I went to the back of the gallery and bought his T-shirt. I'd recommend you check out the show, it was my first time seeing his work in person and I left with a better appreciation for it. —abi
A new zine written and illustrated by artist Michael Wynne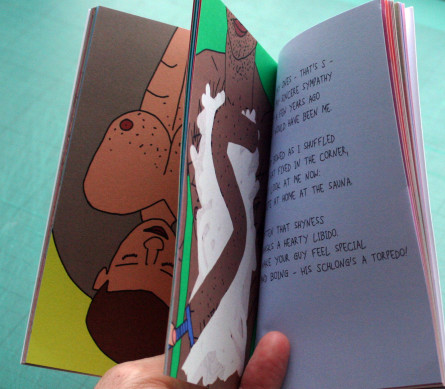 After a long day of work bestowed upon us from bosses or professors, all some of us want to do is curl up with a real good book. I know I am not alone when I say over the course of the workweek, I am expected to read a lot of nonsense, so when choosing my recreational reads, something like a fantastic zine is always first choice. Zines and art books alike are often witty, short, colorful, uncensored, thought-provoking, etcetera. Here is where I introduce Michael Wynne — "author of some books, maker of some cards and wrapping paper, lover of men." See? Witty and short.
Wynne lives in London and has been creating zines for nearly three years now. His most recent, The Bathhouse Hornbook, will be launched at the New York Art Book Fair coming up this weekend, September 18-20. "The Bathhouse Hornbook is a light-hearted poetic introduction to men and their behaviour in the bathhouse. An A-Z of the people you'll find and the things you can do in the sauna."
"The story is built around a young man's first visit to the sauna and his more experienced guide. Alongside 26 illustrations depicting the letters of the alphabet, the book aims to entertain and instruct, to take stock and to caution, to be mildly serious and boldly lighthearted."  — I've never been to a bathhouse so though I'm taking notes for my actual college courses, I'll gladly take some bathhouse notes, and I suggest you do too. …

Art:

Photoville

Here's something fun to do over the weekend while it's still nice outside. There's a pop-up photography village in Brooklyn Bridge Park called Photoville. Exhibitions are housed in 65 shipping containers spread across the park. There's two exhibitions that really caught my eye. First is Misha Friedman's "The Iron Curtain" (pictured) which documents how "Russian LGBT youth live in a country that vilifies homosexuality." It's a very important collection of photos that have even been recognized by the Pulitzer Center on Crisis Reporting. Second is Jeff Sheng's "Fearless" which features 200 LGBT student athletes between 2003-2015. "The series was just published as a personal memoir and photography book with an afterword essay by retired NBA basketball player Jason Collins." Along with these amazing exhibitions there's so much more going on in the park during Photoville's two week run. There's nightly "outdoor projection programs; site-specific works; tents with vendors, publishers and gear demonstrators, panel discussions, talks and workshops; and a food & beer garden by Smorgasburg and Brooklyn Brewery." Sounds hot. —tom
FREE, 12:00pm-8:00pm, Brooklyn Bridge Park,
BK NY,
.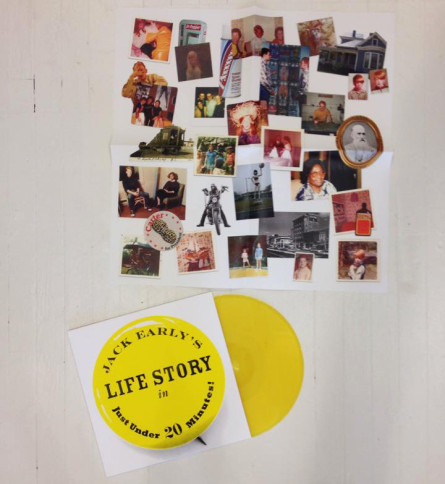 We learned about the artist Jack Early in December 2014 after we saw his showcase of a bright and bold new body of work at Art Basel Miami Beach. He was honored as one of the festival's Top 10 shows. Shortly after, we contacted him to do a feature in our second issue of GAYLETTER (which you must read), and had us over for some Whiskey and beers. Oh and a nice selection of cheeses. He's a very sexy "daddy," and an amazing host with a great sense of humor. We can't wait to get invited again — even though he's not single.
For today's event (Sept. 11) at Printed Matter, he'll be flipping through a collage of images as he tell us his life story — "the images are funny," he told me. There was a yellow victrola at his show in Miami that looped a song about his story; he'll be playing the same as he does tonight's slide show. "I always thought it would be something if I could tell my whole life story from beginning to now. So I decided to do it. I got together a trumpet, a banjo and a bass, a clarinet, some drums and a pump organ. I told my story as the band played. I put it on a yellow vinyl record and I called the whole thing 'Jack Early's Life Story In Just Under 20 Minutes.'"
He recently did a talk at Fire Island Art Residency in Cherry Grove — it was an amazing time. …

The artist's latest show 'A Room of One's Own' is now on view at Daniel Cooney Fine Art in NYC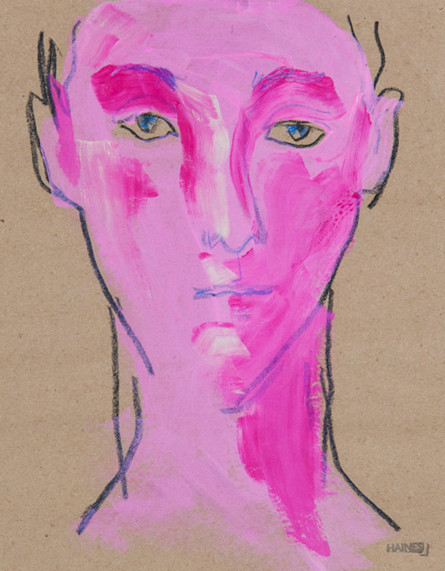 We've been fans of the artist Richard Haines' work way before he got famous in the fashion industry — Seriously, he's been on our radar long before he started drawing for the New York Times' T magazine, and collaborating on T-shirts with Prada. We even posed naked for him because we liked his drawings that much (hopefully we can find that drawing and we can get it as a gift for Christmas). We both have artwork by him on our walls, Richard has been a great supporter of our newsletter, he even covered one of our newsletters (letter No.115) with illustrations (I am so gonna print that newsletter and frame it now that I think of it!).
We did a feature in our printed publication (GAYLETTER Issue 2) about his process and more specifically about drawing naked Brooklyn boys. Basically I don't need to read a press release about this new show to recommend it.
The show is titled 'A Room of One's Own' and it's opening on September 10th at 6:00PM at Daniel Cooney Fine Art gallery in Chelsea. I can assure you the it's gonna be filled with boys he's drawn, fashion kids, friendly faces and lots of great art on the walls.
Here's a preview of the show:
FREE, 6:00PM-8:00PM, Daniel Cooney Fine Art, 508-526 West 26th St. …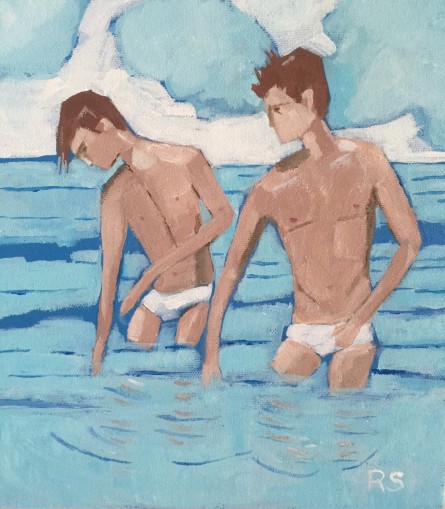 That sinking feeling is upon us. The days are getting shorter and the nights are getting cooler. The picnics in the park are fading. The long walks on the beach are winding down. And the sad reality of saying goodbye to a summer love is weighing heavy on our hearts. Soon all we'll be left with are the memories of another summer gone by.
Painter and writer Richard Stabbert, however, has found a way to not only hang on to the season, but also capture it in all its beauty. In his first book, Provincetown Memories, he writes charming, yet intimate stories of the town that reads like pages out of his personal journal that tells the tales behind many of his paintings.
"There's a magic to Provincetown that every year it changes, but the magic still remains," Stabbert, who lives in Red Bank, N.J. says. When in Provincetown he feels completely at home. He can often be seen on the red bike he rents every visit. While riding he stops and listens to the handsome accordion player on Commercial Street. On his morning walks he collects shells and barnacles the bay has left in the retreating tide.  Even after all these years, the area holds a special place in his heart.
"I first came here when I was 22," Stabbert recalls. "I went with a girl, and I did not have any sex, but I wanted to go back. I liked the freedom. I like the fact that in the early '80s you could walk down the street holding hands and you could be free. …