Art:

Agnes Martin Retrospective

The Agnes Martin retrospective on view at The Guggenheim is one of the best museum shows I've seen in awhile. The serene journey up the beautifully curved building follows the development of her work in chronological order, and ends under the sublime light of the Guggenheim's skylight, shining on some of her best large-scale paintings. Don't miss the two short videos on view in the museum's library alcove half-way up the building. I had never seen Martin paint or talk about her work before, and it was a revelation to see her meditative focus as she covers a canvas and discusses how her paintings all represent positive emotions. Her positivity is revealed in some of the titles of her works too – most are untitled, but others in the show are titled "Blessings," "Gratitude," and "I Love the Whole World." I recommend you bring a date — by the end you'll be enraptured with Martin's ecstatically minimal paintings, and maybe each other. Afterward you can cross into Central Park for a cute make-out session, or if the weather isn't great, stop by Café Sabarsky for a Viennese pastry and coffee. —Patrick
Art:

Photography and Homoerotic Desire

Besides ancient Greece, New York is the place most famous for homoerotic art and photography. This is a city where many queer artists who felt ostracized growing up came to find acceptance and freedom. "Led by boundary-pushing artist Robert Mapplethorpe and his patron Sam Wagstaff, alongside pioneering contemporaries George Dureau and Peter Hujar, homoerotic photography found its way into New York City galleries and museums in the 1970s. Join the Museum along with the SVA Photography Department for a conversation about this moment in art history, moderated by critic Philip Gefter. We'll spotlight the gay men who helped establish the art market for photography during this era and delve into themes of our new exhibition, Gay Gotham." This sounds like a fascinating talk, and a much better way to spend your Friday night than happy hour drinks at the Boiler Room. Although it only goes until 9:00PM, so there's always time for those drinks after. Listening makes me thirsty. Xoxo Gossip Girl. —tom
Art:

Visionaire Presents Autoportrait

ADA0002 is a robot artist who the public can pose for. It will create an artwork, a portrait of you, that you can take home. The show explores themes around technology and art such as "...what happens when, through technological means of perception, automata are able to create with greater precision than their human counterparts? How will creativity be affected when an augmented human or AI can distinguish spectra of light and color that are beyond our native biological abilities? Through the frame of the art world, VISIONAIRE's AUTOPORTRAIT seeks to ruminate on such assertions." This fascinating exhibition runs from Oct 13 to the 26th. "Using image processing algorithms, the artist — who is itself synthetic — stylistically synthesizes the image of its audience, transforming the viewer from a tangible being into processed computer data and back into a unique physical object/artwork. This artifact can be hung on the walls of the subjects' homes, thus completing the cycle of this new artistic paradigm." The era of robotics is nearly upon us. Are you ready? —tom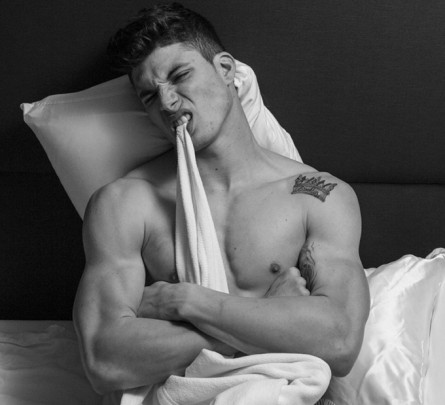 Josh McNey has released his debut book of photography, Olympia, Volume I. The book features model Joe D. Martinez embodying what it means to be an American Man in various cities around the country. Don't worry we already found Joe on Instagram so you can all properly stalk him.
A 140-page exploration of American masculinity, Olympia features Martinez in notable cities such as New York, Las Vegas and, of course, Saylorsburg, Pennsylvania. McNey positions his model as the everyman; a cowboy, a surfer, a party boy. All versions of the same guy mirroring his outward appearance to his geographic setting. What these men have in common is that their self-presentation reads as "confident and fitting." Well that, and that they all have cute butts. While it is deliberately unclear whether McNey is critiquing, or simply celebrating, our country's reverence for masculinity, it is clear that these are truly beautiful photographs.
McNey is an artist and creative director based out of New York and Los Angeles. Originally from California, he joined the U.S. Marine Corps and then went on to get his degree from Columbia University. His photographs can be seen in art and fashion magazines around the world.
I'm personally curious to see what the next two installments of Olympia bring, but until then you can check out more of Josh's work on his Instagram and pick up your own copy of Volume I here.
Below is a preview of the book:
…

Scenes from the weekend at Tom's House in Los Angeles
Art:

'Dirty Little Drawings' Opening

We just spent a weekend at the Tom Of Finland Foundation in Los Angeles. It was a very cool experience, we literally slept in Tom of Finland's bed! The foundation is a mecca for erotic art. They have a library with the biggest collection of erotic art in the world. Which is why this event immediately jumped out to me. Featuring over 60 artists, the Dirty Little Drawings exhibition started in 2003 as an opportunity for collectors to buy affordable art from many of the artists featured at the Leslie-Lohman Museum of Gay and Lesbian Art. This year there is a "dizzying array of original erotic art works...No two of these artists approach their work or represent masculinity in exactly the same way, whether the subject is portrayed as a heroic figure, a love object or an objectified play thing. Each artist executes his drawing with keen insight, skill and sensitivity revealing the evolving way we view the male figure as an object of desire." This is sure to be a popular event, so much so that to ease overcrowding they will not be serving refreshments. We suggest you grab a drink beforehand then head on over to pick up some sexy drawings while you're still a little buzzed. —tom
Whoopi Goldberg Curates a Personal Showcase of the Actress' Life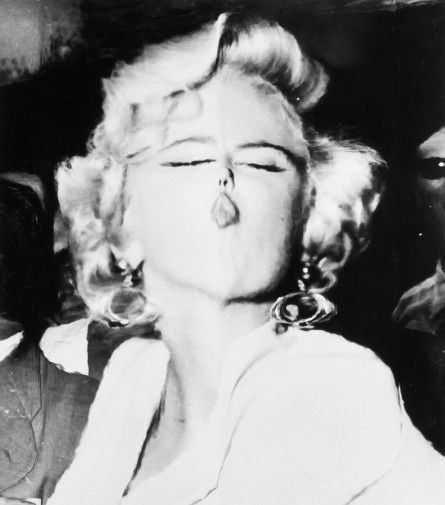 You know, I think when I first took Marilyn Monroe seriously was when My Week With Marilyn was coming out in 2011 and Michelle Williams was on the cover of Vogue dressed as Monroe herself. I was gay and in high school, so I really thought American Vogue was the end-all be-all, but shade aside, many of my interests came about from flipping through Anna's pages pre-doing-everything-at-Condé Nast. For example, in Vogue is where I first learned that beyond the beauty, Marilyn Monroe desperately wanted to be an incredible actress. Being a theater kid myself, I thought that fact to be depressing. I wondered why no one ever spoke about her go-getter attitude, only of her beauty. I found the former so much more appealing. Monroe studied method acting at the Actors Studio with Lee Strasberg and his wife Paula. She often cried when she couldn't get a monologue, or scene right.
I feel that in Monroe's case, attaching the word icon to her for an introductory label smears over a lot of who she was. Since her death, Monroe's image is arguably the most recognizable, yet no one cares about her story. Women just want to look like her. Men just want to touch her breasts.
Thank god for Whoopi Goldberg. Seriously.  She's curated a new exhibit at New Jersey's cultural center Mana Contemporary, showcasing the interiority of Monroe the person; not the iconic face. "The image of Marilyn Monroe the icon endures and strengthens as time goes by, but her personal life remains a mystery,' says Whoopi Goldberg. …

Art:

Make Me Feel Like a Woman

Make Me Feel Like A Woman is a group show at the Long Gallery all the way up in Harlem (I only say that because I'm lazy and live downtown). The show "deconstructs ideas and stereotypes of "womanhood" through work that presents 21st century narratives of American women. The exhibition catalyzes discussion on how women are perceived, analyzed, often disregarded as people, and frequently acknowledged simply as objects." It features work by Linda Gallagher, Daniela Puliti, Tiffany Smith, and Ted Partin. What's most exciting to me is the fact that Nomi Ruiz of Hercules & Love Affair, and Jessica 6 fame will be playing music at the opening. This is the perfect thing to do on a Sunday afternoon. Get on the 6 train like a young J-Lo and head on up to Harlem for some incredible art and beautiful music. On the way back you can pick up some fragrant oils from the street vendors on 125th st. Last time I was there, they were selling an oil named Michelle Obama. I mean, who doesn't want to smell like Mrs O! —tom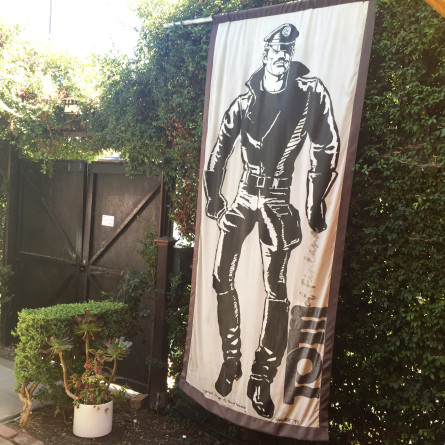 We just had the most surreal experience waking up in Tom of Finland's bedroom, in his actual bed, in Echo Park, Los Angeles. The entire house has the strongest branding I've ever seen, even the pillowcases on the bed we slept on are leather. Around the bedroom there is original artwork, and even Tom's leather jackets and boots.
We're at his house for the Tom of Finland Art & Culture Festival and we're selling all 5 issues of GAYLETTER Magazine and other goodies. If you happen to be in Los Angeles, come say hi. Along with us there are vendors from all sorts of places, many selling erotic art inspired by the Finnish artist, who's real name is Touko Valio Laaksonen.
At 12:00PM the house is also hosting a live nude drawing session. If visiting us isn't enough of an incentive, then I'm sure the chance to sketch a hot guy in Tom's legendary house will be! You can always just come mingle, have a drink and pick up a guy, everyone seems to be horny here.
The fair is Saturday October 1 and Sunday, October 2. From 11:00AM-6:00PM. Tom' House is located at 1421 Laveta Terrace, Los Angeles, CA.
…

Art:

Velvet Rage, Flaming Youth, and the Gift of Desperation

I learned about the artists/collective McDermott & McGough after seeing an artwork titled "Violate Me, In Violent Times" created by them at Sperone Westwater a few years ago. I went nuts for it — I even instagrammed it. Then, after I went online to do more research and I loved lots of the work they've created. "McDermott & McGough are best known for using alternative historical processes in their photography, including the techniques of cyanotype, gum bichromate, salt, tri color carbo, platinum and palladium. Among the subjects they approach are popular art and culture, religion, medicine, advertising, time, fashion and sexual behavior." This is their first exhibition at James Fuentes gallery, their new works "are not only an extension of their idiosyncratic practice, but also reevaluations of their oeuvre..." Going through this body of work, I was very impressed. It's all very present. There's a very clever hand-carved wooden table with lots of penis and tits that's just incredible, oil on canvas paintings with golden frames that I'd love to own, works containing typography made out of naked humans and animals, references to early 20th century cartoons, some incredible vases that also happen to have men having sexual encounters on them and some other work that I cannot wait to spend some time looking at in person. Go check out before the show closes on October 23rd. It's rich. —abi