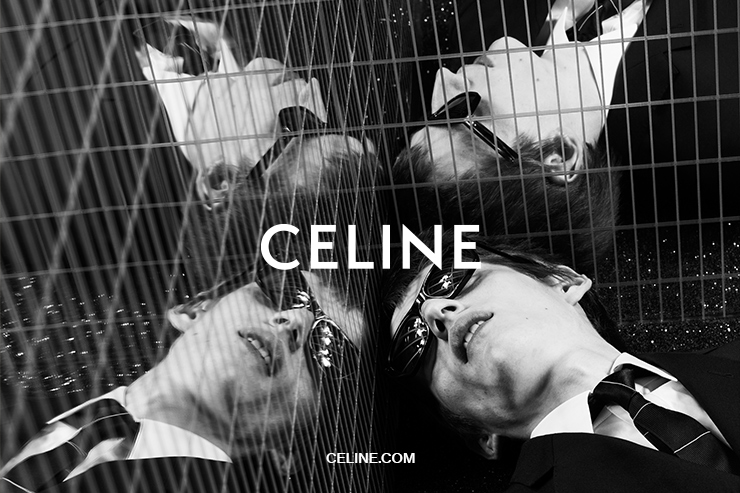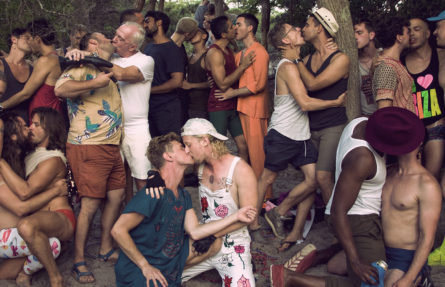 I've never been to Fire Island, but I've heard about it. Stories about a gay paradise: parties, sex, drugs, the Meatrack… A place for fun and friends where you can be yourself and not worry about what anyone else has to say about it. Ryan McNamara has curated the work of 17 queer artists into an exhibition simply entitled Fire. It captures the experience of Fire Island. Littered on the floor are fliers for DWORLD Underwear Parties that read "The pool is open at 2:00AM for a skinny dip!" and "NYC's hottest Go-Go." In the center of the space is a sculpture of a squatting boy called "Boy's Tears" by Cajsa von Zeipel. It's surrounded by sand, towels, flip-flops, and deflated beach balls. An empty bag hangs on the wall. Scribbled on the front of it in marker is the description, "K8's Jockstrap Collection Bag. Do it for fashion!" Next to the bag, K8 Hardy fitted several jockstraps onto a fiberglass mannequin. A wood and plaster creation ("Chemical Compound") by Ryan McNamara depicts countless faceless figures kissing, sucking, and fucking in the biggest orgy I've ever seen.
Walking through the exhibition is exciting, it's like walking through the remnants of a wild beach party that just ended an hour ago. I felt like dropping everything and going to Fire Island to experience the inside-jokes, and the community that seemed to be all about acceptance and having a good time. In organizing Fire, Ryan McNamara makes a statement about the importance of queer spaces. …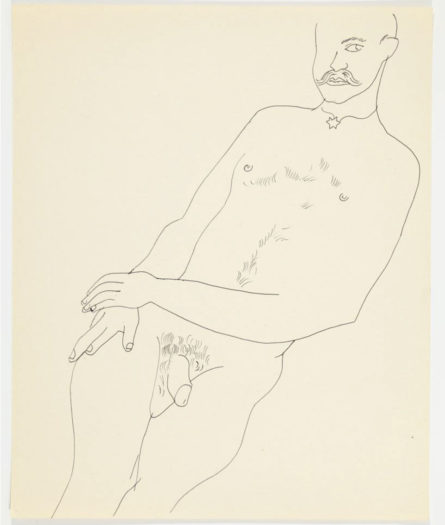 In 1982, Andy Warhol, and several other artists, established the New York Academy of Art, a school focused on traditional education in drawing, painting, and sculpture. Warhol provided funding as well as creative input, and now, more than three decades after his death the academy has put together a new exhibit. Andy Warhol: By Hand, Drawings from 1950s-1980s features drawings and sketches from throughout Andy's life. Over 150 drawings will be on view — many of them never before exhibited in the United States.
Among many artworks, there are male nudes, which were drawn in the 1950s and never meant for publication or exhibition. It was illegal to distribute that kind of content back then, so the sketches were used just for Warhol's studies — men laying naked on their backs, depictions of penises, butts. Also on view are sketches for a "Boy Book," a study of the male face and figure, which was never completed. Andy drew his male friends, but gave them long eyelashes and added little hearts to some of the portraits. There's a subtle femininity to these men that helps them appear boyish. Separate from those sketches are a collection of male portraits. Men with their bodies relaxed, their legs spread, often shirtless.
A founder of the Andy Warhol foundation, co-curator of this exhibition, and longtime friend of Warhol, Vincent Fremont explains, "It is important for people to know the vital role drawing played in Andy Warhol's life as an artist. By focusing only on Andy's drawings, this exhibition is a way to highlight without distraction Andy's innovative process and experimentation which encompassed pen and ink, ballpoint pen, blotted line, graphite, and acrylic paint." It is well known that Andy sketched in the beginning of his career, but, as this exhibit makes clear, Andy continued to sketch throughout his life. …

With Michèle Lamy, Chloe Sevigny, Raul de Nieves, Miles Greenberg, Misha Kahn, Scooter Laforge, BasicaTV, Brandon Boyd, De Se, Matthew Morrocco, Casey Spooner and many more...
The latest exhibition of special edition prints exclusively at Tom of Finland Store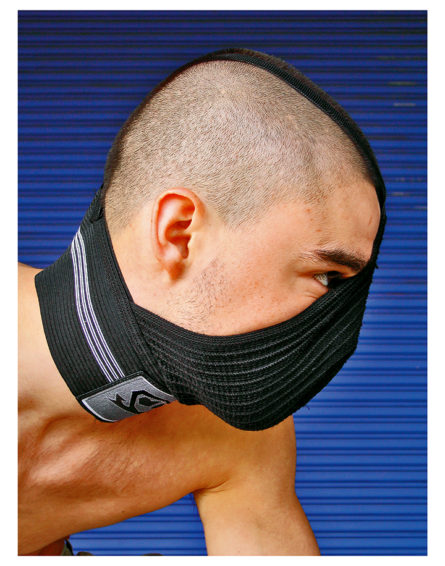 The Tom of Finland Store is equal parts online boutique and gay art gallery. We've seen exhibitions of work by Bruce LaBruce, Jack Pierson, Daniel Trese and now their latest — a collection of special edition prints by the artist Slava Mogutin (titled Slava Mogutin: XXX Files) exclusively available on their site. The online exhibition launched in December 18th, a day after Tumblr decided to ban adult content. It's one of the dumbest thing we've heard about this year, wasn't pornography the only reason why people went on Tumblr in the first place? Our GAYLETTER XXX Tumblr got closed down after a few successful years and a massive following, but you know what, who cares, it's time we all leave Tumblr and show them that we don't need to support their regressive, homophobic ideals.
"For me, the personal is political and the political is personal. At the time when our fundamental constitutional rights are under attack, I believe that queer imagery can serve as the most effective weapon against hypocrisy, bigotry, and censorship. When they censor my work either on social media or in real life, my response is always — double up on the queer, double up on the fight and what they don't want to see. I want to shine light on the darkest corners of human nature and sexuality as a way to understand and peacefully coexist with each other, because being different is a blessing, not a curse." — Slava Mogutin.
This exhibition is composed of photographs, performance and film work from different stages in Slava's career. …

This new series invites artists to create pictorials in the Pinups format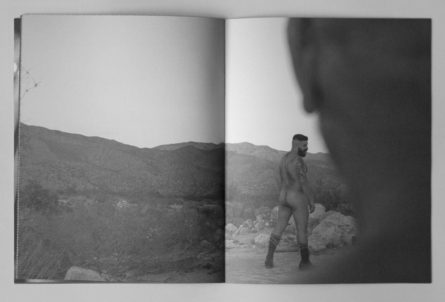 Pinups – the queer zine focused on bear male nudes – is back for one more special issue! For those of you that are just learning about this publication, here's the deal, each issue of Pinups "can be dismembered, and the loose pages tiled to reveal a single, monumental image of the subject. The zine's two states conflict, resulting in visual and narrative abstraction: a dialogue between its physical structure and its printed content."  This edition is part of their new "Artist Series" and features photography exclusively by Patrick Lee, it tells a story in pictures. The beefy models, Esteban Bartholo and Devin Corbin are photographed cruising in the Mojave Desert at dusk. The zine opens with an ominous quote attributed to an "Anonymous Truck Driver," "You know what goes on here? It's where men congregate…I've seen some crazy stuff here and I've had to pull guys out of here a number of times."

There's a voyeuristic feel as you flip through the pages. One page shows a picture of shoes on the pavement, the next shows a man standing with his bare butt toward the camera, and out of focus, by rocks, sand, and the setting sun, two men are having sex. Other pages show close-ups of the male form – legs, chests, and dicks – and some show night falling over the scenic desert landscape.

"Patrick Lee is known for his photorealistic graphite portraits of toughs, and for his mystifying landscape photography. Lee's Pinups exploration fuses his favorite subject matter in an atmospheric story of cruising at dusk."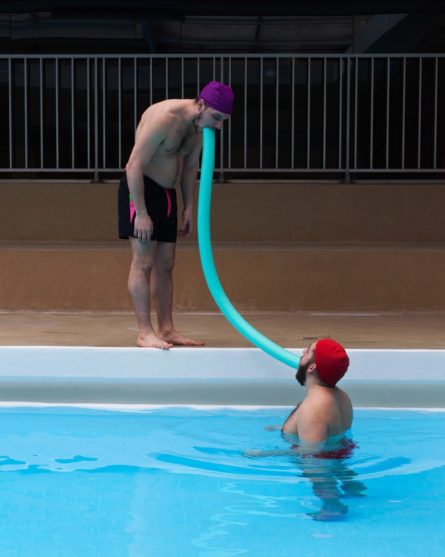 Mickey Aloisio is one talented photographer. He's so talented we've featured his work in our printed magazine a couple of times (Issue 5 and Issue 9). His new body of work 'Trips' brings "together a collection of images from two seperate photographic journeys the photographer embarked on. Over the last two and half years Aloiso has photographed over 100 men in a total of 20 different cities." Aloisio's photographs have a friendliness to them that is very appealing. He often places himself in the frame and it's immediately clear that he has a connection with the subjects he's shooting. The intimacy between him and his figures is magnetic.
"What's most thrilling about the creation of each photograph, is the recognition and response, the giving and taking, and the pushing and breaking of the boundaries of the other. Which ultimately explores how our identities are challenged and perceived by the stranger beside us. Each photograph becomes a demonstration of interdependence, acceptance and vulnerability." Aloiso explains.
Join Mickey on Friday, December 14, evening for the opening reception of 'Trips' at Leslie Lohman's Prince Street Project Space (127B Prince St.). The below ground gallery gets packed quickly, and hot, so remember to check your coat (I didn't last time I was there, and was a sweaty mess.) The opening reception goes from 6:00PM-8:00PM. Should be a cute crowd — you might even run into a few of the stars of his photos, if you're lucky.
…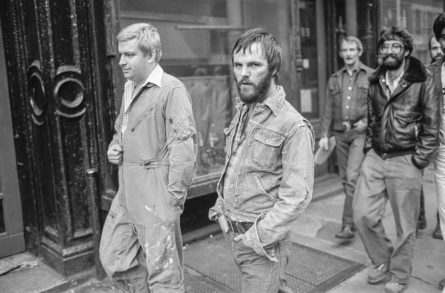 Sunil Gupta moved to New York City in the early 1970s to pursue an MBA, but the city had other plans for him. After realizing he had a passion for photography (Gupta would often hangout on Christopher Street and photograph the young men who were bravely creating some of the first gay public spaces), Sunil left the prospect of an MBA behind and began studying photography under Lisette Model at The New School.

The images he captured during his graduate career, nearly a decade after the Stonewall Riots yet years before the AIDs crisis, are compiled in Gupta's new book, Christopher Street. He shows us a different era, one in which gay men are dressed in Levi's and leather, where they walk down Christopher Street proudly sporting sideburns and mustaches. Gay sex, as political revolution, was part of this era, too. Men would have sex on street corners and behind parked trucks, not just for fun, but as Gupta says in a recent Guardian article, to be "bad and proud of it."

Sunil shows us this kind of intimacy in his photos. Flipping through the pages of Christopher Street feels like cruising. Men look straight into the lense as they walk past, some smile, some smirk. Gupta does a brilliant job of capturing the gay scene of the time. "What was initially a hobby quickly found a purpose in the fledgling gay liberation movement, documenting gay rights marches as well as the burgeoning gay scene. In retrospect these pictures have become both nostalgic and iconic for a very important moment in my personal history." Gupta is now based in London, and has presented his photography in more than 90 international solo and group exhibitions. …

A book that celebrates the artist's lasting impact in our culture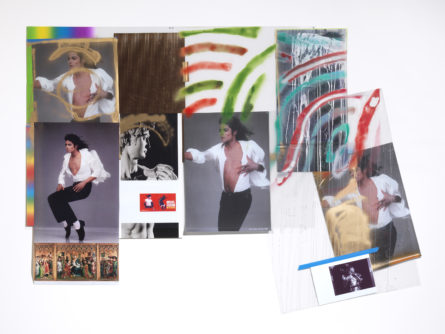 We all have our own story of where we were and who we were with when we learned Michael Jackson was dead. I was in the car with my mom and my older brother, we heard the news over the radio. Despite the controversies that followed Jackson through his late years, his lasting impact on our global culture is undeniable. This is what's explored in the new book, "Michael Jackson: On the Wall". The work of over 40 major artists who were inspired by Michael, including David LaChapelle and Andy Warhol, are compiled and reflected on.
Contributors like Zadie Smith explore what she calls the "magical thinking" around him. If it was so clear Jackson was bleaching his own skin, why did so many fans chalk it up to conditions like vitiligo? She writes, "That's when you understand how strong the force of desire is, how much it can deny and distort. It simply could not be that the most famous black man in the world wanted to be white. It would kill us to believe it. And so we refused to do so."
Notable is that contemporary art still focuses on Jackson. From Donald Urquhart's satirical "A Michael Jackson Alphabet" (2017), to Rodney McMillian's sobering portrait of Jackson's childhood home, "2300 Jackson Street" (2004), hung next to lyrics from Walt Disney's Snow White and the Seven Dwarfs: "It ain't no trick to get rich quick/ If you dig, dig, dig with a shovel or a pick."
Jackson may be dead, but his legacy is proving immortal. …

Art:

Becoming Queer: Warhol in the 1950's and Jerett Robert Austin's Camille

If you were as intrigued by the queer overtones in the majority of Warhol's work at the Whitney's newest exhibition 'Andy Warhol - A to B and Back Again' then you'll be happy to hear about an upcoming gallery talk on that exact subject and more. Art historians Nina Schleif and Trevor Fairbrother will be discussing Warhol's representations of homoeroticism on the third floor of the Whitney in the Susan and John Hess Family Gallery and Theater. Schleif is a German art historian who wrote 'Drag and Draw Andy Warhol: The Unknown Fifties' and Fairbrother is an independent curator who's written extensively on Andy Warhol. The Whitney states that the talk will mainly cover, "Warhol's depictions of queer desire, his collaborations with the photography Otto Fenn, and the social milieu of New York's gay subculture during the McCarthy-era." The talk will also be accompanied by a screening of Jerett Robert Austin's Camille, "a drag parody  of the 1936 George Cukor classic film starring Robert Taylor and Greta Garbo." The film pairs well with Warhol's work being that it's another influential depiction of gay subculture during McCarthyism when homosexuality and drag was outlawed. —gayletter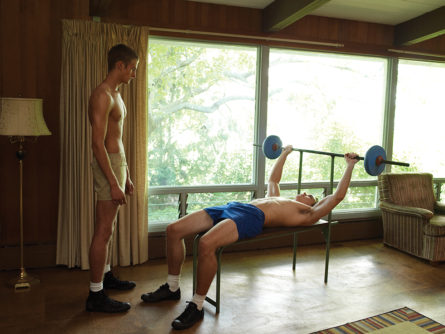 It has been 10 years since Luke Smalley created this body of work, and ClampArt gallery is celebrating the artists' latest exhibition titled "Luke Smalley (1955-2009) | Exercise at Home" opening on Thursday, November 29. Luke left behind an amazing oeuvre of photographic media before his early passing at the age of 53.
I have been a huge fan of Luke's work since I discovered some of his photos on Tumblr years ago, and I almost lost my mind when I saw his book "Gymnasium" back in 2004. Luke's work has been the inspiration of many fashion photo shoots. Often, I'll see a clear reference to his imagery and give him credit in my mind. In fact, his photos have been on a few of GAYLETTER's mood boards over the years. His work is so timeless and elegant; it keeps me looking back again and again.
"Exercise at Home" premiered in exhibitions on both the East and West Coasts in 2008, coinciding with the release of a second Twin Palms publication — the artist's third book. "It followed "Gymnasium" in its themes of "adolescent growing pains acted out under the guise of earnest athleticism."
Here's a preview of some of the work that will be on display at the exhibition. It runs through January 19, 2019.
…

The visionary talks influence, time and his remarkable career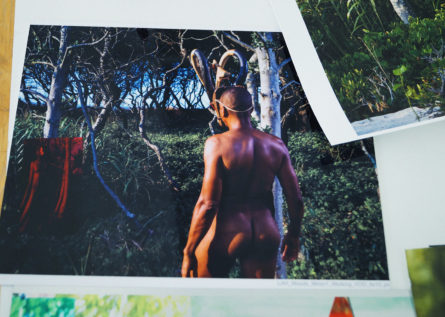 It was a crisp Saturday in early October. In Chelsea's gallery district, a few gallery-goers shuffled around and down sidewalks, hopping from space to space, unfazed by the wind, blind to the artist walking among them. Lyle Ashton Harris was arriving at his studio. Having been enamored by his work, and given his newest upcoming exhibition at Salon 94 Bowery, Flash of the Spirit, I was visiting him to pick his brain. Our eyes met as Lyle looked over his shoulder as he was unlocking the door to the studio building. He greeted me with a grin. "Did you recognize me?" he asked. "I just wondered…"
Upstairs, Lyle's studio was beautifully filled with natural light. The space appeared worked-in, but generally uncluttered. As we grazed around the room, he busied himself applying light-background music (Solange, Kaytranda, Sade, Fleet Foxes, and Kate Bush) for the afternoon. Perhaps the most notable sight in his studio, both in size and palette, were two immense, unstretched canvases. The two faced each other on far opposing walls, but he quickly called my attention away from there and back toward the center of the room where a table scattered with photographs and several prints were arranged into piles. These were his latest series of portraits created over summer after a nudge from his dealer to get back to working within portraiture. Also on the table was a diorama of Salon 94 complete with tiny photos of the work now exhibited, pinned to the miniature gallery walls. …

The Whitney's newest retrospective of a pop Art legend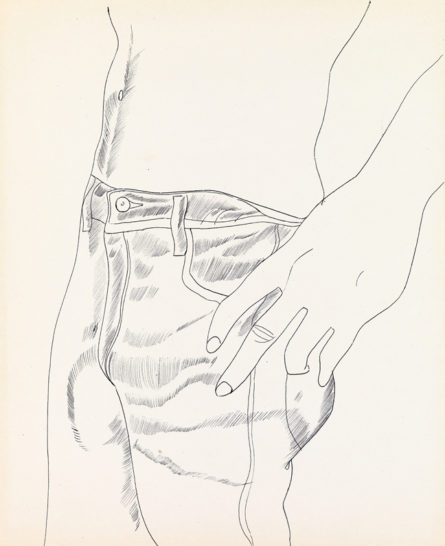 I remember someone on social media saying, "do we really need another Warhol show now?" I thought the same thing for about a minute, but then I remembered — it's Warhol. It's got to be good. And if it isn't, I can't talk shit without seeing it. Warhol made a unique contribution to the art world and even if you are not a fan, you should probably see this one in person, otherwise you'll sound like a hater.
I went to the show Andy Warhol — From A to B and Back Again and I am so glad I did. It's the largest exhibition to date at the Whitney's new location, including over 350 works, many assembled together for the first time. The dazzling show is brilliantly curated by Donna De Salvo, Senior Curator and Deputy Director for International Initiatives, Christie Mitchell, Senior Curatorial Assistant, and Mark Loiacono, Curatorial Research Associate. "The exhibition positions Warhol's career as a continuum, demonstrating that he didn't slow down after surviving the assassination attempt that nearly took his life in 1968, but entered into a period of intense experimentation. The show illuminates the breadth, depth, and interconnectedness of the artist's production."
It's a vast display; from his early commercial shoe illustrations, to the editorial covers under his direction at Interview magazine, through his instantly recognizable celebrity-obsessed pop-art, into his enigmatic later films, and including, of course, the infamous piss paintings — there's something for everyone!
Andy Warhol (1928–1987), Superman, 1961. …