Art:

ART AIDS AMERICA EXHIBITION TOUR

We covered this exhibition in the letter and on our site previously, but we just had to again as it's a very important exhibition that you shouldn't miss if you are in NYC — Use this as your reminder, you still have time though it closes on October 23rd. Here's what one of our writers Chris wrote about it the first time: "Artists, including Kia Labeija, David Wojnarowicz, Robert Mapplethorpe, Bill Jacobson and more, give voice to perspectives that are too often suppressed, and [Art AIDS America] reveals how they have changed both the history of art in America and the response to this disease." Featuring more than 125 works spanning from 1981 to the present..." This week, BOFFO is co-hosting an "intimate guided tour of Art AIDS America, an exhibition at The Bronx Museum." The capacity is limited, so you need you to arrive early (15 minutes prior to tour). Reservation is required. Get to it! —abi
Art:

The Sickness is the Cure – a screening presented by Carolyn Lazard

This sounds fascinating. The show explores ideas around sickness as not a state we must rid ourselves of, but as a condition that is a natural part of life, and something we can learn to adapt to as part of our journey on this earth. There's 5 videos that explore this topic from a variety of angles. "In Doreen Garner's surgical performance, Procedure, animal parts are cauterized and sewn together to a classical music soundtrack. Covered in acupuncture needles, Linda Montano chants the story of her ex-husband's passing in Mitchell's Death. Black men voice the personal and social transformation that comes with being HIV positive in Marlon Riggs' poetic Je Ne Regrette Rien. In Kissing Doesn't Kill, a series of playful public service announcements, Tom Kalin and Gran Fury push for the politicization of the AIDS epidemic. It's Cool, I'm Good presents Stanya Kahn as an escaped patient, who leads nurses on a comedic tour of an equally wounded Los Angeles landscape." In the show notes they mention that "Radical vulnerability might be the only tool we have left in the face of pain." I love that idea. Surrender is often our greatest savior. —tom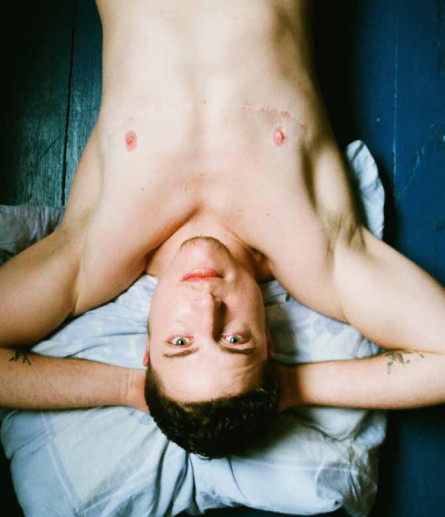 "…gender is not sane. It's not sane to call a rainbow black and white." With this quote by Kate Bornstein, photographer Joseph Wolfgang Ohlert begins his magnificent book of portraits, titled "Gender as a Spectrum." The book features photographs and interviews of 80 people around the world who run the gamut of gender expression. Everyone from drag queens to trans men and women, to those identifying as gender-queer are represented. Ohlert shot in locations such as New York, Paris and Copenhagen, looking to capture the essence of a person, not only what their outward appearance leads us to believe.

Born in Germany, Ohlert has previously worked behind the scenes of movie-sets and theater productions all while perfecting his craft. When paging through Gender as a Spectrum, the first thing you are struck by is the straightforward gaze of the subjects. The people in the pictures seem to protest the idea that we will simply objectify them and put them in whatever box we see fit. As an audience we are forced to take a step back and register that the person in the photo is first and foremost human.

The interviews are conducted by Ohlert's collaborator and friend Kaey. Kaey identifies as a transgender woman and discusses how when they started going through their transition there was no literature written about the trans experience by somebody who was actually trans. "I felt that something was missing and I imagined what I would like to find. …

Art:

Visionaire Presents – Richard Avedon, Moving Image

Richard Avedon is a legend in the world of the photography. It's a pretty obvious statement, but one I think is worth acknowledging. "During the course of his legendary, 60 year-long tenure as the preeminent, quintessential fashion photographer, Avedon shaped contemporary image-making and influenced international aesthetics through his iconic fashion work, portraiture series, reportage and sheer mastery of technique." This week, Visionaire is presenting an exhibition of Avedon's work as a director. The exhibition is in collaboration with Marla Weinhoff, set designer and long-time Avedon collaborator. It features an extensive collection of his work including "a series of never-before-seen Calvin Klein Jeans casting interviews from The Richard Avedon Foundation archives, 35 fashion models from the 1980s and 1990s reveal personal answers to Avedon's questions heard off camera. These interviews, which continue the theme of the artist's presence in the ensuing pieces in the exhibition, reveal both Avedon's meticulous process, as well as an attempt to elucidate for the viewer the subject's essence — a notion often ignored today when concerned with the traditionally silent and passive model." There's plenty of other work on display in this exhibition that runs for around 2 weeks. Bring a sharp eye and an open mind. —tom
A solo show by Zak Krevitt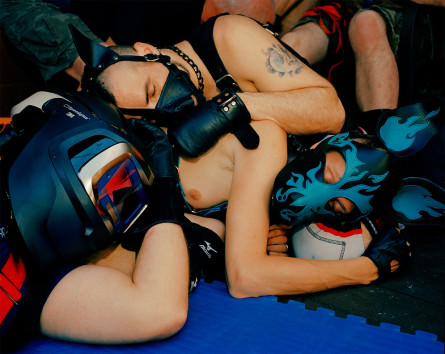 As the boring little white boy that I am, I'm all for learning about new kinks and fetishes. Although I've heard about the Human Puppy community in passing, I've never really been exposed to much about it which is why Zak Krevitt's new solo show, 'Alpha, Beta, Omega' at Ray Gallery in Brooklyn looks so fascinating.
Krevitt is a Brooklyn-based photographer whose art focuses on the inner workings of Queer people. The show explores the "Puppy Play" community both in and out of their gear, many of whom still adhere to the pack-like structure consisting of an Alpha, Beta, and Omega member. Hence the name of the exhibition. "In 'Alpha, Beta, Omega.' this act of becoming something more than human is examined, as is the burgeoning community surrounding it. We are on the cusp of the cyborg age, and here individuals have taken it upon themselves to strip away their human flesh and replace it with the imaged fur of a canine."
The exhibition features 25 photographs and a site-specific installation that's bound to intrigue, entice, and even titillate. Who knows, maybe by the end of the night you'll be asking around for the nearest leather store.
Below is a preview of the show:
FREE, OPENING RECEPTION 6:00PM-9:00PM, RAY GALLERY, 5 WASHINGTON ST. #721, BK, NY. …

Rapport's artwork is now on view at the store Adam's Nest in Provincetown, Massachusetts.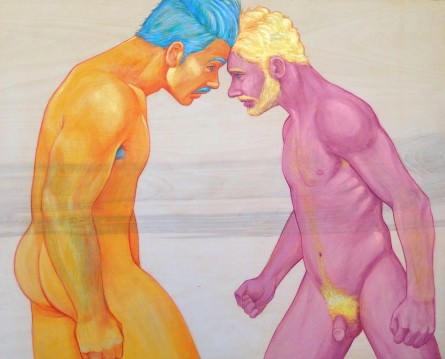 Nathan Rapport creates beautiful and erotic scenes using colors that are as queer as his subjects. I mean, it's not everyday that you get to see multicolored pubes. Beginning on Friday, August 19th, you'll be able to catch Rapport's artwork on view at the store, Adam's Nest in Provincetown, Massachusetts. The show is titled "I Won't Decorate My Love," and Nathan himself will be at the opening night reception.
A multitalented artist who splits his time between Texas and California, Rapport gained national notoriety with his queer adult coloring book, "Last Night I Dreamt That Somebody Loved Me." The coloring book, along with shirts designed by Nathan, can all be found in the Adam's Nest online store. The t-shirts feature designs such as "Blousy Top," "Butt Pirate" and a dude with a dick stuffed in his mouth captioned, "Enjoy the Silence."

The show coincides with Carnival week, one of the biggest outdoor celebrations in Massachusetts. The Provincetown Carnival attracts a crowd of over 90,000 people all coming together to celebrate queerness. Going along with this year's Carnival theme of "Back to the '80s," Adam's Nest is also selling Gran Fury's Act Up t-shirts, with a portion of the profits going to support the Ali Forney Center.
Adam's Nest opened up in June of this year and proudly features art, apparel and everything in between. In their own words, "We believe in love, equality, and to live by the 'golden rule.' Live and let live is the idea we hold in the highest regard. …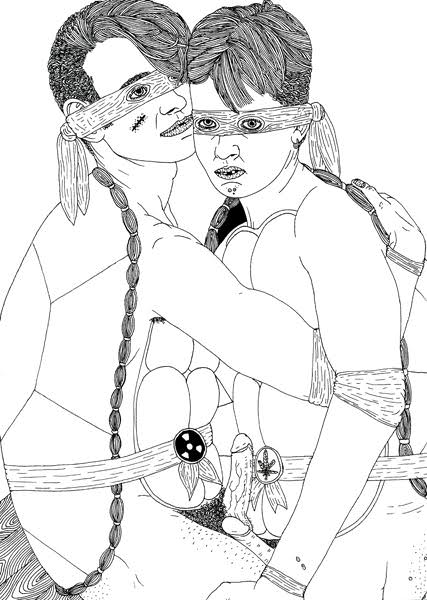 James Unsworth's art is very dark, and sexy and fucked up in the best possible ways. Known for exploring "the subjects of sex, death, food and grand faggotory" in his work, the London based artist, has acquired fans far and wide. This Saturday, August 20, at Printed Matter Inc.
Unsworth will debut his first U.S. solo exhibition titled 'N.S.F.L.' It "will include original drawings from Unsworth's first two publications; Ninja Turtle Sex Museum and Dead Boys alongside sketches, reference material, prints and ephemera relating to these drawings."
Apparently James will be onsite to sign copies of both publications. We chatted with Printed Matter's Shannon Michael Caine about the show and he told us that there are also "over a 100 original drawings for sale and riso editioned prints start at $20." He also mentioned that there will be "beer and boys." He knows us too well. We're looking forward to it.
Free, 5:00-7:00pm, Printed Matter, 231 11th Ave. New York, NY. …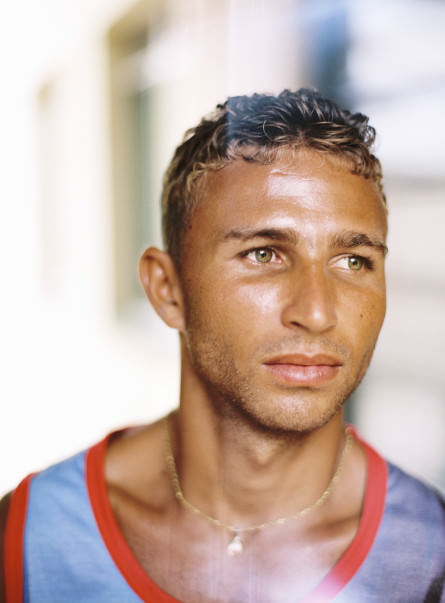 It may come as a shock for you to learn that the Olympics are going on right now in Rio de Janeiro. Or that I just had to google the proper spelling of "Janeiro." While Olympic coverage is everywhere we look, what's presented is mostly the shiny, hand-holding Olympics that we're taught to believe in as children. When mainstream news outlets cover more controversial stories, they're almost always about environmental issues. These stories are obviously important but are only given airtime because they affect foreign athletes. Stories about less significant people (read: poor) are much harder to come by and artist Marc Ohrem-Leclef is doing what he can to change that.
With his project 'Olympic Favela,' Ohrem-Leclef documents how the residents of 14 Rio favelas (Brazilian urban slums) have been affected by both the Olympic games and the World Cup. Forced from their homes in order to entertain the rest of the world, Marc captures the struggle and perseverance of these brave displaced families through both photo and video. While his work has already been internationally recognized, it's on view for the first time in New York at the BAXTER ST Gallery as part of the 2016 Annual Juried Exhibition.
The show, curated by Mickalene Thomas, will be having an opening reception tomorrow that features a screening of the Olympic Favela accompanying film. The documentary centers around two families from Favela Vila Autodromo who are relocated and end up having to deal with two very different fates. …

The controversial exhibit stops at the Bronx Museum of the Arts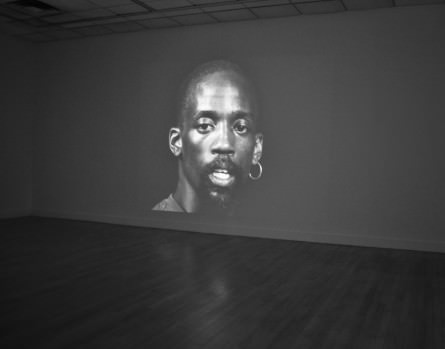 Since its debut at the Tacoma Art Museum in October of 2015, Art AIDS America, curated by Jonathan David Katz and Rock Hushka, has been met with enormous controversy. This backlash comes from the fact that the show, which showcases art that came out of the AIDS epidemic, features hardly any work from black artists. This is troubling, especially when you consider that while black people represent approximately 12% of the U.S. population, in 2010, they made up about 44% of new HIV infections. Right now in America, gay and bisexual black men, as well as trans women, are most at risk for HIV/AIDS.
To their credit, the curators of Art AIDS America have taken the criticism of white-washing seriously — as each future iteration of the show seemingly becomes more and more aware of race. At the Bronx Museum of the Arts, the show is designed so that this elephant in the room is one of the first things you see when entering the exhibit. "Tongues Untied" by Marlon Riggs is projected in the entryway to the main part of the exhibit. Riggs' film — about the black gay community — is one of the first pieces to draw your attention, and it is a telling choice by the Bronx Museum of the Arts to screen it at the start. Understandably, they'd like to show it off. The film is compelling—filled with men reciting provocative, erotic poetry, and confronting the camera with an intensity found also in the footage Riggs uses of parades and lovemaking. …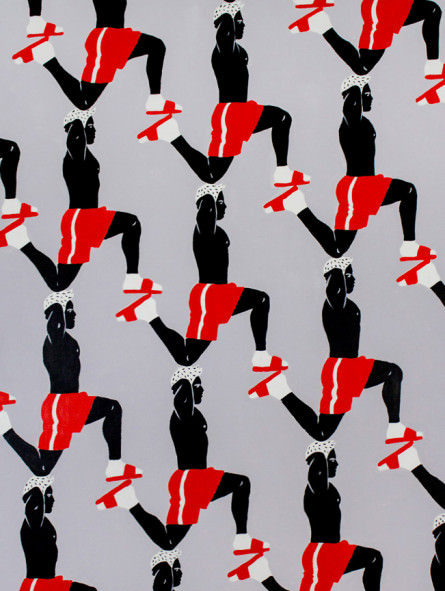 I met the artist Sean O'connor out and about when I was going to FIT in Manhattan and used to party 6 days a week (I think Monday was my day off). Basically I met him drunk. I think he was straight at that time or pretending, or just trying to do bro-masc, I was too drunk to remember the details.
Years later I saw him again and he told me he was working on some art and because GAYLETTER is always interested in what's new, I asked him to share some of his work with me. After we saw the work, we got really into it. Which is why we want to tell you about his first solo exhibition in NYC, which features large paintings, works on paper, as well as "edition prints that depict vast and intricate floral patterns, paired with muscular men and athletes, snakes and reptiles, and classical icons of beauty."
His work is "rooted in traditional decorative art practices such as "Toile de Jouy," and printed textiles, and he repurposes these mediums to portray a contemporary look and examination of idealized male beauty in gay culture. The imagery in his work references historic and artistic symbols of masculine beauty ranging from ancient Athenian vases, to mid-century male pin ups and athletes, to current prevailing notions of manhood.  His work searches for the humor within the 'homo-bromo' social-media fixated culture, and also explores when appreciation for beauty and aesthetic morphs into vanity and narcissism." It's super sexy. …