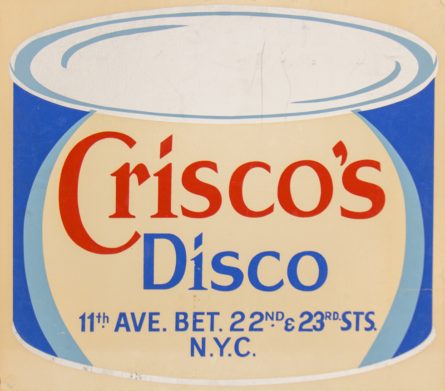 I think I said this before, but I gotta say it again, every time Brian Clamp (from ClampArt) emails me about an exhibition I look into it because I trust his taste. His gallery and Ward 5B are presenting an exhibition that opened last week and it's running until Sept. 23. It's called Screaming in the Streets: AIDS, Art, Activism. It "focuses on the meaning of radical spaces for sexual minorities and reflects upon a generation of lost artists, while illustrating the interconnectedness and collaborative working relationships among them."
The AIDS epidemic reached its peak around 1995, by which time there were about 48,000 annual AIDS-related deaths. "The story of the artistic and activist responses to this medical crisis were marked by intergenerational, communal, as well as individual associations…. Linked in this way within the context of the exhibition are Kenny Burgess, Haoui Montaug, Keith Haring, Ethyl Eichelberger, Jimmy De Sana, and many, many others." The exhibition also celebrates the launch of Ward 5B, which is a service that specializes in the archival and curation of "late 20th-century urban ephemera and art, with a focus on punk aesthetic, radical spaces, performance art, drag, experimental theatre, camp, queercore, and guerrilla/street art projects." I'd say, don't miss it.
FREE, Tuesday-Saturday, 10.00 am-6.00pm, ClampArt, 247 West 29th St. NY, NY.  …

Nan Goldin's romance glimmers through reality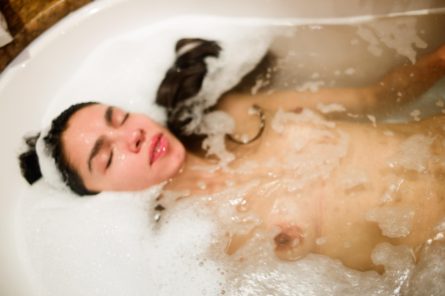 The breathtaking work by photographer Nan Goldin in her most recent book, Diving for Pearls, seems to point towards contextualizing the life within the inanimate, the intrinsic within the universal, the beauty within the mundane, and the ephemeral within the eternal. Like golden sunlight draped over your boyfriend's sleeping head, this hauntingly intimate book struck me as an exploration of the ignored beauty that lies in the most well-lit corners of reality. Three image series are interspersed with essays by Glenn O'Brien, Lotte Dinse, and Goldin herself, exposing varied subject matter in the spirit of unintentionally stumbling upon beauty.
Goldin's remarks, although printed last, seem to frame the first section of images. The thread that unites the two is a celebration of mistakes and the effort put into one's work; the images presented are akin to those often discarded for their lack of distinctive focus and Goldin's text reiterates the struggle to glean one beautiful shot from myriad shots taken.
Loosely organized around hazy landscapes, portraits fashioned through double and triple exposure, and still lives of statues and taxidermy, the first section of images in Diving for Pearls translates as a tender hug in the midst of a thunderstorm.

In his essay, O'Brien refers to Goldin as a rebel and a romantic. "Beauty in art is not just rare today, it is practically taboo, banished from the show it dominated for centuries." O'Brien contests that Goldin's photos may operate as subversive for upholding standards of beauty that have been largely left by the wayside. …

The future of Mizer's legacy launches today with his films from the past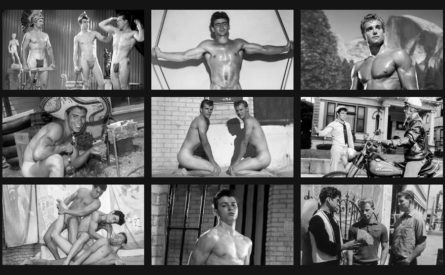 When GAYLETTER featured Bob Mizer's glorious AMG: 1000 Model Directory in Issue 6, we had the best time cruising the pages and admiring the ridiculous amount of gorgeous men Mr. Mizer photographed. The models Mizer selected had similar bodies, but usually very different faces. He was not into just one specific look. To each their own; Mizer always wanted to photograph the next best body on Muscle Beach. He was a prolific caster, spending countless hours on the beaches of California looking for models, and the archive he left behind is enormous as it is magnificent and extremely important to the study of male physique photography.
More unknown, however, are Mizer's films. Prior to our contemporary streaming services like Netflix or PornHub, Mizer was documenting his models in the moving image starting in the 1950s and then through the 1970s. It was exciting to hear that the Bob Mizer Foundation would be relaunching Mizer's historic Physique Pictorial publication later this summer, but even more exciting is today's premiere of PosingStrap.TV.  For the very first time, subscribers can view a plethora of the photographer's films, including those displaying solo posing, wrestling and his full length story films.
Over the course of several months, the Foundation has worked to restore and digitize many of Mizer's 16mm camera negative films and ready them for online presentation. With new films being added to the site every week, subscribers can also request specific films or models should they be itching for more from one of the models. …

The latest project by Kostis Fokas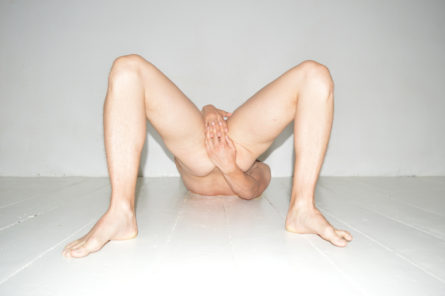 Artist Kostis Fokas told us about his "wish to present a new take on the human body" with his surreal images in GAYLETTER Issue 1 and shared his magical series, Solosexual, in our cover story for Issue 4. Now he's back with new work.
The GAYLETTER contributor is currently working on a project titled All I need is love / all I have is porn for "the indigenous people of the digital world." With the images notably taking on a bolder direction when contrasted with his previous work, Fokas poses questions about the relationship between the human body and "contemporary digital interaction." The series investigates the role the digital image plays in our search for love — and if we can ever find it in an age where we often satisfy our desires by "scrolling down [our] screens."
Currently based in Berlin, Fokas is hoping to have an exhibition there by the end of this year. Meanwhile he's rolling out the images on social media, and is generously debuting five new works with GAYLETTER as seen below. Throughout the photos, contorted nude models show the individual's struggle to "behold another body in physical and digital terms." With All I need is love / all I have is porn, Fokas presents a new type of romance through an erotic, contemporary conscious lens by navigating the perceived vulgarity of the effect digital intimacy has on the physical form. You can see more of his work and stay up to date with the project by following him on Instagram. …

Art:

Chantal Joffe

Much to my dismay, most of my go-to art friends are more or less completely unfamiliar with Chantal Joffe. Luckily for me, I had a darling professor who worked closely with the artist and gallery during Joffe's past show, Night Self-Portraits, at Cheim & Read and she felt it was integral to introduce and study the painter in the class dedicated to self-fashioning and self-portraiture. On that previous show, Joffe said, "I felt those self-portraits were getting closer to the kind of honesty I want." In her latest exhibition for Cheim & Read, which closes this coming Friday, Joffe has produced a collection of portraits of women and girls alone, save an addition to her on-going series of portraits that feature herself and her own daughter, Esme. "With influences ranging from Piero della Francesca to Edgar Degas and Francis Bacon, Joffe has based her work on a direct and intimate observational relationship between the painter and her sitter." As Joffe regards her previous show with the gallery as a personal breakthrough, I must run over to Chelsea and catch these canvases before they are down. There's nothing better than hearing a painter feel that she's hit her stride, and then, of course, seeing for yourself. —Chris Stewart
An intimate peek into Mickey Aloisio's latest work.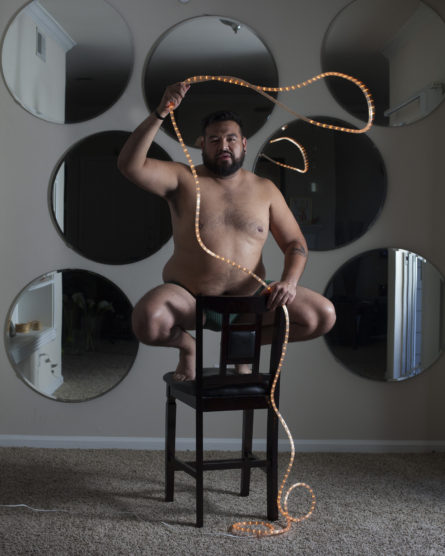 In GAYLETTER Issue 5, photographer Mickey Aloisio told us about his photo project Gay Wildlife. For that project, Mickey photographed men — particularly those belonging to the "bear" community, as Grindr, and the like, label them — in their homes around New York City. Since then, Mickey has traveled across the United States further developing the project into what he now calls American Wildlife.
A lot has changed in this country since Issue 5's launch (just last fall), greatly impacting the LGBTQ+ community (and other minorities) — so I had a conversation with Mickey about American Wildlife; the journey he took, and how this project fits into current affairs.
I see that transitioning from Gay Wildlife to American Wildlife, you've begun to include yourself in your images. For that project, I actually included myself in some of the images too, but they never made it to my final edit. I wasn't sure exactly how to fit them in. However, when I look back, I feel that as the photographer, I was distant from the work, despite feeling very close to it throughout the entire process of creation. With American Wildlife, I wanted the journey to be something more.
There's something to be said for what happens when the photographer and subject are both on the same playing field, when the power is evenly distributed between the two. I think it's about getting close to another person. Some of us need people, or the experience of another — more than we know or would like to let on — that we'll go to what seems like great lengths to get the chance to see or learn just a little more about someone. …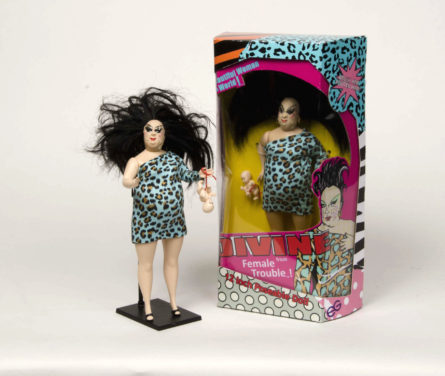 Back in 2015, we attended the opening reception of John Waters' exhibition titled 'John Waters: Beverly Hills John' at Marianne Boesky gallery in Chelsea. Tom and I were hoping to see the show (naturally) and to maybe meet John Waters and give him a copy of GAYLETTER Magazine. We are big fans of John and have been fascinated with everything he does. We got to the gallery and it was difficult to say hello because the gallery was super crowded and we were not the only ones that wanted to chat with John or take a photo with him for their social media. We waited for a while until we finally got close to him and told him we loved the show and wanted to give him a copy of our magazine. He told us to leave the magazine with the receptionist at the gallery, he refused to touch the magazine, I guess he didn't want to carry a mag around at his opening — people probably try to give him things all the time.
This new show, curated by Tyson Tabbert, that's opening this Thursday, May 25th (6:00PM) at La MaMa Galleria is not a John Waters show but the curator gathered a group of artists to create a "showcase of kitschy and ironic retail items based on the early films" of teh Baltimore director. "Discover forgotten toys, home decor, and seasonal artifacts featuring familiar Dreamlander movie personalities. Presented in the spirit of a Sunday morning garage sale, the exhibit revels in the strange, nostalgic appeal of the 70s and 80s." From what I've seen online, I'm very intrigued. …

Art:

POST ANALOG PAINTING II

All of my closest friends are painters, so I've received what I call a second-hand arts education by sitting in on their critiques and conversations. (Maybe I am not so subtly trying to become Frank O'Hara). As I write this, I realize I'm at risk of sounding like an idiot, but as the Latin idiom goes: as in painting so is poetry, and I know poetry, so fuck it! The Hole, which is always doing something interesting, is presenting their second installment of Post-Analog Painting. The exhibition, which includes only digitally-inspired works, features contemporary populars like Trudy Benson, Austin Lee, Maja Djordjevic, Caroline Larsen and Guy Yanai; all whom I've been interacted with via friends or Instagram (seems appropriate for the occasion). The idiosyncratic approach and the physical materiality of painting is perhaps the most mystifying aspect of the medium. So to take on a painting show that sees painting in a post-analog state, is provocative as much as it is relevant. We live in a digital age and so many artists are consuming work via their phones; really, it shouldn't come as a surprise that the hand-made has been refashioned into pixelated textures. I'm sure an art historian could point out someone else who did this years ago, but I'm feeling like a romantic. The show feels totally fresh (though a tad over-crowded). It closes Sunday! Get jiggy with it. —Chris Stewart
Art:

MARCH MADNESS

You are probably thinking why in the hell are we talking about March Madness when it's the first letter of May, but bare with us. This group show at Fort Gansevoort opened on March 17 and has just recently been extended through May 13. "The show features a roster of 31 artists, all women, whose artwork subvert masculine archetypes, and challenge more docile notions of femininity by highlighting the qualities of strength, fitness and agility that are characteristic of physical skill and capability." How I haven't heard about this show in recent weeks is a little beyond me. Some of the artists included are Cindy Sherman, Catherine Opie, Collier Schorr, Miranda July, and GAYLETTER friend and contributor Renée Cox whose triumphant and commandeering piece is featured in the press-email. I was browsing the online gallery and was surprised to see how many works included actual depictions of sports, rather than just pandering. Basketballs seem to be alerting the viewer to feminine body standards, and in another, trophies have never looked so totally worthless. You've got a little over a week left in the extension. Grab an iced coffee with almond milk and non-gmo ice and take a walk to Chelsea — the weather is right for it. —Chris Stewart
Art:

The John Dowd Fan Club

Shannon Michael Cane from Printed Matter is always looking for ways to shine a spotlight on queer artists that never got the acclaim they so rightly deserve. And bless him for that. We do the same in our magazine. It's amazing how many brilliant queer artists have been overlooked by the mainstream art community because it's clearly filled with a bunch of homophobes. This week Shannon is bringing to Printed Matter "an exhibition of self-published serial publications and ephemera by late New Yorker John Dowd, a key if often overlooked figure in the correspondence art movement of the early 1970s." John Dowd is an artist made for GAYLETTER. Like us, John was fascinated with printed materials, popular culture and queer politics. His work was often described as having a "xerox aesthetic" (I love that term), he also had a "perverse sense of humor" which is evident in much of his work, like his pieces featuring Disney cartoon characters. "The John Dowd Fan Club traces Dowd's collaborative output through a near-complete overview of editioned publications and folded broadsheets, accompanied by extensive archival material including unique zines, xerox ephemera, promotional inserts, collages, mail art, correspondence, and original stencils." The opening reception is on Friday, April 21, 6:00-8:00PM. There's always a cute crowd at Printed Matter's openings, and free beer! It's time to join the John Dowd fan club. —tom