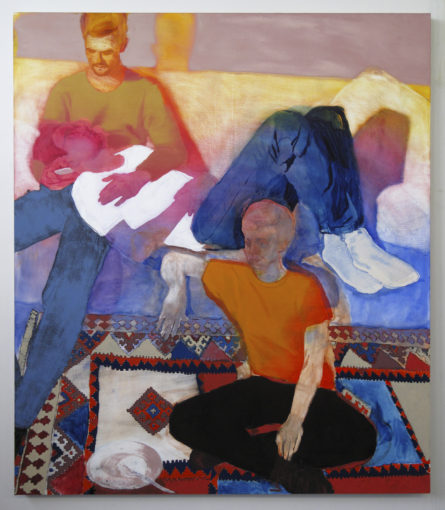 I found out about this painting show because a friend DM'd me on Instagram sharing Doron Langberg's work, which she prefaced with: "Some gay art." Sometimes simplicity is best. Named after James Baldwin's 1964 essay Nothing Personal, Langberg's first solo show in New York (though he has been exhibited widely) is a observational amphitheatre, showing off the Brooklyn-based painters talent for material, color, the situational and a clear joy of painting. I say situational because only on very particular occasions will an anus dilate, and that's usually after penetration. In "Josh," the canvas I'm talking about, Langberg uses peachy-cream colors and other caucasian tones to deepen the context of the post-coital fetish. He clearly cares deeply about this used hole. The power of this particular canvas — and the rest of the show — is that what is clearly homoerotic (to the umpteenth degree) reconstitutes itself within the figurative conversation.
Langberg, who uses his friends and family for models, doesn't dwell inside what is clearly his blatant homosexuality. Sure, these are classic poses of ejaculation or the post-coital, and I'm definitely gay because I love them, but I didn't once think I had to take this dick, or that hole into any grand context. I know I just spent this whole article talking about the phallus, and that says a lot in itself, but Langberg is a really fucking good painter, he just happened to use everyone's favorite art history symbol to show that off. The show runs through April 22nd. …

A timely show at the Morgan marks the late photographer's raw talent.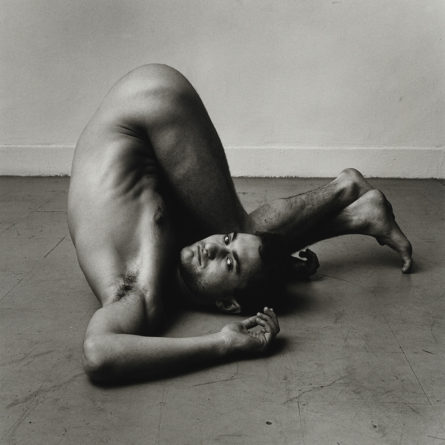 Peter Hujar: Speed of Life, now on view at the Morgan Library and Museum, confirmed what I already knew about the late photographer Peter Hujar and taught me a lot more. In 2013, the Morgan became a repository of Hujar's collection, including 100 photographs, his correspondence, other ephemera, and over 5,700 contact sheets from publications. 160 photographs are exhibited in Speed of Life — curated by Joel Smith — from private collections and the Morgan's recent acquisition.
The opening text explains Hujar was nearly penniless when he was photographing, that he died of AIDS related pneumonia on Thanksgiving Day 1987, and was famously intertwined with the East Village luminary David Wojnarowicz. (Wojnarowicz created now iconic photographs of Hujar immediately following his death, but as my friend noted, "Isn't it a little sad their names might never be found without the other?") It's good that this canonized information gets out of the way early because Hujar's work doesn't appear to be hung up on anything autobiographical. Speed of Life is a competent introduction to the artist and his many approaches to making images.
It's very easy to step into Hujar's eye. He doesn't introduce any profound themes in his photographs; Hujar was an artist not in search of any great answer but perhaps just was prone to feeding that capricious thing called inspiration. Though his style and subjects are not necessarily the most discerned (save his uniform, square compositions), I admired his amalgam of interests — it seemed genuine, like photography was obviously something he was born to pursue. …

A new monograph reveals Bourdin's precocious vision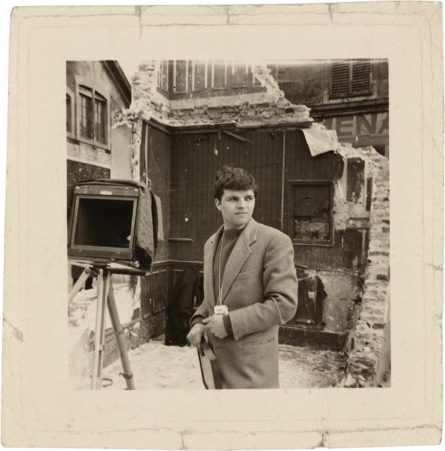 "Better 5 minutes of happiness than a lifetime of conformity." So opens Guy Bourdin: Untouched, a recently-released monograph uncovering work from Bourdin's formative years. Each photograph in the book was created during the crucial period between 1950, the year of his first exhibition, and 1955 — the year that marked his entrée into fashion photography. (He was published simultaneously in Vogue Paris and Nouveau Femina.) Bourdin is perhaps best known for his surrealist-inspired, ultra-stylized, highly saturated narrative fashion editorial work that peaked in popularity during the 1970s.
During his fashion years, Bourdin didn't conform to the style of the magazines he was commissioned for. His unique perspective as both an artist and a working photographer led to collaborating with and shooting for Harper's Bazaar, Chanel, Issey Miyake, Versace, and Charles Jourdan, among others. Bourdin's vision and execution alone set him apart from his working contemporaries.
This unique perspective of Bourdin's — the push and pull of emotion and precision, the tension of artful documentary versus documentary art, an avant-garde tinge to layered imagery — didn't come out of nowhere. It was an inherent trait, but wasn't always apparent inside of his photography. With Untouched, his perspective becomes much more clear, transitioning from often-casual, sometimes-serendipitous photographic observations to precise, controlled studio portraiture. Untouched catalogs a young photographer — just out of the Air Force — beginning to find himself.
One of the first things I learned in my first photojournalism class in college was the idea of a "moment" —referring to the decisive moment, a concept popularized by Henri Cartier-Bresson — and how to capture that. …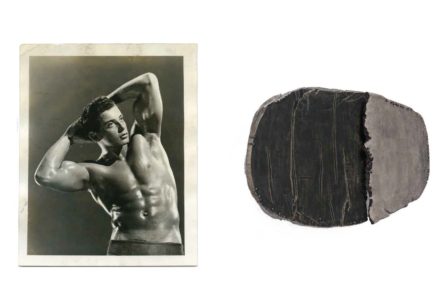 The result of being affiliated with the country's premiere LGBTQ arts outlet and also having a friend put my damn email on the Gucci PR blast, I get a mix of bullshit in my email. Sometimes, I get brilliant ones. We like to think it's the result of someone who is actually doing their job, and the Tom of Finland Store always knows the best of gay culture. Their most recent pitch didn't disappoint. Jack Pierson's photography has always blended the indelible tones of camp with unabashed complacency — photos by Pierson are traditional in a compositional sense and often highlight beautiful men, so you can see why he shot the cover for GAYLETTER Issue 1. (He also makes sculptures and mixed-media).
"Following the critically acclaimed online exhibition Bruce Labruce: Faggotry, Tom of Finland Store is thrilled to present JACK PIERSON: TOMORROW'S MAN, an online retrospective of the artist's ongoing series of publications Pierson has developed in collaboration with contemporary artists. TOMORROW'S MAN takes viewers on a dizzying visual journey encompassing the full spectrum of cultural references combining archive material with contributions from selected artists, illustrators and writers. The online platform provides a mesmerizing web-adapted overview of the publications to date, an insight to Pierson's intimate photography and the community of artists he surrounds himself with."
It launched on Friday, March 2nd, see a preview below.
Then, go ahead and browse the works…
…

Art:

OUT FOR THE CAMERA: THE SELF PORTRAITS OF LEONARD FINK

The first time I ever heard the name Leonard Fink, I was an impressionable journalism student in my second portraiture class — my professor showed my class some of his self-portraiture work and I remember being enamored. Fink's self portraiture at times is rather straightforward: a photograph of him shooting his reflection in a mirror. But at other times, he manages to photograph himself more in terms of his identity and the implications that came with his gayness in the context of 1970s- and 80s- in New York City. Somehow, his self-portraiture transcended — still transcends — his self. If you've never heard of the dude — I mean, he doesn't even have a Wikipedia page — or even if you have, Leslie-Lohman Museum in SoHo is giving you the chance to see it. The exhibition OUT FOR THE CAMERA: The Self-Portraits of Leonard Fink just went on view and will remain so until early August. The exhibition is the first "to focus on Fink's photographs that explore themes of exhibitionism and identity. It also includes several related works of self-portraiture and images of New York City piers by such artists as Gail Thacker, Tee A. Corinne, Del LaGrace Volcano and others." These comparisons are not intended to only provide context to Fink's photographs; rather, they will "draw out the singularity of Fink's vision." Clock me gagging over it during my lunch break. —Connor Atkins
Art:

MARK MORRISROE AT CLAMPART

This is the artist's fourth exhibition of photography by artist Mark Morrisroe titled "Boy Next Door (Beautiful But Dumb)" which, as highlighted in the press release, is a reference to one of the key images included in the show. Here's a bit more background on Morrisroe and this exhibition: "Mark Morrisroe was born in Malden, Massachusetts, north of Boston, and grew up in the area before attending the prestigious School of the Museum of Fine Arts, where he first met such artists as Doug and Mike Starn and Gail Thacker, and was inspired by older photographers such as Nan Goldin and David Armstrong. It was there that Morrisroe befriended fellow student Pat Hearn, and the two spent a summer together in Provincetown in 1980. By early 1983, Hearn moved to New York City where she established her eponymous gallery in the East Village and began selling Morrisroe's work. ClampArt's exhibition is comprised primarily of photographs acquired directly from Hearn before her untimely death at age forty-five in 2000." Click here to see a preview of the exhibition, which is on view until March 24th. —gayletter
A judgement free space where sexuality and freedom of expression is encouraged.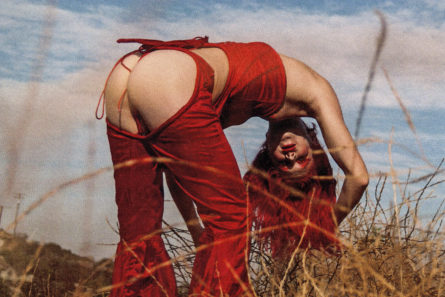 Love Bailey is an artist of many mediums. Her most poignant work seems to be life itself. On Instagram, she markets inclusion to the highest degree, monologuing through her Instagram-stories and offering advice to live a more open, love-filled life. Her bio reads: "I'm not afraid of my Shenis."
Besides styling, creative directing and hosting/throwing a number of lavish cabaret-style parties in Los Angeles and New York, she has recently begun a residency program at her coveted and enigmatic Savage Ranch. Sprawling over 45 acres of land, the Savage Ranch Residency is open to artists of every medium: From painting, to sculpture, to performance, to design. Her very first resident was Sinead O'Dwyer, a fashion design student from London exploring everyday perceptions of the body through one-of-a-kind pieces patterned for individual bodies.
"The Savage Ranch Residency is an opportunity for artists to come explore a ranch outside the concrete jungle and get in touch with nature," Love told me over e-mail. "We offer a judgement free space where sexuality and freedom of expression is encouraged. With 45 acres of land, 7 horses, 4 pigs, chickens, lesbian construction workers, and a weed farm, we offer an experience that is different from anywhere else. We are dedicated to making this ranch a utopian fantasy by giving artists a safe space to create."
Photographed by Max Runko, Sinead and Love modeled the pieces made over the two-week residency. Sinead offered her own words on the experience for those who want to learn more about their experience. …

Art:

KATHERINE BERNHARDT

I started taking note of Katherine Bernhardt's work after I saw cigarettes on her canvases. One of her paintings she posted to her Instagram took up the better half of someone's living room wall, and aside from the lushious palm leaves she has a particular affinity for there were cigarettes orientated right beside the vegetation. I thought, Wow… how stupid! I mean that in the most generous of ways. It takes a certain level of skill to achieve a balance in painting, especially when you're inserting pop-arty items like Bernhardt does. You can catch the Pink Panther, Darth Vader and Garfield all on display at her most recent show at Canada. Featuring eight canvases and an additional six sculptures, GREEN is what you would expect from a Bernhardt show. I mostly went because the very first canvas exhibited on Canada is visible from the street, and I could not help but laugh every time I walked past. One thing I should mention is that this particular painting, titled "Direct Flight" is fucking 114 x 318 inches — It takes up the entire wall. Not to mention the juxtaposition of cigarettes and pink watermelon surrounding what seriously looks like a flightless bird is just totally hilarious. I'm really interested in her content because frankly it makes no sense, though my best guess — what with all of the American iconography — is that she has a deep interest in what has become banal to the contemporary person. Coke cans, coffee machines, Lisa Simpson, sharpies. This is an artist who loves Capitalism's detritus and welcomes them into the world of paint with messy strokes, a disregard for reapplication of color, and spray paint. It's all very cheery in Bernhardt's world, at least that's what I'm taking from it as an American in 2018! On view through Feb. 11th. —Chris Stewart
Art:

POSTCARDS FROM THE EDGE

If you've ever been to Printed Matter's Art Book Fair in New York or Art Basel, you know that these sorts of bazaar-style, art-driven spaces feel like highly competitive arenas. They're driven by art, of course, plus consumerism and all of the trendy-folk who love to go out to see and be seen. If that's totally not your schtick, I get it. It can be exhausting to pretend your fabulous, or even care, but this weekend you're in luck! Back for its 20th edition is Postcards From the Edge. Featuring postcard size works from a handful of celebrated artists like Catherine Opie, Nicole Eisenman, Nayland Blake, Tom Bianchi, Marilyn Minter and many other queer-focused photographers and painters, over 1,500 works displayed will all be on sale from Friday through Sunday for an eye-popping $85 with proceeds going towards the organization celebrating their 30th year! That means even if you're struggling to make rent, you could budget your funds right (say no to brunch this weekend) and end up owning a serious piece of art. Here's the catch: The works are shown anonymously, so you'll have to spend a particular amount of time assessing the works if you're after a particular name. I chatted with Esther McGowan, Executive Director of Visual AIDS and she said, "Saturday is very busy, with collectors vying to grab artwork that they think is by a well known artist. Sunday is more chill, with a great special – BUY 2 GET THE 3RD FREE!" Because I've been to many similar fairs, I wanted to get the inside scoop: Was there any way of spotting the well known artists? How can we beat crowds? She just told me to wear comfortable shoes and be prepared to spend time looking at a lot of art. "It's not always easy to spot works by well-known artists – sometimes they create a work for us that is in a different style than their usual." Good to know! —Chris Stewart