Art:

The John Dowd Fan Club

Shannon Michael Cane from Printed Matter is always looking for ways to shine a spotlight on queer artists that never got the acclaim they so rightly deserve. And bless him for that. We do the same in our magazine. It's amazing how many brilliant queer artists have been overlooked by the mainstream art community because it's clearly filled with a bunch of homophobes. This week Shannon is bringing to Printed Matter "an exhibition of self-published serial publications and ephemera by late New Yorker John Dowd, a key if often overlooked figure in the correspondence art movement of the early 1970s." John Dowd is an artist made for GAYLETTER. Like us, John was fascinated with printed materials, popular culture and queer politics. His work was often described as having a "xerox aesthetic" (I love that term), he also had a "perverse sense of humor" which is evident in much of his work, like his pieces featuring Disney cartoon characters. "The John Dowd Fan Club traces Dowd's collaborative output through a near-complete overview of editioned publications and folded broadsheets, accompanied by extensive archival material including unique zines, xerox ephemera, promotional inserts, collages, mail art, correspondence, and original stencils." The opening reception is on Friday, April 21, 6:00-8:00PM. There's always a cute crowd at Printed Matter's openings, and free beer! It's time to join the John Dowd fan club. —tom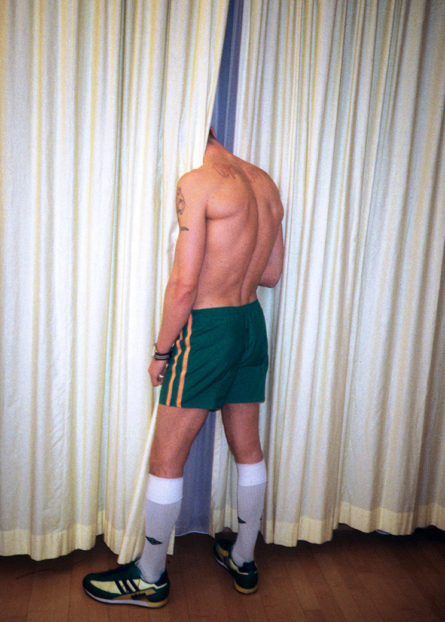 Right before Abi asked me to write this, I was chatting with my friend Chris who had just seen this show up at Bortolami Gallery. Naturally, I asked what was good? Was it cunt? Should I be excited? He told me "Slava Mogutin's pieces stood out against the other works as predominantly gay (see artwork pictured), other work seemed less so," but Slava told us that it wasn't "really a gay show, but the artist lineup is amazing and Stefania Bortolami is a notorious lesbian." 'University of Disasters' is curated by Matthew Grumbach and pulls from the gallery's permanent collection. Work from Jack Pierson (who shot GAYLETTER's first cover), Barbara Kasten, Sara Grace Powell, and many more — which serves as a subtle nod, albeit insult, to Trump and his gratuitous usage of the word "disaster."
I read a bit more on the show and found the philosophical origin engaging. Now if only I could stop calling the gallery Bel Ami… "The philosopher and cultural theorist Paul Virilio describes the University of Disasters as a global convocation to commence a collective reflection on limits.' [Trump's] rhetoric stokes fear, but also implies closure where there remains possibility. To fall for his unfounded claims is to implicate oneself in the destruction of institutions that are only imperfect insofar as their work is always incomplete." For those unsettled by lofty art-speak, the show is a response to our president's well known idiocy and seeks to remind viewers that art's work can never be done. …

Art:

THE LESBIAN AVENGERS – 25th ANNIVERSARY EXHIBITION

Come one come all to this multimedia exhibit that seeks to celebrate one of Lesbian-Rights most notable coalitions. Formed in 1992 during a surge of misogyny, and anti-gay, white nationalist hate, the Lesbian Avengers was created in NYC to focus, and work, on issues that were essential to lesbian visibility and survival. On view at the lovely BGSQD at The Center, Friday's opening will include readings by the uber-cool Eileen Myles and Sassafras Lowrey. Both of these writers have made it a point to celebrate sexuality and challenge gender in their literary works. The first time I read the lines: "I thought / Well I'll be a poet. / What could be more / foolish and obscure. / I became a lesbian" from Myles' "An American Poem," I nearly fell over. I was a junior in college trying to figure out how a queer voice could claim real space in the literature landscape. Myles was already paving the goddamn way. The exhibit will catalog various flyers, photographs, posters, slide shows and more, all from scenes of the Avengers activism. What will begin at BGSQD will travel to various spots around the country, so anyone who was involved at the time can get a chance to commemorate their important work. Stop by and have a look — if you were involved in the past, they're asking for your participation again!
Art:

Raymond Pettibon's A Pen of All Work

I was just saying the other day that the New Museum is on a streak holding exhibitions that have been real hits. The MoMA is probably a little jealous about the Raymond Pettibon exhibition titled 'A Pen of All Work' now on view at the New Museum. Whoever is calling the shots (I assume that's chief curator Richard Flood) is calling them right. Our office is right near the museum and the lines for recent shows have been wrapping around the corner of the block. "For over thirty years, Raymond Pettibon (b. 1957, Tucson, AZ) has been chronicling the history, mythology, and culture of America with a prodigious and distinctive voice. Through his drawings' signature interplay between image and text, he moves between historical reflection, emotional longing, poetic wit, and strident critique." This is the first major museum survey exhibition in New York of Raymond's work. It's a show worth seeing, and one that we're sure will continue the museum's winning streak. It's a great time for this exhibition giving it's political nature, and that it's graphic, engaging and very Instagram friendly. Just don't go at 7:00PM on a Thursday night unless you get turned on by waiting in lines. Lol. —t&a
"Hidden Figures" takes Vizmanos' anonymous subjects into the gallery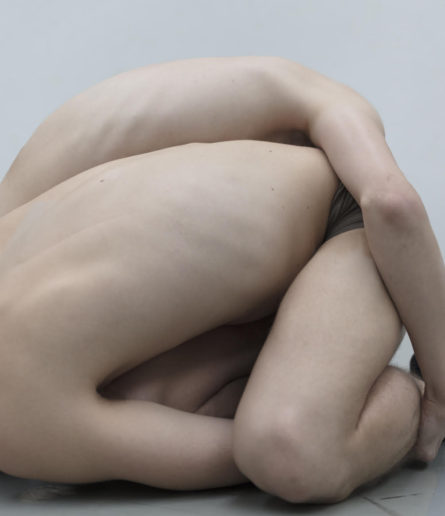 You may have already seen Gerardo Vizmanos work before. Possibly on Instagram. Possibly on Tumblr. His knack for crafting particular views of the male form are myriad in their emotional experience, and the work remains endearing regardless of how often it may be shared across the internet. The anonymity of his subjects keeps his viewer in the grip of a desire to know more about the body's story.
Some of Gerardo's work seems foreboding, like the ones where a protruding spine is focalized, but some of it is wild with tenderness. When we asked Gerardo to shoot our Tea Party story in Issue 4, we ended up with a cover. Our limited-edition GAYLETTER (which sold out) featuring the United States-of-skin-tone are a result of our day in the studio with him. He played around with body shapes, we brought some pastries and the models got comfortable with each other as well as Gerardo. He is vocal behind the camera, knowing which parts of the body are meant to go where in his frame.
We couldn't be more thrilled to hear his work will now take to exhibit at Prince Street Project Space (of Leslie Lohman), "Hidden Subjects" — "is about the subject and particularly this is an investigation of the substance of the subject through the form," he said.
Over email, Gerardo let us know that "Hidden Subjects is the result of my own experience. There is something present and something hidden. …

The Dauphine of Bushwick X Wise Men blowout "CONTEMPORARY DRAG" with NADA X Print All Over Me, PERADAM & EAI, Curated by Gordon Robichaux. Theda Hammel and The Dauphine in Conversation, with performances by Matt Savitsky, Merrie Cherry, Patti Spliff, and The Dauphine!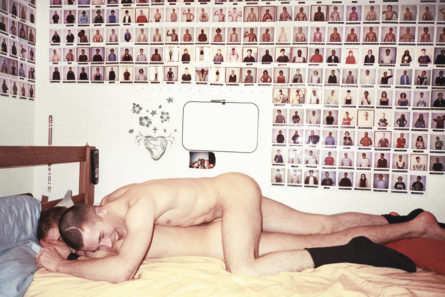 In 2010 I was in high school (don't be ageist), but Abi and Tom were busy achieving some kind of New York goal. The New York Times said they were amongst the creme-dela-creme of NYC nightlife, but one dude at Gawker wasn't having it. He wrote a playful though slanderous post degrading every person featured in the Times' article. He came for GAYLETTER because of a Ryan McGinley "name-drop." Now, I'm not sure what a Gawker writer covering parties knows about art, but there's no fault in a Ryan McGinley name drop. He's one of the youngest to ever exhibit a solo show at the Whitney. Plus, he's gay! You've got to give credit where credit is due.
His latest show 'Early' is up at Team Gallery and looks like a real treat. "The photographs in this exhibition were made in New York City from 1999 to 2003, a period defined by hopelessness for many Americans — synonymous with the onset of the Bush Era, 9/11. These vérité images capture the exploits of the artist's social circle, members of an outlaw creative community based in New York's Lower East Side." McGinley feels he's part of a tradition synonymous with many other artist's series where there is an acute desire and eventual need to document your friends. You're in for a bit of sex, drugs and rock'n'roll at this one, and because it's McGinley, probably several moments of nudity and severe tenderness. Enjoy!
On view through April 1st, Team Gallery, 83 Grand St. …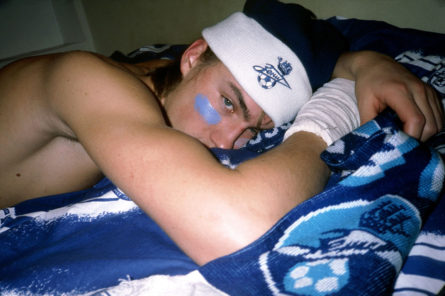 I read the notes for this photography and video show opening and got, well, horny! It's been really easy to fetishize any kind of urbanite Slavic boy as of late. Honestly, I think even Trump has caught wind of this fantasy. "What once was the Eastern Bloc is now defining itself with and against a consumer history it never really had. Raw desires and energy — youth culture — come into tension with the ghosts of Marx, Lenin, and Stalin. Larry Clark and Gosha Rubchinskiy greet each other in the Brutalist architectural spaces of conformity and power."
A handful of artists are included in the show, including our beloved Slava Mogutin, so I'm thinking it will be very sexy overall, with a pinch of melancholia. Some of the images I saw were boys in jockstraps; a penis peeking out of said jockstraps. The boys were photographed alone looking just the right amount of dirty. The show's title 'Baby, I Like It Raw' was enough to get me interested, but they hooked me with this: "If we were to find you all young and willing, easy and free…, and put you in a room, it might be something like this show. It might smell like black cigarettes, sex, and alcohol. It would be cold. It would be hot. It would shine brilliant and real. Clothing would be cast-off with innocence. There might be blood on the snow and the concrete." I wish this was a lie, but I just put on I Like It Rough by Lady Gaga. …

Art:

Tales of Our Time

I had the pleasure of wandering around the Guggenheim earlier this week to enjoy this new show featuring art by Chinese modern artists. Called Tales of Our Time — it features many video pieces that are meant to challenge the conventional idea of "place." The show includes artists' Chia-En Jao, Kan Xuan, Sun Xun, Sun Yuan & Peng Yu, Tsang Kin-Wah, Yangjiang Group and Zhou Tao. While the often dreamy video pieces are well worth seeing the real winner of this show is the giant robotic sculpture that takes up a whole room for itself. It's basically a massive industrial robot arm equipped with a squeegee. "Programmed by the Beijing artists Sun Yuan and Peng Yu, a husband-and-wife duo with a reputation as Chinese enfants terribles, the robot mops up liquid, with the viscosity of molasses and the color of blood, according to a set of rules: When a sensor detects that the liquid has flowed past a certain boundary, the robotic arm swoops down and cleans it up off the floor, and splashes the white gallery walls with the red fluid, like in a slasher film." It's an amazing sight to see. It's both mesmerizing and menacing. It contrasts dramatically to the rest of the art in the museum's collection. If you find yourself on the upper east side, check out Tales of Our Time before it closes. —tom