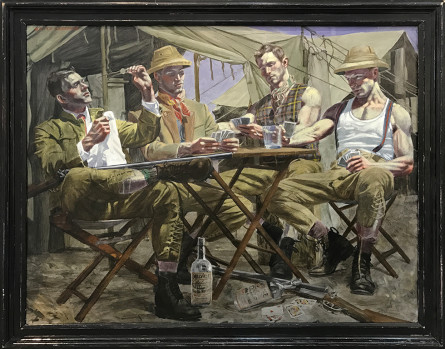 This show is curated by Mark Beard, who has spent the last two decades keeping alive the legacy of artist Bruce Sargeant. Sargeant is a painter who "largely concentrated on the idealization and celebration of the male form. Had Sargeant not met with a tragic and untimely death at the age of 40, he may have gone on to achieve the fame and renown awarded to such painters as James McNeill Whistler, Thomas Eakins, and Winslow Homer — artists to whom his style is often compared. Instead, Sargeant's oeuvre remained relatively unknown for years until it was brought to light by the efforts of Beard."
This Thursday, December 1st, ClampArt is hosting an opening reception for Mark Beard's show Bruce Sargeant (1898-1938): Parlor, Gymnasium & Field. "The current exhibition gathers canvases in which Sargeant portrays his young models in various private settings such as the parlor and studio; to quasi-public spaces including the gymnasium; on to the field and in the great outdoors.  Mark Beard's selection of a wide array of scenes reflects his great uncle's interest in men of all social echelons — from ranchers and people of the working class up the social ladder to sportsmen and art collectors alike."
Sounds like a wonderful show, and it's heartening to see a forgotten queer artist finally been given his dues.
Mark Beard [Bruce Sargeant (1898-1938)], "Two Friends," n.d., Oil on canvas, 20×24 inches, Courtesy of ClampArt, New York City.
Mark Beard [Bruce Sargeant (1898-1938)], "Hunter in Lederhosen," n.d., Oil on canvas, 60×36 inches, Courtesy of ClampArt, New York City. …

Previously boxed away images of Madonna have made it to print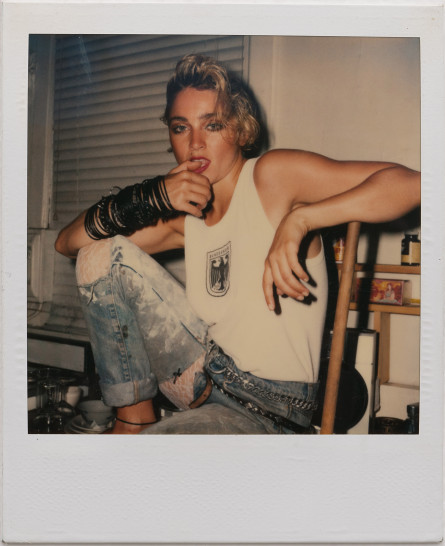 The latest from Madonna is not what you think. Madonna 66 is a new book featuring photos of the singer taken on the eve of her entry to stardom. These never before seen photos of Madonna tell the story of the woman behind the celebrity.
Her beauty is forthright and the outfits are quintessentially cool. Madonna in these photos has charisma, uniqueness, nerve and talent written all over her, crossed out, and then written all over her again. I picture them arriving on Cis Corman's desk in the early 80's (maybe accompanied by a few demos featuring the naïve but power-house voice) and imagine the gasps — audible and not — that probably ensued.
Madonna 66 is a limited edition photo book, running just 1,500 copies and featuring 66 unpublished Polaroid images of Madonna. Taken on Friday, June 17th in 1983, the images come straight from Richard Corman, son of the aforementioned casting director and producer.
"Cis was preparing a modern day treatment of the classic fairy tale Cinderella [and] asked Richard to drop everything and photograph a performer named Madonna," who was set to play the lead. The film was never released, but the preliminary photos kick ass. Plus, Madonna 66 includes a 14 page film-treatment of Corman's shelved Disney adaptation.
As I sifted through the images I wrote down all of the words that came to my mind, and I found that just single adjectives weren't doing me justice. …

Art:

ON CHRISTOPHER STREET – TRANSGENDER PORTRAITS

Last week, after spending a few hours in Chelsea looking at some great art shows (Ai Weiwei, Prabhava Thimeppayil, Rothko and one my favorite artists Josef Albers) at some of the most pretentious galleries in NYC, I felt art-satisfied. I was walking with a friend back downtown and we were still gagging after all the cunt minimalism. As we were walking I looked in the window of Gallery 231 on 10th Ave. and read the word "transgender." We went inside and it was a show of Mark Seliger's photographs of members of the transgender community titled 'On Christopher Street - Transgender Portraits.' I was like why wasn't this on my "art walk" list? As far as I am concerned this is the most powerful and important work to see. Right now is probably one of the most important times to embrace and support marginalized communities. I am not gonna ruin my post by mentioning the name of that racist troll that "won" this election. After seeing lots of familiar trans faces (Hari Nef, Octavia, Carmen Carrera, Bailey Stiles, Amos Mac and others) it made me think how far this community has come and why we mustn't stop now. The show features honest and strong, black and white photography that capture the souls of the subjects being photographed. There's a room where you can sit down and watch videos and hear the stories of some of the people in the show. This is about trans-visibility — showing one's self to the world is something that every member of the LGBTQ community must do. Please don't hide. —abi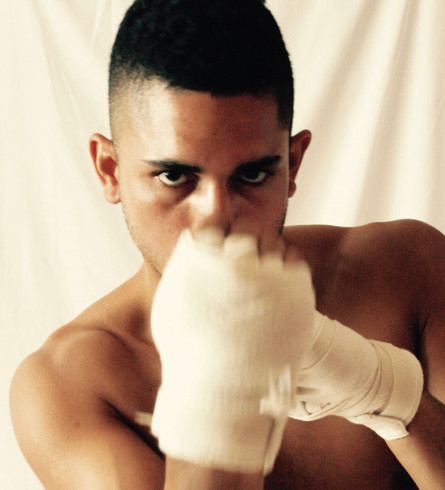 You the Boxer, is Michael Wynne's second photographic book in his one-year challenge to produce a new photographic book each month from October 2016 to September 2017. The small 4"x3" hand stitched book explores Wynne's experience boxing through text and 15 beautiful, intimate photographs.
There's an image of a sexy Latin boxer, his uncut dick and grown out bush showing off the intimate beauty of the male form. The whole book is an exploration of the raw masculinity and eroticism of contact sports. Wynne's poetic like text accompanies the photographs, here a favorite example: "The first time I saw you, you were sparring with one of the other coaches. Nimble was the word that came to mind, like one second you were on this side of the floor, the next you're five meters away on the other side of the mat. You weave in and out of the shadows. You're here and then not here, somewhere else."
The palm-sized book allows the reader to have an intimate experience exploring Wynne's raw and graceful world of athletic male photography. The beauty of the body, and the homoerotic communication between athletes, comes alive in this pocket sized publication.
Produced in an edition of 100, You the Boxer, can be purchased here.
…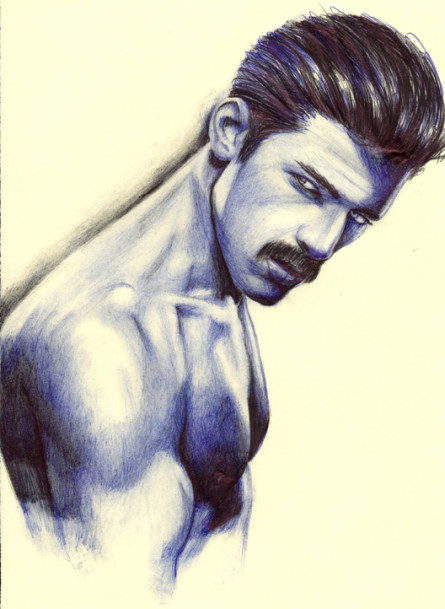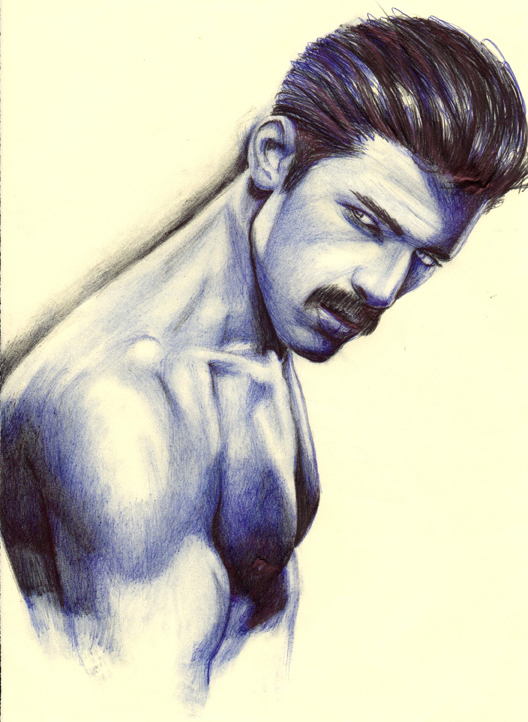 Directed by Tatiana Von Furstenberg (yes! the daughter of fashion designer Diane von Fürstenberg) in collaboration with Black and Pink newsletter, On the Inside is a group show of art made by incarcerated LGBTQ artists. When I first heard about the show, I was gagged. I imagined prison queens sitting in circles, dragging each other's pieces. My only exposure to a prison setting is from Orange is the New Black, but I learned that it is much more interesting and complicated than that.
The art is made from supplies that are deemed "safe" enough for the prisoners to have access to behind bars. A majority of the pieces were made with letter-sized paper, dull pencils, and ballpoint pen ink tubes. Some of the prisoners created their own innovative tools for expression. For instance, one prisoner used an asthma inhaler with Kool-Aid to create an air brushed painting — fierce. The project started with a small ad in the Black and Pink newsletter, a monthly publication filled with prisoner-generated content. Over 4,000 pieces were submitted for consideration; the show features close to 400.
I had the pleasure of meeting with one of the featured artists, Jenn Mayo, who was recently released. She is a lesbian artist from Texas. She used her artistry as a means for a survival in prison. "I've always doodled and drawn, but when I came to prison it was a way to survive," she said. While the basic essentials differ from state-to- state, in Texas the prisons don't even provide the inmates with shampoo or deodorant. …

Art:

Pipilotti Rist – Pixel Forest

It was so good, you guys. I'm so obsessed with Pipilotti Rist after going to her exhibition at the New Museum, I'm amazed how much visual and mental stimulation I got so early in the morning — I'm not really a morning person. "Over the past thirty years, Rist (b. 1962) has achieved international renown as a pioneer of video art and multimedia installations. Her mesmerizing works envelop viewers in sensual, vibrantly colored kaleidoscopic projections that fuse the natural world with the technological sublime." This exhibition takes over the three main floors of the museum. It's the most comprehensive presentation of her work ever to take place in NYC, featuring 24 works. The show has been organized by Massimiliano Gioni, the museum's artistic director, with Margot Norton and Helga Christoffersen. Rist even created an installation specifically for this presentation. All throughout the space are beds, pillows and couches where patrons are encouraged to lay down and view the incredible video projections. Even the underwear lamp (pictured) is mesmerizing. The whole show is truly wonderful, and very relaxing. You don't need weed to enjoy it, but it certainly couldn't hurt. Also, keep an eye out for one of her videos that might seem eerily familiar to the music video for Beyonce's 'Hold Up' song from her last album. Clearly B was inspired by Rist's work, and after seeing this show, we don't blame her. —t&a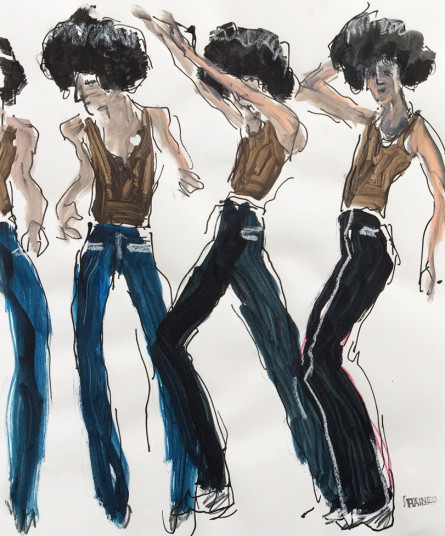 I was thinking to myself the other day "what's that queen up to?" The queen I'm referring to is Richard Haines, the artist whose show I want to tell you about… I know Richard has been busy, at least according to his social media, he just can't stop traveling and attending events. I am sure Richard would appreciate that I have been following his "journey," ha!
This Thursday Richard's second solo exhibition 'Larger Than Life' opens at Daniel Cooney Fine Art in NYC. This is the first time that Richard is showning his paintings, in the past his focus was more on his drawings, and what a lot of people know him for, his fashion illustrations. "For this exhibition Haines finds inspiration in his Bushwick neighborhood's drag performers, street style and high fashion runways."
It sounds like the opening will be a fun event… "The second gallery will be an intimate salon of Richard's small drawings including drag and street style. The smaller works will continue to show Richard's artistic and conceptual evolution in a more familiar landscape. The exhibition as a whole celebrates and challenges gender, sexuality, beauty, decadence and raunch." We are so excited for Richard, can't wait to see the new work in person. Yas queen!
Below is a preview of the show Larger Than Life:
FREE, Opening reception — 6:00PM-8:00PM, Daniel Cooney Fine Art, 508 – 526 West 26 St. #9C, NY, NY. …

Art:

Tour + Talk | Antonio Lopez: Future Funk Fashion

Antonio Lopez was a fashion illustrator who died in 1987. He was kind of a big deal in the fashion world of the 80's. Lopez was a "freelance artist for many of the top fashion publications, including Vogue, Harper's Bazaar, Elle and Andy Warhol's Interview. He is known to have "discovered" or formed lasting friendships with women like Pat Cleveland, Tina Chow, Jerry Hall, Grace Jones and Jessica Lange. With his friend and business partner, Juan Ramos, Lopez moved to Paris where they both worked with Karl Lagerfeld and many other designers." Join curator Rocío Aranda Alvarado and the Director of the Estate of Antonio Lopez and Juan Ramos, Paul Caranicas, for a guided tour and talk moderated by GAYLETTER contributor Alex Fialho, the Programs Director at Visual AIDS. The show features sketches and artworks from Antonio Lopez's career. Lopez was notable for his inclusion of ethnic bodies in his work. The fashion world of the 80's was very white. Iman, and Grace Jones stand out in our memories because they were pretty much the only black figures in the fashion world at that time. For those interested in fashion history this show is not to missed. —tom
Art:

Agnes Martin Retrospective

The Agnes Martin retrospective on view at The Guggenheim is one of the best museum shows I've seen in awhile. The serene journey up the beautifully curved building follows the development of her work in chronological order, and ends under the sublime light of the Guggenheim's skylight, shining on some of her best large-scale paintings. Don't miss the two short videos on view in the museum's library alcove half-way up the building. I had never seen Martin paint or talk about her work before, and it was a revelation to see her meditative focus as she covers a canvas and discusses how her paintings all represent positive emotions. Her positivity is revealed in some of the titles of her works too – most are untitled, but others in the show are titled "Blessings," "Gratitude," and "I Love the Whole World." I recommend you bring a date — by the end you'll be enraptured with Martin's ecstatically minimal paintings, and maybe each other. Afterward you can cross into Central Park for a cute make-out session, or if the weather isn't great, stop by Café Sabarsky for a Viennese pastry and coffee. —Patrick
Art:

Photography and Homoerotic Desire

Besides ancient Greece, New York is the place most famous for homoerotic art and photography. This is a city where many queer artists who felt ostracized growing up came to find acceptance and freedom. "Led by boundary-pushing artist Robert Mapplethorpe and his patron Sam Wagstaff, alongside pioneering contemporaries George Dureau and Peter Hujar, homoerotic photography found its way into New York City galleries and museums in the 1970s. Join the Museum along with the SVA Photography Department for a conversation about this moment in art history, moderated by critic Philip Gefter. We'll spotlight the gay men who helped establish the art market for photography during this era and delve into themes of our new exhibition, Gay Gotham." This sounds like a fascinating talk, and a much better way to spend your Friday night than happy hour drinks at the Boiler Room. Although it only goes until 9:00PM, so there's always time for those drinks after. Listening makes me thirsty. Xoxo Gossip Girl. —tom