Art:

Frieze Art Fair

Art fairs are both exciting and exhausting at the same time. They're a chance to see some of the world's best art, from some of the world's best galleries, in one fell swoop, but it's often a lot to take in. Our advice is to just start walking, and leave when you get tired. Don't beat yourself up if you don't see EVERYTHING. Looking at art should be enjoyable. Once it starts to feel like a chore, just go, or at least take a break. At this year's Frieze Art Fair there's food from some cunty NYC eateries including Frankies Spuntino and Roberta's Pizza, plus new additions including GAYLETTER favorite El Rey and Cosme. Beyond the art there's also talks with important art people and the new Reading Room which "offers visitors the opportunity to browse and buy a curated selection of the world's best arts publications, and attend an exciting daily schedule of events." We think Frieze is one of the best art fairs there is, the art is really well curated and the people that attend are often cute. See you on the boat! —tom
Matt Lambert, and husband Jannis Birsner, create a sexy new picture book (NSFW)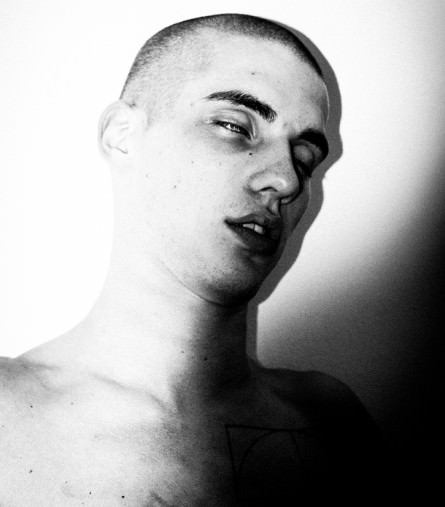 Berlin based filmmaker and photographer, Matt Lambert, follows up his first book, Keim, by working with husband and regular collaborator Jannis Birsner, to create Vitium. It provides quite an experience for the reader; opening the seal to the plastic outer casing, pulling out the light, B&W book, finding the glossy poster inside, and then absorbing the photography. It draws you into its world. A world that celebrates the carnal energy of Berlin's youth.
Here's what they had to say about the project: "The boys in VITIUM aren't overly big or small, they have normal bodies. They are in the zine because of their attitude. All the attributes these boys have you would use to describe femininity. Then we are back at their physicality: these boys are attractive and masculine because they are confident in their sexual expression. Masculine men are men confident with their selves without being abrasive."
The book is split into three parts, each with a distinct vibe. The first, "Sacrifice: Matured in Fire," expresses raw sexual charge; there is an innocence to the models captured. "Unity: Man is Wolf to Man" shows confidence and growth. "Love: Every Soldier is First a Lover," the final section, is the most explicit; A heavy climax depicting sexual ownership. Lambert and Birsner experiment with texture and lighting to create a rich, sensory experience for the reader. They have created a sexual (penis), fun (penis) and provocative (penis) time capsule, something you'll want to revisit. Honest, playful and HOT, Lambert and Birsner have created something real. …

Art:

Nir Arieli's Flocks

We've photographed many dancers in our magazine. We love working with them, because they're the best models, not only do they have great bodies, but they also have talent, and a depth that is so much more interesting than a model  with nothing but pretty eyes and high cheekbones. Photographer Nir Arieli feels the same way. His cousin is a dancer from Juilliard School. He's taken advantage of the connection by photographing many of the dancers from the school. His new show is titled 'Tension' and it's at Daniel Cooney Fine Art. In it are gorgeous images of dancers all piled on top of each other. This Thursday, April 21, from 6:00PM-8:00PM is the opening reception for the show. It'll be a great chance to see the photos in their large scale glory and also, hopefully, meet some of the dancers. Yummy. —tom
Art:

THE 1970s: THE BLOSSOMING OF A QUEER ENLIGHTENMENT

Here's a new exhibition for everyone who, like us and wasn't around in the 70s. A lot of young millennials behave like they know it all and they ignore the fact that the older generation dealt with major struggles. Thankfully we have it easier, but never forget… The organizers explain what this exhibition is all about: "The 1970s: The Blossoming of a Queer Enlightenment explores the vibrant and liberating decade between the Stonewall Riots from 1969 until 1980, just before we heard the first rumblings of the AIDS crisis emerging, changing the nature of sexual relationships to the present day." It's curated by the staff at Leslie-Lohman Museum and features over 115 works from their collection. There's photographs, drawings and paintings made during this important period in LGBTQ history. Some of the artists involved in this show are Paul Cadmus, Joan E. Biren (JEB), Jimmy DeSana, Marion Pinto, Amos Badertscher, Harvey Milk, Saul Bolasni, Francesco Scavullo, Diana Davies, Rink Foto, Tee Corinne, Neel Bate, Peter Hujar and many others. "The 1970s explores themes of political activism, body/self, fashion/style, and sexual freedom/expression." Do not miss it! —abi
Art:

Jan Rattia – Tease

Thanks to GAYLETTER I'm constantly learning about new people, artists and things. It's a nice perk of writing a weekly newsletter — constantly improving my queer education. For instance, I got an email from Brian Clamp from ClampArt gallery about this new show featuring this Venezuelan born artist, who photographs strippers, Jan Rattia, (I trust Brian's taste in art, so I always pay attention). I was like oh, a Latino photographer for a change, you know I love supporting my people. I've never looked at Jan's work before, but I am so into it. "Jan Rattia spent nearly two years traveling the Unites States — from Washington DC to Atlanta, Miami to Phoenix, and back to New York City — in order to photograph members of a singular and largely misunderstood fraternity: male strippers. Rattia addresses the often-fascinating dichotomy of the men who create fantasy personas for stuffed cash, and those same men who call their mothers for advice, go home to their wives (or boyfriends), and put themselves through college or medical school." This is the opening day for this exhibition. There's no opening party for it, but they'll have a closing party on May 21st — Go and shut her down. —abi
Art:

Affordable Art Fair in NYC

Let me be honest up front, there's plenty of shitty art at the New York Affordable Art Fair, like a lot. BUT. If you search hard enough you can find yourself a gem or two. The fair features 70 local, national, and international galleries with works of art (I use that term loosely, kidding) from over 500 artists. There's bound to be something you can find in a collection that size. Prices at the fair range from $100 to $10,000. The art fair was started in 1999 and today it takes place in cities including Amsterdam, Bristol, Brussels, New York, Milan, London, Singapore, Hamburg, Seoul, Stockholm and Hong Kong. The art fair is open in Nw York City until April 3, 2016. It's a cute idea. And just think, all the best artists today sold affordable art at one time. —tom
The exhibition is up until May 26th at Casa de Costa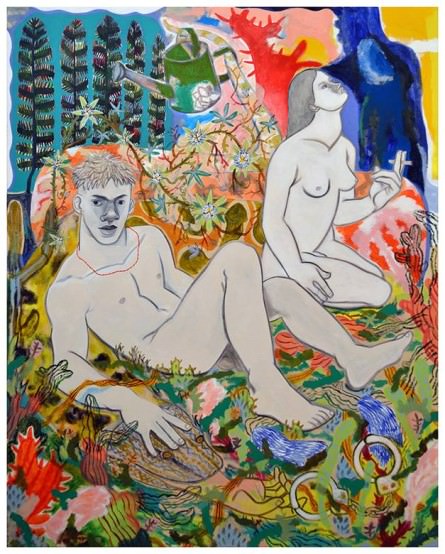 We are super excited about the opening of Gio Black Peter's latest exhibition of paintings and drawings titled 'If We Do Not Destroy Ourselves.' It has been a while since we've had a kiki with Gio, he has obviously been very busy creating new work. I chatted with Gio briefly and he told me that the show is about "finding the beauty in destruction without destroying yourself. It's a view into my head, my feelings of the world inside and my views of the world around me. For example "The Velvet Ribbon" (the painting used on the invite) is about the end of the idea of "White America." "Bad Cops Make Good Snacks" is my Adam & Eve painting, Adam is black and Eve is transgendered-corruption is depicted by a cops hand sticking out of a snakes mouth. Every image tells a story, I leave it to the viewer to figure it out."
I peeked at some of the work and they look great, they are as colorful as his previous work, but there is a lot more to take in, as he described before there's obviously lots to figure out from each piece. From what I've seen this is his most ambitious work, in terms of scale; he has some murals, he told me that they are the largest paintings he's shown in the U.S. Come to the opening reception and support Gio, he told me that he would not be showing his peen at this event, like he usually does, "It's all about the art."
FREE, OPENING RECEPTION, MARCH 30TH, 6:00PM-9:00PM, CASA DE COSTA, 405 EAST 61ST. …

Art:

PISS ELEGANT 2

This is the second event by the zine Straight to Hell at the Bureau of General Services - Queer Division. They'll be featuring artwork from S.T.H. contributors and comrades. The event will feature photography and "special editions" from artists Anonymous, Luke Abbey, Michael Alago, Brian Brennan (Latino Fan Club), Matthew Burcaw, Walt Cessna, Wayne Coe, Thomas Dozol, Michael Economy, Greg Endries, Danny Fields, Ryan Foerester, Torrey Grobes, David Hurles (Old Reliable), Erik Hanson, Charles Hovland, Steve LaFreniere, Patrick Lee, Yeni Mao, Bobby Miller, Slava Mogutin, Bob Nickas, Josh Olsen, Christopher Schulz, Terry Smith, Daniel Trese, Jan Wandrag, Cornelius Washington, Jimmy Wright and more. I know I just listed a whole bunch of names, but trust me that's a good thing — this will be a full on queer party. Expect a performance at 7:00PM. The show will remain on view until March 25th. I smell piss! —abi
Now on view at LACMA in Los Angeles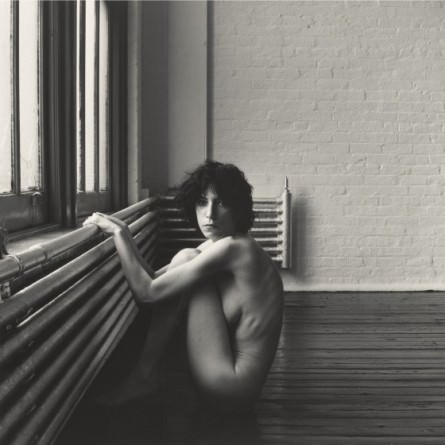 Hi L.A. gays, check out the work of legendary photographer, Robert Mapplethorpe at the Los Angeles County Museum of Art. The Perfect Medium is a look into the art and the controversy surrounding the man who set a precedent for sexuality in the arts. His raw, nonchalant style captured a cult following while his hyper sexualized bondage collection faced criticism for 'condoning' the practice. True to his style, he had no fucks to give and continued to work with eroticism even in his shots of flowers (DROOPY TULIPS!!!).
The exhibition coincides with the HBO documentary Mapplethorpe: Look at the Pictures debuting on April 4th, so you can sharpen up on the life of a photographer who courted controversy and captured the likes of Grace Jones, Andy Warhol and Patti Smith. Then stare in admiration at Derek Cross' perfectly formed ass and that Calla lily. Ok, bye! *books flight to L.A.*
$15, March 12 – July 31, Los Angeles County Museum of Art, 5905 Wilshire Blvd. Los Angeles, CA. …