Happy Hour and the food is good too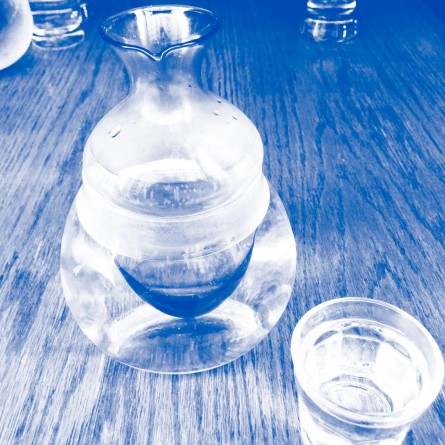 I love sake, especially when it's cheap and hot — exactly how I like my men. I know, trust I've been drinking sake for the last 32 years and have become quite the rice queen. For $3.50 a pop during happy hour, Zest (conveniently located on Broome St. between Ludlow and Orchard) serves sake. They pour this inviting libation in the really cool vessel pictured. The exterior glass houses hot water that keeps the enclosed sake nice and toasty.
In addition to the sake they have $2 Sapporos on tap, delicious sushi rolls, salads and an ample serving of chicken fried rice (shrimp and veggie too) all for the incredible price of $3.50 a dish during happy hour.
The decor is simple, cute low-fi "asian fusion" and there are large windows onto the street perfect for people watching. Twenty dollars goes a loooong way here. Sayonara and see you at Zest soon. Don't make the terrible mistake of going across the street to Jin Sushi, it's sooo two years ago.
Happy Hour 3:30-7:00PM, Zest, 249 Broome St, NY, NY.  …


We're unabashed winos at GAYLETTER. Red for Mossy, red and white for Abi and white only for me (out of context that sounds kinda racist). My point is: we love a good bottle of vino. Lucky for us a new wine store has opened mere steps from GAYLETTER HQ. It's simply called Wineshop and it's on 9th st, near ave A. If that's not close to your HQ we still suggest you check it out. So what makes it so much better than every other wine shop in NYC? Well first off, it's owned by an adorbs gay couple with cunty taste in vino. Secondly, one of them — when he's not running the store —  works as the Wine Director for the restaurants at the Standard Hotel. That means the shop is stocked with all sorts of special bottles that you can only find on restaurant wine menus. They also love to talk about their product and are more than happy to help you find the perfect bottle for whatever occasion you have in mind. I'm usually looking for a bottle of white with earthy aromatics that I can drink alone without falling into a pit of existential despair...turns out they have a few! —tom
Drink:

BIRRERIA AT EATALY

On Sunday evening Abi and I checked out Birreria, the beer garden atop Mario Batali's Italian superstore Eataly on Madison Square Park. As you might expect it was full of straight people. Of course, like all places where straight people congregate (Italian street festivals, Ikea, everywhere on St Patrick's Day) there was a smattering of homos we were able to sniff out. Why we're writing it up has nothing to do with the crowd, and everything to do with the quality of the food and drink. We shared the chicken thigh cacciatore, which comes in a tomato sauce with zucchini and squash and crimini mushrooms, and the beer-braised pork shoulder with celery, local apples and mustard vinaigrette. Good lord that was some tasty meats. Being a beer garden we also shared a couple of house brewed ales. They serve three kinds of cask-conditioned ale. Not sure what that is? Well, let me help you out: "Cask-conditioned ale is beer that is served from the same cask in which it is conditioned. It is naturally carbonated, unfiltered, and served at a traditional cellar temperature of 50-55° Fahrenheit." Werk. These people aren't messing about, not with the beer or the food. —tom
Average price of mains $20, 11:30am-11pm, Bierreria, 200 5th Ave., NY, NY

I don't mean to alarm you but New York City water is filled with all sorts of gross shit. Don't believe me? Well then perhaps this little diddy from the nonprofit science journalism group Climate Central might change your mind: "Superstorm Sandy released 11 billion gallons of sewage from East Coast treatment plants into bodies of water from Washington, D.C., to Connecticut." Some of that sewage surely ended up in our water supply. Then there's the fluoride and chlorine added to the water that's been proven in over 20 studies to cause cancer. And don't even get me started on all the lead found in our old ass pipes. So what to do? Well you could always drink bottled water, but then you'd be contributing to the 50 billion bottles that end up in U.S. landfills each year. Recently I found a solution. Molecule is a store on 10th St., in the EV, that offers super pure water. It's so pure it goes through an 8-step filtration system. It's also super affordable. A large 5 gallon container costs only $10 to refill (I get two, 2 gallon containers that fit comfortably in my fridge.) You can also add vitamins and PH balance the water to your body's natural acidic levels. I know it all sounds a bit kooky, but with the amount of booze I consume most weekends, drinking lots of good quality water is the only thing stopping my face from drying up like Robert Redford's. —tom
Drink:

Juice Press' First Degree Burn

I know, I know, the Juice Press is overpriced and one of those places Charlize Theron might mention in Elle magazine when asked how she gets "red-carpet ready." Buuuuuuuuuut their drinks are really good. They're fresh as fuck, cold pressed and given clever names like First Degree Burn. This drink packs a massive punch of ginger. In case you weren't aware, "ginger in large copious amounts is an anti-inflammatory." Ginger is also a "warming and stimulating source of vitamin C." Which for us party people is a must have vitamin. A friend of mine once got scurvy from not having enough vitamin C. It's true he was fucked up on drugs and dating a girl from New Zealand at the time, but regardless, not getting enough C will cause you problems. First Degree Burn isn't named that for nothing, this drink is hot, hot, hot — giving you a wallop of ginger from the first sip. It's not for the faint of heart. But it's worth the burn! —tom
$8, THE JUICE PRESS, NY, NY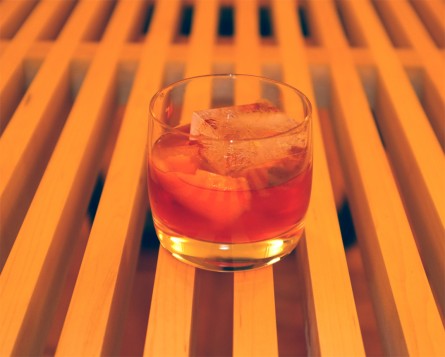 I love this drink — it's perfect for this annoying period between winter and spring — the rye whiskey brings you deep, spicy, dark tones to keep you warm on frosty days like today; the aperol brings you bright citrusy orange notes reminiscent of spring, and the sweet vermouth balances it all out — a drink for keeping you snuggly in the winter months while  giving you hope that any day now you'll be sunbathing in Prospect Park.
Recipe:
2 ozs. rye whiskey (Old Overholt is my standard — spicy and leathery, not to mention it's cheap)
1 oz. Aperol (there's only one brand — get it right)
1 oz. sweet vermouth (I love Dolin — a standard for good french vermouths)
A dash of orange bitters
A twist of orange peel
Stir the whiskey, Aperol, vermouth and bitters in a glass filled with ice; strain into a chilled cocktail glass; garnish with an orange twist. Let us know how you like it after you've had 1…or 5. …