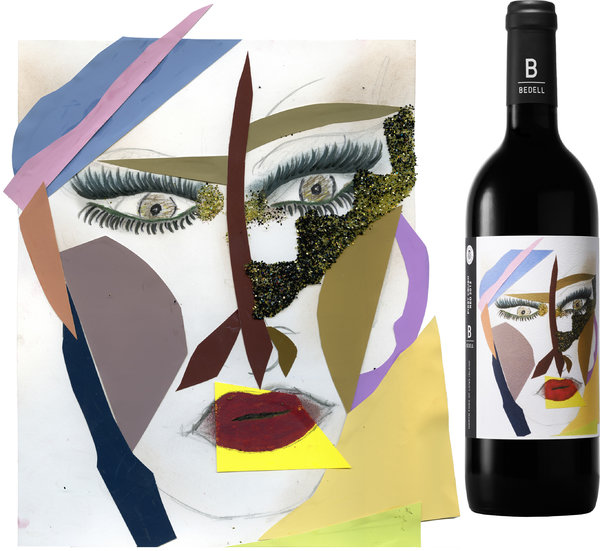 Mickalene Thomas's "Untitled #3" and the label for Bedell Cellars winery.
Bedell Cellars and Mickalene Thomas: First Crush Red 2013
Last night I had the pleasure to visit the launch of Bedell Cellars' First Crush Red 2013, a light and juicy blend of merlot and cabernet franc whose label bears the image of a woman's face created by one of our favorite artists, Mickalene Thomas. The bright collage was created in preparation for a painting in Thomas' Tête de Femme series, and perfectly represents the spirit of the radiant blend that lies inside. Her image joins a prestigious roster of artworks that grace the front of bottles from Bedell.
Bedell, owned by the art collector Michael Lynne, has already engaged in a number of artist collaborations. Previous labels have been created by Barbara Kruger, Chuck Close, Ross Bleckner, Eric Fischl, April Gornik and Howard Schatz. The First Crush Red 2013 is created from sustainably farmed young vines on the North Fork of Long Island, and is as enjoyable to drink as it is to look at. I'm already brainstorming what to do with my bottle after I drink it! I'm tempted to keep it unopened as an art piece, but with that excellent juice inside, I doubt I'll be able to resist. Perhaps we'll drink it on GAYLETTER thanksgiving — its bright fruit will pair easily with a range of foods, and everyone can appreciate Mickalene Thomas' phenomenal work in the center of the table.