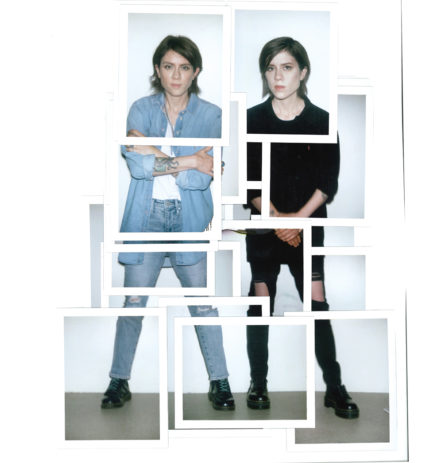 Tegan and Sara scaled the music industry mountain and planted their names in the sky. Born Tegan Rain Quin and Sara Keirsten Quin in Calgary, Canada, the identical twin sisters achieved indie stardom with their eponymous band in the '00s, before becoming pop icons in the '10s, in no small part thanks to touring with Katy Perry in 2014.
Now they're rounding the bend into the 2020s with a nostalgic turn. Their ninth album, Hey, I'm Just Like You, inspired by '90s cassette tapes, and the accompanying co-authored memoir, High School, gave the twins a chance to look back at their teen years.
GAYLETTER spoke to Tegan and Sara each separately — Tegan about the new music and Sara about their first book.
TEGAN
One of the tracks on your new album, "I'll Be Back Someday," it really captures that teenage need to get away, to find a more tolerant place. Did you feel like that growing up? I mean, even as an adult I need to get away sometimes. [Laughs] With that song, though, it sounds poppy and upbeat, but the undertone is this idea that you're anxious about facing the person that you are, anxious about admitting what you feel for somebody. While I didn't physically run away as a young person, I definitely repressed who I was for a long time. You know, when I eventually ended up hooking up with my best friend who was a woman. …