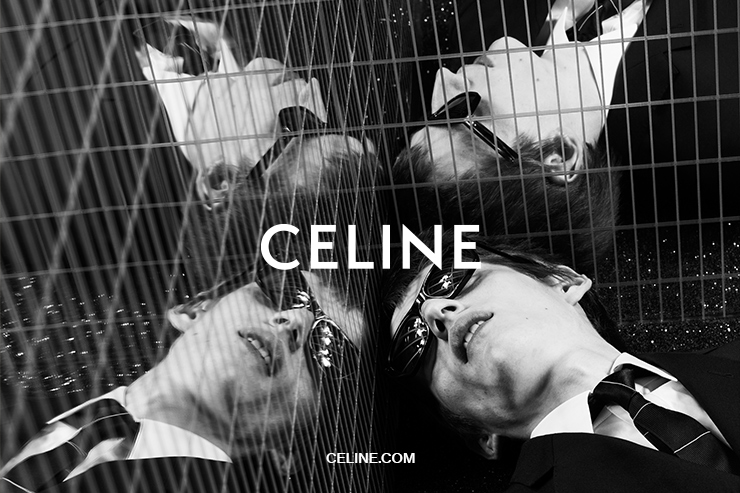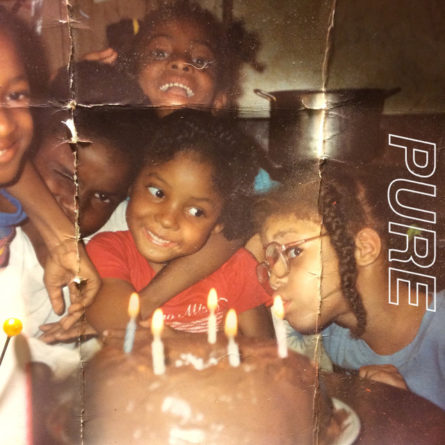 10. Pure by Diana Gordon
We're off to a weird start since Pure is an EP and not a full album, but it's actually immaculate and Diana Gordon deserves way more shine. She's shed her old stage name — Wynter Gordon, of "Dirty Talk" and "Buy My Love" success — and returned to her roots. She's an immensely talented songwriter. For example, she's one of just three co-writers on "Sorry," the biggest hit from Beyoncé's Lemonade. Her own work is much less pop, more downtempo, both anguished and exultant. "Wolverine" is my favorite entry in the tracks-titled-after-proper-nouns trend that Young Thug set off. "Kool Aid" will make you call your mother. In "Too Young," the listener is cast as her child, the product of an imperfect union that she can't forget. It's all so vibey — you can feel her need to express herself, to reach you however she can. Each song is its own little world, spinning smoothly on the axis of her emotions.
9. Dirty Computer by Janelle Monae
Our cybertronic seraph only continues to widen her wingspan. In the years since The Electric Lady, Janelle Monae's star has risen so high she's become a Met Gala fixture, a silver screen queen, and a champion for progressive Black activism at the forefront of our culture. The second track, "Crazy Classic Life," features a deft, comic, and incisive rap that echoes her unapologetically political verse on "Q.U.E.E.N." Which is to say nothing of "Django Jane." Her art is at the crest of fourth-wave feminism, working out the mechanics of a cyber sensuality. …

Listen to her new track and watch the music video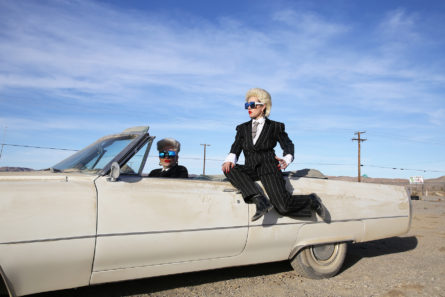 Brooke Candy kept it pushing this 2018. Since going independent, Brooke shifted her trajectory from mass-market pop (like last year's "Living Out Loud" feat. Sia) toward the haute, the conceptual, and the unapologetically political. Earlier this year, Brooke collaborated with Mykki Blanco and Pussy Riot for "My Sex," a celebration of the agency that arises from claiming your sexuality, regardless of its form. These independent songs go way harder, and the all-in blowout energy of her debut "Opulence" is back. "Oomph" is an aggressive summons to throw your ass in a circle, and maybe get your head knocked back.
ojivolta is a duo of producers Mark Williams and Raul Cubina, who might best be known for their credits on "Fall in Line," the Grammy-nominated Xtina & Demi Lovato record. They also earned songwriting credits for Jon Bellion's 2x Platinum Top 20 hit "All Time Low." It's mind-boggling that a similar team helped craft these three wildly different songs, which is a testament both to ojivolta's versatility and Brooke Candy's singular artistic vision and control. "Oomph" is closer to the sound and structure of "All Time Low" but it warps the beat much more, creates weirder and more squeamish movements of energy. It's squelchy and dissonant, chunky and heavily distorted, but the rhythm — the sweaty, fem-dommy, breathy rhythm — is never lost. And it's infectious.
Brooke Candy directed the video herself. Stunting in the desert like corporate Arizonan fucking cock destroyers , Brooke and Peli make a moment out of a retro convertible, shoulder-padded suits, and some hyper-reflective après-ski shades. …

A book that celebrates the artist's lasting impact in our culture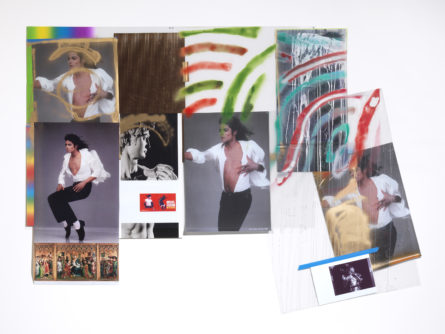 We all have our own story of where we were and who we were with when we learned Michael Jackson was dead. I was in the car with my mom and my older brother, we heard the news over the radio. Despite the controversies that followed Jackson through his late years, his lasting impact on our global culture is undeniable. This is what's explored in the new book, "Michael Jackson: On the Wall". The work of over 40 major artists who were inspired by Michael, including David LaChapelle and Andy Warhol, are compiled and reflected on.
Contributors like Zadie Smith explore what she calls the "magical thinking" around him. If it was so clear Jackson was bleaching his own skin, why did so many fans chalk it up to conditions like vitiligo? She writes, "That's when you understand how strong the force of desire is, how much it can deny and distort. It simply could not be that the most famous black man in the world wanted to be white. It would kill us to believe it. And so we refused to do so."
Notable is that contemporary art still focuses on Jackson. From Donald Urquhart's satirical "A Michael Jackson Alphabet" (2017), to Rodney McMillian's sobering portrait of Jackson's childhood home, "2300 Jackson Street" (2004), hung next to lyrics from Walt Disney's Snow White and the Seven Dwarfs: "It ain't no trick to get rich quick/ If you dig, dig, dig with a shovel or a pick."
Jackson may be dead, but his legacy is proving immortal. …

Sing along to her latest track!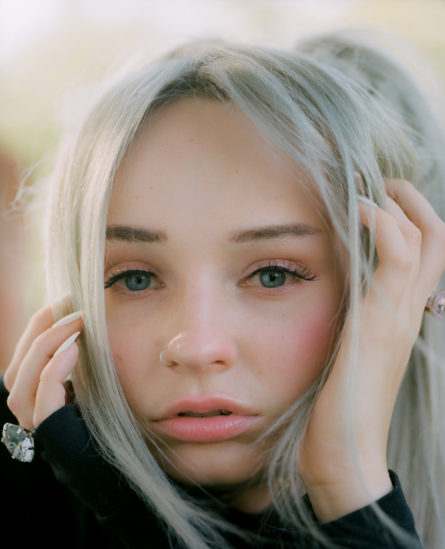 There are two things gays love: Halloween and heartbreak. Our pop prophet (and recent cover star) Kim Petras has managed to deliver celebrations of both this year, and we couldn't be more grateful. "Feeling of Falling" is an emo space-age anthem for all those times you've let yourself catch feelings despite every cell in your body warning you not to. She's taken us from the graveyard to a club on the dark side of the moon, to that lit-up dancefloor where you suffer love more gladly than anywhere else.
"Feeling of Falling" has a more melancholic tone here than a bubbly track like "Heart to Break." This song is the flipside to that feeling; it's all the bottled-up fear that carries you to the moment when you fully give your heart away. The verses are anxious and tormented — "I can't keep holding onto air / If we hit the bottom, I don't know what's there" — before Petras leans into the love she's staved off so long: "If you want to stay, be my one mistake / I don't want to wait anymore." Love hurts. You love it. Imprison me, for I, except you enthrall me, never shall be free. That vibe, but very dance-y.
Cheat Codes has worked with Demi Lovato and Becky G; they've remixed Katy Perry and Bebe Rexha. Petras is perfectly in her element here, and she sounds every second the rising pop star that she is. "Feeling of Falling" is the natural evolution of the interstellar dance-pop sound that Ariana Grande and Zedd introduced in 2014. …

The self-proclaimed "dyke bitch" is back with a new single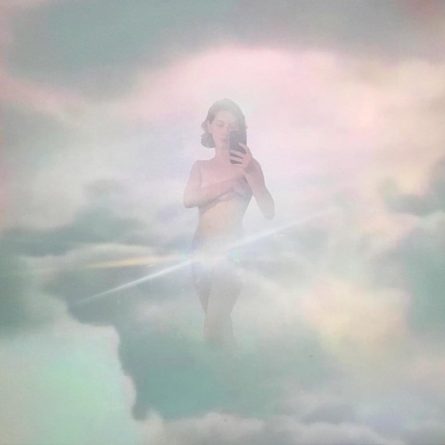 Pussy is God is something that we've all known, in one way or another, for some time now. King Princess, the self proclaimed "dyke bitch," newest single aptly titled "Pussy is God" restates the bravado of the female genitalia, and makes another declaration of queer romance and sensuality for the cohort of Gen-Z'ers and hyper-contemporary music lovers alike who idolize the American singer-songwriter.
Born Mikaela Straus, King Princess launched herself into the queer hall of fame this past summer with her debut EP Make My Bed that features hit singles like "1950" and "Talia." Straus takes music in her own direction combining the sounds of teen bedroom pop, blues, and now the drum beats of R&B.
"Pussy is God" was originally released in video format with a washed out green screen complimenting the song's soft vocals. The music video plays on ideas of vintage children's shows and ads, skipping every so often and featuring whimsical floating objects. The joking tone King Princess inhabits on the track ("Your pussy is god, and you know / I think you're so cute when you're high") are mimicked in the video's humorous dance sequences, fashion styling, and the selective editing.
By drawing her fans in with her penchant for humor and general laid back attitude, King Princess creates eloquent and relevant proclamations necessary to garner the younger fan base. The more serious listeners will appreciate the nuanced lyricism and tightly composed, historically-indentured musicality. …

Dance music's best kept secret is back for the sake of the future.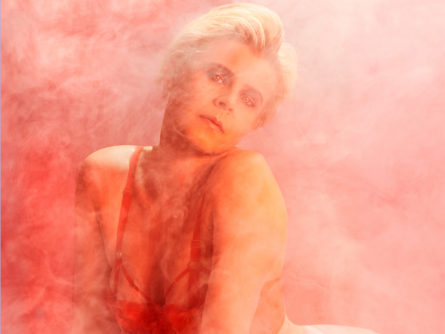 It's been eight years since Body Talk. After the massive success of singles like "Dancing On My Own" and "Call Your Girlfriend," Robyn stepped back from the pop conversation. The distance has done her well. With Honey (Konichiwa Records), out this past weekend, the Swedish singer-songwriter has evolved beyond the ultra-assertive 2010s electro-pop that she mastered. Body Talk was built to interject the market, to force you to see and hear Robyn from the margins. Here, those pulsing dance floor hymns have loosened into a language more fluid, and more house, with a bit of R&B and disco for influence. The nine tracks are invitations to groove, to dig your hips into the beat, rather than just thump your chest against it. It's body contact over body talk.
Robyn the Fembot has been decommissioned for now, her hard edges and staccato rhythms have been shelved. Honey is delivered by a more realistic voice, concerned with the effect of light on water, with "strands of saliva," with "every color and every taste." Robyn, speaking with Interview said: "There was such a physical pleasure and sexuality to making music and creating this soundscape in which my body could experience those kind of feelings again." She's let the music – intimate, seductive, and emotional – teach her to feel again.  Recovering from emotional trauma, Robyn writes how love and sensuality can help us cross the emptiness that loss creates. On title track "Honey," Robyn asks, "Won't you get me right where the hurt is?" Pleasure, she suggests, can be one path to healing  pain, and honey is some of the most ancient nutrition. …

Kim Petras haunts in Halloween month with a ghostly mixtape.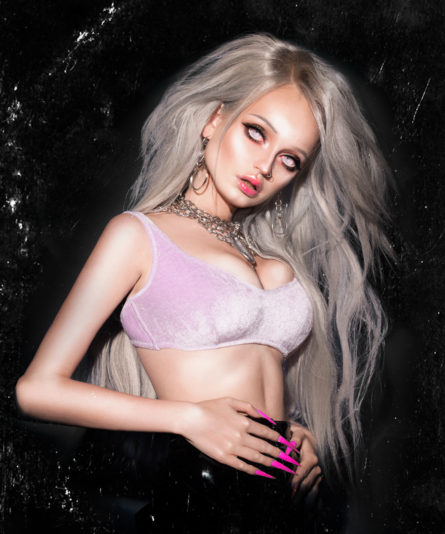 What exactly are we learning from Kim Petras? Well, for one: There is no specific market formula to success. With eight stand-alone records out over the past 12 months, Kim has been releasing the year's best pop music and hitting the charts without a major record label behind her. Two: Clearly we all need to be taking Halloween way more seriously.
The singer's latest is a Halloween-themed mixtape released (unannounced) today, Turn Off The Light, Vol. 1. Featuring eight brand new thematically titled tracks, including "o m e n," "Tell Me It's A Nightmare" and "In The Next Life," which stars Kim finally singing in German, Turn Off The Light, Vol. 1 haunted straight in on the first day of the year's spookiest month, and I'm sure a lot of fans are shook.
Not for nothing, but the mixtape shines yet another light on Kim's diabolical taste for pop music. If her previous singles like "I Don't Want It All" or "Heart to Break" instructed us on her taste for the sparkle and sheen of pop delight, Turn Off The Light, Vol. 1 (And I haven't even mentioned that "Vol. 1" implies a "Vol. 2″…) let's us know arena-anthems are not far from her reach. Elongated fingers or not, Kim has proven again that she has a firm grip on her not just her own musical needs, but the general audiences' wants as well.
The mixtape has a more fully rounded electronic, synth driven sound. …

Sappho's deflowering has made its way back to the queer-vogue.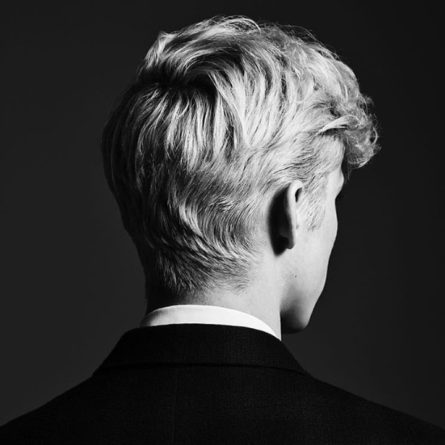 The flower is the oldest virgin metaphor in the books, literally. It dates back to Sappho — the Greek feminist hero and queer champion from Lesbos. "Her mouth for immolation / was ripe, and mine the art; and one long kiss of passion / deflowered her virgin heart." Sappho wrote in her lyric, "The First Kiss." Queers have been shouting Sappho's praises ever since because, not only was Sappho among the firsts to write about same-sex desire, Sappho was one of the firsts to take the marginalized sense of same-sex affection and ascribe to the natural world. Turning her own homosexual purity into a mainstream understanding.
Fast forward several millennium later and enter Troye Sivan. At 17, the Australian garnered a large fanbase on YouTube by posting videos of himself singing. At 20, Troye came out to thousands of his subscribers in an eight minute long video in the style of "It Gets Better." (His parents were supportive from the get-go.) Naturally, Troye went viral. It presently has over eight million views. Following his public honesty, a record deal from EMI Australia (a Universal Music Australia Party) followed and thus a bona-fide pop-star from the digital generation was born. His debut album, Blue Neighbourhood secured international and industry fame. "Blue Neighbourhood Trilogy", the three-part film released in tandem with the album told a cliché love-story between Troye and another boy: Childhood friends turned teenage lovers turned first heart-break. It's all very regular by pop-imagery and pop-media standards, but it was the first time pop-culture was handed a same-sex teenage love story that bode well in the market. …

The viral "Mooo!" performer is not a one-note act.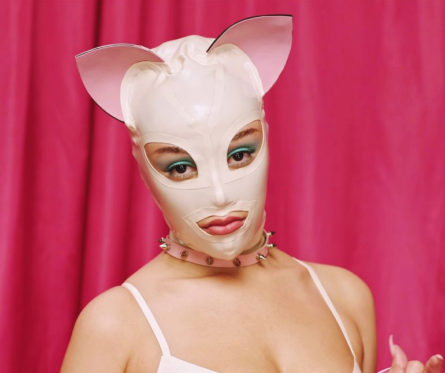 Doja Cat's major label debut Amala (Kemosabe Records/RCA Records) sounds like it sprung fully-formed from the forehead of 2018, draped in honeyed synths, serpentine bass-lines, and sugary trap snares. Here, she's left behind the hopeless and barred-out heroine of Purrr! (2014) for a brighter persona, with a range of scenes and emotions more rose-gold than ultraviolet. (You should still go back and listen to "No Police," though.)
"Go To Town" and "Cookie Jar" are the tracks which showcase the zany, larger-than-life sides of Doja most clearly. "Go To Town" is an eat-me-out banger, and the clearest potential sleeper hit from Amala. The track is brash, wacky, and clever, like a Glossier version of her bovine hit. "Cookie Jar," the second track, is also lyrically absurdist ("I got extra taco but you better bring that macho grip") but she delivers that energy at a way more chaotic and ecstatic pitch than the more calculated "Go To Town" can.
Other songs on Amala burn more slowly, like "Wine Pon You," "Roll With Us," or "Morning Light." These shift the emphasis from the anthemic toward the more vulnerable and dramatic possibilities of Doja's voice. The vocal production crystallizes Doja's melodies with glassy harmonies and layers, pitch-shifts and self-samples. This album feels like the final product of an artist ready for wider public reception.
All in all, Amala is a strong and singular debut record. Buy or stream the album wherever, so that Doja can take care of her cat. …

Like an angel of bygone-history, scarlet Love Bailey asserts the past is old news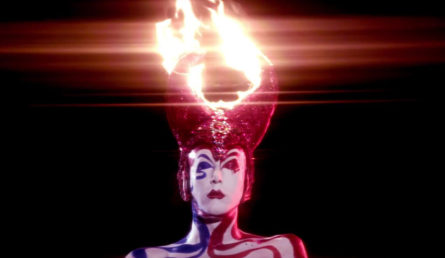 It's time to demand better, newer, next. Most of us are sick of normalities that only appease the hetero-typical American psycho. Here enters Love Bailey; bedecked in scarlet, her flesh and bones made a sanctuary for all us lost and wayward children. Like an angel of bygone-history, Love asserts that the past is old news. Filmed in the California desert at her very own Savage Ranch, Love's "Hollywood Hooker" is a reminder you can easily be redeemed, just choose a night to slather it all the way up!
We got in touch with Love to hear straight from the Hollywood Hooker's mouth what this moment in her career means to her, and the queer community more widely.
So, who is the Hollywood Hooker? Whether you're selling couture or selling your ass, we are all hookers in this together!
Where does she come from? Tinseltown
Now that there's nothing left for her to prove, what does she want? To Trojan Horse Hollywood giving more opportunities to woman & minorities and less power to greedy men in suits like Harvey Weinstein.
Over at Bullett, you discussed the role that Heidi Fless played in the foundation of the Savage Ranch. If she is the Hollywood Madame, is the Hollywood Hooker her heiress? Is this moment a way for her to stake a claim to her inheritance?  The last thing I remember Heidi saying to me before she got evicted from the ranch was, "You can't even suck dick for $5 dollars." As she chucked my beaded gowns out the second story window. …

A sudsy new video supports the anthemic and club-ready single.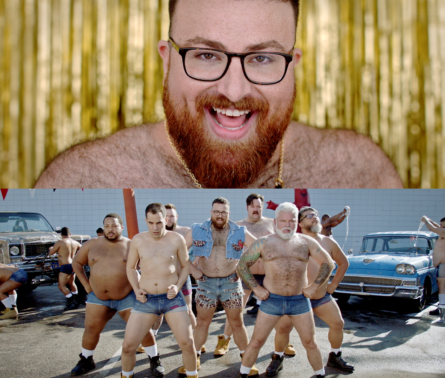 Big Dipper is back with a camp spectacular. The new music video for "Lookin," directed by Tobín del Cuore, features dancers of every shape and age and is right on time for Pride season. This car wash fantasy celebrates the bodies that Instagram won't, and we'll help too! Decked in daisy dukes and Timbs, and sporting a a fresh cut by New York's own Best Barber, Big Dipper leads the sort of zany highly choreographed affair that we might have expected from the AAA Girls before Willam's amorality tore the trio apart. "Lookin" evokes the infectiously joyful energy that radiates from your screen when Jiggly Caliente death-drops and tears up the stage. It's thick and sudsy, upbeat and brash. If you've ever got lost on Growlr, this will go right up your alley. The bearlesque affair even serves pasties and tassels on one dancer's cakes. This video was developed by gay science to leave you gagged, face-cracked and shooketh.
The track itself was produced by So Drove, who has worked with Cupcakke and Kreayshawn in the past. Like any drag queen's best club track, the beat on Big Dipper's latest is anthemic and club-ready. His vocals are deep and more masculine than Pitbull's, serving a funny irony 'cause we never really hear men talk about being so consumable. But that's why we love bears. Like Shawn Mendes' entire last album or Blue Franklin's viral hit "Licks," it's almost unnervingly seductive. With the sublime confidence of Cardi B, Big Dipper delivers an anthem for trade dudes everywhere. …

"It's not a bird, or a tree, it's a Mallrat with wings."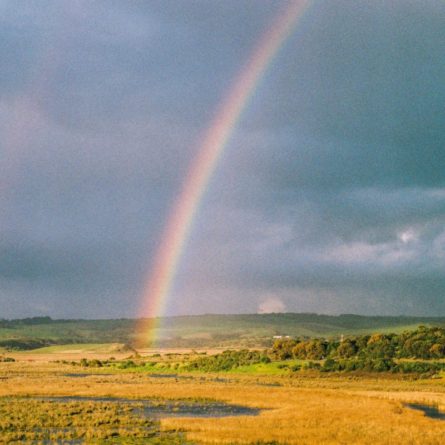 19-year-old Grace Shaw, performing under the name Mallrat has been harnessing her growing hype, from opening for Post Malone in Australia, then catching a wave, crashing in  Brisbane, and eventually finding herself at SXSW. And now, she's released her second EP, In the Sky (Nettwerk Music Group Inc).
Following 2016's Uninvited (2016), Mallrat builds on her ennui-laden pop style, though she has ditched some of the teenage exuberance from Uninvited for an atmosphere that's a bit more threatened — a bit darker, and more fevered. At the same time, however, she's grown surer of herself. She is never lost in the EP's exacting, hypnotic, and glowing production, and at times the immediacy of her voice is almost confrontational as on the chorus of the album closer, "Make Time" where she sings "I hope you'll be home real soon / It's getting dark and getting cold / I'm getting tired, you're getting old." Her songwriting is a bit like an early Lily Allen on "Groceries" ("Really sorry about your broken heart / I'm trying to walk on broken glass.")  Not just because of her pronounced Australian accent, but also by her sharp and detail-driven lyricism, her penchant for unexpected polysyllabic rhymes, and her agile, not-quite-rapping flow through fragmented beats.
Throughout In the Sky, she articulates the strange sort of self-death that takes place as one succeeds beyond the limits of their circumstances. With a painfully wrought honesty reminiscent of Lorde's Pure Heroine, Mallrat both begs for her rapture and aches not to lose the love she's known. …