I was having a real shit day yesterday. I was in a terrible mood, riding my bike through the hellish midtown traffic pissed off at anyone and everything around me. I made it all the way to 15th street when I got stopped by a cop and was given a ticket for going through a red light (I was actually dismounting my bike as I crossed the street to the sidewalk, but the officer wasn't having it.) $25 later I was rolling down 10th street between 1st and Ave A in an even worse mood when I passed a new shop with the stupid name of 'Kavasutra.' I stopped to check it out. I was told that they serve drinks made from the root of the Kava plant. This dreaded hippie with bleary eyes told me that "Polynesians drink it during ceremonies, but we drink it to reduce stress." Considering my current mood, I figured anything could help. I ordered two shots at the happy hour price of $6 (normally $12) and went home to drink it in front of the TV. 30 minutes later I was chill as fuck — I felt like I'd popped a couple Xanax, except my head felt clear, not foggy like can happen with most sedatives. I started researching this wonderful root and discovered that there is indeed a lot of science to back up the claims made by Kava fanatics. The active ingredients of the root inhibits certain receptors while elevating the release of dopamine. All I know is it worked! —tom
Drink:

Tijuana Picnic

Mexican food is one cuisine I never get sick of, which is great because this city never runs out of new Mexican restaurants. One we'd like to recommend this week is Tijuana Picnic. We had the pleasure of dining there last weekend and are ready for more. The menu works best for group dining, while there are bigger plates, there's a lot more small plates. Our favorite of theses were the delicate fluke and snapper ceviches, the duck empanadas and the Korean inspired short rib skewers. You must also try the guacamole... obvs. The drinks are also on point. We recommend you try the tequila flights. You get 3 kinds of tequila grouped by region. Upstairs is the place to eat and downstairs is the place to party. On the weekends a DJ spins tracks while people mingle around the large downstairs bar. Two rather cute, and super curious straight boys stopped by our table to get to know us. They couldn't get enough of us, and we even joined them downstairs for a drink after dinner. I only mention this to illustrate the fact that Tijuana Picnic is designed to encourage interaction (there's one seriously long table in the middle of the main dining room) which is wonderful if you're horny, or just feeling friendly ;) —tom
You gotta go for the cutting up with Miss Bini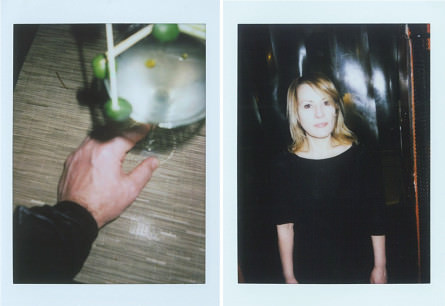 There is a very special woman making the drinks — more like exotic creations — behind the bar at Gradsica, the Italian restaurant on W. 13th Street in NYC that occupies the same space that the infamous nightclub The Reno Sweeney once did. Her name is Cristina Bini and beyond being a regal blond from Florence, Italy, she has this rare intelligence and touch when it comes to liquid libations. Cristina said she got her major experience at The Art Gallery Hotel in Florence in their famous Fusion Bar by Ferragamo. There she was concepting cocktails to accompany the fusion cuisine of Italian, French and Japanese food that was no small feat. As she explained to me with a heavy yet sexy accent, "I put my fantasy inside the drink." We were handed the "Tonight's Special Cocktail" card upon arrival and became instantly intrigued. It read, "Italian Bullshot."  It consists of house infused rosemary vodka, celery salt, white pepper, Modena balsamic reduction and vegetable broth served with tortellini. Wow, really? William, our fierce website developer/dear friend and I decided to wait for Abi to order.
Once he arrived, fresh from a prior engagement in Chelsea, we ordered the Bullshot. Several well crafted minutes later this unique, amber, warm drink arrived with three tiny tortellini perched atop the glass on a toothpick. Here are our reactions to the drink: The nose has woody undertones with strong rosemary overtones, almost like a roast, it excites the nostrils to the point of stinging. …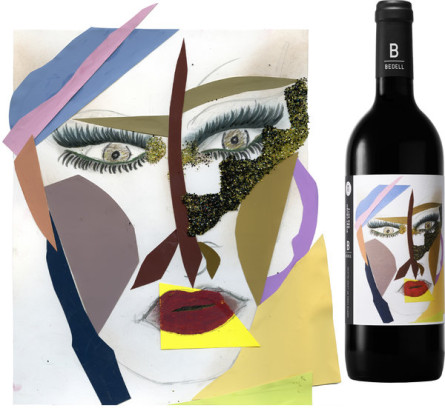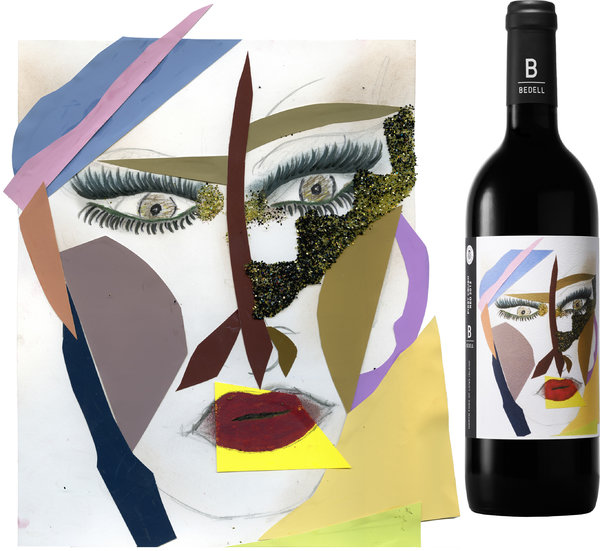 Last night I had the pleasure to visit the launch of Bedell Cellars' First Crush Red 2013, a light and juicy blend of merlot and cabernet franc whose label bears the image of a woman's face created by one of our favorite artists, Mickalene Thomas. The bright collage was created in preparation for a painting in Thomas' Tête de Femme series, and perfectly represents the spirit of the radiant blend that lies inside. Her image joins a prestigious roster of artworks that grace the front of bottles from Bedell.
Bedell, owned by the art collector Michael Lynne, has already engaged in a number of artist collaborations. Previous labels have been created by Barbara Kruger, Chuck Close, Ross Bleckner, Eric Fischl, April Gornik and Howard Schatz. The First Crush Red 2013 is created from sustainably farmed young vines on the North Fork of Long Island, and is as enjoyable to drink as it is to look at. I'm already brainstorming what to do with my bottle after I drink it! I'm tempted to keep it unopened as an art piece, but with that excellent juice inside, I doubt I'll be able to resist. Perhaps we'll drink it on GAYLETTER thanksgiving — its bright fruit will pair easily with a range of foods, and everyone can appreciate Mickalene Thomas' phenomenal work in the center of the table.

Happy Hour and the food is good too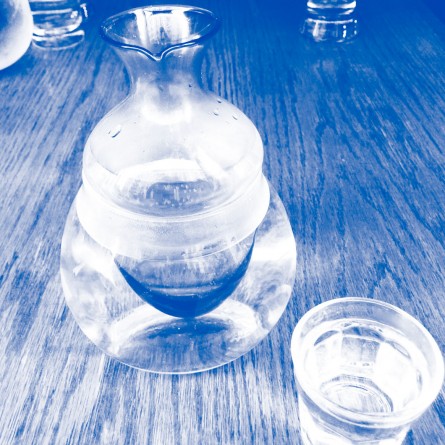 I love sake, especially when it's cheap and hot — exactly how I like my men. I know, trust I've been drinking sake for the last 32 years and have become quite the rice queen. For $3.50 a pop during happy hour, Zest (conveniently located on Broome St. between Ludlow and Orchard) serves sake. They pour this inviting libation in the really cool vessel pictured. The exterior glass houses hot water that keeps the enclosed sake nice and toasty.
In addition to the sake they have $2 Sapporos on tap, delicious sushi rolls, salads and an ample serving of chicken fried rice (shrimp and veggie too) all for the incredible price of $3.50 a dish during happy hour.
The decor is simple, cute low-fi "asian fusion" and there are large windows onto the street perfect for people watching. Twenty dollars goes a loooong way here. Sayonara and see you at Zest soon. Don't make the terrible mistake of going across the street to Jin Sushi, it's sooo two years ago.
Happy Hour 3:30-7:00PM, Zest, 249 Broome St, NY, NY.  …


We're unabashed winos at GAYLETTER. Red for Mossy, red and white for Abi and white only for me (out of context that sounds kinda racist). My point is: we love a good bottle of vino. Lucky for us a new wine store has opened mere steps from GAYLETTER HQ. It's simply called Wineshop and it's on 9th st, near ave A. If that's not close to your HQ we still suggest you check it out. So what makes it so much better than every other wine shop in NYC? Well first off, it's owned by an adorbs gay couple with cunty taste in vino. Secondly, one of them — when he's not running the store —  works as the Wine Director for the restaurants at the Standard Hotel. That means the shop is stocked with all sorts of special bottles that you can only find on restaurant wine menus. They also love to talk about their product and are more than happy to help you find the perfect bottle for whatever occasion you have in mind. I'm usually looking for a bottle of white with earthy aromatics that I can drink alone without falling into a pit of existential despair...turns out they have a few! —tom
Drink:

BIRRERIA AT EATALY

On Sunday evening Abi and I checked out Birreria, the beer garden atop Mario Batali's Italian superstore Eataly on Madison Square Park. As you might expect it was full of straight people. Of course, like all places where straight people congregate (Italian street festivals, Ikea, everywhere on St Patrick's Day) there was a smattering of homos we were able to sniff out. Why we're writing it up has nothing to do with the crowd, and everything to do with the quality of the food and drink. We shared the chicken thigh cacciatore, which comes in a tomato sauce with zucchini and squash and crimini mushrooms, and the beer-braised pork shoulder with celery, local apples and mustard vinaigrette. Good lord that was some tasty meats. Being a beer garden we also shared a couple of house brewed ales. They serve three kinds of cask-conditioned ale. Not sure what that is? Well, let me help you out: "Cask-conditioned ale is beer that is served from the same cask in which it is conditioned. It is naturally carbonated, unfiltered, and served at a traditional cellar temperature of 50-55° Fahrenheit." Werk. These people aren't messing about, not with the beer or the food. —tom
Average price of mains $20, 11:30am-11pm, Bierreria, 200 5th Ave., NY, NY

I don't mean to alarm you but New York City water is filled with all sorts of gross shit. Don't believe me? Well then perhaps this little diddy from the nonprofit science journalism group Climate Central might change your mind: "Superstorm Sandy released 11 billion gallons of sewage from East Coast treatment plants into bodies of water from Washington, D.C., to Connecticut." Some of that sewage surely ended up in our water supply. Then there's the fluoride and chlorine added to the water that's been proven in over 20 studies to cause cancer. And don't even get me started on all the lead found in our old ass pipes. So what to do? Well you could always drink bottled water, but then you'd be contributing to the 50 billion bottles that end up in U.S. landfills each year. Recently I found a solution. Molecule is a store on 10th St., in the EV, that offers super pure water. It's so pure it goes through an 8-step filtration system. It's also super affordable. A large 5 gallon container costs only $10 to refill (I get two, 2 gallon containers that fit comfortably in my fridge.) You can also add vitamins and PH balance the water to your body's natural acidic levels. I know it all sounds a bit kooky, but with the amount of booze I consume most weekends, drinking lots of good quality water is the only thing stopping my face from drying up like Robert Redford's. —tom
Drink:

Juice Press' First Degree Burn

I know, I know, the Juice Press is overpriced and one of those places Charlize Theron might mention in Elle magazine when asked how she gets "red-carpet ready." Buuuuuuuuuut their drinks are really good. They're fresh as fuck, cold pressed and given clever names like First Degree Burn. This drink packs a massive punch of ginger. In case you weren't aware, "ginger in large copious amounts is an anti-inflammatory." Ginger is also a "warming and stimulating source of vitamin C." Which for us party people is a must have vitamin. A friend of mine once got scurvy from not having enough vitamin C. It's true he was fucked up on drugs and dating a girl from New Zealand at the time, but regardless, not getting enough C will cause you problems. First Degree Burn isn't named that for nothing, this drink is hot, hot, hot — giving you a wallop of ginger from the first sip. It's not for the faint of heart. But it's worth the burn! —tom
$8, THE JUICE PRESS, NY, NY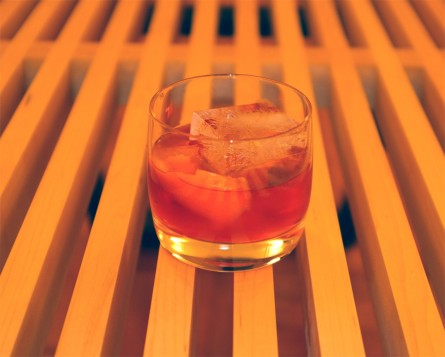 I love this drink — it's perfect for this annoying period between winter and spring — the rye whiskey brings you deep, spicy, dark tones to keep you warm on frosty days like today; the aperol brings you bright citrusy orange notes reminiscent of spring, and the sweet vermouth balances it all out — a drink for keeping you snuggly in the winter months while  giving you hope that any day now you'll be sunbathing in Prospect Park.
Recipe:
2 ozs. rye whiskey (Old Overholt is my standard — spicy and leathery, not to mention it's cheap)
1 oz. Aperol (there's only one brand — get it right)
1 oz. sweet vermouth (I love Dolin — a standard for good french vermouths)
A dash of orange bitters
A twist of orange peel
Stir the whiskey, Aperol, vermouth and bitters in a glass filled with ice; strain into a chilled cocktail glass; garnish with an orange twist. Let us know how you like it after you've had 1…or 5. …