From the locker room to limelight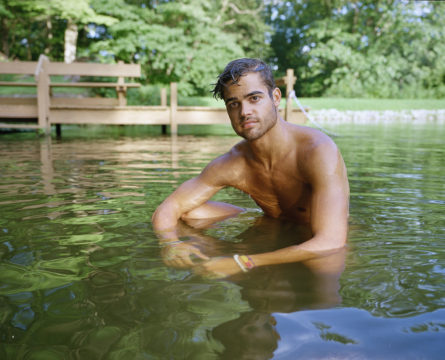 Whether you first encountered him as a smoldering Instagram model, an excitable guest on The Ellen Show, or an openly queer Division 1 footballer, Jake Bain likely left an impression. When the square-jawed athlete came out to his peers at a 2017 high school assembly, local and national media outlets quickly took notice. In a matter of months, the Missouri based footballer was launched into national relevance on Instagram, YouTube, and Twitter. In the midst of all this, Jake found the time to meet up with the photographer, Alex Marsh King, for a refreshing moment in Fern Glen, Illinois.
After having spent a year playing collegiate football at Indiana University, the 20 year old is currently taking a gap year to focus on activism and modelling. Though based in St. Louis, he has momentarily relocated to L.A. and from the looks of his instagram, he's living. During our conversation, he opened up about his goals as an activist and his thoughts on the barriers faced by queer people today.
If nothing else, Jake believes in the power of positivity. During our conversation, he stressed the importance of encouraging young people to express their sexuality and accept the sexual identities of others. Through doing so, he hopes to create communities where young queer people feel comfortable coming out to their friends, family, and community. At the moment, Jake believes that the queer community's principal challenge is the overwhelming negativity that many feel towards LGBTQ+ people. He believes positive representation in the media is the best way to fight this stigma. …

Thirst-trapping for a good cause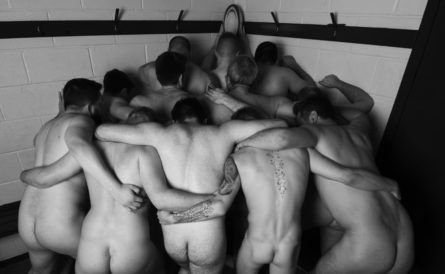 I'm a slut for organization. I love making to-do lists, writing my weekly projects and deadlines down in a notebook, and even keeping a calendar scheduled down for coffee dates. There's very little that gets in the way of my system for staying on top of my life, but the one thing that will turn my world upside down is a cute boy. But, what if that one boy was actually a cohort of sweaty, naked soccer players?
Back again with their 2018 calendar, The Naked Rugby Players features 52 players from six LGBT+ rugby teams across Britain. As per standard, the boys are naked to support awareness for testicular cancer and inclusive sportsmanship – both important and often overlooked causes in present-day society. Queer visibility in sports has been on the rise and supporting this project only continues to assert a right to the seat at the table we're so often denied. Partnered with the Balls To Cancer charity, the calendar features a monthly reminder to check over one's own equipment for any indiscernible lumps or bumps that could be indicative of testicular cancer. I'm not one for sports, as you might imagine, but I definitely have a fond appreciation for some good ball handling, and this calendar doesn't disappoint.

Chris Mears flies through the air with the greatest of ease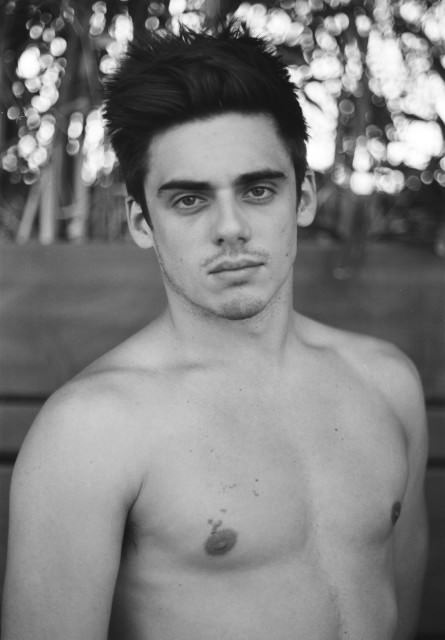 Let it be known that Tom Daley isn't the only hot guy on Great Britain's diving team. If you have any interest in toned, scantily clad, elite divers who also happen to DJ in their free time, you've probably come across Chris Mears. He's the one with the fabulous scar and gorgeous eyebrows. He was once told he had a five percent chance of living. Now, he's on the road to the 2016 Olympics. We photographed the 22-year-old in Los Angeles, where he spends his off- season, at El Matador beach in Malibu. Afterward, we asked a few personal questions. He couldn't have been more forthcoming.
So, how'd you get that scar? That's a crazy, long-ass story. I had glandular fever where the glands in my stomach swelled up to a ridiculous size and basically put crazy pressure on my organs, causing one of my organs to rupture and burst. Then all the blood in my body was in my stomach, and it didn't go well. I had this surgery where I was given a five percent chance of surviving the operation. Somehow I pulled through. How? They don't really know. They said it was a medical phenomenon. So that was crazy. And then I went into a coma for six days. But now I'm all good.
I know a lot of people either love their scars or they hate them. How do you feel about yours? My scar is the favorite part of my body because it shows everything I've been through.
…

Billie Jean King's inspiring story now on film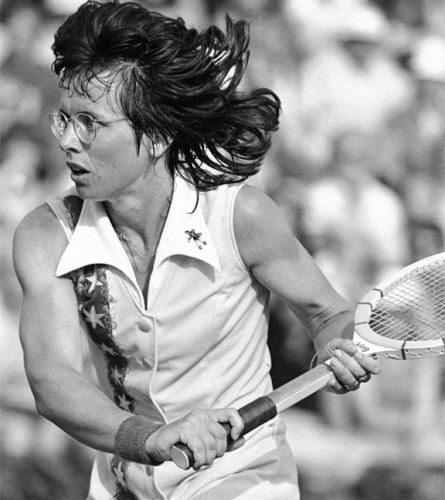 So I turn on NPR and of all people it's Billie Jean King, the lesbian tennis legend being interviewed by Terri Gross on Fresh Air. I was enthralled by her voice, the winner of 39 grand slam titles talking about how in 1981 she was forced out of the closet by her female lover in a messy public lawsuit. Billie was married to a hot blond named Larry King at the time living deep in the closet. Once outed she went onto champion gay rights and equal pay for women on the professional tennis tour.
Full disclosure, I am addicted to tennis so it was such a treat to learn that the PBS' series American Masters premiered a full length documentary on Billie Jean on September 10 that is available to live stream on their website right now. It's the series first profile of a sports figure and includes commentary from Hillary (Clinton), Venus, Serena, Elton and a bevy of tennis stars that played with Billie Jean back in the day. They even named the National Tennis Center out in Flushing after her. "A determined woman who has been a major force in democratizing the cultural landscape…one of the single most important athletes of the 20th Century." 
Have a watch, it's truly inspiring.