Performance:

Joseph Keckler at Pangea

Joseph Keckler once performed at this stupid event we threw at Bedlam on Ave C. It was in the early stages of GAYLETTER and we were approached by this doctors clinic for rich people. They said they would give us $2k to throw any kind of party we wanted, and the only promotion they would foist on people was an information table somewhere in the space (we shoved it in the back). We hired a caterer (who turned out to be a complete dick), threw open the bar and asked our favorite performers to perform. Best of all we had money to pay them. The evening was kind of a mess, no one really quite knew why they were there. But Joseph's performance is what I remember most clearly from the night. People wouldn't stop talking to listen to him. It made me furious because I couldn't believe what I was hearing. Joseph is a trained opera singer, who sounds like a fucking angel stranded on earth. His vocal range is bananas, and his performances are beautiful, funny, campy and captivating. He is well worth seeing, again and again and again. —tom
$21.69, 7:30PM, Pangea, 178 2nd Ave., NY, NY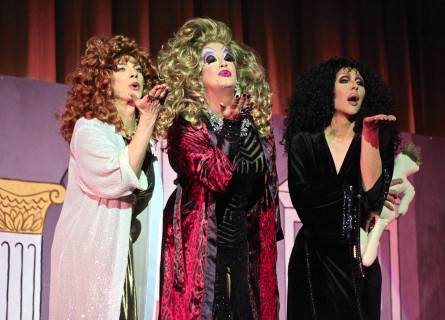 The New York premiere of The Witches of Eastwick comes to The Gramercy Theater on April 2nd. It's a parody "loosely" based on the classic film The Witches of Eastwick, which we don't really remember it's plot points of, but it made us feel amazing! I mean Cher, Susan Sarandon and Michelle Pfeiffer, hello!
This show, staring drag queens Chad Michaels, Coco Peru and Peaches Christ. It was written and directed by Joshua Grannell. Here's the plot points: "three seasoned drag queens —  a Cher impersonator, an acclaimed monologuist, and a cinephile — are invited to perform in the picturesque East Village of New York. The trio of sassy singles are feeling lonely until a mysterious and flamboyant drag fan arrives in their lives. But what are his ultimate intentions? What follows is devilishly fun — you'll laugh till you toss your cherries!"
Love it!
$30-$75, 7:00PM & 10:00PM, The Gramercy Theater, 127 East 23rd St. NY, NY. …

Event:

Miss FIT 2016 Drag Pageant

Our cunt 22-year-old friend Christy Burlington Coat Factory told us that FIT was gonna host a Drag Pageant and there's rumor that Bianca Del Rio is gonna be involved. We were very interested and were like, really the queens there have a pageant??? After that I have been googling and trying to find all the details. I've got to say, these queens are very bad at promotion. How are you gonna have a drag event in NYC and not plaster it all over the tristate area? How you gonna be a drag queen if you can't promote yourself? I went to FIT and it's gotta be one of the gayest school in the world — THANK YOU for that. The best way to get a ticket is probably to show up to the Dubinsky lobby and ask. Searching through FB, I found this status update: "This year for our 10th anniversary, we're planning the biggest presentation ever!!!! Hosted by your crowned Queen of Comedy, hint, she's another Ru girl...This is going to be amazing." Girls, we'll help you get the word out, you're welcome! —t&a
At the The Red Room until March 30th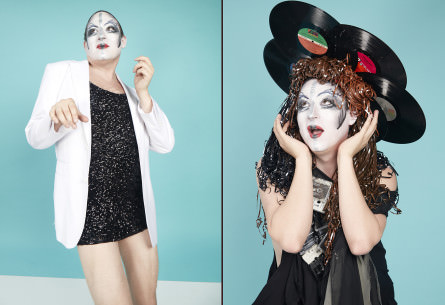 Sooo the other night we were lucky enough to spend the evening with cabaret extraordinaire Salty Brine. Even though we weren't intimate it definitely felt like we were. Taking to the stage in thigh high boots and sparkly fishnets he promised to take us on a sexual revolution, so we were obviously super down for that. The show, Thank U 4 a Funky Time is the latest installment in Salty Brine's Spectacular Living Record Collection Cabaret and pays homage to the brilliance of Prince and his album Purple Rain. Co-creator, Nate Weida joins Salty on stage as they take us through a back catalogue of music and lovers. The show is a hilarious and honest look at sexuality and identity; it had us LOLing and AWWing in equal measures.    
Here's what the producers have to say about the show, "[We] know all the ways to please you in this funkalicious evening of grooves, moves, and attitude. Put on your bedroom eyes and leave your inhibitions at the door as this dynamic duo unfolds a tangled web of awkward sex stories and lessons in lovemaking, all set to the superfine music of Prince's dirty little album Purple Rain."
Salty Brine, Nate Weida and their band will be commanding The Red Room in the East Village every Wednesday 'til the 30th of March (with a special Friday edition on the 25th). PURPLE RAINNN, PURPLE RAINNNNNN.

Performance:

Carol Lipnik at Joe's Pub

Carol Lipnik is often described as an "alt-cabaret" performer. I think they call her this because she is so hard to classify. I've heard her described as similar to everyone from Yma Sumac to Diamanda Galás to a yodeling Joni Mitchell. Carol is most famous for her 4 octave range, something that makes her stand out in the world of cabaret singers. Apparently Carol's singing is out of this world. It's so good in fact that Earl Dax, who is bringing Carol to Joe's Pub for a month long residency, is journeying back from Mexico, where he's been hiding out, to catch her perform. "I'm leaving the paradise of Holbox Island in Mexico's Riviera Maya specifically to be back in time for the show, so clearly I think it's worth making an effort to be there." If you've never seen a show at Joe's Pub, then please do. Joe's Pub is one of our favorite venues, the sound is always on point, and they serve food and drinks during the show! Go see Carol and hear her 4 octaves while you enjoy a tasty burger and martini with a twist. Yum. —tom
Party:

WITCH CAMP at Nowhere Bar

I guess this is a party and a performance — two of our favorite things, I usually feel much better if there's a performance at the party, I don't feel like I wasted all those hours just drinking, I like being productive. Waking up hungover, but knowing you saw a great performance is better than just waking up hungover. I went to see Amber Martin and Nath Ann Carrera's Witch Camp last year and it was super fun and weird, I love those two, they are so talented and witchy, they really get into it. I am assuming we'll get the party and a bit of that Witch Camp performance, which is a perfect interruption for any party...you'll see what I mean. "Featuring Thematic Classic Vinyl Sets And A Midnight Performance From The Ises Black: Libations prepared with alchemical precision by River And Ronnie! $5 Well Drinks! Curated Television From The Annals! Bored Altars Of The Flesh! Sharon Tate Sacrifices A Patriarch To Insure The Future Of The Vineyards Of France! A 1970's Science Teacher As Green Screen Flying Egyptian Goddess Debunks A UFO Housing Depreciation Ring! And BEYOND!" Apparently this is all happening at Nowhere Bar, I doubt this bar can hold all of that, but I told you they get into it. —abi

"This performance contains adult content." I love a show that includes that as a disclaimer. And when it comes from a woman often described as an "art world provocateur" even better. Performance artist Ann Liv Young is back with her first American commission in over 8 years, and we couldn't be more excited. "Created in collaboration with Annie Dorsen, the epic evening begins with her potent and corporeal vision of Sophocles' story of a family steeped in murder, revenge, and deception — Young plays the title role with an intrepid cast of performers (including her 8-year-old daughter, Lovey), cycling through versions of the text splintered by pop songs and sequences of bold, jarring movement. A lush intermission features performances by a special musical guest from Norway, drowning the theater and inviting a visit to the lobby bar. The evening rages on with Young's critically acclaimed, rough and tumble Elektra Cabaret." The point of the show is to get the audience to challenge social norms. Ann is a unique artist and I love the intention of this work — be an individual, think for yourself, get free. We're into it. —tom
Performance:

PAM ANN – DOWNTON GALLEY

It was quite a night on Tuesday as we headed uptown to see Australian comedian Pam Ann's latest show. In a theatre above a Turkish restaurant, The Triad, the modest space was not as comfortable as the last venue we saw her at (Joe's Pub), but once she got started it didn't matter where we were. She filled the room with laughter while putting on a slightly haphazard (apparently the result of too much Xanax the night before) but still totally enjoyable show. If you are unfamiliar with Pam, here's a little backstory. Her onstage persona is that of a brash, drug-taking, cock-sucking, loud-mouthed flight attendant. Throughout the show she lays into pretty much every airline and their flight crews. She is crude, cunty and hilarious. The reason the show is called 'Downtown Galley' is because, in-between costume changes, she plays clips from Downton Abbey with her character superimposed into the scenes, rattling off obscene things to the cast. It really has nothing to do with the rest of the show, but is fun none the less. If you've never seen Pam please go to this show, it's only on for 2 more nights and while not as polished as her previous shows, is still A LOT of fun. —tom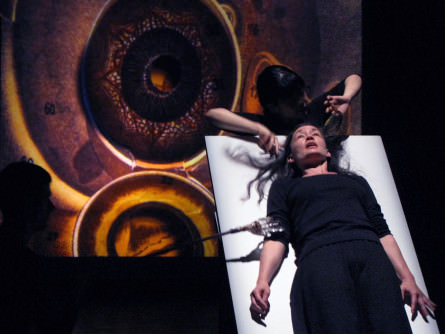 Last Friday I attended the opening preview for Hildegard (Vision) presented by the Pioneers Go East Collective. I was on a day date that turned into an early evening happy hour moment, which then transitioned into the boy accompanying me to the performance at the La MaMa theatre. Needless to say there's nothing like a little live theater and boozy opening night gala following the performance to elevate your night. Upon arrival, we were given our tickets, shown inside the auditorium and told to "explore the space and then choose your seats." The piece is described as a "meditative performance and sonic installation inspired by the work of mystic, artist and "proto-feminist" Hildegard Von Bingen" who was apparently a bad-ass medieval Lady Lover nun who gave a lot of advice (shade) to the Pope at the time.
The plot of Hildegard had a sparse structure and this made it difficult to follow exactly what was happening. However, the actors, audio installations and set pieces fully immersed the audience into the world of the play. It was like we were plopped right into the center of Hildy's brain during a really bad hangover. The seats circle the space so as you watch the piece you are literally inches away from the action, which I love! My favorite part was when Hildy had a "divine vision" of a lion, a dog and a pig all destroying the church with sex and power. It really got me in the mood and I think it would do the same for all of you. …

Performance:

GET DANCING – Andy de Groat & Catherine Galasso

Starting this Thursday to Saturday there is a dance program going on at Danspace Project in NYC. Patrick Gallagher who's dancing in it sent us an email as if he was writing a post for the newsletter. I really appreciate when someone knows how to sell themselves and takes the time to write an email that makes sense as supposed to a tedious press release. Here's what Patrick had to say about the show: "Andy de Groat was the original choreographer of the legendary work Einstein on the Beach. He and director Robert Wilson were lovers. After the first tour of Einstein to Iran in the 1970s, the relationship ended. Andy's choreography was subsequently replaced by Lucinda Childs, because her company made up the majority of the cast. Andy de Groat, a gay dancer from New Jersey, was erased from the history of the work. Andy moved to Paris in the mid 80s where he developed a huge following in the European contemporary dance scene. But he is unknown to most American dancers, despite his contributions to Einstein." If you haven't seen Einstein on the Beach at BAM then you have a chance to get a taste of the original choreography by Andy de Groat. He also mentioned that he'll be performing in "a sexy yellow jumpsuit which has been hiding in storage in Paris for 30 years…" There will be plenty of other dancers performing with him, but I just ran out of space to mention them all... —abi