There's always a new queen in town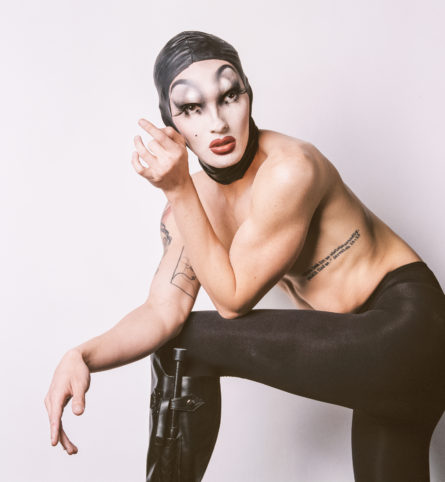 Unlike Valentina, Drü Holiday has really been doing drag for 15 months. Andrew, though new to publicly doing drag, is no stranger to the late night magic the medium so often emotes. Like many other younger, internet-bred drag queens, Drü began painting in the comfort of her own bedroom at 2:00am after everyone had hopefully gone to sleep. "I've been practicing since I was 14," she told me over email. She worked at her face and learned the rudimentary aspects to a solid beat. "Then I really tried to realize who I was as a queen," she said. "That took years to figure out."
Drag in its present context is more art and less hobby. While the history of drag rests in political commentary and clownish-entertainment, the rise of RuPaul's Drag Race has asked the world to take a more serious look at the many styles and forms of expression that are under the drag-umbrella. Whether it's practicing your paint, learning to sew, or gaining the confidence to get on stage, drag – once a completely outsider performance medium – has become a multi-million dollar commercial industry. Queens travel the world performing and sign major contracts with television networks. Alas, none of this would be possible without RuPaul Charles, and what better place to have your drag recognized and your art validated then at the annual RuPaul's Drag Con?
The convention, which takes place in Los Angeles and New York City, has become the place to be for drag fans and drag stars alike. …

With a special performance by Christeene
Performance:

Bitch! Dyke! Faghag! Whore! The Penny Arcade Sex and Censorship Show

Penny Arcade has been performing for 50 years. That alone is something to applaud. Don't get me wrong, I'm not into celebrating longevity alone, but Penny has been producing powerful and relevant work for every one of those 50 years. Bitch! Dyke! Faghag! Whore! Is undoubtedly her most important work. The show came out in 1990 at the height of the censorship culture wars, lead by fuck-face conservative politician Jesse Helmes. Penny has performed the show in over 30 cities, in dozens of countries. This Friday she is performing the show at the newly renovated Performance Space New York on 9th St. It's a super cool, massive space that has been under renovation for about a decade (maybe not that long, but it's felt like it.) "At Performance Space New York, Arcade will be joined by a star-studded cast of erotic dancers including Blaine Petrovia, 2017 USA National Pole Dancing Champion; Kevin Aviance; and Jantina, aka the Burlesque Booty Queen; among others." The show has always featured erotic performers, Penny tells us why they're so important: "Erotic dance is a powerful feminist art form, it is the only thing created by women that controls men, unlike the myriad of things men have created to control women." I mean, how can you not love this woman? See you Friday Mama! You can attend other performances on May 11, 12, 17, 18, 19. —tom
Performance:

BLESSED AVENUE BY JACOLBY SATTERWHITE

One of my favorite things, as a young and impressionable queer person, is finding out about artists for the first time and really opening myself up to their work. About a month ago, we published an interview with Jacolby Satterwhite — an artist who thrives on the cusp between performance and visual arts — by writer Omar Nasir. That interview was my introduction to Satterwhite; it was about his multilayered series Blessed Avenue, which is part installation, part visual album, and part performative statement on consumerism. This Friday, May 4th, Satterwhite is performing the first concert version of Blessed Avenue. The audience will be "introduced to a phantasmagorical world of bodies and machines, exploring such themes as desire and sexual freedom, while drawing inspiration from such diverse sources as gospel, acid house, and modern dance. The work in progress incorporates acapella songs originally composed by Satterwhite's mother, Patricia, as she struggled with mental illness. They are reimagined into an electronic and visually stirring odyssey. In collaboration with the electronic composer and musician Nick Weiss, this performance features live vocals and new choral arrangements around Satterwhite's latest musical and animated film." Satterwhite's concert is part of the Rubin Museum of Art's performance series Refiguring the Future, which over the course of this month and next will also feature work from Morehshin Allahyari and Shirin Fahimi, as well as Juliana Huxtable. —Connor Atkins

When I met Abigail Lewis she pulled out a few inches of very thin glass. "So, I'm making clothes out of this idea," she said. She told me it was borosilicate, most commonly used in the medical profession, but that there was underwear, shoes, a bra and some other pieces at her studio in Harlem. Fast forward 3 months later, and Abigail — designing under A/DAPHNE — will finally unveil her hand-woven glass structures. "_IN is a collaborative performance installation in a bedroom. Lit by cell phones and computer screens, five artists will interpret glass garments by A/Daphne while reacting to the bedroom as a site of self-imagining and public solitude. Aarron Ricks, Alexandra Marzella, Craig Monteith, Nash Glynn, and Whitney Vangrin confront related themes of vulnerability, the body, gender, sexuality, social entrapment, and transparency. As a mode of self-presentation and a social construct, clothing is dependant upon its wearer, and from this stance A/Daphne facilitates the perspective of artist-as-wearer." The cast — who all have backgrounds in various performance styles — will wear A/Daphne designs and channel their own styles of performance into the clothing medium. On view at the decadent space currently under the control of curator Emma James, viewers are invited into the space at their own discretion. Having seen the pieces and met the cast, I know the evening will be sexy, as well as totally serene. When I asked the cast what they were planning, they laughed. "To rehearse would be to lose all authenticity," said Aarron. _IN will extend A/Daphne's interest in the material paradoxes of glass, how it is both fragile and strong, protective and threatening. —Chris Stewart

On Tuesday the latest issue of The New Yorker arrived in my mailbox. Naturally, I screamed. Joan Acocella, for those who do not know, is a staff writer for the magazine covering mostly dance, and sometimes other shit, but her dance writing is where it's at. I breezed through her most recent article on Terrence McNally's "Fire and Air." The play follows the mythic relationship between the Ballets Russes' Sergei Diaghilev and the camptastic Vaslav Nijinsky. "The play has only one set," Acocella explained. "Two gilt-edged mirrors, a scattering of gilt chairs — and only six characters." It turns out, GAYLETTER knows one of the actors. James Cusati-Moyer is "much handsomer than the real Nijinsky," according to Acocella. I can attest to that. James is gorgina. Directed by John Doyle (at Classic Stage Company), Fire and Air explores the "rich history" of iconic-lovers Diaghilev and Nijinsky during their time spent working inside of the iternant dance company. I haven't seen the show, but I desperately want to. The stage-direction mostly calls for scenes backstage with the characters in the company, so the script details Nijinsky's past lover, Prince Lvov (there's a whole other juicy gay-romance there), and his hairy ass. Lord knows I love a furry hole — I guess Nijinsky did too! —Chris Stewart
From Black Box to Black Velvet, the dance artist explores being an "other."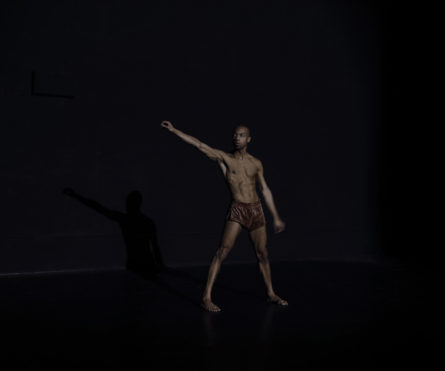 Last year, GAYLETTER had the privilege of seeing Shamel Pitts' stunning solo show Black Box – Little Black Box of Red at the 14th St. Y Theatre. We were amazed by the physicality of the performance in combination with the multimedia effects of sound, set pieces, lighting, and projection. After the performance we became aware that the work was originally performed in Pitts' apartment in Tel Aviv for an intimate crowd, then later at Suzanne Dellal Center for Dance and Theatre in Tel Aviv, and then again as part of the APAP Showcase in New York.
Pitts returned to the 14th St. Y Theatre early in 2018 with Black Velvet. He allowed us to photograph the rehearsal and answered some of my questions I had about the new work and his partnership with artist Mirelle Martins.
How did these different spaces and audiences change the performance and the message Black Box carried? Black Box, is a personal testament shared with universal sentiment.  It is very crucial to the work that the audience feels the intimacy of their viewing. The viewing should feel almost like seeing the performance through a peep hole. The lighting artist for Black Box, Tom Love, manages to keep this intimacy of viewing through how he focuses and scales the light projection. The only light source in the work is through a projector, which projects only black light into the performance space. My job as the performer is to allow myself to be seen, and yet to know that I am alone.  …

Performance:

RYAN McNAMARA'S BATTLEGROUND

Abi and I spent the entire ride from 77th St. to Spring St. talking about Ryan McNamara's "Battleground." The performance lasted a little over an hour and when we stepped out of the theatre, I lit a cigarette, Abi sparked a joint, and we got to gushing over the performance. Trained as a photographer and sculptor, McNamara started receiving buzz after his "Make Ryan a Dancer" premiered at MoMA PS1. Since then, his work has been seen globally and is celebrated as well as slandered by art-fags and the beau monde alike. I sound camp because I feel strongly that a huge part of McNamara's work lies in the total buffoonery of gay men and LGBT society. "Battleground" was commissioned by The Guggenheim in 2016 and is a "battle ballet" showcased through a series of vignettes. Returning for three nights, McNamara uses the brusque architecture of Frank Lloyd Wright to highlight the good, the bad, the ugly, and every odd nook and cranny in between. It is equal parts performance and dance. With a cast of nine, the troupes of three cruise through every part of the theatre; behind you, beside you, above you, with a soundtrack that is no doubt an ode to gay-clubs. Sylvester, Sade and Suzi Lane propel the dancers through the choreography that mixes Vogue-poses and stealthy, svelte interpretations of modern and ballet. There is a talk-back style interlude where McNamara discusses his love of threes and refuses the word "repertoire" that is so often used as a placard for artists working through dance. Call him what you want, but the work is a cult-like delicacy really most enjoyed by anyone who's willing to forget everything they know about dance performance. The current works are already legend, and in 10 years they'll be even more cunt. It's selling out fast. I wouldn't want to see this on tour. —Chris Stewart
Caustically hilarious, this new play questions the gay aggregate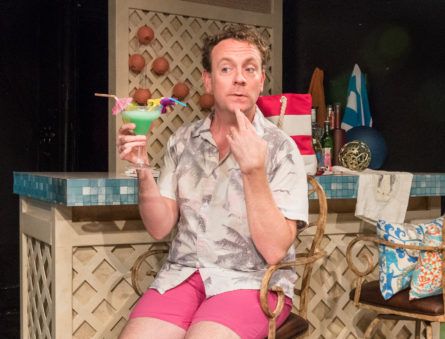 There's a new insult comic in town that makes Bianca del Rio look like Farrah Moan. His name is Gerry and he's the sole character embodied by the uproarious Drew Droege ( "Chloë," and "Drunk History,") in the caustically hilarious and timely new play, Bright Colors And Bold Patterns. Hell hath no fury like a bitter queen with a margarita, as you may know, and no Mary is safe around Gerry.
Bright Colors And Bold Patterns is written and performed by Droege (pictured) with direction by the splendid Michael Urie (the star of the season's smash revival, Torch Song). Josh and Brennan are old time friends of Gerry who are about to tie the knot in sunny, turbo-gay Palm Springs on the most serene of Saturday afternoons. "However, the night before becomes a drunken, drug-fueled riot, because Gerry has arrived, furious that their invitation says 'Please refrain from wearing bright colors or bold patterns.'" This tiny wardrobe request mobilizes the show's underlying sustenance and posits big questions; "In the struggle for equality, what do we really want? What do we lose? And is there any cocaine left?" The show ruminates over these timeless struggles for equality. Only the last question can be answered; it's safe to assume Gerry's bumped the last of the cocaine.
Throughout the 80 minutes (there is no intermission), Gerry rips through myriad topics from pop culture to his own gripes while the audience, along with the other wedding guests, watch from a poolside set. …