"This performance contains adult content." I love a show that includes that as a disclaimer. And when it comes from a woman often described as an "art world provocateur" even better. Performance artist Ann Liv Young is back with her first American commission in over 8 years, and we couldn't be more excited. "Created in collaboration with Annie Dorsen, the epic evening begins with her potent and corporeal vision of Sophocles' story of a family steeped in murder, revenge, and deception — Young plays the title role with an intrepid cast of performers (including her 8-year-old daughter, Lovey), cycling through versions of the text splintered by pop songs and sequences of bold, jarring movement. A lush intermission features performances by a special musical guest from Norway, drowning the theater and inviting a visit to the lobby bar. The evening rages on with Young's critically acclaimed, rough and tumble Elektra Cabaret." The point of the show is to get the audience to challenge social norms. Ann is a unique artist and I love the intention of this work — be an individual, think for yourself, get free. We're into it. —tom
Performance:

PAM ANN – DOWNTON GALLEY

It was quite a night on Tuesday as we headed uptown to see Australian comedian Pam Ann's latest show. In a theatre above a Turkish restaurant, The Triad, the modest space was not as comfortable as the last venue we saw her at (Joe's Pub), but once she got started it didn't matter where we were. She filled the room with laughter while putting on a slightly haphazard (apparently the result of too much Xanax the night before) but still totally enjoyable show. If you are unfamiliar with Pam, here's a little backstory. Her onstage persona is that of a brash, drug-taking, cock-sucking, loud-mouthed flight attendant. Throughout the show she lays into pretty much every airline and their flight crews. She is crude, cunty and hilarious. The reason the show is called 'Downtown Galley' is because, in-between costume changes, she plays clips from Downton Abbey with her character superimposed into the scenes, rattling off obscene things to the cast. It really has nothing to do with the rest of the show, but is fun none the less. If you've never seen Pam please go to this show, it's only on for 2 more nights and while not as polished as her previous shows, is still A LOT of fun. —tom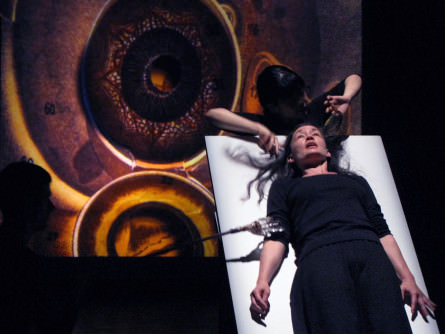 Last Friday I attended the opening preview for Hildegard (Vision) presented by the Pioneers Go East Collective. I was on a day date that turned into an early evening happy hour moment, which then transitioned into the boy accompanying me to the performance at the La MaMa theatre. Needless to say there's nothing like a little live theater and boozy opening night gala following the performance to elevate your night. Upon arrival, we were given our tickets, shown inside the auditorium and told to "explore the space and then choose your seats." The piece is described as a "meditative performance and sonic installation inspired by the work of mystic, artist and "proto-feminist" Hildegard Von Bingen" who was apparently a bad-ass medieval Lady Lover nun who gave a lot of advice (shade) to the Pope at the time.
The plot of Hildegard had a sparse structure and this made it difficult to follow exactly what was happening. However, the actors, audio installations and set pieces fully immersed the audience into the world of the play. It was like we were plopped right into the center of Hildy's brain during a really bad hangover. The seats circle the space so as you watch the piece you are literally inches away from the action, which I love! My favorite part was when Hildy had a "divine vision" of a lion, a dog and a pig all destroying the church with sex and power. It really got me in the mood and I think it would do the same for all of you. …

Performance:

GET DANCING – Andy de Groat & Catherine Galasso

Starting this Thursday to Saturday there is a dance program going on at Danspace Project in NYC. Patrick Gallagher who's dancing in it sent us an email as if he was writing a post for the newsletter. I really appreciate when someone knows how to sell themselves and takes the time to write an email that makes sense as supposed to a tedious press release. Here's what Patrick had to say about the show: "Andy de Groat was the original choreographer of the legendary work Einstein on the Beach. He and director Robert Wilson were lovers. After the first tour of Einstein to Iran in the 1970s, the relationship ended. Andy's choreography was subsequently replaced by Lucinda Childs, because her company made up the majority of the cast. Andy de Groat, a gay dancer from New Jersey, was erased from the history of the work. Andy moved to Paris in the mid 80s where he developed a huge following in the European contemporary dance scene. But he is unknown to most American dancers, despite his contributions to Einstein." If you haven't seen Einstein on the Beach at BAM then you have a chance to get a taste of the original choreography by Andy de Groat. He also mentioned that he'll be performing in "a sexy yellow jumpsuit which has been hiding in storage in Paris for 30 years…" There will be plenty of other dancers performing with him, but I just ran out of space to mention them all... —abi
Performance:

Cinderella (Company XIV)

Last week I was invited to the Minetta Lane Theatre by Mark Osmundsen (who previously did a GAYLETTER selfie story for our site and is one of the performers in the show) to check out the show Cinderella. I invited my friend Beatrice to come with me — she's like "what is it?" I am like "it's Cinderella, I don't know...let's see." This has been GAYLETTER's attitude when going to see a new show — I think it's best not to have expectations. We sat down and a drunk lady (tourist) yelled at me because my cashmere hat was blocking her view, I told her I am not a tall man, you'll manage, and of course I just ignored her crazy laugh and yelling during the show. The energy was high, most people were drunk, people were drinking in their seats (including us). The classic story of Cinderella is choreographed and directed by Austin McCormick and performed in a burlesque cabaret format with plenty of singing, dancing, jokes and ass-shaking. The stage looked like it was stolen from Louis XIV castle, and the story was mainly told with cue cards held by sexy men and women. We were like "what's going on?" This retelling of the story was very different, everyone was wearing high heels, there was even an amazing pole dancer performance by one of the half-sisters of Cinderella. I have never in my life seen so much ASS on one stage, I mean lots of nice asses — even the Stepmother had her ass out. The best part of this show is that I couldn't really tell who was a guy or a girl, I thought that was refreshing. Go see it, but please get drunk or high before and make sure you shout. It's a party! —abi
Various Prices, 5:00 PM, Minetta Lane Theatre, 18 Minetta Lane, NY, NY.
Performance:

JACK FERVER & MARC SWANSON'S CHAMBRE

This is the must fun you'll have seeing a performance at least this fall 2015. I am serious, I want to go see this again! It's outrageous, it's cunt, it's madness (but the good kind of madness) it's what me and my friends like to call "nuts and bananas."  Co-presented with the French Institute Alliance Française (FIAF) as part of the Crossing the Line Festival 2015 and the New Museum R&D Season: PERSONA The writer, choreographer and director Jack Ferver, and American visual artist Marc Swanson take Jean Genet's The Maids "as a point of departure for a farcical and haunting attack on our culture of celebrity and greed. Ferver refracts Genet through many lenses, including the gruesome facts of the real-life murders that inspired The Maids; Lady Gaga's infamous courtroom deposition speech; role-play; and a manic fantasy escape to the City of Lights." The show is performed by the super talented Jack and he's joined by Jacob Slominski and Michelle Mola while surrounded by Swanson's sculptures — "on view as an installation during museum hours — they function as both freestanding artworks and a theatrical set that asks not how such a violent thing could have happened, but why things like this don't happen more often." The meticulous performance art piece contains dance, acting, screams, amazing chic fashion and the sort of crazy that we at GAYLETTER are really into. It will work your last nerve. —abi
Performance:

Dixon Place Presents – and we will all be cordially invited

Some friends of GAYLETTER are putting together this play that's part of this year's 24th annual HOT! Festival of Queer Culture at Dixon Place. It's happening this Saturday, for one night only. Directed by Rau Ry Szelong, it's written by Kyle Rogers. PENTUP Studio (who did some B.T.S videos for our last issue) is doing all the visuals for the show. It features Kai Cameron & Reid Spencer Gilbard. Here is some information about the show, it "tells the sexual-coming-of-age of a small boy who is Not Quite Like His Peers. Through memory, accidents, and copious amounts of shame, we watch the small boy debate with himself how to evolve when there's been no template before him. We watch him develop and actualize a potential – one that's not quite successful, not quite traditional, yet still self-fulfilling." To be honest with you, I haven't seen the show yet, but GAYLETTER started as a word-of-mouth newsletter and we kind of have to trust our friends. Chase from PENTUP told me that "It's shaping up to be quite a spectacle of pinks and projections and pretty boys of all kinds." As long as there's fucking, I am totally down. —abi
Performance:

SUNDAY NIGHT with Mx Justin Vivian Bond

If you haven't been to a Mx. Justin Vivian Bond show it's probably because you are basic...or because you are an ignorant person or worse, because you don't read our newsletter or our magazine (issue 1). I am kidding, I just wanted to grab your attention, but seriously you really need to go see Justin before the end of the Summer. Justin performed an Earth Day concert at this venue, Rockwood Stage 2 and loved it — "so much fun I'm coming back for more." Justin will be performing with Thomas Barlett. I hear that V will be debuting some new original songs (yes bitch!) as well as performing some stuff from the albums Dendrophile and Silver Wells. It's happening on Sunday, July 31st, so it's kind of like going to church, but trust me you'll learn more at this concert than from any preacher. Also, $15 for a ticket is very cheap, Justin is an expensive performer so this is a fucking bargain. Finally, Justin's hair is super long and blonde at the moment, which we are really into. So like stop being basic and go see V, you owe it to yourself. —abi
Tonight only!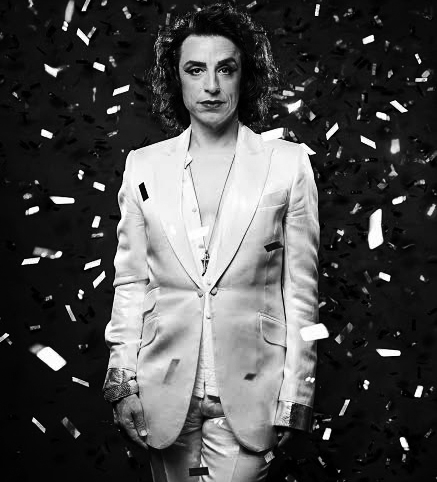 If you're anything like me, you have a touch of German in your bloodline, resonate strongly with your own idea of what is means to be German, but truthfully know next to nothing about the country's history. With that being said, Earl Dax's cabaret Weimar New York is back at Joe's Pub for one night only, on July 15.
I actually had to google what the Weimar-era was before I wrote this, but I did learn that Jessica Lange's AHS: Freak Show character Elsa Mars was based on this culturally chaotic time in Germany where everything was about the arts and creatives focused on highlighting the darker side of life. Sounds a lot like 2015.
Australian cabaret star and Prince's dopplegänger, Paul Capsis (who is a major star in Australia) hosts the show which "uses the rubric of Weimar Germany to highlight unsettling parallels between the rise of fascism then and conservative political elements today." Performers include Rachel Mason, boylesque sensation Enormvs Muñoz, comic and solo performer Marga Gomez, singer-songwriter Carol Lipnik and the glittering Pixie Harlots. After tonight, the show moves back to Bard's SummerScape for their 6th season. Don't miss out!
$25, 7:30PM, Joe's Pub, 425 Lafayette, NY, NY.
…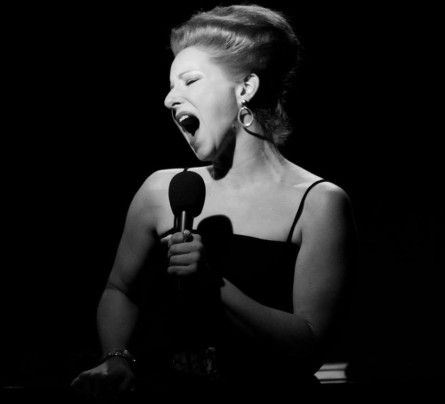 It's a whiskey slugging cabaret sing-a-long. It's a self-aware train wreck. It's Molly Pope Likes your Status. People are raving about this shit. Apparently her voice sounds like Bette Midler and Bridgett Everett shaken into one long Manhattan. Even the queens over at Time Out New York describe her as a "viscerally thrilling alto." Plus, she literally drinks almost an entire bottle of Jameson during every show. While singing. Ok Molly Pope.

The performance is Friday, July 10th, at the Duplex Cabaret and Piano Bar. A friend of GAYLETTER, Joshua Weidenmiller, told us "She's like an old icon that feels brand new." Now, I'm not saying she's the new Amy, but it sounds like this lady is fucked up in all the right ways. If you're looking for some retro glam debauchery with a 60's beehive to boot, this sounds like your move. "The boys go crazy for her."

$15-18, 9:30PM, The Duplex, 61 Christopher St. New York, NY. …