Performance:

Lo Down Loretta Brown aka Erykah Badu

I don't even know where to start...I mean, I read the title for this event and I nearly started to cry — they had me at DJ Lo Down Loretta Brown. That is about as good a DJ name as they come. The woman behind that name is of course the genius herself, Erykah Badu (pictured) aka Fatbellybella aka Serra Bellum aka Maria Mexico aka Annie aka Analog Girl in the Digital World…need I go on? The woman is a living legend and as fun as they come, her social media presence is more entertaining than most artists half her age. Supported by Natasha Diggs and Rashad Smith, Ms. Badu will spin the ones and twos until the wee hours of Thursday morning. Most tickets have sold out, but there are still some left in the $25-$30 range. Snap them up queen, this is one event you do not want to miss. —abi
Performance:

Mx. Bond's House of Whimsy

When GAYLETTER's patron saint Mx. Justin Vivian Bond has a new show we always get excited. Recommending anything V does is a no-brainer. You will never be disappointed seeing a Mx. Bond show, and this one sounds perfect. The House of Whimsy is "an alluring, edgy, and irreverent evening of divas and deviants from the downtown performance scene — selected and introduced by Mx. Bond. Established Spiegeltent favorites mingle with talented newcomers in a program of variety acts that will ravish, provoke, and astound. Scheduled to appear: Dane Terry, PWR BTTM, Severely Mame, Julie Atlas Muz & Mat Fraser, Kate Bornstein, Big Dipper, Angela Di Carlo, Slanty Eyed Mama, Nath Ann Carrera and Janani Balasubramanian." Even without Justin that is one hell of a line-up. Don't miss it! —tom
$25 AND UP, 8:30PM, BARD COLLEGE SUMMERSCAPE SPIEGELTENT,
RED HOOK, NY
.
Dan Fingerman's play offers hope amidst our flimsy times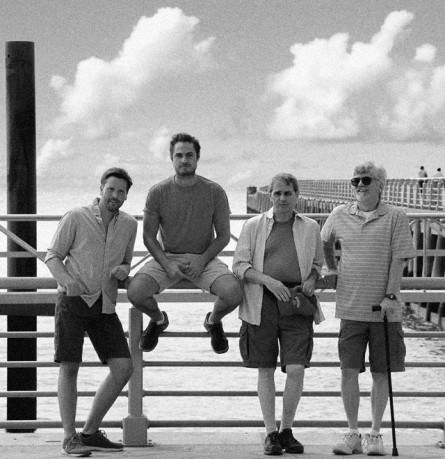 I never thought I'd be genuinely excited to live out my inevitable fate of becoming a bitter old gay man, but, Dan Fingerman's Boys of a Certain Age has done just that. In Fingerman's new play, the breakout star is clearly R. Scott Williams's "Uncle Ira." Equal parts sad and sassy, Ira's bitchy quips and outdated references will instantly make him your new favorite person (fictional or real).
BOYS OF A CERTAIN AGE is part of the Fresh Fruit Festival going on right now in New York City. Directed by Dan Dinero, it stars our friend Marc Sinoway alongside Brian Gligor, and Joseph J. Menino. The story revolves around four gay men of different ages as they grapple with their sexual, religious and political identities. There's something for everyone, and sadly the politically correct hipster who can't get his writing career off the ground and uses sarcasm to keep people at a distance was a tad more relatable than I'd have liked.
The play takes place over one weekend spent at an unnamed beach town outside of the City. The men come to a head as they delve into their collective past and try to make sense of their future. Fingerman does a great job of addressing the generational divide on issues such as the gay rights movement and AIDS. The show also deals with the complicated issues of friendships between gay men and gay self-hatred. BOYS OF A CERTAIN AGE manages to be both funny and heartwarming, which is no easy feat. …

Event:

HOT! Festival

When a festival's tagline reads "Theatre, music, dance, literature & homoeroticism for the whole family," what more could you ask for? HOT! Festival is "the longest running LGBTQ festival in the world and has been a pioneer of queer arts & culture for 25 years." This year, the festival returns to the intimate Dixon Place (their 2-for-1 shot & beer deal often advertised on the sidewalk always calls me...) This year, "Dixon Place commissioned artist Monstah Black's HYPERBOLIC! The Last Spectacle is the centerpiece" for the festival,  but if you don't know what that is, don't worry, because the festival features new works every night, so enjoy all of the blank slates! There are a lot of things going up and they all sound fresh, queer, funny, resort, fall, winter, men's, agender... you know the deal! HOT! Our friend Thomas Gibbons is premiering new work, 'Every Man's Home (Is His Wife's Castle)' July 7, at 7:30PM. He said: "This is very close to my heart. Lots of surprises that may include mullets, jockstraps, vernacular architecture, tennis, satisfyingly opaque objects and a middle aged woman in a middle aged woman costume." Also to note some other showings: the homo-musical revue, 'Gentleman Prefer Bottoms'; HOT! Festival vet, & sort-of-scary, 'Dandy Darkly', and so much more queer stuff. It's suppose to start getting literally hot(!) outside, so air-conditioning and a show certainly won't be a bad idea. Click here for more info. —Chris Stewart

I was at a dinner at the LGBT Center on Sunday night when a lovely young man from Vogue Magazine started telling me about a show he'd just seen. "It's called the Judas Kiss, it stars Rupert Everett." "Bridget Everett" I responded. "I love her!" He was polite enough not to correct me, but when we received an email about this show I realized what a fucking idiot I must have sounded like. Oh, well, it wouldn't be the first time! So back to the show. In the Judas Kiss, Rupert Everett plays the famed playwright Oscar Wilde, beginning in the Spring of 1895 when Wilde "was larger than life. His masterpiece The Importance of Being Earnest was a hit in the West End; he was the toast of London. Yet by summer he was serving two years in prison for gross indecency." The play explores this time in Wilde's life ending with his exile in Naples following his imprisonment. Everett has received glowing reviews for his performance so we highly suggest you check it out. (Are you sure you're not in this Bridget?). —tom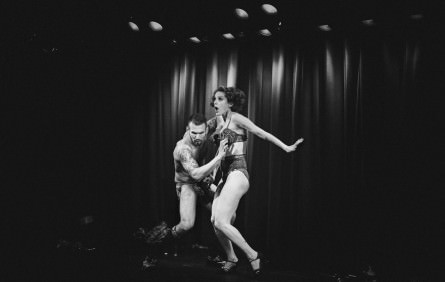 Nasty Drew and That Harder Boy: The Mystery of the Family Jewels is a parody of teen detective novels that's part burlesque show, part drag show and part straight-up strip show. We follow the misadventures of Nasty Drew and That Harder Boy as they try to solve the latest mystery in town without losing their clothes. They meet various colorful characters along the way and have plenty of dance breaks.
The show is the brainchild of Chris Harder, a New York based burlesque performer (and CockyBoys model), who does a nice job of highlighting each performer's skill set. The Mystery of the Family Jewels is kitschy in the best of ways, with strip teases as entertaining as the costumes being thrown to the ground. While at times the narrative might leave you wanting, it's a device to get from one performance to the next, not a submission for Best Book at the Tonys. Harder makes sure that there's a little something for everyone and you're a guaranteed to have a good time.
Photo: John Goddard
$22 plus a $20 food/drink minimum, Friday, May 27th at 10:00PM, The Laurie Beechman Theatre, 407 W 42nd St. NY, NY. …

Performance:

Gerard & Kelly: Modern Living

The Philip Johnson Glass House is one of the most beautiful houses in the world. Built in 1949 by Philip Johnson, the house is, according to Wikipedia (serious journalism here) "...an essay in minimal structure, geometry, proportion, and the effects of transparency and reflection. The estate includes other buildings designed by Johnson that span his career. It was designated a National Historic Landmark in 1997." This Friday, May 13 and Saturday, May 14, is your chance to experience the house in way that doesn't come around very often. Dancers Gerard & Kelly, in collaboration with Benjamin Millepied's L.A. Dance Project, will bring to life their piece called Modern Living, which "explores themes of queer intimacy and domestic space within legacies of modernist architecture. The project brings into dialogue two homes lived in by the architects who built them — the landmark Schindler House in West Hollywood, California, and Philip Johnson's Glass House — and marks the first cross-country cooperation between these legendary sites working on a single artist's project." There is no better excuse to visit this house than this. It'll be fucking magical. MAGICAL! —tom
Performance:

Joseph Keckler at Pangea

Joseph Keckler once performed at this stupid event we threw at Bedlam on Ave C. It was in the early stages of GAYLETTER and we were approached by this doctors clinic for rich people. They said they would give us $2k to throw any kind of party we wanted, and the only promotion they would foist on people was an information table somewhere in the space (we shoved it in the back). We hired a caterer (who turned out to be a complete dick), threw open the bar and asked our favorite performers to perform. Best of all we had money to pay them. The evening was kind of a mess, no one really quite knew why they were there. But Joseph's performance is what I remember most clearly from the night. People wouldn't stop talking to listen to him. It made me furious because I couldn't believe what I was hearing. Joseph is a trained opera singer, who sounds like a fucking angel stranded on earth. His vocal range is bananas, and his performances are beautiful, funny, campy and captivating. He is well worth seeing, again and again and again. —tom
$21.69, 7:30PM, Pangea, 178 2nd Ave., NY, NY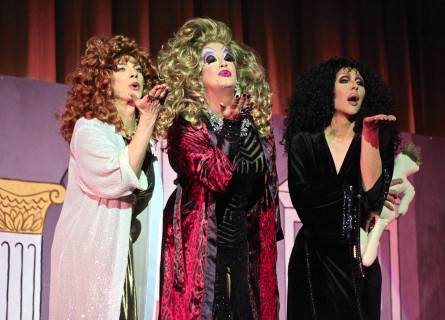 The New York premiere of The Witches of Eastwick comes to The Gramercy Theater on April 2nd. It's a parody "loosely" based on the classic film The Witches of Eastwick, which we don't really remember it's plot points of, but it made us feel amazing! I mean Cher, Susan Sarandon and Michelle Pfeiffer, hello!
This show, staring drag queens Chad Michaels, Coco Peru and Peaches Christ. It was written and directed by Joshua Grannell. Here's the plot points: "three seasoned drag queens —  a Cher impersonator, an acclaimed monologuist, and a cinephile — are invited to perform in the picturesque East Village of New York. The trio of sassy singles are feeling lonely until a mysterious and flamboyant drag fan arrives in their lives. But what are his ultimate intentions? What follows is devilishly fun — you'll laugh till you toss your cherries!"
Love it!
$30-$75, 7:00PM & 10:00PM, The Gramercy Theater, 127 East 23rd St. NY, NY. …

Event:

Miss FIT 2016 Drag Pageant

Our cunt 22-year-old friend Christy Burlington Coat Factory told us that FIT was gonna host a Drag Pageant and there's rumor that Bianca Del Rio is gonna be involved. We were very interested and were like, really the queens there have a pageant??? After that I have been googling and trying to find all the details. I've got to say, these queens are very bad at promotion. How are you gonna have a drag event in NYC and not plaster it all over the tristate area? How you gonna be a drag queen if you can't promote yourself? I went to FIT and it's gotta be one of the gayest school in the world — THANK YOU for that. The best way to get a ticket is probably to show up to the Dubinsky lobby and ask. Searching through FB, I found this status update: "This year for our 10th anniversary, we're planning the biggest presentation ever!!!! Hosted by your crowned Queen of Comedy, hint, she's another Ru girl...This is going to be amazing." Girls, we'll help you get the word out, you're welcome! —t&a