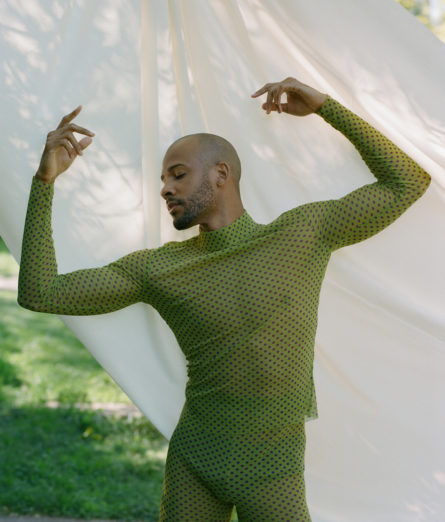 Yannick Lebrun is a 34-year-old dancer and a principal at the esteemed Alvin Ailey American Dance Theater. He spoke to us about growing up in French Guiana, moving to New York City, and performing for Beyoncé.
How did you end up in New York? I moved to New York at the age of 17 after I graduated high school. I was born and raised in French Guiana, which is an overseas department of France in South America, between Brazil and Suriname. So my environment was Amazon forests, tropical — a very green territory. I started dancing in French Guiana when I was nine years old. I did a lot of different dance competitions, got a lot of different scholarships, and had opportunities to attend summer programs in New York and France. When I received the scholarship to come study at the Ailey School in 2004, this is when I was like, okay, New York will be the place where I follow my dream and become a professional dancer. I wanted to go dance in a company that would accept my background, my unique cultural identity as a person of color. So, joining Alvin Ailey was my goal. First, I joined the Alvin Ailey School where I trained for two years. Then, I joined Ailey II in 2006, and then I joined Alvin Ailey American Dance Theater officially in 2008. That energy coming to New York City and being surrounded by all these amazing, young and talented Black dancers — I was so inspired. …

An all drag production created by Sasha Velour
With performances by Olivia Lux, Vena Cava, Shanita Bump and Boy Radio
Spring has sprung and the queens are out at Maria Hernadez Park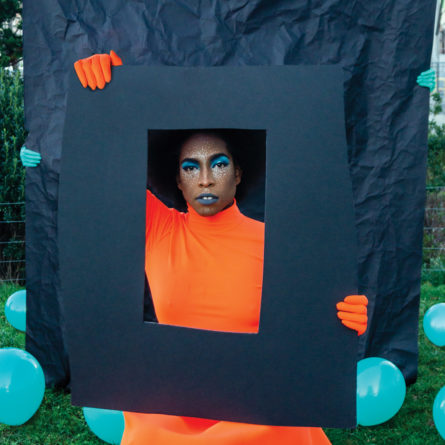 Before the shutdown, Junior Mintt was one of the most booked and busy queens in the New York and Brooklyn drag scene. Junior likens her shows to "queer church" full of "confetti, balloon pops, laughter, costume reveals, comedy mixes, motivational speaking, political statements, great music, and above all respect!" We connected with Junior to discuss her love of candy, the beauty of Black trans power, and who she looks up to the most.
What's the story behind Junior Mintt and her rise? I wouldn't necessarily say there was a "rise" to Junior Mintt, I prefer to think she was with me from birth. Junior Mintt is the piece of me that kept me going and kept me seeing my own worth when I didn't think I was worthy of love. Being trans you're born into a world that reminds you everyday it isn't meant for you, so growing up I internalized every hurtful thing that everyone would say. From being very overweight to my femme personality to being too nice, Junior Mintt was the voice in my head reminding me that just because I don't fit in here doesn't mean I don't fit in anywhere. Junior Mintt was always there and always knew who I was, it's just a matter of me getting to know her now.
Where does your name come from? My name outside of drag is Junior as well, and when I started drag, I knew I wanted to use my real name. I started off as Junior High, and then when I was rewatching the Seinfeld episode that's all about Junior Mints, I remembered that growing up my mom would call me her little Junior Mint, and that was the moment when it clicked! …

Photographs from Maria Hernandez Park, October 3, 2020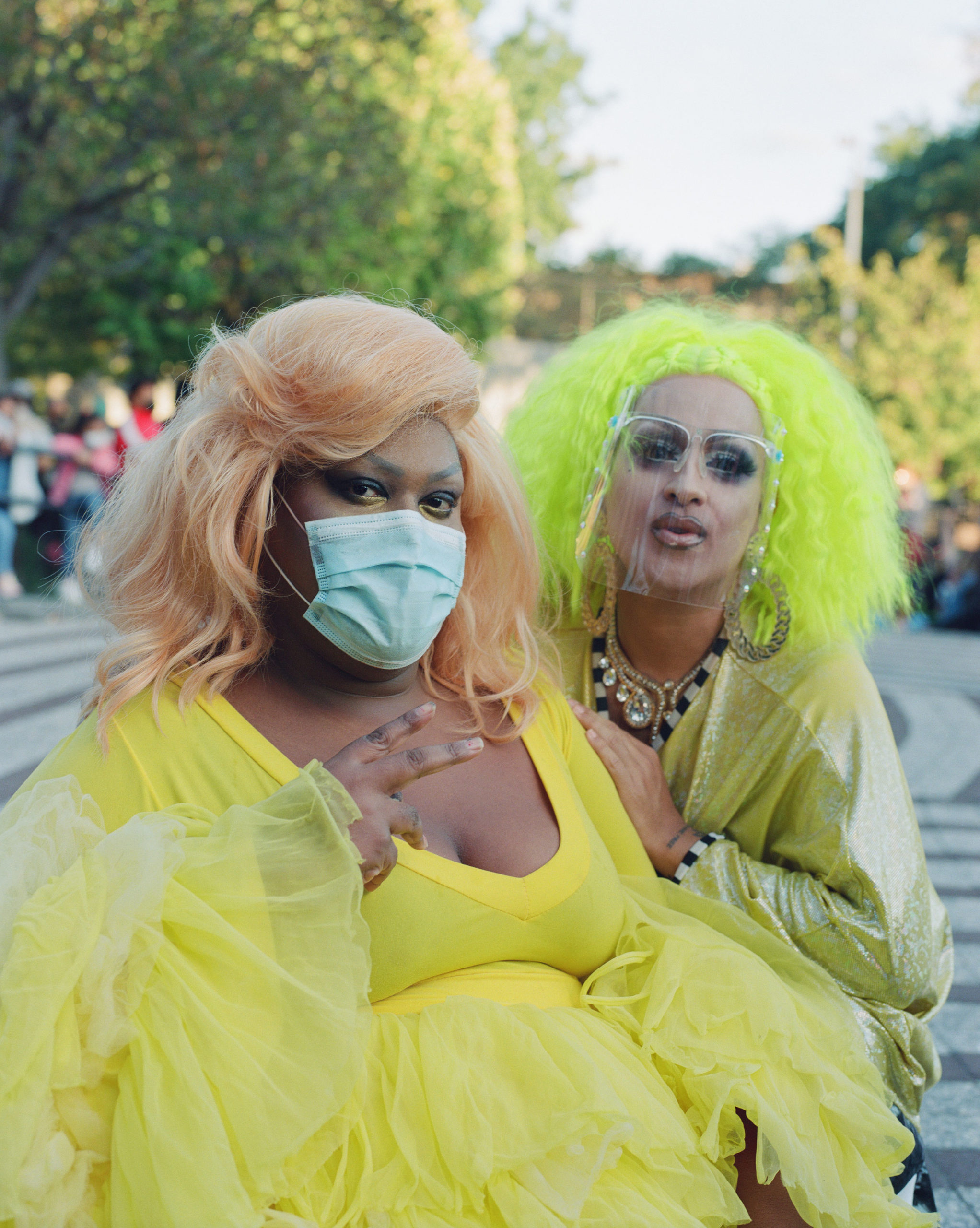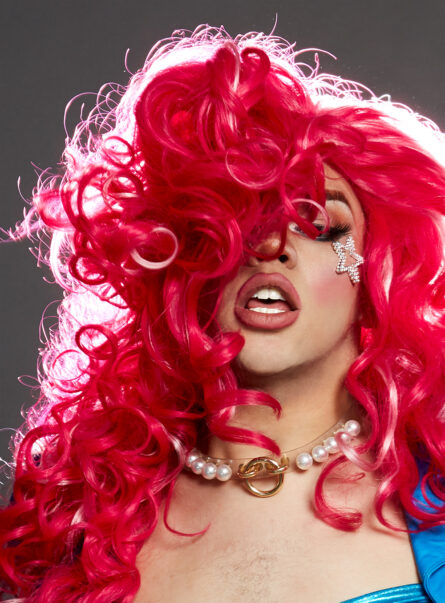 Magenta low-key hates the color magenta. So how did this rising New York drag star end up with her name? Well, turns out an old lady in a coffee shop was the inspiration. In high school Magenta was sitting with a friend with "long ass pink braids" when an "old, old, old bitch" walked up to them and said "I love your hair. I had magenta hair once too." And so "Magenta" was born. "All my friends hated the name," she explains, "but I was like 'It's cunt! It's gonna stick,' and now it's stuck."
Magenta, who turned 21 this year, grew up "way deep in the Bronx." She has been performing in New York for six years. It all started on Halloween at age 15. She woke up at 6 a.m. that morning so his mom could paint his and a friend's faces before school. Afterwards they took the train from the Bronx to 56th and 3rd in full drag. Magenta acknowledges that it was reckless, but if they acted confident then nobody would fuck with them: "And that's kind of what happened."
Magenta is most inspired by Rihanna "because you can't compete with the energy of a bitch who says 'I can do whatever I want, say whatever I want, and wear whatever I want, and you're just gonna eat it up.'" She's also inspired by Adore Delano: "I love that bitch. She also looks like you can't fuck with her."
Magenta wears bathing suit by Just Cavalli, pants by Veronique Leroy, jacket by Vintage Saga Furs, necklace and belt by Chanel, vintage earrings. …

The director of the Werq the World docuseries shares his stories and photographs of the queens from behind the scenes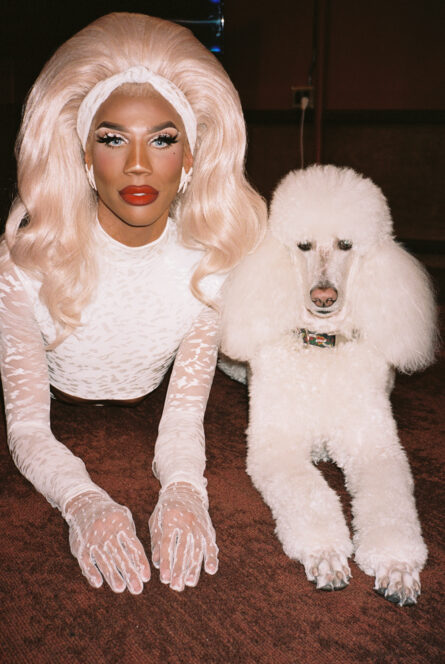 How did the Werq the World series come about? After moving to LA from New York in 2016, I got connected to World of Wonder via filmmaker Billy Luther. I was 27 and had just gotten gay-divorced (can't start early enough right?) and was frankly feeling a little down and under and not happy in LA. I'm from The Netherlands and this car driving flatland wasn't giving me the same excitement as New York – which felt like home on Day 1. I felt a connection with WOW because its founders Randy Barbato and Fenton Bailey built that company in New York City and have been trailblazing for decades since.
They asked me if I wanted to shoot a new "Day In The Life" series with some of their queens, spending an entire day with them from waking up until a performance at night. This became the "Follow Me" series on their then brand-new streaming service WOW Presents Plus. The first queens I worked with were Gia Gunn, Aja, and Vanjie (right after her first elimination). I loved making those first episodes. I opted not to use any sit-down interviews and simply let the action unfold in front of the camera. I wanted to get to a space with them where they're not "entertaining" for the camera, but just being themselves. The best moments happen when they either forget they're being filmed, or the camera becomes more of a friend in the room.
I think WOW appreciated this sort of raw and real take on these drag stars, so they asked me if I wanted to go on tour with the cast of Werq the World. …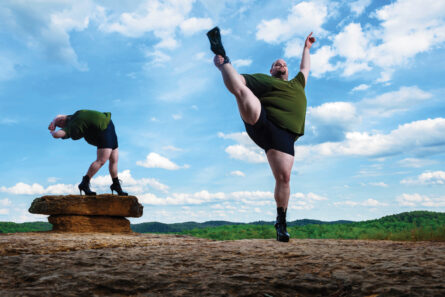 Dancer-choreographer Erik Cavanaugh moved and grooved from a pizza parlor in Pittsburgh to some of the biggest stages in the world. The former dance major ended up on America's Got Talent and in the pages of Oprah Magazine after a video of him pirouetting and backbending went viral in 2016, eventually racking up tens of millions of views. His mission has always been to change how we imagine the "dancer's body," urging us to celebrate each others' bodies because they are one thing we all inhabit. Today he continues to spread this message posting performance videos to his loyal fanbase on Instagram, Facebook, and TikTok, showing that dance is a language we all share, speaking to the heart and soul of who we are. We caught up with Cavanaugh to hear him translate, to words, his body talk, and get to know the mind behind the movement.
How would you reflect on the media coverage you've received? At Dance magazine, they voiced frustration that mainstream media centered on the spectacle, rather than your art. When I read that, I teared up because I believed it: Rather than focusing on me as a dancer, they focused on what my body looked like… mislabeling me as a ballerina. A ballerina is a female professional ballet dancer, which I'm not.
I liked when they asked if the media was missing the point. While I appreciated all that was given to me, I didn't like being labeled as "burly," or "linebacker," or all these images that they used to create this persona of who I am and what my body looked like. …

The New York based performer has made quarantine more bearable with a series of spontaneous performances as Auntie Glam. We chatted with Auntie Glam about these strange times, and the joys of a Gin Daisy.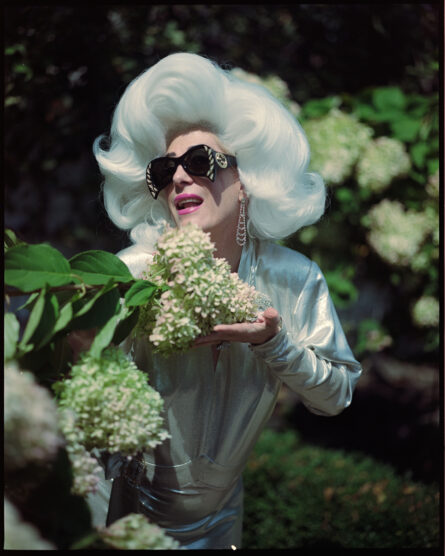 Where's Auntie Glam's accent from? Well, I wanted to do an accent that sounded fantasmatic — A fantasmatic accent, darling. I wanted something that was heightened and glorious. I wanted to emulate great, grand actresses of a certain age in a certain era. Just anything so I could have an opportunity to roll my tongue, darling.
It's a little bit British but also a little transatlantic accent. Yes, well you know somebody who's not really classy is going to try very hard to pretend they are.
How was Auntie Glam born? Well you know, darling, in the 89 to 90s I had a column in San Francisco called Glam on the Rampage where my character was Glamoretta Rampage. And Glamoretta Rampage covered the underground queer scene in San Francisco for the gay papers because in that time the gay papers there were relatively mainstream and I started writing about the queer kids and all the sort of shenanigans that was happening in the nightclubs. Then, when Kiki came along she got busy and moved to New York and just sort of forgot about me and left me back in San Francisco. At the time I was married to Elvis Herselvis, a lesbian Elvis impersonator. We went on Montel William's show where the theme was Crossdressers Who Marry. It was very extravagant. A while ago, earlier this year Justin Vivian Bond was very tired, darling. She got very tired of talking about herself. She didn't feel like leaving the house with the kittens. …

A digital Diana Ross birthday tribute...