Cotton on deck from Tom of Finland and Finlayson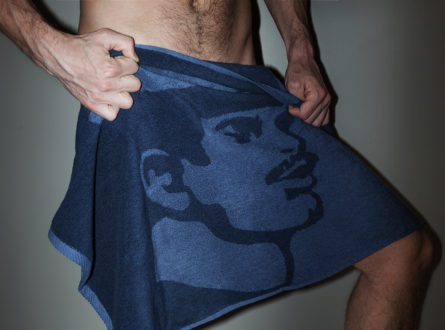 Today, May 8th, is Tom of Finland's birthday! Touko Valio Laaksonen, who was a forefather of gay style in both his art and his life, was born in 1920 in Kaarina, Finland. Inspired by increasing interest in biker-culture during the post-World War II era, Tom submitted some of his drawings to Bob Mizer's then popular Physique Pictorial. Mizer premiered Tom's drawings in the 1957 Spring issue, and the rest is gay history. We've been lucky enough to publish both artists, securing their place in gay history and sharing them with our wide-range of international readers.
As Durk Dehner (Tom's former partner and current custodian of the TOM House in Los Angeles) tells us in our most recent, Issue 6: "Tom's whole thing was to make these drawings speak for themsevels, with a voice to really nurture and encourage fellow homosexuals to be proud and to be free. As he would say, 'I didn't sit down to think all this out carefully, but I knew – right from the start – that my men were going to be proud and happy men!'"
GAYLETTER has long promoted Tom of Finland in any way we can. His ubiquitous style is everywhere if you look hard enough, and it's been our mission as well as our pleasure to keep his style alive while giving him endless credit for what is now his quintessential vision. (ToF holds a special place in my gay heart. Their collaboration with Finnish design studio Finlayson was my very first GAYLETTER post. …

Tim Convery takes holiday initiative with Tim-Scapes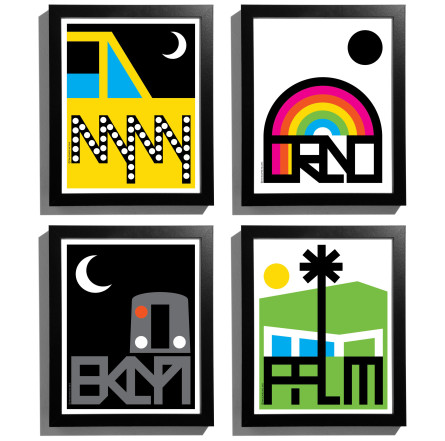 Now that the fear and sadness of our post-election moment has sunk deep, it's important we don't forget all of the important work left to be done. If spending is your style, supporting radical organizations and activist groups is one way to stay productive while we near our impending political apocalypse.
This is why we're pumped about the United Scapes of America initiative by Tim Convery's design powerhouse Tim-Scapes. The new campaign will donate 25% of all their online profits to a different non-profit every month. Up until New Year's Day, a quarter of all purchases will go to Planned Parenthood. After that, we're not sure where future donations will go, but that's totally fine — Tim-Scapes is definitely setting the right precedent. And this isn't the first time that Convery's work has occupied the intersection between design and community building; Tim has raised over $28,000 for a variety of non-profits in the past.
So let's help support these valuable efforts and do some holiday shopping at the United Scapes of America Home Goods Collection. (It's a great opportunity to gift your right-wing uncle something pleasant and unique without him knowing your purchase will help protect the lives and bodies his candidate aims to harm). It's a win-win!

The wrapping paper brand putting females first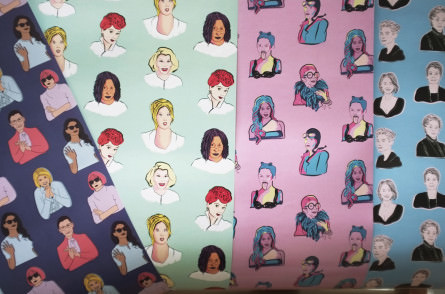 From now on feel free to judge a gift by its cover. She Paper has introduced an amazing new line of wrapping paper featuring sketches of all of our favorite ladies. The women are grouped together by categories such as "Funny Broads," "Like A Boss Lady," and "Yas Queen." The charming drawings are complimented by a thoughtful design aesthetic, making the wrapping paper itself a far better present than the lame gift card you're giving your friend for her birthday.
I was able to chat with the brains behind the paper about the gendered nature of gift giving and how we can eventually wallpaper the whole world with She Paper:
In the creation story featured on your website you mention some of the life events during which we are expected to gift. While most are gender neutral, there are definitely more events, specifically around weddings and babies, that women are obligated to buy gifts for. How is She Paper in conversation with that obligation? Do women actually like giving gifts more than men, or is this just yet another societal expectation put upon females? The perception that women like gifting more than men may be true, but it's probably because men buy gifts out of dutiful expectation whereas women see gifting as a creative opportunity to express their feelings. Something we like to do vs. something we must do has led to an over-saturation of gift-giving opportunities. And spending the time, money and effort to give a meaningful present every time can become very stressful. …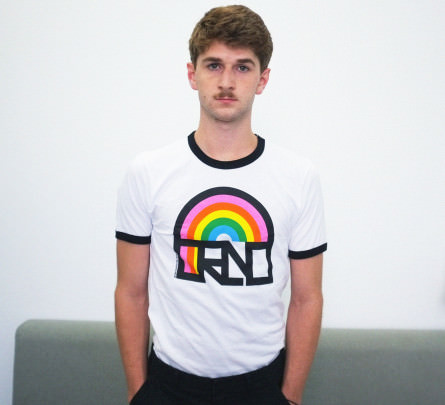 As a queer person, I know two things to be true: We can never have enough shit with rainbows on them and we can never stop supporting the members of our community in need. Tim-Scapes has created a new design to benefit the victims of the Orlando massacre. It features a rainbow and Tim-Scapes's signature duct tape lettering. The design can be purchased as a print, t-shirt or tank top, with 100% of the proceeds going to Equality Florida's Pulse Victims' Fund.
Tim-Scapes is known as the "little shop with the big gay heart" based in Provincetown, Massachusetts. It's run by Tim Convery, an ex-New York executive who moved to P-town back in 2010 and rediscovered his creativity with Tim-Scapes. As explained on his website, "Convery's designs celebrate vintage travel posters utilizing his unique duct tape typeface and creating bold logos of over 50 American destinations. Each design is a colorful, geometric icon highlighting a famous landmark or drawing attention to a social cause."
The Orlando logo was originally created only to show solidarity on social media. But, due to the reaction of his customers, Tim began selling shirts featuring the logo for charity. "I was really surprised about the design's popularity and immediately went into production," said Convery. "This whole project became a crystallization of what I want Tim-Scapes to be about – helping people through the power of design."
While the exclusive Orlando design is available only through Labor Day, many of Tim's logos are available as standalone prints, mugs and even trivets. …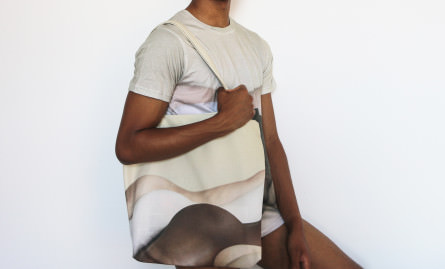 We had a super busy Summer so far and we are very grateful for that. For those of you who were paying attention, we launched Issue 4 of our magazine with two separate covers, one by photographer Kostis Fokas and one by Gerardo Vizmanos. Our latest endeavour is a collaboration with Print All Over Me.
The official announcement should come soon, but you're reading our newsletter so you get to find out first. "The collection is made up of utilitarian classics – T-shirts, baseball hats and tote bags – with full bleed prints of Issue 4's striking covers…Their respective images depict a landscape of multiracial behinds and a portrait of a man making contact with his own reflection."
More about Issue 4, which is almost sold out. It features work by photographer, Alvin Baltrop, Campbell Addy, Hal Fischer (author of Gay Semiotics), the comedian Josh Thomas, Rumi Mussabi (a founding member of The Cockettes), the band PWR BTTM, a look at the Tom of Finland house in Los Angeles, an amazing feature on Edmund White photographed by Slava Mogutin amongst other things.
The collection will debut online August 4, at paom.com. …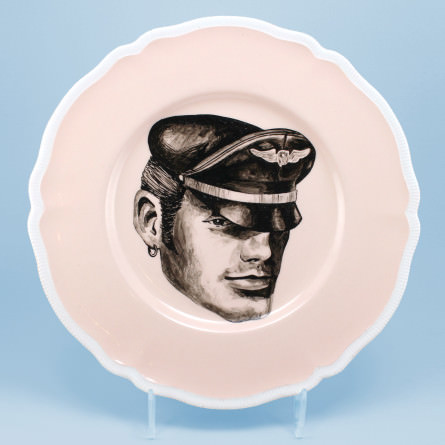 Pansy Ass pay homage to the legendary Tom of Finland in their latest series of granny ceramics. The Canadian combo of Andy Walker and Kris Aaron are relatively fresh on the art scene, but their pretty as fuck illustrations painted on equally pretty (but in a daintier sense) ceramics, have built up a huge following. The one-of-a-kind pieces feature men riding hard while proudly proclaiming the virtues of being a 'pole smoker' or a 'pillow biter.' Not only is this collaboration a perfect fit, it's also a celebration of old and new, honoring Finland's legacy with a modern pinch of "heyyyy."
Here's what Pansy Ass has to say about their inspiration: "Like many queer artists of our generation we've been heavily influenced by Tom of Finland's work.  What is most striking to us in Tom's hyper-real fantasies are the expressions on the men's faces. Smirks, winks and mischievous grins make his work playful yet equally kinky and fetishistic." The end result is something super sexy, super fun and most importantly SUPER GAY!
Not only is each piece custom made, but a slice of the profits go directly to the Tom of Finland Foundation which "offers a safe haven for all erotic art and continues to educate the public as to its cultural merits promoting healthier, more tolerant attitudes about sexuality." So not only are you getting a unique piece of gayness but you're helping to demystify sexual expression and break down all those gay taboos. Plus, wouldn't you just love to have a hot policeman on a ceramic plate, winking at you? …

A special edition line of One of a kind rubbers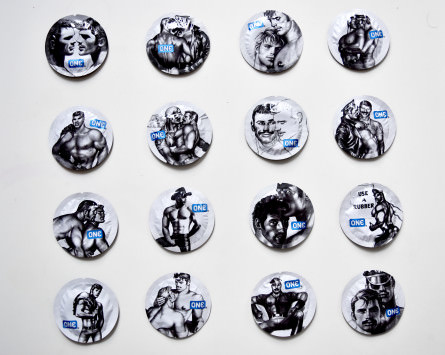 Listen up friends, if you love Tom of Finland as much as we do and want to take your sex life to the next level, you need this rubber. "These special edition Tom of Finland condoms are the result of a unique collaboration with Tom of Finland Foundation" and the ONE brand. "The ONE brand is all about promoting sexual health through artistry and self-expression," and they have taken 24 different Tom of Finland works to be featured for a special edition line of condoms. In true Finland fashion, these condoms feature only the beefiest guys in their most tender moments. Yes, getting groped is absolutely tender and if you were thinking you were the only one who felt this way you were wrong. Who doesn't love a good "peter squeeze?" Yasss!

I can't provide you with much of a field report just yet,  but I will say the packaging is pretty cunt. Something about circular packaging gets the dick going as opposed to those square cases your ex-boyfriend's generic rubber came in. (Lifestyles? What is that?!) It's something about sex and circumference. Are you catching what I'm throwing? Good.

"During the 1980s, at the height of the AIDS crisis, Tom of Finland (Touko Laaksonen) began including condoms in his drawings to help curb the epidemic.The ONE brand shares the Foundation's commitment to promoting healthier attitudes about sexuality, said [his partner Durk] Dehner, Tom of Finland was dubbed 'the Michelangelo of safe sex,' promoting sexual health, particularly among gay men."

As we exist amidst the complete but gradual eradication of HIV and the on-going PrEP debate, I think these are a fun way to litter your room while still being safe. …

Shop:

Etsy 8th Annual Holiday Handmade Cavalcade

My family all live in Melbourne so I gotta get my Xmas gifts for them waaay in advance if I want them to get there on time. My mum (we spell it with a 'u' in Australia) and my sister (we spell that the same way) also have their birthdays close to xmas so there's a bunch of shit I have to buy. And finding unique gifts can be a pain, which is why I'm recommending the Etsy Holiday Handmade Cavalcade. Basically all the Etsy shops based in NYC come together to sell their wares at the Chelsea Market. There's everything from jewelry, greeting cards, art, beauty products, clothing, gifts for baby and much more. The best part about it being at Chelsea Market is that if you get hungry you can sneak off and grab a bite from the food court. Go to the Los Taco, taco stand. One of my friend's is Mexican and this is the only place in the city he'll eat a taco from. Their secret is they cook their tortillas in lard so they're extra fatty and tasty. But back to the point of this post — homemade gifts,  there's going to be thousands of them, most of them will probably weird, misshapen shit you wouldn't give to your worst enemy, but I'm sure you can find a couple of gems. Enjoy! —tom
Super gay Grandma's vintage china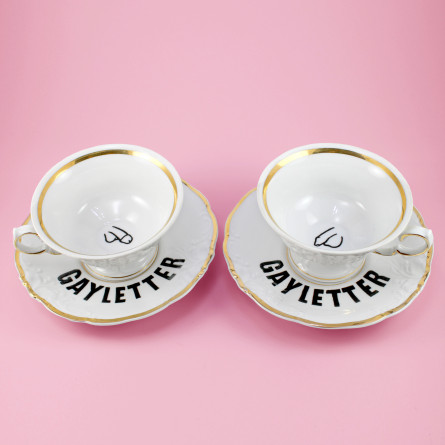 The Toronto based artists Andy Walker and Kris Aaron have an obsession with vintage ceramics and are particularly drawn to the florals and elaborate designs that they found on antique china. While creating one of a kind, hand-painted pieces, they developed a campy, graphic and fun sensibility that got our attention, Pansy Ass Ceramics — paints erotic drawings on traditional china. "We travel around Toronto collecting pieces to paint on that fit within the aesthetic we like, then we do designs based on the shape and decoration of the piece…"
Andy told me more about it during our Facebook chat: "The idea plays with decorative/commemorative plates, and we make them sexy, campy and gay…My partner Kris and I do the drawings and we choose images that turn us on, and try to make interesting contrasts with the original design of the piece." They usually paint on ceramic they find, mostly bone china and 50s-60s Japanese ceramic figurines. However, they are working on producing their own pieces from scratch in the coming months. They also take custom orders as long as it fits with their brand. They are super busy at the moment producing new work for our online store and other collaborations that we will see soon.
Check out our custom GAYLETTER tea set, we are obsessed!
…

Fashion:

ELKEL POP UP SHOP

Elkel is opening another pop-up shop (June 11-21) on Orchard St. in New York City that you should all go check out. It's the only store in the US that stocks one of GAYLETTER's favorite brands, Julian Zigerli, plus they're selling our magazine, so like, hashtag obsessed. Some of the other brands they carry include Dusty, Bleach Project, Ytinifninfinity, IndyAnna, TILLYandWILLIAM and many more. Here's more info about the shop: "Tightly curated by founder Kelvin Goncalves, the selection is a sought after mix of local independent makers from all across the globe; Sweden, Indonesia, Germany, Brazil, Switzerland, Mexico, England and the U.S. From styles such as structured, cut-out, digitally printed tailored shirts, to surreal internet glitch tees, to angular mesh tanks, to tops that turn into chaps, the prices hit a diverse spectrum, much like the shoppers themselves." Weird, hard-to-find, slutty fashion that anyone can afford is what I got from that quote. Basically my dream shop. Melt that bowl in your freezer holding your Discover card and buy some shit! —tom