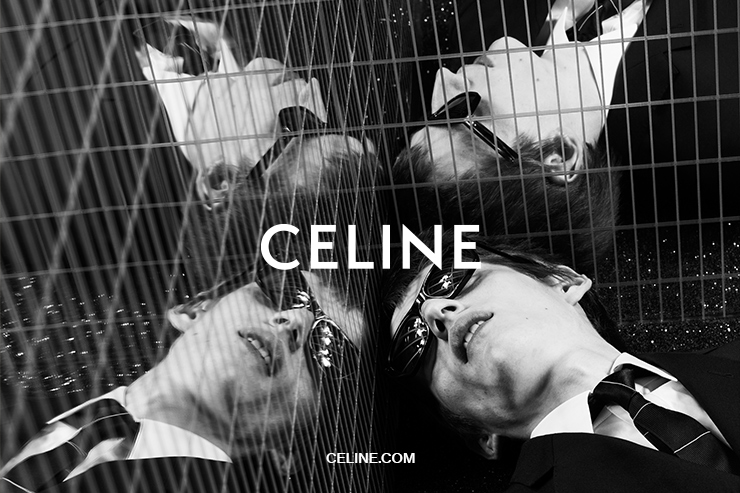 The latest exhibition of special edition prints exclusively at Tom of Finland Store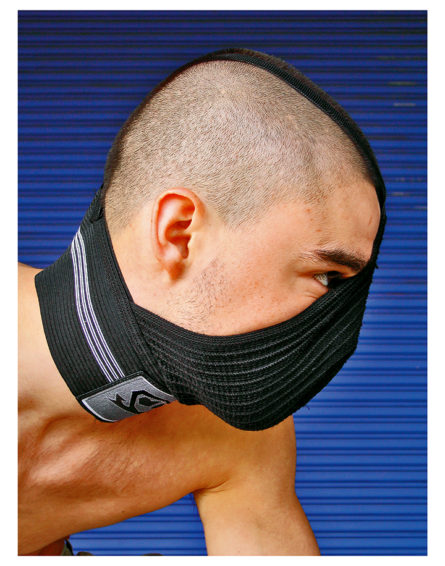 The Tom of Finland Store is equal parts online boutique and gay art gallery. We've seen exhibitions of work by Bruce LaBruce, Jack Pierson, Daniel Trese and now their latest — a collection of special edition prints by the artist Slava Mogutin (titled Slava Mogutin: XXX Files) exclusively available on their site. The online exhibition launched in December 18th, a day after Tumblr decided to ban adult content. It's one of the dumbest thing we've heard about this year, wasn't pornography the only reason why people went on Tumblr in the first place? Our GAYLETTER XXX Tumblr got closed down after a few successful years and a massive following, but you know what, who cares, it's time we all leave Tumblr and show them that we don't need to support their regressive, homophobic ideals.
"For me, the personal is political and the political is personal. At the time when our fundamental constitutional rights are under attack, I believe that queer imagery can serve as the most effective weapon against hypocrisy, bigotry, and censorship. When they censor my work either on social media or in real life, my response is always — double up on the queer, double up on the fight and what they don't want to see. I want to shine light on the darkest corners of human nature and sexuality as a way to understand and peacefully coexist with each other, because being different is a blessing, not a curse." — Slava Mogutin.
This exhibition is composed of photographs, performance and film work from different stages in Slava's career. …

"Lesbians have more fun!"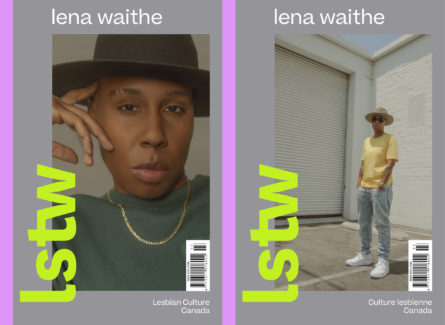 lstw, or "Lez Spread the Word," a Montréal-based initiative of about 20 queer women, began printing their magazine in the fall of 2016. Committed to fighting queer visibility, they began as a website exploring Canada's various lesbian communities and have since launched a film series, a bi-monthly party and are onto their third print issue (Issue #3) with Lena Waithe donning the cover. (Past cover-women include the Canadian pop-rock queer-twins Tegan & Sara and the former Gaultier muse and DJ/model Ève Savail).
Creating a magazine is no easy feat. In digitized culture, the print medium has lost market value and readership across international borders. Yet the necessity for the medium remains. Not every corner of our world has access to the internet, you know. And there is no better way to spread culture, especially queer culture, than passing along finite, printed matter.
To help celebrate the launch of Issue #3, we sent Florence Gagnon – founder and publisher of lstw – a few questions to learn more about the publication's creative process, the initiatives' goals and what doing print means in 2018.
How did you come up with the name of the magazine? In 2012, when I was first contemplating launching a website, I knew I wanted to bring lesbians together and I knew I wanted to increase our visibility. My goal was to create the resource that had been missing when my friends and I were first coming out. "Spreading the word" was the departure point and "Lez Spread the Word" the obvious next step. …

Tom of Finland Store presents an exploration of Los Angeles with photographs by Daniel Trese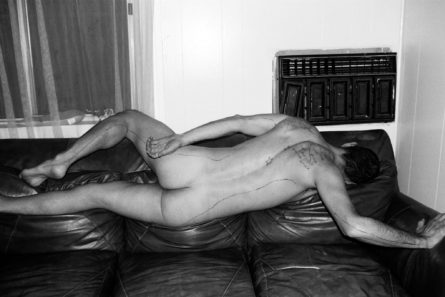 The Tom of Finland Store is equal parts online boutique and gay art gallery. We've seen exhibitions of work by Bruce LaBruce (aptly titled Faggotry) and Jack Pierson (Tomorrow's Man.) Now the ToF Store is presenting Daniel Trese: Surface Streets, a series of prints by photographer Daniel Trese. In over 200 photographs shot almost entirely on film, Trese documents the city of Los Angeles, its people and its ultra-contemporary ethos. From the city's "sprawling strip malls, agave plants and massive boulevards," to its young creative and queer scenes, he captures everything with a uniquely Californian wit. He photographs in both black-and-white and color, the latter showcasing the soft contrast and muted tones emblematic of Southern California.
The series was shot from from 2007 to 2018 as Trese worked for publications like Fantastic Man, Purple, Apartamento and Pin-Up. In addition to the city, he uses portraits to create a community of faces like Peggy Moffitt, Don Bachardy, A.L. Steiner, Ashland Mines, Karis Wilde, Joel Gibb, Sean Delear, and Mariah Garnett, mostly shot in stark black and white. All together the series is both a poignant examination of Los Angeles and a striking document of Trese's own life, like a photographic memoir. It reads like a joint exploration of identity, personal and geographic.

Surface Streets will be up online from August 8th to February 6th, 2019. The prints are available exclusively on the Tom of Finland Store website. …

Just in time!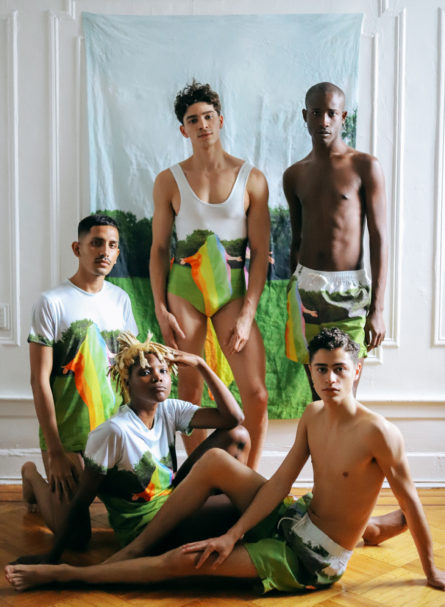 Pride month is here again, and while we celebrate our community year round, it's wonderful to have a commercially recognized month. (Cause it certainly isn't federally recognized!)
Originally designed by Gilbert Baker for San Francisco's Gay Freedom Day in 1978, the flag — which symbolizes peace, happiness, and among other things, pride — has certainly grown in popularity. For GAYLETTER Issue 7 we asked several working artists to recreate their own interpretation of the flag, in whichever medium they pleased. Kostis Fokas' photograph graced our cover.
"The most important values of the human existence. For me," he said, "there's no difference between women and men, races or sexual orientations. We are all equal, we have the same rights, and we should celebrate this. The rainbow flag is a celebration of life!" — Kostis Fokas
In collaboration with PAOM we decided to put this image on a handful of items most perfect for summer and celebrating Pride. This collection is most certainly what you should be wearing this June and beyond! To help make the shoot even more queer and proud, we casted exclusively with New Pandemics, the first ever casting management agency dedicated to increasing LGBTQ+ visibility.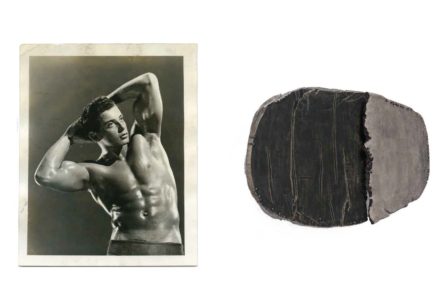 The result of being affiliated with the country's premiere LGBTQ arts outlet and also having a friend put my damn email on the Gucci PR blast, I get a mix of bullshit in my email. Sometimes, I get brilliant ones. We like to think it's the result of someone who is actually doing their job, and the Tom of Finland Store always knows the best of gay culture. Their most recent pitch didn't disappoint. Jack Pierson's photography has always blended the indelible tones of camp with unabashed complacency — photos by Pierson are traditional in a compositional sense and often highlight beautiful men, so you can see why he shot the cover for GAYLETTER Issue 1. (He also makes sculptures and mixed-media).
"Following the critically acclaimed online exhibition Bruce Labruce: Faggotry, Tom of Finland Store is thrilled to present JACK PIERSON: TOMORROW'S MAN, an online retrospective of the artist's ongoing series of publications Pierson has developed in collaboration with contemporary artists. TOMORROW'S MAN takes viewers on a dizzying visual journey encompassing the full spectrum of cultural references combining archive material with contributions from selected artists, illustrators and writers. The online platform provides a mesmerizing web-adapted overview of the publications to date, an insight to Pierson's intimate photography and the community of artists he surrounds himself with."
It launched on Friday, March 2nd, see a preview below.
Then, go ahead and browse the works…
…

Our recommendations for the holiday season and beyond!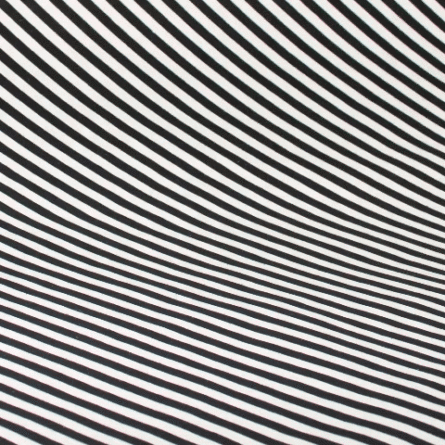 Attention all holiday shoppers, you don't have to look any further! Whether you're shopping online to soothe your social anxiety, or are just Mx. Last Minute like many of us, consider the hardest part about gift-giving done for you. We've done the research and sifted through a bunch of outlets to provide you with the perfect gifts for your friends, family members, partners or that person you really want to sleep with again. They might be femme, they might be trans, they might be gay or they might be questioning, but who cares! Anything on this list you can gift to those you love with with light in your eyes and good-taste in your heart. Expect a "Yas!" to sashay right out of their cute little mouth once they get to unwrapping.
From the beloved New York-based Malin+Goetz, to the brand-spanking new LIT by Char Defrancesco, please pour yourself a drink and have a gander at this here list. It includes Amanda Lepore, Tequila, Tom of Finland, Marc Jacobs and a bunch of other very sexy ideas for the holiday season. It's shopping with a queer-twist and was curated with our community in mind, because the world is waiting for us to fail and go away, but here are a bunch of gifts that reminded us that damn, queers really do have the best taste!
MALIN+GOETZ – Cannabis Eau de Parfum
Combining the faint aura of cannabinoids with sophisticated and seductive earthy notes, Malin + Goetz's latest scent, casually named "Cannabis," is an cheeky gift to give anyone who loves the occasional puff. …

Cotton on deck from Tom of Finland and Finlayson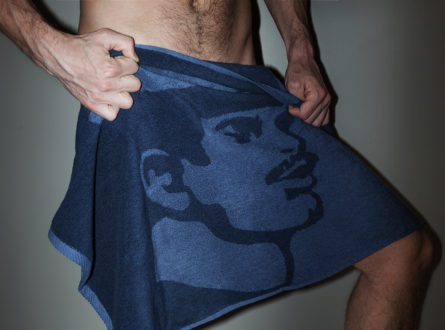 Today, May 8th, is Tom of Finland's birthday! Touko Valio Laaksonen, who was a forefather of gay style in both his art and his life, was born in 1920 in Kaarina, Finland. Inspired by increasing interest in biker-culture during the post-World War II era, Tom submitted some of his drawings to Bob Mizer's then popular Physique Pictorial. Mizer premiered Tom's drawings in the 1957 Spring issue, and the rest is gay history. We've been lucky enough to publish both artists, securing their place in gay history and sharing them with our wide-range of international readers.
As Durk Dehner (Tom's former partner and current custodian of the TOM House in Los Angeles) tells us in our most recent, Issue 6: "Tom's whole thing was to make these drawings speak for themsevels, with a voice to really nurture and encourage fellow homosexuals to be proud and to be free. As he would say, 'I didn't sit down to think all this out carefully, but I knew – right from the start – that my men were going to be proud and happy men!'"
GAYLETTER has long promoted Tom of Finland in any way we can. His ubiquitous style is everywhere if you look hard enough, and it's been our mission as well as our pleasure to keep his style alive while giving him endless credit for what is now his quintessential vision. (ToF holds a special place in my gay heart. Their collaboration with Finnish design studio Finlayson was my very first GAYLETTER post. …

Tim Convery takes holiday initiative with Tim-Scapes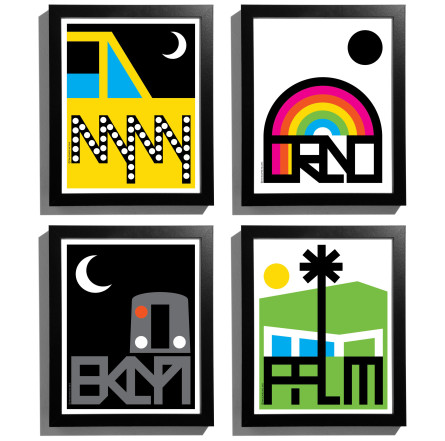 Now that the fear and sadness of our post-election moment has sunk deep, it's important we don't forget all of the important work left to be done. If spending is your style, supporting radical organizations and activist groups is one way to stay productive while we near our impending political apocalypse.
This is why we're pumped about the United Scapes of America initiative by Tim Convery's design powerhouse Tim-Scapes. The new campaign will donate 25% of all their online profits to a different non-profit every month. Up until New Year's Day, a quarter of all purchases will go to Planned Parenthood. After that, we're not sure where future donations will go, but that's totally fine — Tim-Scapes is definitely setting the right precedent. And this isn't the first time that Convery's work has occupied the intersection between design and community building; Tim has raised over $28,000 for a variety of non-profits in the past.
So let's help support these valuable efforts and do some holiday shopping at the United Scapes of America Home Goods Collection. (It's a great opportunity to gift your right-wing uncle something pleasant and unique without him knowing your purchase will help protect the lives and bodies his candidate aims to harm). It's a win-win!

The wrapping paper brand putting females first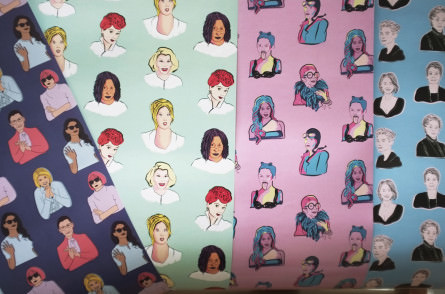 From now on feel free to judge a gift by its cover. She Paper has introduced an amazing new line of wrapping paper featuring sketches of all of our favorite ladies. The women are grouped together by categories such as "Funny Broads," "Like A Boss Lady," and "Yas Queen." The charming drawings are complimented by a thoughtful design aesthetic, making the wrapping paper itself a far better present than the lame gift card you're giving your friend for her birthday.
I was able to chat with the brains behind the paper about the gendered nature of gift giving and how we can eventually wallpaper the whole world with She Paper:
In the creation story featured on your website you mention some of the life events during which we are expected to gift. While most are gender neutral, there are definitely more events, specifically around weddings and babies, that women are obligated to buy gifts for. How is She Paper in conversation with that obligation? Do women actually like giving gifts more than men, or is this just yet another societal expectation put upon females? The perception that women like gifting more than men may be true, but it's probably because men buy gifts out of dutiful expectation whereas women see gifting as a creative opportunity to express their feelings. Something we like to do vs. something we must do has led to an over-saturation of gift-giving opportunities. And spending the time, money and effort to give a meaningful present every time can become very stressful. …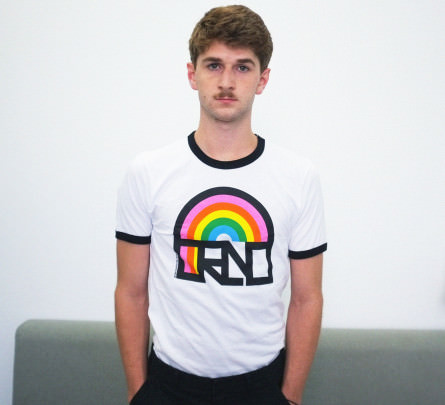 As a queer person, I know two things to be true: We can never have enough shit with rainbows on them and we can never stop supporting the members of our community in need. Tim-Scapes has created a new design to benefit the victims of the Orlando massacre. It features a rainbow and Tim-Scapes's signature duct tape lettering. The design can be purchased as a print, t-shirt or tank top, with 100% of the proceeds going to Equality Florida's Pulse Victims' Fund.
Tim-Scapes is known as the "little shop with the big gay heart" based in Provincetown, Massachusetts. It's run by Tim Convery, an ex-New York executive who moved to P-town back in 2010 and rediscovered his creativity with Tim-Scapes. As explained on his website, "Convery's designs celebrate vintage travel posters utilizing his unique duct tape typeface and creating bold logos of over 50 American destinations. Each design is a colorful, geometric icon highlighting a famous landmark or drawing attention to a social cause."
The Orlando logo was originally created only to show solidarity on social media. But, due to the reaction of his customers, Tim began selling shirts featuring the logo for charity. "I was really surprised about the design's popularity and immediately went into production," said Convery. "This whole project became a crystallization of what I want Tim-Scapes to be about – helping people through the power of design."
While the exclusive Orlando design is available only through Labor Day, many of Tim's logos are available as standalone prints, mugs and even trivets. …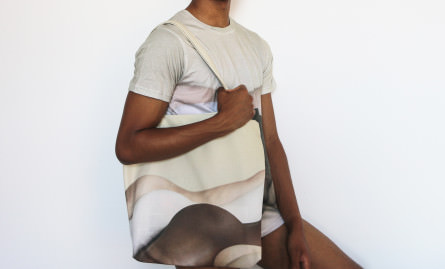 We had a super busy Summer so far and we are very grateful for that. For those of you who were paying attention, we launched Issue 4 of our magazine with two separate covers, one by photographer Kostis Fokas and one by Gerardo Vizmanos. Our latest endeavour is a collaboration with Print All Over Me.
The official announcement should come soon, but you're reading our newsletter so you get to find out first. "The collection is made up of utilitarian classics – T-shirts, baseball hats and tote bags – with full bleed prints of Issue 4's striking covers…Their respective images depict a landscape of multiracial behinds and a portrait of a man making contact with his own reflection."
More about Issue 4, which is almost sold out. It features work by photographer, Alvin Baltrop, Campbell Addy, Hal Fischer (author of Gay Semiotics), the comedian Josh Thomas, Rumi Mussabi (a founding member of The Cockettes), the band PWR BTTM, a look at the Tom of Finland house in Los Angeles, an amazing feature on Edmund White photographed by Slava Mogutin amongst other things.
The collection will debut online August 4, at paom.com. …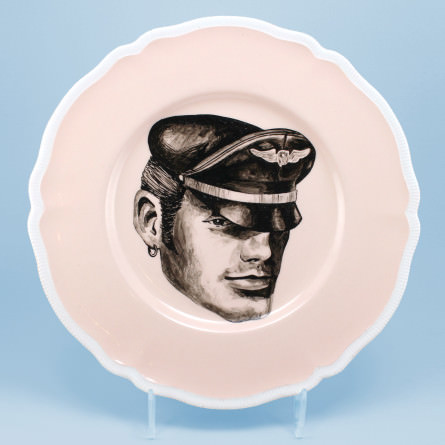 Pansy Ass pay homage to the legendary Tom of Finland in their latest series of granny ceramics. The Canadian combo of Andy Walker and Kris Aaron are relatively fresh on the art scene, but their pretty as fuck illustrations painted on equally pretty (but in a daintier sense) ceramics, have built up a huge following. The one-of-a-kind pieces feature men riding hard while proudly proclaiming the virtues of being a 'pole smoker' or a 'pillow biter.' Not only is this collaboration a perfect fit, it's also a celebration of old and new, honoring Finland's legacy with a modern pinch of "heyyyy."
Here's what Pansy Ass has to say about their inspiration: "Like many queer artists of our generation we've been heavily influenced by Tom of Finland's work.  What is most striking to us in Tom's hyper-real fantasies are the expressions on the men's faces. Smirks, winks and mischievous grins make his work playful yet equally kinky and fetishistic." The end result is something super sexy, super fun and most importantly SUPER GAY!
Not only is each piece custom made, but a slice of the profits go directly to the Tom of Finland Foundation which "offers a safe haven for all erotic art and continues to educate the public as to its cultural merits promoting healthier, more tolerant attitudes about sexuality." So not only are you getting a unique piece of gayness but you're helping to demystify sexual expression and break down all those gay taboos. Plus, wouldn't you just love to have a hot policeman on a ceramic plate, winking at you? …