"No one discovered McQueen. McQueen discovered himself." Such is the story of Lee Alexander McQueen (1969-2010) and his revolutionary namesake label, McQueen. Born and raised in London, when most are off to college, Lee found himself at an apprenticeship on the bespoke capital of the world, Savile Row. This queen worked his way into the legendary fashion program at Central Saint Martins where he was recognized by the late Vogue Fashion Editor Isabella Blow. Blow took Lee under her wing, inspiring many of his designs and also introducing him to the fashion elite. Her presence was a driving force in Lee's life. "I didn't care about Lee," she said. "I just cared about the clothes." Lee was plagued by dark imagery for all of his life. His hellbent spin on all things fashion was quickly commercialized and thus exploited for the very masses, leaving the maker often emotionally drained, despondent and coping with cocaine. The film does not inform necessarily, but only shows you the creative genius and dark spirit behind one of fashion's most significant designers of the past century. His legacy and initial impact on fashion parallels with Dior and Saint Laurent. Using home video and personal interviews with family and associates, McQueen is a bit of a cautionary tale. Talent, when not protected and managed correctly, comes with a large price. Lee's story — as well as his anarchistic approach to fashion — will stick with you. —Chris Stewart
Film:

GRACE JONES: BLOODLIGHT AND BAMI

I watched this Grace Jones documentary last weekend at home with Tyler, a glass of montepu and possibly a joint. A few minutes into the film we decided that the documentary had the right pace. Usually documentaries of pop stars are more hyped, this one wasn't trying to do that, it felt right, it's very well edited, beautifully shot and Grace's music and performances throughout were doing most of the work to keep us engaged. Let me copy and paste this quote to give you a bit more context: "Sophie Fiennes' new documentary offers an electrifying journey through the public and private worlds of this pop culture mega-icon, contrasting musical sequences with intimate personal footage, all the while brimming with Jones' bold aesthetic. Fiennes goes beyond the traditional music biography, offering a portrait as stylish and unconventional as its subject. Taking us home with her to Jamaica, into the studio with longtime collaborators Sly & Robbie, and behind the scenes at gigs around the world..." It was such a treat to see Grace at her home in Jamaica with her family — Grace is so amazing even when she eats fish at the dinner table. She looked chic eating — you know we Caribbeans know not to leave meat on the fish. There's a couple of screenings for this film in NYC, but I think you should go to the one at BAM this Sunday, May 20th. They are gonna be giving away signed posters because it's her birthday! She's gonna be 70! I just can't believe someone can look this good at 70. Congrats Diva! Check your local listings for Showtimes. —abi
Anahita Ghazvinizeh's film handles the gender binary with deft lightness.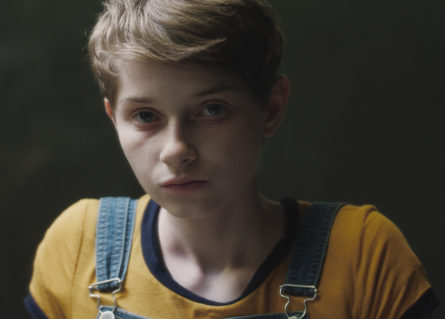 They, by Iranian-born director Anahita Ghazvinizadeh, begins with a voiceover. Fourteen year old J, the film's protagonist, is talking with their doctor. We learn that J (Rhys Fehrenbacher), who uses the gender neutral pronouns they/them/theirs, is taking hormone blockers to "hit a pause button," preventing the onset of a puberty J just doesn't want. Their doctor tells them that the blockers are negatively affecting their bone density, that it's time now to make a decision. It is here that J's doctor mentions exploration, but it's exploration for some sort of end goal. Ultimately, they are talking transition. The doctor asks J, "Are you ready?"  The question hangs like a moment of suspended animation, and carries on through the entirety of Ghazvinizadeh's film.

They takes place over one weekend during which J's sister Lauren (Nicole Coffineau) and her Iranian boyfriend Araz (Koohyar Hosseini) come to stay at the house with J while their parents are away. Lauren is an artist, and she tells J about her various artist residencies and, more potently, the frivolity her and J's parents assume of her profession. There is also Lauren and Araz's impending marriage, complicated by the decision Araz has to make: whether to stay in the U.S. with Lauren or return to Iran to be with his family. Over the weekend J's own internal struggle is a constant hum beneath these intertwined plots, bubbling up from time to time to take priority. In this we see that the film is not merely J's coming-of-age story but a complex web of questions about identity, with J's gender identity panning out alongside Araz's identity as an Iranian in America, and Lauren's forging of an identity as an artist. …

Eat:

Y TU MAMÁ TAMBIÉN Screening + Dinner

Y Tu Mamá También is the first phrase I learnt in Spanish. Growing up in Australia we didn't have much need for the language so it's not really taught in schools. I studied Indonesian in high school which was sooooo useful! lol. I learnt the phrase Y Tu Mamá También because it's the title of the 2001 Alfonso Cuarón film that is screening tonight in Brooklyn at the Alamo Drafthouse. When it was released 17 years ago it not only launched the careers of its director and its stars Diego Luna and Gael Garcia Bernal, but it was also the highest box office opening in Mexican cinema history at the time. And it did that by only making $2.2 million it's opening weekend. "The film tells a coming-of-age story about two teenage boys who take a road trip with a woman in her late twenties. The film is part of the road movie genre, set in 1999 against the backdrop of the political and economic realities of present-day Mexico, specifically at the end of the uninterrupted 71-year line of Mexican presidents from the Institutional Revolutionary Party and the rise of the opposition led by Vicente Fox." It is a very sexy, gritty and engrossing film with a rather queer twist ending. You can see it tonight (May 2) at 6:30pm with a Mexican-inspired menu created by the Drafthouse executive chef Ronnie New, with drink pairings from their beverage director Vincent Favella. This is a much better way to celebrate Mexico than partaking in the upcoming Cinco De Mayo nonsense. A disfrutar! —tom
A new romantic short film about nostalgia and memory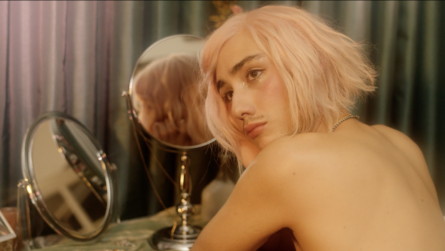 My introduction to NYC-based artist Marcelo Gutierrez was last spring. I had just moved to New York and one of my first GAYLETTER assignments was to chat with him about his previous film, Tender Roses for Tough Climates. Its kaleidoscopic visuals stood out to me as well as the degree to which Marcelo holds his craft, which includes make-up, directing, writing and cinematography. In the year separating then and now, Marcelo has finished his latest project, another short film called Hiraeth.
"Hiraeth; (n.) a homesickness for a home to which you cannot return, a home which maybe never was; the nostalgia, the yearning, the grief for the lost places of your past." So opens Marcelo's latest, two years in the making. After this definition introduces us to the film, we get three things almost immediately. First, a bright but twisted twinkling original score by Brooklyn artist Liam Benzvi. Second, a subtle self-reference to his last film via a Titanic screenplay that, if you blink, you could miss. And lastly, an unpretentious bologna sandwich.
Hiraeth is a film rooted in the artist's obsession with biographies, memories, and how they're retold. Beyond the glitter, satin, warm pink hues, and letters written and recited, those roots are the essence of the film — memories and how they warp over time. It's up to the viewer to decide if the character — played, written, and co-directed by Marcelo — is delusional or imaginative; if the memories are real, fictionalized, escapist, or puerile. …

Free of shame, funny as hell and the first of its kind.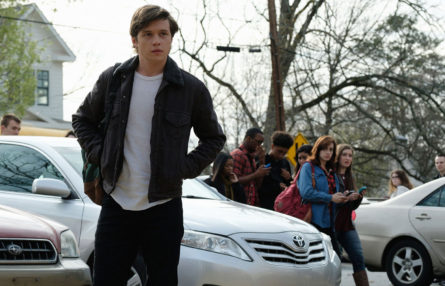 LGBTQ-films are usually produced by indie-studios, and appeal to critics' taste because of directors' choices or actors' portrayals. Because of the marginalized context, LGBTQ-narratives are a great lens for finer aesthetics. There aren't any beautiful landscape shots in Love, Simon, and the camera doesn't really linger in any scene, which makes the $17 million dollar 20th Century Fox production seem more like John Hughes' Sixteen Candles rather than Luca Guadagnino's Call Me By Your Name. Rather unconcerned with aesthetics in general, Love, Simon sets just one goal: Get the title character the love story he deserves.
At its core, the film is another big-budget teenage romance. Directed by Greg Berlanti and adapted from Becky Albertalli's Simon vs. the Homo Sapiens' Agenda, the film follows Simon Spier (the bucolic Nick Robinson) and his group of close friends in an affluent suburb of Atlanta. We begin with Simon discovering a Craigslist-like posting that results in emailing Blue, another closeted-student at Creekwood High School. Most gay men watching will revel in the glory of chasing anonymous men online considering some of us are doing just that every day, but Love, Simon isn't caught up in the throes of subversive desire. It's PG-13 realness. There isn't any back-alley cruising; no quick cuts of naked, damp flesh. Simon only says "Fuck" once, and he's really mad. He's like Sam in A Cinderella Story —  uninterested in eroticism but desperate for companionship. The film is 100 percent family friendly (as are most films that co-star Jennifer Garner) and that's what makes it profound. …

Film:

MIX NYC 30 Presents: FLUID0

Film is probably the one visual medium I lack most in my life. Every once and a while I'll clock something at Sunshine on Houston (soon to be R.I.P.), or maybe if I'm feeling myself I'll try and browse Netflix before I begin to feel senile. 'Cause I'm a big old gay man, naturally my browsing goes for anything with a LGBTQ bend, which I am finding is most anything these days, but it takes actually gay artists who truly know the full scope of the experience to make deeply contextual work that doesn't mooch off the aesthetics of closeted-homosexuality and place it Somewhere In Northern Italy for public viewing pleasure. Shu Lea Cheang lived in NYC through the 80s and 90s when AIDS ran rampant and killed of many of his friends. Fresh off of the Berlin festival circuit, Shu Lea Cheang's "FLUIDØ is set in the post-AIDS future of 2060, where the Government is the first to declare the era AIDS free, mutated AIDS viruses give birth to zero-gen humans that have genetically evolved in a very unique way. These genderfluid ZERO GENs are the bio-drug carriers whose white fluid is the hypernarcotic for the 21st century, taking over the markets of the 20th century white powder high." I haven't seen the film, as it's the very first screening as a part of this year's MIX (30 years celebrating queer experimental film), but the stills are quite juicy. There is lollygagging galore, a very heightened sense of color, and nudity. The ides of March are upon is, so why not take a chance? The worst that could happen is seeing a delicious, juicy-peach-like movie about and born from genuine queerness. Get tickets. —Chris Stewart
Film:

Sunshine at Midnight: Stop Making Sense

The Landmark Sunshine Cinema is about to close which is a real bummer as it's an amazing neighborhood cinema with a lot of history. They have been running their Sunshine at Midnight series for many years. This Saturday (December 30th) is your chance to attend one of their last with a screening on Stop Making Sense, Jonathan Demme's "innovative and lively record of the Talking Heads during four nights of live performances captured here in all their quirky, New Wave glory." The film features performance by David Byrne and band of some of the Talking Heads biggest songs including "Take Me to the River," "Once in a Lifetime," "Psycho Killer" and "Burning Down the House." It was filmed at the Pantages Theater in Los Angeles in 1984. If you're not that knowledgeable about the Talking Heads then this is a brilliant introduction to the iconic band. Their songs have been used endlessly in movie trailers and TV shows over the years so a few songs will probably sound familiar to you. I personally am a big fan of the group. Their music has a trippy, intelligent appeal that is a perfect backdrop to travelling or exercising. This screening is a perfect night before NYE thing to do. And it's a great chance to visit the Sunshine before it closes. Enjoy! —Thomas
From $12, 11:55pm, Landmark's Sunshine Cinema, 143 E Houston St., NY, NY
Film:

CHRISTMAS AT METROGRAPH, MEET ME IN ST. LOUIS

There is only one thing gay enough to get some queens out the door. No, I'm not talking about dick (though that's not a stretch in the slightest), I'm talking about Judy Garland. J-u-d-y. Queen of all queens, mother to all faggots and high-priestess to the countless Judys in the world. In case you didn't know why gay men were once called Judy, it's because of Ms. Garland. As a part of their Christmas at Metrograph series, the cinema is showing Meet Me In St. Louis on 35mm. A dear friend to GAYLETTER has listened to nothing but Judy Garland: Live at Carnegie Hall for the past four months, and so as a result, I've got a bit of an education in the late star. Aside from Wizard of Oz (her debut), Judy Garland was a powerhouse vocalist, whose live concert at Carnegie Hall won the Grammy for album of the year in 1961. Imagine Ariana Grande doing that? Me neither. I guess she really isn't a gay icon afterall. According my local Judy correspondent who has seen the film, he said to really pay attention to the trolley scene. It's got an iconic song, one that Judy would go tour up until her death. He also said "she sings Have Yourself A Merry Little Christmas when she's wearing the red gown and that embellished veil headpiece that she removes mid-song." Who doesn't love a little ruveal? Christmas is just next week (eek!) and we've already been touched by our first snow. In Meet Me In St. Louis, Ester stays home for love. I don't have a boyfriend, nor do I want one, so I'm thinking it's in my best interest to grab my very favorite Judy Rao and take him along to this early morning screening. What's better than being in love with your friendship? Pick up your coffees, order a warm croissant and snuggle up to each other in your favorite cashmere. It's the holidays — kiss the boys you'll always like best! —Chris Stewart
Film:

TANGERINE AT NITEHAWK CINEMA

Just two years ago, transgender actors and actress were still mostly marginalized by Hollywood. With the help of showrunners like Jill Soloway, and actresses like Laverne Cox, the market for transgender performance has exploded across the television and film industry. When Tangerine came out in 2015, it was considered a breakthrough dramedy, both for its focus on two transgender leads who also happened to be sex-workers in Tinseltown. The film follows Sid-Nee, fresh out of jail, and Alexandra, her bff and trusted confidant in the trade game. They have whip-sharp mouths and walk a mile a minute. When Sid-Nee discovers her pimp has been unfaithful while she was behind bars, the two go nuts (respectively). Scenes include car-wash blowjobs and smoking meth in dive-bar bathrooms. Though the content of the two girls lives are incredibly dramatic to them, it's easy to laugh at their grandiosity. Their inherent suspicion for everything in the world comes from a place of marginalization and trying to survive in a reality that would prefer them dead. On Wednesday, Nov. 29th, Nighthawk Cinema will be hosting a screening of the film with an intro by the director Sean Baker. Something to remember was that Tangerine was filmed entirely on an iPhone, featured two transgender women in the lead roles and wasn't mentioned at the Oscars. That's garbage! A portion of the evening's ticket and drink sales (including a Bourbon cocktail called Sid-Nee) will go toward the Ali Forney Center — the NYC based LGBT center helping homeless LGBT youth. It's sure to be a lovely evening. —Chris Stewart