The documentary follows the nightlife institution's rise to fashion and artistic notoriety.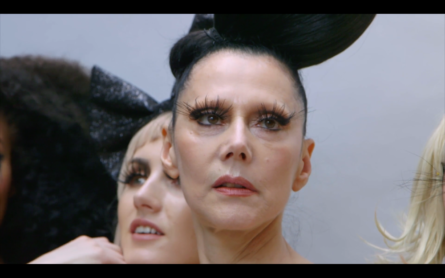 Susanne Bartsch moved to New York City in 1981. The fact that this was the city's most violent year for recorded crime is perhaps unrelated to Bartsch's initial arrival, but the opening and success of her eponymous SoHo shop "Barstchland" may suggest that New Yorker's were searching for escape from the danger on most street corners.
Opening up this season's NewFest, Susanne Bartsch: On Top premieres Thursday Oct. 19 at the SVA Theatre. The vibrant documentary is decorated by a slew of archival footage. One evening news segment from the late 1980s stands out in particular: A square-shouldered anchor reports that Bartsch's weekly parties at clubs like Savage (below the Chelsea Hotel) were "full scale theatrical assaults." From debut directors Anthony&Alex, On Top catalogs the nightlife institution as she and her team of equally animated assistants and associates prepare for 2015's Fashion Underground: The World of Susanne Bartsch at the FIT Museum.
The mention of her shop and its place for all things cool creates a solid place to begin the legacy that Bartsch has created over the past three decades. Having worked in London's Chelsea Market, befriending many associated with the New Romantic movement, Bartsch was among the first retailers in the U.S. to carry names like Vivienne Westwood and John Galliano. The film follows her from her home inside the Chelsea Hotel, where she's lived since arriving in New York, to the many fast-paced parties that conglomerate to assemble a colorful, electric aura around this fervent film. …

Film:

The Death and Life of Marsha P. Johnson

Earlier this month, Abi invited me to a screening hosted by Netflix. He sent me the invite that he had received and it looked interesting; the invite described a documentary about Marsha P. Johnson. I recognized the name but couldn't quite pin down how I knew her (a shame, I know). I accepted Abi's invitation and we headed to the IFC Center in Greenwich Village, got our free popcorn and drinks, and settled in for the film. Within about 15 minutes, I think we were both shocked at the caliber of the doc's storytelling, production, and quality. As the film progressed, so did our amazement. The documentary follows three separate but concentric narratives. The main plotline, focuses on the strange circumstances surrounding Marsha's death (Was she murdered? Did she commit suicide? Was her death an accident?). The second narrative arch is about Sylvia Rivera, a contemporary of Marsha's, who fought for trans rights for most of her life. These two narratives are both told almost entirely through archival footage, which, coming from a critical perspective, is quite a feat to accomplish; most docs rely on interviews to fill in events that happened in the past. The third plotline — which unravels almost entirely in verite footage — is perhaps more surprising. It follows Victoria Cruz — a fierce queer trans activist who worked alongside both Marsha and Sylvia — as she attempts to reopen Marsha's case, as it has been cold for 25 years. We get a glimpse into Victoria's life through this narrative, but it's more about what she unlocks from others. I can't think of anyone fiercer than Victoria. After the screening, Abi and I attended the reception at Stonewall — where the modern LGBT-rights movement began — and we met Victoria personally. She's got something to say to all of us, and it's our obligation to her, and to our history, to listen. —Connor Atkins
Available on Netflix.
Film:

Five foot Two

We watched Lady Gaga's new Netflix documentary last Saturday night while under the influence of numerous substances. We suggest you do the same if you're planning to devote 2 hours to everyone's favorite fame monster. I'm fairly certain that Gaga was herself under the influence of various substances while she filmed the doc (pills for sure, weed absolutely, tobacco constantly, whiskey on occasions, self delusion 24/7). I rewatched the doc, sober, a couple of days later, hoping that perhaps our confused reactions were attributable to our inebriation, but, alas, that was not the case. On second viewing the whole thing made even less sense. You might be wondering at this point how this is a recommendation. Fair enough. But here's the thing about this film, while you may not know Lady Gaga any better at the end of watching it you'll certainly have a lot of fun trying to. It's so absurd it forces you to pay attention, and there's a lot to absorb: relationship break-ups, full body pain, family loss, her constant image reinvention and need to be be seen as "authentic," her Super Bowl performance and so much more. This doc has high production value and slick editing. It's trying so hard to be serious but its main subject still feels guarded. She's trying to sell us something but I'm having a hard time buying it. —abi
available now on netflix
Event:

DIRTY LOOKS PRESENTS SESIÓN CONTINUA NYC – A 24-HOUR PORN THEATRE

"I miss the old New York" is something I hear often enough to make me wonder, as a young and beautiful twink, what the hum and hustle must have been like to cause so much nostalgia. What was life like before Mayor Giuliani's Quality of Life campaign during the 90s destroyed so much queer history and culture? I could imagine it was grittier, certainly more raw, what with Times Square having previously been a burgeoning center for sex and drugs. At its core, it seems to me that the nostalgia is based in what freedom used to exist in the same spaces that are now occupied by throngs of life-sized Elmos and Cookie Monsters. Getting back to what used to unite people seeking out refuge (and getting off in some dark space) is the inspo for the project Dirty Looks is bringing to NYC this weekend. Their LA event, a 24-hour porn theatre called Sesión Continua, is coming to Brooklyn to showcase a marathon of early, pre-VHS, gay and lesbian pornographic films that flirt with the avant-garde. Reminiscent of the storefront porn theatres that once flourished, this quasi-installation welcomes you back in time to a 25-seat space sure to enhance the intimacy of watching porn with strangers. The screenings à la Sesión Continua exist in free fall: no set attendance times, no schedule. Come and go as you please, just please don't cum and go. That's rude and breaks health code. —gayletter
Film:

"CAN I BE ME" PREMIERE

Whitney Houston. The pop icon. I don't know if there's a single person in the developed or developing world who hasn't heard her name, one of her songs, or of her tragic downward spiral. And if there is someone who doesn't know her story, that's about to change, and Showtime is making sure of it. They're premiering a feature-length, albeit unauthorized, documentary called Can I Be Me, which is largely about the pressures that Whitney faced — and, to varying degrees succumbed to — as she gained her immense fame, including her drug usage and sexuality. While it's great that Whitney's memory is obviously not being lost to history, there are some who are not too thrilled with the documentary, claiming it's an uneven portrait of the late artist. I don't know about you, but I'm gunna have to get so emotional and see it to make up my mind for myself. —Connor Atkins
FREE WITH A TRIAL, 9:00PM, SHOWTIME.
Jinkx Monsoon opens up about comfort of drag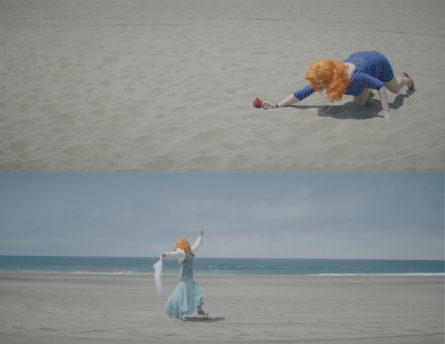 Despite their performance schedules and Instagram stories, drag queens actually do sleep. Sometimes it seems as though the top billed girls are never out of drag. Rare do we get to see them sweatpants, boy-hair, chilling with no eyebrows on. For Berlin based sleep design brand muun, they asked RuPaul's Drag Race season five winner Jinkx Monsoon to star in their short film series "None Fits All."
"The series explores muun's message that true comfort is making your own choices. In a powerful statement of selfhood, Jinkx shares her choice to present herself in drag and why – despite the perceived discomfort heels, endless bobby pins and heavy wigs — this bold self is the one she's most comfortable inhabiting."
To coincide with muun's campaign, Jinkx penned a personal essay on finding the superb comfort within the conventional discomfort of drag. Have a read and watch her in the film below.
—
Jinkx Monsoon was born when I was about 14 years old. There was a dance at my local queer youth resource center, the theme was fairytales and I decide to go as the Queen of Hearts. It was the first time I ever dressed in full drag.
I just remember looking at myself in the mirror and by all means the makeup was terrible, the hair was terrible, the outfit was basic but I still looked in the mirror and I saw the most gorgeous woman in the whole wide world. …

Film:

ON FIRE ISLAND

There is one place I would rather be this weekend than on Fire Island and that's at the Metrograph cinema on the L.E.S. If you've never been, then really, what's wrong with you? I don't mean to cinema-shame you, but it's kind of a must for every cultured young man (or woman.) This weekend, the theater is hosting a Fire Island cinema series and I want to let them tell you about it in their own words (cos they're pretty great words.) "Fire Island acts as a calming tonic for those (mostly queer) folks looking for an escape during New York's balmiest months. Former residents and visitors included Greta Garbo, W.H. Auden, Calvin Klein, Truman Capote, and Tennessee Williams. On screen, this 30-mile-long utopia has served as the setting of a filthy two-act play, the backdrop of a cruel coming-of-age story, an environment for sexual discovery, and a place of contemplation for a man dying of AIDS." There's 5 films screening over the weekend, but my picks are Bill Sherwood's 'Passing Glances' starring a young Steve Buscemi and Andy Warhol and Chuck Wein's 'My Hustler.' I mean, who needs the hassle of going to Fire Island when you can be transported there while sitting in a super chic, air conditioned movie theater with popcorn in downtown Manhattan? —tom
Film:

TRIBECA DRIVE-IN: WEST SIDE STORY

Okay so the other night, I was downtown walking around with this boy and we happened to stumble across the Oculus and it was literally my first time ever actually seeing it in person. We walked inside and I was completely gagged at how sci-fi-futuristic and open the interior felt. Anyway, I relay this anecdote to introduce a "drive-in" screening of West Side Story that is playing in the very same Oculus. In addition to the screening, there will be live music, trivia, prizes, dinner, and drinks in addition to the screening. The dinner and drinks will cost money but free admission is lit! I mean just bring a bag and sneak your own dinner and drinks in a la sneakizi! Also, for those who may not know, the 1961 film West Side Story — adapted from the 1957 musical of the same name — is a modern retelling of Shakespeare's Romeo and Juliet. It's got everything you could want: love, murder, and great music. Plus she's got like a 94% on Rotten Tomatoes. Just compare that to The Emoji Movie's dusty ass 6%. Also, I will say that I'm not sure what will constitute the "drive-in" nature of this screening, but it could be fun to go and check it, and see a good movie with some good people in the process. —Connor Atkins
Film:

'ALL THAT HEAVEN ALLOWS' AT ELIZABETH ST. GARDEN

One of NYC's most relaxing and intimate outdoor summer experiences is seeing a film in the Elizabeth Street Garden in Soho. If you're familiar with this very inti, very divine space that appears to be plucked from the pages of an editorial, then you know of its sprawling greenery, curated sculpture collection, and, most importantly, precarious status as a city landmark. Mayor DeBlasio has taken all possible measures to destroy the garden to make way for new residential construction, and he may succeed. New construction in Soho, girl? Groundbreaking. Back to the program: every other Wednesday in the summer, the garden screens a film, and this summer, the theme seems to be — yup, you guessed it — gay. Last was La Belle et la Bette by Jean Cocteau (a French homo whose magical contributions to art and cinema will make you weep), and next is All That Heaven Allows, the 1955 flick starring Jayne Wyman and heartthrob Rock Hudson, who, for those of you who haven't read your queer Hollywood history, was one of the first mainstream figures to publicize his A.I.D.S. diagnosis. The film follows the social conflicts that arise when Hudson, a landscaper of sorts, falls for the 50-something widow to whose garden he has been tending. At GAYLETTER, we love a cougar tale, and a bush, so this film is right up our alley. We suggest rounding up a few friends, grabbing some wine, a blanket, and supporting this local jewel. Let's keep this place open! —gayletter
Film:

Hedda Lettuce Presents: Serial Mom!

Serial Mom is a cult classic and one of those films that gays of a certain age (my age) are likely to be big fans of. My first boyfriend was obsessed with this film. He would quote it ad nauseam, it was very annoying, because I had, and still have never seen it. That might change this Thursday as the movie is screening at the Village East Cinema. Serial Mom was directed by the brilliant John Waters and is "about a seemingly perfect suburban mother, who secretly will murder anybody over the slightest grievance." To be clear, this isn't your usual film screening, it's much, much better. It's hosted by drag queen Hedda Lettuce and is interactive. "With comedy, and commentary, Hedda highlights the highs, lows, and absurdities of the early-90s film." Fill up a flask with some brown, liquor, smoke some greens before you leave the house and head to this beautiful East Village cinema for an unforgettable night with the incomparable Kathleen Turner (she plays Serial Mom). It'll be a carry, in all the right ways. —tom
$15, 7:30PM, VILLAGE EAST CINEMA, 181-189 2ND AVE, NY, NY