Listen:

Noname – Telefone

24-year-old rapper Noname hasn't relied on dancing half-naked in music videos to make a career for herself. Over the last few years she has worked hard at building a reputation as someone with real talent and real ambitions to be taken seriously in the music biz. Raised in Bronzeville, Chicago, Noname (whose real name is Fatimah Warner) started out performing slam poetry in 2010. In 2013 she performed on Chance the Rapper's wonderful release 'Acid Rap' and in August released her brilliant debut mixtape 'Telefone.' Taking a page from two of 2016's standout albums — Kendrick's 'Untitled' and Chance's 'Coloring Book' — Telefone is a jazzy, breezy mitape that deals with a number of heavy subjects like police brutality and growing up in the streets of Chicago. Noname planned the album for 3 years before finally recording it in June of this 2016 in Los Angeles. In some ways Noname's music reminds me of Issa Rae's HBO show Insecure. While Noname certainly deals with heavy subjects in her lyrics, her mixtape is super enjoyable. I look forward to seeing what she gets up to next! —tom
Available everywhere.
Book:

Somebody to Love: The Life, Death, and Legacy of Freddie Mercury

It's Thanksgiving, and you know what I am thankful for? Gay people! Thank god for all the talented queers who have made this world one worth living in. There's too many to list in this short post, so let's just focus on one very talented queen today: Freddie Mercury. The incredibly charismatic, and unique lead singer of the band Queen changed the musical landscape for the better. Somebody To Love is a new biography of Mr. Mercury that not only tells the story of the singer's stratospheric rise to fame, but also very cleverly weaves in a history of the disease that ultimately killed him. Freddie died of AIDS complications in 1991. At the time he was one of the highest-profile people to die from the disease, which is why his life's story is ineluctably tied to it. The authors of the book, Matt Richards and Mark Langthorne, hope that Freddie's story "sheds light on the darkest times that so many lived and died through." While doing this the book also spends plenty of time exploring all the light and beauty associated with Queen's brilliant contribution to music. There's plenty of juicy details about Freddie's relationships, not just with men, but also with women. Freddie never officially came out of the closet, which is understandable considering he lived in the 70's and 80's and Queen was a very mainstream band. Regardless, Freddie is still remembered as a queer icon and pioneer. And I'll continue to be thankful that we had him, even if it was for only a brief time. —tom
Available now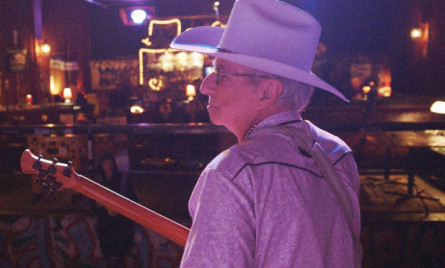 Now that Beyonce has managed to defy all odds and tricked gay people into being interested in country music, it's important that we know our cultural history within the genre. Unfortunately due to the conservative politics of country music's mainstream markets, country singers have only started coming out of the closet as recently as 2010. As slow as the progress might seem, none of it would be possible without Patrick Haggerty, aka Lavender Country, who blazed the trail back in the 1970s. Haggerty recorded Lavender Country's self-titled album in 1973, thereby becoming the first openly gay country star.
Lavender Country sold all one thousand copies of the record that were issued, but then more or less vanished from popular culture. Patrick, a whip-smart Marxist, ran a couple of relatively successful political campaigns, but could never get a career off the ground. He eventually returned to country music and began to make a living off of singing "old songs to old people," namely performing country classics in retirement homes.
Thanks to Youtube, one of Lavender Country's most powerful and lyrically compelling songs, "Cryin' These Cocksucking Tears," has since garnered a resurgence of attention to the band. The record label Paradise of Bachelors reissued the album in 2014 which in turn led to more press coverage, a tour, and now a short documentary about Patrick's life. "These Cocksucking Tears" was part of a short film festival featured at Nitehawk in New York City. …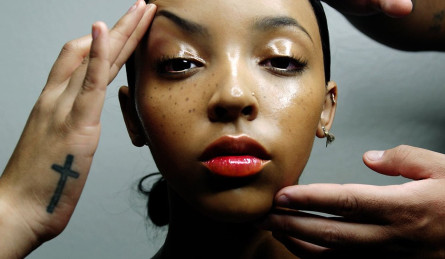 I fell for Tinashe when I saw the Boss music video. I mean, this girl was eighteen, wrote a vicious song, taught herself to produce her own music, then self-directed its video. The vision and its execution left an impression. In one red-light setting, with a bright curly lion's mane of hair, she sidles against an oversized county fair teddy bear, croons up over its head, then playfully decapitates it. And rips out its stuffing. It's wild. Since then, she's stayed focused, continually maturing her style.
Tinashe is twenty-three now and no longer needs the heels or hair or glam to prove that she's grown. Nightride, released last Friday at midnight, is not child's play. She came for every wig on this bi-coastal mess we call America. Released with a music video statement of purpose, Nightride is the accompaniment and precursor to Joyride, her upcoming sophomore album.
Her position relative to popular music in late 2016 is somewhere between Frank Ocean and Ariana Grande. Like Frank, Tinashe's been roiling in music industry purgatory, her sophomore album suffering massive delays, her label increasingly hapless at managing her career. Both Nightride and Blonde are dark and pained, isolated (Nightride has zero features), but animated by the singer's devotional faith in love and self-ownership. Both albums suit these suddenly darker days especially well. Like Ariana's interstellar pop, Tinashe's vocals pair dense production with an agile and winking sensibility. But Tinashe's a more genuinely dangerous woman who belts out a bit more sparingly. …

MUSIC:

Roisin Murphy Afternoon Tea Dance

We interviewed Roisin Murphy for the last issue of GAYLETTER Magazine. I got to speak with her over the phone, which was an absolute thrill, considering what a fan I am of her music. I was equally excited to learn that she is performing in NYC this week, but then bummed when I learned that tickets are sold out. As a consolation we should all head to C'mon Everybody on Saturday night. DJs Sean Hanna and Tad Haes will be spinning their "favorite Roisin songs" all night long in celebration of Roisin's return to New York City after 8 years. There's no guarantee that she'll show up, but it would be a lovely surprise if she did. For all of you who are unfamiliar with the Irish singer/songwriter we suggest you pick up a copy of issue 5 of our magazine and learn some more about the talented Ms Murphy. She's a great talker. Or you could just google her, google also works. —tom
MUSIC:

Amber Martin's 'A.M. Gold'

Amber Martin is a dear friend to GAYLETTER. We have written about her performances at Joe's Pub and with Nath Ann Carrera as part of Witch Camp. Amber even performed as Reba McEntire at one of our Pride Balls. She is immensely talented and super sweet. She reached out to us recently to inform us about the release of her new album, A.M. Gold, at Joe's Pub this Thursday night (October 6). The album features "special guests Jake Shears and Kate Bornstein, as well as NYC players Claudia Chopek, Nath Ann Carrera, Paul Leschen and Brett Every. Also, two of the songs will be featured in John Cameron Mitchell's forthcoming movie, How To Talk To Girls At Parties, with Nicole Kidman and Elle Fanning. ("Bermuda" and "Bright Lights, Long Shadows")". Thursday night is your first chance to hear the new album. Considering the talented people involved in it, I'm sure it'll be a night filled with famous faces and unforgettable performances. Amber never disappoints! —tom
MUSIC:

Young Thug – Jeffery

I have been a fan of hip-hop since I was in high school listening to Talib Kweli, Mos Def and Common. I was never a fan of most mainstream rap as it was too hyper-masculine and often homophobic. The genre is still very masculine, sexist and mildly homophobic, but things are changing. One rapper who is leading that change is Young Thug. He is a pretty mainstream rapper, he's also subverting the genre in some wonderful ways. For one thing he is very gender fluid. On the cover of his latest album he is photographed wearing a dress by indie designer Alessandro Trincone. (Tricone lived in Japan which is why a lot of of his clothes are inspired by origami). In a recent interview to Billboard Young Thug talked more about his love of women's clothes "When I was 12, my feet were so small I wore my sisters' glitter shoes," he recalled. "My dad would whoop me: 'You're not going to school now, you'll embarrass us!' But I never gave a f**k what people think… When it comes to swag there's no gender involved." He also said that he plans to wear a dress to his wedding, saying "there will be two brides." This is all admirable, but not enough of a reason to listen to an artist's music. Thankfully Young Thug's latest album is really, really good. I've had it on repeat for the last few days. Stand out tracks include Wyclef Jean, Kanye West, and Swizz Beatz (many of the tracks are named after musicians.) Go off Jeffery! —tom
Available wherever you get your music.
THESWIMMINGPOOLS love letter to LA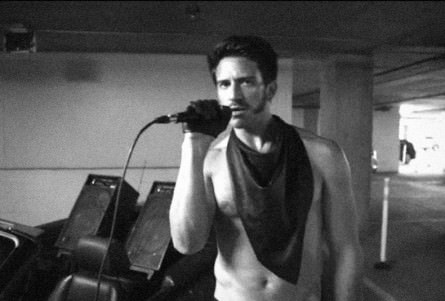 The latest music video 'Living It Up' from THESWIMMINGPOOLS opens in a parking garage, both members of the group approaching an older BMW in their finest looks. It seems that the large hats are a trend in music video, Young Thug wore a large scale umbrella hat on his album cover… but that doesn't mean this one is less gaggy! I was happy to see it done in a black and white manor, especially with the main musical-hook of 'Living It Up' crescendoing as the video opens. The ominous and sexy tone sets in quick and envelopes you swiftly.
One of the members, Christophe, told us that 'Living It Up' is "a love letter to Los Angeles." In the video, the duo carries on Hollywood Blvd leaving tourists and spectators camera-clad and smiling. Everyone is happy! The duo seem to be having a great time, as do their audience, and the lyrics match the mood with the celebratory message — "You've got good hair / good skin / good luck / you're living it up." The song is very LA, in all of it's plasticized glory that is a joke to some but a serious lifestyle to others. THESWIMMINGPOOLS are unapologetic about the city of Angels — it clearly makes them feel fucking good, attractive and like they can achieve all of their aspirations. I'm positive they're not alone. People never want to leave California… perhaps because they, too, are living it up! Life's too short to be pessimistic. Focus on the days your hair looks good as hell. …

The band's originally scrapped track gets a well-received release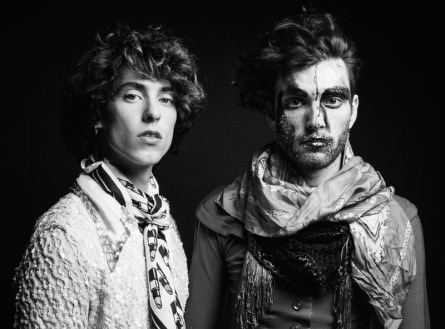 The first thing I do when I get to the GAYLETTER office is (after wiping a lot of sweat off my face) sit down and open Facebook like the good millennial I suppose I am. It's always exciting to realize I have been awake for four hours and the morning's news might as well be something that happened two weeks ago. So much happens when I am getting my beauty sleep! It's really fascinating how time works. So cray-cray, right? There is always something new, exciting and stupid to read on Facebook. Yesterday was a little different though.
As Frank Ocean continues to teach us, disgruntled fans are not the look. Releasing new music is vital to taming your fandom. PWR BTTM knows how to treat their fans better than any other band. Liv Bruce and Ben Hopkins have had quite the year. We were thrilled to publish them in Issue 4 of GAYLETTER, and since featuring them in the mag, they've been written about by NPR, MTV, Pitchfork, and countless other major sources, all while on a major tour supporting the indie-emo fave, Pity Sex. Both members have extreme passion for inclusivity and spend the necessary time snapping photos with their glitter-clad fans after shows. They have an active (often politically charged) social media presence that keeps their fans engaged, interested and above all else, heard by the duo. Most importantly, they made sure every venue they played provided gender neutral restrooms for those attending their shows. …