MUSIC:

Byrell The Great

It's Pride Month, which means we all need a soundtrack to get us through the next few weeks of drinking, dancing and living our best lives as queer cunts and fabulous freaks: Yasss qweeen, werk, sashay away, no wait, shantay you stay, sissy that walk, GURL, oooooh, hunty! Sorry I just had to get that out of my system. Where was I? Oh music. And do we have a Pride Soundtrack for you! While planning our upcoming parties for next week we discovered a DJ named Byrell The Great. Let me tell you, I have been listen to his Vogue Workout mixtapes on Soundcloud for the last few hours and it is giving me all the motivation I need to push through this day that is most certainly wearing my last nerve! I don't know what it is about this time of year, I should be all filled with pride, but I often get a case of the summertime sadness. It's a fucking pain in the butt, BUT, Byrell the Great is really helping me pull my shit together and stop feeling sorry for myself. Thanks Byrell. If you're in the mood for a pick-me-up, head on over to Soundcloud and search for BYRELL the GREAT. He goes inti! —tom
Search "BYRELL the GREAT" on Soundcloud
Event:

The Drums w/ Princess Nokia at House of Vans

I am writing about this event because I love you, our newsletter subscribers. Seriously, this goes against my better judgement because I am going to be arriving on the later side and I don't want the venue to hit capacity. So consider this info a goddamn blessing! The Drums have been one of my favorite bands for a long time. When I was 17 and thought my first boyfriend was on the verge of breaking up with me, I tried to dissolve into my twin bed while listening to Johnny Pierce whine over dorky melodies. Their whole self-titled album encapsulates a very specific area of my gay-heart, but what has been even more special is spending my formative years with their ever-growing discography. When I found out Pierce was putting out a new album and touring, I had my debit card READY. An NYC date never got added and I was fucking mad, until Pierce announced they'd be playing a free show. I'm so excited. Seeing The Drums is probably the perfect place to find a boyfriend who also reads contemporary literature and wants to do coke in the bathroom. Really, I think I am bound to find a man at this show, but I'll probably be drunk and at the bar, so search for the boy focalizing his hip movement and maybe hurting his neck, that's me! Get there early for Princess Nokia because she knows how to tear a crowd up. She loves to yell, it's a pleasure to watch; everybody wins. Meet ya there! —Chris Stewart
Are you thirsty?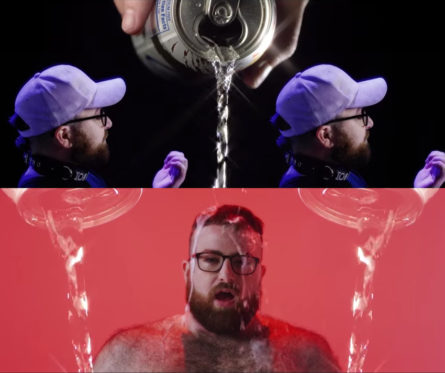 There are few things are more refreshing than LaCroix Water products (here at GAYLETTER, we always keep a case in our fridge), but be sure to quench whatever your summertime thirsts are with the new sultry serenade, "LaCroix Boi." It's by the absolute cutest rapping cub around, Big Dipper. This sexy and smooth track serves early 2000s R&B in all the best ways — Mimi moment, staccato rap flow, and pillow talk autotune are all fully accounted for; Dipper really went for it with this one, and trust, his unique style turned me all the way out. Be sure to watch the video with a can on hand – I suggest the coconut flavor!
The video for the song, directed by Ryan Ovadia, artfully gives life to the bubbly fantasy Big Dipper provides in his lyrics, and is nostalgic for the soft glow of classic music videos, but not like season one of Drag Race… thank god. As per usual in his music videos and performances, Dipper commands every inch of this set's neon frame with his encapsulating personality translated through expert choreography.
The real gag of this video is a cameo by none other than Alaska Thunderfuck riding low with Big Dipper à la Gaga and Beyoncé in the pussy wagon. Stun! This project reminded me I should try more flavors of LaCroix (there are 17, oy vey) and it also makes me very excited to see what else Big Dipper has in store for the future. …

Oops... Katy Perry did it again!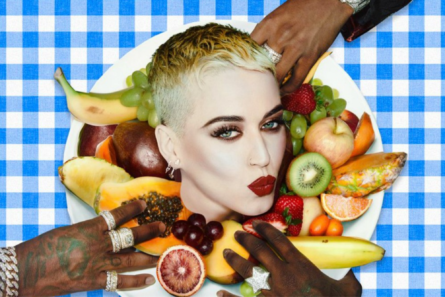 It seems that once again Katy Perry's latest single has been totally ignored. This time, she can blame the gorgeous weather in New York City. Though you're probably outside taking a really long lunch — maybe having a chilled class of pinot, or if you're really gay: a glass of rosé — I do want to draw your attention to Miss Perry's latest because it's definitely better than her previous.
"Chained to the Rhythm" came out last month (I think?) and did not perform well on the radio, or on the charts. The beat was catchy, and ushered in a new, albeit contrived, direction for the ever-changing brand that is Katy Perry. However, Bon Appétit (feat. Migos), which she released on this glorious spring Friday is way cuter and deserves a listen.
Earlier in the week, Perry fans tweeted photos of pies they baked after Katy tweeted that if you baked her a pie, "you may get a surprise." I was confused and didn't follow the Twitter trail because that is always exhausting, but nevertheless, the singer's Martha Stewart endeavor ended up being another really odd marketing strategy (RE : the disco balls no one tended to) for another new single.
Bon Appétit (feat. Migos) is really reminiscent of that kind of feel good track I only associate with Nicki Minaj's "Roman Reloaded." This is the kind of pop music that you can listen to at any given moment, meaning that it really has got no deeper meaning than what I assume is money-making. …

Eat:

Daft Brunch – A French House & Disco Brunch Party

What a cute idea for a boozy Sunday brunch! You get to listen to Daft Punk and French disco, and here's the best part, for the $10 ticket price, you also get two mimosas. That's a pretty good deal. Where else can you get two mimosas for $10? Nowhere, that's where! "DJs Jamie Antonelli (Nurvous Records) Salinger (Medium Rare / The Deep) and guests will be playing French Touch, Disco House and plenty of Daft Punk. Photos by Nicky Digital. Visuals by Funk Taxi. "Food will be available throughout the event. Come eat, drink and dance with us!" They also have some "Bottomless Brunch packages still available" so start that group text ASAP and get your weekend brunch plans in order, K? —tom
PWR BTTM's got another millennial anthem under their belt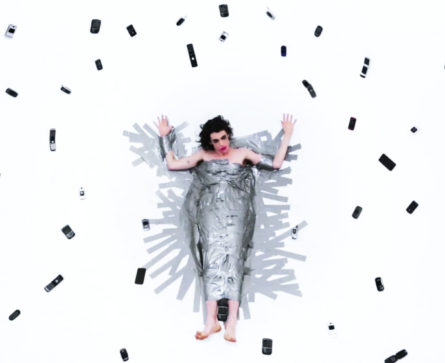 Much to the queer universe's delight, PWR BTTM released a new music video this morning! 'Answer My Text' sticks to the band's declarative and unapologetic ethos with the chorus' central lyric stating "answer my text, you dick!" (If that's not a mood, I don't know what is).
The single, which is off of their forthcoming sophomore album 'Pageant' follows the band's D.I.Y. formula of simplistic chord progressions matched with lyrics that are not only relatable to the band's variety of fans, but also do a bit more for listeners by revealing Liv Bruce and Ben Hopkin's own autobiographical struggles. The twosome have approached music-making with a pedestrian skill set, but their willingness to be vulnerable and vocal about queer identity has propelled them into intersectional crusaders.
Just last week I was retelling a friend about the first time I saw PWR BTTM. They were playing at Legion Bar in Brooklyn with Diet Cig who were also newcomers on the scene. I don't even remember when their set started, and I didn't even know who they were really, but their now notorious banter blew my mind. I had never seen two people be so obviously queer on stage at a D.I.Y. show.
It's been a pleasure to watch them grow into globally recognized musicians, and 'Answer My Text' is another addition to PWR BTTM's radical image making. Bruce is as darling as ever in a bubblegum pink bedroom, and they are even more intriguing with neon-blue lipstick paired with a pink gown. …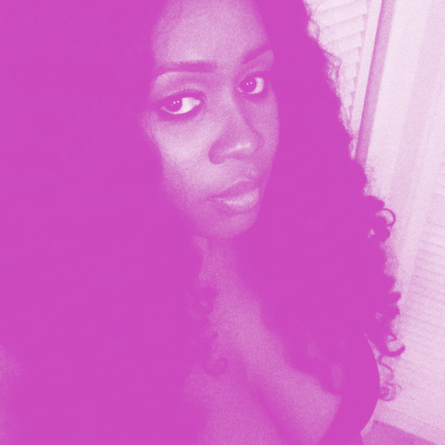 Nicki Minaj and Remy Ma have had a long standing beef that goes back way before Remy was sent to prison six years ago. Not that she's out, Nicki has been throwing shade on Instagram about Remy's recent single sales, which sent Remy to the studio to respond with a blistering diss track. If you haven't heard it you really need to, it's brutal. In 'Shether' Remy really doesn't hold back.
Here's a couple of lines that deserve to be written out: "Talkin' about bringin' knives to a fight with guns, When the only shot you ever took was in your buns, And I saw Meek at All-Star, he told me your ass dropped, He couldn't fuck you for three months, Because your ass dropped, Now I don't think y'all understand how bad her ass got, The implants that she had put in her ass popped" Or how about this one: "Been through mad crews, you disloyal hoochie, Now all of a sudden you back with Drake and Tunechi? After he said you sucked his dick, you back with Gucci? Who next: Puff, Deb, or Fendi? You a A-list groupie." And finally: "You claimed you never fucked Drake, Now that's where you took me, You fucked the whole Empire — who you tryin' to be, Cookie?"
I really wasn't expecting her response to be this vicious. But she went there. And now all we have to do is what for Nicki's response. The expectations are sky high Black Barbie! …

Listen:

Noname – Telefone

24-year-old rapper Noname hasn't relied on dancing half-naked in music videos to make a career for herself. Over the last few years she has worked hard at building a reputation as someone with real talent and real ambitions to be taken seriously in the music biz. Raised in Bronzeville, Chicago, Noname (whose real name is Fatimah Warner) started out performing slam poetry in 2010. In 2013 she performed on Chance the Rapper's wonderful release 'Acid Rap' and in August released her brilliant debut mixtape 'Telefone.' Taking a page from two of 2016's standout albums — Kendrick's 'Untitled' and Chance's 'Coloring Book' — Telefone is a jazzy, breezy mitape that deals with a number of heavy subjects like police brutality and growing up in the streets of Chicago. Noname planned the album for 3 years before finally recording it in June of this 2016 in Los Angeles. In some ways Noname's music reminds me of Issa Rae's HBO show Insecure. While Noname certainly deals with heavy subjects in her lyrics, her mixtape is super enjoyable. I look forward to seeing what she gets up to next! —tom
Available everywhere.
Book:

Somebody to Love: The Life, Death, and Legacy of Freddie Mercury

It's Thanksgiving, and you know what I am thankful for? Gay people! Thank god for all the talented queers who have made this world one worth living in. There's too many to list in this short post, so let's just focus on one very talented queen today: Freddie Mercury. The incredibly charismatic, and unique lead singer of the band Queen changed the musical landscape for the better. Somebody To Love is a new biography of Mr. Mercury that not only tells the story of the singer's stratospheric rise to fame, but also very cleverly weaves in a history of the disease that ultimately killed him. Freddie died of AIDS complications in 1991. At the time he was one of the highest-profile people to die from the disease, which is why his life's story is ineluctably tied to it. The authors of the book, Matt Richards and Mark Langthorne, hope that Freddie's story "sheds light on the darkest times that so many lived and died through." While doing this the book also spends plenty of time exploring all the light and beauty associated with Queen's brilliant contribution to music. There's plenty of juicy details about Freddie's relationships, not just with men, but also with women. Freddie never officially came out of the closet, which is understandable considering he lived in the 70's and 80's and Queen was a very mainstream band. Regardless, Freddie is still remembered as a queer icon and pioneer. And I'll continue to be thankful that we had him, even if it was for only a brief time. —tom
Available now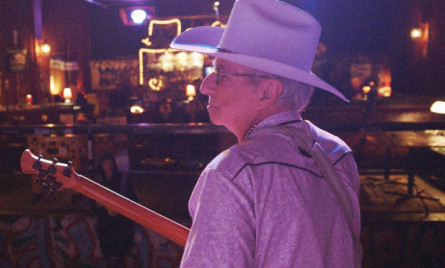 Now that Beyonce has managed to defy all odds and tricked gay people into being interested in country music, it's important that we know our cultural history within the genre. Unfortunately due to the conservative politics of country music's mainstream markets, country singers have only started coming out of the closet as recently as 2010. As slow as the progress might seem, none of it would be possible without Patrick Haggerty, aka Lavender Country, who blazed the trail back in the 1970s. Haggerty recorded Lavender Country's self-titled album in 1973, thereby becoming the first openly gay country star.
Lavender Country sold all one thousand copies of the record that were issued, but then more or less vanished from popular culture. Patrick, a whip-smart Marxist, ran a couple of relatively successful political campaigns, but could never get a career off the ground. He eventually returned to country music and began to make a living off of singing "old songs to old people," namely performing country classics in retirement homes.
Thanks to Youtube, one of Lavender Country's most powerful and lyrically compelling songs, "Cryin' These Cocksucking Tears," has since garnered a resurgence of attention to the band. The record label Paradise of Bachelors reissued the album in 2014 which in turn led to more press coverage, a tour, and now a short documentary about Patrick's life. "These Cocksucking Tears" was part of a short film festival featured at Nitehawk in New York City. …