MUSIC:

Jake Shears [of Scissor Sisters] & DJ Sammy Jo

It's been a hot minute since Jake Shears (of the Scissor Sisters) has been out and about playing music. At least that I'm aware of. I apologize if he's been performing all over the shop and I've just missed it. Anyways, back to the point of this post. Jake is performing this Sunday at 7pm at Elsewhere, which is a "new music venue & arts space in Bushwick, Brooklyn, built by the team behind the former Glasslands Gallery." There is scant information about this event, but if you've ever seen the Scissor Sisters live, then you'll know that Jake puts on a fabulous show. When I was a baby gay I saw them perform in Melbourne, Australia. I was so jet lagged after flying back from Vietnam the day before. I had a terrible cold which I made worse on the flight back by drinking a lot of whiskey (I thought it would be antiseptic for my sore throat). Needless to say when I got to the show I didn't feel like dancing, then Jake got on the mic with Ms. Ana Matronic and the rest of the band, and my symptoms and complaints disappeared. I had so much fun, and I'm sure you will too this Sunday at Elsewhere. Also, listen to his latest song Creep City. —tom
Suburbia's new track for the dance hall queens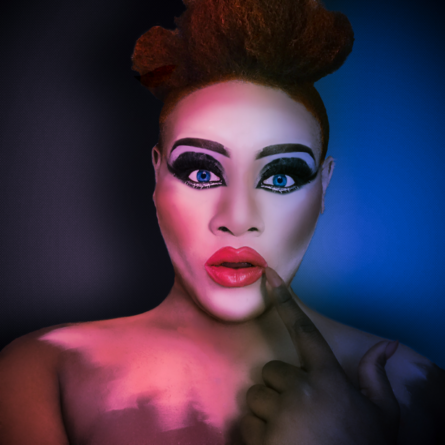 Thee Suburbia is a Brooklyn-based drag performer with enough sass, attitude and talent to own whatever stage she appears on. She has been a performer in the drag circuit for about two years now and, as a result, has been lucky enough to travel the country for shows. Her weekly karaoke party was one of the East Village's best kept secrets, and when GAYLETTER collected some of our favorite queens makeup swipes for Issue 7, we put her at the top of our list.

Earlier this week she released a hot new house track titled "BitchWitch." The song is a mixture of comedy, wit, and a whole lot of reading from the point of view of a diner waitress. Some customers get pancakes and syrup while others get pancakes and poison. Produced by Lorant Duzgun (DJ Lorant), the song highlights Suburbia's flow of lyrics on top of a dance heavy beat. "BitchWitch" is a track I can easily see myself voguing to at the club. And the energy she serves while reading her audience makes the need to learn every word pretty hard to resist. Every time I hear the song and all the elements Suburbia brings to the table, I get more and more curious about the creative process behind it. To get some more insight, I sent Suburbia a few questions which she was kind enough to answer.

Have you always had a passion for music or did it stem from your love for performing? …

The independent rapper Jay Boogie places self-acceptance first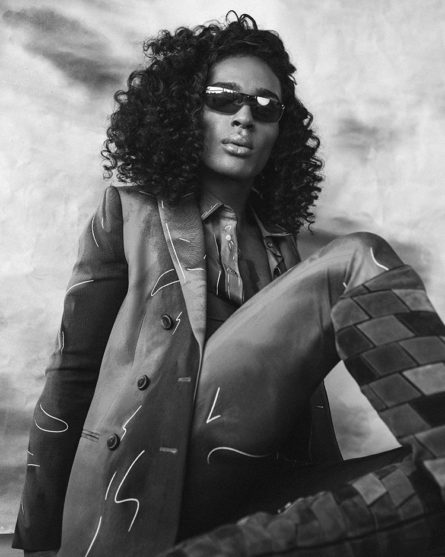 The first time I listened to Jay Boogie's latest mixtape, Jesus Loves You Too, I had to make sure that I was doing all I could to give it the appropriate atmosphere. Going off of his previous tracks like "Body" and "Hear Them Howling", I decided that the best time to hear his new stuff was while I was getting dressed to go out to the club. And let me tell you, listening to these songs put me in the perfect mood to have one of my best nights out. On one of the songs "Venti" he talks about life as a twenty-something year old, offering relatable lines like "enjoying my twenties I'm lit and I'm sexy and who's gonna check me?"
The first time you listen to a new song is absolutely crucial. The music may speak to you differently depending on how you're feeling, what you're doing or who you're with. This first listen becomes the memory that will attach itself to the song and whenever it plays, you'll think back in time, so it's important that you get it just right, like I did!
The independent Brooklyn rapper has always emphasized self acceptance over everything, but every track on this new project is overflowing with lyrics that are bound to have you feeling like "your shit don't stank." With clear influences from his ballroom days, the songs not only inspire youth to love themselves but gives them some hot tracks to vogue to while doing just that. …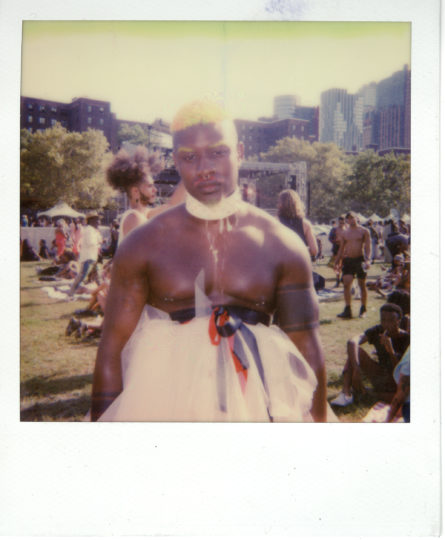 The official meaning of "Afropunk" goes as follows: "AfroPunk refers to the participation of African Americans and other black people in the punk and alternative music cultures, especially in the United States, where this scene had been overwhelmingly white."
Most people, when they hear the term AfroPunk think of the Afropunk Music Festival which "was founded in 2005 by director James Spooner and Matthew Morgan." The festival has quickly grown to include one of the best line-ups of musical acts and this year is not exception. Taking place at Commodore Barry Park in Brooklyn, this year's headliners included: Solange, Anderson .Paak, Thundercat, Kaytranada, Gary Clark Jr., Macy Gray, Michael Kiwanuka, Soul II Soul, Dizzee Rascal and SZA.
I shared an Uber Pool this weekend with two well-dressed attendees who had flown all the way from L.A. for the festival. I was telling them that our photographer Myles Loftin would be taking street style photos at the event and that they should look out for him. "How will we recognize him?" they asked. "That's easy, he has bright orange hair and a polaroid camera, you can't miss him!" I replied.
Please enjoy a few of Myles shots from the weekend, below:
…

Hell hath no fury like Adore reborn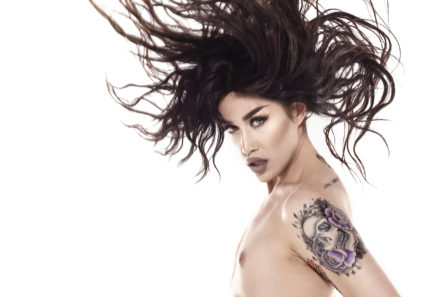 Released with an accompanying music video last Monday at midnight, "Negative Nancy" is a loser anthem by our grunge goddess in residence, Adore Delano. This über well-edited video is another production by Geek Mythology (the team behind "Hello, I Love You" and "I Adore You"), and it's clear by now that they know how to help Adore shine. Or, in this case, rage.
The video depicts a baseball game between a bunch of norm-resistant cuties and a gang of ultra-standard white boys. As pitcher and captain of her squad, Adore channels the type of vengeful spirit born in sissy boys who are forced by their fathers to go outside and buck-up for some sport and bat. Deliciously, she opts to rebel, totally untucked in a teensy black banana hammock and a punk take on drag that is all body, face, and filth. (I mean that literally—her socks are super dirty, and you can tell she loves it.) She later goes full-on locker room Botticelli, tightly gripping a wooden bat while glam-fans blow out her hair. She faces the camera head-on like this right here is the Emancipation of Nancy.
The song itself is totally divorced from the electro-pop spirit of her previous releases. Its grungier sound is a bit left field for the RuGirl scene, but so is Adore. It's pretty exciting to hear a drag superstar wrestle this Guyville-founded genre to the ground. With American masculinity in a state as juvenile and spittle-mouthed as our shellfish-in-chief, Adore going so tomboy-fish feels like a fresh corrective. …

A lesson in hairology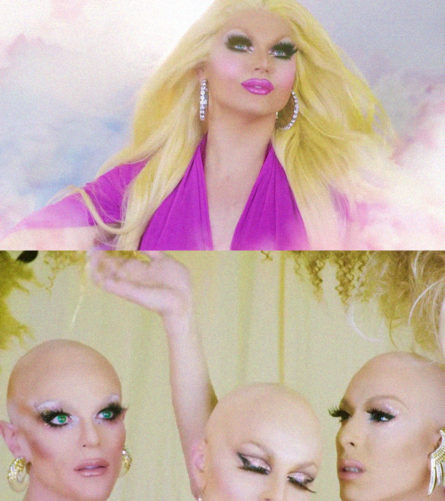 Product placement has never been so gag-worthy. Celebrating the release of their debut EP, Access All Areas, The AAA Girls are back with a video for their song, "A Lacefront Like This." Directed by Kain O'Keeffe, the video transports us to a pastel hair-heaven where Willam, Alaska Thunderfuck, and Courtney Act (all stark bald à la Sasha Velour) passionately serenade us about the wonders of Wigs by Vanity, the iconic Australian wig company founded by Vanity and the AAA Girls' very own Courtney Act. All I can say is that this was not the Kelly Clarkson comeback we wanted, but it was the Kelly Clarkson parody we needed.
The video highlights the mission of Wigs by Vanity: Wigs for drag queens by drag queens. Featuring cameos of Vanity blessing each queen from above with various hair-hats to complete their baby pink and jeweled looks, the video interestingly points towards the spiritual experience of a queen fully realizing the fantasy when she puts on her wig. Visuals are kept simple for this video, but since hair is the main feature, it makes sense. This project strikes poignant notes of the struggle to sustain the expense of drag, with the lyrics detailing methods of acquiring the coins for an original wig by Vanity. As a more or less broke New Yorker, techniques that rang the most tragically relatable were in the vein of pulling a fast one on an unsuspecting straight guy, signing up for sugar baby websites, and selling organs. …

The RPDR S9 top four contestant is more confident than ever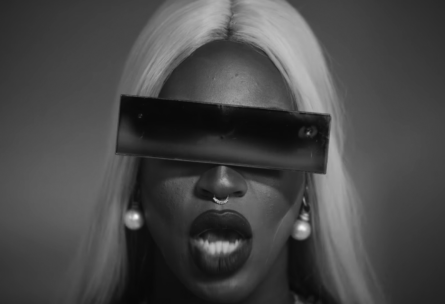 Here we are on the eve of RuPaul's Drag Race Christmas and a top four contestant, and my personal favorite on season 9, Shea Couleé, has released her new video for "Cocky." For the three of you not on Grindr, Shea premiered it on the app exclusively. It features trans rapper, Lila Star, and Chicago queen, The Vixen. "Why y'all gagging so? She bring it to you every ball?" Shea raps on the summer bop that has me yaaaasing just in time for another glorious pride weekend in New York.
With clear inspiration from vogue beats, the trap track professes a message of unapologetic confidence that would have had the iconic Pepper LaBeija wagging her finger.The release is impeccably timed and sure to be played on repeat for the rest of the summer. Unlike a lot of music released by drag race alumnae, this song is not only bearable, but it's actually… good. Not to mention Shea's fashion in the video feels like a natural continuation of the looks she's turned out each week during the show.

You can really carry during this song as long as you shake your ass (or whatever else you want to shake) with plenty of cockiness. The track speaks for itself, and she can be sure we'll keep a strong eye on her if this is the post-drag race direction Miss Couleé is headed in. We're still curious about the Shea we met on the reunion special — it seems she's given us more to chew on. …

MUSIC:

Byrell The Great

It's Pride Month, which means we all need a soundtrack to get us through the next few weeks of drinking, dancing and living our best lives as queer cunts and fabulous freaks: Yasss qweeen, werk, sashay away, no wait, shantay you stay, sissy that walk, GURL, oooooh, hunty! Sorry I just had to get that out of my system. Where was I? Oh music. And do we have a Pride Soundtrack for you! While planning our upcoming parties for next week we discovered a DJ named Byrell The Great. Let me tell you, I have been listen to his Vogue Workout mixtapes on Soundcloud for the last few hours and it is giving me all the motivation I need to push through this day that is most certainly wearing my last nerve! I don't know what it is about this time of year, I should be all filled with pride, but I often get a case of the summertime sadness. It's a fucking pain in the butt, BUT, Byrell the Great is really helping me pull my shit together and stop feeling sorry for myself. Thanks Byrell. If you're in the mood for a pick-me-up, head on over to Soundcloud and search for BYRELL the GREAT. He goes inti! —tom
Search "BYRELL the GREAT" on Soundcloud
Event:

The Drums w/ Princess Nokia at House of Vans

I am writing about this event because I love you, our newsletter subscribers. Seriously, this goes against my better judgement because I am going to be arriving on the later side and I don't want the venue to hit capacity. So consider this info a goddamn blessing! The Drums have been one of my favorite bands for a long time. When I was 17 and thought my first boyfriend was on the verge of breaking up with me, I tried to dissolve into my twin bed while listening to Johnny Pierce whine over dorky melodies. Their whole self-titled album encapsulates a very specific area of my gay-heart, but what has been even more special is spending my formative years with their ever-growing discography. When I found out Pierce was putting out a new album and touring, I had my debit card READY. An NYC date never got added and I was fucking mad, until Pierce announced they'd be playing a free show. I'm so excited. Seeing The Drums is probably the perfect place to find a boyfriend who also reads contemporary literature and wants to do coke in the bathroom. Really, I think I am bound to find a man at this show, but I'll probably be drunk and at the bar, so search for the boy focalizing his hip movement and maybe hurting his neck, that's me! Get there early for Princess Nokia because she knows how to tear a crowd up. She loves to yell, it's a pleasure to watch; everybody wins. Meet ya there! —Chris Stewart
Are you thirsty?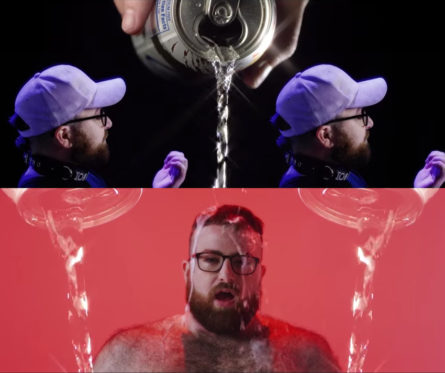 There are few things are more refreshing than LaCroix Water products (here at GAYLETTER, we always keep a case in our fridge), but be sure to quench whatever your summertime thirsts are with the new sultry serenade, "LaCroix Boi." It's by the absolute cutest rapping cub around, Big Dipper. This sexy and smooth track serves early 2000s R&B in all the best ways — Mimi moment, staccato rap flow, and pillow talk autotune are all fully accounted for; Dipper really went for it with this one, and trust, his unique style turned me all the way out. Be sure to watch the video with a can on hand – I suggest the coconut flavor!
The video for the song, directed by Ryan Ovadia, artfully gives life to the bubbly fantasy Big Dipper provides in his lyrics, and is nostalgic for the soft glow of classic music videos, but not like season one of Drag Race… thank god. As per usual in his music videos and performances, Dipper commands every inch of this set's neon frame with his encapsulating personality translated through expert choreography.
The real gag of this video is a cameo by none other than Alaska Thunderfuck riding low with Big Dipper à la Gaga and Beyoncé in the pussy wagon. Stun! This project reminded me I should try more flavors of LaCroix (there are 17, oy vey) and it also makes me very excited to see what else Big Dipper has in store for the future. …