Sappho's deflowering has made its way back to the queer-vogue.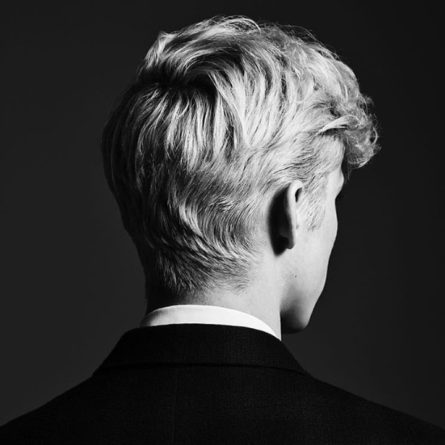 The flower is the oldest virgin metaphor in the books, literally. It dates back to Sappho — the Greek feminist hero and queer champion from Lesbos. "Her mouth for immolation / was ripe, and mine the art; and one long kiss of passion / deflowered her virgin heart." Sappho wrote in her lyric, "The First Kiss." Queers have been shouting Sappho's praises ever since because, not only was Sappho among the firsts to write about same-sex desire, Sappho was one of the firsts to take the marginalized sense of same-sex affection and ascribe to the natural world. Turning her own homosexual purity into a mainstream understanding.
Fast forward several millennium later and enter Troye Sivan. At 17, the Australian garnered a large fanbase on YouTube by posting videos of himself singing. At 20, Troye came out to thousands of his subscribers in an eight minute long video in the style of "It Gets Better." (His parents were supportive from the get-go.) Naturally, Troye went viral. It presently has over eight million views. Following his public honesty, a record deal from EMI Australia (a Universal Music Australia Party) followed and thus a bona-fide pop-star from the digital generation was born. His debut album, Blue Neighbourhood secured international and industry fame. "Blue Neighbourhood Trilogy", the three-part film released in tandem with the album told a cliché love-story between Troye and another boy: Childhood friends turned teenage lovers turned first heart-break. It's all very regular by pop-imagery and pop-media standards, but it was the first time pop-culture was handed a same-sex teenage love story that bode well in the market. …

The viral "Mooo!" performer is not a one-note act.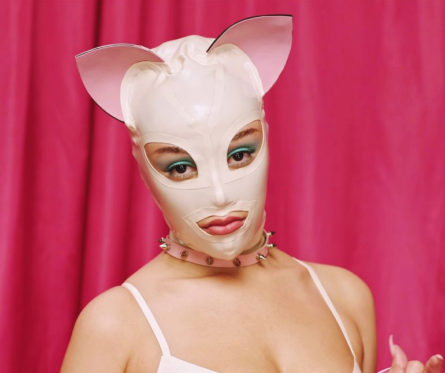 Doja Cat's major label debut Amala (Kemosabe Records/RCA Records) sounds like it sprung fully-formed from the forehead of 2018, draped in honeyed synths, serpentine bass-lines, and sugary trap snares. Here, she's left behind the hopeless and barred-out heroine of Purrr! (2014) for a brighter persona, with a range of scenes and emotions more rose-gold than ultraviolet. (You should still go back and listen to "No Police," though.)
"Go To Town" and "Cookie Jar" are the tracks which showcase the zany, larger-than-life sides of Doja most clearly. "Go To Town" is an eat-me-out banger, and the clearest potential sleeper hit from Amala. The track is brash, wacky, and clever, like a Glossier version of her bovine hit. "Cookie Jar," the second track, is also lyrically absurdist ("I got extra taco but you better bring that macho grip") but she delivers that energy at a way more chaotic and ecstatic pitch than the more calculated "Go To Town" can.
Other songs on Amala burn more slowly, like "Wine Pon You," "Roll With Us," or "Morning Light." These shift the emphasis from the anthemic toward the more vulnerable and dramatic possibilities of Doja's voice. The vocal production crystallizes Doja's melodies with glassy harmonies and layers, pitch-shifts and self-samples. This album feels like the final product of an artist ready for wider public reception.
All in all, Amala is a strong and singular debut record. Buy or stream the album wherever, so that Doja can take care of her cat. …

Like an angel of bygone-history, scarlet Love Bailey asserts the past is old news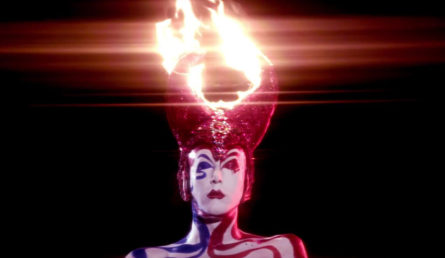 It's time to demand better, newer, next. Most of us are sick of normalities that only appease the hetero-typical American psycho. Here enters Love Bailey; bedecked in scarlet, her flesh and bones made a sanctuary for all us lost and wayward children. Like an angel of bygone-history, Love asserts that the past is old news. Filmed in the California desert at her very own Savage Ranch, Love's "Hollywood Hooker" is a reminder you can easily be redeemed, just choose a night to slather it all the way up!
We got in touch with Love to hear straight from the Hollywood Hooker's mouth what this moment in her career means to her, and the queer community more widely.
So, who is the Hollywood Hooker? Whether you're selling couture or selling your ass, we are all hookers in this together!
Where does she come from? Tinseltown
Now that there's nothing left for her to prove, what does she want? To Trojan Horse Hollywood giving more opportunities to woman & minorities and less power to greedy men in suits like Harvey Weinstein.
Over at Bullett, you discussed the role that Heidi Fless played in the foundation of the Savage Ranch. If she is the Hollywood Madame, is the Hollywood Hooker her heiress? Is this moment a way for her to stake a claim to her inheritance?  The last thing I remember Heidi saying to me before she got evicted from the ranch was, "You can't even suck dick for $5 dollars." As she chucked my beaded gowns out the second story window. …

A sudsy new video supports the anthemic and club-ready single.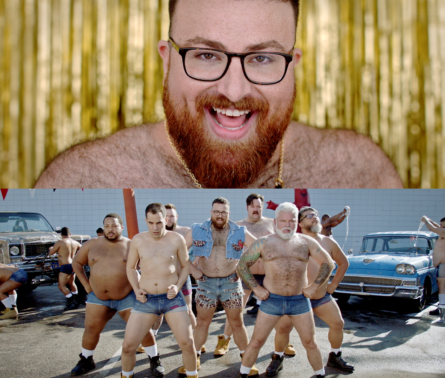 Big Dipper is back with a camp spectacular. The new music video for "Lookin," directed by Tobín del Cuore, features dancers of every shape and age and is right on time for Pride season. This car wash fantasy celebrates the bodies that Instagram won't, and we'll help too! Decked in daisy dukes and Timbs, and sporting a a fresh cut by New York's own Best Barber, Big Dipper leads the sort of zany highly choreographed affair that we might have expected from the AAA Girls before Willam's amorality tore the trio apart. "Lookin" evokes the infectiously joyful energy that radiates from your screen when Jiggly Caliente death-drops and tears up the stage. It's thick and sudsy, upbeat and brash. If you've ever got lost on Growlr, this will go right up your alley. The bearlesque affair even serves pasties and tassels on one dancer's cakes. This video was developed by gay science to leave you gagged, face-cracked and shooketh.
The track itself was produced by So Drove, who has worked with Cupcakke and Kreayshawn in the past. Like any drag queen's best club track, the beat on Big Dipper's latest is anthemic and club-ready. His vocals are deep and more masculine than Pitbull's, serving a funny irony 'cause we never really hear men talk about being so consumable. But that's why we love bears. Like Shawn Mendes' entire last album or Blue Franklin's viral hit "Licks," it's almost unnervingly seductive. With the sublime confidence of Cardi B, Big Dipper delivers an anthem for trade dudes everywhere. …

"It's not a bird, or a tree, it's a Mallrat with wings."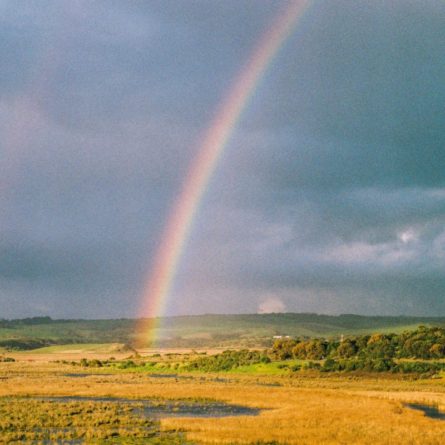 19-year-old Grace Shaw, performing under the name Mallrat has been harnessing her growing hype, from opening for Post Malone in Australia, then catching a wave, crashing in  Brisbane, and eventually finding herself at SXSW. And now, she's released her second EP, In the Sky (Nettwerk Music Group Inc).
Following 2016's Uninvited (2016), Mallrat builds on her ennui-laden pop style, though she has ditched some of the teenage exuberance from Uninvited for an atmosphere that's a bit more threatened — a bit darker, and more fevered. At the same time, however, she's grown surer of herself. She is never lost in the EP's exacting, hypnotic, and glowing production, and at times the immediacy of her voice is almost confrontational as on the chorus of the album closer, "Make Time" where she sings "I hope you'll be home real soon / It's getting dark and getting cold / I'm getting tired, you're getting old." Her songwriting is a bit like an early Lily Allen on "Groceries" ("Really sorry about your broken heart / I'm trying to walk on broken glass.")  Not just because of her pronounced Australian accent, but also by her sharp and detail-driven lyricism, her penchant for unexpected polysyllabic rhymes, and her agile, not-quite-rapping flow through fragmented beats.
Throughout In the Sky, she articulates the strange sort of self-death that takes place as one succeeds beyond the limits of their circumstances. With a painfully wrought honesty reminiscent of Lorde's Pure Heroine, Mallrat both begs for her rapture and aches not to lose the love she's known. …

The first in a series showcasing the artist's multifaceted practice.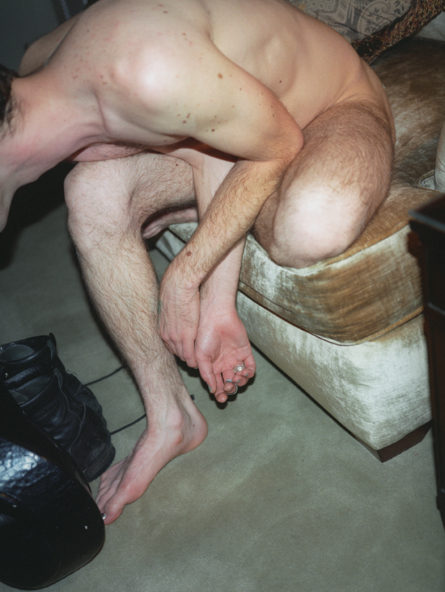 Best known as the frontman of alt-rock band R.E.M., Michael Stipe is an artist in the most far-reaching sense of the word. His distinct vocals are hard not to recognize thanks to the popularity of tracks like "Losing My Religion" and "Shiny Happy People". Stipe has also worked extensively in film, founding two production companies and acting as the executive producer behind well-known independent hits like like Being John Malkovich and Velvet Goldmine. His circle of friends — musicians Natalie Merchant, Tori Amos, Thom Yorke, Courtney Love, and the late Kurt Cobain,  just to name a few — reads like a who's who of the 90's alternative rock scene. It should comes as no surprise that Stipe would extend his practice into the realm of the visual for his latest project — a photo book.

Volume I is the first in the series "presenting different aspects of Michael Stipe's multifaceted artistic practice." Here Stipe and co-collaborator Jonathan Berger work with photographs; there are thirty-five in total and through them Stipe plays an array of roles. He moves fluidly between subject, photographer, and curator, putting together his own photographs with found pieces from his collection. Present in condensed form are 37-years of Stipe's artistic practice of creating and collecting materials, and he involves the two practices in Volume 1 as he conflates "figures in his own life with those in American history and popular culture," focusing specifically within his experience as a queer man.

The book features many of his friends, lovers and fellow artists. …

Listen:

Dissect Podcast

When my friends in high school were listening to Sublime and Ben Harper (my school was full of hippies) I was listening to Common, Mos Def, Talib Kweli and Outkast. Most hip hop back then (it's still not perfect, but it's better) was blatantly homophobic. It was really bad, and tough to listen to as a queer kid. I guess I could have just stuck to Britney and Xtina, they weren't calling anyone a faggot in their lyrics (don't get me started on Katy 'Ur So Gay' Perry) but I genuinely loved hip hop. I got way more from a lyric like "the flower that grows in the ghetto knows more about survival than the one from Flushing Meadows. It got love for the sun, that's where I'm comin from." than "Hit me baby one more time." Mainstream hip hop in 2018 is a world a way from where it was when I was in high school. Homophobia is less tolerated and we have queer artists like Frank Ocean who are universally beloved. Which brings me to Dissect. It's a podcast from Spotify that pulls apart songs exploring the deeper meaning behind them. Season 3 is dedicated to Frank Ocean and from the first two episodes I can not recommend it enough. I have learned so much about Frank and the inspiration for his music (he has some brilliantly random influences). Each episode this season will explore a different song from Channel Orange and Blonde. Please go add it to your podcast list immediately. And Frank, if you're reading this, shoot us an email, we should do a cover, or just hang out and watch old movies. I'm fine with either —tom
Available on all podcast platforms.
"Basura" is out now.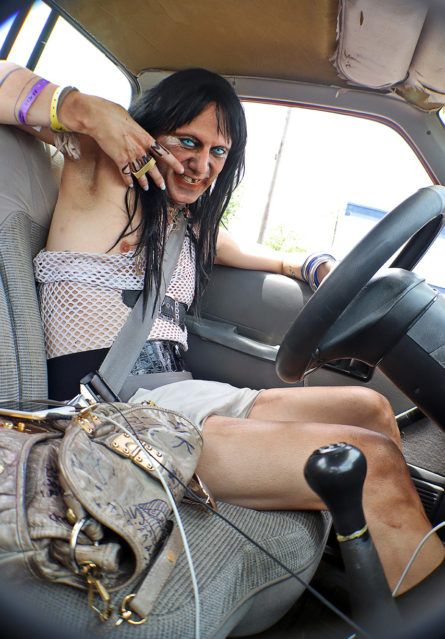 My very first introduction to Christeene was at the D.C. gay bar Trade. A friend sprung up from his seat running and shouting "Christeene! Christeene!" towards a strange looking woman dressed in ripped fabric, heeled leather boots and doting a bulky handbag. Christeene, when she turned around, had shoddy black bangs that wanted to cover her fierce blue contacts, and a space between her two front teeth to boot. It was a look so out of the ordinary you had no choice but to look. Not to mention she spoke with a lisp. Regardless of her appearance, she seemed nice.
Christeene — the character created by Paul Soileau — has been making music for the better part of a decade. Her gritty, transgressive queer music shocks on the surface level, but her sophisticated avant-garde approach to music has caught the attention of fashion big-wigs like Rick Owens and the international fag-rock audience.
When Slava Mogutin told us he was headed to Austin, Texas to spend some time photographing the performer at home, we knew they would be images worth seeing. Published here for the first time, Christeene and Slava's collaboration looks dystopian — it's as if the only thing left on earth are farm animals and one super chic punk-femme.
In between their photos they took some time to talk too, which you can read below:
Slava Mogutin: How do you introduce your new album, Basura, in comparison to the last one. …

Jesse St. John's new single is the queer-pop song of the summer.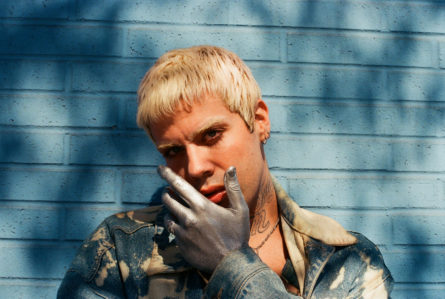 "Fake It", the new single by LA-based singer and songwriter Jesse St. John feels like a queer contender for 2018's song of the summer. Musically it's bright, fun and pop-heavy, which makes sense considering Saint John has written songs for Britney Spears, Charli XCX and Brooke Candy. He's also worked with singer-turned-Real Housewife of Beverly Hills Erika Jayne on her song XXPEN$IVE. "Fake It" has a total LA vibe to it too, it's the sort of song you'll want to blast in the car with the top down if that's your thing. You can hear the Britney influence but it's there with a bloghaus, Ed Banger kind of edge. "Fake It" has me seeing glitter and palm trees, not sunglasses and Advil. It's exciting, too, to see the force behind many of today's gay icons coming out with his own stuff. It feels like St. John is part of a burgeoning queer renaissance within pop music, material not just targeted toward us but written by us. What with Troye Sivan and Kim Petras eating up the charts, music – along with every other industry – is certainly having a queer moment.
It's clear, though, that St. John creates more than just a fun pop song. On "Fake It" his lyrics are ultra-relatable and contemporary, capturing the unique emotions that come with being queer in the social media age. He sings, "Ever make you feel like a fraud, living just so people see it, wish that I was pretty enough to not think hard." St. …

Event:

SSION ALBUM RELEASE

Did you pick up your copy of GAYLETTER Issue 8? If you answered no, I suggest you change that. We featured a bunch of beautiful, beautiful people, and among them is pop-music-alt-damsel Cody Critcheloe, better known as SSION. When Cody told us he had a new album coming out we got super excited. He had just released "Comeback," which tells the story of an old flame returning to the appropriate lover who is more than willing to accept that skank back. It's also a pretty obvious play on words. Ssion hadn't released new music since 2012, so a new single six-years later is most definitely a comeback. "O," out on May 11th, is Ssion's third studio album and to celebrate the release he's throwing a cute party at Mission Chinese. There's going to be food, drinks and he'll be playing the album. I'm stoked about it because when we got together to create his feature for Issue 8 (with Slava Mogutin) he was telling us all about how he made it in a basement in LA. Cody said he just kept inviting people to be on the album so that it had the flavor of a mixtape, like something corny you'd curate in high school, but with indie-pop and indie-rock royalty (Sky Ferreira, Devendra Banhart, Ariel Pink). The official singles, "Comeback," "Heaven Is My Thing Again," and "At Least the Sky Is Blue" (check out our behind the scenes coverage) have been on my Apple Music repeats for a while now. I am eager and ready for more! —Chris Stewart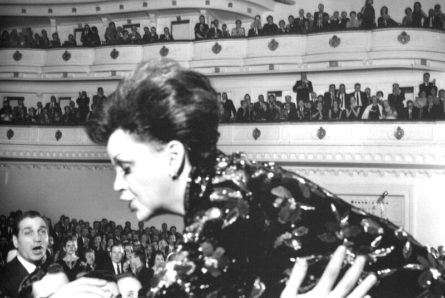 April 23, 1961 — I wish I'd been alive to experience this unforgettable night in queer, musical, and American history. At 8:30pm — or maybe 8:45pm — Judy Garland took to the stage at Carnegie Hall where she'd go on to perform for nearly two hours, making international headlines with one of the many comebacks that would define her career. It was, and remains (at least in my book) the single most important performance of the 20th century; dubbed by critics, super fans and attendees as "the greatest night in show business history." In the audience were Rock Hudson, Julie Andrews, Debbie Reynolds, Henry Fonda, Richard Burton and a slew of other queens you can hear hollering throughout the Capitol Records recording of the show that soon won five Grammy awards, including Album of the Year and the first-ever award for Best Female Vocal Performance.
The concert was recorded, mind you, unbeknownst to Judy herself and the evening proved once more that she was the consummate vocalist, one who could 'wow' for hours on end, not to mention live, and with the support of only an orchestra. Name someone who can do that today and win a Grammy for it — I can't! You can't either. This record, which remained at number one for thirteen weeks, pushing Elvis from the top spot, is still in print: a monumental achievement, a body of work unto itself, and something worth celebrating.
I suggest cancelling your Sunday afternoon plans, buying your favorite bottle of wine (or something stronger), and shutting yourself in to listen from start to finish — you won't regret it. …

MUSIC:

CARDI B'S "INVASION OF PRIVACY"

The first time I ever heard of Cardi B was in 2015 when she was on Love and Hip Hop New York. My then-boyfriend introduced me to her and I've been hooked ever since. (My first ever drag performance was a lip-sync to her iconic "Foreva," which itself was co-opted from an iconic moment of hers on the show. The performance was as extra as you can imagine.) I've been waiting ever so patiently for new music from this "regular degular shmegular" queen ass bitch from the X. "Bodak Yellow" last year got me so thirsty and then "Cartier Bardi" was a nice Christmas gift. Four months later, here we are, finally with that new album, Invasion of Privacy, a record with a little bit of everything. We have those lead singles, a couple features (Chance the Rapper, Kehlani, SZA to name a few), some pop a la "Be Careful", trademark slays, "Knick knack patty whack, give a dog a bone / Ima flex like a board, I'm a 10 she a toy / Stupid hoe, unimportant, unattractive, unemployed," in "Bickenhead" and "They said by now that I'll be finished / Hard to tell / My little 15 minutes lasting long as hell, huh?" in "I Do." There are some self references, which I always love, particularly in the opening track. We even have a rap ballad — "Thru Your Phone" — that is the source of the album's title and, presumably, a personal account of how she found out Offset was cheating on her. "I Like It" is a veritable Latin bop, one of the album's highlights for sure. The standout though has to be "Best Life" with Chance the Rapper. His verse is solid but Cardi's flow is too good, there's so much internal rhyme that I can't help but keep it on repeat. I could keep going but I'm not going to, go listen for yourself! —Connor Atkins
Wherever you stream your music