Performance:

NOT NORMAL: INTERSECTION, CORPORATE DOUBLE TEAM AND THE ORANGUTAN

Every morning CNN accompanies my coffee and at times it can feel like I am watching some kind of theatrical event. Broadcast news in the Trump age is like Weekend Update. Perhaps the strangest aspect of the 24-hour news cycle in 2017 is that the anchors laugh on television — and not at their personal whims — just about the bullshit they have to tell the world. I wonder, then, how profoundly gratifying Not Normal: Intersection, Corporate Double Team & the Orangutan will be. Each title represents a different play that will be performed by various casts at Brooklyn's Irondale Ensemble Project. I'm sure you're thinking "meh, I can just pass this off because it's a bunch of quasi-avant-garde Leftys performing some form of public catharsis," but we mustn't forget to hear each other out as we sink further in this shit-pile of a presidency. Maybe theatre is not your cup of tea, but why not try out Irondale's month-long programming of "Fuck Trump." GAYLETTER's friend Chris Tyler wrote Corporate DoubleTeam, where Trump's at Mar-a-Lago (not untrue) "so Jared Kushner, Stephen Miller and Donald Trump, Jr. decide to jack off together in the Oval Office." I mean, this might as well be true. It's important to laugh a little. These kind of directives keep me inspired and sane! —Chris Stewart
An annual festival featuring all types of queer performances, Drag king and Queens, bands, vendors, DJ's and lectures.
A queer refuge and artist commune, created by Love Bailey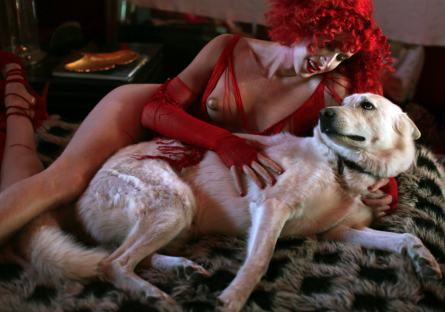 "I consider family to be my chosen family and like to nurture creative energy around me," Love Bailey tells us while meditating on her Savage Ranch, a recently conceived queer commune just south of Los Angeles. But The Savage Ranch, and its queer artist community-building, isn't Bailey's first, or only, exploit: if you haven't yet heard this name, you've been missing out on a fire performer, designer, and artist in her own right. (Pro-tip: Girl's got an Instagram to keep your thumbs sore).
Bailey got her start as a dancer at a startlingly young age, and moved onto develop an artist persona through working in fashion and music that cannot be confined into any singular discipline. An elusive "Scarlet woman of the wild west," Bailey caught our attention a while ago, but this new project of hers is just too damn.. stimulating for us to not prod a bit more…seriously: watch The Savage Ranch promo here — we bet you'll be peeping flights to LAX shortly after.
And check out our exclusive interview with Love Bailey where she shares some her own words of wisdom on The Savage Ranch and other things queer.
The Savage Ranch and its aims feel so pertinent — especially right now. Could you start us off with some uplifting words for any readers to whom finding a queer community like yours might feel distant, even impossible? The Savage Ranch is an intentional creative community located in the Southern California Desert. …


You only have a couple more days to see Justin Vivian Bond's incredible Bipolar Express. It's on until the 23rd at Joe's Pub. We went last night, and as usual at a J.V.B. show, had a marvelous time. It's holiday show, but very loosely. It's basically Justin on stage with three other musicians (hi Nath Ann!) telling stories and singing all manner of songs (some about Xmas, some about abortion). It's everything you could hope for from a J.V.B. show. We were really longing to see Justin after the cluster fuck that has been 2016. Justin, of course, discussed the election. Most interestingly V talks about it in relation to V's mother who voted for Trump. Justin also told a story about being asked to be in a PSA video decrying Trump's fascist behaviour. Justin said the first line of the the script required V to say something along the lines of "I'm scared." But Justin wasn't having it. "I'm not fucking scared" V told the producer. "I'm angry." "What should be the opening line then?" asked the producer. "I don't know, how about 'Fuck off, you fucking fucks!'" It got a big laugh from the audience, and just like the rest of the show, it was exactly what we needed to hear. —tom
Get tripped out in Arrie Davidson's new performance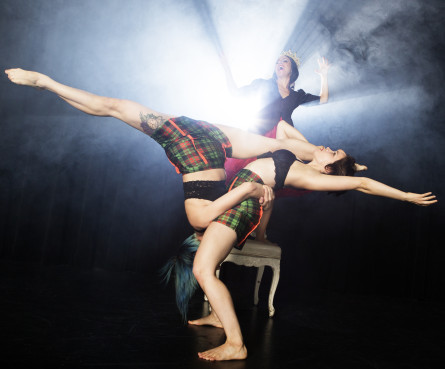 There are a lot of Alice in Wonderland remakes out there, but have you ever seen one with a trans White Rabbit, nude ballet dancing, and a pretty twisted rendition of Eurythmics' "Sweet Dreams?" I didn't think so.
Rid your memories of that awful Tim Burton version by checking out a performance of Wonder/Through the Looking Glass Houses, playing at Dixon Place this weekend and next. The kaleidoscopic dance theater performance is by Arrie Davidson, a trans performance artist, choreographer, and writer, and features her "socially progressive" dance company, KineticArchitecture.
Arrie has taken a loooottttt of liberty with Lewis Carroll's classic tale, giving the boot to the Queen of Hearts and turning the White Rabbit (played by Arrie herself) into the star vixen of the show. There's a real "old hollywood" moment where White Rabbit pulls up a chair, sits in front of a spotlight, and reminisces on all the rabbit roles she's lost to perkier, younger women. From Jessica Rabbit to Playboy Bunny covergirl, Arrie's monologue serves as a poignant and quirky extended metaphor for the difficulties trans creatives face in Hollywood.
This reimagining of Carroll's topsy-turvy world— one full of interactive game shows and top 40 music— feels fresh and boundary-breaking. Is it remotely faithful to the origin story? Hell no. But as White Rabbit quips to Alice at one point, while both enjoying a dollar slice on stage, "What does it matter?!"

Performance:

Penny Arcade's Longing Lasts Longer

We went to see Penny Arcade's latest show, Longing Lasts Longer, at St Ann's Warehouse last Saturday night and were enchanted from the moment we heard her from outside the theater welcoming the audience to their seats until the moment she left the stage. Not many people can hold your attention for 75 minutes, alone on an empty stage, but Ms. Penny Arcade can! She is an incredible documentarian of New York's cultural life. This show is an autopsy of a city that once was. But don't call it nostalgia! She quickly destroys that notion. It turns out Penny isn't a fan of any of the last 5 decades. The 60's were dangerous, the 70's had hideous clothes, the 80's were soulless, in the 90's you couldn't tell the artists from the capitalists and the 2000's to today have all been a blur. This show is so much more than Penny complaining. Penny takes the audience on a journey through the historical heart and soul of the city ending in a transcendent moment of self-acceptance. I walked out of the theater inspired and grateful. I was grateful for everything this city has been and continues to be, and I was grateful for Penny. She is a real treasure. Longing Lasts Longer is required viewing. —tom
Jordan Seavey's play proves gays can do monogamy too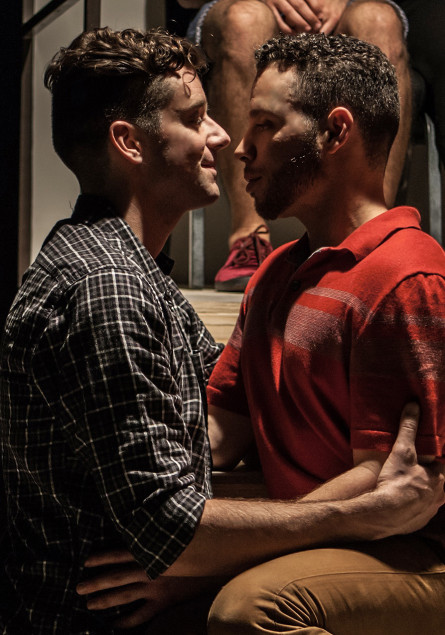 I started off watching the new play Homos, or Everyone in America silently pissed I wasn't in the cute beginning stages of my own relationship. As I watched Michael Urie (who played the fab Marc St. James on Ugly Betty) and Robin De Jesús (In the Heights) tenderly go through their awkward first kisses and learn everything about the other, from daddy issues to contrasting opinions on poppers, I couldn't help but feel inclined to re-download Tinder on to my phone.
And then things actually got real, gurl. Majorly real.
Written by Jordan Seavey, the heartstring-tugging play depicts all the saccharine highs, lows, and in-between moments of a modern-day queer relationship. The story takes place over the years of 2006-2011, the audience receiving timestamps through things like Urie's and Jesús' characters meeting each other through Friendster (which I forgot was ever a thing) and living in pre-gentrified Williamsburg.
Seavey does a fabulous job of not only illustrating the beauty of monogamous queer relationships, but — just like with heterosexual relationships — the difficulties and occasional mundanity of them. As the story hopscotches around time, the audience is left alone to piece together what breaks this star-crossed couple apart and the tragic event that reunites them.
When the play was over, I walked out of Bank Street Theater enjoying the sharp cold air and my singlehood — call me "emotionally unavailable," but I'll stay off Tinder for now.
Homos, or Everyone in America is running at Bank Street Theater now through December 11, 2016. …


I went to Lady Bunny's show 'Trans-Jester' last week at the Gay bar, and National Historic Landmark, the Stonewall. I gotta say, this bitch is crazy, and trust me that's a good thing. She's absolutely insane in the best possible way. The show was supposed to close on October 1, but because of its popularity it has been extended, so aren't you lucky? "In addition to new parodies which re-work selections from Adele, Rent and Bruno Mars to hilarious, effect punctuated by zany Laugh-In style zingers, Bunny has widened her repertoire to include some actually insightful social commentary. (Well, she thinks it's insightful, anyway.) Trashing the current overemphasis on political correctness..." Trans-Jester is what we expect from a good drag show and more, Lady Bunny dances, talks about RuPaul (they've have been friends for yeaaaaaaaars) and sings/lip-synchs songs. Some of the ones I remember went like this: "...please don't give me white cock," and "black cock got me hooked..." I think this was in the same song. Lady Bunny reminded me why drag queens should exist, and why it really is a true artform that only those with talent can do right. Miss Bunny is inappropriate, and super fun, you'll have a good laugh! Click here for showtime and tickets. —abi
MUSIC:

Amber Martin's 'A.M. Gold'

Amber Martin is a dear friend to GAYLETTER. We have written about her performances at Joe's Pub and with Nath Ann Carrera as part of Witch Camp. Amber even performed as Reba McEntire at one of our Pride Balls. She is immensely talented and super sweet. She reached out to us recently to inform us about the release of her new album, A.M. Gold, at Joe's Pub this Thursday night (October 6). The album features "special guests Jake Shears and Kate Bornstein, as well as NYC players Claudia Chopek, Nath Ann Carrera, Paul Leschen and Brett Every. Also, two of the songs will be featured in John Cameron Mitchell's forthcoming movie, How To Talk To Girls At Parties, with Nicole Kidman and Elle Fanning. ("Bermuda" and "Bright Lights, Long Shadows")". Thursday night is your first chance to hear the new album. Considering the talented people involved in it, I'm sure it'll be a night filled with famous faces and unforgettable performances. Amber never disappoints! —tom
Event:

MoMA PS1's Back to School Benefit

This sounds nuts and bananas in all the right ways. Created by performance artist Ryan McNamara (pictured here making out with the wall), for one night only, he will turn MoMA PS1 into a high school. "Across MoMA PS1's entirely empty galleries, artists will assume the stereotypical roles of moony art teachers, intimidating PE coaches, goths, jocks, and cheerleaders — but their activities will be anything but typical. Roam the hallways to enjoy participatory performance works, an open bar, and nostalgic childhood snacks, culminating with an epic dance party in the gymnasiums." Artist involved include Morgan Bassichis, Claire Bishop, Nikki Columbus, FlucT, Nelly Furtado, Jessica Mitrani, Sam Roeck, Jacolby Satterwhite, Justin Strauss, and more. Yes, you read that name right, Nelly "I'm Like A Bird" Furtado is one of the performers. Ryan has been working with Nelly recently. At a party we went to at the Boom Boom Room during fashion week, Ryan choreographed the dancers that performed behind her. It was super cute. Can't wait to see what she does at MoMA. —abi