MUSIC:

Jake Shears [of Scissor Sisters] & DJ Sammy Jo

It's been a hot minute since Jake Shears (of the Scissor Sisters) has been out and about playing music. At least that I'm aware of. I apologize if he's been performing all over the shop and I've just missed it. Anyways, back to the point of this post. Jake is performing this Sunday at 7pm at Elsewhere, which is a "new music venue & arts space in Bushwick, Brooklyn, built by the team behind the former Glasslands Gallery." There is scant information about this event, but if you've ever seen the Scissor Sisters live, then you'll know that Jake puts on a fabulous show. When I was a baby gay I saw them perform in Melbourne, Australia. I was so jet lagged after flying back from Vietnam the day before. I had a terrible cold which I made worse on the flight back by drinking a lot of whiskey (I thought it would be antiseptic for my sore throat). Needless to say when I got to the show I didn't feel like dancing, then Jake got on the mic with Ms. Ana Matronic and the rest of the band, and my symptoms and complaints disappeared. I had so much fun, and I'm sure you will too this Sunday at Elsewhere. Also, listen to his latest song Creep City. —tom
Art:

Opening Night-Zanele Muholi for Performa 17 Biennial

The Performa 17 Biennial is upon us once again; this year's event is taking place November 1-19 in various pockets throughout New York City. Best known for her series of black and white photographs Faces and Phases, commissioned artist Zanele Muholi (pictured) explores the intersection of intrapersonal and interpersonal politics for LGBTI people across the globe. As an extension of this ongoing project, Muholi has created a body of work to display in public in conjunction with her #VisualActivism campaign reaching across social media platforms. She aims to unite various groups of queer people of color throughout the city with her work, and it all starts with the opening reception of Muholi's contribution for Performa 17 set to take place at Yancey Richardson Gallery. Her solo exhibition will display two series, Brave Beauties and Somnyama Ngonyama ("Hail the Dark Lioness") from November 2-9. According to the gallery, Muholi "uses portraiture as a form of exposure to disrupt the dominant images of black women in the media today and to bear witness to both the brutality and the joy of black, queer, lesbian, and transgendered individuals in South Africa." Muholi's focus on long-term activism and community building are central pillars of queer history, and this work is more important now than ever before. —gayletter

A few summers ago, I wish I could remember when but my memory is blurred because it was in Fire Island, I met the Canadian choreographer Joshua Beamish. He was staying at the house that I was visiting — this was during the Fire Island Dance Festival. I remember I saw him in the morning, about 11am relaxing in the pool on top of a floatie while I was already sipping on a Bloody Mary. (This is what I mean about not remembering much). I do recall during the weekend the amazing dance performance he was part of. He was performing with two other lovely dancers (one of them helped me with my Beyoncé's choreography late one night). I just went to see Joshua's new show Saudade (a MOVETHECOMPANY production) at BAM in Brooklyn. It's happening this entire week until Sunday, October 15 at 3pm. "Saudade, a Portuguese word with no English equivalent, refers to a deep emotional state of nostalgic longing for an absent love. It often carries a repressed knowledge that the object of longing might never return. In a tribute to the most romantic of melancholies, Beamish leads six male dancers to confront their existential incompleteness." Saudade is an intimate, subtle, sexy, sensual performance with a meditative, calming effect to it. It was also very homoerotic in case you are into that. Be sure to check it out. —abi
Some new faces at the popular drag festival Bushwig 2017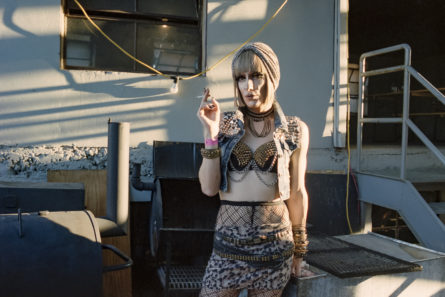 Founded by Horrorchata — a local though now more visible Brooklyn nightlife star and promoter — Bushwig began in 2012. Having doubled in attendance every year since its debut, 2017's iteration was held at the picturesque Knockdown Center in Queens. The two-day boutique performance and music festival billed nearly 80 performers both known and unknown on the circuit, reaffirming their commitment to "fostering innovation and creativity in performance."
This year delivered shows from rising stars such as Candy Sterling, Untitled Queen, Wednesday Westwood, Suburbia, and Kandy Muse, to name very few, plus New York City staples like Charlene, Tyler Ashley and Merrie Cherry. Alyssa Edwards, who most recently starred in RuPaul's Drag Race All Stars Season 2, headlined Saturday night at the festival. I had many people ask me, "Are you going to Bushwig?" while working GAYLETTER's table at Printed Matter's Art Book Fair.
We sent Jason Leavy, who introduced himself at NYC's DragCon, to Bushwig to photograph some of the standout personas who, though not slated to perform, still came in top-notch looks. "Bushwig proved to be an amazing local event, but somehow still dragged me out of urban New York," Leavy said. "The Knockdown Center was laid out perfectly, and had ample space for exploring and making friends. My favorite area, known properly as 'Love Down Low', boasted tattoos, seriously delicious food, cinema, and gorgeous natural light. I was glad to hear that it seemed like there was a balance of Bushwig first-timers versus returning queens."
Taking pictures during the earlier portion of the all day event, Leavy captured delicate portraits of knockout Queens on 35mm. …

The fans who nearly stole the show at RuPaul's DragCon NYC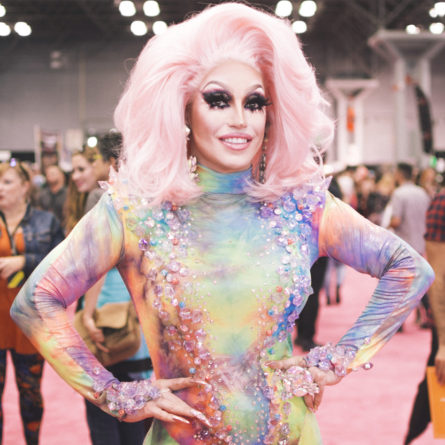 You are probably wondering what queens of the pink carpet are. Well, let us explain this to you right away. For those of you who haven't attended RuPaul's DragCon, upon entering, your day is made all the more fierce by a pink hand-tufted carpet that doubles as both a runway and a stage and is the length of a football field. Yeah, it's gaggy!
While we were excited to see so many familiar Drag Race faces within our midst, the queens of the pink carpet are those who arrived in full looks and wore determined expressions on their painted faces. Traveling from all over the northeast corridor and some from across the globe, these girls nearly stole the show from the queens we've come to love and hate from their time on TV.
Violet Chachki, Miss Fame, Vander Von Odd, the Boulet Brothers, Trixie Mattel, Michelle Visage and T.S. Madison were all in attendance, plus RuPaul Charles himself and reigning Miss Drag Superstar, Sasha Velour. Queens offered photos, merchandise, or limited edition products at their booth, and though we were really impressed by the many talented artists exhibiting and selling at DragCon, we were most impressed by some looks.
New York has a large drag community, with countless hometown girls having walked their tucks onto Ru's runway, so for the convention to finally touch down in the city was — for many attendees – a toot. After taking an hour or two to see who was hot and who was not, plus a brief run in with our favorite punk from season 8, Laila McQueen, we hit the convention grounds with our photographer Connor Atkins to stop a few queens of the pink carpet and pick at their brain beneath the wig to see what was up in their wonderful, international world of drag. …

Performance:

S.U.C.K. PRESENTS – CHRISTMAS IN JULY

This event is presented by S.U.C.K. (Stand Up Comedy Klub), which is "a monthly show hosted by a coalition of six of NYC's most intriguing comics, performers, and weirdos: Hank Browning, Samantha Fontana, Gregory Lotsvin, Shane O'Neill, Jill Pangallo, and David Perez." From that list we know Shane pretty well, he's a sweetheart and an a really unique person. Often when people say someone else is "unique" it's a shady way of saying they're a weirdo, but we like weirdo's, so we'd just say that. We just mean that Shane is unlike anyone else, and that's why we love him. So back to the show, I don't know how I didn't lead with this, but for this edition of the show, they have "gay legends Cole Escola and Joel Kim Booster" as their special guests. "Gay Legends" that is a stupid term. Cole Escola is simply a legend. He is brilliant on Difficult People, but even better in his self-produced YouTube videos that NEVER fail to have me rolling on the floor with laughter. Celebrating Christmas in July, sure, why not? Their Facebook page describes this stand-up show as their "transparent excuse to make out under mistletoe…" Ok, work! —t&a
Party:

METRO SENSUAL PRESENTS NINA BONINA LIVE

This is the most exciting news I have received this week. I am a huge fan of Nina Bonina Brown since the first episode of this season's Rupaul's Drag Race Season 9 when she walked down the runway with her head painted like a peach and said "take a bite of this peach." As far as I'm concerned, Nina should be the winner of this season or at least top 3. I've never seen any queen with this approach to makeup and that padding...her looks are just nuts in the best possible way. Again, Frankie Sharp brings us another Rupaul's Drag Race queen to his party Metro Sensual at Metropolitan. Thank You Frankie. He's also Djing with La'Fem Ladosha and Dicap. Plus, "$en$ual gent$" Nico, Richard and Teo — they are going to be shaking their asses on stage just so we can have some extra entertainment. I'm hoping that Nina gives us another look with a fruit, an animal, or some other object as her head. It's Nina Bonina banana fofana Osama Bin Laden Brown boom boom. —abi
Follow the unlikely couple's prom misadventures at Baxxside High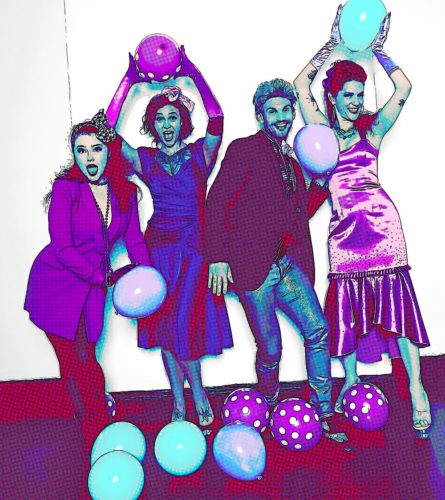 After that god-awful release of Mean Girls 2, it seemed agreeable that the teen-movie prom queen narrative carried itself to the grave, but Chris Harder's take on the story in his show, Nasty Drew and That Harder Boy…The Secret of the Prom Queen Curse was more than refreshing. Bringing the house down with each and every burlesque performance, the legendary cast of the show includes Nasty Canasta, Pearls Daily, Sapphire Jones, Miz Cracker, and, of course, Chris Harder.
With a cast sexier than MTV's Teen Wolf (which I didn't think was possible), we follow Nasty Drew and That Harder Boy as they go back to high school to investigate an alleged prom queen curse at Baxxside High. Along the way, Nasty Drew and That Harder Boy meet the school's head bitch in charge, Becky, and her loyal sidekick, Candace, who make it very clear that the prom queen title is already taken. Following the formula of high school misadventure, the previously undisputed crowning is jeopardized, and the regularly scheduled high school drama ensues.
Nods to classics like Heathers and The Breakfast Club had me screaming at every reference I could catch and every scrunchie I could spot. Be sure to have a cocktail before and during to ensure you're rum'd and ready to relive one of the most important moments of the high school experience. Trust, with a sexy troupe like this, it's way more fun than you remember.
The show returns this weekend at the iconic Laurie Beechman Theatre on May 5 and later in the month on the 19th. …

She got filthy!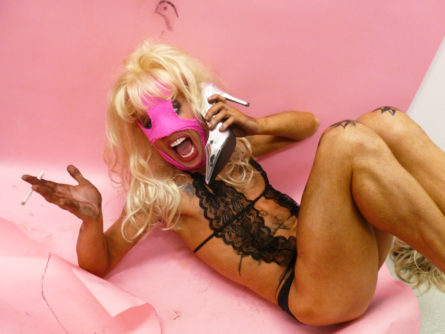 On the evening of May 11, 2015, the world watched with gaping mouths and finger-snapping YAAASSS BITCHes as Kennedy Davenport wiped the stage with Katya Zamolodchikova in a lip sync battle for their lives. Katya, the blond, kooky, insecure, Soviet-inspired, mostly pretty, very bendy audience favorite, was sent home from the competition. "Katya, you may doubt yourself sometimes, but I have no doubt that you are a star. And a hammer, and a sickle," RuPaul said. "Now, sashay away." Today, Katya is a star — an All Star, actually — but this isn't about her.
This past winter, we invited one of our favorite collaborators, Slava Mogutin, into the studio for a photoshoot. Born in Siberia, Slava spent his early adult years as an acclaimed writer and journalist in newly post-Soviet Moscow. As one of few openly gay voices in Russian media, he pushed hard on the country's barely-there tolerance for homosexuality. By 1995, facing threats of criminal convictions and jail time, he was forced to flee, with the United States granting him political asylum.
So we decided to pair Slava with Katya Zamolodchikova. Get it? They speak Russian; they have Soviet roots; they're gay. Instead, Brian McCook arrived. Brian is the Boston-born performance artist whose life has been linked to his Katya character since her breakout success on RuPaul's Drag Race. But one of the first things he told us was, "I'm not doing Drag Race drag today, OK?" What followed was a chaotic collaboration between two formidable artists. …