Follow the unlikely couple's prom misadventures at Baxxside High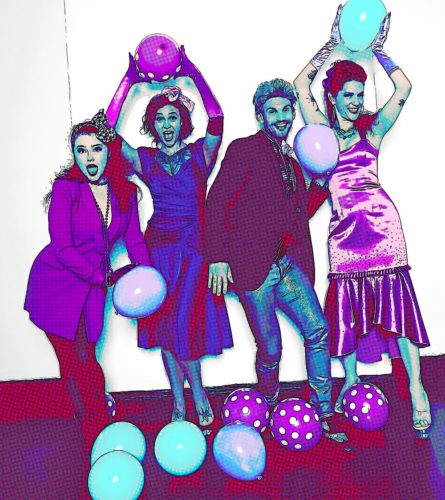 After that god-awful release of Mean Girls 2, it seemed agreeable that the teen-movie prom queen narrative carried itself to the grave, but Chris Harder's take on the story in his show, Nasty Drew and That Harder Boy…The Secret of the Prom Queen Curse was more than refreshing. Bringing the house down with each and every burlesque performance, the legendary cast of the show includes Nasty Canasta, Pearls Daily, Sapphire Jones, Miz Cracker, and, of course, Chris Harder.
With a cast sexier than MTV's Teen Wolf (which I didn't think was possible), we follow Nasty Drew and That Harder Boy as they go back to high school to investigate an alleged prom queen curse at Baxxside High. Along the way, Nasty Drew and That Harder Boy meet the school's head bitch in charge, Becky, and her loyal sidekick, Candace, who make it very clear that the prom queen title is already taken. Following the formula of high school misadventure, the previously undisputed crowning is jeopardized, and the regularly scheduled high school drama ensues.
Nods to classics like Heathers and The Breakfast Club had me screaming at every reference I could catch and every scrunchie I could spot. Be sure to have a cocktail before and during to ensure you're rum'd and ready to relive one of the most important moments of the high school experience. Trust, with a sexy troupe like this, it's way more fun than you remember.
The show returns this weekend at the iconic Laurie Beechman Theatre on May 5 and later in the month on the 19th. …

She got filthy!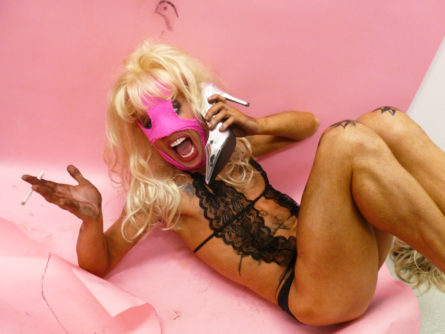 On the evening of May 11, 2015, the world watched with gaping mouths and finger-snapping YAAASSS BITCHes as Kennedy Davenport wiped the stage with Katya Zamolodchikova in a lip sync battle for their lives. Katya, the blond, kooky, insecure, Soviet-inspired, mostly pretty, very bendy audience favorite, was sent home from the competition. "Katya, you may doubt yourself sometimes, but I have no doubt that you are a star. And a hammer, and a sickle," RuPaul said. "Now, sashay away." Today, Katya is a star — an All Star, actually — but this isn't about her.
This past winter, we invited one of our favorite collaborators, Slava Mogutin, into the studio for a photoshoot. Born in Siberia, Slava spent his early adult years as an acclaimed writer and journalist in newly post-Soviet Moscow. As one of few openly gay voices in Russian media, he pushed hard on the country's barely-there tolerance for homosexuality. By 1995, facing threats of criminal convictions and jail time, he was forced to flee, with the United States granting him political asylum.
So we decided to pair Slava with Katya Zamolodchikova. Get it? They speak Russian; they have Soviet roots; they're gay. Instead, Brian McCook arrived. Brian is the Boston-born performance artist whose life has been linked to his Katya character since her breakout success on RuPaul's Drag Race. But one of the first things he told us was, "I'm not doing Drag Race drag today, OK?" What followed was a chaotic collaboration between two formidable artists. …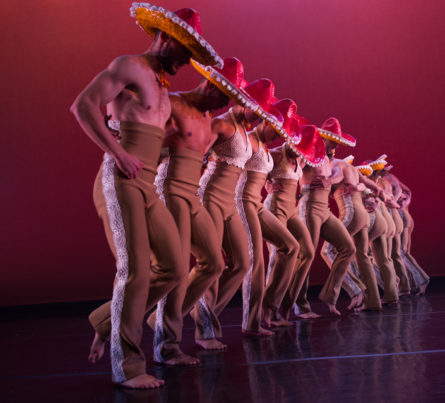 Earlier this week we attended the Ballet Hispánico at the Joyce Theater (that's running from April 18-23, 2017) and the show slayed. The legendary Latino dance organization founded by dancer and choreographer Tina Ramirez in 1970 carefully celebrates the vibrance of Hispanic dance and the rigor of traditional ballet with their breathtaking performances. Their current showing features all-female choreographers, including Annabelle Lopez Ochoa, Michelle Manzanales, and Tania Perez-Salas. "Our Joyce program this year showcases the talents of three exciting Latina choreographic voices," said Eduardo Vilaro, Artistic Director and CEO of Ballet Hispánico. "Ballet Hispánico's commitment to presenting diverse perspectives has never been stronger or more necessary." The Joyce theatre is a fabulous place to unwind and be entertained — the night promises a bold mix of technical precision, thoughtful reflection, raw passion, and irreverent humor, all fitting together to deliver something unique. Expect silky white caftans which flow extra wide with their stilted arm extenders, male on male dancing, slicked back hair and tight buns.
Many of the dances are centered around the drama of Latin fashion — the first of three short but dynamic acts begins with a single female given a powerful presence in a red dress with a long train which she throws from one muscled male dancer to another. We gagged! In another, the performers wear orange and yellow sombreros with a tongue-in-cheek nod to Cheech Marin's song Mexican-Americans. The range of the performers is stunning. They effortlessly move from flamenco to contemporary between steps — from one style of movement to another to without hesitation. …

Party:

METRO*Sensual with Rupaul Drag Race's Charlie Hides Live!

Until you've been to the /r/rupaulsdragrace subreddit, you may not know how far a carry can go. These internet children go in really deep to get a gag. As I'm writing this, an image from our Katya story, in the latest issue of GAYLETTER, is trending in the "hot" section. The magazine isn't even in stores yet and we're pretty sure we never posted this spread online. Yet, there she is. Every member of the subreddit chooses a queen from the current season to appear next to their username. Before Season 9 began airing, the community was feeling Nina Bonina Brown (duh), Shea Couleé (sure), Sasha Velour (I see it), and, Charlie Hides. These kids clearly know everything, so I've been leaning on trust for that last one. However, I'm not confident the show has done her justice. Luckily, this Saturday, Charlie Hides is performing for the second installment of RuPaul's Drag Race Season 9 Brooklyn Rusidency at Metropolitan Bar. Can't stand to watch another queen lip sync? That's fine, gal! Charlie Hides decidedly, defiantly, and demonstrably does not lip sync. She sings live. And she's funny. And she's very sweet. I'm excited to shed her edit and meet the Charlie that built up her decades-long reputation. Drag shows at Metro are about as intimate as it gets — you see it all. It's the perfect chance to begin a reddit career with some exclusive footage of the Dame herself. Then for the rest of the night, Frankie Sharp and La'Fem Ladosha will be DJ'ing. Hopefully the back patio will be open and bumping too. So stay all night, they've got what you need. —Bill Ivy
Performance:

NOT NORMAL: INTERSECTION, CORPORATE DOUBLE TEAM AND THE ORANGUTAN

Every morning CNN accompanies my coffee and at times it can feel like I am watching some kind of theatrical event. Broadcast news in the Trump age is like Weekend Update. Perhaps the strangest aspect of the 24-hour news cycle in 2017 is that the anchors laugh on television — and not at their personal whims — just about the bullshit they have to tell the world. I wonder, then, how profoundly gratifying Not Normal: Intersection, Corporate Double Team & the Orangutan will be. Each title represents a different play that will be performed by various casts at Brooklyn's Irondale Ensemble Project. I'm sure you're thinking "meh, I can just pass this off because it's a bunch of quasi-avant-garde Leftys performing some form of public catharsis," but we mustn't forget to hear each other out as we sink further in this shit-pile of a presidency. Maybe theatre is not your cup of tea, but why not try out Irondale's month-long programming of "Fuck Trump." GAYLETTER's friend Chris Tyler wrote Corporate DoubleTeam, where Trump's at Mar-a-Lago (not untrue) "so Jared Kushner, Stephen Miller and Donald Trump, Jr. decide to jack off together in the Oval Office." I mean, this might as well be true. It's important to laugh a little. These kind of directives keep me inspired and sane! —Chris Stewart
An annual festival featuring all types of queer performances, Drag king and Queens, bands, vendors, DJ's and lectures.
A queer refuge and artist commune, created by Love Bailey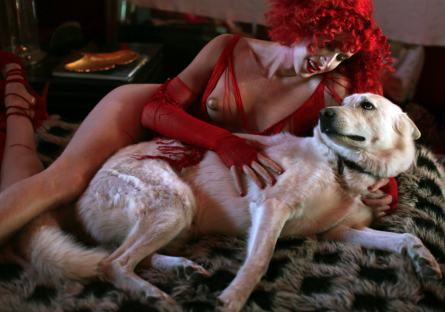 "I consider family to be my chosen family and like to nurture creative energy around me," Love Bailey tells us while meditating on her Savage Ranch, a recently conceived queer commune just south of Los Angeles. But The Savage Ranch, and its queer artist community-building, isn't Bailey's first, or only, exploit: if you haven't yet heard this name, you've been missing out on a fire performer, designer, and artist in her own right. (Pro-tip: Girl's got an Instagram to keep your thumbs sore).
Bailey got her start as a dancer at a startlingly young age, and moved onto develop an artist persona through working in fashion and music that cannot be confined into any singular discipline. An elusive "Scarlet woman of the wild west," Bailey caught our attention a while ago, but this new project of hers is just too damn.. stimulating for us to not prod a bit more…seriously: watch The Savage Ranch promo here — we bet you'll be peeping flights to LAX shortly after.
And check out our exclusive interview with Love Bailey where she shares some her own words of wisdom on The Savage Ranch and other things queer.
The Savage Ranch and its aims feel so pertinent — especially right now. Could you start us off with some uplifting words for any readers to whom finding a queer community like yours might feel distant, even impossible? The Savage Ranch is an intentional creative community located in the Southern California Desert. …


You only have a couple more days to see Justin Vivian Bond's incredible Bipolar Express. It's on until the 23rd at Joe's Pub. We went last night, and as usual at a J.V.B. show, had a marvelous time. It's holiday show, but very loosely. It's basically Justin on stage with three other musicians (hi Nath Ann!) telling stories and singing all manner of songs (some about Xmas, some about abortion). It's everything you could hope for from a J.V.B. show. We were really longing to see Justin after the cluster fuck that has been 2016. Justin, of course, discussed the election. Most interestingly V talks about it in relation to V's mother who voted for Trump. Justin also told a story about being asked to be in a PSA video decrying Trump's fascist behaviour. Justin said the first line of the the script required V to say something along the lines of "I'm scared." But Justin wasn't having it. "I'm not fucking scared" V told the producer. "I'm angry." "What should be the opening line then?" asked the producer. "I don't know, how about 'Fuck off, you fucking fucks!'" It got a big laugh from the audience, and just like the rest of the show, it was exactly what we needed to hear. —tom
Get tripped out in Arrie Davidson's new performance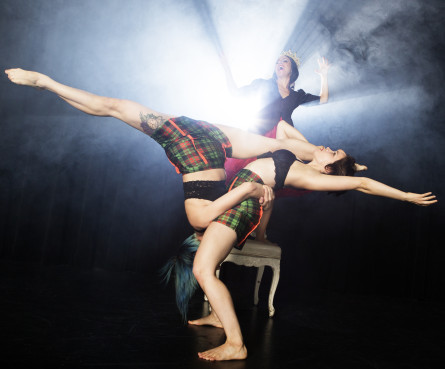 There are a lot of Alice in Wonderland remakes out there, but have you ever seen one with a trans White Rabbit, nude ballet dancing, and a pretty twisted rendition of Eurythmics' "Sweet Dreams?" I didn't think so.
Rid your memories of that awful Tim Burton version by checking out a performance of Wonder/Through the Looking Glass Houses, playing at Dixon Place this weekend and next. The kaleidoscopic dance theater performance is by Arrie Davidson, a trans performance artist, choreographer, and writer, and features her "socially progressive" dance company, KineticArchitecture.
Arrie has taken a loooottttt of liberty with Lewis Carroll's classic tale, giving the boot to the Queen of Hearts and turning the White Rabbit (played by Arrie herself) into the star vixen of the show. There's a real "old hollywood" moment where White Rabbit pulls up a chair, sits in front of a spotlight, and reminisces on all the rabbit roles she's lost to perkier, younger women. From Jessica Rabbit to Playboy Bunny covergirl, Arrie's monologue serves as a poignant and quirky extended metaphor for the difficulties trans creatives face in Hollywood.
This reimagining of Carroll's topsy-turvy world— one full of interactive game shows and top 40 music— feels fresh and boundary-breaking. Is it remotely faithful to the origin story? Hell no. But as White Rabbit quips to Alice at one point, while both enjoying a dollar slice on stage, "What does it matter?!"

Performance:

Penny Arcade's Longing Lasts Longer

We went to see Penny Arcade's latest show, Longing Lasts Longer, at St Ann's Warehouse last Saturday night and were enchanted from the moment we heard her from outside the theater welcoming the audience to their seats until the moment she left the stage. Not many people can hold your attention for 75 minutes, alone on an empty stage, but Ms. Penny Arcade can! She is an incredible documentarian of New York's cultural life. This show is an autopsy of a city that once was. But don't call it nostalgia! She quickly destroys that notion. It turns out Penny isn't a fan of any of the last 5 decades. The 60's were dangerous, the 70's had hideous clothes, the 80's were soulless, in the 90's you couldn't tell the artists from the capitalists and the 2000's to today have all been a blur. This show is so much more than Penny complaining. Penny takes the audience on a journey through the historical heart and soul of the city ending in a transcendent moment of self-acceptance. I walked out of the theater inspired and grateful. I was grateful for everything this city has been and continues to be, and I was grateful for Penny. She is a real treasure. Longing Lasts Longer is required viewing. —tom