When I met Abigail Lewis she pulled out a few inches of very thin glass. "So, I'm making clothes out of this idea," she said. She told me it was borosilicate, most commonly used in the medical profession, but that there was underwear, shoes, a bra and some other pieces at her studio in Harlem. Fast forward 3 months later, and Abigail — designing under A/DAPHNE — will finally unveil her hand-woven glass structures. "_IN is a collaborative performance installation in a bedroom. Lit by cell phones and computer screens, five artists will interpret glass garments by A/Daphne while reacting to the bedroom as a site of self-imagining and public solitude. Aarron Ricks, Alexandra Marzella, Craig Monteith, Nash Glynn, and Whitney Vangrin confront related themes of vulnerability, the body, gender, sexuality, social entrapment, and transparency. As a mode of self-presentation and a social construct, clothing is dependant upon its wearer, and from this stance A/Daphne facilitates the perspective of artist-as-wearer." The cast — who all have backgrounds in various performance styles — will wear A/Daphne designs and channel their own styles of performance into the clothing medium. On view at the decadent space currently under the control of curator Emma James, viewers are invited into the space at their own discretion. Having seen the pieces and met the cast, I know the evening will be sexy, as well as totally serene. When I asked the cast what they were planning, they laughed. "To rehearse would be to lose all authenticity," said Aarron. _IN will extend A/Daphne's interest in the material paradoxes of glass, how it is both fragile and strong, protective and threatening. —Chris Stewart

On Tuesday the latest issue of The New Yorker arrived in my mailbox. Naturally, I screamed. Joan Acocella, for those who do not know, is a staff writer for the magazine covering mostly dance, and sometimes other shit, but her dance writing is where it's at. I breezed through her most recent article on Terrence McNally's "Fire and Air." The play follows the mythic relationship between the Ballets Russes' Sergei Diaghilev and the camptastic Vaslav Nijinsky. "The play has only one set," Acocella explained. "Two gilt-edged mirrors, a scattering of gilt chairs — and only six characters." It turns out, GAYLETTER knows one of the actors. James Cusati-Moyer is "much handsomer than the real Nijinsky," according to Acocella. I can attest to that. James is gorgina. Directed by John Doyle (at Classic Stage Company), Fire and Air explores the "rich history" of iconic-lovers Diaghilev and Nijinsky during their time spent working inside of the iternant dance company. I haven't seen the show, but I desperately want to. The stage-direction mostly calls for scenes backstage with the characters in the company, so the script details Nijinsky's past lover, Prince Lvov (there's a whole other juicy gay-romance there), and his hairy ass. Lord knows I love a furry hole — I guess Nijinsky did too! —Chris Stewart
From Black Box to Black Velvet, the dance artist explores being an "other."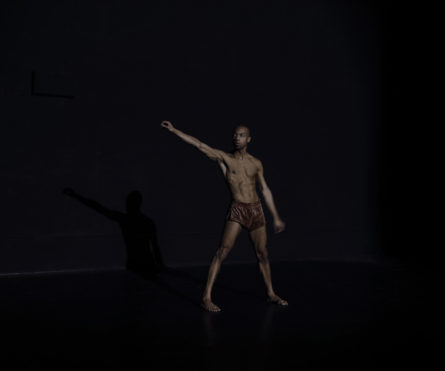 Last year, GAYLETTER had the privilege of seeing Shamel Pitts' stunning solo show Black Box – Little Black Box of Red at the 14th St. Y Theatre. We were amazed by the physicality of the performance in combination with the multimedia effects of sound, set pieces, lighting, and projection. After the performance we became aware that the work was originally performed in Pitts' apartment in Tel Aviv for an intimate crowd, then later at Suzanne Dellal Center for Dance and Theatre in Tel Aviv, and then again as part of the APAP Showcase in New York.
Pitts returned to the 14th St. Y Theatre early in 2018 with Black Velvet. He allowed us to photograph the rehearsal and answered some of my questions I had about the new work and his partnership with artist Mirelle Martins.
How did these different spaces and audiences change the performance and the message Black Box carried? Black Box, is a personal testament shared with universal sentiment.  It is very crucial to the work that the audience feels the intimacy of their viewing. The viewing should feel almost like seeing the performance through a peep hole. The lighting artist for Black Box, Tom Love, manages to keep this intimacy of viewing through how he focuses and scales the light projection. The only light source in the work is through a projector, which projects only black light into the performance space. My job as the performer is to allow myself to be seen, and yet to know that I am alone.  …

Performance:

RYAN McNAMARA'S BATTLEGROUND

Abi and I spent the entire ride from 77th St. to Spring St. talking about Ryan McNamara's "Battleground." The performance lasted a little over an hour and when we stepped out of the theatre, I lit a cigarette, Abi sparked a joint, and we got to gushing over the performance. Trained as a photographer and sculptor, McNamara started receiving buzz after his "Make Ryan a Dancer" premiered at MoMA PS1. Since then, his work has been seen globally and is celebrated as well as slandered by art-fags and the beau monde alike. I sound camp because I feel strongly that a huge part of McNamara's work lies in the total buffoonery of gay men and LGBT society. "Battleground" was commissioned by The Guggenheim in 2016 and is a "battle ballet" showcased through a series of vignettes. Returning for three nights, McNamara uses the brusque architecture of Frank Lloyd Wright to highlight the good, the bad, the ugly, and every odd nook and cranny in between. It is equal parts performance and dance. With a cast of nine, the troupes of three cruise through every part of the theatre; behind you, beside you, above you, with a soundtrack that is no doubt an ode to gay-clubs. Sylvester, Sade and Suzi Lane propel the dancers through the choreography that mixes Vogue-poses and stealthy, svelte interpretations of modern and ballet. There is a talk-back style interlude where McNamara discusses his love of threes and refuses the word "repertoire" that is so often used as a placard for artists working through dance. Call him what you want, but the work is a cult-like delicacy really most enjoyed by anyone who's willing to forget everything they know about dance performance. The current works are already legend, and in 10 years they'll be even more cunt. It's selling out fast. I wouldn't want to see this on tour. —Chris Stewart
Caustically hilarious, this new play questions the gay aggregate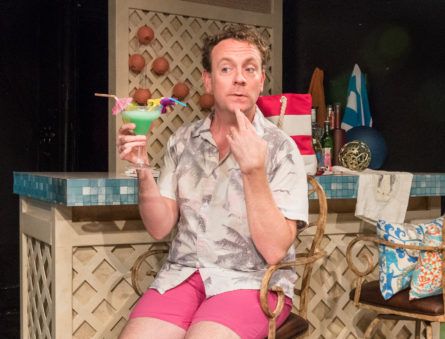 There's a new insult comic in town that makes Bianca del Rio look like Farrah Moan. His name is Gerry and he's the sole character embodied by the uproarious Drew Droege ( "Chloë," and "Drunk History,") in the caustically hilarious and timely new play, Bright Colors And Bold Patterns. Hell hath no fury like a bitter queen with a margarita, as you may know, and no Mary is safe around Gerry.
Bright Colors And Bold Patterns is written and performed by Droege (pictured) with direction by the splendid Michael Urie (the star of the season's smash revival, Torch Song). Josh and Brennan are old time friends of Gerry who are about to tie the knot in sunny, turbo-gay Palm Springs on the most serene of Saturday afternoons. "However, the night before becomes a drunken, drug-fueled riot, because Gerry has arrived, furious that their invitation says 'Please refrain from wearing bright colors or bold patterns.'" This tiny wardrobe request mobilizes the show's underlying sustenance and posits big questions; "In the struggle for equality, what do we really want? What do we lose? And is there any cocaine left?" The show ruminates over these timeless struggles for equality. Only the last question can be answered; it's safe to assume Gerry's bumped the last of the cocaine.
Throughout the 80 minutes (there is no intermission), Gerry rips through myriad topics from pop culture to his own gripes while the audience, along with the other wedding guests, watch from a poolside set. …


Harvey Fierstein's trailblazing play about the complexities of gay identity during the late 70s/early 80s has blazed back onto the New York theater scene, and it's burning for just a little while longer. Torch Song centers on Arnold Beckoff (Michael Urie), a femme queen also known to her audiences at the Industrial Stud as Virginia Hamm (think Magnolia Crawford meets Trixie Mattel): she's cynical, disillusioned, and funny as fuck. The play follows Arnold as he navigates love and loss in gay New York City and beyond. It's bitingly hilarious (watching Arnold get fucked in a backroom while having an entire conversation with the audience is one of the funniest things I've ever seen) and totally heartbreaking, especially when Arnold and his mother duke it out during her visit from Florida (my mom and I were weeping and laughing during their entire exchange). You only have a few days left to see this show, so you better sprint there before it closes. It's playing at 2econd Stage Theater through December 9th. Tickets range in price. —gayletter
Masihambisane - On Visual Activism as part of Performa 17
MUSIC:

Jake Shears [of Scissor Sisters] & DJ Sammy Jo

It's been a hot minute since Jake Shears (of the Scissor Sisters) has been out and about playing music. At least that I'm aware of. I apologize if he's been performing all over the shop and I've just missed it. Anyways, back to the point of this post. Jake is performing this Sunday at 7pm at Elsewhere, which is a "new music venue & arts space in Bushwick, Brooklyn, built by the team behind the former Glasslands Gallery." There is scant information about this event, but if you've ever seen the Scissor Sisters live, then you'll know that Jake puts on a fabulous show. When I was a baby gay I saw them perform in Melbourne, Australia. I was so jet lagged after flying back from Vietnam the day before. I had a terrible cold which I made worse on the flight back by drinking a lot of whiskey (I thought it would be antiseptic for my sore throat). Needless to say when I got to the show I didn't feel like dancing, then Jake got on the mic with Ms. Ana Matronic and the rest of the band, and my symptoms and complaints disappeared. I had so much fun, and I'm sure you will too this Sunday at Elsewhere. Also, listen to his latest song Creep City. —tom
Art:

Opening Night-Zanele Muholi for Performa 17 Biennial

The Performa 17 Biennial is upon us once again; this year's event is taking place November 1-19 in various pockets throughout New York City. Best known for her series of black and white photographs Faces and Phases, commissioned artist Zanele Muholi (pictured) explores the intersection of intrapersonal and interpersonal politics for LGBTI people across the globe. As an extension of this ongoing project, Muholi has created a body of work to display in public in conjunction with her #VisualActivism campaign reaching across social media platforms. She aims to unite various groups of queer people of color throughout the city with her work, and it all starts with the opening reception of Muholi's contribution for Performa 17 set to take place at Yancey Richardson Gallery. Her solo exhibition will display two series, Brave Beauties and Somnyama Ngonyama ("Hail the Dark Lioness") from November 2-9. According to the gallery, Muholi "uses portraiture as a form of exposure to disrupt the dominant images of black women in the media today and to bear witness to both the brutality and the joy of black, queer, lesbian, and transgendered individuals in South Africa." Muholi's focus on long-term activism and community building are central pillars of queer history, and this work is more important now than ever before. —gayletter

A few summers ago, I wish I could remember when but my memory is blurred because it was in Fire Island, I met the Canadian choreographer Joshua Beamish. He was staying at the house that I was visiting — this was during the Fire Island Dance Festival. I remember I saw him in the morning, about 11am relaxing in the pool on top of a floatie while I was already sipping on a Bloody Mary. (This is what I mean about not remembering much). I do recall during the weekend the amazing dance performance he was part of. He was performing with two other lovely dancers (one of them helped me with my Beyoncé's choreography late one night). I just went to see Joshua's new show Saudade (a MOVETHECOMPANY production) at BAM in Brooklyn. It's happening this entire week until Sunday, October 15 at 3pm. "Saudade, a Portuguese word with no English equivalent, refers to a deep emotional state of nostalgic longing for an absent love. It often carries a repressed knowledge that the object of longing might never return. In a tribute to the most romantic of melancholies, Beamish leads six male dancers to confront their existential incompleteness." Saudade is an intimate, subtle, sexy, sensual performance with a meditative, calming effect to it. It was also very homoerotic in case you are into that. Be sure to check it out. —abi
Some new faces at the popular drag festival Bushwig 2017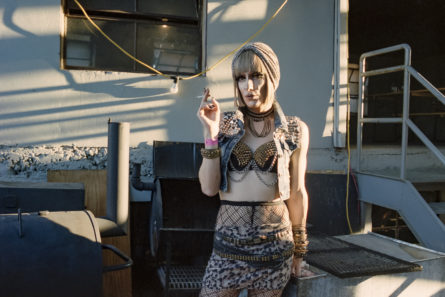 Founded by Horrorchata — a local though now more visible Brooklyn nightlife star and promoter — Bushwig began in 2012. Having doubled in attendance every year since its debut, 2017's iteration was held at the picturesque Knockdown Center in Queens. The two-day boutique performance and music festival billed nearly 80 performers both known and unknown on the circuit, reaffirming their commitment to "fostering innovation and creativity in performance."
This year delivered shows from rising stars such as Candy Sterling, Untitled Queen, Wednesday Westwood, Suburbia, and Kandy Muse, to name very few, plus New York City staples like Charlene, Tyler Ashley and Merrie Cherry. Alyssa Edwards, who most recently starred in RuPaul's Drag Race All Stars Season 2, headlined Saturday night at the festival. I had many people ask me, "Are you going to Bushwig?" while working GAYLETTER's table at Printed Matter's Art Book Fair.
We sent Jason Leavy, who introduced himself at NYC's DragCon, to Bushwig to photograph some of the standout personas who, though not slated to perform, still came in top-notch looks. "Bushwig proved to be an amazing local event, but somehow still dragged me out of urban New York," Leavy said. "The Knockdown Center was laid out perfectly, and had ample space for exploring and making friends. My favorite area, known properly as 'Love Down Low', boasted tattoos, seriously delicious food, cinema, and gorgeous natural light. I was glad to hear that it seemed like there was a balance of Bushwig first-timers versus returning queens."
Taking pictures during the earlier portion of the all day event, Leavy captured delicate portraits of knockout Queens on 35mm. …

The fans who nearly stole the show at RuPaul's DragCon NYC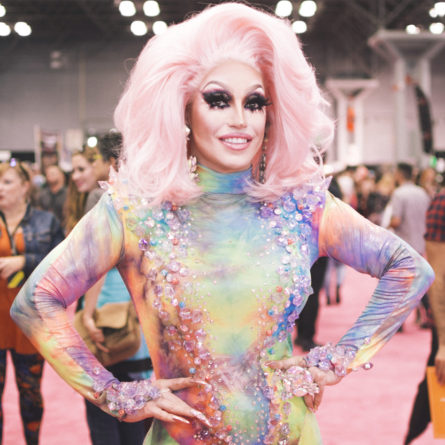 You are probably wondering what queens of the pink carpet are. Well, let us explain this to you right away. For those of you who haven't attended RuPaul's DragCon, upon entering, your day is made all the more fierce by a pink hand-tufted carpet that doubles as both a runway and a stage and is the length of a football field. Yeah, it's gaggy!
While we were excited to see so many familiar Drag Race faces within our midst, the queens of the pink carpet are those who arrived in full looks and wore determined expressions on their painted faces. Traveling from all over the northeast corridor and some from across the globe, these girls nearly stole the show from the queens we've come to love and hate from their time on TV.
Violet Chachki, Miss Fame, Vander Von Odd, the Boulet Brothers, Trixie Mattel, Michelle Visage and T.S. Madison were all in attendance, plus RuPaul Charles himself and reigning Miss Drag Superstar, Sasha Velour. Queens offered photos, merchandise, or limited edition products at their booth, and though we were really impressed by the many talented artists exhibiting and selling at DragCon, we were most impressed by some looks.
New York has a large drag community, with countless hometown girls having walked their tucks onto Ru's runway, so for the convention to finally touch down in the city was — for many attendees – a toot. After taking an hour or two to see who was hot and who was not, plus a brief run in with our favorite punk from season 8, Laila McQueen, we hit the convention grounds with our photographer Connor Atkins to stop a few queens of the pink carpet and pick at their brain beneath the wig to see what was up in their wonderful, international world of drag. …