Get tripped out in Arrie Davidson's new performance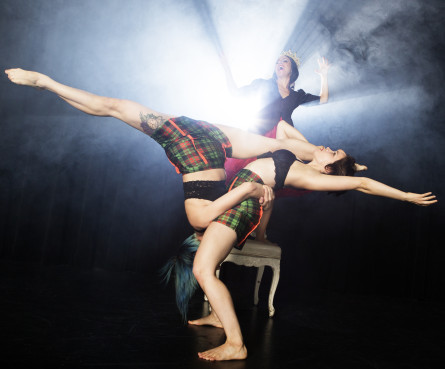 There are a lot of Alice in Wonderland remakes out there, but have you ever seen one with a trans White Rabbit, nude ballet dancing, and a pretty twisted rendition of Eurythmics' "Sweet Dreams?" I didn't think so.
Rid your memories of that awful Tim Burton version by checking out a performance of Wonder/Through the Looking Glass Houses, playing at Dixon Place this weekend and next. The kaleidoscopic dance theater performance is by Arrie Davidson, a trans performance artist, choreographer, and writer, and features her "socially progressive" dance company, KineticArchitecture.
Arrie has taken a loooottttt of liberty with Lewis Carroll's classic tale, giving the boot to the Queen of Hearts and turning the White Rabbit (played by Arrie herself) into the star vixen of the show. There's a real "old hollywood" moment where White Rabbit pulls up a chair, sits in front of a spotlight, and reminisces on all the rabbit roles she's lost to perkier, younger women. From Jessica Rabbit to Playboy Bunny covergirl, Arrie's monologue serves as a poignant and quirky extended metaphor for the difficulties trans creatives face in Hollywood.
This reimagining of Carroll's topsy-turvy world— one full of interactive game shows and top 40 music— feels fresh and boundary-breaking. Is it remotely faithful to the origin story? Hell no. But as White Rabbit quips to Alice at one point, while both enjoying a dollar slice on stage, "What does it matter?!"

Performance:

Penny Arcade's Longing Lasts Longer

We went to see Penny Arcade's latest show, Longing Lasts Longer, at St Ann's Warehouse last Saturday night and were enchanted from the moment we heard her from outside the theater welcoming the audience to their seats until the moment she left the stage. Not many people can hold your attention for 75 minutes, alone on an empty stage, but Ms. Penny Arcade can! She is an incredible documentarian of New York's cultural life. This show is an autopsy of a city that once was. But don't call it nostalgia! She quickly destroys that notion. It turns out Penny isn't a fan of any of the last 5 decades. The 60's were dangerous, the 70's had hideous clothes, the 80's were soulless, in the 90's you couldn't tell the artists from the capitalists and the 2000's to today have all been a blur. This show is so much more than Penny complaining. Penny takes the audience on a journey through the historical heart and soul of the city ending in a transcendent moment of self-acceptance. I walked out of the theater inspired and grateful. I was grateful for everything this city has been and continues to be, and I was grateful for Penny. She is a real treasure. Longing Lasts Longer is required viewing. —tom
Jordan Seavey's play proves gays can do monogamy too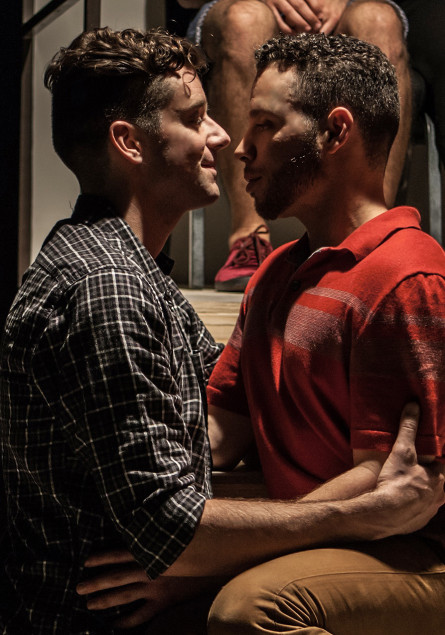 I started off watching the new play Homos, or Everyone in America silently pissed I wasn't in the cute beginning stages of my own relationship. As I watched Michael Urie (who played the fab Marc St. James on Ugly Betty) and Robin De Jesús (In the Heights) tenderly go through their awkward first kisses and learn everything about the other, from daddy issues to contrasting opinions on poppers, I couldn't help but feel inclined to re-download Tinder on to my phone.
And then things actually got real, gurl. Majorly real.
Written by Jordan Seavey, the heartstring-tugging play depicts all the saccharine highs, lows, and in-between moments of a modern-day queer relationship. The story takes place over the years of 2006-2011, the audience receiving timestamps through things like Urie's and Jesús' characters meeting each other through Friendster (which I forgot was ever a thing) and living in pre-gentrified Williamsburg.
Seavey does a fabulous job of not only illustrating the beauty of monogamous queer relationships, but — just like with heterosexual relationships — the difficulties and occasional mundanity of them. As the story hopscotches around time, the audience is left alone to piece together what breaks this star-crossed couple apart and the tragic event that reunites them.
When the play was over, I walked out of Bank Street Theater enjoying the sharp cold air and my singlehood — call me "emotionally unavailable," but I'll stay off Tinder for now.
Homos, or Everyone in America is running at Bank Street Theater now through December 11, 2016. …


I went to Lady Bunny's show 'Trans-Jester' last week at the Gay bar, and National Historic Landmark, the Stonewall. I gotta say, this bitch is crazy, and trust me that's a good thing. She's absolutely insane in the best possible way. The show was supposed to close on October 1, but because of its popularity it has been extended, so aren't you lucky? "In addition to new parodies which re-work selections from Adele, Rent and Bruno Mars to hilarious, effect punctuated by zany Laugh-In style zingers, Bunny has widened her repertoire to include some actually insightful social commentary. (Well, she thinks it's insightful, anyway.) Trashing the current overemphasis on political correctness..." Trans-Jester is what we expect from a good drag show and more, Lady Bunny dances, talks about RuPaul (they've have been friends for yeaaaaaaaars) and sings/lip-synchs songs. Some of the ones I remember went like this: "...please don't give me white cock," and "black cock got me hooked..." I think this was in the same song. Lady Bunny reminded me why drag queens should exist, and why it really is a true artform that only those with talent can do right. Miss Bunny is inappropriate, and super fun, you'll have a good laugh! Click here for showtime and tickets. —abi
MUSIC:

Amber Martin's 'A.M. Gold'

Amber Martin is a dear friend to GAYLETTER. We have written about her performances at Joe's Pub and with Nath Ann Carrera as part of Witch Camp. Amber even performed as Reba McEntire at one of our Pride Balls. She is immensely talented and super sweet. She reached out to us recently to inform us about the release of her new album, A.M. Gold, at Joe's Pub this Thursday night (October 6). The album features "special guests Jake Shears and Kate Bornstein, as well as NYC players Claudia Chopek, Nath Ann Carrera, Paul Leschen and Brett Every. Also, two of the songs will be featured in John Cameron Mitchell's forthcoming movie, How To Talk To Girls At Parties, with Nicole Kidman and Elle Fanning. ("Bermuda" and "Bright Lights, Long Shadows")". Thursday night is your first chance to hear the new album. Considering the talented people involved in it, I'm sure it'll be a night filled with famous faces and unforgettable performances. Amber never disappoints! —tom
Event:

MoMA PS1's Back to School Benefit

This sounds nuts and bananas in all the right ways. Created by performance artist Ryan McNamara (pictured here making out with the wall), for one night only, he will turn MoMA PS1 into a high school. "Across MoMA PS1's entirely empty galleries, artists will assume the stereotypical roles of moony art teachers, intimidating PE coaches, goths, jocks, and cheerleaders — but their activities will be anything but typical. Roam the hallways to enjoy participatory performance works, an open bar, and nostalgic childhood snacks, culminating with an epic dance party in the gymnasiums." Artist involved include Morgan Bassichis, Claire Bishop, Nikki Columbus, FlucT, Nelly Furtado, Jessica Mitrani, Sam Roeck, Jacolby Satterwhite, Justin Strauss, and more. Yes, you read that name right, Nelly "I'm Like A Bird" Furtado is one of the performers. Ryan has been working with Nelly recently. At a party we went to at the Boom Boom Room during fashion week, Ryan choreographed the dancers that performed behind her. It was super cute. Can't wait to see what she does at MoMA. —abi
Performance:

The Meeting* Hosted by Justin Sayre

The last event for The Meeting was cancelled and it was meant to celebrate Beyoncé. But then a benefit for BLACK LIVES MATTER was also canceled and Justin Sayre (pictured) felt that he could do something to help. He wrote on his Facebook page: "I have long supported the BLM movement and thought that I would use the platform to aide in some way this movement that I care so deeply about. The Show on the 18th will not be your typical edition of The Meeting*, I will be there, making some jokes, and talking to you of course, but we are refocusing the night to include voices from the Broadway and Theatre community that care deeply about this issue. I'm sorry if anyone feels cheated, but I have to believe that even Beyonce would approve." I personally think it's OK to ignore Beyoncé for a minute, I mean miss queen B gets celebrated non-stop, online and in the real world, so it's cool to take a break from her. For those of you that are not familiar with the monthly comedy variety show The Meeting  — it's "the gathering of the International Order of Sodomites, the centuries-old organization which sets the mythic Gay Agenda…" It has been called "hilarious and sardonic" by The Village Voice. I can't give you an accurate description of my experience because when I went I had too many martinis. I do remembered being entertained, but trust I was lit. —abi

Our dancer friend Eric Berey told us about this dance performance he's a part of with "this really cool artist Eddie Peake." He said it's all about sex. We strongly believe that sex still sells, so were like, ok Eric tell me more. "Eddie Peake's work fuses painting, sculpture, and musical and dance performance. He creates an artistic experience that builds on the history of these media to make a completely contemporary statement." Eric also told me that they'll be dancing "naked in body paint with live music." He said that the event is gonna be "LIT af," which if you know young millennial lingo means that it's good. I asked him if people are gonna be having sex at this event, he told me "no, but it's gonna be hot...don't get too excited." It's happening this Thursday, Friday and Saturday night — there's 3 boys and 2 girls in the performance and here's one more quote from their website: "Peake creates episodic performances in which bodies might switch between being seen as sculptural objects or complex human subjects, and in which emotions such as desire, jealousy, shame or power are played out using surreal or unexpected signifiers such as colored body paints or animal costumes." Got it! We're sold Eric. —abi
Performance:

Billy Lloyd at Joe's Pub

London-based queer electronic musician and vocalist Billy Lloyd is back in NYC for a performance at Joe's Pub at The Public Theater, one of our favorite places to see shows. When Earl Dax interviewed Billy for GAYLETTER he used the pronoun "he" but I just noticed on the Public Theatres' site they use "they." I don't know which one I should use, so I'm not going to use either. I'll just call Billy, Billy. In 2014  2014, Billy released Billy's first self-produced EP 'Who ( / ).' Cut to 2016 and Billy has released 'Who ( /// )' the 3rd instalment in the trilogies of EPs. Billy's music is very relaxing. It's introspective and often very haunting. Billy's cover of David Bowie's 'Heroes' is like floating on a cloud with an IV of Xanax in the arm. Billy is performing for one night only. We suggest you go see Billy. It'll be good for your blood pressure! —tom
Event:

BOFFO FIRE ISLAND PERFORMANCE FESTIVAL – AUG 26-28

We were in Fire Island last weekend and it was super crowded, that wasn't a good thing as it's always more relaxing with less people, but I guess if you don't have to go to the only supermarket there, or the overpriced wine shop or to the "cafeteria," then you can prob just chill at your house by the pool and ignore the crowds. I mean it was so basic there, this white man yelled at us because we were complaining that there were too many white generic men on the island: "If you're gonna talk shit about white people in front of me I have to speak up!" he spat at us. I mean what an idiot. Now that I've let that out, I am so glad that this weekend BOFFO is throwing their second annual Fire Island Performance Festival on the island — they really need some culture there. Their program is very good. Some of the performers include Tyler Ashley, Xavier Cha with Rafael Reynoso and Adonis Vasquez, Eartheater, Fluct, Fragile (Wolfgang Tillmans), M. Lamar, Pearl (from RuPaul's Drag Race), Casey Spooner, Ssion and many more. Expect "a weekend of performance, music, and dance made for the island's unique social and geographic context." We're big fans of Wolfgang Tillman's work and excited to hear about his "live band project" 'Fragile'. It was founded in 1983 and will return at the festival 33 years later. It "involves musicians from three continents in varying constellations... I'd say if you are not already there, browse the schedule, take a day trip, bring some greens and try to ignore the basics! —abi