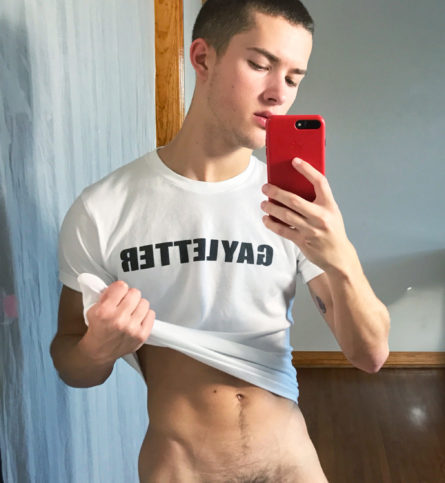 Sean is a 21-year-old hot little number from Little Rock, Arkansas — aka GlitterRock ("an escape from stupid conservative Republican Arkansas"). Sean first learned what it is to be gay when he was 6 or 7 years old. "I remember seeing news about the marriage equality fights that were happening in some states back then and I asked my parents about gay people. They're super liberal so they didn't say anything negative….I didn't actually know I was gay until 11 or 12. I figured it out how most people do… I had feelings for a boy in school. And feelings for Justin Bieber. Actually, Justin was probably who made me realize I was gay. I know he's super problematic sometimes but I still think he's hot…but like such a douche too." Bieber can get it!
Sean lost his virginity when he was a freshman in college. "It wasn't a boyfriend. Just some guy I met at a little campus pride parade that like 20 people went to. It was the first gay thing that I went to. He approached me and then we met a couple times and eventually had sex… Shortly after that, I came out to everyone in my life and made queer friends who opened my eyes to beautiful things that really saved me from my depression." His first romantic experience went all but swimmingly. "I was super naïve and thought it was serious and fell madly in love (and obsession) with this person and they broke up with me after like a month. …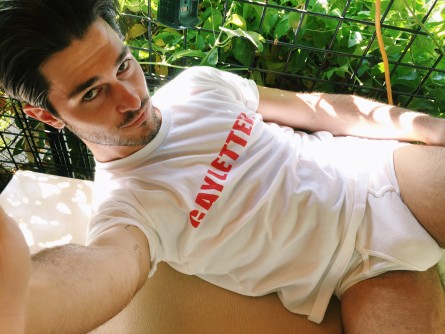 Jamison is a 25 year-old man from Los Angeles. He went to the University of Arizona and studied Theatre and Gender and Women's Studies. His dream? "Writing and directing super-stylish films" that transcend John Waters. He came out to his conservative parents at 13 — what a confident little pup! He wasn't in a relationship until much later, but he did fall in love with his little brother's best friend at the time. During his senior year of high school, Jamison lost his virginity to a cute college guy. He was only 17, but old enough to know that it was "blasé." Underwhelming sex is, hmm, the worst, but also part of the process.
His happiest moments are when he's surrounded by groups of creative people — his peers and lovers — "[those] who know how to have the best time and make me feel free, make me feel like my life is beautiful," he said. On the other hand, things coming to an end make him sad. "Every time I have a really great experience, something that was really life changing (a relationship, or traveling, or a dope party) — the end of it always leaves me feeling so empty. I think that emptiness is filled with sadness," he said.
He told us that he loves the inside of a man's thighs. He loves the softness and how it is simultaneously such a strong part of the body. It also houses his second favorite part of a man's body! …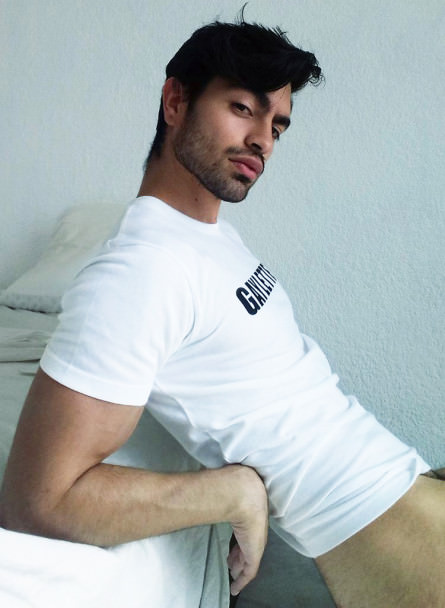 Jorge is a 26 year-old man and from Chihuahua, Mexico. Yes, Chihuahua. I know a lot of people reading this are only thinking of, like, Paris Hilton's dogs, but Chihuahua is a place — he actually just moved to Mexico City in December. "In Chihuahua you don't really see any guys holding hands in public and we still have this "macho" culture," Jorge tells us, but that didn't stop him. He came out to his mother when he was 15 because he was beginning to like boys, and just a year prior he lost his virginity to another guy. "We were horny, we liked each other and we were curious [but] it wasn't pretty. I was extremely nervous, on top of that his parents were home, I wanted that moment to feel more special," he says. As for women, Jorge hasn't even tried. "It's not my thing."
Jorge's favorite part of other guys are their legs, eyes and arms. He likes his own lips "because [they] are big and you can always bite them," but he's not just sex appeal, boys! He's honest too. He likes his eyes, "because I'm very transparent, so if I'm feeling very happy you can tell right away." That's adorable, right? But wait, it gets better, because playing video games makes him happy; as does being with friends, reading a good book, and "having a walk or taking my dog to the hills in Chihuahua while I ride my bike." Books? Dogs? Hills? I mean… If you're trying to score a date with him out in Mexico City, he would like it to be outdoors (no surprise there) with chit-chat about "good movies and books, and maybe a cup of coffee to finish the day." …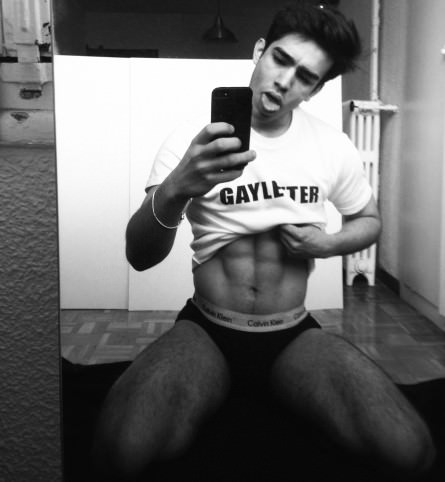 Jaime is 21 year old Fine Arts student who lives in Madrid Spain. He was born in Extremadura, Spain. Until three years ago he dated girls. However one day he started to experiment with an "especial" friend. One of his close friends told him at the time: "Jaime, you are in love with a boy! You have to accept it." Jaime seems cool with with being gay now — I am glad that his friend was able to give him such good advice. He told me about his first full sexual experience with a boy "It was a disaster, I didn't know what to do, and after that day it took me a while to be intimate with a guy again."

He's single at the moment, he told me that he's probably very busy with his studies, so that makes it more difficult to have other commitments. He usually meets boys from Instagram, through friends of friends and at parties — "I've met some at museums…My future husband will come out from an afternoon at the museum…" So, feel free to say hi to Jamie if you see him around, especially if he's looking at art (just don't clog his Instagram with direct messages.)
Jaime told me that his favorite kind of date is when a boy surprises him. He really loves that and he's into surprising others. He loves to drink wine on dates and says that he's a good listener. He sounds like a great catch. His favorite body part is his neck, he feels it's "the best erogenous zone." …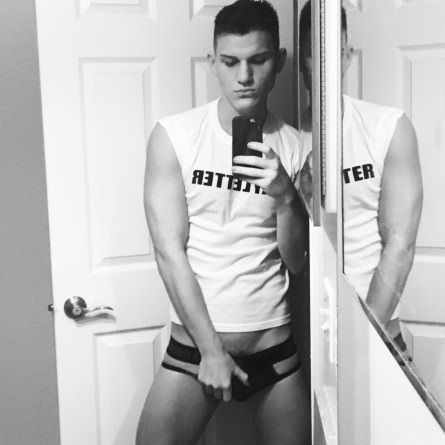 Meet Christian! He's a 23 year old Georgia peach. We asked him about his first sexual experience and he told us that he was "extremely sexual with girls in my early youth. Kissed dozens." But, fear not queens "girls are not my thing. I never, ever would cum with a chick." Females aside, Christian says he's liked boys for as long as he can remember, "probably about six or seven. I remember having fantasies about the male Real World cast members as a kid." It's here we must stop and acknowledge that Davis from the Real World Denver was a total twunk. He for sure could have been a Sean Cody model back in 2007; hopefully this was who Christian was fantasizing about, and not that queen Tyler… but at 19 Christian had his first sexual experience with a boy, and lost his virginity to his then boyfriend, at 20. Christian was slow to embrace his own sexuality, saying that he always fought it, but experiencing monogamy with another man opened his eyes. "Once I fell in love, it was like a brick wall. I had to face it and be honest with myself. It was a very passionate experience."

Christian went to school for communications but hopes to someday work in music. "My dream career would be working as A&R for a record label. Working with artists would be a dream." He also collects vinyl and loves to frequent record stores. With that being said, it's not surprising that Christian likes a man who can talk about art and music, "Muscles are nice, but good music taste is even better." …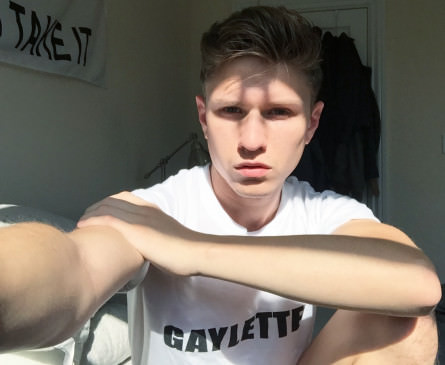 Meet Joey, the 22 year-old Miami born, San Antonio bred, New Yorker. One of 12 children, Joey came out to his siblings at age 14 — though they claim to have known way before he did. That being said, he isn't the only gay man in the family, his eldest brother likes men too, but there's "No lesbians, [in the family] unfortunately."
He is currently a practice manager, studying tax law and accounting at an NYC firm, but spends his free time exploring multiple artistic mediums. "I don't have a definite dream job. Instead I have my own silly idea of a balanced schedule. To me having this corporate job provides an opportunity to balance not only my financial sanity but comfortably explore my artistic needs as a composer who 'models'." He balances work and play, "I tend to invest a lot of my 'free' time into art. Using the daylight for photo-shoot's whether that is directing, modeling or make-up and at night to composing on the piano in a recording studio with friends. So to me, art is my free time."
Joey first kissed a boy when he was a freshman in high school, but wasn't necessarily dating at the time. "It took me a while before I found an example of commitment within our community," he said. The same can definitely be said about New York. What's monogamy anyways? Joey, though not that sexually active as a teenager  — thanks to his monitored upbringing —  has experimented with women, twice! …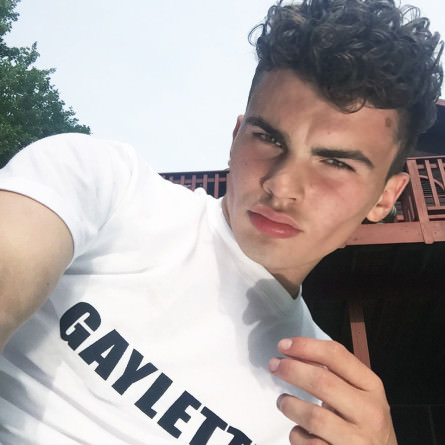 Louis is stuck in Upstate New York, "for one more year," he said. He came out when he was 13, on Facebook nonetheless, "I wrote a huge paragraph because I'd just started speaking to my first boyfriend," — who was 17 at the time — "and was meeting people who were okay with me being gay and I felt very open about liking guys for the first time," but there's no specific moment where he, "claimed the gayness." After all, he was photographed in a boa, kitten heels and tutu at age two.
Louis is a millennial, so it's not a surprise he doesn't have a type, although he openly expresses his distaste for white guys. "Tall is nice, but it all definitely depends on the boy. Connection is key." For an ideal date, "It'd be spending time with someone who I really care about and feeling very content with the situation I was in. I feel like I'm constantly thinking of the next best thing to happen, so that's something I'm working on and if I could find a boy that could help me with that it would be ideal."
When Louis travels to Manhattan, he is either downtown with friends or uptown with family. "I did a lot of important growing up while staying in Spanish Harlem with my uncle — that's where I'd always hang out. It's got so much culture and such a great vibe to it." You'll only catch him on dating apps when he is trying to gauge the "gayness of an area." …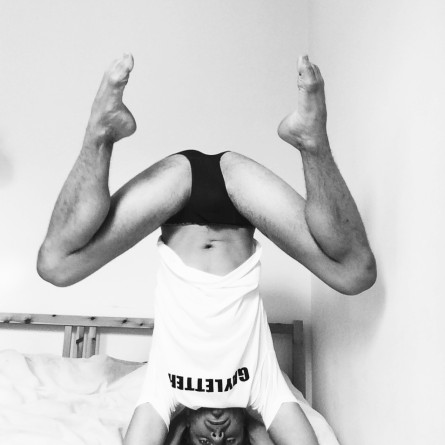 Mark is a 24 year old movement artist, teacher and fitness trainer. He grew up in the small town of Raymond, Wisconsin, doing local theatre. He kissed a fellow thespian in his community for the first time when he was 14. "I remember my heart beating so fast. We snuck into one of the wings and hooked up during the show." Chances are, the show, him and this boy were putting on backstage, was more entertaining than the one people had paid for. "It's so interesting to look back and think of how curious we were about it all, and how secretive it needed to be." According to Mark, this man has since continued to live his life as straight…
Mark's idea of happiness is "Seeing good people spreading light in whatever way they manifest it. Seeing myself and others make good choices. Seeing equality and love." Doesn't that sound sweet? You can also make him happy by serving him a cosmopolitan, "as long as it's light and pink," or a gin and tonic.
His ideal date is one he doesn't need to plan. "I didn't really date in high school, I was too focused on developing in other areas both academically and artistically." This still seems true. Mark is a busy boy, exercising about 6 times a week, with varying workouts from SLT, crossfit, dance and other high intensity interval training. It's no wonder he has that body. "I'd love to meet a man and not have any idea what we're doing, I make so many decisions every day that it'd be so sexy and calming to have someone take over the plan making and say 'I got it.'"  …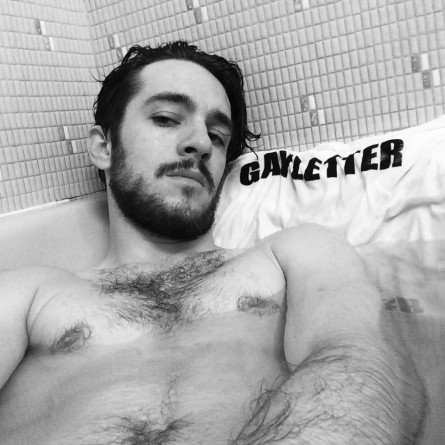 David is a 25 year old graphic designer from Orlando. He grew up in the rural area of Brooksville, Florida where he lost his virginity to a boy at the age of 16 (yaaaas for the twink farm-boy role play!). We asked him if he had ever been with a woman: "once," he said "but nothing past first base." That's cute. He's currently single, and just recently moved to New York with his dog, Potato. He loves a guy with great, strong thighs. If you're inked up, and independent, that's a plus.
His ideal date is: "Rolling a few joints for the day and listening to music, then heading to the beach to relax on a blanket until we're ready to jump in the water. Grab food on the way home then spread out for a nap. Salty hair and skin." While you're cuddling before you nap, get personal with his bright blue eyes; they're his favorite part of his body and a big part of his Instagram account. No shame in branding yourself. He prefers to sleep in briefs, or nothing at all. His cuddling criteria has been set; take note, hunties!
He's "not much of a high maintenance guy" — brushing his teeth, trimming his beard and getting haircuts when necessary are the extent of his beauty routine. Though he does take baths every other week, because he likes the feeling of floating; "it's calming." He wants to continue working in advertising, but ideally wants to find an Australian hubby so they can relocate down under and live happily ever after with a considerable amount of dogs. …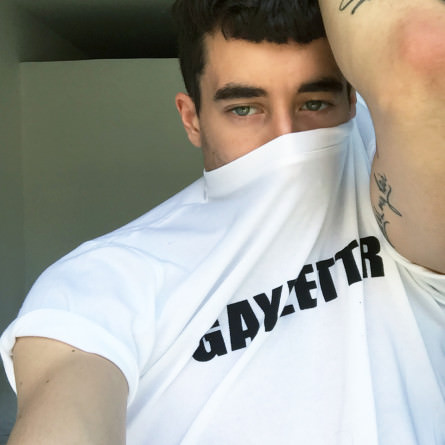 Paolo is a 22 year old, born and raised in Rome, Italy. He has lived in New York for 4 years now, and is studying Fashion Design at Parsons. He refers to his asthetic as "futuristic lady apparel." Oh, OK. He told me that he's been gay his entire life, he's a gold star gay (for those of you that don't know what that means, he's never been with a woman) — "I was in Kindergarden singing and performing Celine Dion." He had his first boyfriend at 17 and he lost his virginity at his best friend's house with that boy.  I asked him to elaborate on his sexual life: "I never had sex in a really wild place. I received a blowjob next to the Coliseum once, right in the middle of the Roman ruins…"
His go-to drink is a martini with Hendrick's Gin and two olives. When it comes to men he doesn't really have a type. He told me that he doesn't discriminate, and he doesn't have a particular body type, "I like a guy who's taller than me, which is not that complicated to find." He's 5'9″. "I like a man who's secure in himself and doesn't justify or apologize for everything he does." His favorite body part are his eyes (they are very pretty) and his legs — "because they look good in shorts;" on another guy he is into the hands. On what he likes to do on a Friday night: "I watch a dumb movie on Netflix, next to my lovely roommate/best friend/wife/babe with a glass of wine."  …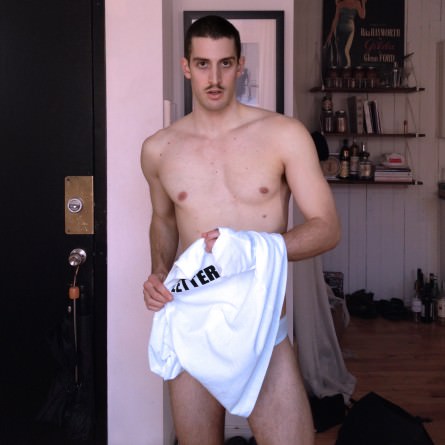 Mike is a 27 year old (he made a deal with himself to tell everyone that he's 32) artist from Toronto. He grew up in Windsor, across the river from Detroit. Since 2011 he has lived in Montreal. He went to Graphic Design school and is a very talented illustrator and also an Instagram god. Yes his Instagram is Beyonce! The first time he had sex was when he was 18 and it was with a girl. He liked it, but it confused him a little… "I just love sex, and get turned on by girls too so I just enjoyed it, I never really had crushes on boys when I was younger, but knew I found them attractive and then the whole liking girls sexually confused me even if I knew I was interested in men." In that same year he tried it with a boy. "Emotionally I only connect on a romantic level with guys…Sex is always better if there's a bit of emotion."
He's single and his idea of a perfect date "would be a hangout that we don't want to end so it just keeps evolving into different adventures." He likes "someone funny, first, cute and smart. 
I don't think I have a type, but if I look at my past it seems I like baby-faced boys
." He doesn't have age preferences, but he mostly dates young people. His drink of choice is "vodka, straight up, no ice, just a chase of water."  
His beauty routine: "I go to the gym and just moisturize — I don't even use soap to wash my face.
 …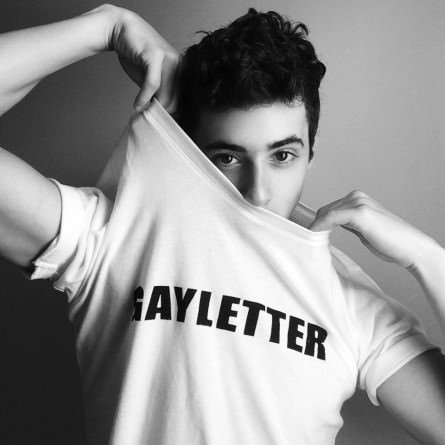 Fernando is a 23 year old from Uberlandia, Minas Gerais, in Brazil. He is currently in his last year of university studying Advertising and Marketing. He's also a freelance photographer. He would like to study theater in the future because his dream career is to be an actor. Eventually he wants to move to a different city, "maybe Sao Paulo, or Rio or New York City." He has never been with a girl and he told us he's always known that he's gay. At 15 he watched some porn that confirmed to him that he liked boys. He told us that he had sex with a guy for the first time when he was 19, he was his first boyfriend. He lives alone and is single at the moment. He speaks Portuguese, English and a little bit of Spanish.
He doesn't have a specific type when it comes to guys or any age preference, "I like guys, haha" his only preferences is that the guy is taller than him and he has to be "sweet and funny…he has to make me laugh." His favorite body part in others are the legs, "I love guys legs I don't know why and I love big lips
 to kiss…" On himself he likes his eyes, "because they change color, 
sometimes they are very green, bright, sometimes they are darker." His ideal date would be going to the beach with someone, "smoking a lot of pot and eating a lot of pizza…. …