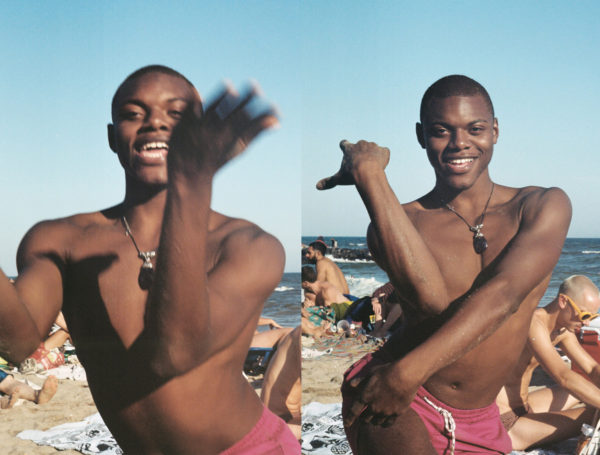 PHOTOGRAPHY BY GUSTAVO LOPES
RIIS IS BURNING
Brooklyn-based photographer Gustavo Lopes documents Riis Beach in the midst of summer.
About an hour's train ride from Lower Manhattan is the iconic (if not well-kept secret) Riis Beach. Named after Jacob Riis (the 19th century "muckraker" journalist and photographer), the beach is just west of Rockaway Park in Queens. At some point or another in the last century or so, Jacob Riis Park has hosted a children's hospital, WWI naval air station, Art Deco bathhouse, and softball field. And now it's a cute destination for a delightful day trip with your friend, boo, sibling, or self.
The first time I heard about Riis Beach was one Wednesday evening in June when Abi and I were laying out  GAYLETTER's weekly newsletter (No. 404). Upon looking for a photo to pair with that Sunday's "Do: Riis Beach" post, Abi found this wacky photo of a guy wearing this Tina-Turner-Meets-Dragon-Ball-Z wig and said that it fit the personality of the beach perfectly. I knew I needed to see it for myself.
Last month, my best friend Ahmad and I hopped on the 2 train and headed out to Riis. If you've never been, the first thing you need to know is that there are two parts to it: there's the straight side (near where the Q22 and Q35 buses drop you off) and a gay side, which is to the left, in front of the abandoned hospital. That's where Ahmad and I went, and that's where Ahmad met Gustavo Lopes. We just happened to go while Gustavo was documenting the beach that day.
On photographing Riis, Gustavo says, "Ever since America was caught by surprise by the decision of who was gonna lead the country for the next four years, diversity has been threatened. That's part of the reason that makes Jacob Riis more than just a beach. A place where people embrace females and get to expose their bodies without being objectified by the sexiest atmosphere that rules the world. A bubble in the heart of New York where every way of being different is celebrated." I couldn't have said it better myself.