A book by the visionary publisher Luis Venegas chronicles a decade of his fantastic publication C*ndy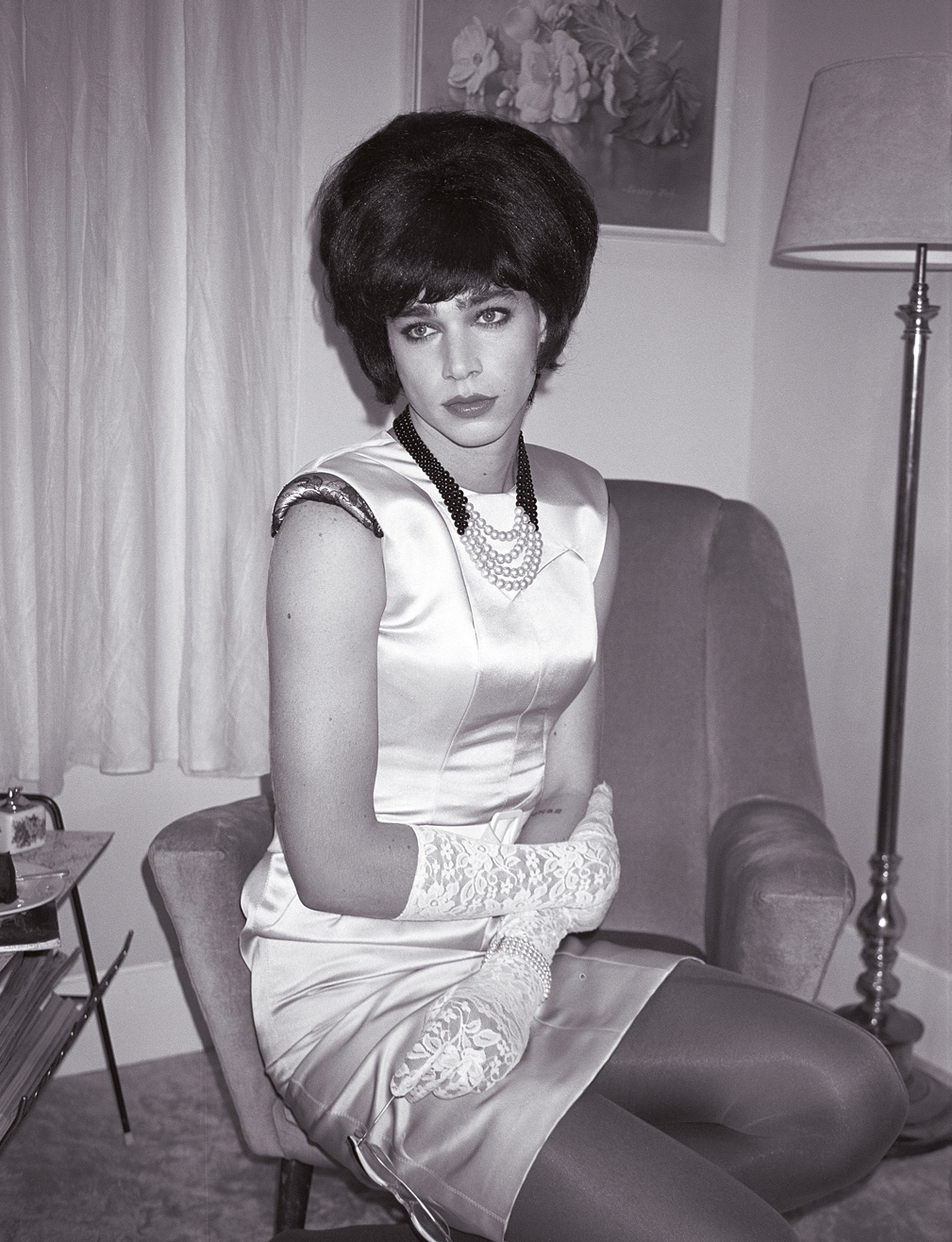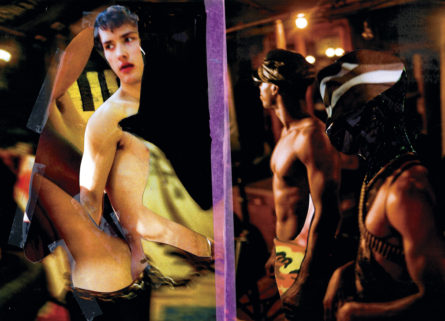 Berlin-based filmmaker and photographer Matt Lambert has become known for his art house approach to erotic film. In his fast-paced style, he merges filth, fun, and sexual fantasy with a dynamism rarely seen in the porn production industry.
Pleasure Park is his fifth publishing project, produced as both a film and zine, inspired by the legacy of Tom of Finland. Debuting on Men.com in early 2020, the film is a stylized documentary of a group of adult performers, friends on a hot summer day, shot at the Tom of Finland Foundation, at Tom's former residence. The cast includes Sean Ford, Joey Mills, Angel Rivera, River Wilson and Tannor Reed, with a live music performance by Taco Guillen of SCUM and several of its East LA Latinx members. The accompanying zine was released in early December 2019, illustration and graphic design crafted by Stefan Fähler, and it is available at the Tom of Finland Store.
Having worked with Christeene and Rick Owens on their infamous music video, Butt Muscle, and the picture book Vitium, a collaboration with his husband Jannis Birsner, Lambert is no stranger to voyeuristic sensibility and sensual oddity. Recounting the experience of making Pleasure Park, he describes, "there's definitely a big throwback to queercore punk zine culture which we started to play with in Vitium. With Tom's work being such a conscious and sub-conscious influence on my work, it was so inspiring to create this in the context of the foundation and at the house which holds such a magical and hedonistic spirit." …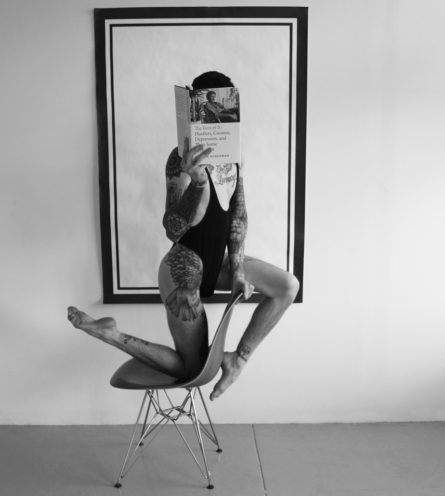 Hustlers, cocaine, depression and then some — quite a weekend, but also the subtitle to The Rest of It, an autobiography from acclaimed biographer, historian and activist Martin Duberman. In particular, Duberman focuses on 1976 – 88, the darkest, most difficult period of his life. His book offers an intimate view of the intense personal struggles that ran parallel to the professional successes for one of the LGBTQ movement's most important figures.
It opens with depression, the void Duberman fell into after the death of his mother. From there, in search of inclusion, acceptance and some kind of solace, Duberman careened among various therapies, eventually returned to the theater, and overindulged in the titular hustlers and cocaine. Drugs, sex and an extraordinary book deal temporarily lifted him out of despair, before a massive heart attack and growing depression pushed him into rehab and a reevaluation of his life.
Duberman paints a raw, honest portrait of his struggle to find balance between his desire for excess and his burgeoning career as a history professor and prominent gay activist. He doesn't shy away from the undignified aspects of his life, nor in the gossipy passages do his gay, activist and literary co-conspirators go unnamed (Gore Vidal, Norman Mailer, Vivian Gornick and Kate Millett each make an appearance).
When this chapter of Duberman's life comes to a close, he is working to found the Center for Lesbian and Gay Studies (CLAGS) at the City University of New York, the country's first university research center dedicated to LGBTQ issues. …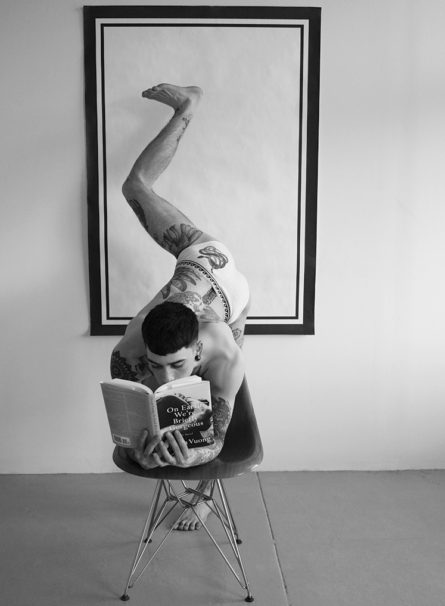 This book is not for you; it's for Ocean Vuong's mom. She was the daughter of an illiterate farmgirl and an American soldier. War made and unmade them. As Vuong wrote in his poem "Notebook Fragments," "An American soldier fucked a Vietnamese farmgirl. Thus my mother exists. / Thus I exist. Thus no bombs = no family = no me. / Yikes."
When war ended, the Oceans lost contact with their grandfather for almost two decades. They were forced to leave Vietnam for Connecticut when police realized Vuong's mother was mixed race. Vuong was 2 years old.
Vuong's mother won't read her son's debut novel, On Earth We're Briefly Gorgeous, because she can't read. Dyslexia runs in the family, Vuong suspects, and he links his approach to language with the ways he's had to cope with the learning disability — "Because I write very slowly and see words as objects," he says. After publishing his first book of poems, Night Sky with Exit Wounds, in 2016, he told the Guardian, "I'm always trying to look for words inside words. It's so beautiful to me that the word laughter is inside slaughter."
Beauty is a primary concern. "All this time I told myself we were born from war — but I was wrong, Ma. We were born from beauty," he writes. Seeing beauty everywhere, he preserves it in careful, lyrical prose: "I never wanted to build a 'body of work' but to preserve these, our bodies, breathing and unaccounted for, inside the work." …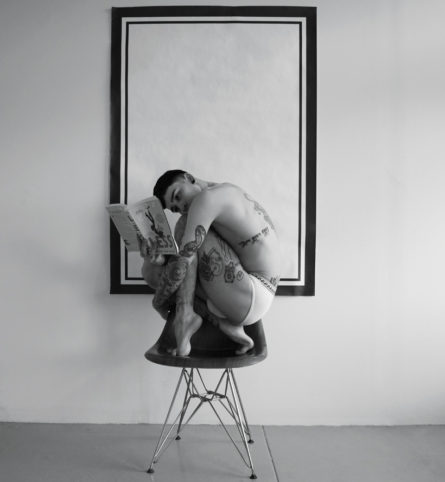 Arthur Less is the kind of character I didn't know I had been longing for. A midtier novelist, he's self-deprecating, spontaneous and charmingly ignorant of his own charms. This eponymous novel (the one he's in, not the one he wrote) starts with Arthur mourning the imminent arrival of his 50th birthday, since he's convinced he's "the first homosexual ever to grow old."
Having recently broken up with his younger boyfriend of nearly a decade, Arthur is at a loss as he tries to neatly define what his life has amounted to, and what lies ahead. He reflects on and laments his "exclusion from any list of best writers under thirty, under forty, under fifty — they make no lists above that." Then on a whim, he accepts a handful of invitations that will take him far away from the one invitation he's avoiding: his ex-boyfriend's wedding.
The mixed bag of invites includes a literary festival in Mexico, an award ceremony in Italy, a teaching assignment in Germany, a retreat in India, an article for a men's magazine in Japan, and a friend's birthday in Morocco (chapters are divided up by each location).
Throughout his travels, Arthur finds himself in a string of compromising, ego-crushing encounters that seem orchestrated to pick apart what's left of his paltry self-esteem. Yet as the novel unfolds, the encounters reveal themselves as machinations designed not to break him, but to break him open.
In Mexico, he sits on a panel in which he's casually asked by the moderator, "What is it like to go on, knowing you are not a genius, knowing you are a mediocrity?" …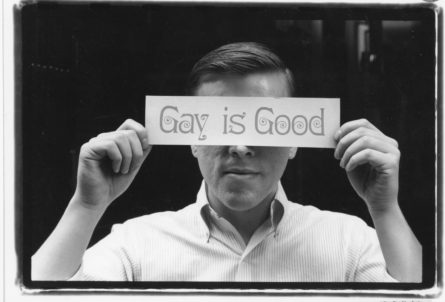 Fred W. McDarrah was the first on-staff photographer for the Village Voice. His prolific photography captured both the pride and the struggles of the gay community toward the end of the 20th century. In 1994 McDarrah published a book of photographs focused on the changing queer community in Greenwich Village from the events of Stonewall up to the mid-1990s. 25 years later, a new, redesigned edition of McDarrah's book has been released by OR Books — Pride: Photographs After Stonewall with a foreword by Hilton Als. It is no coincidence that the book was released this year, exactly 50 years after the Stonewall Riots. The book's cover features several rioters and Stonewall patrons posing for a photograph during the riots. Above them, a message etched in chalk reads, "To fight for our country, they invaded our rights."
Pride is split into two parts: photographs before Stonewall and photographs after Stonewall. The before section paints a vibrant picture of queer 1960s New York. Gay poets and writers like Frank O'Hara, W.H. Auden, and James Baldwin pose for portraits, a powerful photograph of the American transsexual icon Candy Darling, drag queens and transgender women competing in the Miss All-American Camp Beauty Pageant of 1967 are photographed wearing identical outfits and sashes that display their title.  Actor-turned-activist, Jim Fouratt summarizes the decade: "I came to New York in the early '60s to be a bohemian/beatnik artist. I found the Actors Studio, Lee Strasberg, Greenwich Village, jazz, mary jane, gay bars, drag queens, Andy Warhol, the Judson Church performers, the Living Theater, the Caffe Cino and La Mama, civil rights marches and sit-ins, the Open Theater, Communist, poetry, dirty old men, Lenny Bruce, rich people, and my first real boyfriend. …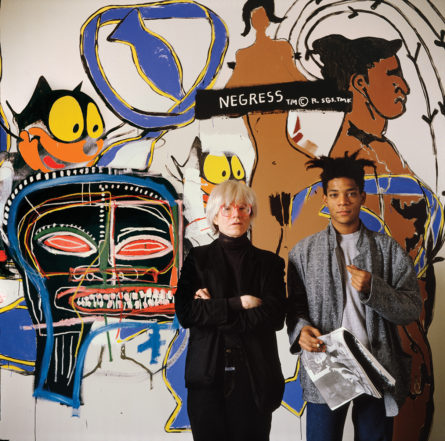 50 years ago this June, the Stonewall Inn was raided by the New York Police Department, triggering one of the largest confrontations in LGBTQ history. Since that night, many battles, like marriage equality and the HIV/AIDs crisis have been fought. We've had big wins and realized some worrying losses. Reflecting on Stonewall allows us, of course, to celebrate our victories, but also inspires us to press on and keep fighting for those in our community that still face intense social and political marginalization. Jonathan Weinberg has published Art After Stonewall, 1969-1989, a book focused on the legacy of Stonewall that highlights more than 200 artworks "spanning the two decades between Stonewall and the AIDS crisis." Among the many featured artists are Alvin Baltrop, Cathy Cade, Gran Fury, Nan Goldin, Harmony Hammond, Lyle Ashton Harris, Tseng Kwong Chi, Peter Hujar, Greer Lankton, Mcdermott & Mcgough, Robert Mapplethorpe, Catherine Opie, Adam Rolston, Shelley Seccombe, Andy Warhol, Jean-Michel Basquiat and many more.
The book is pretty badass. Chapter Two (Sexual Outlaws) opens with Catherine Opie's photograph, Raven (Gun); a woman sits bare-chested on a couch, her nipple piercings connected by a silver chain. Arms stretched out, she aims a gun into the distance. On the adjacent page a quote by Flavia Rando reads, "We knew there were lesbian bars in Greenwich Village, but the mob bouncers could prevent women from entering. You could be judged too black, too brown, too young, too poor, or the police might raid and you could be arrested for wearing the wrong garments." …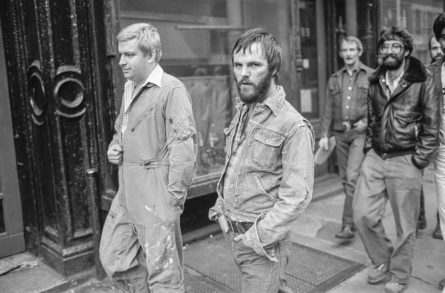 Sunil Gupta moved to New York City in the early 1970s to pursue an MBA, but the city had other plans for him. After realizing he had a passion for photography (Gupta would often hangout on Christopher Street and photograph the young men who were bravely creating some of the first gay public spaces), Sunil left the prospect of an MBA behind and began studying photography under Lisette Model at The New School.

The images he captured during his graduate career, nearly a decade after the Stonewall Riots yet years before the AIDs crisis, are compiled in Gupta's new book, Christopher Street. He shows us a different era, one in which gay men are dressed in Levi's and leather, where they walk down Christopher Street proudly sporting sideburns and mustaches. Gay sex, as political revolution, was part of this era, too. Men would have sex on street corners and behind parked trucks, not just for fun, but as Gupta says in a recent Guardian article, to be "bad and proud of it."

Sunil shows us this kind of intimacy in his photos. Flipping through the pages of Christopher Street feels like cruising. Men look straight into the lense as they walk past, some smile, some smirk. Gupta does a brilliant job of capturing the gay scene of the time. "What was initially a hobby quickly found a purpose in the fledgling gay liberation movement, documenting gay rights marches as well as the burgeoning gay scene. In retrospect these pictures have become both nostalgic and iconic for a very important moment in my personal history." …

A book that celebrates the artist's lasting impact in our culture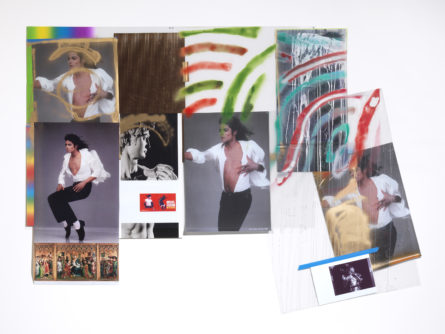 We all have our own story of where we were and who we were with when we learned Michael Jackson was dead. I was in the car with my mom and my older brother, we heard the news over the radio. Despite the controversies that followed Jackson through his late years, his lasting impact on our global culture is undeniable. This is what's explored in the new book, "Michael Jackson: On the Wall". The work of over 40 major artists who were inspired by Michael, including David LaChapelle and Andy Warhol, are compiled and reflected on.
Contributors like Zadie Smith explore what she calls the "magical thinking" around him. If it was so clear Jackson was bleaching his own skin, why did so many fans chalk it up to conditions like vitiligo? She writes, "That's when you understand how strong the force of desire is, how much it can deny and distort. It simply could not be that the most famous black man in the world wanted to be white. It would kill us to believe it. And so we refused to do so."
Notable is that contemporary art still focuses on Jackson. From Donald Urquhart's satirical "A Michael Jackson Alphabet" (2017), to Rodney McMillian's sobering portrait of Jackson's childhood home, "2300 Jackson Street" (2004), hung next to lyrics from Walt Disney's Snow White and the Seven Dwarfs: "It ain't no trick to get rich quick/ If you dig, dig, dig with a shovel or a pick." …

An inside look at the sacred suburbs and theatrical New York City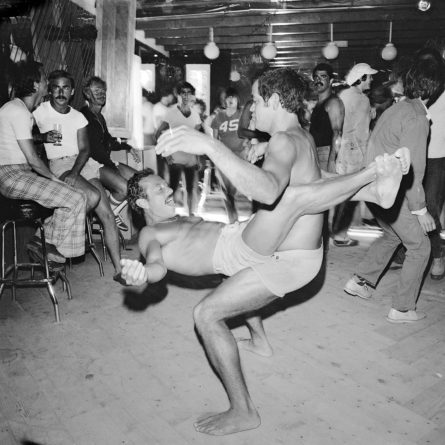 Throughout childhood, photographer Meryl Meisler was told that because she was Jewish, she would never go to heaven. Instead, she would be stuck in purgatory — a spiritual limbo. With a medium format camera in hand, Meryl set out in the 1970s to make sense of a changing world not "meant" for her. Her photographs, collected in her book "Purgatory & Paradise: Sassy '70s Suburbia & the City" (Bizarre) provides an inside look into those sacred suburban spaces many admire from the outskirts, but have hard time truly fitting in.
Meryl's relationship to Long Island and New York City played an active role in both her coming of age and eventual coming out. The theatrics of New York City nightlife are seen a plenty in her photography, and there are handfuls of the suburban mundane too. From prom nights, to family dinners, to dance parties and beach-bods, the subject most present in Meryl's photography is a documentarian's bravery. It took bravery to photograph certain scenes, and it also took bravery for her subjects — many of them queer and people of color — confident enough to be themselves in front of the lens at a time where freedom of expression was heavily suppressed by greater-white society. Many of the images in this book are previously unseen. Printed side by side, the images show how necessary all these different signs of strength can partner with general empathy.
Aside from exploring the characters in the world around her, Meryl explored her identity using self-portraiture as well. …

GingerNutz reminds us fashion is for fun, and any animal can model!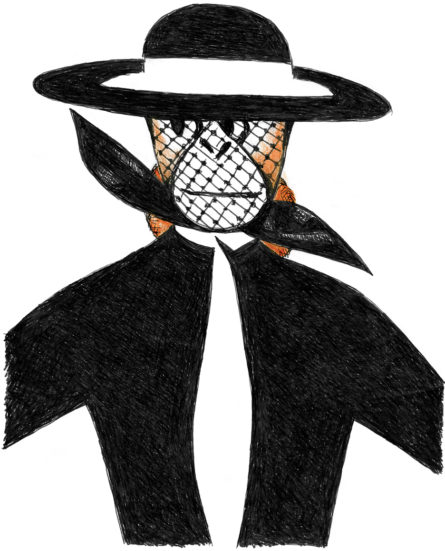 A wearer of many hats, writer Michael Roberts mixes his bounty of interest in his latest book, GingerNutz Takes Paris (MW Editions). Inspired by his close friend, foreword-writer and fashion icon Grace Coddington, we follow GingerNutz, the world's first orangutan supermodel, around Paris. The illustrations, hand-drawn by Michael, feature our heroine at photoshoots, parties, iconic Parisian sites, and fittings at the ateliers of designers from Dior to Comme des Garçons. The outfits featured throughout the story were selected by Grace herself, lending her hand back into styling. A former model herself, Grace long helmed the fashion pages at American Vogue serving as Creative Director for thirty years. Prior to writing and illustrating books, Michael served as Fashion Director of both Vanity Fair and the New Yorker. His former titles explain the palpable love for clothes noticeable on each page.
The drawings – themselves printed on creamy stock paper – harken to classic illustrations from magazines' past, giving the pink fabric-bound book a vintage, elegant feel. Whether it's read by a child or an adult admirer of what is considered to be in vogue, GingerNutz Takes Paris serves not only as a reminder of the fun side of fashion, but also as a tribute to Grace's unwavering influence and the original (and dare we say returning) fashion capital of the world.
You can purchase your copy from MW Editions here: http://www.artbook.com/9780998701837.html
…