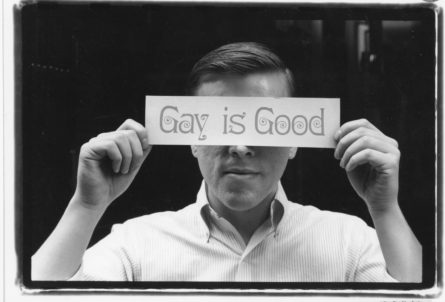 Fred W. McDarrah was the first on-staff photographer for the Village Voice. His prolific photography captured both the pride and the struggles of the gay community toward the end of the 20th century. In 1994 McDarrah published a book of photographs focused on the changing queer community in Greenwich Village from the events of Stonewall up to the mid-1990s. 25 years later, a new, redesigned edition of McDarrah's book has been released by OR Books — Pride: Photographs After Stonewall with a foreword by Hilton Als. It is no coincidence that the book was released this year, exactly 50 years after the Stonewall Riots. The book's cover features several rioters and Stonewall patrons posing for a photograph during the riots. Above them, a message etched in chalk reads, "To fight for our country, they invaded our rights."
Pride is split into two parts: photographs before Stonewall and photographs after Stonewall. The before section paints a vibrant picture of queer 1960s New York. Gay poets and writers like Frank O'Hara, W.H. Auden, and James Baldwin pose for portraits, a powerful photograph of the American transsexual icon Candy Darling, drag queens and transgender women competing in the Miss All-American Camp Beauty Pageant of 1967 are photographed wearing identical outfits and sashes that display their title.  Actor-turned-activist, Jim Fouratt summarizes the decade: "I came to New York in the early '60s to be a bohemian/beatnik artist. I found the Actors Studio, Lee Strasberg, Greenwich Village, jazz, mary jane, gay bars, drag queens, Andy Warhol, the Judson Church performers, the Living Theater, the Caffe Cino and La Mama, civil rights marches and sit-ins, the Open Theater, Communist, poetry, dirty old men, Lenny Bruce, rich people, and my first real boyfriend. …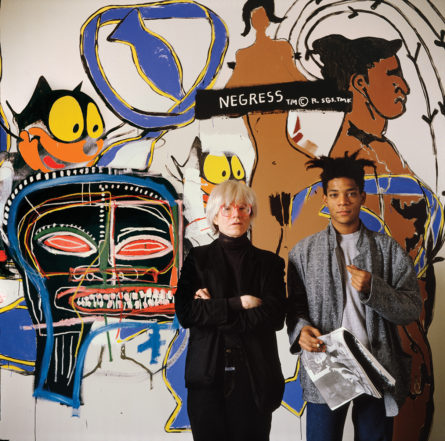 50 years ago this June, the Stonewall Inn was raided by the New York Police Department, triggering one of the largest confrontations in LGBTQ history. Since that night, many battles, like marriage equality and the HIV/AIDs crisis have been fought. We've had big wins and realized some worrying losses. Reflecting on Stonewall allows us, of course, to celebrate our victories, but also inspires us to press on and keep fighting for those in our community that still face intense social and political marginalization. Jonathan Weinberg has published Art After Stonewall, 1969-1989, a book focused on the legacy of Stonewall that highlights more than 200 artworks "spanning the two decades between Stonewall and the AIDS crisis." Among the many featured artists are Alvin Baltrop, Cathy Cade, Gran Fury, Nan Goldin, Harmony Hammond, Lyle Ashton Harris, Tseng Kwong Chi, Peter Hujar, Greer Lankton, Mcdermott & Mcgough, Robert Mapplethorpe, Catherine Opie, Adam Rolston, Shelley Seccombe, Andy Warhol, Jean-Michel Basquiat and many more.
The book is pretty badass. Chapter Two (Sexual Outlaws) opens with Catherine Opie's photograph, Raven (Gun); a woman sits bare-chested on a couch, her nipple piercings connected by a silver chain. Arms stretched out, she aims a gun into the distance. On the adjacent page a quote by Flavia Rando reads, "We knew there were lesbian bars in Greenwich Village, but the mob bouncers could prevent women from entering. You could be judged too black, too brown, too young, too poor, or the police might raid and you could be arrested for wearing the wrong garments." Later in the chapter, Lynda Benglis' Artforum Advertisement from 1974 is shown. …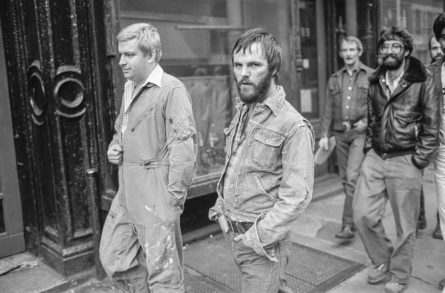 Sunil Gupta moved to New York City in the early 1970s to pursue an MBA, but the city had other plans for him. After realizing he had a passion for photography (Gupta would often hangout on Christopher Street and photograph the young men who were bravely creating some of the first gay public spaces), Sunil left the prospect of an MBA behind and began studying photography under Lisette Model at The New School.

The images he captured during his graduate career, nearly a decade after the Stonewall Riots yet years before the AIDs crisis, are compiled in Gupta's new book, Christopher Street. He shows us a different era, one in which gay men are dressed in Levi's and leather, where they walk down Christopher Street proudly sporting sideburns and mustaches. Gay sex, as political revolution, was part of this era, too. Men would have sex on street corners and behind parked trucks, not just for fun, but as Gupta says in a recent Guardian article, to be "bad and proud of it."

Sunil shows us this kind of intimacy in his photos. Flipping through the pages of Christopher Street feels like cruising. Men look straight into the lense as they walk past, some smile, some smirk. Gupta does a brilliant job of capturing the gay scene of the time. "What was initially a hobby quickly found a purpose in the fledgling gay liberation movement, documenting gay rights marches as well as the burgeoning gay scene. In retrospect these pictures have become both nostalgic and iconic for a very important moment in my personal history." Gupta is now based in London, and has presented his photography in more than 90 international solo and group exhibitions. …

A book that celebrates the artist's lasting impact in our culture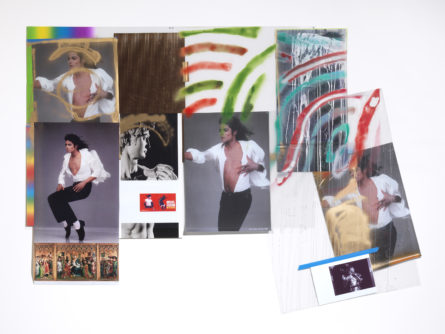 We all have our own story of where we were and who we were with when we learned Michael Jackson was dead. I was in the car with my mom and my older brother, we heard the news over the radio. Despite the controversies that followed Jackson through his late years, his lasting impact on our global culture is undeniable. This is what's explored in the new book, "Michael Jackson: On the Wall". The work of over 40 major artists who were inspired by Michael, including David LaChapelle and Andy Warhol, are compiled and reflected on.
Contributors like Zadie Smith explore what she calls the "magical thinking" around him. If it was so clear Jackson was bleaching his own skin, why did so many fans chalk it up to conditions like vitiligo? She writes, "That's when you understand how strong the force of desire is, how much it can deny and distort. It simply could not be that the most famous black man in the world wanted to be white. It would kill us to believe it. And so we refused to do so."
Notable is that contemporary art still focuses on Jackson. From Donald Urquhart's satirical "A Michael Jackson Alphabet" (2017), to Rodney McMillian's sobering portrait of Jackson's childhood home, "2300 Jackson Street" (2004), hung next to lyrics from Walt Disney's Snow White and the Seven Dwarfs: "It ain't no trick to get rich quick/ If you dig, dig, dig with a shovel or a pick."
Jackson may be dead, but his legacy is proving immortal. …

An inside look at the sacred suburbs and theatrical New York City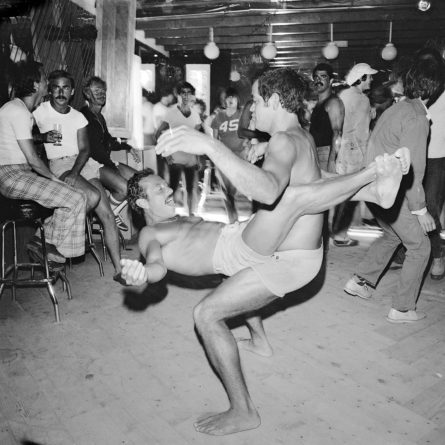 Throughout childhood, photographer Meryl Meisler was told that because she was Jewish, she would never go to heaven. Instead, she would be stuck in purgatory — a spiritual limbo. With a medium format camera in hand, Meryl set out in the 1970s to make sense of a changing world not "meant" for her. Her photographs, collected in her book "Purgatory & Paradise: Sassy '70s Suburbia & the City" (Bizarre) provides an inside look into those sacred suburban spaces many admire from the outskirts, but have hard time truly fitting in.
Meryl's relationship to Long Island and New York City played an active role in both her coming of age and eventual coming out. The theatrics of New York City nightlife are seen a plenty in her photography, and there are handfuls of the suburban mundane too. From prom nights, to family dinners, to dance parties and beach-bods, the subject most present in Meryl's photography is a documentarian's bravery. It took bravery to photograph certain scenes, and it also took bravery for her subjects – many of them queer and people of color – confident enough to be themselves in front of the lens at a time where freedom of expression was heavily suppressed by greater-white society. Many of the images in this book are previously unseen. Printed side by side, the images show how necessary all these different signs of strength can partner with general empathy.
Aside from exploring the characters in the world around her, Meryl explored her identity using self-portraiture as well. …

GingerNutz reminds us fashion is for fun, and any animal can model!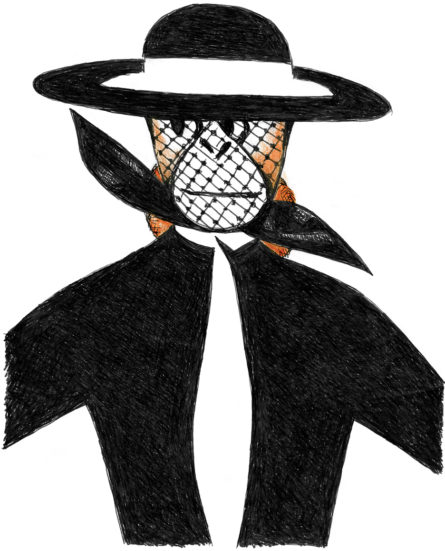 A wearer of many hats, writer Michael Roberts mixes his bounty of interest in his latest book, GingerNutz Takes Paris (MW Editions). Inspired by his close friend, foreword-writer and fashion icon Grace Coddington, we follow GingerNutz, the world's first orangutan supermodel, around Paris. The illustrations, hand-drawn by Michael, feature our heroine at photoshoots, parties, iconic Parisian sites, and fittings at the ateliers of designers from Dior to Comme des Garçons. The outfits featured throughout the story were selected by Grace herself, lending her hand back into styling. A former model herself, Grace long helmed the fashion pages at American Vogue serving as Creative Director for thirty years. Prior to writing and illustrating books, Michael served as Fashion Director of both Vanity Fair and the New Yorker. His former titles explain the palpable love for clothes noticeable on each page.
The drawings – themselves printed on creamy stock paper – harken to classic illustrations from magazines' past, giving the pink fabric-bound book a vintage, elegant feel. Whether it's read by a child or an adult admirer of what is considered to be in vogue, GingerNutz Takes Paris serves not only as a reminder of the fun side of fashion, but also as a tribute to Grace's unwavering influence and the original (and dare we say returning) fashion capital of the world.
You can purchase your copy from MW Editions here: http://www.artbook.com/9780998701837.html
…

The first in a series showcasing the artist's multifaceted practice.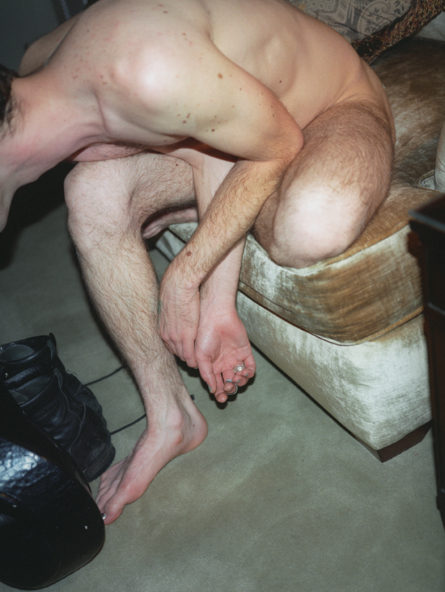 Best known as the frontman of alt-rock band R.E.M., Michael Stipe is an artist in the most far-reaching sense of the word. His distinct vocals are hard not to recognize thanks to the popularity of tracks like "Losing My Religion" and "Shiny Happy People". Stipe has also worked extensively in film, founding two production companies and acting as the executive producer behind well-known independent hits like like Being John Malkovich and Velvet Goldmine. His circle of friends — musicians Natalie Merchant, Tori Amos, Thom Yorke, Courtney Love, and the late Kurt Cobain,  just to name a few — reads like a who's who of the 90's alternative rock scene. It should comes as no surprise that Stipe would extend his practice into the realm of the visual for his latest project — a photo book.

Volume I is the first in the series "presenting different aspects of Michael Stipe's multifaceted artistic practice." Here Stipe and co-collaborator Jonathan Berger work with photographs; there are thirty-five in total and through them Stipe plays an array of roles. He moves fluidly between subject, photographer, and curator, putting together his own photographs with found pieces from his collection. Present in condensed form are 37-years of Stipe's artistic practice of creating and collecting materials, and he involves the two practices in Volume 1 as he conflates "figures in his own life with those in American history and popular culture," focusing specifically within his experience as a queer man.

The book features many of his friends, lovers and fellow artists. …

The Factory's hedonistic hit comes to print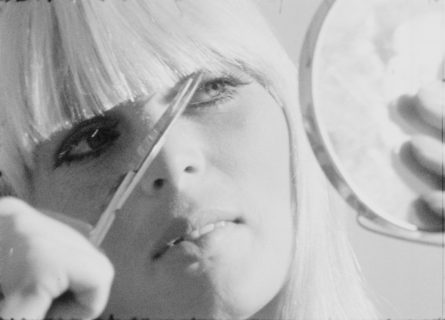 In 1966 Andy Warhol released The Chelsea Girls, a three and a half hour experimental film which would become his greatest commercial success. Part documentation, part experiment in hyperreality, the film is a series of vignettes in which Warhol's superstars play altered versions of themselves. Everything is shown in split-screen and the audio alternates between the two videos. In one sequence German singer Nico cuts her own bangs. In another the artist Brigid Berlin plays herself (nicknamed "the Duchess") wearing gold chains and shooting up amphetamines. In one of many scenes shot at the Chelsea Hotel, Mary Woronov, playing Vietnam War-era radio host Hanoi Hannah, barks at Warhol's Ingrid Superstar, Angelina "Pepper" Davis and Susan Bottomly, also known as International Velvet. The Chelsea Girls is dark and glamorous and mundane, and above all, voyeuristic. Upon its release audiences were captivated, critics were polarized but ever opinionated, and the film would go on to be played internationally for two years.

Since then, apart from occasional museum screenings, The Chelsea Girls has been nearly impossible to see. However in honor of their 24th anniversary, the Andy Warhol Museum is undertaking the major project of digitizing hundreds of Warhol's films— including The Chelsea Girls. Coinciding with the museum's project  is the release of Andy Warhol's The Chelsea Girls, a "deluxe treatment of the 12-reel, split-screen film, featuring stills from the newly digitized film, previously unpublished transcripts and archival materials, and expanded texts about each of the individual films that comprise The Chelsea Girls." Including an essay by Gus Van Sant, the book — out with D.A.P. …

How a small town boy went from jock straps to pop stardom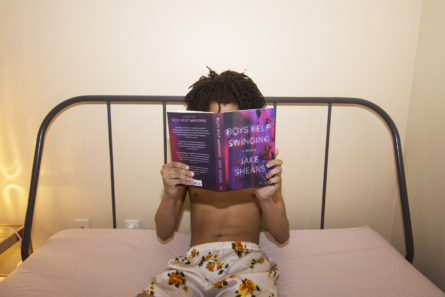 Before a celebrity begins writing a memoir, they need to decide who they're writing for. Is it for fans, or a general audience? For any gay or LGBTQ+ identifying celebrity there's another layer of consideration: Is this for the community?
In Boys Keep Swinging (Atria), Scissor Sisters' front-man Jake Shears claims "I don't make music just for gay people," but his brutally honest memoir delves into nuances of queer existence that are rarely seen in print. For example, when Derek (aka Del Marquis, lead guitarist for Scissor Sisters) makes an off-handed remark about "trashy bottoms" it leads to a physical confrontation with Jake:
"A jealous animosity had spewed out of me that I had been shoving under the rug. I felt threatened by Derek's fascination with representations of masculinity: the utility van he drove around, the butch-worship. I thought that because I was a freewheeling fag, it somehow made me less-than. I allowed myself to wear sequins and prance around the stage, performing queenery. But I told myself it was twice removed, an act. I still carried shame about who I was."
It's a powerful moment of self-awareness that most gay men can relate to. At its heart, Boys Keep Swinging is the story of an effeminate boy realizing he is an outsider. He'll need to learn to harness the anger, and hidden mental anguish that are often supplemental to being a fag.
Often as I was reading, I wanted to reach through the page, grab Jake by the shoulders and shake some sense into him. …

Book:

PRAY THE GAY AWAY

"Pray the Gay Away actually started as an idea after we came out and our mom threw holy water at us. So, after that rather interesting response, the book started as just a sticky note. Then more strange things started happening with/to us and the sticky notes turned into our book." When we met The Zakar Twins last summer they casually mentioned they were writing a book in between stripping off their underwear and bearing it all for our magazine. I'm a pretentious asshole sometimes and was like: These gays work for Monster, how are they writing a book? (Sorry, guys!) When I wasn't trying to look at their dicks and trying to style the image we were shooting with Tom & Abi, I was curious what their book was about. They told me they had been writing it for a bit, in hopes of shedding a different light on the LGBTQ-Arabian community, something they talked a about in GAYLETTER Issue 7. Along with trying to make the LGBTQ-Arabian community more inclusionary and visible, they wanted to show readers that things don't necessarily get better, "but they do heal in their own fucked up ways." I'm here for that because I'm a pensive realist who sometimes just sounds morose, but coming from Zack and Michael maybe some readers will take comfort in the fact that even though their life feels like a hot mess, it's just running its course and the best thing to do is stick it out and be gaggy anyway. She's a cute read for any day of the week and the cover features a nun and the boys, so you'll get some bulging eyeballs if you read it on public transit. (Always good.) Zack and Michael told me they have two other books planned and just started outlining the next. Get behind their authorship now or forever hold your peace! —Chris Stewart
Book:

THE VANITY FAIR DIARIES: 1983-1992

Chances are if you ask me for a book recommendation I'll provide six. When I'm not reading GAYLETTER, I'm reading several other things. It's the only way I stay sane. I begin everyday with reading and end my day with some pages as well. Literature is probably the most important thing to me so every Christmas I usually just ask my family to gift me books or cash. I came across The Vanity Fair Dairies when it was written about in The New Yorker in an article titled "How Tina Brown Remixed The Magazine." Naturally, I read it in one sitting. Brown's diaries, collected over the hot and heavy decade that was Manhattan in the 1980s, are a first hand account of the ups and downs of society at the time. Reagan is in the White House, Trump's golden toilet of a building illustrates the heyday of his early corporate-malfeasance. With countless publishing-politics at stake (Brown is in cohorts with all of the Conde Nast big-wigs) and many business lunches at the then Four Seasons' Grill Room, Brown takes her journalistic training straight into her journal each night and provides all of the necessary details of her days while not holding back on personal dislikes and her own insecurities as well. She is a poignant observer, something she relates to her alcohol allergy (if you can believe that) because had she been drinking through the 80s like the rest of her colleagues, it would be impossible to report back on her rise into publishing fame. As Anderson Cooper writes on the book jacket: "High, low, smart, sexy… a must-read for anyone interested in Hollywood, high society and the movers and shakers of pop culture." —Chris Stewart
$34 at your local bookseller
"Dior is a key name within the past, present, and future of couture."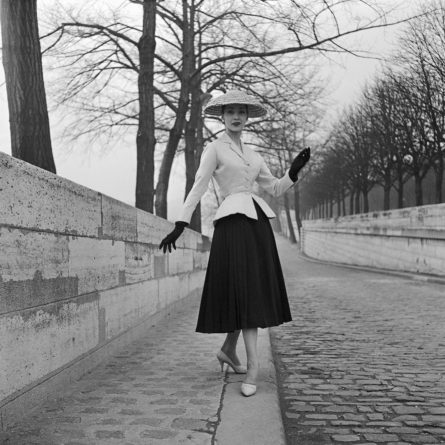 The House of Dior, founded in 1946 by the eponymous Christian Dior, should need no introduction, but in case you are unfamiliar, The House of Dior: Seventy Years of Haute Couture is a lavish introduction to the breathtaking evolution of one of fashion's most honored houses. Dior is a titan in the fashion industry that has continuously boasted successful lines of ready-to-wear fashion, fragrances, leather goods, accessories, timepieces, jewelry, and, of course, haute couture. Together with the National Gallery of Victoria, Dior has released this brand-new, gorgeously constructed book to celebrate their 70th anniversary.
In the foreword, the director of the National Gallery of Victoria, Tony Ellwood, writes: "This fully illustrated publication…explores the rich history of the fashion house, the design codes synonymous with the House of Dior, insights into the Dior atelier workrooms, and the role that accessories and perfume have played in expressing the complete Dior look."
Written by Katie Somerville, Lydia Kamitsis, and Danielle Whitfield, The House of Dior breaks down each era of the house since its inception in 1947, separated into sections and themes based on the tenures of the many legendary creative directors of the house: Christian Dior (1946-1957), Yves Saint-Laurent (1957–1960), Marc Bohan (1960–1989), Gianfranco Ferré (1989–1997), John Galliano (1997–2011), Bill Gaytten (2011–2012), Raf Simons (2012–2015), and the first female creative director of Dior, Maria Grazia Chiuri (2016–present).
Christian Dior mannequins in the salon of House of Dior's headquarters. 30 Avenue Montaigne, Paris 1957. …