Surprise! Issue 5 of GAYLETTER Magazine is out. We are so thrilled to finally be able to share what we have been working on over the last few months. To kick things off, take a peek at the cover which features the one and only, Marc Jacobs. When we first approached Marc we told him that we wanted to feature him because he represents everything that GAYLETTER stands for. We wrote to him saying that we thought he is a "true individual, creative and shameless (in the true meaning of that word)." Terry Richardson photographed Marc in the famed Keith Haring bathroom at the NYC's LGBT Community Center in Manhattan. We sat down with Marc in the same space for a conversation that covered everything from taking Cher to the Met Gala to how you stay friends with your exes, to Marc's favorite technique to combatting stress — he takes naps. Also in the issue is artist Laurie Simmons on her friend, photographer Jimmy DeSana, Irish pop-musician Roísín Murphy, fashion designer Palomo Spain, superstar TS Madison, model Laith Ashley, and so much more. Get yours girl. —t&a
GAYLETTER.COM/MAGAZINE
Chris Mears flies through the air with the greatest of ease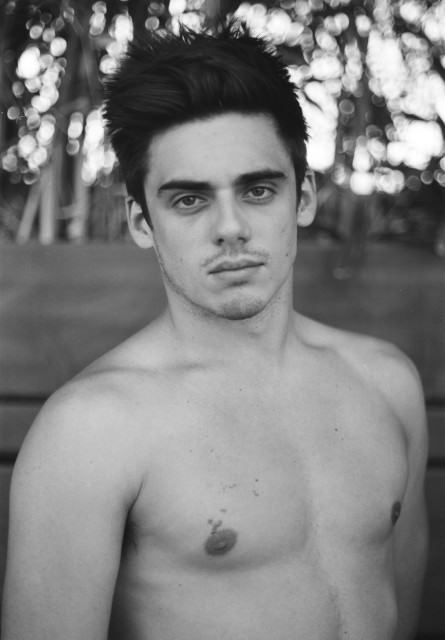 Let it be known that Tom Daley isn't the only hot guy on Great Britain's diving team. If you have any interest in toned, scantily clad, elite divers who also happen to DJ in their free time, you've probably come across Chris Mears. He's the one with the fabulous scar and gorgeous eyebrows. He was once told he had a five percent chance of living. Now, he's on the road to the 2016 Olympics. We photographed the 22-year-old in Los Angeles, where he spends his off- season, at El Matador beach in Malibu. Afterward, we asked a few personal questions. He couldn't have been more forthcoming.
So, how'd you get that scar? That's a crazy, long-ass story. I had glandular fever where the glands in my stomach swelled up to a ridiculous size and basically put crazy pressure on my organs, causing one of my organs to rupture and burst. Then all the blood in my body was in my stomach, and it didn't go well. I had this surgery where I was given a five percent chance of surviving the operation. Somehow I pulled through. How? They don't really know. They said it was a medical phenomenon. So that was crazy. And then I went into a coma for six days. But now I'm all good.
I know a lot of people either love their scars or they hate them. How do you feel about yours? My scar is the favorite part of my body because it shows everything I've been through.
…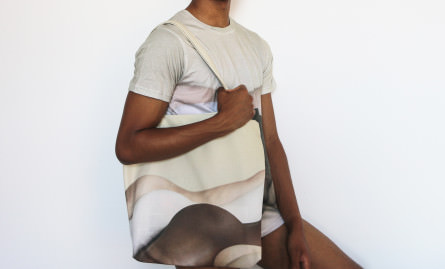 We had a super busy Summer so far and we are very grateful for that. For those of you who were paying attention, we launched Issue 4 of our magazine with two separate covers, one by photographer Kostis Fokas and one by Gerardo Vizmanos. Our latest endeavour is a collaboration with Print All Over Me.
The official announcement should come soon, but you're reading our newsletter so you get to find out first. "The collection is made up of utilitarian classics – T-shirts, baseball hats and tote bags – with full bleed prints of Issue 4's striking covers…Their respective images depict a landscape of multiracial behinds and a portrait of a man making contact with his own reflection."
More about Issue 4, which is almost sold out. It features work by photographer, Alvin Baltrop, Campbell Addy, Hal Fischer (author of Gay Semiotics), the comedian Josh Thomas, Rumi Mussabi (a founding member of The Cockettes), the band PWR BTTM, a look at the Tom of Finland house in Los Angeles, an amazing feature on Edmund White photographed by Slava Mogutin amongst other things.
The collection will debut online August 4, at paom.com. …

Scenes from the picnic celebration at Central Park sponsored by Perfect Picnic NYC and Material Vodka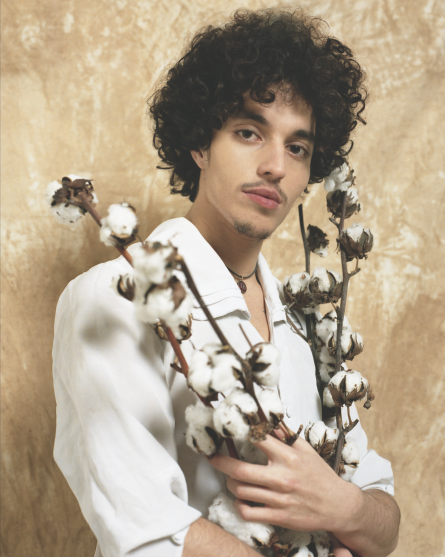 Baby Morocco loves being naked. "I would prefer to be permanently undressed." Born in Casablanca, Morocco, Baby (real name Clayton Pettet) moved to London at the age of 18 to study fine art at Central Saint Martins. Now 21, he has legions of fans on Instagram and Tumblr.
His gender-fluid, often sexualized self-portraits are endlessly entertaining. Back in 2014, he gained international notoriety for a performance that was, according to the media, going to involve him "Creating Art Through Penetration Of His Virgin Butthole." Many were disappointed when Clayton didn't actually lose his virginity but instead sat on the floor and asked the audience to feed him bananas. At the time, he told Dazed that the performance was about stealing the word "virginity" rather than having it stolen from him.

"I was at a party the other night, and a boy said he followed me and unfollowed me and followed me again because he thought my Instagram account was complete narcissism."

We're fans of the talented Mr. Morocco and pleased he could pose for some exclusive photos for us. Get it, baby!
This story was previously printed in GAYLETTER issue 4.
…

Another one of the boys featured in GAYLETTER Issue 4
With the normalizing of diplomatic ties, visiting Cuba is now an option for Americans. But is it worth it?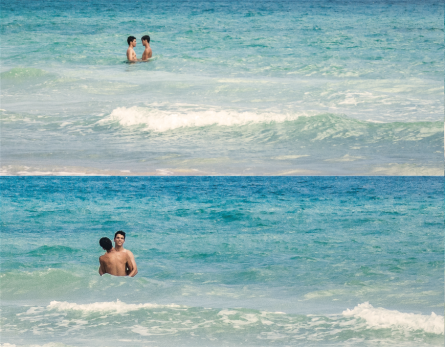 In March 2015, my husband and I traveled to Cuba. After decades of crippling sanctions, overbearing state control and relative isolation from the rest of the world, the Caribbean country is changing. You immediately get the feeling on the streets of Havana that things are opening up. It's just in the air. And that's true for Cuban queers more than anyone.
Under Fidel Castro, homosexuals were considered "undesirable," and homosexuality was deemed counter to the spirit of revolution. In the early '60s, gay men were sent to "re-education camps." But over the last 20 years, anti-gay laws have been steadily eliminated and the LGBTQ community has enjoyed growing social acceptance. Much of that, particularly in the last few years, has been helped along by the fact that the current Cuban leader, Raúl Castro — Fidel's brother — has a daughter, Mariela, who is active in the government and a champion of LGBTQ rights.We were excited to connect with Cuban queers to get their perspective on all the changes…and maybe get lucky, too. This proved much easier and more complicated than we expected.
Some things to know about Cubans: 1) They are some of the most friendly and attractive people in the world. 2) Very few of them speak more than basic English. 3) They are very poor. Just how poor? The average government job — which, until fairly recently, was the only kind of job you could get — pays the equivalent of 20 USD per month. Even in Cuba, where mojitos can go for $2 or $3, that won't get you far, so pretty much everyone is somehow on the hunt for foreigners and their currency.
…


We're writing this while gagging with excitement. The fourth issue of GAYLETTER Magazine is out right now! We are so thrilled to finally share it with you. We are not gonna bore you with details about all the hard work that went into it, let's just say it was an enormous endeavour. We are very, very, very thankful to all the contributors who helped us at the house of GAYLETTER. This issue features original artwork, photography and stories by Campbell Addy, Alvin Baltrop, Ricky Cohete, Vincent Dilio, Hal Fischer, Slava Mogutin, Daniel Marin Medina, Lauren Mortimer, Daniel Nicoletta, Daniel Rampulla, Jacob Sousa, Cyle Suesz, Devin Wallace, Chad M. Weaver, Zena Zipora, Austin Dale, Drew Harper, Landon Gray Mitchell, Leo Racicot, Eric Torres and more. For this issue we decided to do two covers: one by photographer Kostis Fokas, followed by his bright and beautiful story shot in Greece, and a limited edition cover by Gerardo Vizmanos featuring 4 beautiful butts, in honor of our 4th issue. Thank you to the hundreds of people who pre-ordered the issue online. For everyone else, go get it! —t&a
gayletter.com/magazine.
A NSFW film made about our Edmund White shoot for GAYLETTER Magazine Issue 4.
Another one of the boys featured in GAYLETTER Issue 4