We're writing this while gagging with excitement. The fourth issue of GAYLETTER Magazine is out right now! We are so thrilled to finally share it with you. We are not gonna bore you with details about all the hard work that went into it, let's just say it was an enormous endeavour. We are very, very, very thankful to all the contributors who helped us at the house of GAYLETTER. This issue features original artwork, photography and stories by Campbell Addy, Alvin Baltrop, Ricky Cohete, Vincent Dilio, Hal Fischer, Slava Mogutin, Daniel Marin Medina, Lauren Mortimer, Daniel Nicoletta, Daniel Rampulla, Jacob Sousa, Cyle Suesz, Devin Wallace, Chad M. Weaver, Zena Zipora, Austin Dale, Drew Harper, Landon Gray Mitchell, Leo Racicot, Eric Torres and more. For this issue we decided to do two covers: one by photographer Kostis Fokas, followed by his bright and beautiful story shot in Greece, and a limited edition cover by Gerardo Vizmanos featuring 4 beautiful butts, in honor of our 4th issue. Thank you to the hundreds of people who pre-ordered the issue online. For everyone else, go get it! —t&a
gayletter.com/magazine.
A NSFW film made about our Edmund White shoot for GAYLETTER Magazine Issue 4.
Another one of the boys featured in GAYLETTER Issue 4
One of the boys featured in GAYLETTER Issue 4
BTS from our shoot in Miami Beach for issue 4
ONETSHIRT: GENERATION X BY SILVIA PRADA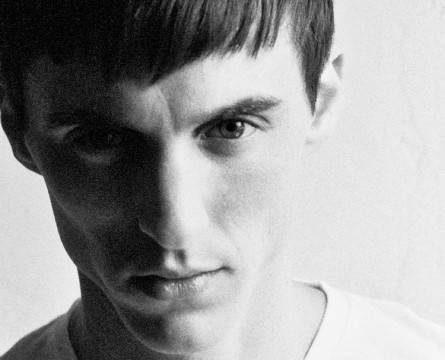 ONE.T.SHIRT is a fashion brand offering limited-edition T-shirts from collaborations with talented peeps.
For their latest edition, Spanish artist Silvia Prada created a series of portraits of "iconic Hollywood figures that have each shaped and marked GENERATION X in their defining years."
Choose from Tom Cruise and Matt Dillon (both seen here on our model Thomas Gibbons) along with Drew Barrymore, Demi Moore, Johnny Depp, Lisa Bonet, Corey Haim, Winona Ryder and many more. onetshirt.eu
For more, click here to get a copy of the magazine…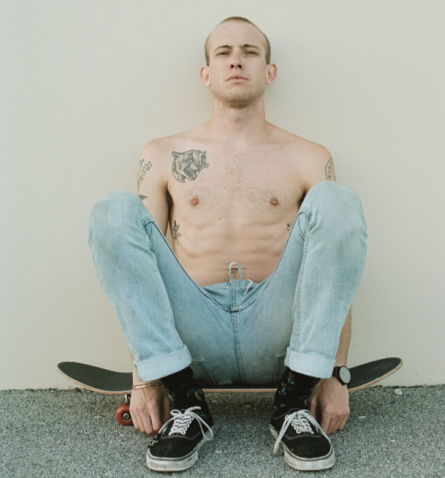 If there's one thing South African–born, Toronto-dwelling Daniel Pitout hates, it's laziness. As the singer, guitarist and songwriter for alt supergroup Eating Out and drummer for scuzzy Vancouver punk trio Nü Sensae (not to mention his former stints in Hunx and His Punx, Shannon and the Clams,Terror Bird and Groovy Temple), Daniel has a brand of restless energy that has manifested itself into a consistently strong work ethic. That energy bleeds into Eating Out's '90s-indebted music videos, too. For the catchy song "That's My Man," Daniel drew inspiration from classics like Clueless for a distinctly retro feel in line with the group's alt-rock style. Daniel also happens to be one of the few openly gay members in the D.I.Y. punk scene, and he's a very active, forward-thinking one at that: In 2012, he launched the AIDS Day Music Project, a nonprofit organization that promotes HIV/AIDS awareness through music and art every December as part of AIDS Awareness Month.
We dropped Daniel a line to ask him a few questions about Eating Out, skateboarding, gay groupies, the '90s movies that inspire his music videos, and what being queer in the D.I.Y. punk scene has meant for him.
Who came up with the name Eating Out? I did. I just thought it was a funny name for a band and thought it would be funny to have a gay guy front a band called Eating Out.

What's your process for writing music? I usually start with a gui- tar line because Eating Out songs are pretty melody-driven, and then I build everything on top of that. …