For GAYLETTER Issue 9, we were inspired by the brave artists who never let censorship compromise their creativity, so we decided to publish two covers. The ascending pop star Kim Petras has advocated for transgender visibility since adolescence, becoming the youngest German to undergo gender confirmation surgery. Vivienne Maricevic spent the early 1980s photographing male burlesque clubs, and her photo of a naked young man with legs bent over his head is a remnant of a time when self-expression was in all it's glory in the heart of our city. (A limited edition cover). Also featured in this issue is an essay by Gio Black Peter, titled "Your Post Has Been Deleted." Gio, an expert in censored social media, has lost 10 Instagrams, 15 Facebooks, two YouTubes and four Vimeos, all because he dared post nude photos of himself — God forbid someone might see a naked body on the internet. And of course we must mention Penny Arcade, whose 1990 one-woman show Bitch! Dyke! Faghag! Whore! Was a blistering, and hilarious, indictment of our culture's fear of sex and nakedness. A Warhol girl, Penny expounds upon the fight and fun in trying to understand yourself in a world eager to say no. Also, in this issue featuring original artwork, photography and stories by Mickey Aloisio, Rodrigo Alvarez, Arshy Azizi, Michael Bullock, Daniel Cavanaugh, Lia Clay, Vincent Dilio, Katt Fox, Benjamin Fredrickson, Luke Gilford, Agustin Hernandez, Alexey Kim, Benoit Loiseau, Landon Gray Mitchell, Slava Mogutin, Matthew Morrocco, Leo Racicot, David Benjamin Sherry, Pacifico Silano, Michael Stipe, Cyle Suesz, Patrick Sweeney, Daniel Trese, Stephen Velastegui, Brian Vu and more. As an independent magazine, we're allowed the luxury of never censoring ourselves. We're glad we can offer space and ink for the people who, in their work and lives, show us all how to be free. Get it here. —t&a
ORDER NOW! SHIPS LATE OCTOBER.
"Clowns have made a comeback!"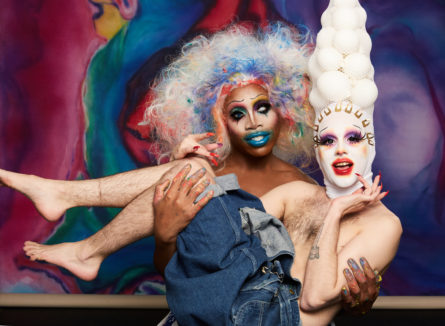 When we were casting "The Clowns" to be photographed for GAYLETTER Issue 8, we looked for queens who's makeup operated within the vein of what is visually understood as clown. Happy, sad, goofy, kitschy, macabre. Even if queens weren't explicit in their clowning, their beats are paintings, and we read for gestures that pointed toward the ubiquitous performance style. Some of them knew they were clowning, and some didn't think to much about it, but if we saw a clown, we called the queen.
Some of the clowns flew in for the shoot, some of them rolled over the bridge from Brooklyn. And some came straight from the gig. Before they touched up their hair and sharpened their frowns, we asked them to step into frame for testing. It's not like we'd never seen a drag queen half-out of drag before, but the particular mixture of sweatpants and sneakers, or overalls, or knitwear represented what Tyler Akers, writing for Issue 8 calls the "complex, colorful relationship between queerness and clown culture." He posits there has never been a better time to debate the conjoined politics surrounding the art forms considering the omnipresent the national conversations around LGBTQ+ issues, and the rise in popularity of queer phenomena like RuPaul's Drag Race.
We wanted to hear from the queens who became clowns. What was their inspiration? Is clowning kind of important? "Since court jesters," HinkyPunk said, "clowns have been a voice of truth veiled in humor or farce. …

Moments between the frames on set for GAYLETTER Issue 8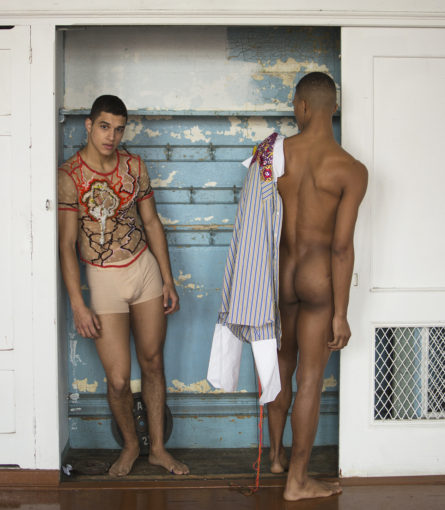 Early on a Sunday morning last December, we met at our Lower East Side office. It was cold and overcast that day, hardly inviting weather for a shoot. But it was a shoot day nevertheless! With models Markus, Sy, and the twins Jan Carlos & Hector, we set off deeper into the Lower East Side with cappuccinos in hand and a few pastries and arrived on set to shoot with fashion photographer Cody Chandler.
Designed by Neil Patrick Grotzinger, Nihl applies ornate sensibilities to traditional menswear. Using Swarovski crystals, his Parsons' MFA collection (Spring / Summer 2018) calls upon beaded singlets and leotards to deliver a glittering wrestling fantasy.
It was an intimate set, no stylist (except for us), no hair and makeup team (obviously the models didn't need that because they arrived all natural) — it was perfection. the only thing that we forgot was The wine. As you can imagine, 75% of our shoots come with a toast because we are gay and as you know we love a celebration.
Check out the behind the scenes photos below, and to see the images that made it to print, buy GAYLETTER Issue 8. 
…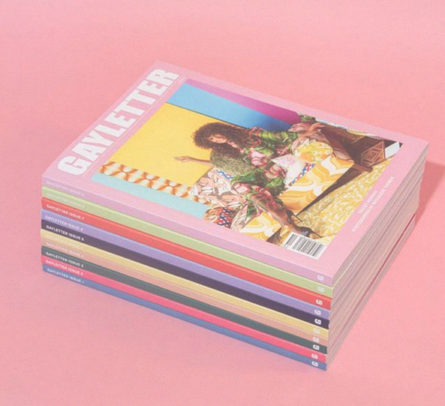 Come join us this week, starting this Thursday, September 20 at 6:00PM (for the preview) as we head to the Printed Matter's Art Book Fair at MoMA PS1 —  We'll be at Booth N27. The book fair is one of our favorite events of the year (Click here to see photos from the last year). Not only is it a wonderful chance to meet our readers, but we also like to sneak off from our booth, when if we get the chance, to go roam around the floors of the fair to see all the amazing printed matter available from other publishers and galleries from around the world.
There is an overload of incredible stuff to look at. In its 13th year the fair features 365 exhibitors. It is also the first fair since the death of it's curator Shannon Michael Caine. It won't be the same fair without him…On Sunday at 3:30PM we're going to be talking on a panel about BUTT magazine — It's the US premiere of the film 'After BUTT' by Ian Giles (Here's the Facebook page with more details). Come to the Art Book Fair to support print and help us keep our publication alive by buying one, or ALL available issues, nothing wrong with owning the entire collection!
Thursday (preview night) 6:00PM-9:00PM, Friday 1:00PM-7:00PM, Saturday 11:00AM-9:00PM, Sunday 11:00AM-7:00PM. MoMA PS1, 22-25 Jackson Ave. Long Island City, NY. …

Just in time!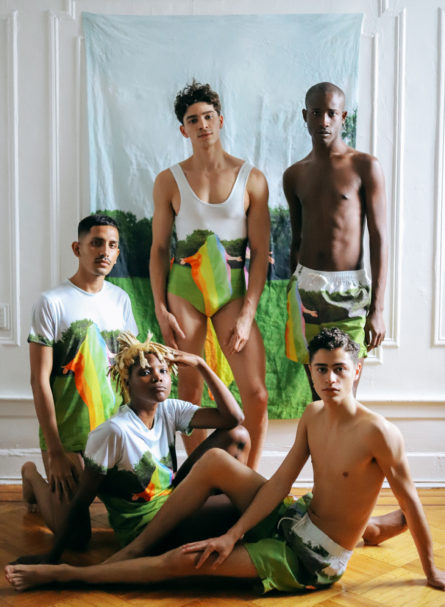 Pride month is here again, and while we celebrate our community year round, it's wonderful to have a commercially recognized month. (Cause it certainly isn't federally recognized!)
Originally designed by Gilbert Baker for San Francisco's Gay Freedom Day in 1978, the flag — which symbolizes peace, happiness, and among other things, pride — has certainly grown in popularity. For GAYLETTER Issue 7 we asked several working artists to recreate their own interpretation of the flag, in whichever medium they pleased. Kostis Fokas' photograph graced our cover.
"The most important values of the human existence. For me," he said, "there's no difference between women and men, races or sexual orientations. We are all equal, we have the same rights, and we should celebrate this. The rainbow flag is a celebration of life!" — Kostis Fokas
In collaboration with PAOM we decided to put this image on a handful of items most perfect for summer and celebrating Pride. This collection is most certainly what you should be wearing this June and beyond! To help make the shoot even more queer and proud, we casted exclusively with New Pandemics, the first ever casting management agency dedicated to increasing LGBTQ+ visibility.

Featured in GAYLETTER Issue 8. Starring: Imp Kid, Aquaria, Harajuku, Monét X Change, Mango Sassi, The Blair Bitch, Hinkypunk, Jarry-Kate Olsen, Harry Charlesworth & Sussi.

For this issue, No. 8, we felt it important to share the kinds of queer stories and images that you can't see anywhere else. By this we mean louder, brighter and more celebratory than we have ever attempted. GAYLETTER Issue 8 features a kaleidoscopic assortment of brilliant people from the first trans model Tracey Norman to the always radiant Amanda Lepore. There's a feature on clowns and jesters, some cocktails, an almost naked trip through Europe and a reflection on the artist David Wojnarowicz. Plus so much more. Making a magazine is a long, loving journey, but we're grateful we get to work with friends we've made over the years, and emerging talent looking for space to make enriching work. Collaboration is a big part of our editorial mission, and that includes the conversations we open up to readers. We encourage you to share the stories that catch your eye with your friends and lovers. We hope you find some inspiration in this issue. This issue also features original artwork, photography and stories by Tyler Akers, Lia Clay, Francesco Dama, Vincent Dilio, Andrej Dúbravský, Boy George, Matthias Herrmann, Tommy Kha, Naruki Kukita, Bruce LaBruce, Troy Michie, Slava Mogutin, Gio Black Peter, Paul Mpagi Sepuya, Ben Zank and many more. Enjoy it! —t&a
OUT NOW!
Beefy bodies, green-juice and Elizabeth Taylor drag in the new video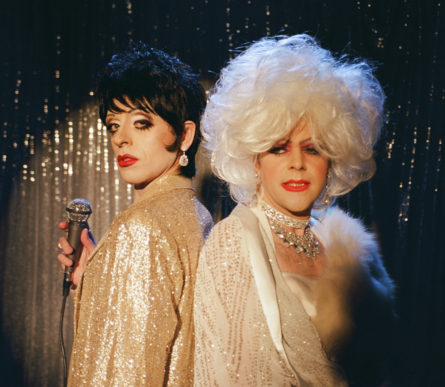 "Riding in your car on the road straight through to nowhere." So sets the tone for Ssion's latest single "At Least the Sky is Blue" off the forthcoming album O. The opening line is miserable at best; a cliché sung by teenagers, that has been metabolized into a cultural phenomenon of sorts — who hasn't dreamt of driving away from it all with the windows open nowhere in front of you?
Cody Critcheloe — the artist behind Ssion — is a mastermind of this kind of banal beauty. He made his name as a singer, making music off his laptop, but has since re-focused on directing.  After his music career took off in late-2000s, Ssion's been on musical-hiatus since 2012's Bent. The name hasn't completely gone away though. His film-treatments, which dabble mostly in surrealism, has found him working with the likes of indie-stars Perfume Genius and pop-icons like Kylie Minogue.
When we heard Ssion was coming back with an album it was easy to say 'yes' when Cody asked to collaborate on some pages for GAYLETTER Issue 8. In conversation with Bruce Labruce, Cody said that "At Least the Sky is Blue" is a very honest song, inspired by his time spent in L.A. doing ketamine, which he confessed is "such a fun drug."
On a lyrical level, "At Least the Sky is Blue" indulges in that revery, but the music video has it's own narrative breakdown. Just under six minutes of footage amount to a pulpy, tacky and totally far-out storyline that includes beefy bodies, an in-house green-juice bar, an 80s Mercedes-Benz, and a dream sequence staring Ariel Pink as a white-haired Elizabeth Taylor. …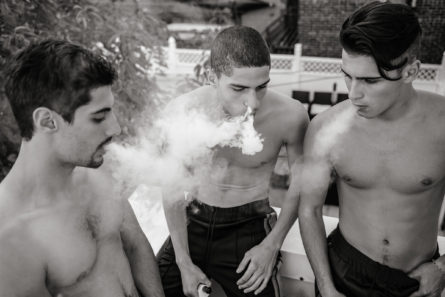 On a perfect mid-summer day, we traveled to Sheepshead Bay in Brooklyn to shoot a story for GAYLETTER Issue 7 tittled 'TV' — the story was very simple, we just wanted to recreate what we often do with our friends: gather at someone's house to watch TV, usually with some nice blankets, comfortable looks, snacks, smokes and lots of wine, beers or whatever is available after 5 hours in. It became a joke to us that we would go watch TV at a friends' house and then end up sleeping on the floor until 4:00am. It's prob the best thing to do while it's cold in NYC. It's like Netflix and chill but without the sex.
We headed to our shoot with photographer Cody Chandler (who scouted the location), a groomer (Boswell from Best Barber), a stylist (Christopher Rao) a few models and our small team. During breaks we hung outside — the breeze was right, the sun felt perfect.
Cody took a few behind the scenes pics of Alex, Elvis and Chris during a smoke/vape break…We thought we'd share them with you here.
Alex, Elvis and Chris wear pants by Marc Jacobs.
To see the full 'TV' story, grab a copy of GAYLETTER Issue 7. …

OUT NOW!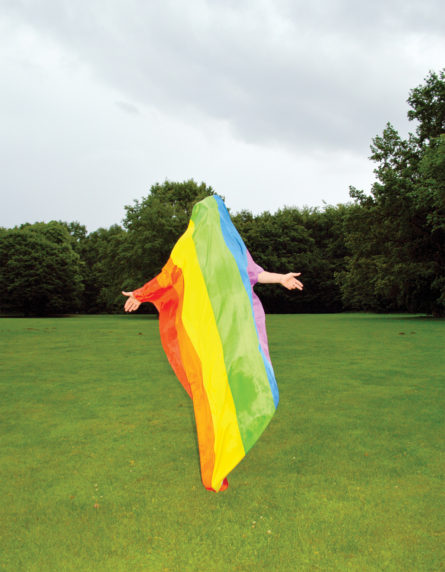 Surprise, you dear readers are the first to get a glimpse at the latest issue of GAYLETTER Magazine — Issue 7.  It's our Fall/Winter edition and it is full to the brim with some very enjoyable stories, interviews and explorations into the queer world of 2017.
We'd like to give a big thanks to all those involved, starting with our cover image, photographed by the endlessly talented Kostis Fokas. We knew the moment he shared the photo with us that it had to be on our cover.
Inside issue 7 we have contributions by Tyler Akers, Ross Bleckner, Tom Capelonga, Cody Chandler,  Vincent Dilio, Benjamin Fredrickson, Brian Kenny, Matthew Leifheit, Danielle Levitt, Benoît Loiseau, Andrés Mañón, Slava Mogutin, Daniel Nicoletta, Gio Black Peter, Manuel Solano, Cyle Suesz, Luis Venegas, Gerardo Vizmanos and more.
This is an especially prideful issue, so we encourage you to carry it prominently as you move through the world. As we say in our editor's letter, there's a young queer kid out there who more than you could ever know needs to see that our flag, and you, exist. Get it here. …

She got filthy!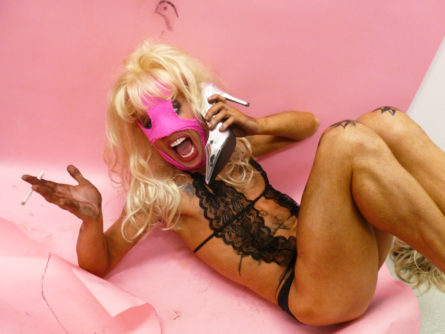 On the evening of May 11, 2015, the world watched with gaping mouths and finger-snapping YAAASSS BITCHes as Kennedy Davenport wiped the stage with Katya Zamolodchikova in a lip sync battle for their lives. Katya, the blond, kooky, insecure, Soviet-inspired, mostly pretty, very bendy audience favorite, was sent home from the competition. "Katya, you may doubt yourself sometimes, but I have no doubt that you are a star. And a hammer, and a sickle," RuPaul said. "Now, sashay away." Today, Katya is a star — an All Star, actually — but this isn't about her.
This past winter, we invited one of our favorite collaborators, Slava Mogutin, into the studio for a photoshoot. Born in Siberia, Slava spent his early adult years as an acclaimed writer and journalist in newly post-Soviet Moscow. As one of few openly gay voices in Russian media, he pushed hard on the country's barely-there tolerance for homosexuality. By 1995, facing threats of criminal convictions and jail time, he was forced to flee, with the United States granting him political asylum.
So we decided to pair Slava with Katya Zamolodchikova. Get it? They speak Russian; they have Soviet roots; they're gay. Instead, Brian McCook arrived. Brian is the Boston-born performance artist whose life has been linked to his Katya character since her breakout success on RuPaul's Drag Race. But one of the first things he told us was, "I'm not doing Drag Race drag today, OK?" What followed was a chaotic collaboration between two formidable artists. …