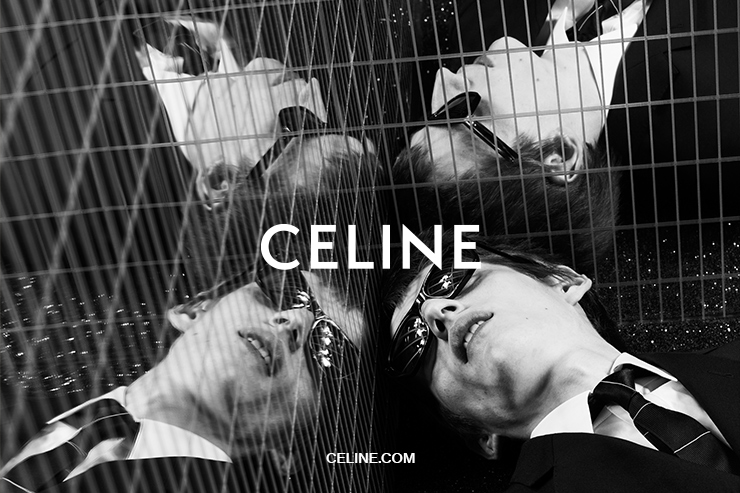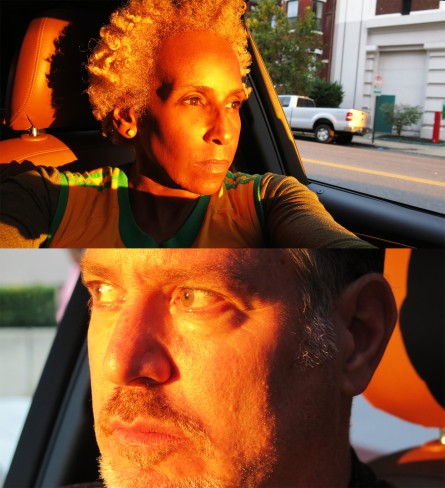 I went on a fantastic spontaneous roadtrip to Washington D.C. with my friend, GAYLETTER contributor and groundbreaking artist Renee Cox. She had a couple of appointments with important curators there and I went along for the ride. I packed a black Juicy Couture corduroy blazer (cuz I know those queens love a lapel) a couple of french tailored pressed shirts, a nice bottle of red for the car, some tomme de savoie (that's cheese), pistachio nuts and a cock ring. The drive down went by in a flash, we had so much catching up to do. We arrived at our host Shawanda's cute house dropped our bags, had a cocktail and pressed on to the spot that was hosting Renee's cocktail party the next night for a boozy dinner, then straight to bed.
We woke in bright sunshine, Renee made a breakfast of fresh squeezed orange juice and steel cut oatmeal with maple syrup. While she went on to her meeting I investigated the National Portrait Gallery for the very first time. WOW, spent hours in that place. The exhibition of all the president's portraits from Washington on was intense. Props to Bill Clinton for choosing Chuck Close to do his portrait. Apparently each sitting president chooses the painter they want to do their portrait-who knew? While deep in thought at the photo contest installation adjacent to the presidents, Renee texted me she was done. We met around the corner at OYA, a fabulous Japanese restaurant where we had sashimi, beers and a photo shoot in their black and white over-designed lounge. …

Images from Church Dublin a monthly party in Ireland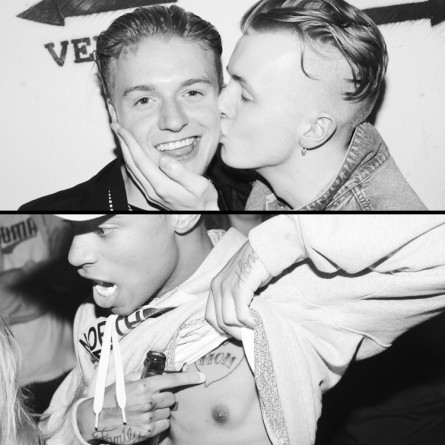 Once a month, there is a service unlike any other in Catholic Ireland — one fuelled by a hedonistic celebration of sin. Church Dublin is one of the city's hottest new gay-friendly club nights, and those that answer the High Priests' (Dave Byrne, Kyle Barnett and James Kavanagh) call to worship offer glimpses of a very progressive, very eclectic, and very attractive future.
To date, each event has been held at The Pint down Eden Quay, a fitting venue spanning multiple floors connected by winding stairs and even offering a large open-air smoking deck. However, it is the central dance-floor where sinners gather and, in the shadow of looming crucifixes, a gorgeous array of Irishmen and women stumble and sway at the foot of the altar.
Biblical themes so far have included the Immaculate, Baptism, the Garden of Eden, and a special night of Halloween Necromancy. The range of local DJ's passing through Church also means that various voices have joined together in the creation of an intoxicating repertoire of Hymns, which has included the likes of Azelia Banks, Cyril Hahn, Disclosure, M83, Eurythmics and M.I.A.
Church Dublin takes its inspiration seriously: it's an event that not only welcomes all types of people, but thrives off the diversity of its congregation. It is this rejection of stigma that draws such a vibrant group each month — by celebrating those typically castigated as sinners, Church shows the inclusiveness that should characterise a house of worship. …

A hotel for people with good taste and fat wallets.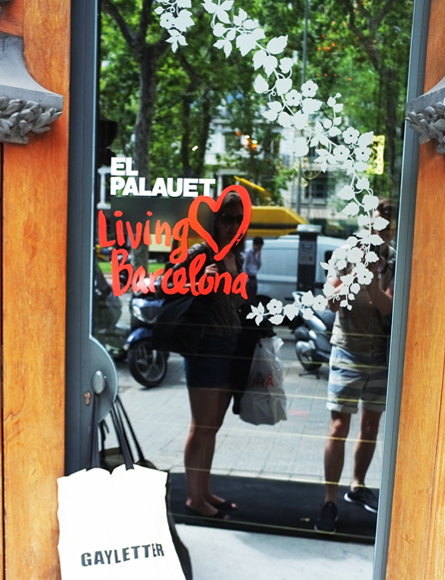 The Spanish city of Barcelona, with a population of 1.6 million, is super gay friendly. In fact, behind Germany, Spain is the most fag friendly country in the world. You certainly get the sense, not just from their love of Almodovar movies, that it's a very laid back, friendly place. Over the next couple of weeks we'll be featuring a few of the places we visited on our trip.
First up is the El Palauet in the suburb of Gràcia. It's one of the most luxurious places we've ever been. The hotel manager wouldn't tell me what celebrities had stayed there, but I'm sure I've seen an Instagram of Rihanna smoking a blunt in a double-denim-midriff-baring outfit on one of the same couches we had in our suite. And when I say "suite" I'm not exaggerating. Honestly they should be called apartments, cos they're that big. Ours had an entry way, full kitchen, dining room, living room, 2 bedrooms and 2 bathrooms with walk-in closets. Then there was the chromo showers, Japanese toilets (they came with a menu of options) and full balcony overlooking the Passeig de Gràcia.
There's no need to dial '0' to reach the front desk when you need something at the El Palauet. Every guest is given access to a personal assistant who's available to assist you 24 hours a day. Whenever we called our assistant Christian his response would always be the same: "I'll be up in 5 minutes." Didn't matter if all we needed was a suggestion for a restaurant, or to ask how to turn on the TV, every time he'd appear at our door in 5 minutes as promised. …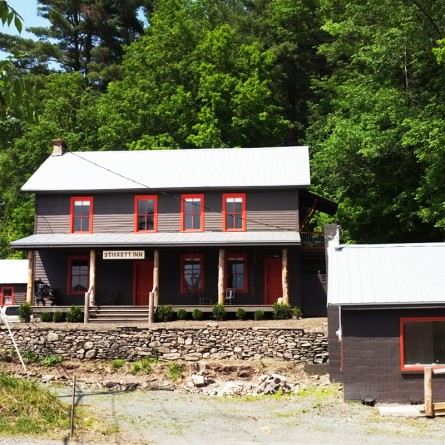 We were invited to spend a weekend in Barryville (Upstate New York) about a month ago from the owners of the Stickett Inn (hehe get it? stick-it-in). Barryville is a tiny town where everyone knows everyone. There's a diner and a general store, plus a cute antique store and a German style restaurant. That's about it. However the surrounding forests, and the Delaware River, make it the perfect place to spend a lazy summer weekend.
The Stickett Inn was founded by Johnny Pizzolato (entertainer and co-owner of the International Playground shop and showroom) and Roswell Hamrick (Production Designer for TV and Film, Interior Designer) at the start of 2013. The owners are a cute couple who clearly have excellent taste. We were so impressed by the interiors we decided to take a few photos to share with you. The boys told us that their vision for the inn was for it to be a "Sexy Boyscout camp for gays — a modern enclave in the woods with all the conveniences of the city, but away from it all… girl." Cute.
What follows is a diary of our weekend at the Inn. We were joined by two of the GAYLETTER family: William and Mossy.
This is the living room of the Steam suite (the rooms are named after their major feature — the Steam Room has a steam machine in the bathroom and the Eat room, where Mossy and Tom stayed, included a full kitchen). …

A hotel that feels like home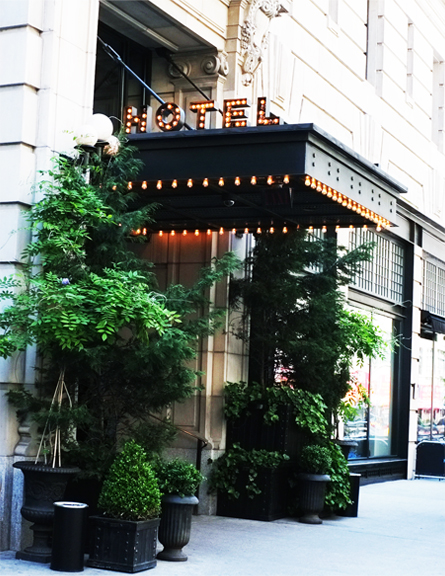 If we were visiting New York, Ace Hotel on 29th St. is where we'd stay. It's in a quiet part of town, not really near anything in particular (well besides a few wig stores and Madison Square Park), but it's still one of the most interesting hotels in the city. Rooms are designed to look like apartments, and start at only $249. With an Opening Ceremony store on the ground floor, three amazing restaurants, and a Stumptown coffee shop, you really have no reason to leave the building. It's also owned by really cool fags, so the staff won't bat an eyelid when you enter the lobby at 4AM with three German backpackers, and that nervous Puerto Rican thug you met outside The Cock on your way home.
The first Ace Hotel opened in Seattle in 1999. Since then they have expanded to Portland, Palm Springs, NYC and this year they're set to open in London and Los Angeles. We spent a night at the NYC hotel recently. We had an amazing time in the beautiful old building with its wildly decorated interiors designed by the in-demand design firm Roman and Williams. Cos we asked nicely, they put us in one of their most interesting rooms. It was filled with an eclectic mix of furniture, and of course their trademark record player, and a collection of indie records. What we liked most about the hotel is their attention to detail. There is NO part of the hotel experience they have not thought about. …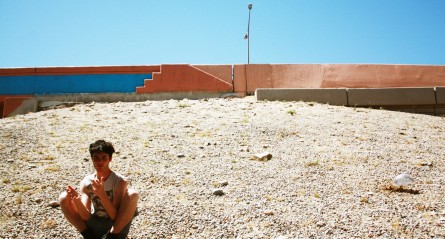 I understand that David Lynch has been referenced in each post. It's unintentional — trust me. Maybe I haven't gone traveling through the USA — maybe I've actually crawled into the head of David Lynch… our hotel room in Albuquerque looks extremely Lynchian.
After enjoying the Lynchian installation we walked across town to the liquor store so we could get smiley before arriving at the "best gay bar in Albuquerque," Sidewinders. The guy behind the counter at the liquor store was wearing a Jack Daniels t-shirt but the Jack Daniels had been replaced with the word Redneck — he said "ya'll be safe now" — what a cliché, brilliant.
After going back to the Lynchian room and getting perfectly floppy armed we called a cab — one and a half hours later the cab came. (Since Alice wasn't happy with the photo I posted last time I thought I'd make it up to her with this divine Casually Waiting For Cab shot — mine too)
Sidewinders — what a horrible place to be, cool drag queens but depraved patrons. While there I was thinking about what to refer to these folks as. I've decided to go with "derelict sleazes." I understand that this is a generalization but I honestly wasn't presented with any other kind of person, other than the employees and the performers. One 40-year-old guy offered me to join him in a drug fueled orgy with his homeless looking friends, I turned his offer down and he snapped his fingers at me. …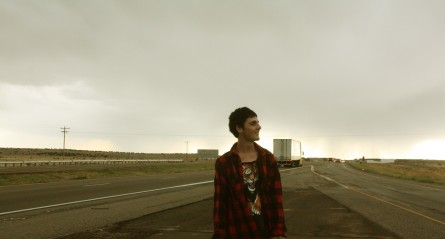 Mount Vernon — hell…this town is surely cursed. Alice and I were stuck in an obscene thunderstorm and couldn't get a ride for an entire day and night, we were offered crack by a guy with a knife and forced to eat along side truckers from all over America. Fuck you Mount Vernon — fuck you. Then a lovely doctor came to our rescue — he loved jazz music and we loved him — he dropped us off in Joplin and our journey continued.
In Joplin Alice and I encountered our first hitchhikers — we shared an intersection and tensions were high. There was an instant feeling of competitiveness and suspicion — we were no longer hitchhikers, we had instantly been turned into racers. You'd expect other hitchhikers to enjoy our presence but apparently that's not how this world works. We're all fighting each other for automobiles and experiences. Then a cop pulled up and told us that hitchhiking is illegal in Joplin and he told us to leave…he didn't tell the others to leave though, are they regulars? Have we been beat? We have. So we walked down the street and luckily got a ride from a Christian family and their foster child, they took us to Big Cabin after forcing us to join them in prayer.
Big Cabin is an absurdly tiny town. Interstate-40 passes through Big Cabin and some other highway does too, there is also a gas station and an oversized Native American statue that didn't look very happy… very Twin Peaks. …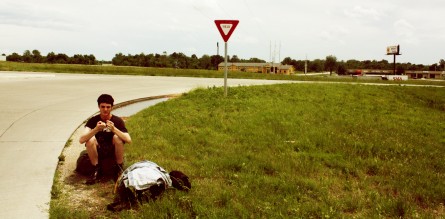 Early in the morning we were attempting to catch a ride — after about an hour an off-duty cop pulled up and told us we needed to leave (even though what we were doing is legal). This off-duty cop then passed me $5 and recommended a homeless shelter downtown. I got the impression that he would drive by later to see we had left so decided to catch a Greyhound to Springfield, Missouri (much to satisfaction of Tom & Abi).
This turned out to be the weirdest bus ride to the weirdest city.
Thus far our theme song has been the expected Route 66 by Nat King Cole, then something happened. On the fourth day there was a shift — our consciousness has been infiltrated by the, what I like to call, Road People. Now all I hear is the reflective freak show song People Are Strange by The Doors.

The next 8 hours were spent listening in on conversations of the Road People — there was lots of swapping stories and bonding, meanwhile Alice discovered her love for The Rolling Stones — the beautiful Mick Jagger in particular.
Allow me to take a moment to try and explain exactly what I mean by the term Road People — I'm not sure that I even have a complete understanding of this term. Road People are people who have some connection to travelling or travellers (within middle America) — though they aren't always travellers themselves. Half are travellers and the other half are people who live in towns or neighborhoods that seem to serve only travellers — whether that be truckers or adventurous and stupid kids such as ourselves. …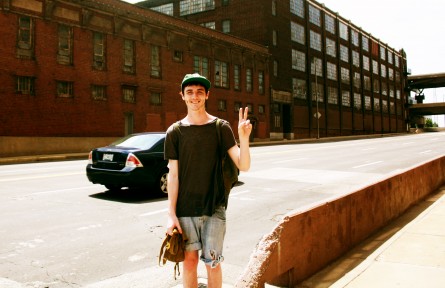 Our intern Thomas decided to spend the the next few weeks hitchhiking across the country. When he first told us, we couldn't help but turn into nervous moms and try to convince him to take a Greyhound. He wasn't interested (kids these days!). So instead, we've asked him to write a road diary of his experiences along the way. Here's part 1. —T&A
———-
The act of hitchhiking with my fag-hag, the lovely Alice, from NY to LA is a novel experience above all else. Trains, buses and strangers cars will serve as our main modes of transportation — fortunately/unfortunately. This plan is foolishly romantic but clichés exist for a reason — because they're wonderful! Did I mention that my boyfriend is waiting for me in LA? (I've unintentionally stepped into a starry-eyed piece of Queer-Beat cinema).
"Make sure you take some mace and only ride with girls and gays!" —Tom John Jackson
It's day 3 and we've already seen too much to document here.
We've sat next to an Amish family for 5 hours. The urge to ask them if they've ever tasted citrus covered shoelaces and bees wax simultaneously came over me. I have no idea what that means. Have I ever tasted citrus covered shoelaces and bees' wax simultaneously? Am I missing out? Are they?
We've ridden in a car with some generous folks who could've been friends of Frank Booth from David Lynch's twisted masterpiece Blue Velvet. After about 10 minutes their potential darkness subsided. …

MIA in MIA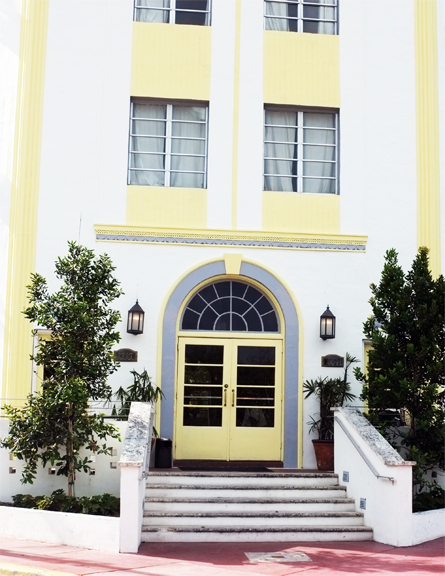 Recently, in between jobs, I took a 4 day trip to Miami — I needed some warmth before I jumped back into the ever-demanding New York work world. Miami is one of my favorite places to visit during the winter. I know that some people find the city a bit tacky—the perfect destination for those who like DJ Tiësto, Redbull and spinning class—but I've always been a proponent of the real Miami. The Cuban café-design-district–Herzog-&-de-Meuron's-1111–Yardbird–C.Madeleine side of the city.
The Roman and Williams designed Freehand Miami most definitely belongs in the "beloved by locals" category. It opened during Art Basel 2012, and Abi and I were among its first guests. It's technically a hostel, and it does have shared dorm rooms, but if you're older than 22 I'd recommend you stay in a private room. The private rooms feature all the necessary amenities you'd find in a hotel (maid service, cable TV, iPhone dock) without the services that'll leave you with a giant bill at the end of your stay. Which means there's no mini bar to raid when you get thirsty, or room service to call at 4am when you're coming down from whatever you took at Twist earlier in the night. But honestly, you don't miss them.
The Freehand is constantly having events by the hotel's pool, so there's plenty of chances to meet interesting peeps from all over the world. Their Broken Shaker bar is also a favorite with Miami residents looking for somewhere more casual to have a drink than the generally garish hotel bars found along Collins. …