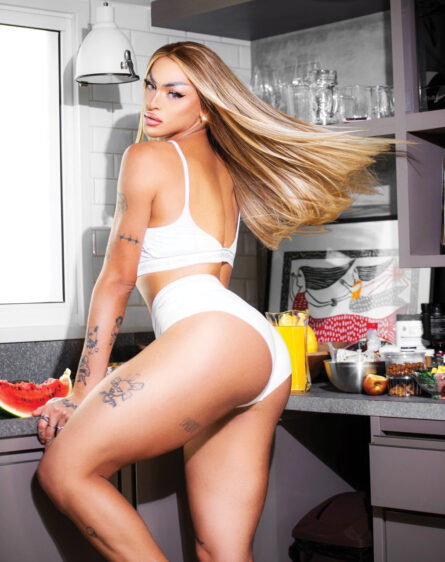 Pabllo Vittar was born in São Luís, Maranhão, on the northern side of Brazil but she spent most of her childhood in an area close by called Caxias, Pará. At 17 Pabllo moved to São Paulo to pursue a career in music and entertainment. From an early age Pabllo considered herself a true performer, "I was always a show off and loved the spotlight! I used to sing in the church choir as a kid, and as a teenager I used to do everything I could to be on local TV shows, perform as a singer or dancer anywhere and everywhere I could."
Pabllo considers herself a drag queen, but she is just as much a pop singer and songwriter. It's her music that has catapulted her to such enormous fame both in Brazil and now around the world. Currently she has over 10 million followers on Instagram, and she was just featured in Calvin Klein's latest ad campaign. Her song 'Timida' with Mexican icon Thalía (which came about after connecting through the DMs) has been watched over 15 million times.
We asked Pabllo to collaborate with us on creating a cover story and were at first unsure exactly how we would pull it off given the restraints of a global pandemic and subsequent quarantine. Turns out with the right amount of creativity, beautiful things are possible.
Where do you live now? Now I live in Uberlândia, Minas Gerais! It's not a big city as São Paulo and I love that! …