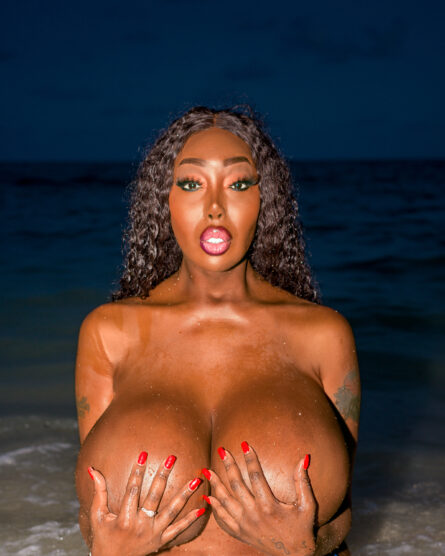 Fantasia Royale Gaga is many things, a showgirl, a Sagitarrius, and the season one winner of Out TV's Hot Haus. Originally hailing from Jacksonville, for nearly a decade, "The Body" as she's known has been perfecting her act down in Miami, a mainstay at Palace Bar in South Beach, which is also where she posed for us oceanside. She was on a birthday trip in Puerto Rico, however, when Brooklyn's Chiquitita called her up for a heartfelt chat about a year of leveling up, early role models for transness, and how she's navigated requiring respect from her family.
Hi, how are you? I'm good. How are you doing?
I'm good. Do you remember me by the way? [Laughs] We met at C'mon Everybody in Brooklyn. I was telling you that I stole something from you, and you said, "You stole something from me?" I was like, "I did." And I pulled out this pink rhinestone. Do you remember? Oh my gosh, yes, yes, yes. Because they had fallen off my costume [Laughs]. I do, I do.
Oh my God. It's good hearing from you. How is Puerto Rico? We are enjoying ourselves a lot over here. It's my first time in Puerto Rico.
What made you wanna go to Puerto Rico for your birthday? Well, originally I was supposed to go to Paris again, so those plans failed. Then I was supposed to go on a cruise with some of my friends and they all booked their cruise. …