Gengoroh Tagame's new graphic novel explores old prejudices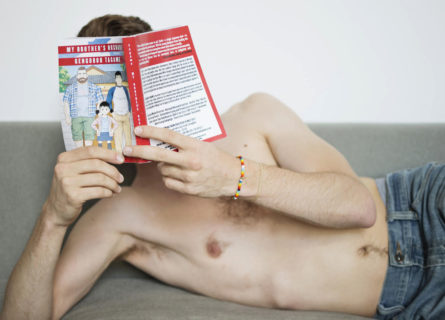 Gengoroh Tagame's manga My Brother's Husband marks a dramatic shift from the artist's other work. Tagame has been a fixture in the Queer Japanese BDSM fetish community since the 1980s and has been published in numerous publications and collections. He often sites Bill Ward, the British gay BDSM erotica artist as a major influence and his work is often compared to Tom of Finland's illustrations due to their hyper-masculine beefy builds.

My Brother's Husband follows Yaichi, a heterosexual single father whose gay twin brother, Ryoji, left Japan in his early twenties in search of a more accepting home. After Ryoji's death, his husband – a Canadian named Mike Flanagan – travels to Japan to connect with Ryoji's family and explore his childhood home. Yaichi, a deeply homophobic man, learns to empathize with Mike and posthumously accept his late-brother through the eyes of his young daughter Kana, not yet affected by the prejudices of her father or larger Japanese culture. While the story Tagame weaves is both touching and effective, it makes far more sense aimed at a Japanese audience than an American one. Japanese culture has an ingrained homophobia that Tagame himself mentions in an interview with Vice, saying "there was no term 'same-sex marriage' when I started to write My Brother's Husband". While there are many American readers who would benefit immensely from reading the manga (i.e. the 37% of Americans that still oppose gay marriage), the market the novel seems to be aimed at is gay Americans in their late-teens. …

Edited by Edmund White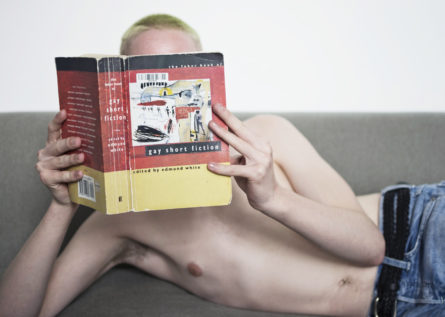 Like the very best jewels from the family vault, Edmund White, in 1991, gathered together these 32 stories about and by gay men. Spurred on in his idea by a very enthusiastic Robert McCrum, renowned editor of the equally renowned Faber and Faber, White set about to unearth as many gay treasures as he could: those he remembered liking the first time he read them, those he had heard positive words about, along with a few outings from (at the time) new writers, lending the collection a contemporary as well as a historical feel.
The Faber Book of Gay Short Fiction is a valuable and valued anthology. More than twenty years after its publication, its stories crackle with vitality and talent. Here is a gala gathering under the roof of one book of every legend of gay culture and the gay literary world, men now gilt in myth, gay history and the magic of words. So many versatile writers cover these pages, it is difficult to know where to begin —
Henry James' The Pupil, quite the most amusing of the lot, delights with its tale of a near-unresolvable bond between a teacher and his young student. Gore Vidal's bitter vetch piece, Pages from an Abandoned Journal, appears here and the old contrarian's voice rings out eager and strong. Here also to be found is the tenderness of Denton Welch's alarming encounter at a Swiss ski chalet, as well as the always salty, backwater perversities of James Purdy. …

Photographer Matt Lambert's upcoming book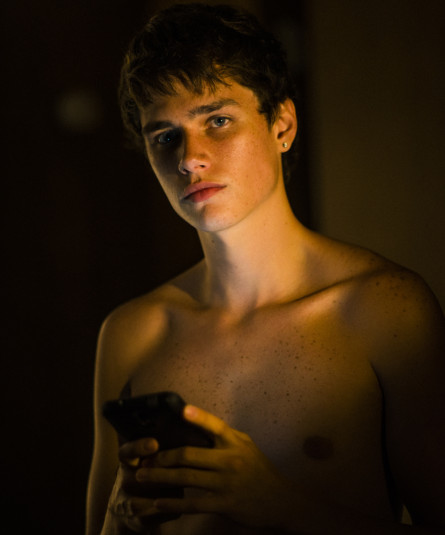 With everyone and their dads releasing original content, we're glad to know the folks at Grindr are starting to do the same. While other platforms have surely dabbled in productions related to gay life and culture, Grindr is guaranteed to bring audiences material created by queers, about queers, for queers. And soon: their first book will launch.
Thankfully it's by L.A.-boy-gone-Berlin Matt Lambert, a photographer whose art we've admired for some time now. Simply called Home, Lambert's work is concerned with space and its meanings, both physical and virtual. As we know queers' conceptions of both these things — home and space — can often be fraught, malleable, and life-affirming, Home features photographs and interviews that are both intimate and poignant, warm yet also chilling. With a foreword penned by critically acclaimed queer filmmaker Bruce LaBruce, Lambert's Home portrays generational and cultural shifts from the bars and bathhouses of the '70s to the virtual cruising grounds of the now.
These are spaces that gays begin interacting with in adolescence and onward, so Lambert's decision to cast through apps like Grindr and Instagram is quite apt. This choice lead him to a group of beautiful boys, and this publication presents them as finding pleasure and intimacy in fucking, along with comfort and kinship in explaining the nuances of cruising and understanding one's sexuality in our digital moment. With a Nan Goldin feel, infused with aesthetics that are particularly contemporary, Lambert's photos express distance and proximity, love and something else. …

Preserving the queer archive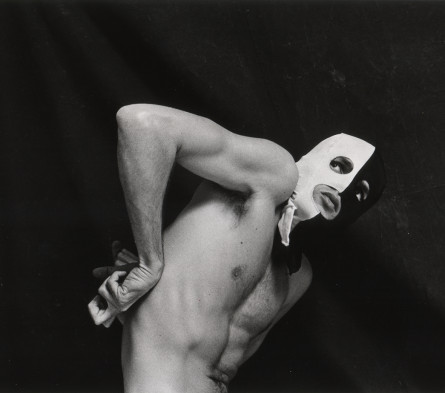 Any homo with half a brain knows that the history of "gay New York" is an exhilarating mix of sex and glamour and death and disease. It's these opposing extremes which makes it so intoxicating to learn about. Which is why when we see a good opportunity to connect with our lineage we do just that. It's one reason why living in New York City can be so exciting and melancholic — our history is all around us if we just look for it.
If you often lust for an NYC long gone, connect with the city's queer history by checking out this campaign for the upcoming photo-memoir by photographer Marcus Leatherdale. He's titled it What's Left of Leatherdale, and is promising to offer viewers his unique perspective on "a place & time in New York City that stands as one of the most provocative, creative eras the city has seen."
Marcus was thrown into the NYC art and nightlife scene in 1979 and slowly became an "It kid" and a contemporary to queer icons like Andy Warhol, Grace Jones, and Robert Mapplethorpe. This queen knew them all and he has the photos to prove it!
His work spans from 1978-2005. He's seen Palladium go from one of the best dance clubs in town to a dorm for rich kids, worked, and lived, through the epidemic, and seen the city change from a nexus of art, culture, and nightlife to, well, however you wanna describe what it is now. …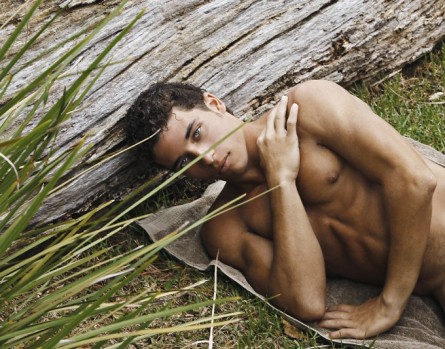 Brian Clamp at ClampArt informed me earlier this week about this book signing that they'll be hosting at the gallery on Thursday, December 8th. I asked for the book because I was curious the moment I read the word 'Bel Ami' in the title. The book that I am talking about of course contains nude photographs of some of the Bel Ami boys by the American photographer Rick Day.
We got the book delivered to the office and the first thing our office mate William told me was, "it's a statement, you need a large table for it not to eat the whole surface…" The next morning, I finally got to see the book in person and my reaction was like, "m m m it's not that big" (15.25×11.75 inches), but the dicks in it certainly are. Uncut, large, fluffy, tasty looking penises are in abundance in this lush tome.
Thank God for Bel Ami, and God bless those uncut penises. You can see their asses too, which are nice, oh and the boys are also Bel Ami level cute.   Brian told me that at the signing they'll also have "18 framed photographs on display from the project." So you can not only purchase the book there, but also own one of those prints. Here's a preview of what to expect.
              The book signing is happening from 6:00PM-8:00PM, ClampArt, 247 West 29th St. Ground Floor, New York, NY. …

Book:

Cleve Jones at The Strand

James Baldwin once eloquently said, "Know from whence you came. If you know whence you came, there are absolutely no limitations to where you can go." I would probably just say, "Learn your fucking history homo." But the point still stands. Now more than ever we must understand the history of queer activism in order to successfully continue on the legacy of those who came before us. Cleve Jones, a man integral to the history of queer activism, is coming out with a memoir called When We Rise that we all need to read. Jones worked with Harvey Milk, co-founded the San Francisco AIDS Foundation and came up with the idea for the AIDS Quilt for godsake. This Wednesday at The Strand we all have the amazing opportunity to hear him in conversation with OUT editor-in-chief Aaron Hicklin. They will talk all about Cleve's inspiring work and activism in the age of Trump. Admission is the cost of a signed book or a $15 Strand gift card and you can reserve a seat on strandbooks.com. There will also be an after party at Nowhere Bar because obviously. Now come learn whence you came, you homos. —Gayletter
Book:

Somebody to Love: The Life, Death, and Legacy of Freddie Mercury

It's Thanksgiving, and you know what I am thankful for? Gay people! Thank god for all the talented queers who have made this world one worth living in. There's too many to list in this short post, so let's just focus on one very talented queen today: Freddie Mercury. The incredibly charismatic, and unique lead singer of the band Queen changed the musical landscape for the better. Somebody To Love is a new biography of Mr. Mercury that not only tells the story of the singer's stratospheric rise to fame, but also very cleverly weaves in a history of the disease that ultimately killed him. Freddie died of AIDS complications in 1991. At the time he was one of the highest-profile people to die from the disease, which is why his life's story is ineluctably tied to it. The authors of the book, Matt Richards and Mark Langthorne, hope that Freddie's story "sheds light on the darkest times that so many lived and died through." While doing this the book also spends plenty of time exploring all the light and beauty associated with Queen's brilliant contribution to music. There's plenty of juicy details about Freddie's relationships, not just with men, but also with women. Freddie never officially came out of the closet, which is understandable considering he lived in the 70's and 80's and Queen was a very mainstream band. Regardless, Freddie is still remembered as a queer icon and pioneer. And I'll continue to be thankful that we had him, even if it was for only a brief time. —tom
Available now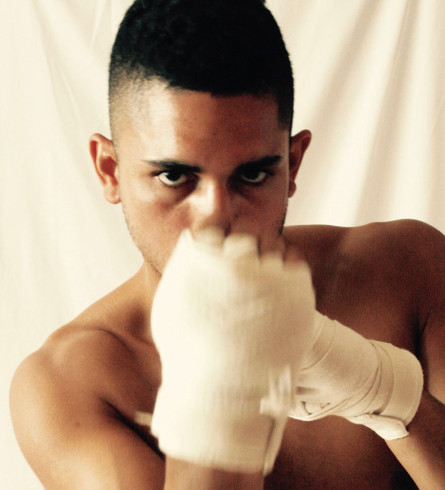 You the Boxer, is Michael Wynne's second photographic book in his one-year challenge to produce a new photographic book each month from October 2016 to September 2017. The small 4"x3" hand stitched book explores Wynne's experience boxing through text and 15 beautiful, intimate photographs.
There's an image of a sexy Latin boxer, his uncut dick and grown out bush showing off the intimate beauty of the male form. The whole book is an exploration of the raw masculinity and eroticism of contact sports. Wynne's poetic like text accompanies the photographs, here a favorite example: "The first time I saw you, you were sparring with one of the other coaches. Nimble was the word that came to mind, like one second you were on this side of the floor, the next you're five meters away on the other side of the mat. You weave in and out of the shadows. You're here and then not here, somewhere else."
The palm-sized book allows the reader to have an intimate experience exploring Wynne's raw and graceful world of athletic male photography. The beauty of the body, and the homoerotic communication between athletes, comes alive in this pocket sized publication.
Produced in an edition of 100, You the Boxer, can be purchased here.
…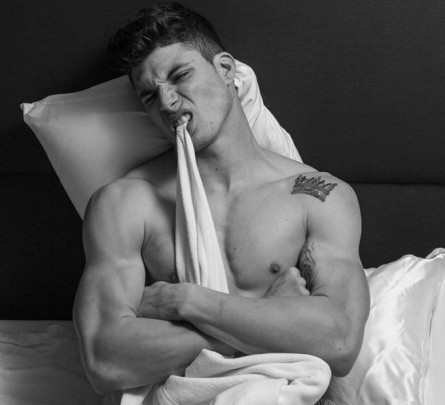 Josh McNey has released his debut book of photography, Olympia, Volume I. The book features model Joe D. Martinez embodying what it means to be an American Man in various cities around the country. Don't worry we already found Joe on Instagram so you can all properly stalk him.
A 140-page exploration of American masculinity, Olympia features Martinez in notable cities such as New York, Las Vegas and, of course, Saylorsburg, Pennsylvania. McNey positions his model as the everyman; a cowboy, a surfer, a party boy. All versions of the same guy mirroring his outward appearance to his geographic setting. What these men have in common is that their self-presentation reads as "confident and fitting." Well that, and that they all have cute butts. While it is deliberately unclear whether McNey is critiquing, or simply celebrating, our country's reverence for masculinity, it is clear that these are truly beautiful photographs.
McNey is an artist and creative director based out of New York and Los Angeles. Originally from California, he joined the U.S. Marine Corps and then went on to get his degree from Columbia University. His photographs can be seen in art and fashion magazines around the world.
I'm personally curious to see what the next two installments of Olympia bring, but until then you can check out more of Josh's work on his Instagram and pick up your own copy of Volume I here.
Below is a preview of the book:
…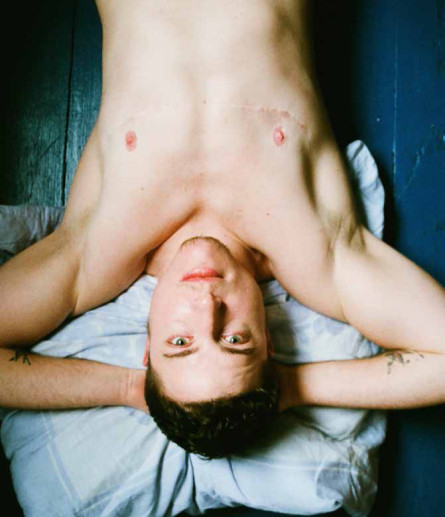 "…gender is not sane. It's not sane to call a rainbow black and white." With this quote by Kate Bornstein, photographer Joseph Wolfgang Ohlert begins his magnificent book of portraits, titled "Gender as a Spectrum." The book features photographs and interviews of 80 people around the world who run the gamut of gender expression. Everyone from drag queens to trans men and women, to those identifying as gender-queer are represented. Ohlert shot in locations such as New York, Paris and Copenhagen, looking to capture the essence of a person, not only what their outward appearance leads us to believe.

Born in Germany, Ohlert has previously worked behind the scenes of movie-sets and theater productions all while perfecting his craft. When paging through Gender as a Spectrum, the first thing you are struck by is the straightforward gaze of the subjects. The people in the pictures seem to protest the idea that we will simply objectify them and put them in whatever box we see fit. As an audience we are forced to take a step back and register that the person in the photo is first and foremost human.

The interviews are conducted by Ohlert's collaborator and friend Kaey. Kaey identifies as a transgender woman and discusses how when they started going through their transition there was no literature written about the trans experience by somebody who was actually trans. "I felt that something was missing and I imagined what I would like to find. …

Join the celebrated author Edmund White as he discusses his latest novel, "Our Young Man."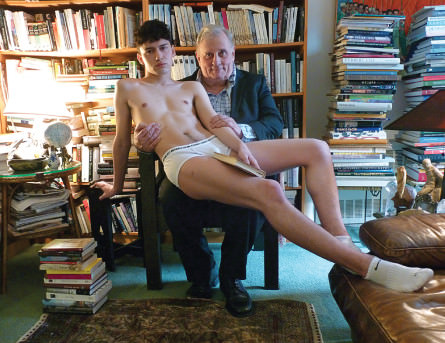 If you are queer and literate you should know the name Edmund White. If you don't, at least have the common decency to pretend and make sure you come hear him speak at the NYC's LGBT Community Center on August 23rd. Edmund White's career has spanned over 40 years and included 25 books of fiction, nonfiction and memoir. Most notable is the widely celebrated gay coming-of-age story (and my personal favorite) "The Beautiful Room is Empty," as well as the sex manual turned cult classic, "The Joy of Gay Sex." The Center is hosting White for a reading and discussion of his latest book, "Our Young Man." The book just so happened to have been reviewed by Leo Racicot for our latest issue of GAYLETTER. Racicot writes:
"White's novel is primarily the story of Guy, a beautiful boy from a poor French town. Fortunately for Guy, his perfect face and golden body pull him from what might otherwise be a grim fate. He ascends the shimmering heights of high fashion, first in Paris, then New York, and finds himself in a fast-paced, drug-fueled world where loathsome old toads pay big bucks for a young man's company, while detractors wait and watch for their friends and enemies to fail. Looks and self-maintenance are everything; gaining so much as an ounce could earn you the moniker 'Miss Piggy.'
Guy, recognizing all this, reminds us of the classic caveat so popular in those days: 'If you're not good looking, you'd damn well better be funny, and if you're neither of those, you'd better be a slut.' …

Susan Kravitz's debut celebrates the home of the brave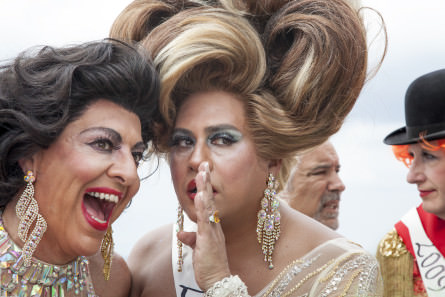 For those who have ever visited the gay mecca known as Fire Island Pines, it may come as a surprise to learn that even after the Stonewall Riots the community was fairly conservative. In 1976, Teri Warren was visiting from the more queer-friendly neighborhood of Cherry Grove and dressed fabulously in drag. He was promptly denied entrance to a restaurant on account of his appearance. In protest, a group of drag queens decided to come back on July 4th and "invade" the town. Thus, the Invasion of the Pines was born.
Every year on July 4th, an ever-larger group of drag queens hop on a water taxi and invade the Pines. Photographer Susan Kravitz has for many years been there to document the event. Kravitz considers herself a "social documentarian of daily life." She first visited Cherry Grove as a straight married woman, and then returned a couple of years later as a lesbian with her camera in tow. Kravitz has worked as a photographer for over thirty years, exhibiting her photos in galleries all around the world. Mascara, Mirth & Mayhem: Independence Day on Fire Island is her first book.
The book spans the course of four decades, intermingling photos of different eras to create the effect that every year's invasion actually took place on the same eternally long day. The political backdrops of the photos change, every decade presenting unique tragedies and triumphs, but the magnificent queens remain the same.
The photos themselves are as majestic as the royalty they capture. …