Event:

SSION ALBUM RELEASE

Did you pick up your copy of GAYLETTER Issue 8? If you answered no, I suggest you change that. We featured a bunch of beautiful, beautiful people, and among them is pop-music-alt-damsel Cody Critcheloe, better known as SSION. When Cody told us he had a new album coming out we got super excited. He had just released "Comeback," which tells the story of an old flame returning to the appropriate lover who is more than willing to accept that skank back. It's also a pretty obvious play on words. Ssion hadn't released new music since 2012, so a new single six-years later is most definitely a comeback. "O," out on May 11th, is Ssion's third studio album and to celebrate the release he's throwing a cute party at Mission Chinese. There's going to be food, drinks and he'll be playing the album. I'm stoked about it because when we got together to create his feature for Issue 8 (with Slava Mogutin) he was telling us all about how he made it in a basement in LA. Cody said he just kept inviting people to be on the album so that it had the flavor of a mixtape, like something corny you'd curate in high school, but with indie-pop and indie-rock royalty (Sky Ferreira, Devendra Banhart, Ariel Pink). The official singles, "Comeback," "Heaven Is My Thing Again," and "At Least the Sky Is Blue" (check out our behind the scenes coverage) have been on my Apple Music repeats for a while now. I am eager and ready for more! —Chris Stewart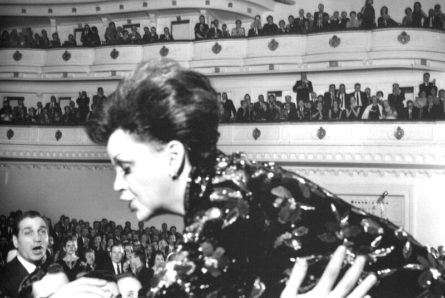 April 23, 1961 — I wish I'd been alive to experience this unforgettable night in queer, musical, and American history. At 8:30pm — or maybe 8:45pm — Judy Garland took to the stage at Carnegie Hall where she'd go on to perform for nearly two hours, making international headlines with one of the many comebacks that would define her career. It was, and remains (at least in my book) the single most important performance of the 20th century; dubbed by critics, super fans and attendees as "the greatest night in show business history." In the audience were Rock Hudson, Julie Andrews, Debbie Reynolds, Henry Fonda, Richard Burton and a slew of other queens you can hear hollering throughout the Capitol Records recording of the show that soon won five Grammy awards, including Album of the Year and the first-ever award for Best Female Vocal Performance.
The concert was recorded, mind you, unbeknownst to Judy herself and the evening proved once more that she was the consummate vocalist, one who could 'wow' for hours on end, not to mention live, and with the support of only an orchestra. Name someone who can do that today and win a Grammy for it — I can't! You can't either. This record, which remained at number one for thirteen weeks, pushing Elvis from the top spot, is still in print: a monumental achievement, a body of work unto itself, and something worth celebrating.
I suggest cancelling your Sunday afternoon plans, buying your favorite bottle of wine (or something stronger), and shutting yourself in to listen from start to finish — you won't regret it. …

MUSIC:

CARDI B'S "INVASION OF PRIVACY"

The first time I ever heard of Cardi B was in 2015 when she was on Love and Hip Hop New York. My then-boyfriend introduced me to her and I've been hooked ever since. (My first ever drag performance was a lip-sync to her iconic "Foreva," which itself was co-opted from an iconic moment of hers on the show. The performance was as extra as you can imagine.) I've been waiting ever so patiently for new music from this "regular degular shmegular" queen ass bitch from the X. "Bodak Yellow" last year got me so thirsty and then "Cartier Bardi" was a nice Christmas gift. Four months later, here we are, finally with that new album, Invasion of Privacy, a record with a little bit of everything. We have those lead singles, a couple features (Chance the Rapper, Kehlani, SZA to name a few), some pop a la "Be Careful", trademark slays, "Knick knack patty whack, give a dog a bone / Ima flex like a board, I'm a 10 she a toy / Stupid hoe, unimportant, unattractive, unemployed," in "Bickenhead" and "They said by now that I'll be finished / Hard to tell / My little 15 minutes lasting long as hell, huh?" in "I Do." There are some self references, which I always love, particularly in the opening track. We even have a rap ballad — "Thru Your Phone" — that is the source of the album's title and, presumably, a personal account of how she found out Offset was cheating on her. "I Like It" is a veritable Latin bop, one of the album's highlights for sure. The standout though has to be "Best Life" with Chance the Rapper. His verse is solid but Cardi's flow is too good, there's so much internal rhyme that I can't help but keep it on repeat. I could keep going but I'm not going to, go listen for yourself! —Connor Atkins
Wherever you stream your music
A hard-hitting homage to disco divas and ragers everywhere.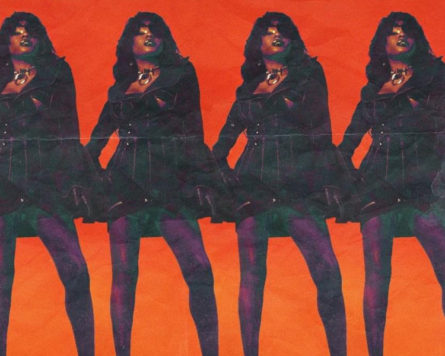 Serving CEO of Kunt, Inc. on the cover for her new single, "Anna Wintour", Azealia Banks has fully returned after three years of chaos and controversy, handicapped throughout by mismanagement and a market-wide blacklisting that associated her name with everything befouled, wicked, and just plain unsavory. She has persisted, however, receiving universally positive reviews for her acting in Love Beats Rhymes, and independently releasing some standalone tracks to keep her head above water with her fans. These projects have been limited by the constraints of her previous behavior. But this is Azealia's first label-backed release since Broke With Expensive Taste, and it hits hard enough to remind us why we know her name. Beyond the art, she has asked to be forgiven for the harm she committed to the LGBTQ community (and others) in the past. She's acknowledged her faults, and evidently matured over her years in the public eye. I believe her, because a song like this creates space for us, specifically, to breathe and to live. You can hear the queer presence, acceptance, and celebration in the fabric of its making. I also believe her because she spent most of 2017 on her soap-shop Twitter handle @CheapyXO, giving her Kunts the tools to reupholster their bussies, which is certainly more than Dan Savage has done for the community.
"Anna Wintour" fulfills every lack we've complained over since disco died – the dance floor now usually defaced by tepid beats and wide-eyed suburbanites who all got their outfits from the same mall on Long Island. …

Beefy bodies, green-juice and Elizabeth Taylor drag in the new video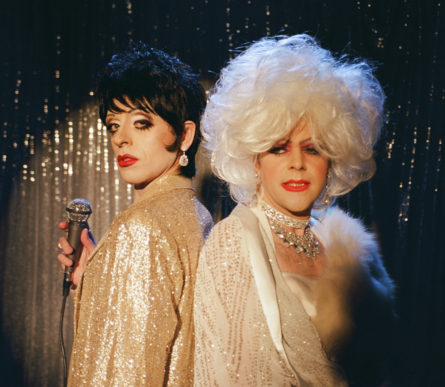 "Riding in your car on the road straight through to nowhere." So sets the tone for Ssion's latest single "At Least the Sky is Blue" off the forthcoming album O. The opening line is miserable at best; a cliché sung by teenagers, that has been metabolized into a cultural phenomenon of sorts — who hasn't dreamt of driving away from it all with the windows open nowhere in front of you?
Cody Critcheloe — the artist behind Ssion — is a mastermind of this kind of banal beauty. He made his name as a singer, making music off his laptop, but has since re-focused on directing.  After his music career took off in late-2000s, Ssion's been on musical-hiatus since 2012's Bent. The name hasn't completely gone away though. His film-treatments, which dabble mostly in surrealism, has found him working with the likes of indie-stars Perfume Genius and pop-icons like Kylie Minogue.
When we heard Ssion was coming back with an album it was easy to say 'yes' when Cody asked to collaborate on some pages for GAYLETTER Issue 8. In conversation with Bruce Labruce, Cody said that "At Least the Sky is Blue" is a very honest song, inspired by his time spent in L.A. doing ketamine, which he confessed is "such a fun drug."
On a lyrical level, "At Least the Sky is Blue" indulges in that revery, but the music video has it's own narrative breakdown. Just under six minutes of footage amount to a pulpy, tacky and totally far-out storyline that includes beefy bodies, an in-house green-juice bar, an 80s Mercedes-Benz, and a dream sequence staring Ariel Pink as a white-haired Elizabeth Taylor. …

Ho Ho Ho Ho and a bottle of rum!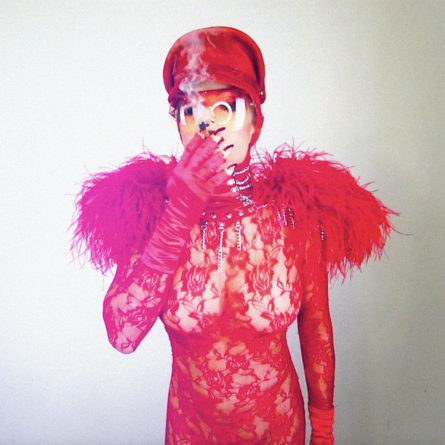 Universally infamous and an inspiration to baby prostitutes everywhere, Willam Belli is back with a new music video for the Christmas season that's sure to land her on the naughty list. A parody of the iconic ho anthem "Once Upon A Time" by Mariahlynn, Willam's song "Ho Ho Ho Ho" tells the tale of one lucky lady's close encounters with the most generous man of legend: Santa. Throughout the bitter months of decay in the wind-tunnel also known as Manhattan, I keep myself going with the insight imparted to me by legend, icon, and total star, Cardi B: "a ho never gets cold." While I can promise you that sometimes a ho definitely does get cold, in this song Willam affirms Cardi's wisdom by detailing the many hot gifts to come from Santa's sack — money, cookies and a questionable serving of milk.
In the video, Willam is a vision in red and denim. The look is at least halfway Christmas inspired and tinged with a familiar dominatrix touch. She might have been going for a Louboutin endorsement by becoming… a red bottom. Willam exercises that sometimes the point is to wear not anything at all, and of course, bill your promiscuous expenses. Unfortunately, viewers are asked to sign in to watch due to YouTube's age-restrictions.  The uncensored (and super spicy) version, however, is available on Willam's Patreon page for the staggering $1 dollar. You won't see Willam's milk and cookies, but the sexy cast of dancers and Santa himself leave you with plenty to unwrap. …

Hot off her forthcoming EP, Lepore's first single is fabulous as usual.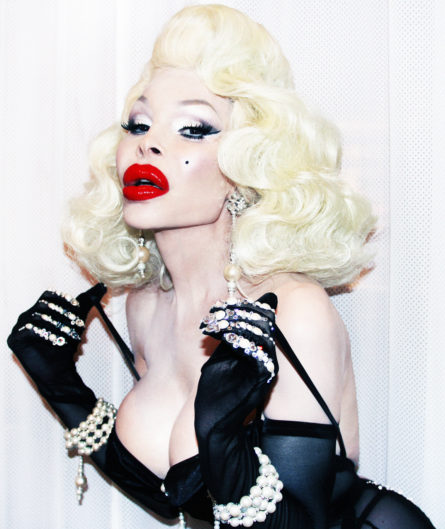 Amanda Lepore — nightlife starlet; model; muse, and the world's most expensive lady — is back with with "Buckle Up," her first single out since 2011's EP I… Amanda Lepore brought us several camp-anthems like "My Pussy," "Champagne," and "My Hair Looks Fierce." Premiering exclusively with GAYLETTER, "Buckle Up" is off her forthcoming EP Lepore. (Due out Feb. 16.)
Seeing Ms. Lepore perform live is quite the thrill. Her over-the-top outfits, usually featuring a considerable amount of shimmering jewels, and high-brow nipple tassels, has been captivating audiences since the 90s when the store-clerk turned model took the New York nightlife circuit by storm, and began appearing all over the world, blowing kisses and drinking champagne with her fanbase. With a penchant for all things fabulous, Ms. Lepore continues to brings old time flavor to the rapidly evolving club scene.
"Buckle Up," returns Ms. Lepore to her post as the reigning vocal-star of all things nightlife. (Though if you're partying in New York, you know that Ms. Lepore is a permanent fixture, a real working woman; she appears weekly at several of the city's most sultry parties.) With a playful, retro-swing, it will be no time before Ms. Lepore is up on stage performing "Buckle Up." She sings about taking the night, and taking a mister home, lyrics that will surely serenade her usual audience of club-kids, queers and celebrities. Ms. Lepore knows how to strike up applause from the world's most glamorous audiences. …

Fatima Al Qadiri creates a queer vernacular in music forbidden in her homeland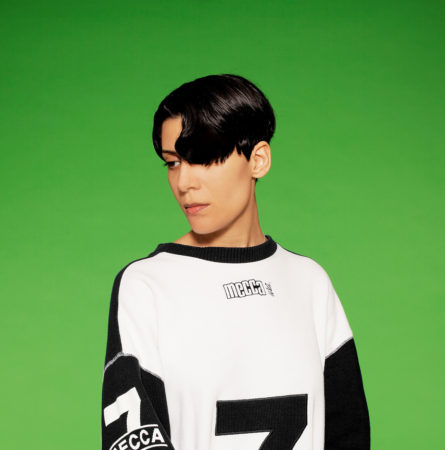 Senegal-born, Kuwait-raised composer and producer Fatima Al Qadiri enchanted a sold out crowd this past Saturday night at Bushwick's Secret Project Robot. DJ's Skyshaker, Sharp Veins, Asmara, and Rabit warmed up the with their hip-hop tinged sets as the cavernous venue brimmed with a diverse crowd of fans and dancers.
As Al Qadiri ascended to the stage at 1:00AM, the conceptual artist donned a long wig with bangs — a familiar trait of femininity — but after a few songs into the set, Qadiri snatched it off her head, revealing the signature short coif and sporting a warm grin. Refuting any kind of hetero-normative standards, the queer artist proceeded to dominate the crowd with a dynamic repertoire that included tracks from her recently released five track EP, Shaneera.
A stark departure from her previous solo efforts that include collaborations with Future Brown and GCC, Shaneera (Hyperdub) is a bold move by Al Qadiri to create a queer vernacular in music that is forbidden in her homeland of Kuwait. Al Qadiri's earliest works — 2012's Desert Strike, 2014's Asiatisch, and 2016's Brute — capture her experience with queer identity and political upheaval, wrestling content fished from her childhood during Saddam Hussein's 1990 invasion.
Desert Strike is the sonic story of a child, video game obsessed and contingent to the trauma of Iraqi occupation, while Asiatisch imagines a China painted through themes of Western appropriation, and Brute, whose artwork shows a Teletubby in swat gear, symbolized Al Quadiri's insight into the Occupy! …

MUSIC:

Jake Shears [of Scissor Sisters] & DJ Sammy Jo

It's been a hot minute since Jake Shears (of the Scissor Sisters) has been out and about playing music. At least that I'm aware of. I apologize if he's been performing all over the shop and I've just missed it. Anyways, back to the point of this post. Jake is performing this Sunday at 7pm at Elsewhere, which is a "new music venue & arts space in Bushwick, Brooklyn, built by the team behind the former Glasslands Gallery." There is scant information about this event, but if you've ever seen the Scissor Sisters live, then you'll know that Jake puts on a fabulous show. When I was a baby gay I saw them perform in Melbourne, Australia. I was so jet lagged after flying back from Vietnam the day before. I had a terrible cold which I made worse on the flight back by drinking a lot of whiskey (I thought it would be antiseptic for my sore throat). Needless to say when I got to the show I didn't feel like dancing, then Jake got on the mic with Ms. Ana Matronic and the rest of the band, and my symptoms and complaints disappeared. I had so much fun, and I'm sure you will too this Sunday at Elsewhere. Also, listen to his latest song Creep City. —tom
Suburbia's new track for the dance hall queens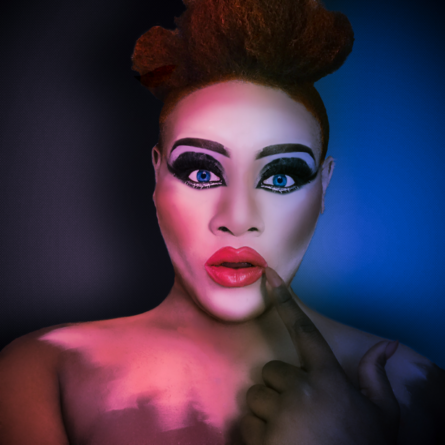 Thee Suburbia is a Brooklyn-based drag performer with enough sass, attitude and talent to own whatever stage she appears on. She has been a performer in the drag circuit for about two years now and, as a result, has been lucky enough to travel the country for shows. Her weekly karaoke party was one of the East Village's best kept secrets, and when GAYLETTER collected some of our favorite queens makeup swipes for Issue 7, we put her at the top of our list.

Earlier this week she released a hot new house track titled "BitchWitch." The song is a mixture of comedy, wit, and a whole lot of reading from the point of view of a diner waitress. Some customers get pancakes and syrup while others get pancakes and poison. Produced by Lorant Duzgun (DJ Lorant), the song highlights Suburbia's flow of lyrics on top of a dance heavy beat. "BitchWitch" is a track I can easily see myself voguing to at the club. And the energy she serves while reading her audience makes the need to learn every word pretty hard to resist. Every time I hear the song and all the elements Suburbia brings to the table, I get more and more curious about the creative process behind it. To get some more insight, I sent Suburbia a few questions which she was kind enough to answer.

Have you always had a passion for music or did it stem from your love for performing? …

The independent rapper Jay Boogie places self-acceptance first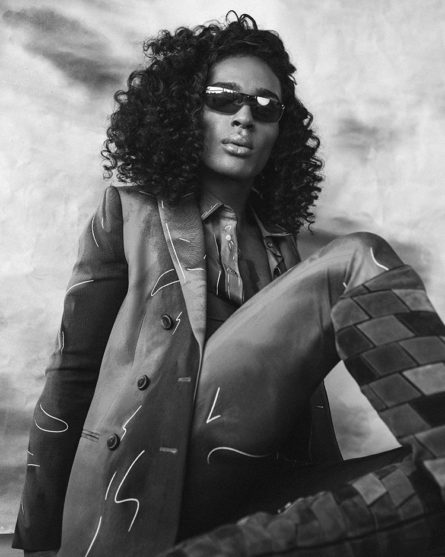 The first time I listened to Jay Boogie's latest mixtape, Jesus Loves You Too, I had to make sure that I was doing all I could to give it the appropriate atmosphere. Going off of his previous tracks like "Body" and "Hear Them Howling", I decided that the best time to hear his new stuff was while I was getting dressed to go out to the club. And let me tell you, listening to these songs put me in the perfect mood to have one of my best nights out. On one of the songs "Venti" he talks about life as a twenty-something year old, offering relatable lines like "enjoying my twenties I'm lit and I'm sexy and who's gonna check me?"
The first time you listen to a new song is absolutely crucial. The music may speak to you differently depending on how you're feeling, what you're doing or who you're with. This first listen becomes the memory that will attach itself to the song and whenever it plays, you'll think back in time, so it's important that you get it just right, like I did!
The independent Brooklyn rapper has always emphasized self acceptance over everything, but every track on this new project is overflowing with lyrics that are bound to have you feeling like "your shit don't stank." With clear influences from his ballroom days, the songs not only inspire youth to love themselves but gives them some hot tracks to vogue to while doing just that. …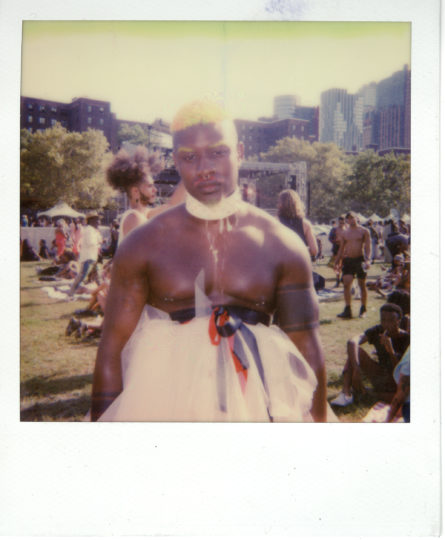 The official meaning of "Afropunk" goes as follows: "AfroPunk refers to the participation of African Americans and other black people in the punk and alternative music cultures, especially in the United States, where this scene had been overwhelmingly white."
Most people, when they hear the term AfroPunk think of the Afropunk Music Festival which "was founded in 2005 by director James Spooner and Matthew Morgan." The festival has quickly grown to include one of the best line-ups of musical acts and this year is not exception. Taking place at Commodore Barry Park in Brooklyn, this year's headliners included: Solange, Anderson .Paak, Thundercat, Kaytranada, Gary Clark Jr., Macy Gray, Michael Kiwanuka, Soul II Soul, Dizzee Rascal and SZA.
I shared an Uber Pool this weekend with two well-dressed attendees who had flown all the way from L.A. for the festival. I was telling them that our photographer Myles Loftin would be taking street style photos at the event and that they should look out for him. "How will we recognize him?" they asked. "That's easy, he has bright orange hair and a polaroid camera, you can't miss him!" I replied.
Please enjoy a few of Myles shots from the weekend, below:
…