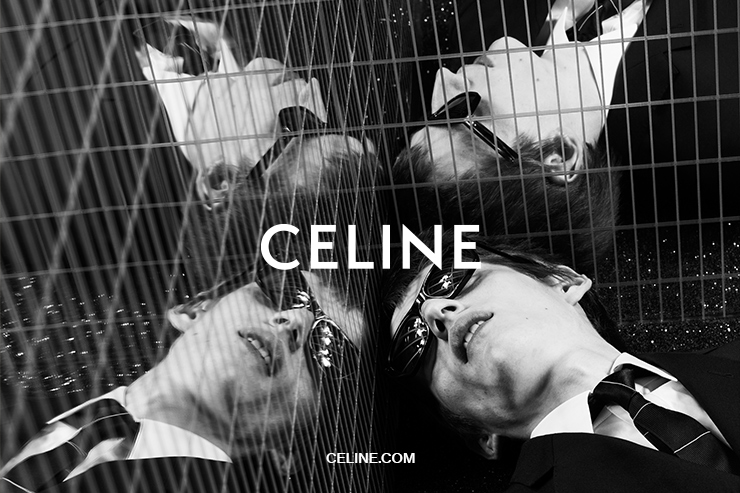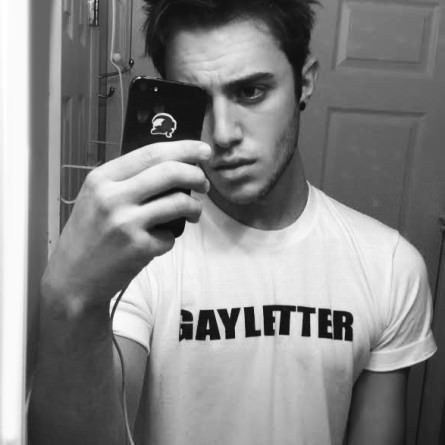 Paul was born and raised in Oakdale, Long Island — he's a senior in High School. He's so far the youngest of our selfie boys but he's already dating and all of that, sweet right? Paul is not a virgin, he even dated a few girls to experiment, but never had sex with them, so that makes him a gold star gay. He found out that he was gay when he was 15 and that's when he told his parents — he couldn't deny his attraction to Zayn Malick any longer. Shortly after that he meet his first boyfriend. He's now single.
He's hoping to become an english teacher when he "grows up." His favorite part of his body is his butt "it's nice lol" and in other guys he love arms. His idea of a perfect date "would be going to a coffee shop and walking around NYC." He told me he prefers dating guys that are a few years older than him. "I like spanish guys. brown hair, brown eyes…I don't like blondes or light eyes at all." Interracial! His only beauty routine is dealing with his hair, which takes him a lot of time to get right, "some product, blow dry and hair spray." He hates working out, "I go sometimes," he prefers sleeping, it's one of the things that makes him the happiest. I don't blame him going to the gym can get boring.
We asked Paul to take a few selfies wearing our GAYLETTER t-shirt — here's what he came up with. …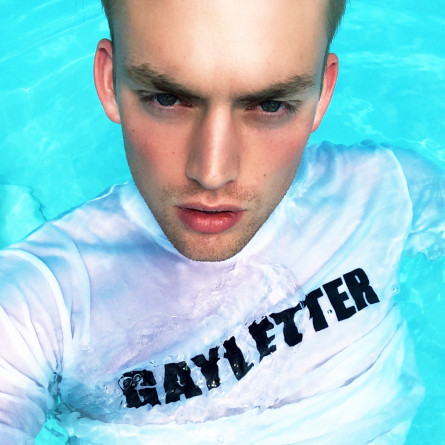 Will is 24 years old and was born and raised in Nederland, Texas. He told me about when he first discovered he liked boys, "I can remember back in first grade having a little kid crush on a classmate, as little kids you play truth or dare, and I can remember this one day where my friend was dared to kiss this boy and so we made this huge deal of it and she finally kissed him and I remember watching and thinking I wanna do that!!! But with the boy… That's when I knew something was up." Will has a boyfriend: "I'm in love right now…"
His favorite body parts are his calf muscles, "being a dancer makes me have some real powerful legs and I'm very proud of my calves…" On another guy Will is attracted to "nice and strong arms, and the eyes — I'm all about getting lost deep into someone's soul through their eyes. Is that creepy?" A perfect date for him would be a picnic in the park, "Some good conversation, a cheap glass of red wine and some Strawberry shortcake."  He feels sexy when he's dancing in his 6 inch black heels to Beyonce's new album.
Will is currently a contestant on this season of America's Next Top Model and apparently he's the only gay model on the show, "I am really proud of myself for making it on the show and being the only proud gay man." He told me that he really loved working with Tyra, she's "the most amazingly fiercely perfect thing in the world! …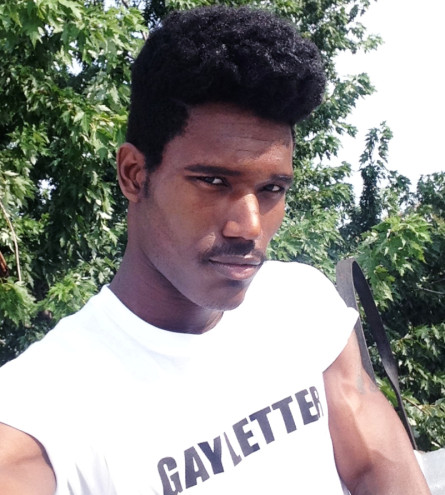 Jordan is 29-years-old and originally from Southern California. He grew up in Los Angeles in a city called Rancho Cuacamonga. He is now living in Brooklyn, NY. He came to NYC almost 10 years ago to go to performance art school. He describes himself as a vocalist and performance artist. He realized he liked boys when he was in High School… "I had a really good friend, who is straight and was like a brother to me. I never felt anything romantic towards him but one night we went out for fast food and he acted like he was my boyfriend and pretended to pick a fight with me. I was so embarrassed and wouldn't play along. I went home that night and was like, oh…." Sounds sweet.
For those of you that want a piece of Jordan, he's not single, he has been dating a guy for a few months — they don't live together, but they see each other often since they live close by. Jordan is a romantic boy when it comes to the perfect date, "I like romantics — Not sorry about that — sunsets, walks around the city and conversations… But the perfect date is probably a trip somewhere. Camping or maybe Montreal…that place is incredible. It's only 6 or 7 hours from NYC on a bus and there's a million things to do from art, to nature, to nightlife, to extreme nightlife."  His go-to cocktail is whiskey on the rocks. He keeps in good shape by doing cardio, lots of dancing, "never lifting too heavy…"
His favorite part of a man is his face, "a good face is a good face." When it comes to his body he likes his height, "It's not at all average," and his lips "I like that my lips are a bit thin. …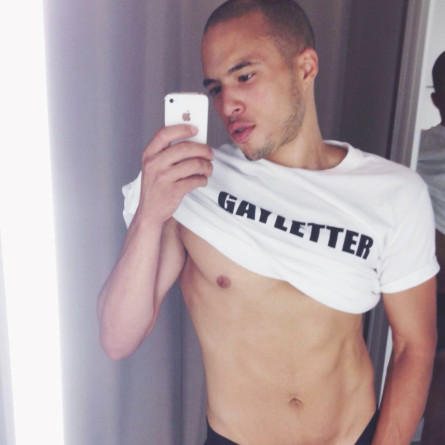 Jemar is a 22-year-old from Minneapolis, MN. He's still living there, but he's moving to LA at the end of the year. He went to California Institute of the Arts for a couple years to study Theater and Acting. "I've been acting since I was 14, my dream job is to be a sucessful actor…" He's lived with his boyfriend for about 3-months now; they met at a photo shoot. His first sexual experience with a guy was when he was 15. "Most people think I'm straight when they meet me… I'm never afraid to correct them."
When it comes what he likes it's a boy who's smart and motivated, "someone who has a drive to be a successful somebody and who's into fitness." Jemar works out about 5-6 times a week. His favorite part of his body is his butt, "beause it's juicy and I can make it clap lol. I get great compliments on it." That's a great skill to have in 2014 with all the twerking competition out there. On other guys he likes a nice chest. Also, when it's time to sleep he goes to bed naked.
His ideal date would be "during the day, maybe a day festival/fair or something with adrenaline, then maybe a nice dinner, then go out dancing…" 
His go-to cocktail is a Moscow Mule. He's the most happy with the company of great friends, acting, working-out and good food. He enjoys being outdoors, he likes to frequent "any moving body of water. …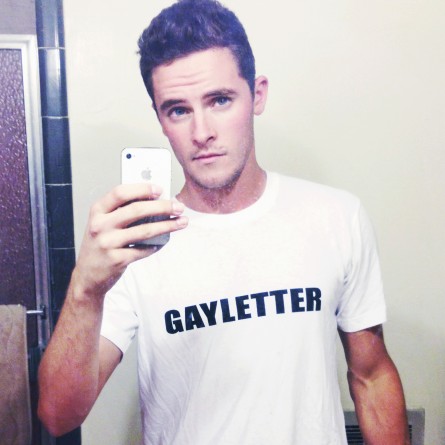 Connor is 22 years old and was born and raised in Minnesota. He moved to Los Angeles 4 years ago to attend UCLA where he studied theater. He's now working as a junior creative associate at a reality TV production company — "basically brainstorming reality tv show concepts…" He also owns his own personal training company — it makes sense that Connor is in such great shape. In addition, he was also a gymnast when he was younger, then dancer, then diver. He's working on his first major project this Summer, "I'm producing a web series I've been developing for a year or so…" I guess we'll have to wait and see.
As far as he remembers, he's always being into boys. "I always liked boys but I didn't know that was actually something different with a name, gay, until I was past 12 or so." Connor was officially "out" by the age of 15, "I had my first love then. My parents found out in a Valentine's letter I wrote to my boyfriend and the whole thing kinda just unwound from there…"  He went to high school with this boy and was with him for one year, "I was a sophomore and he was a senior…We were so young it eventually just had to fizzle out." He's single at the moment. He's into men that make him smile, men that are larger than him, "taller and more meaty in general — I love feeling safe…" The bigger the guy, the more he likes being "babe-d."
His ideal date would be taken to a place his date really enjoys, or Costco because "it has a large majority of my favorite things: muffins, free food and some of the best people watching." His favorite part of his body are his nipples, "they are so small and goofy looking, also, where the leg meets the torso, where the muscles fold over and produce a V or as I said call it 'sex lines'…" He also loves his happy trail, I think a lot of us can agree with that. …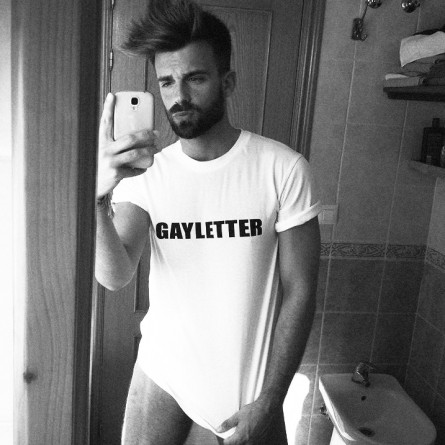 Alexandro is 25 years old and was born in Málaga, España. Just so you know we did this interview in spanish: he was more comfortable chatting in his native tongue. He's single and works as a visual merchandizer. He's never been intimate with a woman, yes he is a gold star gay. The first time he was with a guy was when he was 15, with a boy he ended up dating for 4 years. When we first noticed Alexandro on Instagram we were like OMG, that hair! — We wanted to run our hands through it and maybe pull it a little bit, if he let us do that. "Everyone knows me because of my hair…" Apparently he doesn't do much to it, he just lets it be, "it's pretty crazy," he only puts a bit of hairspray on if he's going to a party.
When it comes to men, he prefers strong men, men who are older than him, he's ok with anyone 27 years and older — so if you fit the bill feel free to say hello — if you are younger than him, he's not getting in bed with you. Alexandro goes to the gym about 3 times a week, looking at that body, that seems to be the right amount. His favorite part of a man is his smile and his hands — "I like well taken care of hands," get that manicure before you take this boy on a date. His perfect date would be going to "a deserted beach during sunset, some cocktails, a towel…" All he needs is to see the sun. …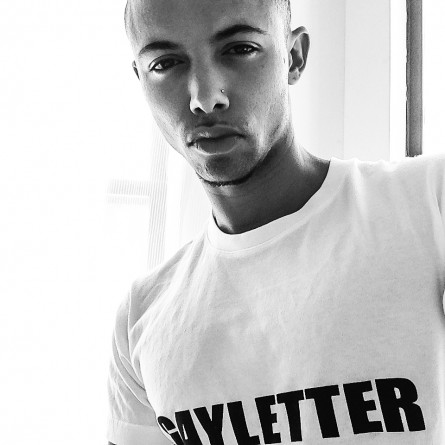 Alex is 25 years old, he grew up in Tucson, Arizona, he's now living in Brooklyn, New York. Even though he was born in the states he considers himself Haitian. His father is from Haiti and his mother is from the Netherlands (by way of Curaçao). He studied Anthropology and Caribbean Studies and he's currently working for a non-profit, "mostly doing historical research, community engagement, recording oral histories/ethnography." He has a boyfriend who is "intelligent, driven, thoughtful and humble." In a man Alex is also attracted to "a good chest and stomach — lips do it for me though…"  He's open to any races when dating, but so far he's only dated black and latinos.
The favorite part of his body is his chest, he told us that his nipples are "quite sensitive" and he loves his chest because it's "big, well defined, perky. lol"  He always knew he was gay, "before I even realized there was a word for what I was feeling." His first crush was his best friend in grade school, "I would always get jealous when girls would hug him and he'd give me a handshake." An ideal date for Alex would be going to a "dope bar — not too loud or crazy, just laid back, good drinks, good convo, good music — that's all I need." His go to cocktail is a bourbon, on the rocks.
Alex doesn't have any real beauty routines, "I'm pretty simple. I wash my face, shave/trim, brush my hair  — always try and keep it fresh and simple." He tries to work out 3 times a week, "sometimes more, sometimes less…"  When it's time for him to go to bed he wears briefs, except in the Summer time, he wears just his bedsheets. …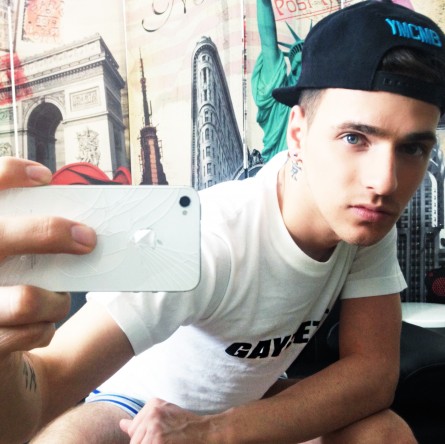 Ivan is a 23 year old boy who was born in Portugal. He moved to London when he was 7-year-old and that's where he lives now. Most people call him Ivan but some friends call him Scott, which is his middle name. He just finished an acting course, so he's hoping to be an actor/model in the future, but for now he's working in retail.
He's bisexual, which he first discovered when he was 14, "I had feelings for a mate of mine, a straight mate ha, however I have managed to get a kiss out of him…the kiss happened when we were playing on a Playstation and fight playing, then it just happened." Around then, he also dated 3 sisters, one after the other, "I was a bit of a playa lol." He lost his viriginity when he was 18 "it was with an American guy from New York…it was amazing I remember every detail…"
He told us about coming out as a bisexual: "there was a point in my life when I was 19, and I felt I couldn't be myself and couldn't enjoy myself the way I wanted to, so I told my family and closest friends about it — if ever asked I wouldn't have a problem saying it!"  The type of man he likes is "dark haired, masculine, not too muscly but defined, nice eyes and smile — a hot latino always catches my eye…" When it comes to girls "I prefer brunettes with a nice body (good bum), shorter than me…"
Even though he likes both boys and girls when it comes to sex: "to be completely honest I'd say with a man there's more to explore…I think with girls it's just a sexual attraction, with guys it's different, I could fall in love with a guy." He mentioned to us that he's really into Cocky Boy's Jake Bass, "the things I would do to him! …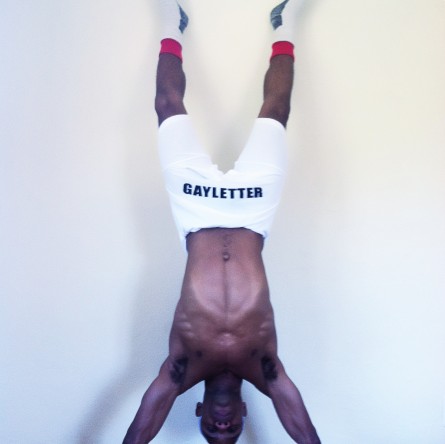 Matty is originally from Indianapolis, but he's been living in Los Angeles for 10 years. He's 32 years old and as you can see, he looks way younger. He told us one of his secrets to looking good, "I was always told to moisturize everyday, so I cover myself in coco butter after every shower…" It's working, look at that skin!  He's a DJ and vocalist for Pipes — which is his music project. He just wrote a brand new song after a break up last year, "it's just about lost happiness, in the video it's just a typical night at the Pipes house — practicing my poses…as the song plays and the hands touch me and I eventually turn to black, 


it symbolizes how relationships change you…how people leave their mark on you"
When it comes to the type of boys he likes to date, "I think everyone knows about my obsession with redheads. 

I think I'm following every hot redhead guy on Instagram
, it's a little intense
. But, I try not to put any limits on who I like, except for Scorpios — that'll never happen" He's a Sagittarius and describes them as "the luckiest people in the world and we're super optimistic…we're the sign of the eternal bachelor

 and it's not because we're slutty — it's because we so want to know EVERYTHING that we can never be satisfied with just one person, it's hard to get a Sagittarius to settle down." 
He goes to the gym about 4 times a week, as part of his workout routine he runs "anywhere from 25-40 miles a week. …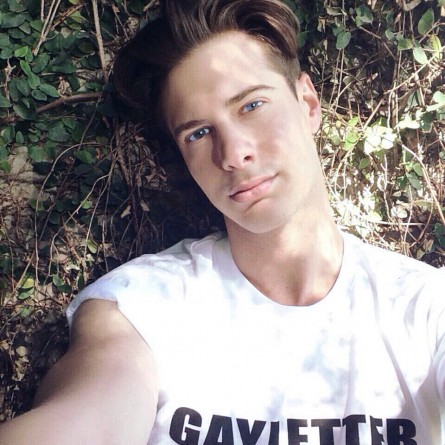 Jordie is a 24 year old boy from a small rural town in northern Louisiana called Jonesboro, but he's now living in Los Angeles. He moved to LA mostly to pursue modeling. He currently lives with his boyfriend of 2 years, Simon. "I love the weather, the whole vibe," he told us. While in LA he's "done everything from technical support to banking to waiting tables…" He doesn't have a modeling agency at the moment, but he's looking, "I'm 5'10" so that's tough…" We think he'll find something soon, I mean look at that face.
He works out 4 to 5 days a week, "I get a lot of stress relief from the gym. It helps lift my spirits." His favorite body part are his legs — "they have nice definition and shape. I used to have little chicken legs so it's nice to see progress and results…
"  He doesn't have a daily beauty routine, but he uses "a homemade coconut oil scrub on my face and body before shoots. It helps even out skin tones and gives me a nice moisture look."
Jordie dated a girl when he was 16, "we were together all the way until my first year of college. I actually lost my virginity to her, lol." He always knew that he liked guys but he used to suppress it. "After I broke up with girlfriend, I started toying around with the idea of experimenting with guys. I think I was 19 when I first hooked up with a guy…I didn't tell my parents that I was gay until I was 21." Aren't we all glad that's over! …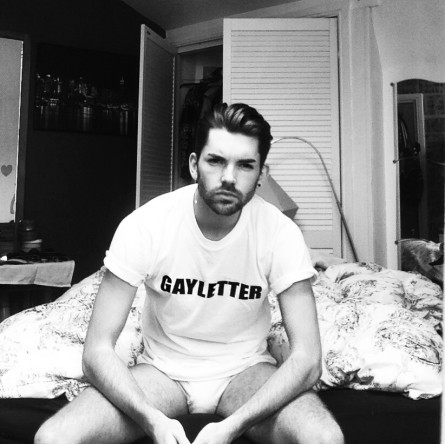 Tom is a 24 year old boy who was born in Surrey, England but now lives in London with his boyfriend and another bandmate. Yes, he's a band boy! He studied dance, music and drama. Tom keeps himself very busy and has already accomplished lots of cool things: "I have toured the world twice with Matthew Bourne's Swan Lake

, I played the principle role of The Young Prince, I performed on Broadway, I am now in a band called 'Plastic' and we were on the UK X Factor last year." He describes his band's music as a "electro-pop-hip-hop fusion,"  they have a few videos on Youtube and a single called '90s' that you can get through iTunes.
Tom is really into fashion, he even has his own fashion blog. His fav part of his body are his eyes, "I think eyes on anyone are fascinating, they always tell the truth…" We noticed that his hair always looks good, he told us that it doesn't take him too long to do it, but he uses the help of some hair products. "I use label.m matt paste, label.m resurrection dust and label.m sea salt spray by Toni & Guy…The dust is my life saviour." 
When it's time for him to go to bed he wears nothing but Chanel No.5, "In the words of Marylin Monroe…" He shares his bed with his boyfriend (lucky him).
Tom took some selfies for us in his bedroom and his kitchen wearing our GAYLETTER t-shirt. …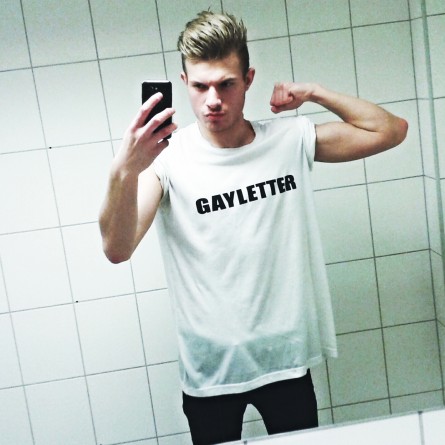 Gert is a 20 year old boy from Tallinn, Estonia. He is a high school student, eventually he wants to do something related to fashion. "I love fashion, it's my life." I believe him, he's a very stylish guy. Even though Gert knew he liked guys when he was 13-14 years old, he just recently came out as gay back in January when he posted the following on his Facebook wall: "Well. Yeah, I'm gay. Who cares? I'm still a person? I have the exact same rights as you." He told me that his sister came out of the closet first, then he did… When he was young he "was very much like a girl, I loved to play with Barbies, 
I was in the company of girls during school…and my sister was like a boy and she loved playing with cars…"  We think that's just adorable!
As I was chatting with Gert, he pointed out that he was a "special person" because he was born deaf. "My family are all deaf too. He adds, "I can't hear music or when people talk to each other, I can only hear noise, I can feel vibrations and I can read lips slowly." So, when Gert goes out to dance "I feel the rhythm of the music, but I do not understand the words…" I found this fascinating and surprising, I couldn't stop asking him questions about being deaf.
The first thing that he does when he wakes up is make "the best coffee," he usually grinds the beans, then he uses a coffee press. …